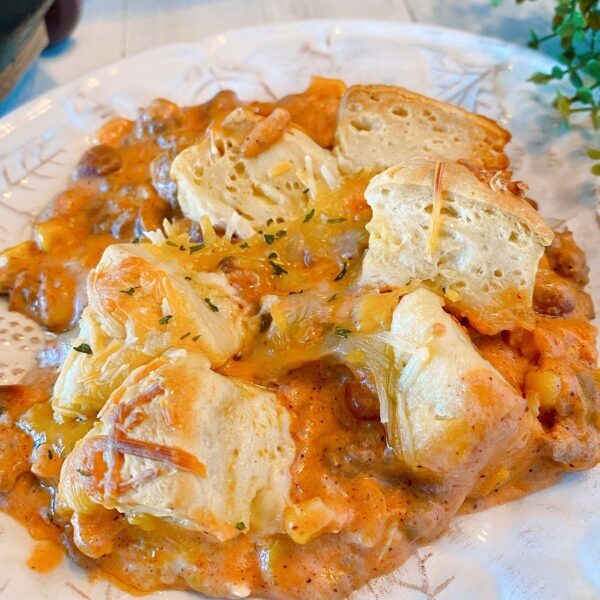 Ground beef, beans, spices, and corn in a creamy cheese sauce topped with buttery flaky golden brown refrigerated biscuits. It's a quick, easy, and delicious Family dinner idea!
*As an Amazon Associate I earn from qualifying purchases. This post may contain affiliate links, which means that I may make a commission from any purchases at no additional cost to you. Thank you for your support!
It's been a crazy week over here at this Nest! Let's be honest…it's been a crazy couple of months for all of us!
The weather is warming up quickly! My daughter and I decided we needed a gigantic garden this year! (Because we're both mildly insane and thought we didn't have enough to do!) I'm sure many of you are having the same impressions and desires now. Once that was decided it meant a lot of tilling, digging, planting, and watering. Lots and lots of watering. We live on a little over half an acre of land…with no irrigation system. Well…that's not 100% true. I'm the irrigation system! (Yippee for me! I love dragging hoses all over tarnation in heat that would kill a camel! Yee Haw!)
With all this planting and watering, it's doesn't leaving me a lot of time to get dinner ready! However for some strange reason…the birds at this Nest still want to eat! (The irrigation system included! lol)
Summers, in general, are a busy time of year, so we all need easy filling dishes that come together quickly! Main dishes like this Cowboy Ground Beef Biscuit Casserole. It's a great way to stretch a pound of hamburger and fill those hungry bellies that line up at your dinner table.
Let's get cooking! We've got a garden to tend to!
How To Make Cowboy Hamburger Casserole
In a large skillet, over medium-high heat, brown 1 pound ground beef. Drain off any excess fat. (I wish I could personally do that? Just drain off any unwanted excess fat! Without exercise! I know what you were thinkin'!!)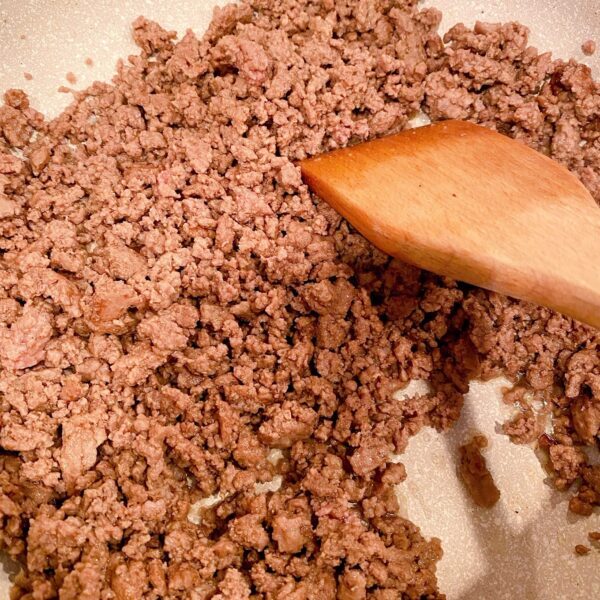 Add 1 can drained corn, 1 can rinsed and drained chili beans or kidney beans, 3/4 cup mild chunky salsa, 8 ounces tomato sauce, 8 ounces of cream cheese, 2 teaspoons chili, 2 teaspoons taco seasoning, 1/2 teaspoon cumin, salt and pepper to taste.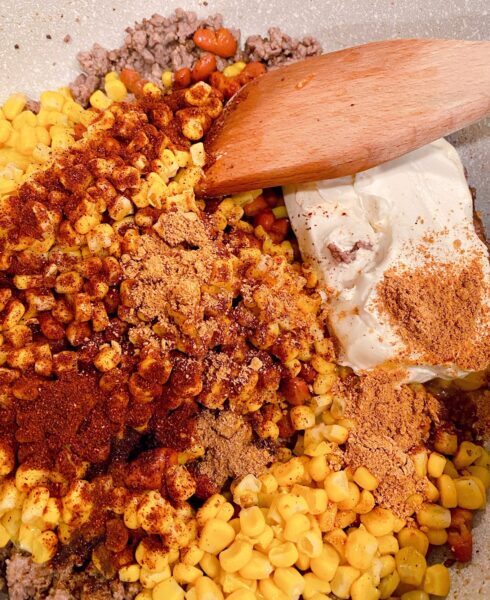 Add two cups of the grated cheddar cheese.
Mix everything together until well blended. See how easy that is! The entire filling is made and ready to go in less than 10 minutes!
This is a great casserole for a beginner chef! I'm a firm believer that Summer time is the perfect time for kids to get in the kitchen and help out! Cooking is a life skill everyone can use. So let those young chefs help out!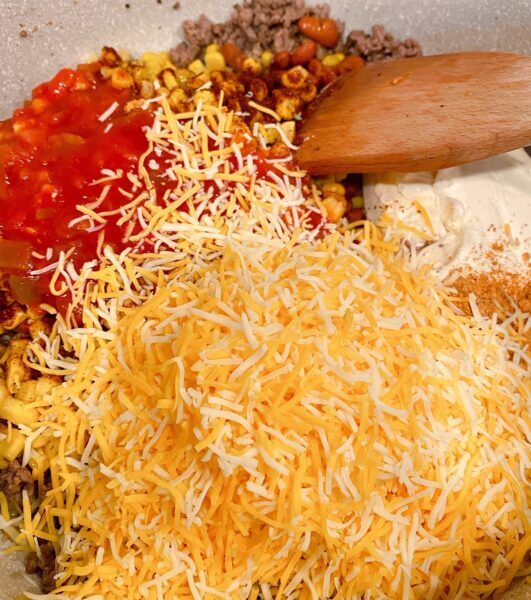 Pour the casserole filling into a 9 x 13 dish.
TIP: You may want to place the casserole dish on top of a baking sheet in the event it should bubble over during bake time. Mine generally doesn't…but I'd rather clean a baking sheet than an oven!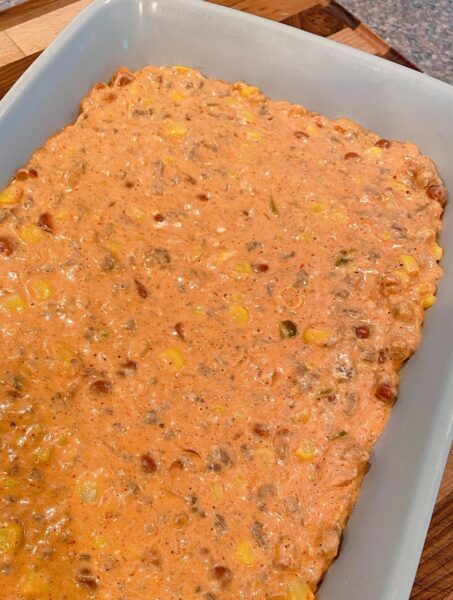 Time for the heart stopping portion of this recipe. Busting open that can of refrigerator biscuits! Honestly that can gets me… Every. Single. Time!!! You know it's going to explode and scare the ever loving poo out of you. Admit it…you close your eyes when you bang that can on the counter top, or press down on the seam with a spoon. Also… you jump just a little when it pops! I know you do! (There may also be a little cursing under breath about about why they can't come up with another method of storing biscuit dough than a mild incinerator device!)
Okay…now that we've all tested our cardiovascular system…Cut one can of 5 Grands Southern Homestyle Butter Tastin' Biscuits (10.2 ounce can) into 8 sections per biscuit. I like to cut the biscuits in half, then half again, then into fourths. Like it's a mini pizza!
Substitution Tip: Here's a fun tip! If you don't have biscuits on hand, or don't want to use biscuits, you can use Frito corn chips or crushed tortilla chips. If using Frito Corn Chips I place a layer on the bottom before I put the ground beef mixture in the pan, then top it off with crushed corn chips on top. It will taste a lot like a tamale pie!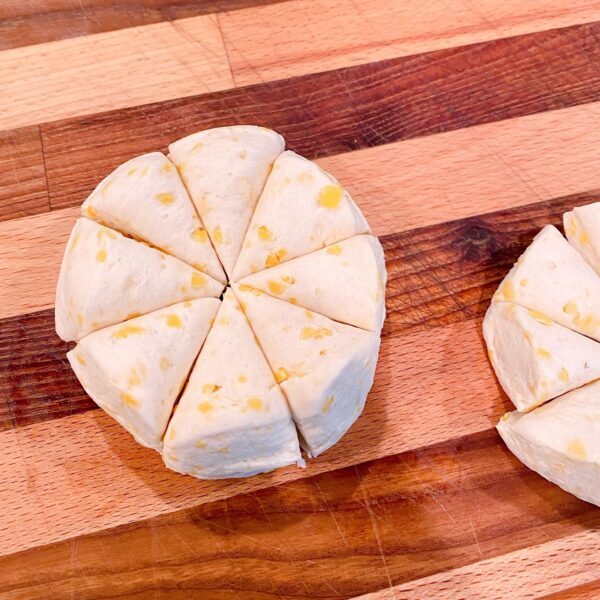 Break the biscuits apart and place them on top of the casserole.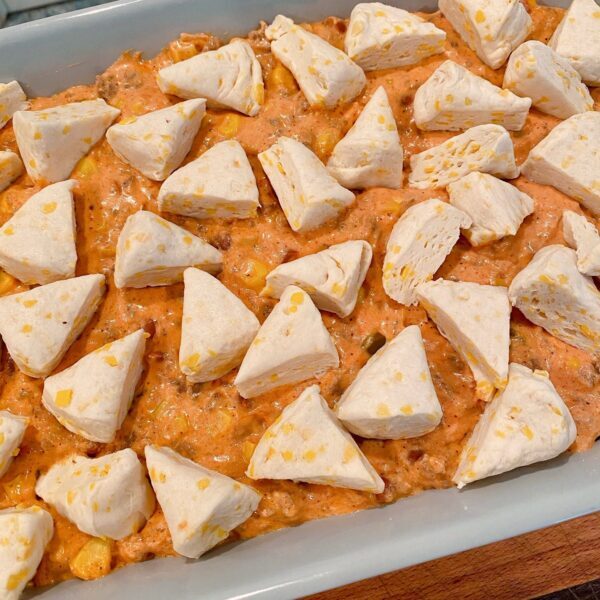 Sprinkle the top of the casserole with 1 cup of grated cheese. Yep, toss that remaining cup of cheese over the biscuits and filling. Let it rain down cheesy goodness!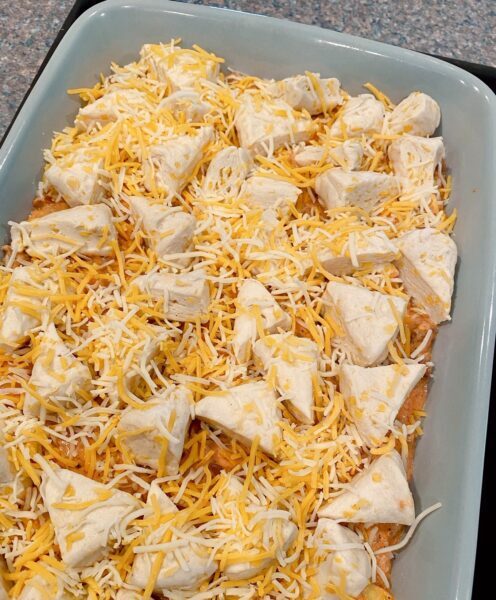 Place the casserole in a preheated 350° and bake for 30-35 minutes or until the biscuits are golden brown and the casserole is bubbling!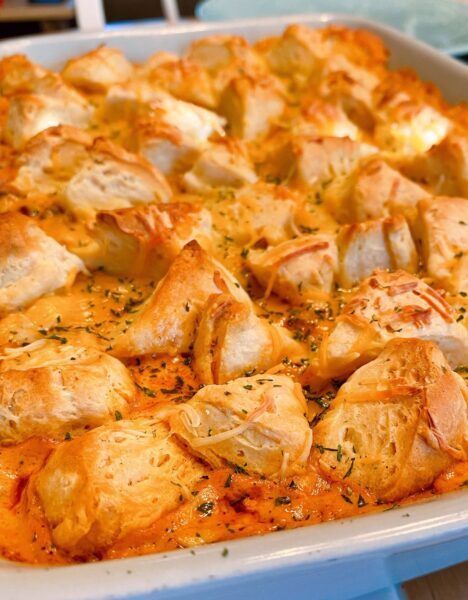 Allow the casserole to set for 10 minutes before serving. (That's right…you're gonna give that casserole permission to just sit there and do nothing but cool down. It's every Mother's Dream! Try not to envy the casserole too much…you still have weeds to pull!)
I like to keep this meal simple. Super simple! I serve this yummy Cowboy Casserole with a fresh green salad! That's it. Just a big green garden salad!
A delicious, and filling meal! Just ask the rooster in the photo! Maybe he's not the best one to give his opinion…although I hear the poultry crowd are big fans of this beef casserole!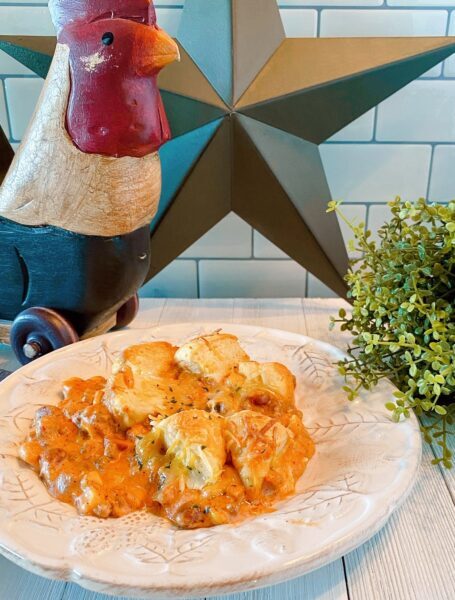 My crew loves this casserole! Which is a huge win for our irrigation system! (ME!) I love that the ingredients for this casserole are standard pantry items that I generally have on hand and ready to go!
I love a meal that comes together in 40 minutes or less from start to end, especially this busy time of year! I think we can all agree that we don't have a lot of time to spend in the kitchen. Whether it's long days spent in the garden or a day at the beach or community pool. The reality is, we don't want to spend a ton of time in a hot kitchen! So…let's not!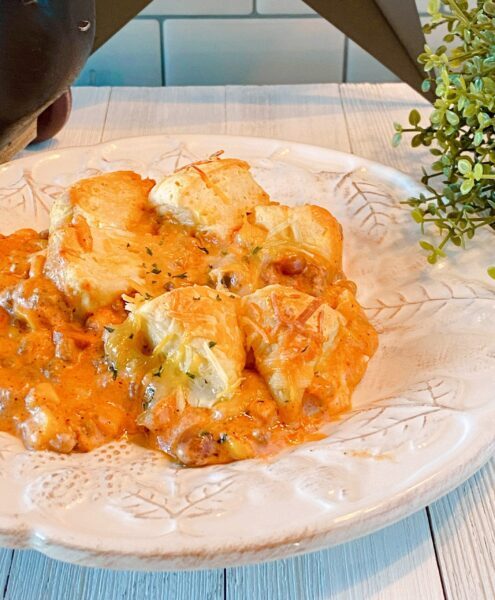 Let's spend more time doing the things we love! Winter will be here before you know it and then we can spend hours and hours inside heating up our kitchens. Until then…this casserole will be making a regular appearance in my menu rotation!
Here are some of my favorite time saving casserole ideas for your family this Summer! I agree that summer is the perfect time to grill…but we also need to stretch those grocery budgets, and casseroles are the perfect way to do that!
Quick & Easy Casserole Recipes
Thanks so much for stopping by and visiting with me today! I hope your family loves this easy to prepare casserole as much as mine does. Have a Great week and….
Happy Nesting!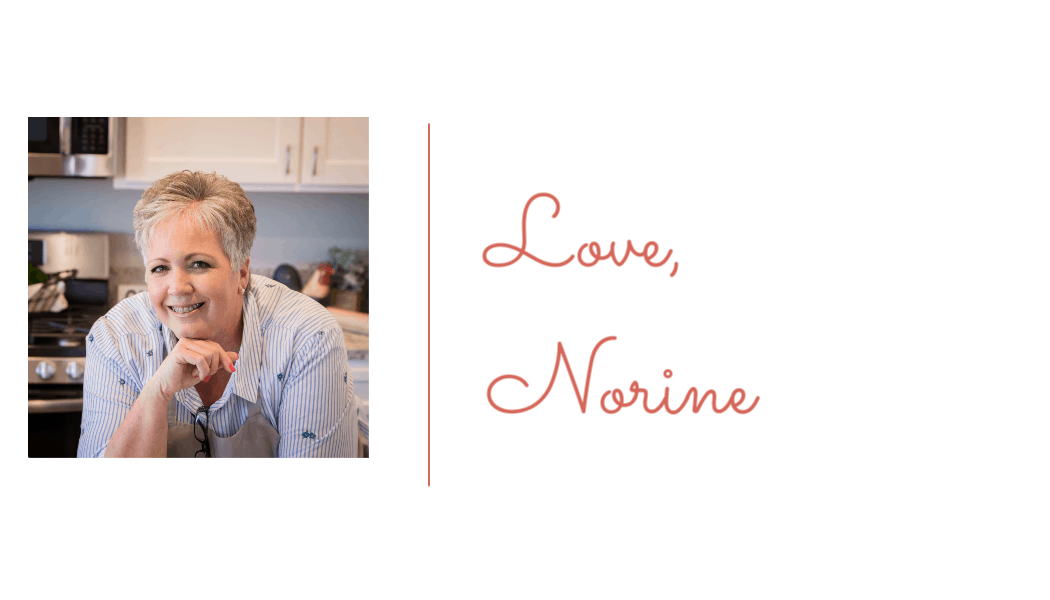 Yield: 6 servings
Cowboy Biscuit Hamburger Casserole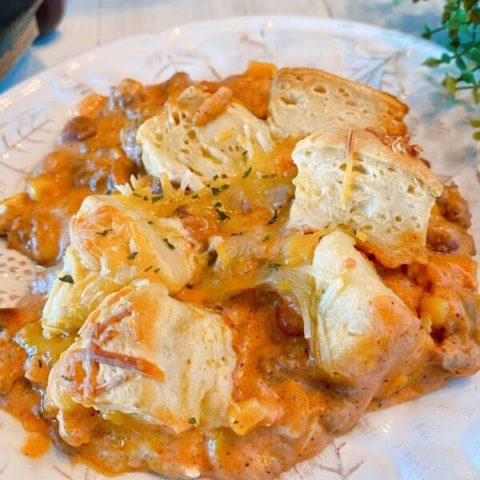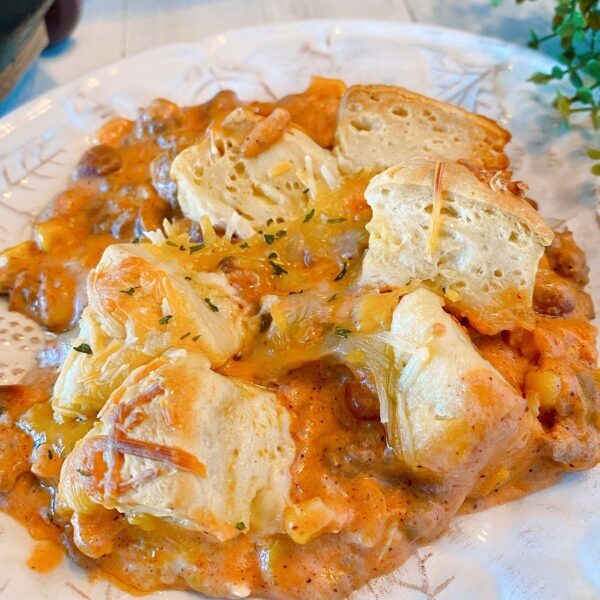 Ground beef, beans, spices, and corn in a creamy cheese sauce topped with refrigerated biscuits. It's a quick, easy, and delicious Family dinner idea!
Ingredients
1 pound ground beef
1 (15.25 ounce) can of whole corn, drained
1 (15.5 ounce) can chili beans, rinsed and drained or 1 (15.5 ounce) can kidney beans
1 (8 ounce) can tomato sauce
3/4 cup Mild Chunky Salsa
8 ounces softened cream cheese
3 cups grated cheddar cheese
2 teaspoons chili
2 teaspoons taco seasoning
1/2 teaspoon cumin
Salt and Pepper to taste
1 (10.2 ounce) can of 5 Big butter Tastin' Biscuits, cut into 8 pieces each
Instructions
Preheat oven to 350°
In a large skillet, over medium-high heat, brown ground beef. Drain any excess fat.
Add corn, beans, tomato sauce, salsa, cream cheese, spices, and 2 cups of grated cheddar cheese.
Pour into a 9 x 13 casserole dish.
Cut buttery biscuits into 8 pieces per biscuit and place on top of casserole filling. Sprinkle top with remaining cup of cheddar cheese.
Place casserole in preheated 350° oven and bake for 30-35 minutes until biscuits are golden brown and casserole filling is bubbly. Remove from oven and allow casserole to rest for 10 minutes before serving.
Nutrition Information:
Yield:
6 servings
Serving Size:
1 1/2 cups
Amount Per Serving:
Calories:

781
Total Fat:

57g
Saturated Fat:

30g
Trans Fat:

1g
Unsaturated Fat:

21g
Cholesterol:

187mg
Sodium:

1296mg
Carbohydrates:

26g
Fiber:

4g
Sugar:

6g
Protein:

42g