Hamburger Mexican Skillet is a quick, delicious, and economical dish that the whole family will love! Loaded with lean brown ground beef, Taco Rice, Pinto Beans, Cheese, Sliced Olives, Diced Tomatoes, and topped with Chili Lime Tortilla Strips. It's Tasty!
Y'all love my recipe for the Country Hamburger Skillet Dinner and commented over and over again how you love a quick easy dish you can make with hamburger.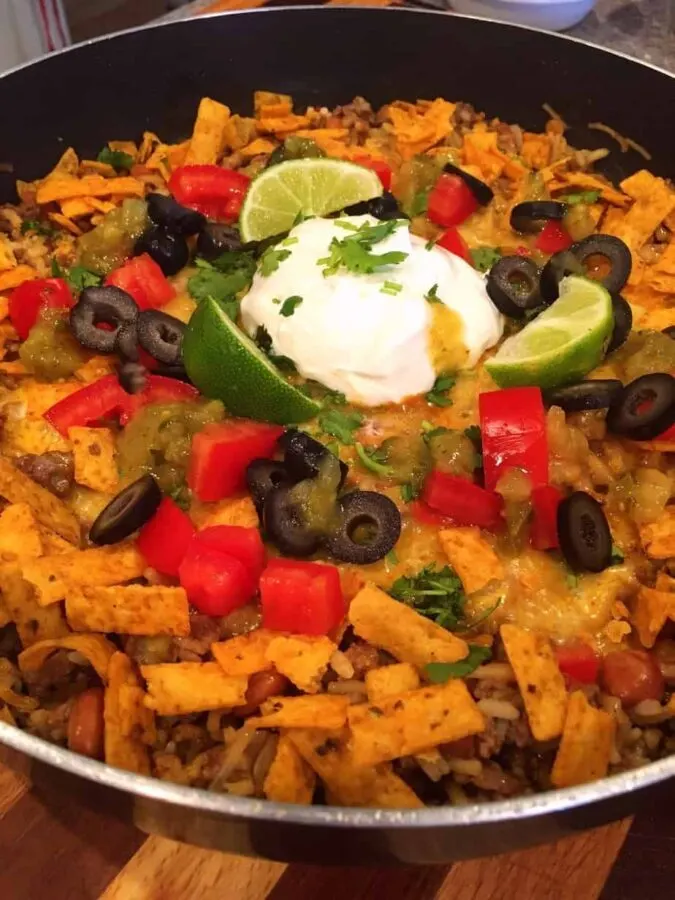 I get it! I really do. When our Nest was full and our budget tight…I was always looking for a meal that would stretch a pound of ground beef.
Things haven't changed that much…(except for the sagging and grey hair. let's not go there…lol)…and I still love coming up with ways to stretch a pound of hamburger into an appetizing dish the whole family will love. So I did!
This is another simple hamburger dish that comes together quickly, is packed with flavor, and made in one skillet! Even better!
How To Make Hamburger Mexican Skillet Dinner
In a large skillet that has a lid, brown one pound of ground beef, in 1 Tablespoon of olive oil, with 1 Tablespoon of dried onion flakes.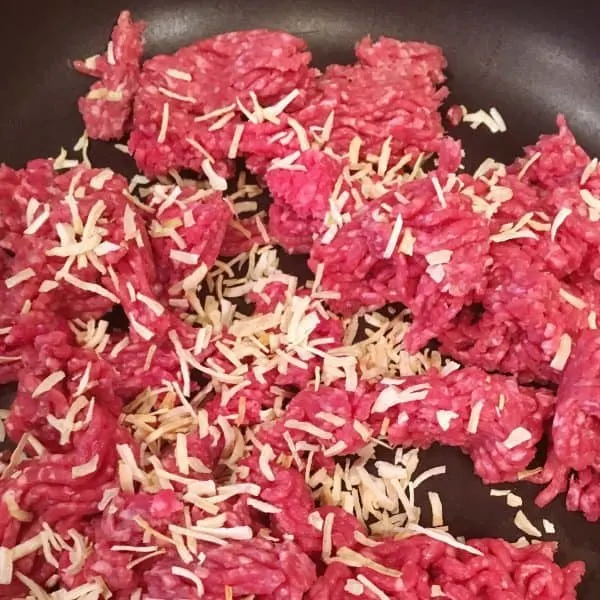 DO NOT DRAIN!We want all the flavorful juice from the ground beef and onions.
Add one 5.4 oz. package of Knorr Taco Rice Fiesta Sides.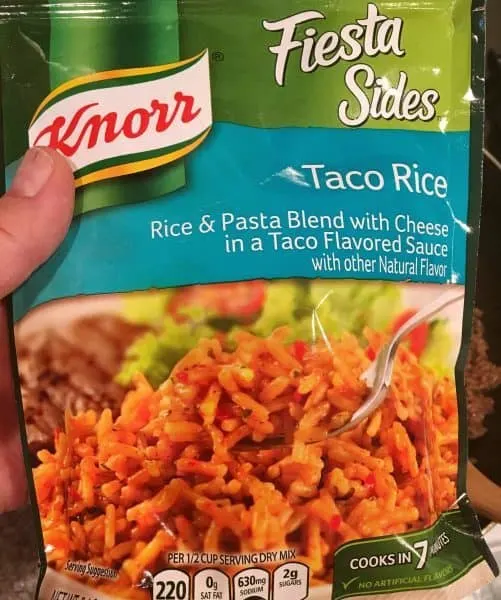 Stir directly into the brown ground beef.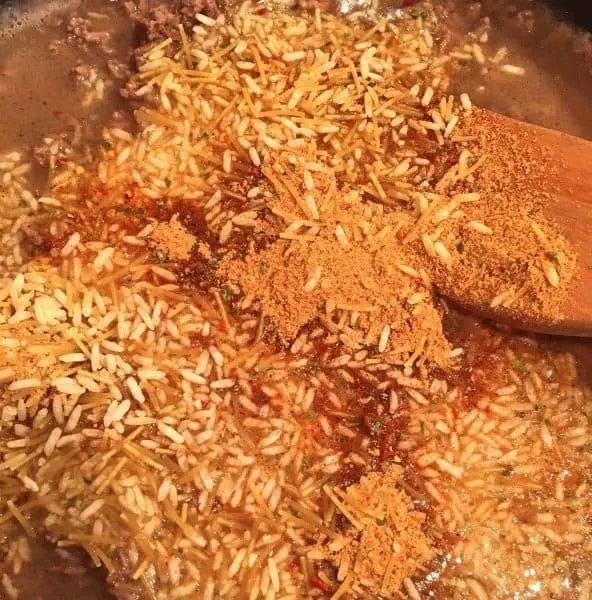 Add 2 cups water. I know it seems strange adding water, but we need it for the rice and noodle mixture.
Bring to a boil. Reduce the heat, cover, and simmer for 7 – 10 minutes. Until most, but not all, the liquid is absorbed.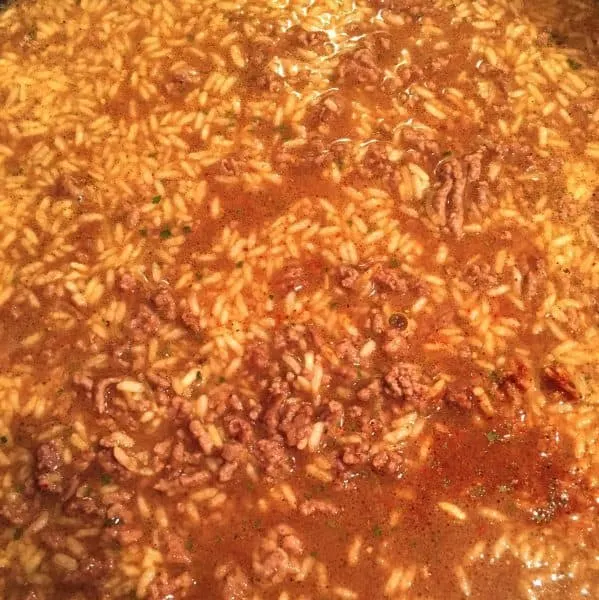 Remove lid. Stir in 1 cup of rinsed pinto or black beans. I used some of my left over Copy Cat Cafe Rio Pinto Beans, but any beans will work.
TIP: If you are going to use plain pinto or black beans add 1/4 cup of salsa. Stir together and cover for another 5 minutes, or until all the liquids are absorbed.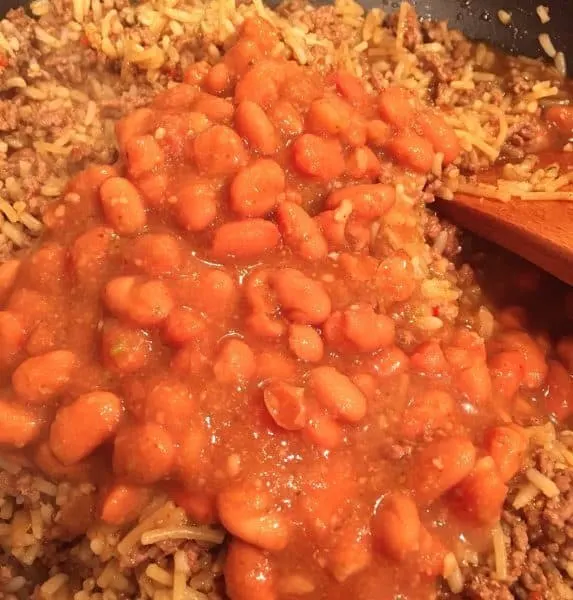 Once all the liquids are absorbed add 1 1/2 cups shredded cheese. I love me some Cheese! Add a little more if ya want! It's nummy! (Yes! I just said "Nummy"…I spend my days with a two-year old sometimes! lol)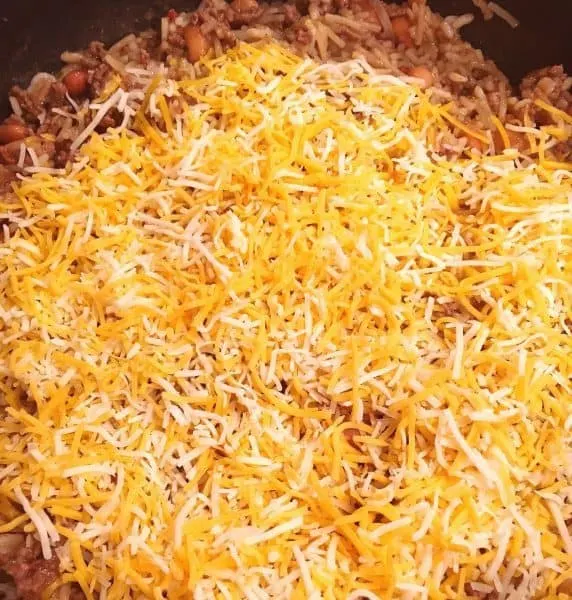 Cover until melted and gooey! Cause gooey is good!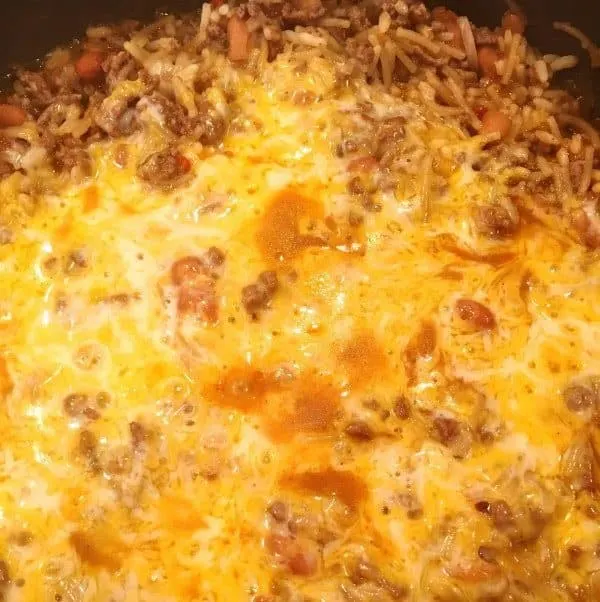 Remove lid and sprinkle the outside edge with 2 Cups of Texas Toast Chili Lime Flavored Tortilla Strips.
That will leave enough in the bag for ya to munch on…cause ya know ya want to! The kids are driving ya to snacking… and if it's summer the heat is turning you into a monster. (I say blame the kids! No one wants to admit to menopausal heat stroke! lol)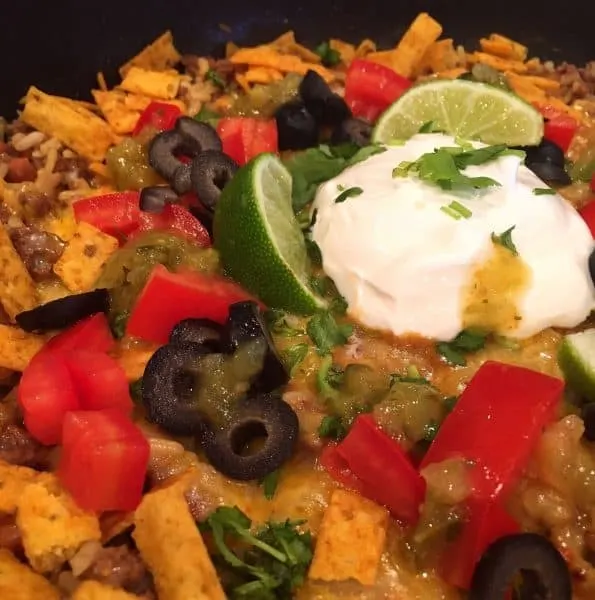 Garnish with sliced olives, diced tomatoes, sour cream, lime wedges, chopped cilantro and a drizzle of Salsa Verde.
BAM! Ready in less than 30 minutes!
Isn't this a mouth-watering dish? Like tacos in a skillet! Which I debated about calling it…but it just didn't sound right…at least to my old hearing impaired ears!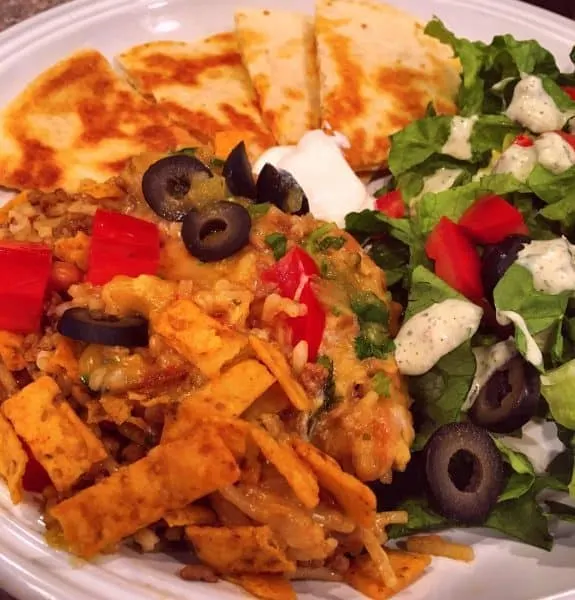 It's loaded with delightful savory Mexican flavors. The hubs had two helpings of this dish…that's always my measure of success! (Rumor has it his wife may have had seconds too? However…She was just "recipe testing"! lol Yep…stickin' to that story!)
If you're making this for a big family you may want to double the recipe…it's just that GOOD everyone will want seconds…maybe even thirds!
I served this scrumptious dish with small crispy cheese quesadillas' and a simple lettuce and tomato salad with a cilantro dressing. I wanted to stick with the "Mexican" dish theme. (I was also shaking my Maracas! lol… Made serving the dish a little difficult, but I'm amazing at multi-tasking.)
Other Favorite Mexican Main Dish Recipes for your Nest
I hope your family, and your budget, love this dish! Happy Nesting!
Come join the party!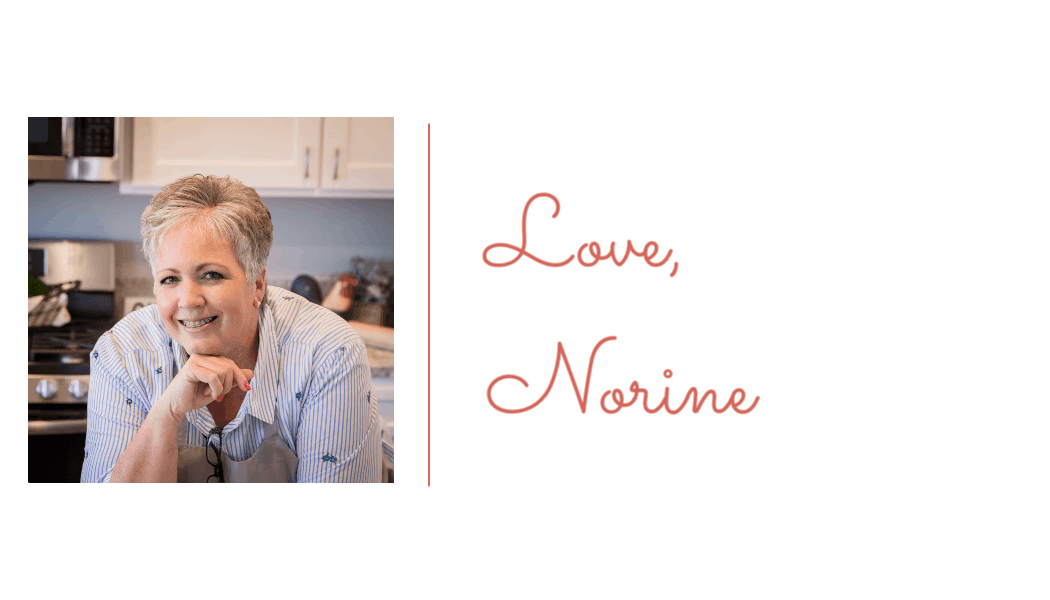 Yield: 6 servings
Hamburger Mexican Skillet Dinner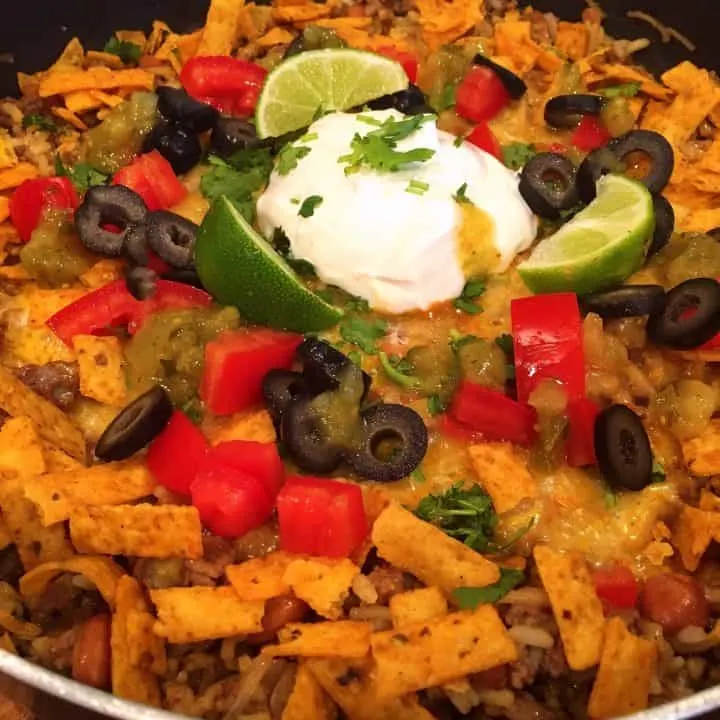 A quick and easy hamburger dish full of savory Mexican flavors. So tasty the whole family will love this dish!
Ingredients
1 pound lean ground beef
1 Tablespoon Olive Oil
1 Tablespoon dried onion flakes
1 package (5.4 oz) of TKnorr Taco Rice
2 cups water
1 cup pinto beans, rinsed and strained
1/4 cup salsa
1 1/2 cups grated cheese
2 cups Texas Toast Chili Lime Tortilla Strips
1/2 cup sour cream
1/4 cup sliced olives
1 Roma Tomato diced, seeds removed
1 Tablespoon chopped cilantro
Limes and Salsa Verde for garnish
Instructions
In a large skillet, with a lid, over medium high heat, brown ground beef in 1 Tablespoon of Olive Oil. Add 1 Tablespoon of Dried Onion Flakes.
Do Not Drain meat.
Add 1 package of Knorr Taco Rice. Stir until well combined.
Add 2 cups water. Bring to a boil. Reduce heat to low simmer. Cover with lid and cook for 7-10 minutes until most, but not all, of the liquid is absorbed.
Add one cup rinsed and drained beans and 1/4 cup of your favorite salsa. Stir until combined. Cover and Cook until ALL the juices are absorbed.
Uncover and top with grated cheese. Cover agan until cheese is melted.
Sprinkle chili lime tortilla strips around the edge of the skillet. Garnish with Sour Cream, sliced olives, diced tomatoes, and chopped cilantro. Drizzle with Salsa Verde.
Recommended Products
As an Amazon Associate and member of other affiliate programs, I earn from qualifying purchases.
Nutrition Information:
Yield:
6 servings
Serving Size:
1 cup
Amount Per Serving:
Calories:

840
Total Fat:

45g
Saturated Fat:

18g
Trans Fat:

1g
Unsaturated Fat:

22g
Cholesterol:

128mg
Sodium:

1246mg
Carbohydrates:

62g
Fiber:

7g
Sugar:

6g
Protein:

46g