A Tender flaky pie shell filled with creamy coconut filling, whipped cream, topped with toasted coconut all combine to create this Easy Coconut Cream Pie ! My secret weapon…pudding and coconut milk! The perfect spring time dessert and so easy to make!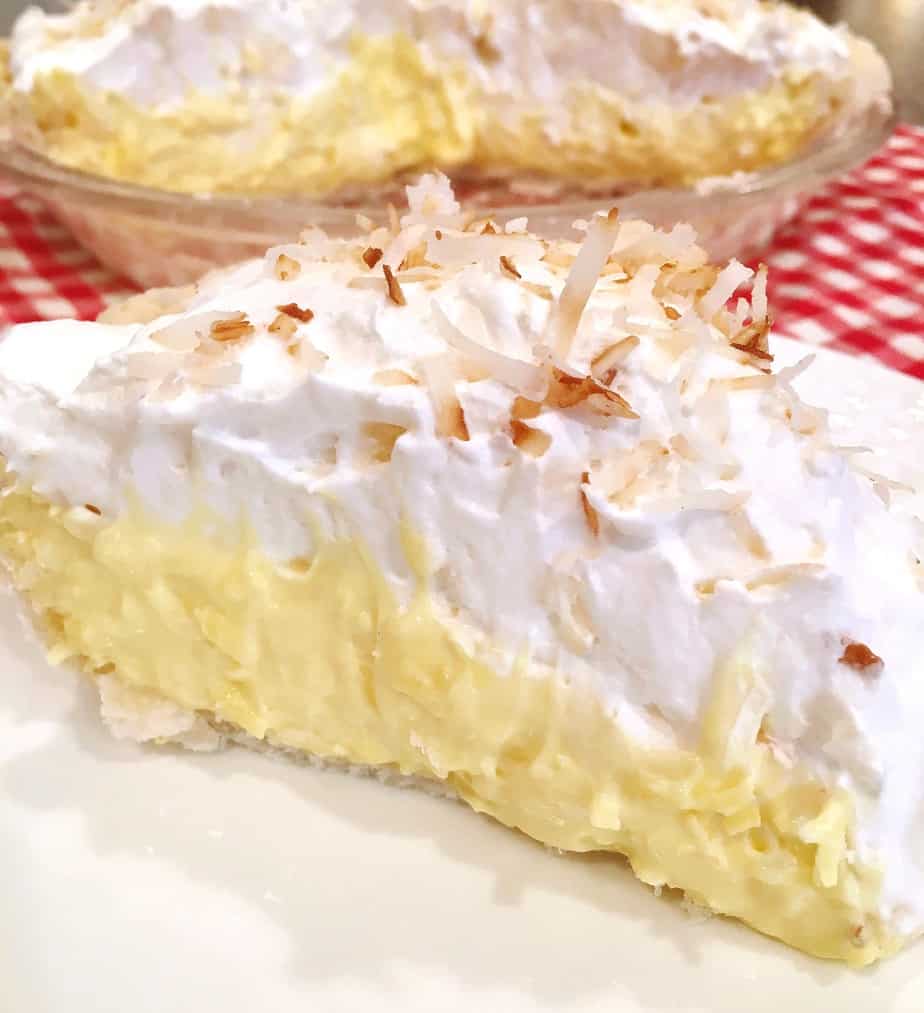 Who likes cream pies? Not the kind you throw…the kind you eat!
Today, I'm sharing my recipe for Easy Coconut Cream Pie! I'll be honest…it's a cheater pie! I'm not a huge fan of heavy cream pies and I am not a huge fan of standing over the stove, especially during the hot summer months, cooking custard fillings so… I cheat and I use instant pudding.
However, if you know me, you know that I always kick things up a notch or two. So it is with this scrumptious light tasty pie!
Can you believe I didn't have coconut cream pie until I was in my 50's! Yep…it's the honest truth.
When our son-in-law started dating our daughter I asked him one day what his favorite dessert was? He replied… "Coconut Cream Pie!" I thought "Figures! I've never made a coconut cream pie!"
Well, I love a good challenge and since he told me he didn't think I could make one as good as his Grandma's (Say What?!!! Ohhh- ho-hooooo! Throwing it down!) I went to work proving him wrong. (Which is nearly impossible! lol)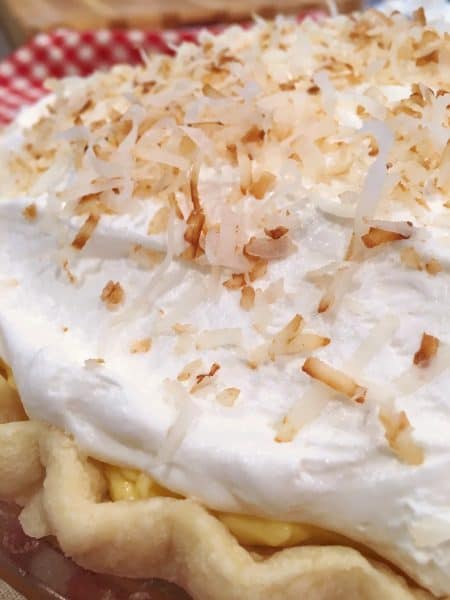 While I'll admit he has never given me a higher ranking than Grandma, he did say it comes close! Considering I know what an amazing cook his Grandma is, I'll humbly accept 2nd best! (That is such a lie! I'll keep trying…when it comes to food I'm highly competitive! lol)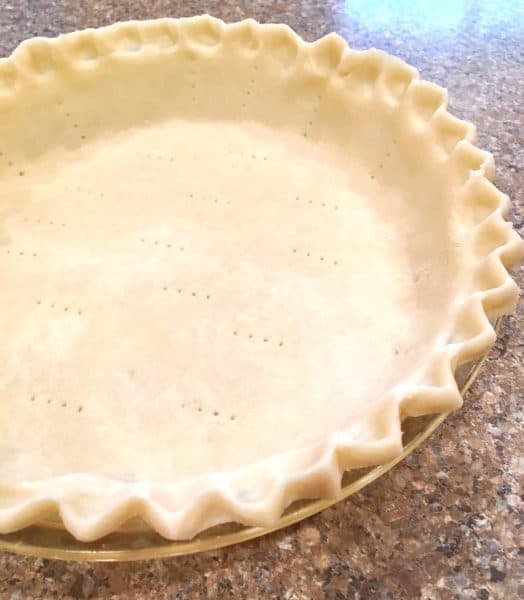 How To Make This Easy Coconut Cream Pie
You will need one baked pie shell, that is completely cooled. This is mine before I popped it in the oven. ( I am going to do a post just on pie crust one of these days! Promise.)
You can buy a prepared pie dough, prepared crust, or make your own. If you know me, you know which one I'd suggest but, seriously you can do whatever is most comfortable for you.
The Rich coconut pie filling starts with 2 small packages of coconut cream instant pudding, 1 cup ice cold milk, and 1 cup coconut milk. (That's the secret! The coconut milk! A game changer in this cheater coconut cream pie.)
In a medium size bowl whip the pudding, milk and coconut milk until it is nice and thick. Then add 1/2 cup shredded coconut flakes, 1 tsp coconut extract. Mix until well blended.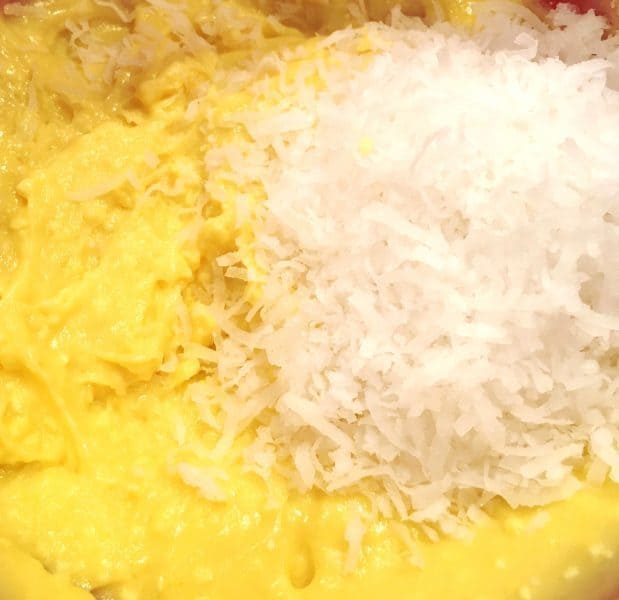 Next gently fold in 1 1/2 cups of cool whip. (There's my favorite Christmas spatula again!)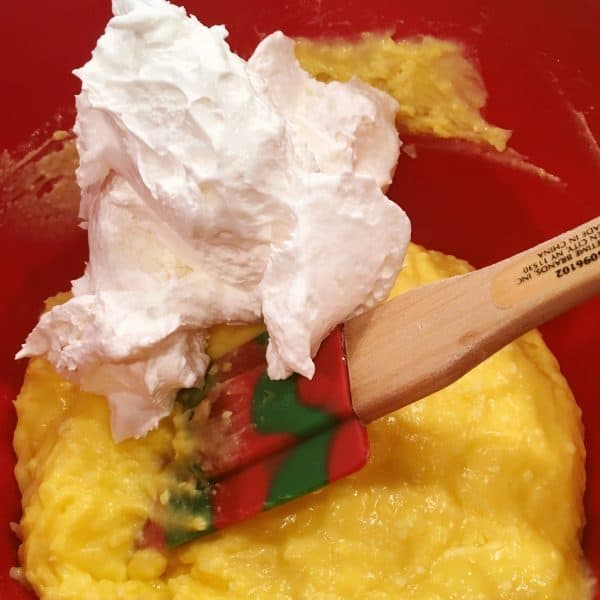 Once the cool whip has been folded into the pudding and incorporated together, you will pour the filling into your cooled pie shell.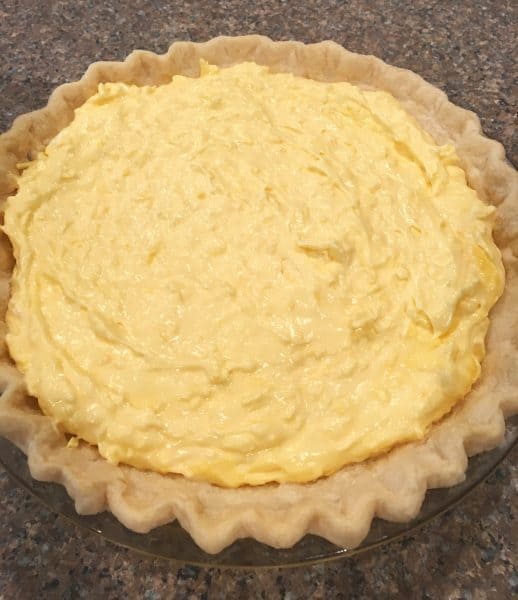 Make sure you smooth out the top and push the filling to the inside edge of the pie shell.
Use the remaining cool whip as your whip topping. You can use more or less…this will depend solely on your love of whipped topping. I love it and I love a nice full pie, so I pile it on. (Oh, I leave some in the container to sneak a scoop out before tossing it away! I'm not insane!) Be sure to smooth it out nice and pretty!
Next take your toasted coconut flakes and sprinkle them on top of the whipped topping.
How To Toast Coconut
Place 1/2 cup of coconut flakes into a small skillet on top of the stove. Using a wooden utensil stir constantly over medium heat until flakes begin to turn light brown. Quickly remove from the heat and transfer the toasted flakes onto a paper plate so they stop toasting. Coconut burns FAST if you don't watch it and remove it from the heat source.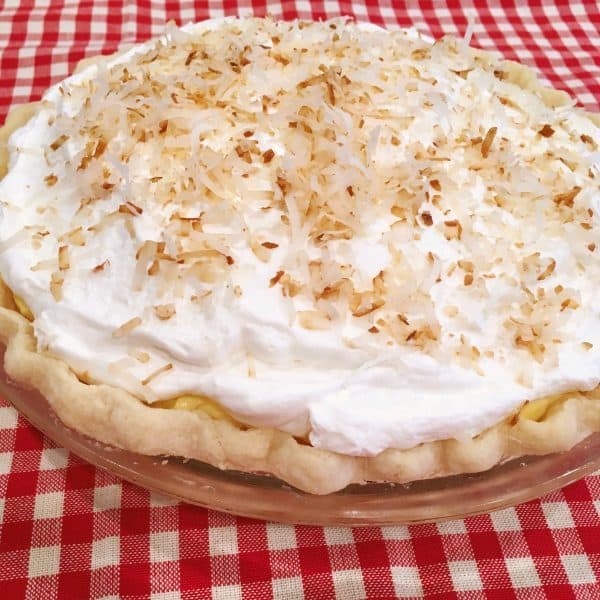 Doesn't that look super yummy! Let it set up a bit by placing it in the refrigerator (If you're like me and having your own personal tropical heatwave via a hot flash, you can climb in there with it!) You'll need to let it set for at least 2 hours.
There you have it! Easy Heavenly Coconut Cream Pie! Maybe Grandma and I need to have a bake off? (wink, wink! I'm pretty sure she could take me! But I won't go down without trying!)
This Coconut Cream pie is so simple to make. Even if you've never made a pie before, this is a GREAT one to begin with!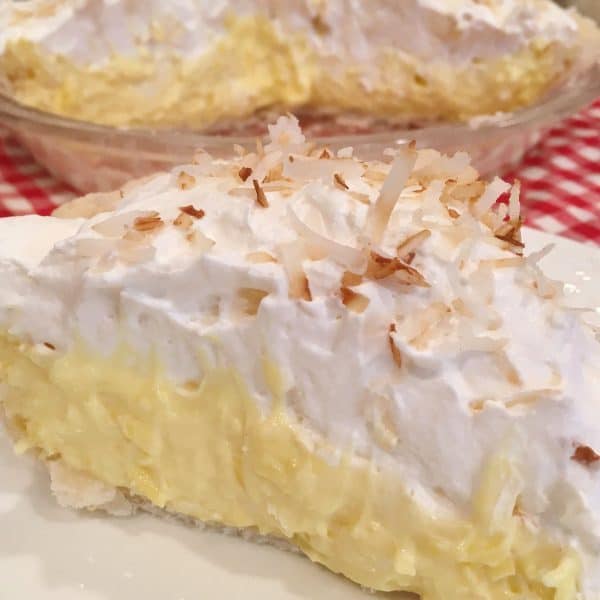 Now all we need is a fork so we can dig in! It's light, fluffy, not too heavy but, full of delectable coconut flavor, rich cream filling, and… it melts in your mouth! A few little birdies Sunday had seconds! That's when you know you have a good pie!
Other Favorite Family Pies
I hope you enjoy this easy recipe for Coconut Cream Pie. The printable recipe is located below. I know it has become one of our very favorites and it's perfect during the summer months!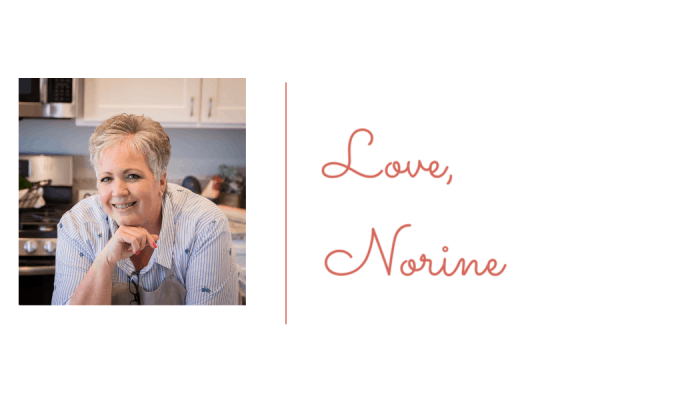 Yield: 8-10 servings
Easy Coconut Cream Pie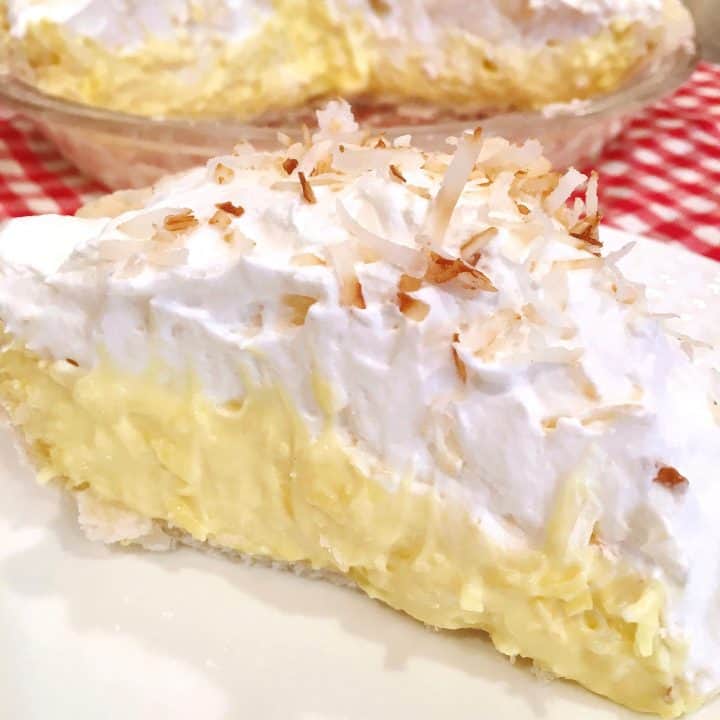 An Easy Coconut Cream Pie that is light, fluffy, and extremely delicious. The perfect dessert for a warm summer day!
Total Time
2 hours
30 minutes
Ingredients
2 small packages coconut cream instant pudding
1 cup ice cold milk
1 cup coconut milk
1 teaspoon coconut extract
1/2 cup shredded coconut flakes
1 large tub of cool whip topping
1/2 cup toasted coconut flakes
1 baked 9 inch pie shell
Instructions
In a large bowl combine pudding mixes, 1 cup cold milk, and 1 cup coconut milk. Mix with wire whisk until thick. Add 1/2 cup coconut flakes and 1 teaspoon coconut extract. Blend well.
Fold in 1 1/2 cups cool whip topping. Continue folding until all ingredients are incorporated together.
Pour your cream filling into your 9 inch pie crust shell. Smooth out the top, making sure the filling is pushed to the inside edge of your crust.
Top with remaining cool whip whipped topping. You can do as much or as little as you like.
Chill in refrigerator for at least 2 hours.
Slice and Serve.
Notes
You can easily make this diabetic friendly by using sugar free vanilla pudding in place of the coconut cream and by adding 3 teaspoons of the coconut extract instead of one. Increase the coconut flakes to 1 cup. Replace the regular cool whip for the lite cool whip. Now you have a diabetic friendly dessert perfect for your loved ones.
*Note additional time is for chilling the pie.
Recommended Products
As an Amazon Associate and member of other affiliate programs, I earn from qualifying purchases.
Nutrition Information:
Yield:
10
Serving Size:
1 slice
Amount Per Serving:
Calories:

174
Total Fat:

10g
Saturated Fat:

8g
Trans Fat:

0g
Unsaturated Fat:

2g
Cholesterol:

3mg
Sodium:

108mg
Carbohydrates:

19g
Fiber:

1g
Sugar:

7g
Protein:

3g