Easy Creamy Alfredo sauce over Fettuccine noodles, tender fresh broccoli, and grilled chicken breast come together in this amazing Grilled Chicken Broccoli Alfredo! A family favorite for years!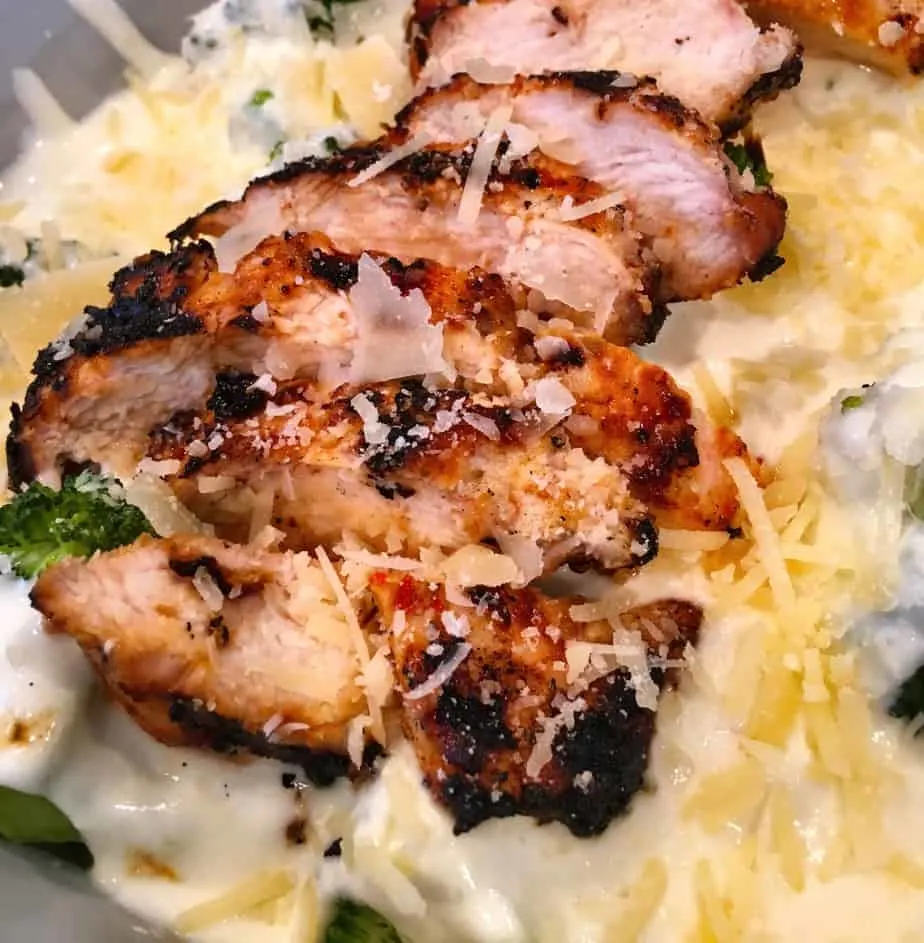 Chicken Broccoli Alfredo is the perfect way to start off any week! It's a fantastic easy pasta dish you can make for your families. (Yes, even the cooking impaired can make this dish!)
I've been making this dish for years and it is a HUGE favorite! You are going to love this recipe. The ingredients are in your cupboard and refrigerator. It's simple to make and its super-duper yummy! I promise your "littles" will be slurping it down.
How To Make Grilled Chicken Broccoli Alfredo
It's gotta start with the chicken! Otherwise we just have Pasta with Alfredo sauce…and the carnivores at this house will not stand for that!
You'll need 3 boneless, skinless chicken breasts. For the marinade I use Kraft Sun Dried Tomato Salad Dressing. Seriously! This is my favorite dressing for marinade. Steaks or Chicken, you can't go wrong. It's amazing! (Thank you, Kraft!) I have bottles of this on hand during the summer months!
Place the chicken breast in a gallon size zip lock bag. Pour 1 cup of dressing over the chicken breast. Squish it all around for a minute. Then toss them in the refrigerator, walk away, dance away…whatever pleases you…lol… and let them do their thing.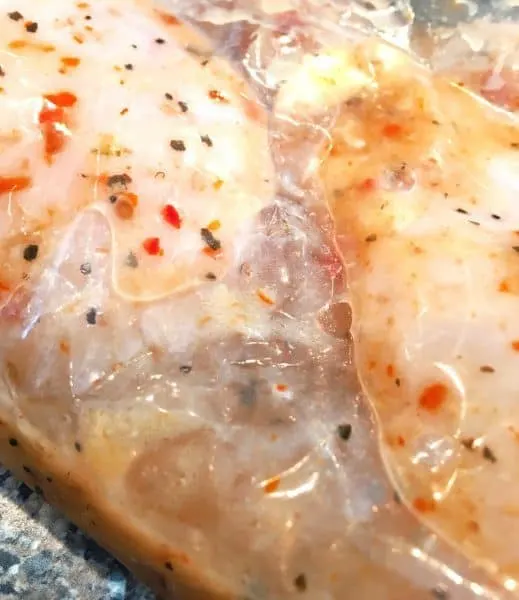 I'll be honest…I knew my weekend was going to be NUTS… so I placed mine in the bag on Friday and didn't grill them till Sunday! So, you can marinade 4 hours, or you can marinade them for 48. Either way you'll be okay.
Easy Alfredo Sauce with Cream Cheese
Next in a medium size sauce pan over medium-low heat add 1 stick of butter, 1- 8 oz. bar of cream cheese cut into squares, and 3/4 cup Parmesan cheese.
With a wire whisk, over medium-low heat, stir constantly, until all the ingredients melt together and combine.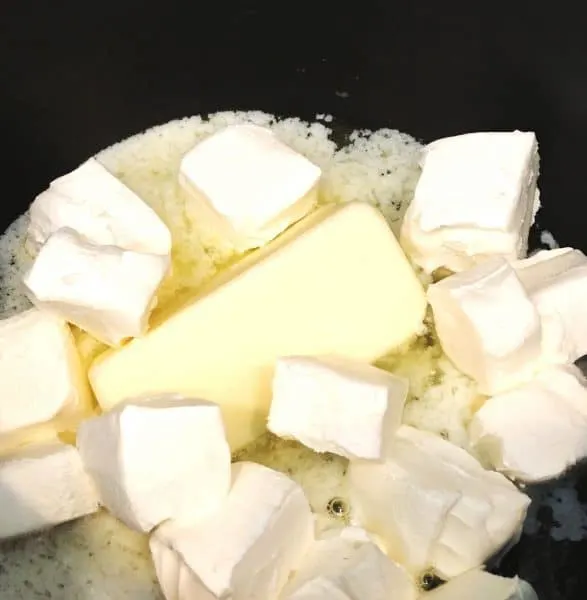 Add in Parmesan cheese and whisk until it combines. It won't totally combine, but that's okay. The milk is going to jump in there and smooth everything out. Trust me.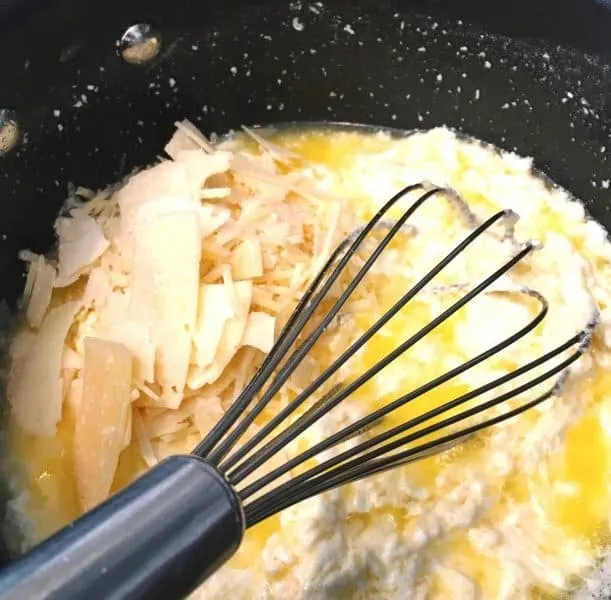 Stir, stir, stir. As it begins to blend together now is the time to add 3/4 cup of milk and 1/2 cup of white cooking wine.
TIP: If you don't want to add the cooking wine you do not have to. Just increase the milk to one cup, and continue adding milk until you have the consistency you like. When it is all blended together it should look like the photo below.
You now have a rich, flavorful, Alfredo sauce. Wasn't that easy? (Yep… It was! Lol) Allow the sauce to simmer, stirring occasionally. If it becomes too thick…add extra milk.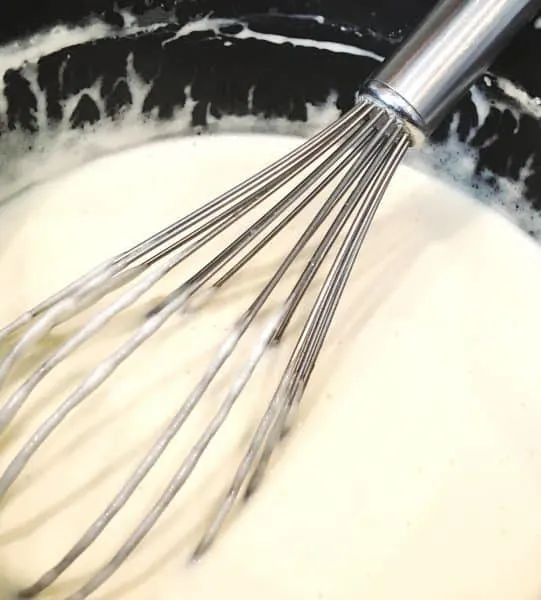 When it's time to pull this recipe together, wash and clean two full stocks of broccoli. (Should be about 2 cups worth) Cut the broccoli into florets, place them in a small pot, and throw out all your broccoli stems. (Yep, forgot the photo… I'm consistent at least!) Bring to a boil and cook till just tender crisp. (You don't want icky soggy broccoli! No, no, no!) Drain the broccoli, cover, and keep warm till ready to assemble.
Fill a large pot, halfway with water, bring the water to a boil. Cook your noodles al dente!
While the noodles are cooking it is good time to start grilling that chicken! Send your grill master out with those chicken breasts, or you can also cook them in a skillet on top of the stove! I've done it both ways, and it turns out beautifully. Just be sure to cook them till the juices run clear!
Assembling Grilled Chicken Alfredo
In a large casserole dish, layer the Fettuccine, then the broccoli. Next, slice your grilled marinated chicken strips into 1/4 inch slices. Pour the warm Alfredo sauce over the Fettuccine and broccoli. Then lay your chicken strips on top. Sprinkle with shredded Parmesan. That's it! You are done! Hooray You!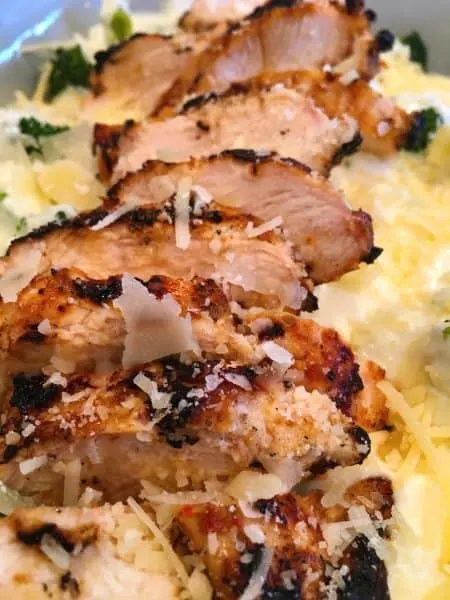 Isn't it mouth-watering?(I'm drooling right now, and I even had the leftovers for lunch! I'm so pathetic in my love affair with food!)
Grilled Chicken Alfredo is so simple to make, yet so beautiful. The great thing about this dish is that if you don't like broccoli, don't add it. If you like more chicken, grill it. If you like your Alfredo sauce thin…add more milk…if you like thick…add less. If you have kids that just want noodles and sauce…easy peasy to scoop from the side.
Start to finish this dish only takes about 30 minutes to pull together, minus the marinating.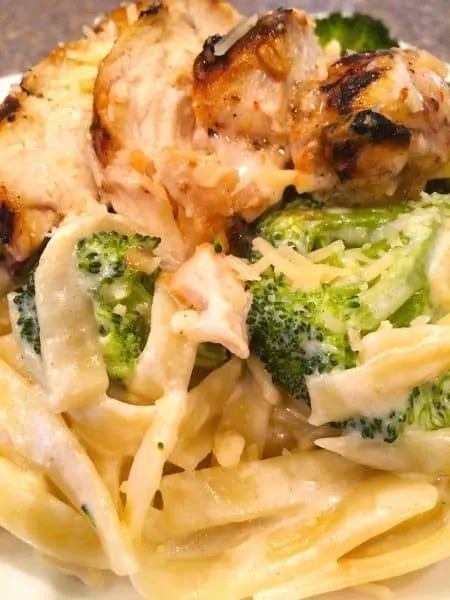 I serve this with garlic cheesy bread and an easy Caesar salad. It is such a complete meal you really don't need more. You are going to be shocked how juicy and flavorful that grilled chicken is from the Kraft Salad dressing marinade! It really kicks this recipe up a notch or two! This is such a comforting family dish! Perfect for a family dinner or even a dinner party.
Behind the Scenes at Norine's Nest
Bloopers and Outtakes: When the grand baby photo bombs your photo session! Guess these little piggy's wanted Chicken Alfredo!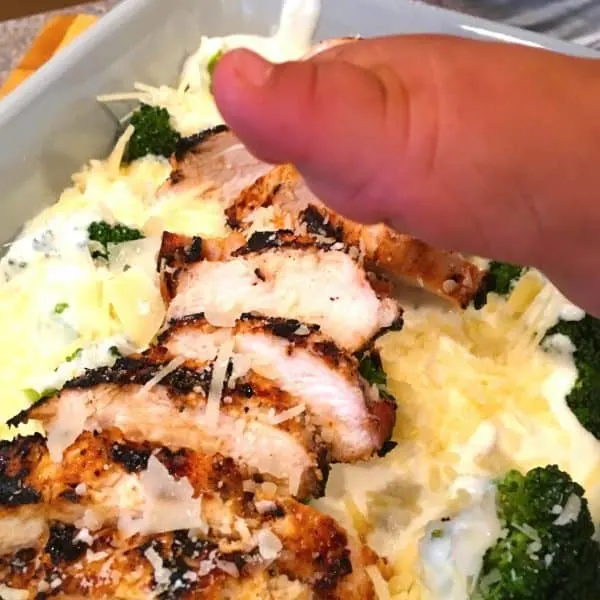 Great Grilling Recipes
Thanks so much for stopping by my nest! I hope your family loves this recipe as much as all the crazy birds at this nest do.
Have a Great Week and Happy Nesting My Friends!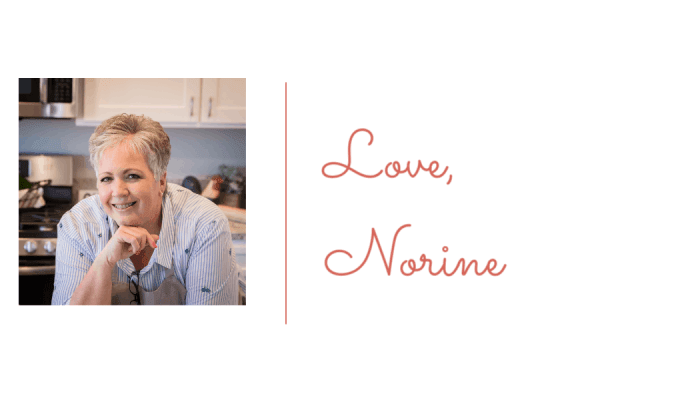 Yield: 6 servings
Grill Chicken Broccoli Alfredo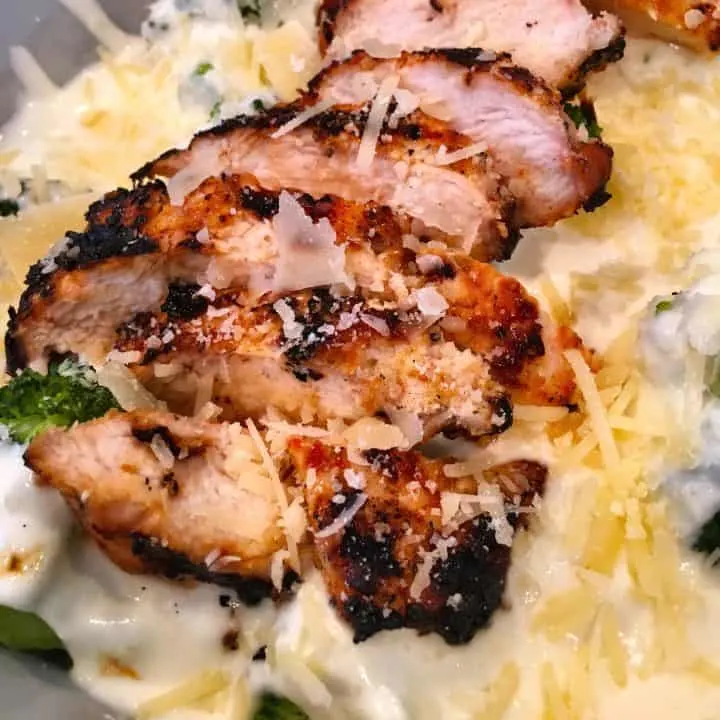 An Easy Grilled Chicken Fettuccine Alfredo that will surely become a family favorite!
Ingredients
3-4 boneless skinless chicken breast
1 cup Kraft Sun Dried Tomato Salad Dressing
1 stick of real butter
1 8oz. package cream cheese, diced into squares
3/4 cup grated Parmesan Cheese
3/4 cup milk
1/2 cup white cooking wine
1 package fettuccine noodles
2 stalks of broccoli or 2 cups cut broccoli florets
Instructions
Place chicken breast and 1 cup of Kraft Sun Dried Tomato Salad Dressing in a gallon zip lock bag and marinade 4 - 8 hours.
n a medium sauce pan cover broccoli florets with water. Bring to a boil and cook till tender crisp. Drain well. Cover and keep warm.
Bring a large pot filled half way full with water to a full boil. Once boiling cook your fettuccine noodles till tender. Drain well.
In a medium sauce pan place 1 stick of butter, 1- 8oz. brick cream cheese cubed, and 3/4 cup Parmesan cheese. Place pan over medium-low heat. Stir constantly until butter, cream cheese and Parmesan cheese melt and blend together. Once blended,stir in milk and white wine till smooth and creamy. If sauce is too thick add more milk till you have reached a desired consistency. Thick or thin depending on your particular taste.
Grill chicken until juices run clear. Cut the chicken breast into 1/4 inch thick slices.
In large serving dish or casserole dish, layer the noodles then the broccoli florets. Pour the Alfredo sauce over the noodles and broccoli. Lay the sliced grilled chicken breasts on top and sprinkle with more grated Parmesan cheese. Best when served immediately. You can keep warm in the oven till ready to serve but, no longer than 30 minutes.
Notes
You can cook the chicken in a skillet on top of the stove if you don't want to grill it. Also note that you do not have to use the cooking wine. You can substitute more milk in place of the cooking wine.
Recommended Products
As an Amazon Associate and member of other affiliate programs, I earn from qualifying purchases.
Nutrition Information:
Yield:
6
Serving Size:
1 1/2 cups
Amount Per Serving:
Calories:

605
Total Fat:

38g
Saturated Fat:

21g
Trans Fat:

1g
Unsaturated Fat:

14g
Cholesterol:

161mg
Sodium:

645mg
Carbohydrates:

27g
Fiber:

5g
Sugar:

7g
Protein:

37g