The Best Key Lime Pie on the planet is made with 4 ingredients! That's right…4 simple ingredients go into making this delicious creamy BEST EVER Key Lime Pie. It's not too tart…not too sweet. To quote the girl with Gold Locks, who broke into the Bears house…"It's just right!" (Kinda like me! Lol Whatever!)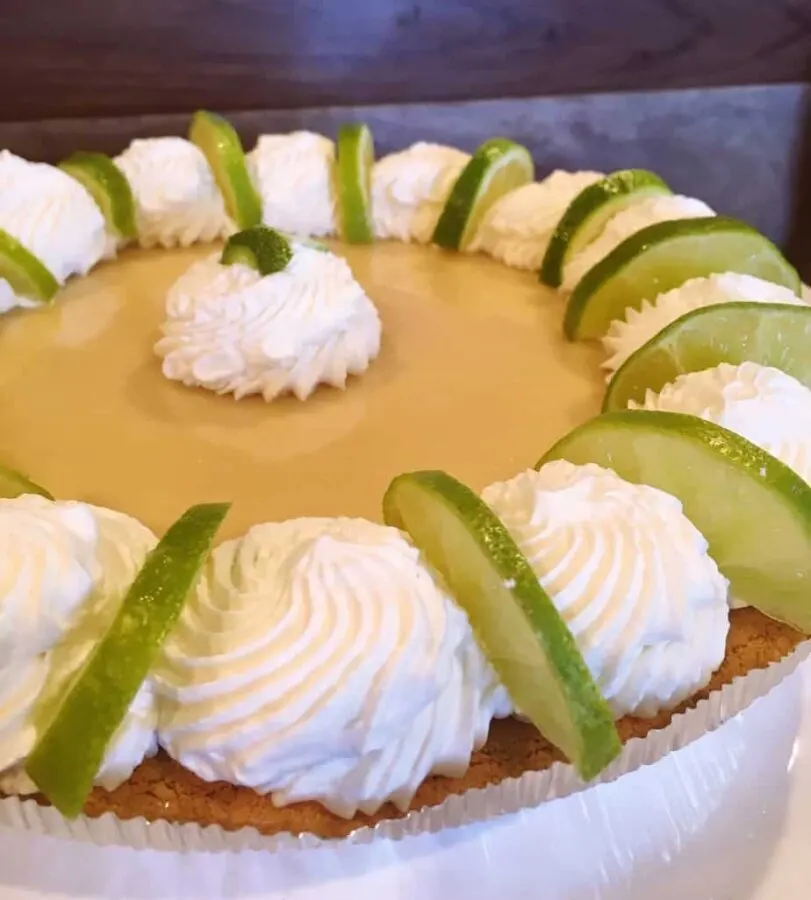 If you're looking for a show stopping, mouth-watering, quick, easy dessert to impress your guest at this year's big cook out…look no further. This is it!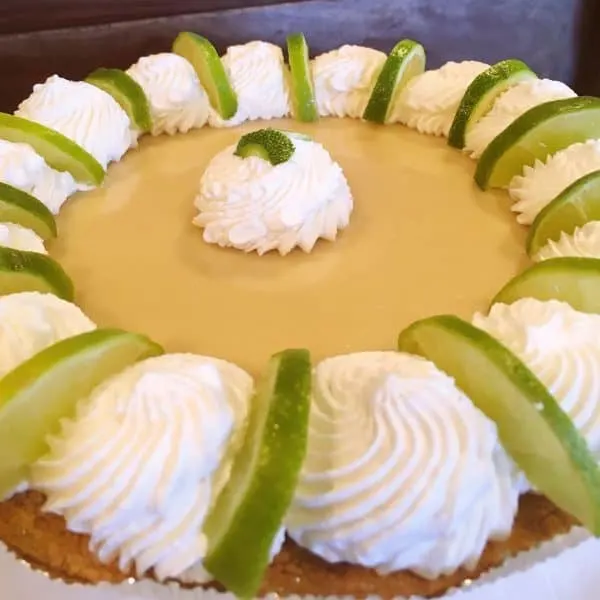 My taste buds are so happy that I finally got around to making this delightful dessert! I truly feel Key Lime Pie is the perfect summer dessert! It's just so refreshing. I know you are going to love this version!
How To Make The Best Key Lime Pie
4 Ingredients for this scrumptious Key Lime Pie
1 (9 inch) Graham Cracker Pie Crust, homemade or store-bought
2 cans sweetened condensed milk
1/2 cup sour cream
3/4 cup key lime juice
I'm no fool…I'm not going to try to juice 300 tiny little key limes when Nellie and Joe's famous Key West Lime Juice has been taking care of that for 45 years! You can juice the key limes if ya want…if not… I HIGHLY recommend this amazing product.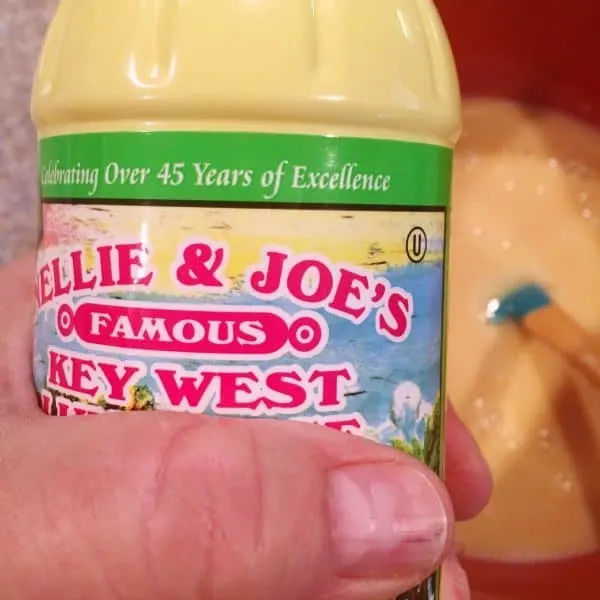 To me summer means great food with less work! This pie was no exception. I try to avoid heating up my kitchen as much as possible. (We like to keep my alter-ego "mean sweaty midlife wench" locked up as long as possible) With a bake time of only 8–10 minutes and a prepared graham cracker crust…this pie meets the criteria.
Preheat your oven to 350°.
How To Make Key Lime Pie Filling
In a medium bowl, combine 2 cans of sweetened condensed milk (about 3 cups)…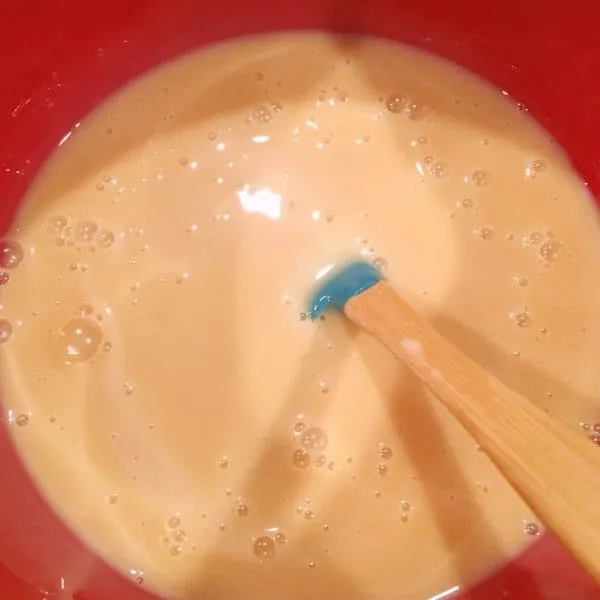 …sour cream, and lime juice. Mix until well combined.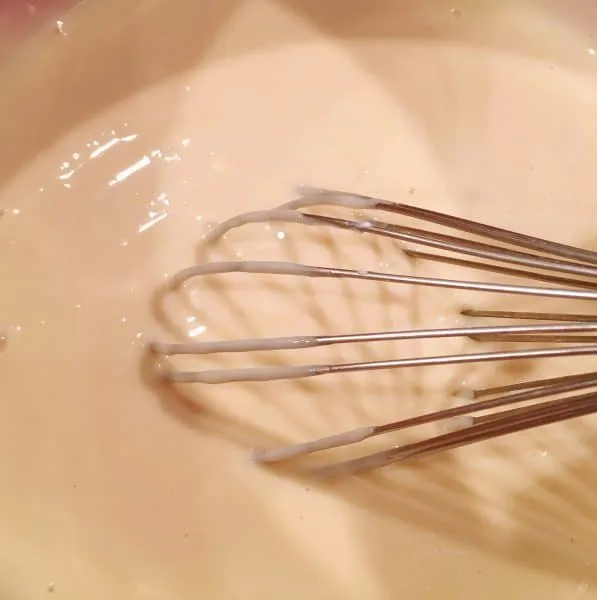 TIP: True Key Lime Pie isn't green! It's a rich cream color. However, if you'd like you can add a couple drops of green food coloring to give it a little depth of color. I added three drops. Just for fun.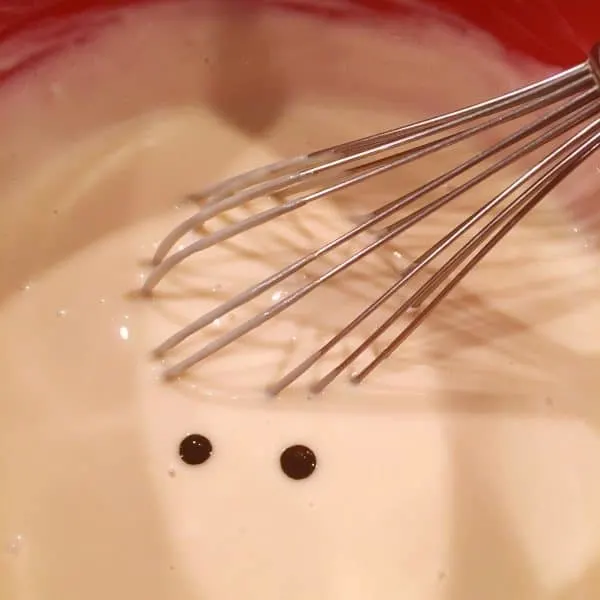 Pour into prepared crust. (Let's be sure to take the plastic liner out of the prepared pie crust. It's just a little something extra I like to be sure to do! I highly recommend not eliminating this step! Lol)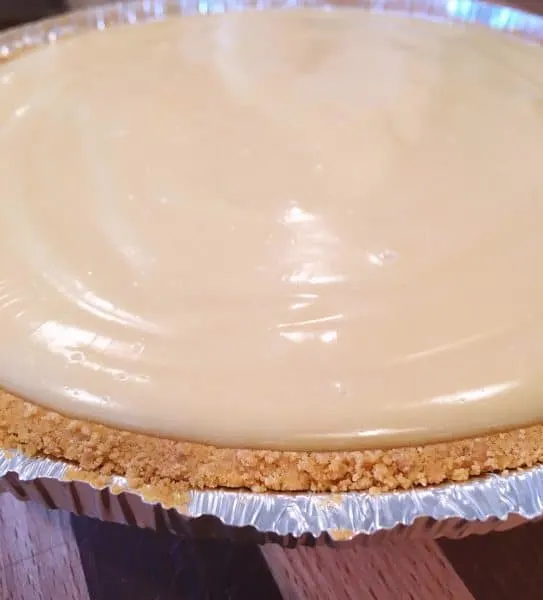 Let's Talk Baking!
When I was a young mother my neighbor friend called one day while I was at work. She left a message on my machine telling me she was making cookies and the recipe called for "soda"! She wanted to know what kind? Root beer? Coke or Sprite? We still giggle about it to this day!
My point…we are all at different cooking levels. So I'm ALWAYS going to try to be as clear as I can be when giving instructions. Sometimes simple obvious things to the experienced baker are not so obvious to someone who has never been in the kitchen!
Bake your Key Lime Pie for 8–10 minutes. NO! You did not read that wrong. This is a "custard" pie, and it doesn't require a long bake time. Bake until tiny pinhole bubbles burst on the surface of the pie.
DO NOT BROWN! (If you're older and the ol' eyes aren't working as good as they used to…you won't see those pinholes. Not gonna happen! No worries…just bake for the 10 minutes)
NOTE: After 10 minutes turn heat off and open the oven door slightly. Allow pie to sit in the cooling oven for 30 minutes.
Remove from oven. Chill pie completely before serving.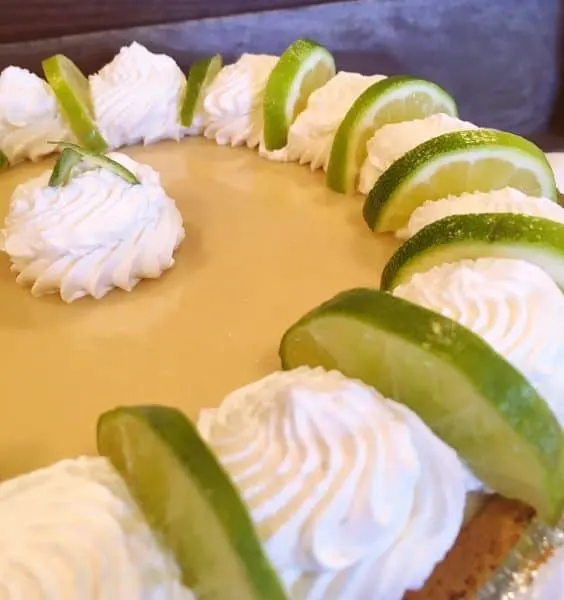 How To Garnish Key Lime Pie
Garnish with Whipped Cream Topping and Lime Slices. Simple right? Aren't you amazed that it was this easy! I know I was!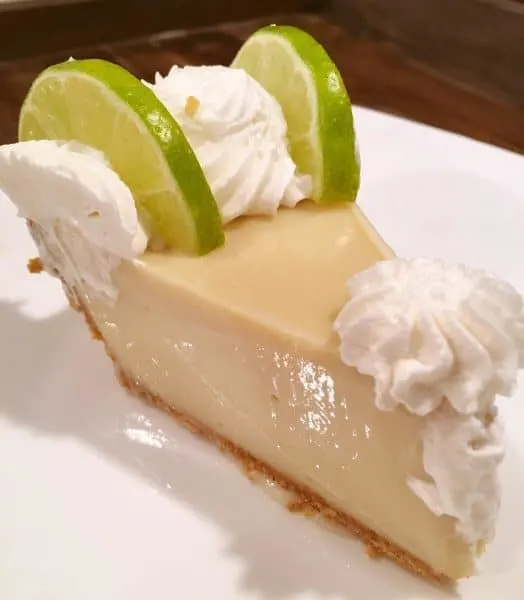 The perfect slice of The Best Key Lime Pie!
This pie sets up beautifully! It's so silky smooth it melts in your mouth! The balance between Tart and Sweet is "Spot On"! It doesn't get any better than this my friends!!!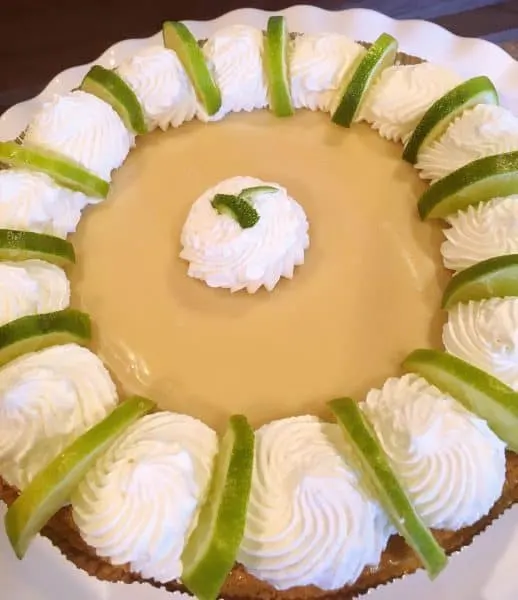 If you're a lover of Key Lime Pie you need to give this recipe a try. I promise it will NOT disappoint! Plus it's such a quick simple recipe. An all around WIN in my book!
If you love Key Lime Pie, you may also enjoy these other Pie Recipes
Remember to sign up for my bi-monthly Newsletter. If you're on Instagram be sure to look me up and follow along with my weekly…sometimes daily…cooking stories for more inspiration in the kitchen!
Thanks for stopping by and visiting with me at my Nest! Have a wonderful day!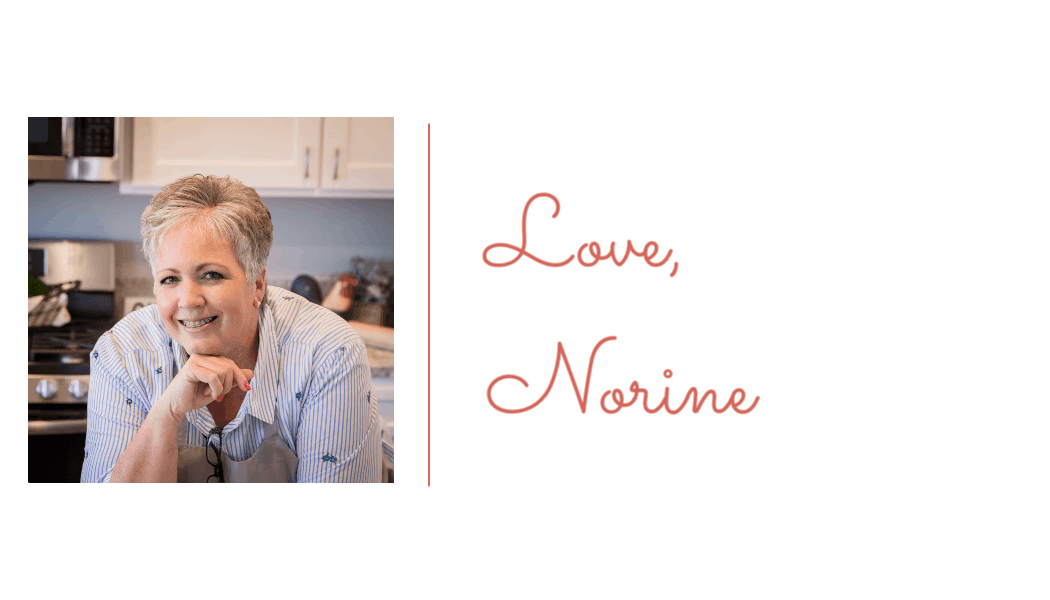 Yield: 8 servings
The Best Key Lime Pie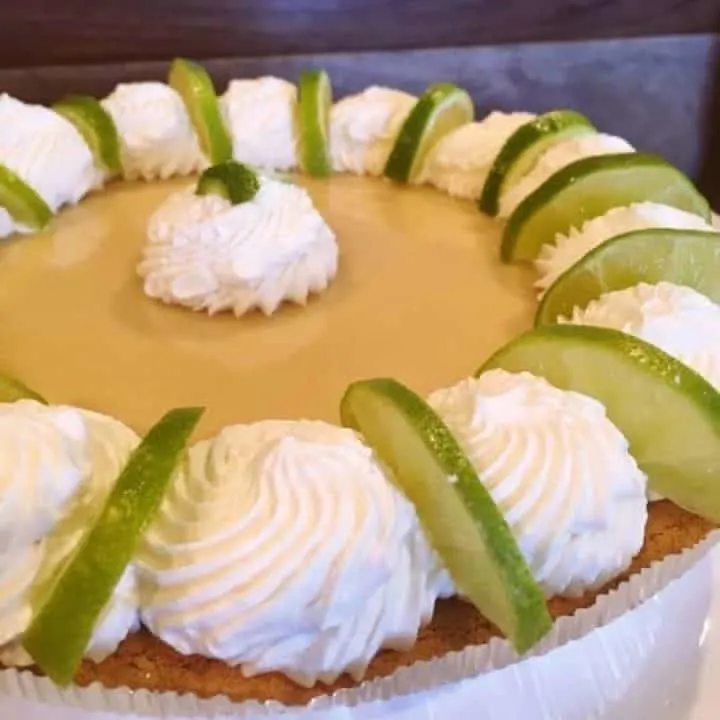 The Best Key Lime that you'll ever have! Just four ingredients combine to make this silky creamy Key Lime pie that is the perfect balance between Tart and Sweet. It is truly the BEST Key Lime Pie EVER!
Ingredients
1 (9 inch) graham cracker pie crust, prepared or homemade
2 cans of sweetened condensed milk.
1/2 cup sour cream
3/4 key lime juice
Whipped Cream Topping and Lime Wedges for garnish
Whipped Topping Ingredients
1 1/2 cups heavy whipping cream
1 tsp vanilla extract
6 Tablespoons Powder Sugar
Instructions
Preheat oven to 350°
In medium bowl, combine condensed milk, sour cream, and lime juice. Mix well. Add two drops green food coloring if desired. Mix until well combined.
Pour into graham cracker crust.
Bake in preheated oven for 8-10 minutes, until tiny pinhole bubbles burst on the surface of the pie. DO NOT BROWN! Turn oven off and open oven door a crack. Allow to sit in cooling oven for 30 minutes.
Remove from oven and chill completely before serving. Garnish with lime slices and whipped cream if desired.
Whipped Cream Topping
In mixing bowl add one cup ice cold whipping cream. Add 1 teaspoon vanilla extract. With wire whisk attachment whip on medium high speed until stiff peaks form. Add Powder Sugar and mix until well blended.
Recommended Products
As an Amazon Associate and member of other affiliate programs, I earn from qualifying purchases.
Nutrition Information:
Yield:
8 servings
Serving Size:
1 Slice of Pie
Amount Per Serving:
Calories:

355
Total Fat:

26g
Saturated Fat:

14g
Trans Fat:

1g
Unsaturated Fat:

9g
Cholesterol:

63mg
Sodium:

123mg
Carbohydrates:

29g
Fiber:

1g
Sugar:

18g
Protein:

4g