What happens when you combine sweet ripe watermelon, fresh blueberries, juicy bing cherries, toasted almonds, feta cheese, and a little fresh mint with a balsamic dressing? You get this superb Watermelon Summertime Salad!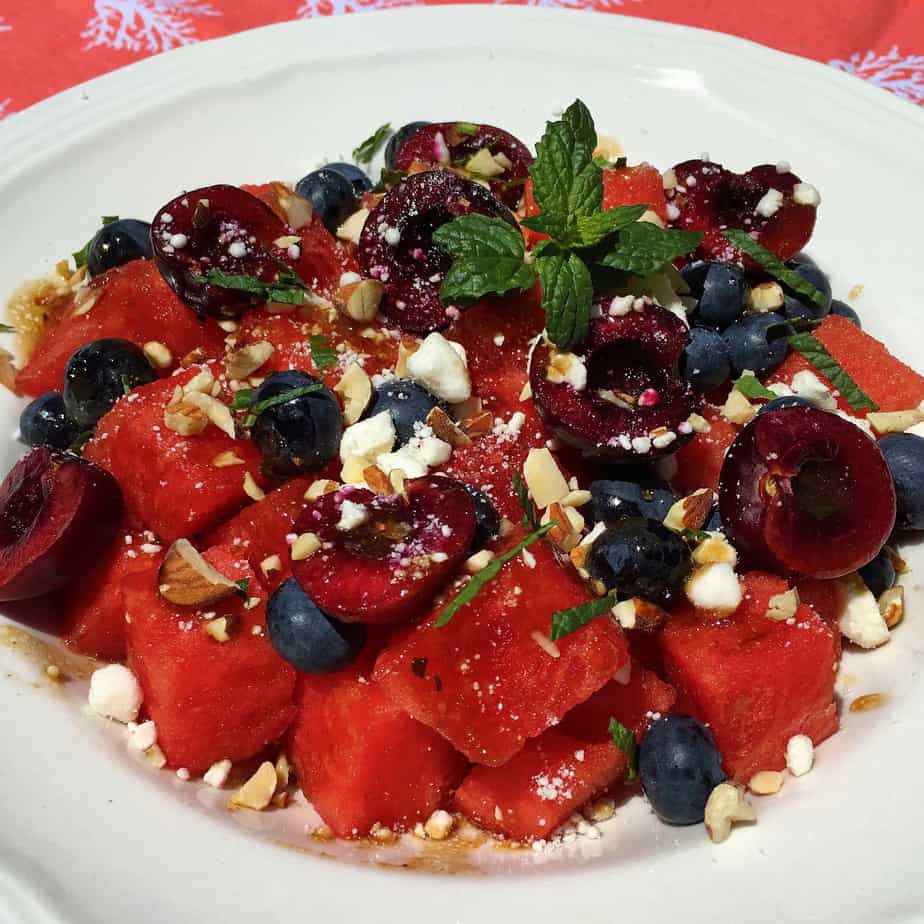 Sometimes I'm in the kitchen experimenting and it turns out so good, and is SO simple, I just have to share it right away. Mainly because I'll forget how I did it! lol (It's called grandma syndrome or I raised 3 teenagers and this is what's left!)
*As an Amazon Associate I earn from qualifying purchases. This post may contain affiliate links, which means that I may make a commission from any purchases at no additional cost to you. Thank you for your support!
I've been craving fresh watermelon. I kept walking past them for months now in the store but, I didn't want to get one and be disappointed. Yesterday I gave into the craving and stood at the bin "knocking" on watermelons. (I swear we all look silly doing it! Like the Keebler Elf is going pop out of a secret door and say "Yep! This one is ripe!")
I finally found one with just the right "bounce" and took it home. (There's not a lot of bounce left at this nest…always happy when I can bring some home with me!)
Thankfully I was not disappointed! It is sweet, ripe, seedless, and ready to be devoured by Moi!
I decided to whip up a summer salad using my watermelon. This salad is so simple and packed with so many different flavors that blend perfectly together even though everything in your brain is saying "NO! This can't be right!" Trust me…it is! It SO is!
How To Make Fresh Watermelon Salad
Prepare watermelon by cutting into bite size cubes and removing any seeds. Place in a salad bowl.
Add 4-5 Tablespoons fresh blueberries, 6-7 fresh cherries cut in half, with the pit removed (I highly recommend this step…unless you LOVE your dentist!).
In a skillet on the stove toast a handful of chopped almonds. Cool. Sprinkle over fresh fruit.
Sprinkle with 2 Tablespoon feta cheese. Chop fresh mint and sprinkle over salad, about 1 teaspoon. Drizzle with a store bought balsamic dressing. I like Kraft.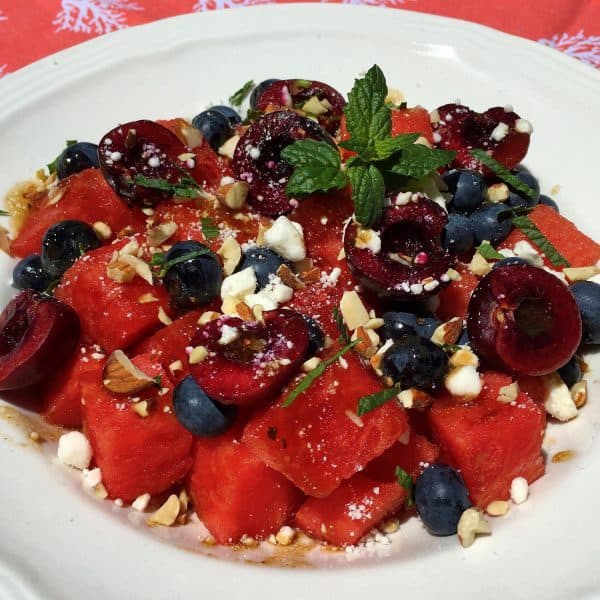 The Sweet berries and watermelon combined with the robust flavor of the Balsamic Dressing and the Feta Cheese are fantastic compliments to each other.
I loved every single bite of this Fresh Watermelon Fruit salad and may have a new summer time addiction in the making! Best part…the dressing is another Kraft dressing. Which makes this salad easy peasy to throw together in a jiffy!
Favorite Summer Salad Recipes
Hope you'll join me in my new found love! The recipe is below so you can print it off but, you probably won't have to. It's just one of those simple dishes!
I'm sharing this delicious salad over on a few of my favorite link parties. Just click the links to join the fun!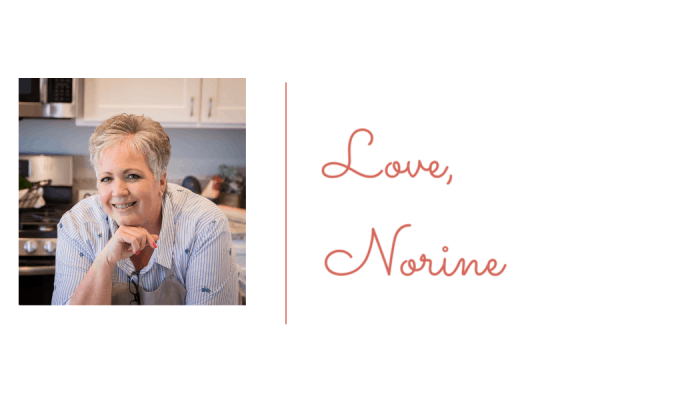 Yield: 1 serving
Watermelon Summertime Salad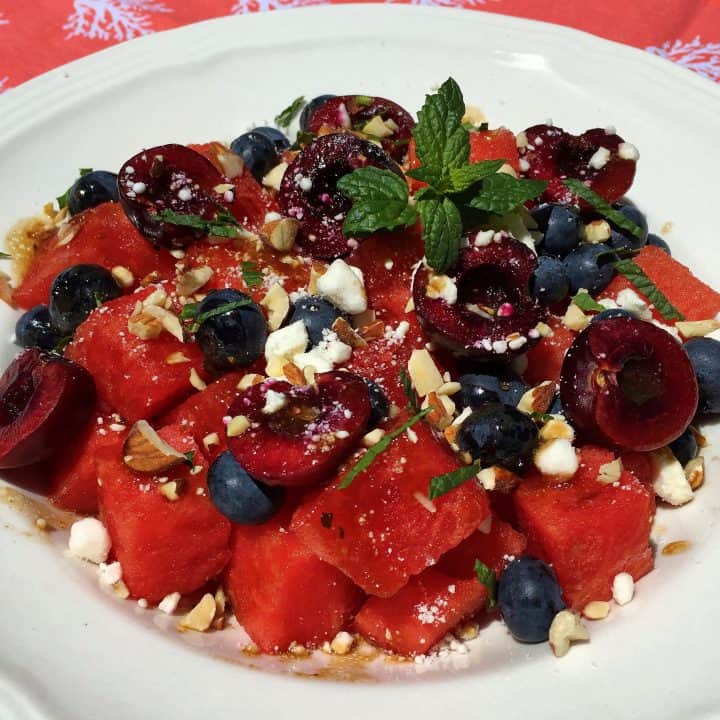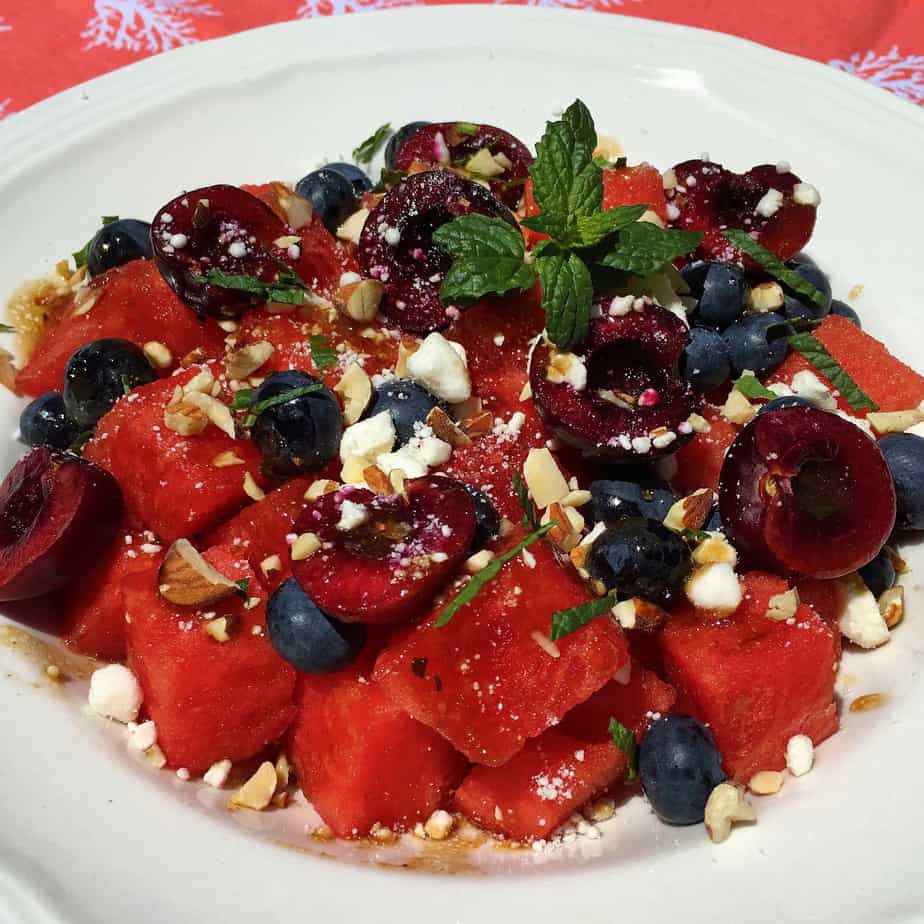 An Amazing Fresh Watermelon Summer Salad. Perfect for a light cool lunch during the hot summer days!
Ingredients
2 cups chilled diced seedless watermelon
1/4 cup fresh blueberries
7--8 fresh red cherries, sliced and pitted
1 Tablespoon Feta Cheese
1 Tablespoon toasted almonds
3-4 fresh mint leaves chopped
Kraft Olive Oil Balsamic Vinaigrette Dressing
Instructions
Place the watermelon, blueberries and cherries in a bowl.
In a skillet over medium heat toast almonds. Cool slightly.
Sprinkle with feta cheese, almonds and chopped mint leaves. Drizzle with Balsamic Dressing.
Recommended Products
As an Amazon Associate and member of other affiliate programs, I earn from qualifying purchases.
Nutrition Information:
Yield:
1
Serving Size:
3 cups
Amount Per Serving:
Calories:

441
Total Fat:

27g
Saturated Fat:

5g
Trans Fat:

0g
Unsaturated Fat:

21g
Cholesterol:

8mg
Sodium:

438mg
Carbohydrates:

49g
Fiber:

8g
Sugar:

35g
Protein:

8g