Light Creamy Chocolate Chiffon Pie is a rich decadent melt in your mouth dessert reminiscent of a delicious chocolate chip mousse. It's the perfect Holiday Pie!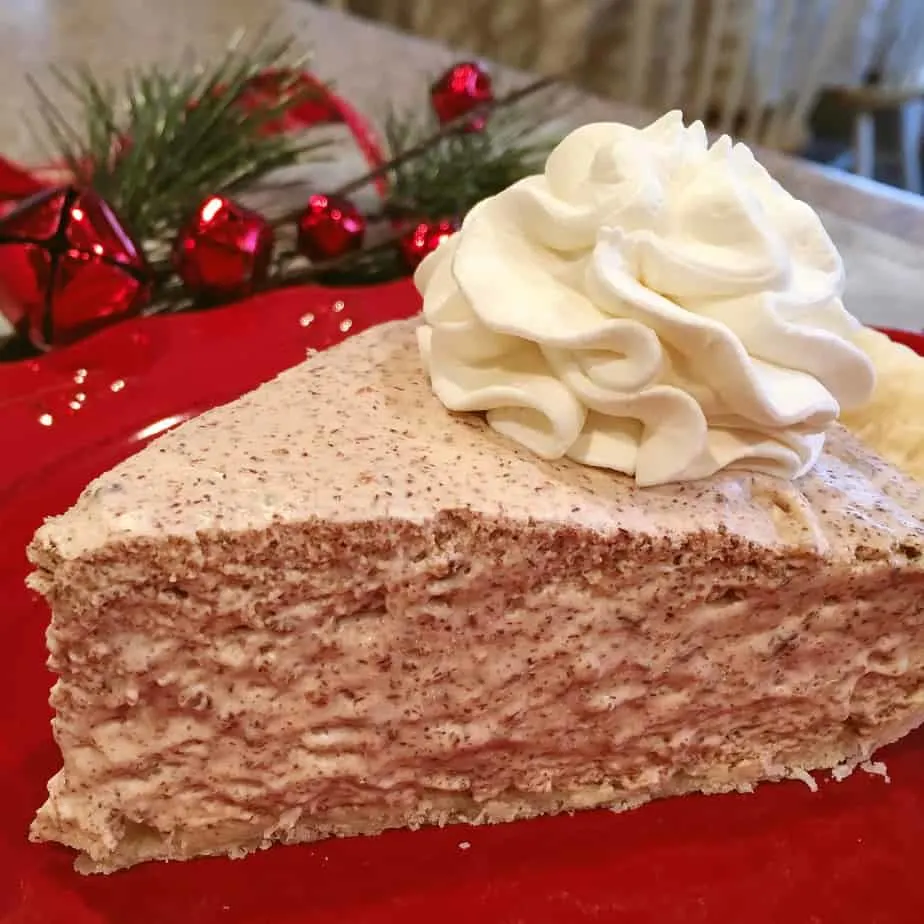 I hope everyone had a wonderful Thanksgiving! Ours was VERY memorable.
If you follow Norine's Nest on Instagram or Facebook you'll know by now that my son and his wife surprised us and flew out from Virginia to be with us for the holiday! It was wonderful having all my "chicks" back in the nest for a few days! (I may have screamed a little loudly and cried a bit!)
Speaking of Thanksgiving…. Remember the Pumpkin Chiffon Pie recipe I shared with you before Thanksgiving?
At the time, I said that there was another "Chiffon Pie" our family loved SO much that it was a family favorite? I promised to share it with you at a later date. This is that day! Hooray!!! Chocolate Chiffon Pie!
This pie has been in our family for as long as I can remember. My Mom found this recipe and the Pumpkin Chiffon Pie at the same time. It is now on its third generation of adoring fans!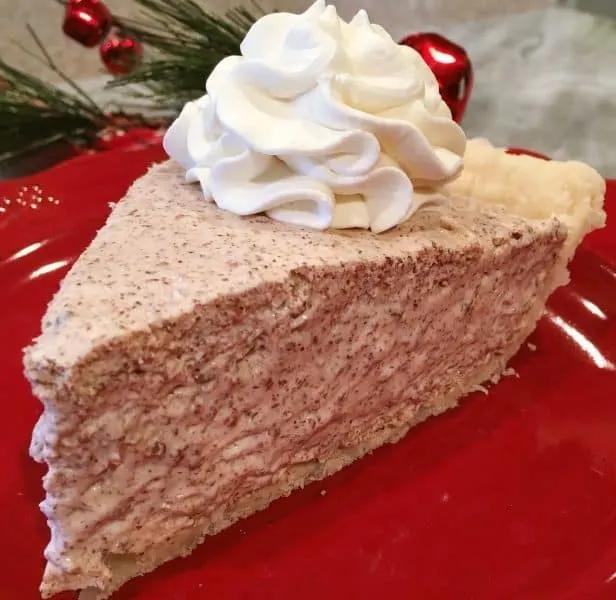 This is a fluffy, creamy, dreamy pie with flecks of chocolate goodness throughout. Each mouthful is pure heaven! It's like chocolate chip mousse only in a flaky crust.
It's not hard to make, it only looks intimidating. However…I will warn you. Once you make this pie for your family…be prepared for it to go right up the charts and land solidly on the top ten list and stay there forever!
How To Make Chocolate Chiffon Pie
You will need one baked 9 inch pie shell. I recommend my Standard Pie Crust Recipe if you need one. You will only need to do HALF that recipe as that is for a double pie crust. This is a single pie crust.
How To Make Chocolate Chiffon Pie Filling
For the pie filling, in a medium sauce pan add milk, unflavored gelatin, sugar, and chopped semi-sweet (unsweetened baking bar) chocolate.
Stir continually, over medium low heat, till the sugar is dissolved, and the chocolate flecks have melted.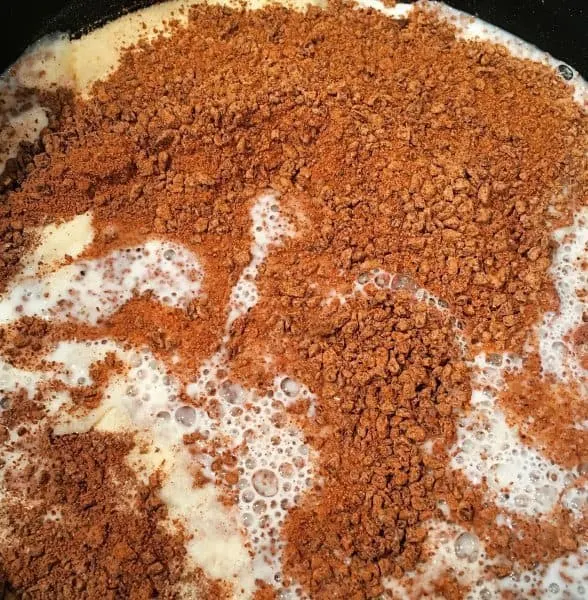 It should look like the photo below when the sugar has dissolved and the chocolate bits have melted. (Sorry the photo is a little blurry… Note to self to wait for it to stop spinning from stirring before taking photo!)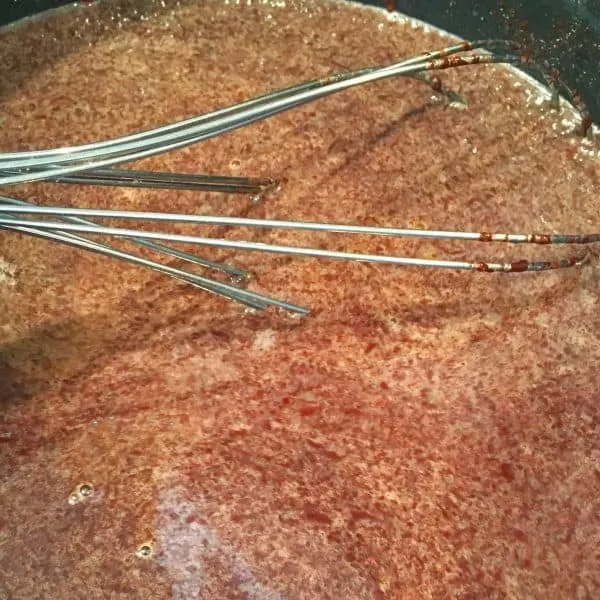 Chilling Chocolate Chiffon Pie Filling Base
Pour the mixture into a heavy ceramic dish that won't crack from the heat…and place in the refrigerator till soft set. Check and stir about every 30 minutes. You don't want the gelatin and chocolate to separate. It will take about 2 hours to soft set. When it is soft set it should be very thick.
I've heard horror stories of this pie not setting up! There are three key steps to making this pie, and you MUST follow them if you want this to be a success…and you do! Cause you're amazing!
Tips for making Chocolate Chiffon Pie
#1) EXACT measurements on the above ingredients! Do not add more milk, sugar, chocolate, etc. EXACT ingredient measurements.
#2) Do not rush the soft set portion of this recipe. Do NOT put it in the freezer hoping to move it along faster. This is a gelatin based dessert. Do you like frozen jello? No you don't! No normal human being does! Let's not do this to this piece of culinary art work! Let it set gradually and get a good solid soft set on it. Like a nice thick pudding!
#3) Whip the whipped cream in the last step till STIFF PEAKS form. We don't want butter…we want nice thick stiff peaks. If you don't whip it till you have stiff peaks then when you go to fold this mixture into the whipped cream you'll have chocolate cream soup! Delicious? Perhaps. What we want? No!
Tip: I just leave my spoon in the mixture in the refrig. It makes it easier to stir, and it's a thick sticky mixture that you don't want to have to clean off your spoon more than once!
Finishing Chocolate Chiffon Filling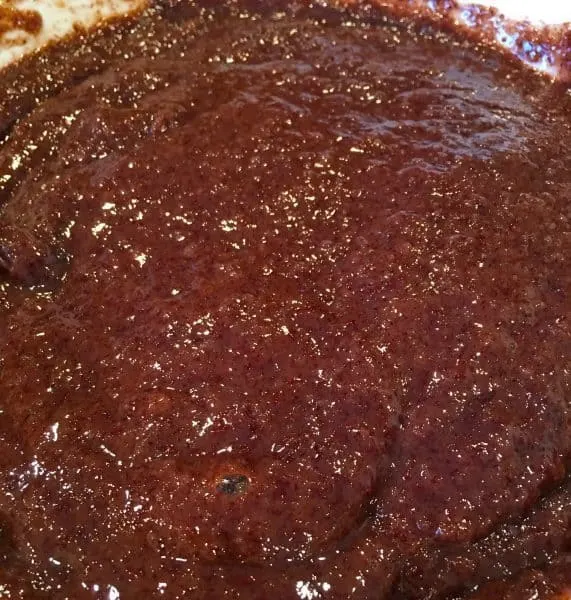 Once the gelatin mixture is ready, whip up 2 cups of heavy whipping cream until stiff peaks form.
Pour the gelatin mixture into the mixing bowl with the whipped cream and gently fold to blend the two together. (Hey there's my handy-dandy Christmas spatula! Haven't seen her in a while! She's about to fold this mixture beautifully!)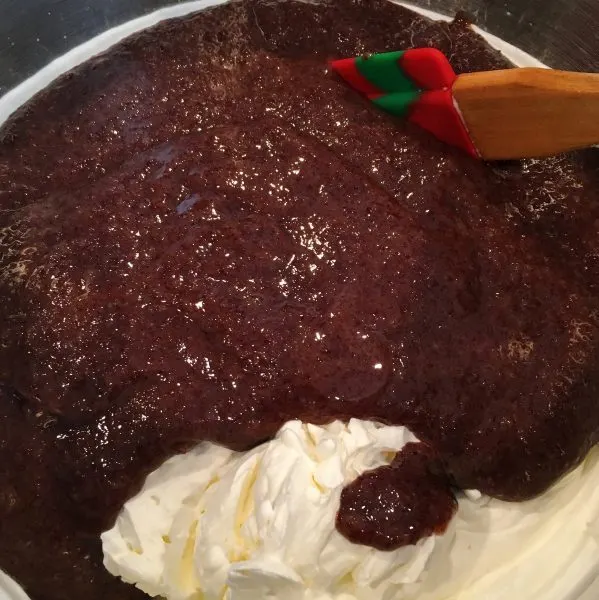 Be sure that the two mixtures are completely blended and smooth. Do NOT stir. Fold the two together. (Yes! I'm repeating myself. I'm a mother…we do that…a LOT!)
Once blended pour into the prepared pie crust. Chill for 6 hours or overnight. This pie needs to "set"! The longer you can allow it to chill the better.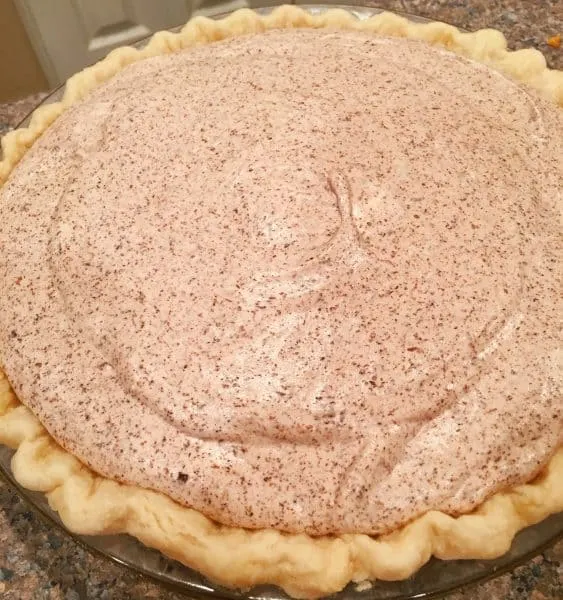 How To Serve Chocolate Pie
Once set, cut into slices and serve with a dollop of whip cream and get ready for all the rave reviews headed your way!
Move over Martha there's a new kid in town, and she can make Dreamy Chocolate Chiffon Pie! 😉 Sigh!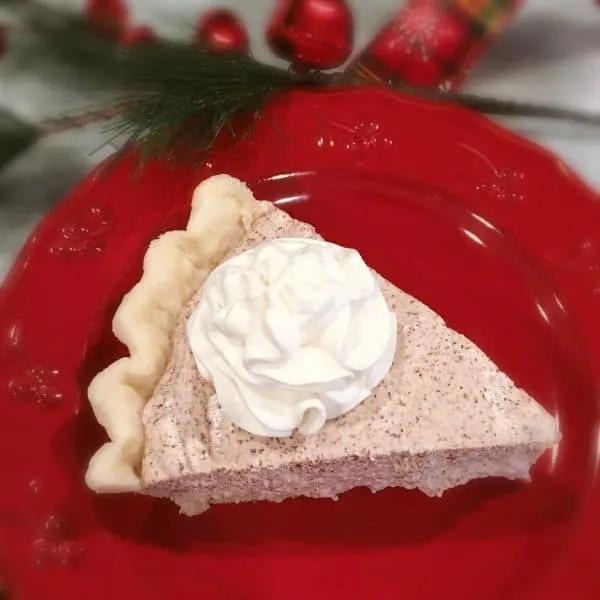 I wish I had "Taste-a-blog" so you could each have at least one bite of this incredibly yummy pie.
It's rich and oh so good! Perfect for the Holidays and those dinner parties you'll be hosting. I promise even your littles are going to want this pie. Start the addiction tradition early! 😉
I hope your family loves this pie as much as our family and that it becomes a part of your yearly Christmas dinner tradition.
I'm so excited to share more recipes with you this holiday season! Let's soak up every glorious moment this time of year has to offer!
Here are a few of my other Favorite Holiday Recipes
I've set a goal to do one-act of kindness leading up to Christmas. Won't you join me? I'd love to have you along for the journey. Let me know what you're doing and how it is filling your nest with Love!
Thanks for stopping by! Have a Fantastic day!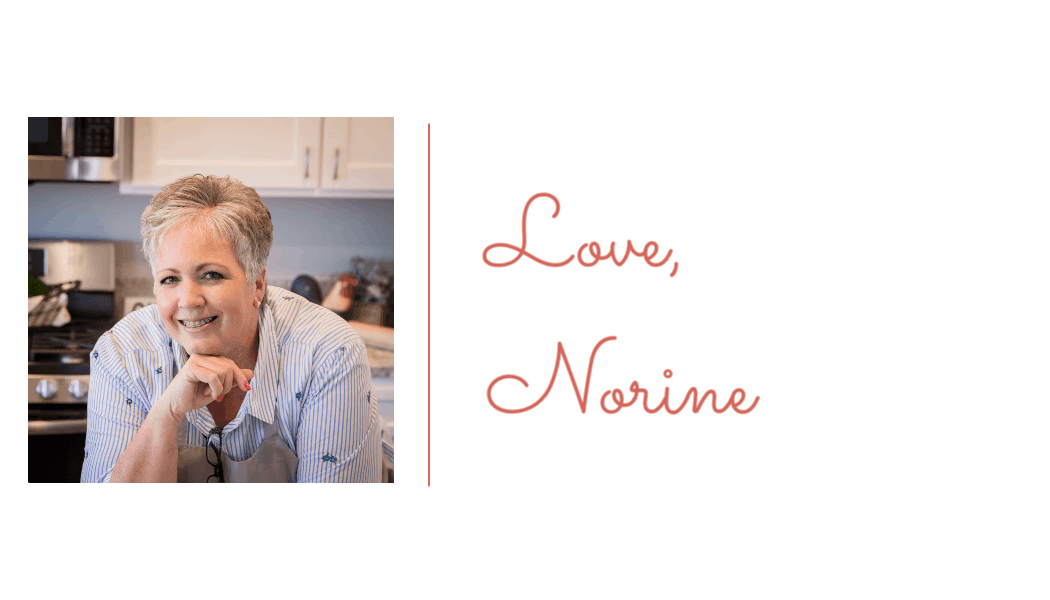 Yield: 10 slices
Chocolate Chiffon Pie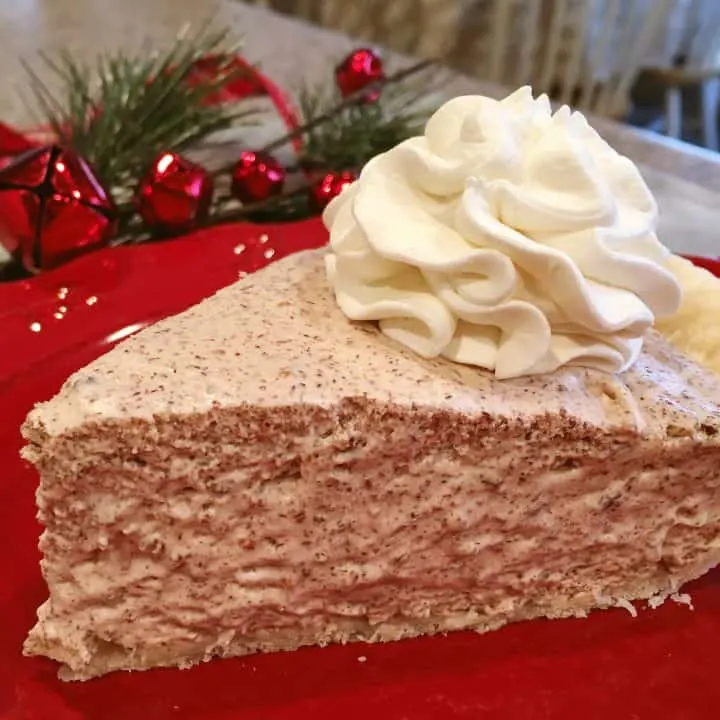 A fluffy creamy dreamy chiffon pie that is like a rich chocolate chip mousse piled high in a flaky crust and served with a dollop of whip cream. Perfect for the Holidays and sure to become a family favorite!
Additional Time
4 minutes
Ingredients
1 envelope unflavored Knoxx gelatin
1 Cup Granulated Sugar
1 Cup Milk
2 - 1oz. squares unsweetened chocolate
2 Cups Heavy Whipping Cream
1 - 9 inch baked pie crust
Instructions
In a medium sauce pan combine gelatin and sugar. Add milk; cut chocolate into small pieces and add. (You can chop them up in your food processor if it is easier).
Cook and stir over medium low heat, until gelatin is dissolved and chocolate is melted. (Mixture will be flecked with chocolate)
Pour into a heat safe bowl. Chill, stirring occassionally till mixture mounds or is soft set.
Prepare whipping cream.
Fold into gelatin mixture.
Pile into cooled pie shell.
Chill 6 hours or over night till set.
Recommended Products
As an Amazon Associate and member of other affiliate programs, I earn from qualifying purchases.
Nutrition Information:
Yield:
10 slices
Serving Size:
1 slice
Amount Per Serving:
Calories:

369
Total Fat:

25g
Saturated Fat:

15g
Trans Fat:

1g
Unsaturated Fat:

9g
Cholesterol:

56mg
Sodium:

100mg
Carbohydrates:

33g
Fiber:

1g
Sugar:

22g
Protein:

5g