Create an Easy Tamale Casserole using Beef , Chicken, or Pork Tamales smothered in a scrumptious easy homemade enchilada sauce, cheese, fresh chopped cilantro and green onion. Topped off with a hearty sprinkle of Cotija cheese!
What do you do when you have a few bags of homemade tamales lurking around the freezer and your grand-daughters 1st birthday party is a "Fiesta" theme? You make this delicious Tamale Casserole using frozen Tamales either store bought or homemade.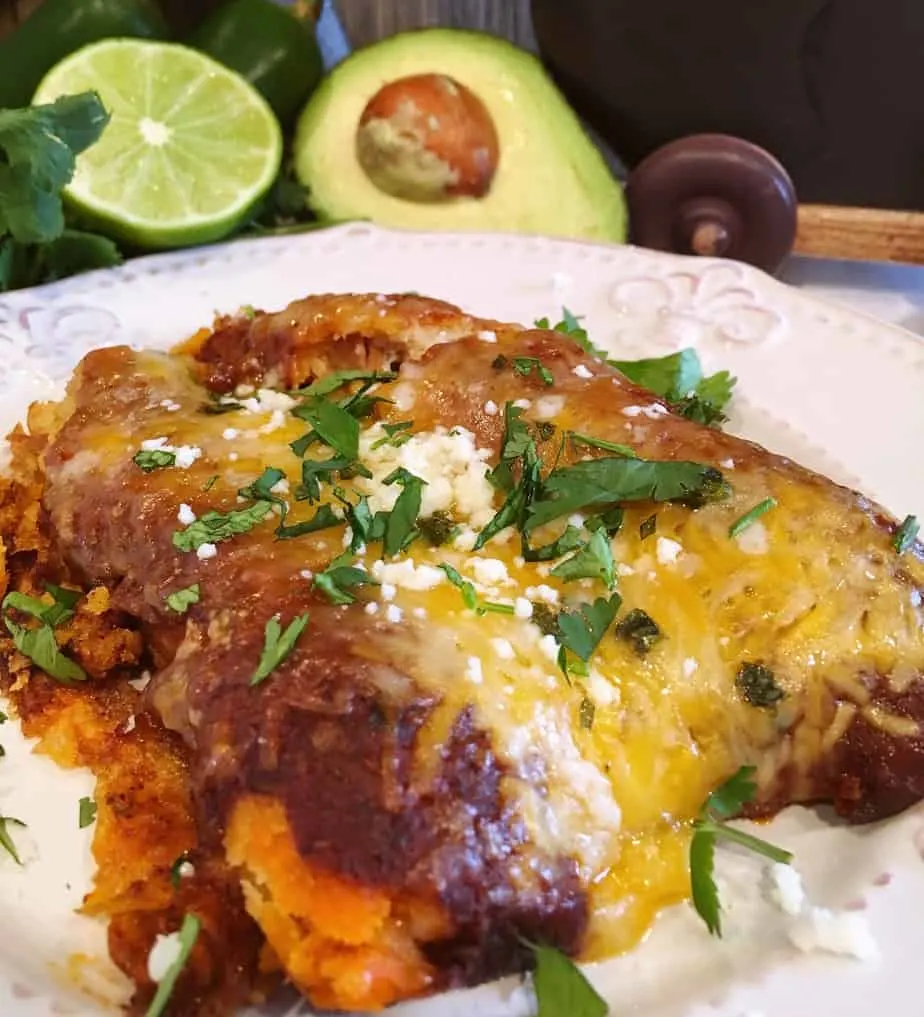 Our little "Rae" of sunshine turned one this month! (I swear I blinked and this happened! Also…you had to know I was going to post a cute picture of her right?!!! It's in the Grandma by-laws.)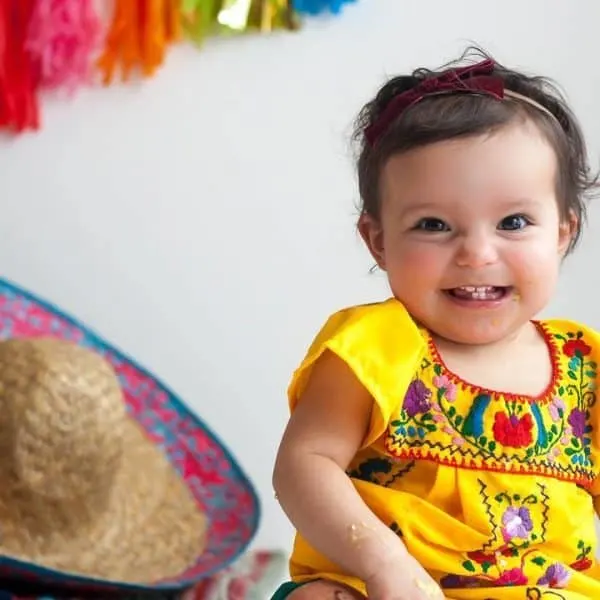 (Photo Credit:Katie Warby)
Back to our regular scheduled program…
I was asked to bring the salsa and to make the taquito's. I'm a typical Mom. I felt like I needed to do more. I thought about what I had on hand and came up with this delicious new casserole! I'm so excited to share this dish with y'all!
How to Make Homemade Enchilada Sauce
This casserole starts by whipping up a quick batch of this wonderful enchilada sauce! You are going to be shocked how easy this sauce is to make. I always thought it was a big major process until my friend Gail showed me the light! I give her all the credit for this delicious sauce!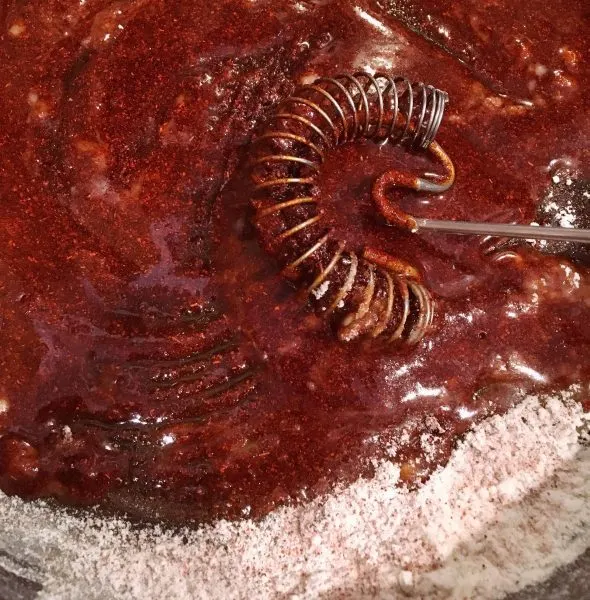 In a large skillet mix together 4 Tablespoons of vegetable oil, 4 Tablespoons of flour, and 3 Tablespoons of your favorite chili powder. (Everyone has a favorite right? lol)
Continue whisking over medium heat until slightly thick. I love the beautiful deep rich color of this sauce!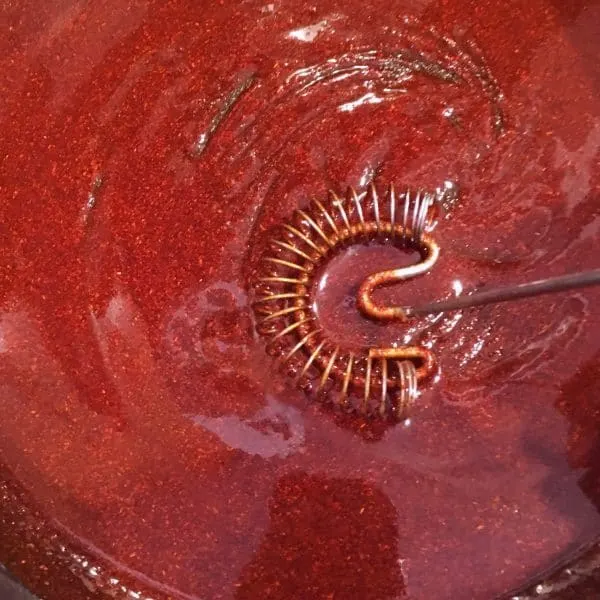 Add four cups of beef broth. You can use chicken broth…I just happen to love the depth of flavor from the beef broth. Use what ya have on hand. Either will be wonderful.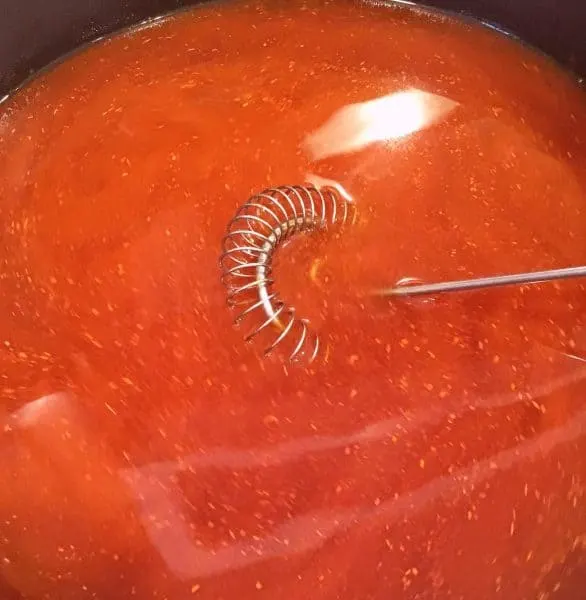 Add the spices and stir until well combined. The oregano likes to be stubborn and do the back stroke on top of the sauce….don't you worry about that. As the sauce thickens…they'll sink like the Titanic!(Que the theme music! If you look close you can see Leonardo hanging on to a leaf for dear life!)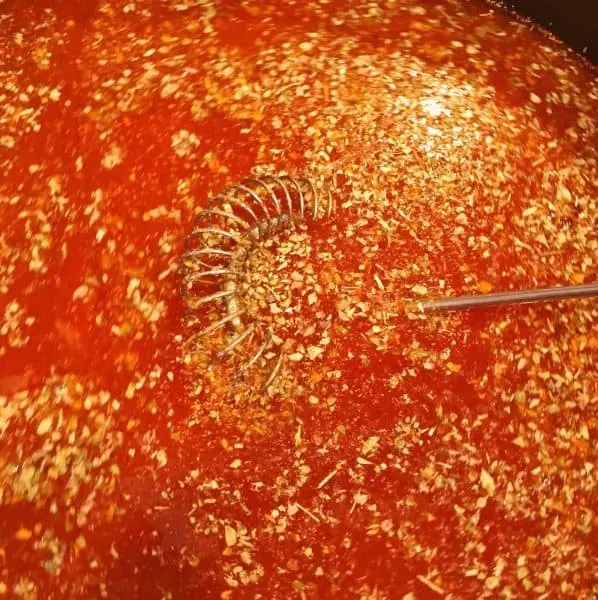 Add one 6 oz. can of tomato paste. Whisk away my friends.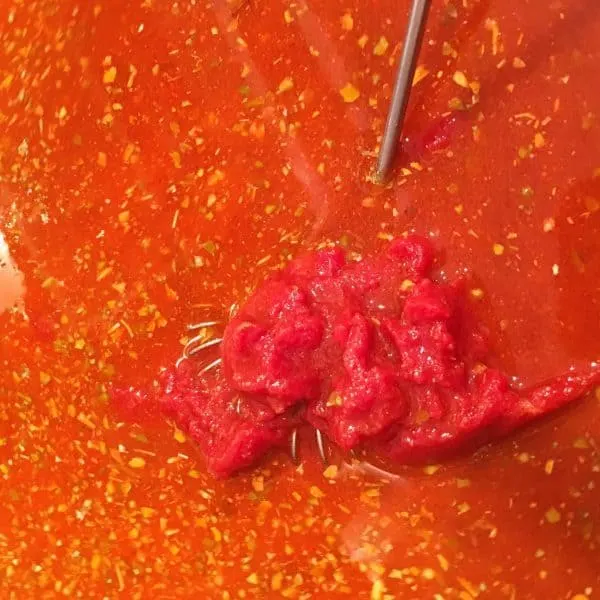 Continue stirring over low heat until sauce thickens. Allow to simmer for 15 – 20 minutes to allow spices to incorporate and give depth to the sauce.
Set sauce aside.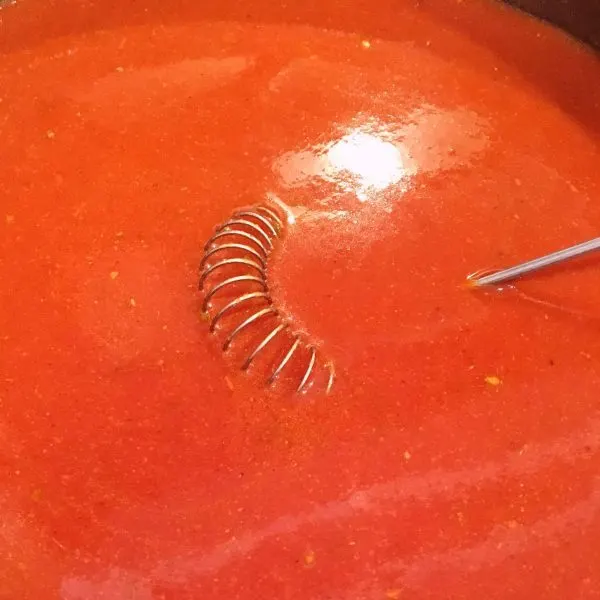 Next up…the Tamales!
If you don't have bags of homemade tamales lurking in your freezer…that's okay! You can use Tamales from the grocery store. If you're lucky…you may even have a local lady that makes homemade tamales. It's completely up to you what type of tamales you use.
Spray a 9 x 13 baking dish with non-stick cooking spray. Remove the Corn Husk! This is really important…unless you have teeth like a T-Rex!
Lay the tamales across the pan, filling the pan. Don't worry about how pretty it looks. It's gonna get covered up…so what we can't be see we don't worry about. (That's why MuMu's and Tunic tops were created! Can I get an "Amen"!… I suddenly want a Dole Whip and to hang out at the Tiki Shack at Disneyland!)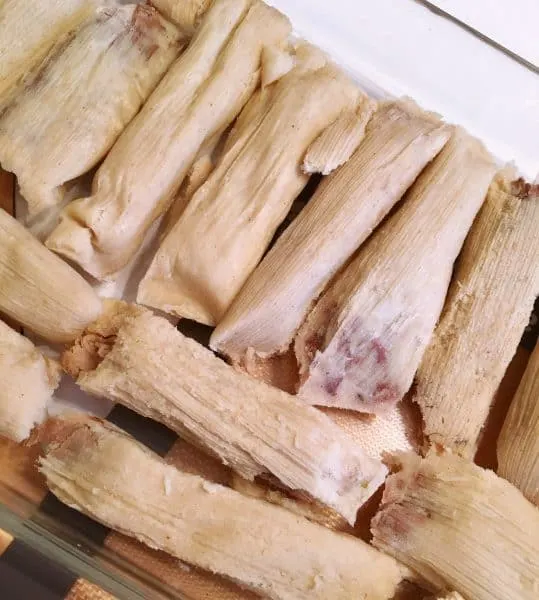 Time to smother these Tamales!
Cover them liberally with that amazing enchilada sauce. One of the great things about this recipe…the Corn Masa soaks up all that luscious enchilada sauce like my winter dry hands do when lotion skims their surface!
Now if you don't want to go to the trouble of making this incredible enchilada sauce…I won't hold it against you. You can use canned sauce.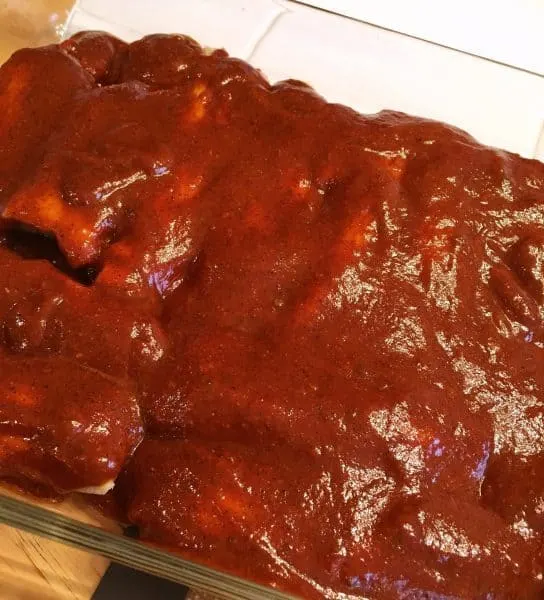 Let's keep smothering this dish! Load it up with grated cheese!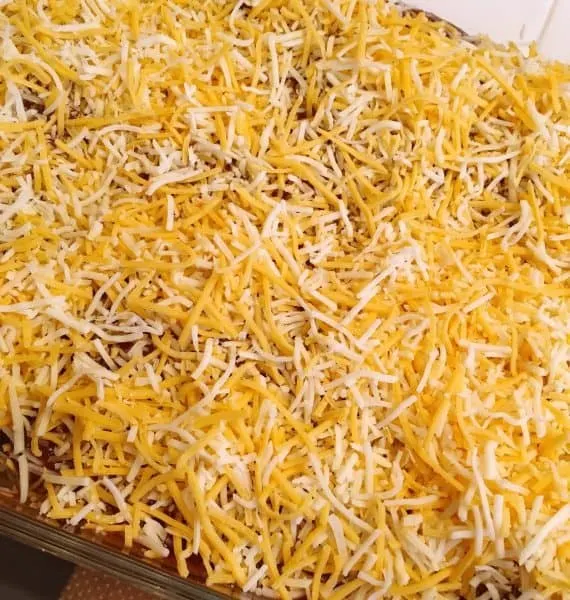 Sprinkle with freshly chopped cilantro and green onions!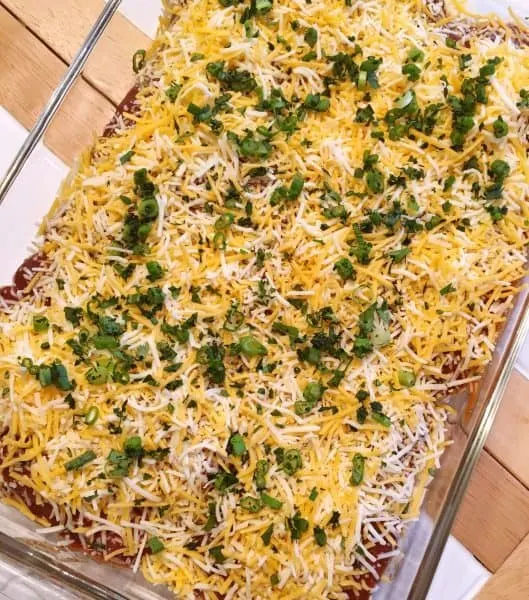 Preheat oven to 350°.
Place casserole in oven on center of middle rack. Bake for 35-40 minutes or until cheese melts and the sauce is bubbling!
You can skip this next step…but I HIGHLY recommend it. Crumble up 1/4 cup of Cotija cheese and sprinkle all over the top of the casserole.
What is Cotija Cheese?
Cotija Cheese is Named after the town of Cotija, Michoacán where it originated, Cotija cheese has a strong, salty flavor and is mostly used as a topping or mixed into sauces.
I absolutely love the flavor of this cheese. It adds an extra punch of flavor to this dish!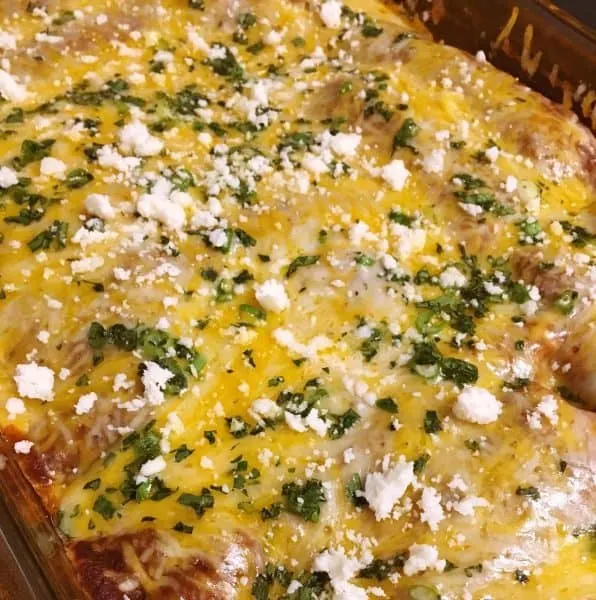 When you serve this dish…don't worry about keeping the Tamales intact! That's why I made a casserole…it serves easily by the spoonful!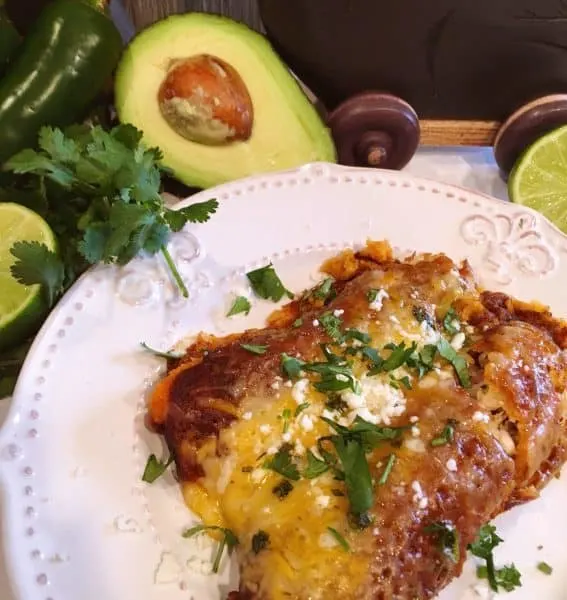 I almost made myself sick on this casserole. (Almost…but I'm no quiter!)
Look at all the ingredients melding together on that fork! That my friends…is South of the Border happiness! Ya wanna know what else? This dish just gets better the next day! Sigh! (I'm hangry now!)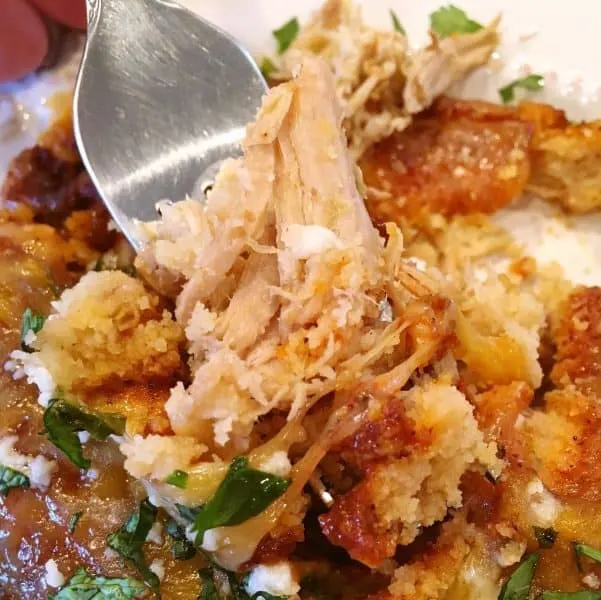 Such a quick simple dish. If you love tamales you'll love this recipe. Remember you can use substitutions for the tamales. Beef, Chicken, or Pork. Store bought or homemade. You can use canned enchilada sauce or my homemade recipe.
Customize this to fit into your schedule and likes! If you love tamales…you'll love this recipe!
Questions You May Have About this Dish…
Can I freeze this dish? YES! You can freeze this dish. Cover with foil and store in the freezer for up to one month.
Can I cook this dish in my slow cooker? YES! This dish is slow cooker friends. Cook on low for 4 hours.
Does this casserole re-heat well? Yes it does! (I may have tried it several times!)
Where do I find Cotija Cheese? It is usually located in the wall deli of your local market or with the specialty cheeses.
I should warn you…once you start eating this delicious meal…you're gonna need that MuMu!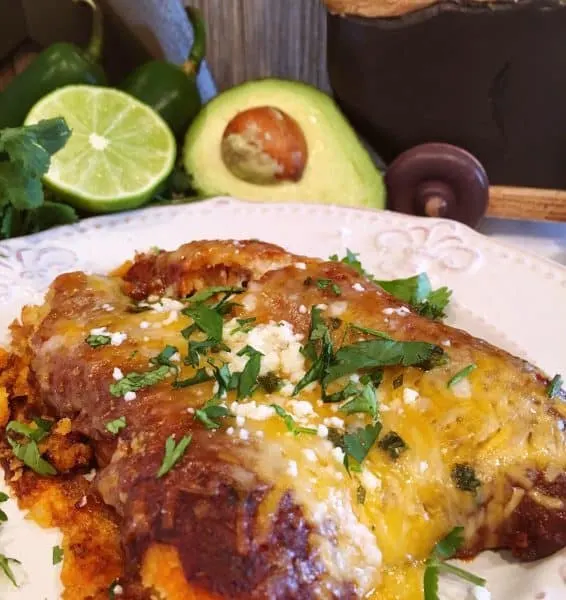 If you enjoyed this Tamale Casserole you may also enjoy these Family Favorite Mexican Recipes
Follow me on Pinterest, Facebook, and Instagram to find all my latest recipes. I'd love to have you join the party!
Happy Nesting!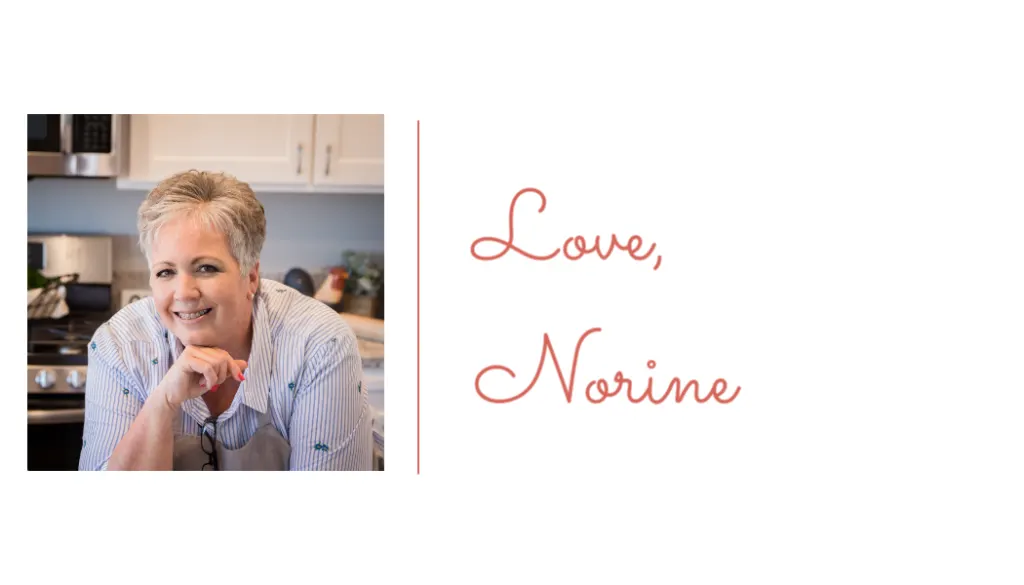 Yield: 8 servings
Easy Tamale Casserole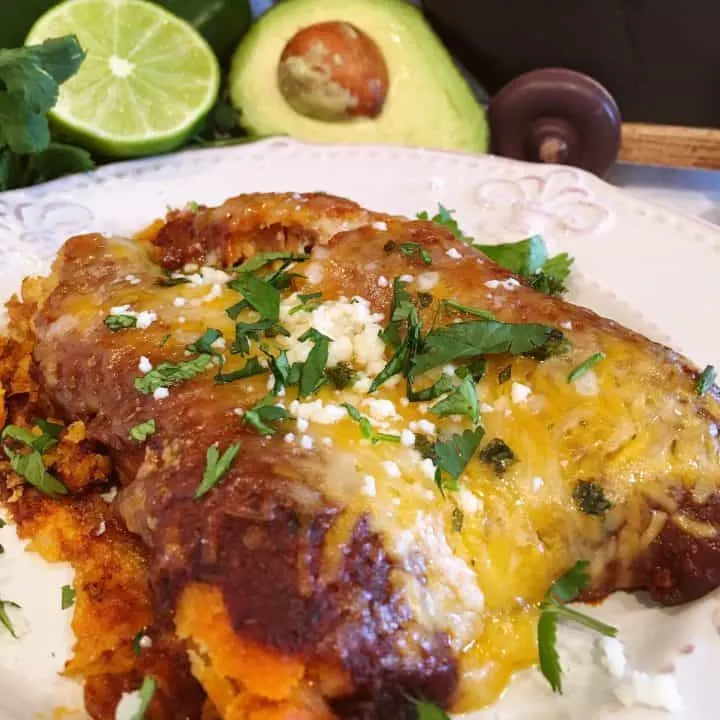 Pre-made beef, chicken, or pork tamales in a rich savory homemade enchilada sauce topped with melted cheese, fresh chopped cilantro and green onions, and a hearty sprinkle of cotija cheese.
Ingredients
Enchilada Sauce
4 Tablespoons Vegetable Oil
4 Tablespoons All-Purpose Flour
3 Tablespoons Chili Powder
4 Cups Beef Broth
6 oz. tomato paste
2 teaspoons cumin
2 teaspoons dried oregano
1 teaspoon onion powder
1 teaspoon garlic powder
1/4 teaspoon cayenne pepper, Optional
3/4 teaspoon salt
Casserole
1 dozen beef, chicken, or pork Tamales, husks removed.
2 cups Enchilada sauce
2 cups grated cheddar jack cheese
2 Tablespoons fresh chopped cilantro
1/4 cup chopped green onions
1/4 cup Cotija Cheese
Instructions
In a large skillet over medium heat add oil, flour, and chili powder. Mix until well blended. Stir over heat until thick.
Add 4 cups beef broth, continue stirring until incorporated. Add spices and 6 oz. can of tomato paste. Whisk together until smooth and sauce thickens. Reduce heat to low and simmer for 20 minutes. Remove from heat and set aside.
Preheat oven to 350°
Grease a 9 x 13 baking dish with non-stick cooking spray. Line tamales in baking dish. Cover with enchilada sauce, top with cheese, cilantro, and green onion.
Bake for 35-40 minutes until cheese is melted and sauce is bubbling. Remove from oven and sprinkle with Cotija cheese.
Recommended Products
As an Amazon Associate and member of other affiliate programs, I earn from qualifying purchases.
Nutrition Information:
Yield:
8
Serving Size:
1 cup
Amount Per Serving:
Calories:

706
Total Fat:

48g
Saturated Fat:

18g
Trans Fat:

0g
Unsaturated Fat:

24g
Cholesterol:

160mg
Sodium:

1698mg
Carbohydrates:

19g
Fiber:

4g
Sugar:

7g
Protein:

50g
Norine's Nest in no way provides any warranty, express or implied, towards the content of recipes in this website. It is the reader's responsibility to determine the value and quality of any recipe or instructions provided for food preparation and to determine the nutritional value, if any, and safety of the preparation instructions.