Flour tortillas stuffed with meat, rice, beans, cheese, brushed with melted butter and oven baked until crispy. Topped off with homemade enchilada sauce to create these amazing Oven Baked Loaded Chimichanga!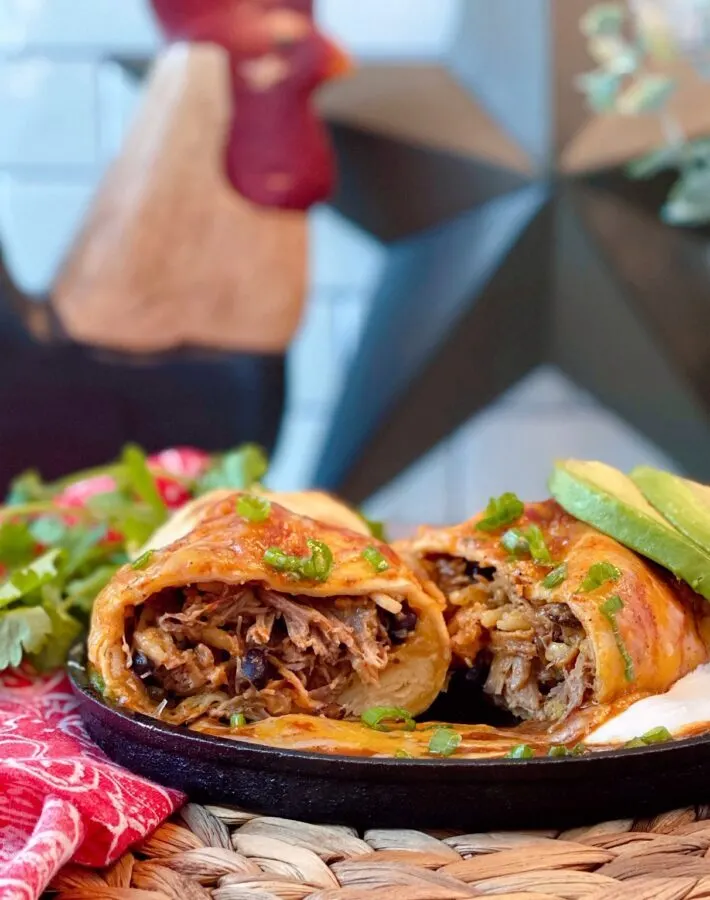 Let's talk LOADED Chimichanga's! (Cause remember I'm dying happy with burritos' on my hips) A friend shared this recipe with me years ago! I have tweaked it and twisted it and made it my own. At the time she shared it with me…it was perfect for our growing family!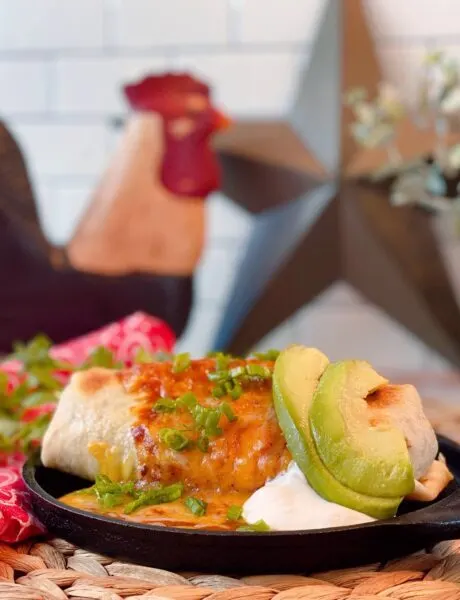 I love, love, love how amazingly yummy and simple these are! They work superbly with leftovers! Maybe we should call them "Clean the Fridge Chimi's"? (No! We won't do that!)
How To Make Oven Baked Chimichanga's
Let's start with the filling!
You can use any left over meat you have on hand or you can use any meat you want to cook up. The day I made these I was really pressed for time so I went to my "food storage" and used a can of shredded beef. If you have never bought the Costco canned shredded beef…I highly recommend it.
You can use left over chicken or rotisserie chicken. Pork is another great option when making this recipe.
If using the canned beef, I add one can rinsed and drained black beans, grated cheese, left over Spanish rice (you can use white rice too), Enchilada sauce and Salsa. Mix it all together. It already looks good! Regardless of the meat you use, mix it all together!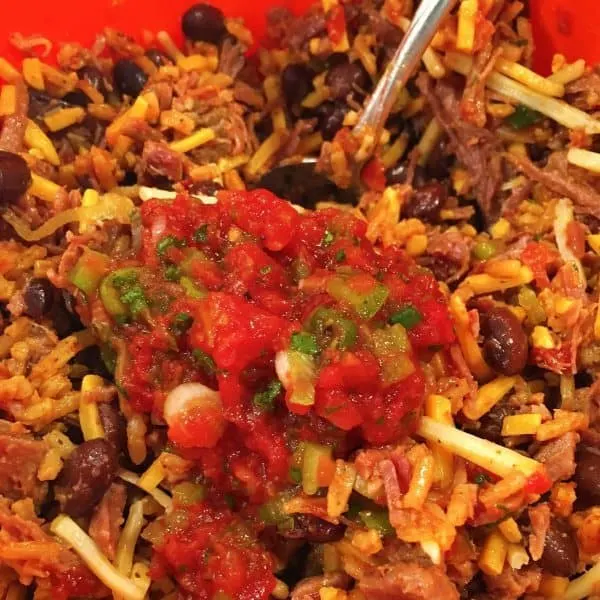 Place a heaping spoonful of the mixture into, and down the center, of a large flour tortilla.
Fold up the ends till almost touching. Then fold the one side completely over the filling and pull towards you, roll until you have a burrito.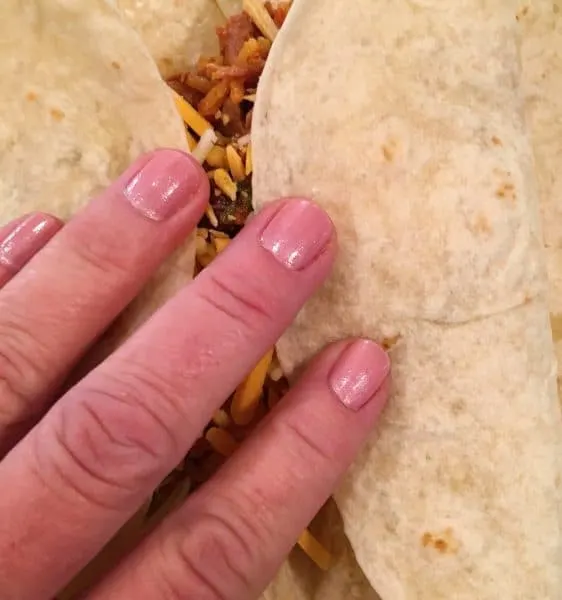 Place the stuffed Chimichanga onto a foil lined baking sheet and brush with melted butter. Making sure to coat all the exposed tortilla including the ends!
Tip: Don't worry about the bottoms, the butter will wiggle its way down underneath there.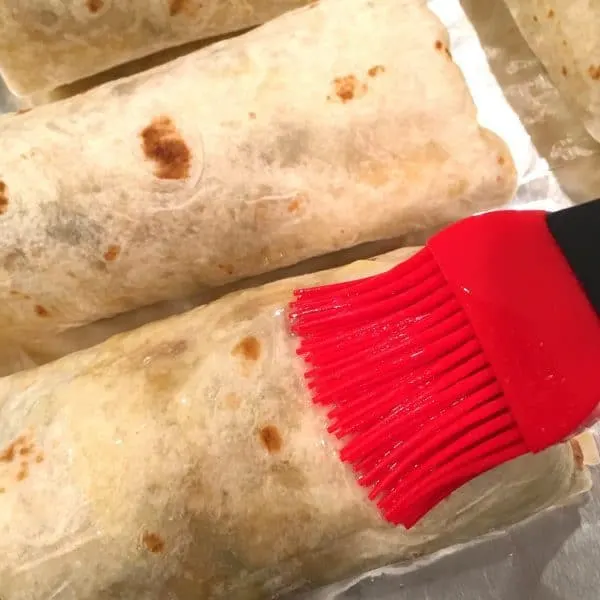 Pop into a 350 degree oven for 30-35 minutes until lightly golden brown and crispy. (I'm getting excited just looking at this picture!)
It's amazing how crispy these chimi's get! I love oven frying. Less mess…and I'm all about that!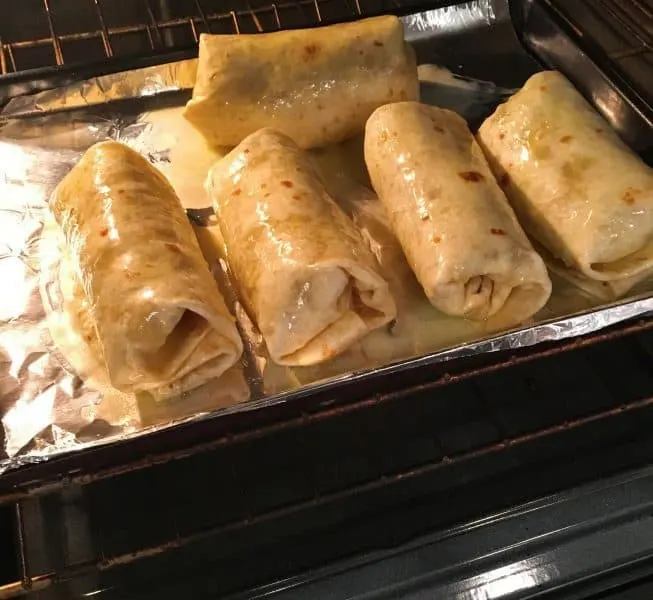 See how the butter crisps up the tortilla without frying! It really does make this recipe so easy to make and so deliciously good!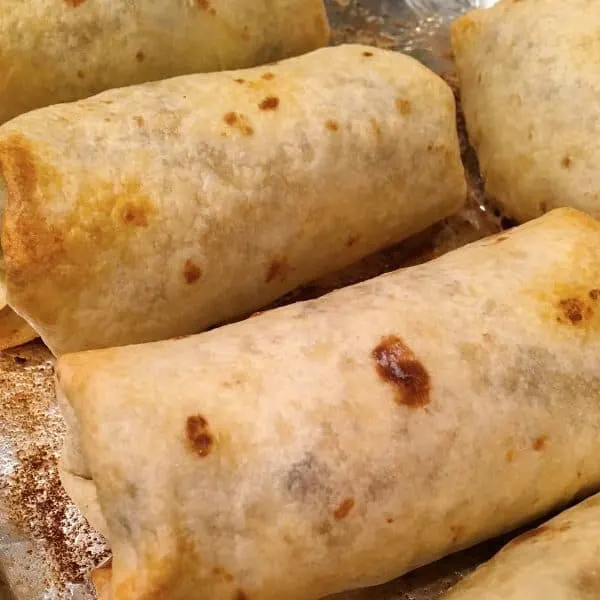 In a small measuring cup, or other microwavable dish, heat up the enchilada sauce and pour over the Chimichanga's if you like "wet" burritos.
Note that I love to make my own Enchilada Sauce and use the recipe in my Ground Beef Enchilada's. I've included the link below so that you can use that recipe if so desired.
If you don't like enchilada sauce on top, then just leave them plain. I love them with the enchilada sauce.
Top with more grated cheese and allow the cheese to melt, or pop them back into the oven for a minute or two. Top with sour cream and garnish with lettuce, tomato, and avocado!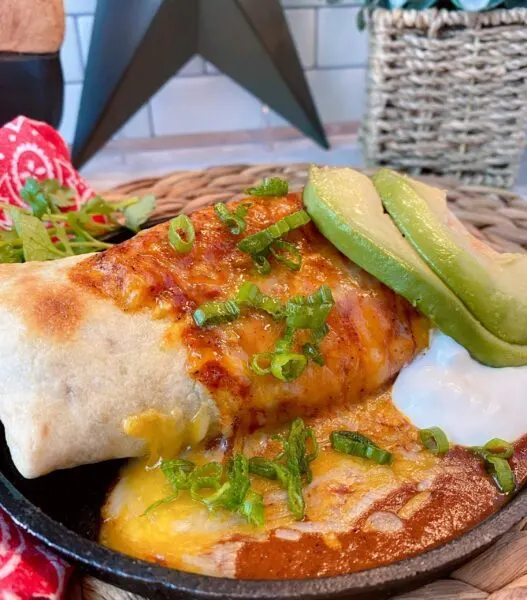 Look how "loaded" these chimichanga's are! Shredded beef, melted gooey cheese, rice, beans, and all that flavorful salsa and enchilada sauce! Hello Beautiful! Come to Momma! YUM!!!
If you like things "hot and spicy" add in some chopped jalapeno! It will kick it up a notch or two.
I love how versatile this recipe is! You can choose your meat, your beans,if you prefer pinto…do pinto beans, if you like jack cheese…do jack cheese.
Get creative with this recipe. It is very forgiving to change! Which is wonderful when your Nest is full of picky eaters!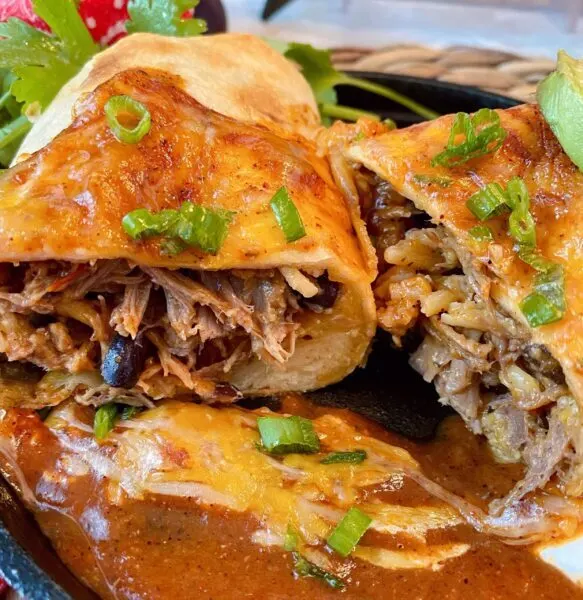 There you have it…my simple delicious recipe for "Baked Loaded Chimichanga's". It's a meal all by itself. It presents so beautifully on a bed of leafy greens with all the garnishes you really don't need anything more. Well…maybe a strawberry margarita…virgin for me please! 😉
Other Great Mexican Recipes
If you have any questions or comments please feel free to leave them below. I am always checking in and absolutely LOVE to hear from you! Thanks for stopping by and have a GREAT night!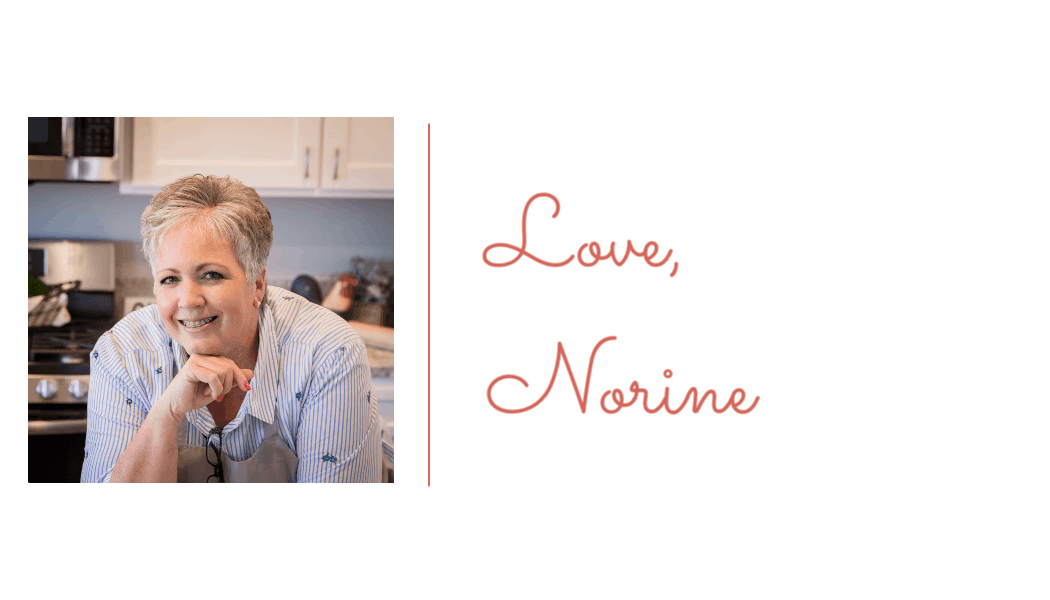 Yield: 5-6 servings
Oven Baked Loaded Chimichanga!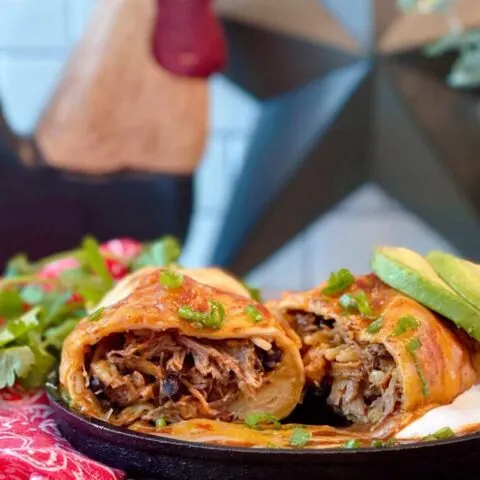 Oven baked loaded chimichanga's are a delicious and filling meal. Stuffed with shredded meat, cheese, beans, rice, and sauce and baked to a golden crisp! So easy to make they are perfect for busy weeknight meals!
Ingredients
5-6 Large burrito flour tortillas
2 cups cooked, shredded meat (beef, chicken, pork...your choice)
1 can black beans, rinsed and drained
2 cups grated cheddar cheese
1 1/2 cups rice, white or Spanish
1/2 cup salsa
1/2 cup canned red or green enchilada sauce (save remaining sauce for topping after)
1/4 cup butter, melted for brushing onto tortilla
sour cream, tomato,lettuce, and avocado for garnish
Instructions
In a large bowl mix together meat, 1 cup cheese, beans, rice, salsa and enchilada sauce.
Place a large heaping scoopful in the middle and down the center for the tortilla.
Fold the ends together till almost touching. Fold the one side over and pull towards you while rolling into a burrito.
Fill and roll all the tortillas.
Place on a foil lined baking sheet.
Melt butter and brush on tops and sides of every chimichanga.
Place in a 350 degree oven and bake for 30-35 minutes until crispy and lightly golden brown.
Top with remaining enchilada sauce and cheese.
Garnish with sour cream, lettuce, tomato, and avocado.
Enjoy.
Recommended Products
As an Amazon Associate and member of other affiliate programs, I earn from qualifying purchases.
Nutrition Information:
Yield:
6
Serving Size:
1 chimichanga
Amount Per Serving:
Calories:

1507
Total Fat:

68g
Saturated Fat:

29g
Trans Fat:

1g
Unsaturated Fat:

32g
Cholesterol:

162mg
Sodium:

3435mg
Carbohydrates:

162g
Fiber:

28g
Sugar:

14g
Protein:

66g