Corn tortilla's wrapped around shredded beef, pork, or chicken and grated cheese fried to a golden crisp all to create this family favorite…Homemade Taquitos!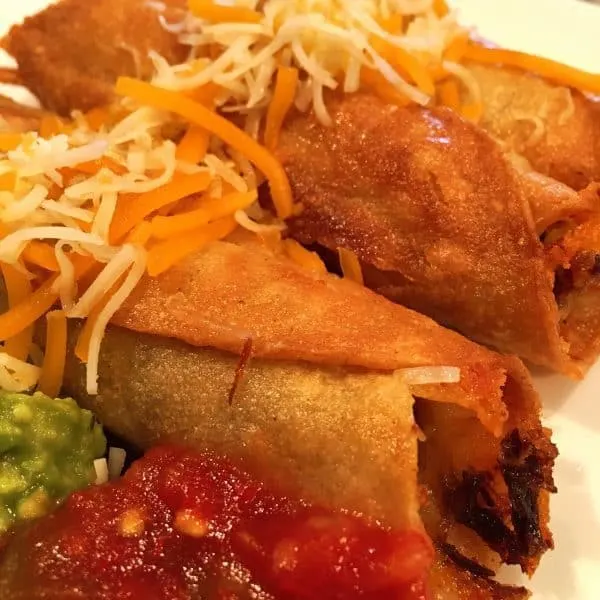 Several months ago I asked my readers what recipe they would most like me to share. I gave them several choices. The overwhelming consensus was "Taquitos", or as some call them…Rolled Tacos!
Y'all were speaking my love language! No wonder I love ya so much!
If there is one thing the "birds" at this Nest L.O.V.E. it's Taquitos! Every single one of them!
I can't say I blame them. I'm right there with them on this one. I think this is one of those dishes that people think is hard to make, or takes a lot of time. However, they really are simple and so quick to put together! Over the years I've come up with a recipe that cuts out some of the work that I know y'all will love!
How To Make Homemade Taquitos
First up…the filling. Unlike the current Pinterest rage, mine do not include cream cheese. (Please don't do that! lol) I lean (by "lean" I mean "fall over") towards the traditional when it comes to my Mexican food! You can chose any type of filling for your taquitos. Beef, chicken, or pork.
It's as easy as throwing a small pork roast or roast beef into your crock pot and shredding it if you want, or you can use a store bought rotisserie chicken. Left over pot roast or pork roast from Sunday dinner is another option! That is my personal favorite, then I'm half way done with the process! Who doesn't like to get two meals out of one? The point is…you get to pick which is your favorite meat filling and how easy you want to make it on yourself.
Begin by reheating whatever meat you're using by adding a little water and a little taco seasoning for flavor. You don't have to use the taco seasoning, I just like the added flavor! (I don't ever think "meat prep" pictures are pretty! Just sayin'….)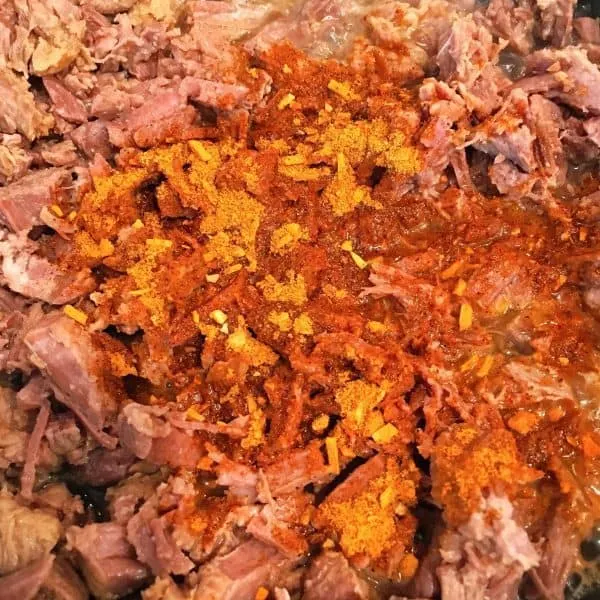 Once you have your meat all prep'd it's time to get the other ingredients ready to go.
Ready for the list…Corn tortillas and grated cheese. Yep! That's it! See…easy peasy!
Prepare the corn tortilla's by heating them up in the microwave on a paper plate, covered, for about 1 and half minutes to 2 minutes. This will soften them up so they roll without falling apart.
TIP: It's important you cover them so that they hold in the steam and get extra soft. Otherwise they will dry out!
The traditional way to prepare the tortillas is to place them in hot oil, quickly, to soften them up. We are going to skip that whole mess!
Please note, it is important you use only your finest china when preparing this dish. Mine is made by Dixie and it is their elegant floral pattern! (Sorry folks… just keepin' it "real" here at the Nest! This is HOME cooking at it's best!)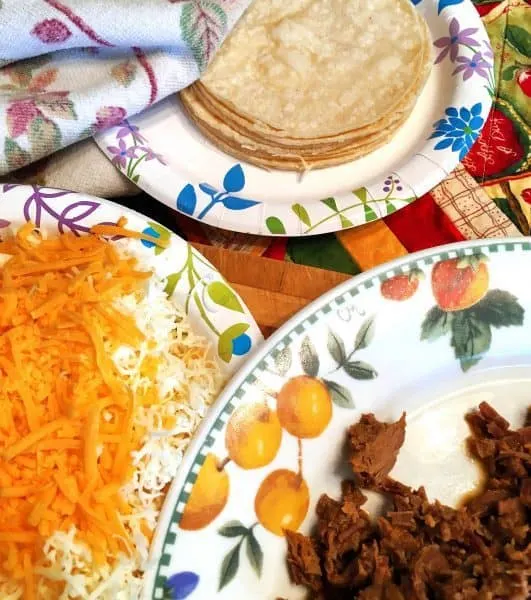 To make the taquitos lay a corn tortilla flat, place about 2 Tablespoons of cheese and 2 Tablespoons of meat down the center of your tortilla.
I realize most Mexican restaurants do not use cheese in their rolled tacos. This is a little extra step I started doing years ago and trust me when I say…it's a wonderful addition! (I think we've established my addiction to cheese!)
How To Roll Taquitos
Starting from the outside edge, fold the tortilla over your meat and cheese, and pull back gently, to tighten it up a bit, and then begin rolling until you reach the other edge.
Using a toothpick to secure the loose edge down by threading it down and up, just like you would a needle through a piece of fabric. (See that middle school sewing class is coming in handy now! wink-wink)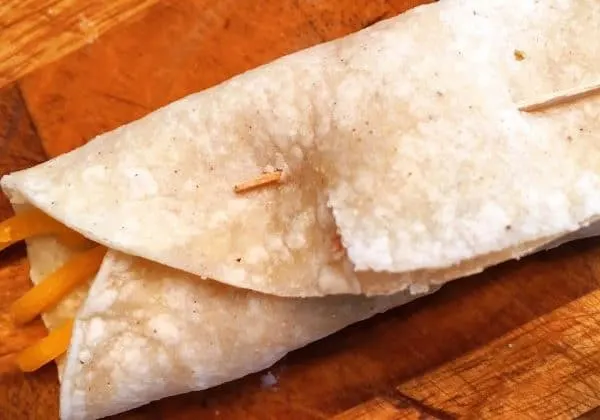 Continue filling the tortillas until you have made as many taquitos as you want. (A hundred ought to do it! lol)
Okay, Okay… I usually make at least a dozen. Last night I even made some using flour tortilla's, which is a "Flauta!" Taquitos are made with corn tortillas and Flautas (meaning flutes) are made with flour. Both are equally delicious!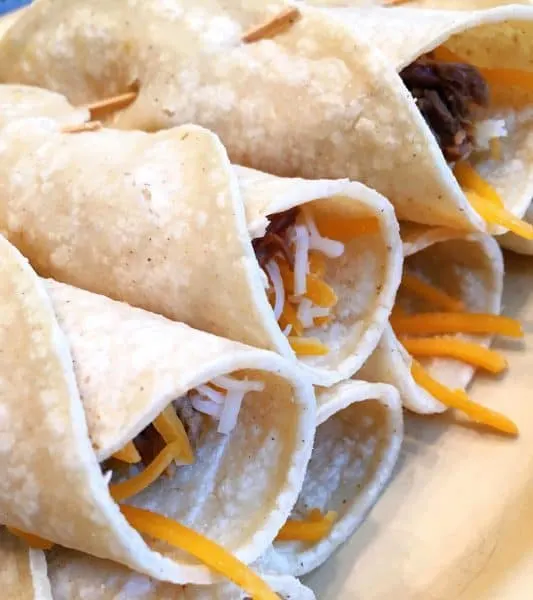 Frying Rolled Tacos
Once you have rolled all your taquitos, it's time to fry'em up!
In a medium size skillet pour a 1/2 inch of vegetable oil. Heat the oil till hot enough to fry the tortilla. (Remember the pan is on the back burner! Safety first when frying!)
Carefully place the taquitos into the oil, toothpick side down. This will ensure that the ends will stay down and the taquito will not come unrolled. Once the tortillas are golden brown, using tongs, gently roll them over so the other side cooks. Cook time is usually about 2-3 minutes per side.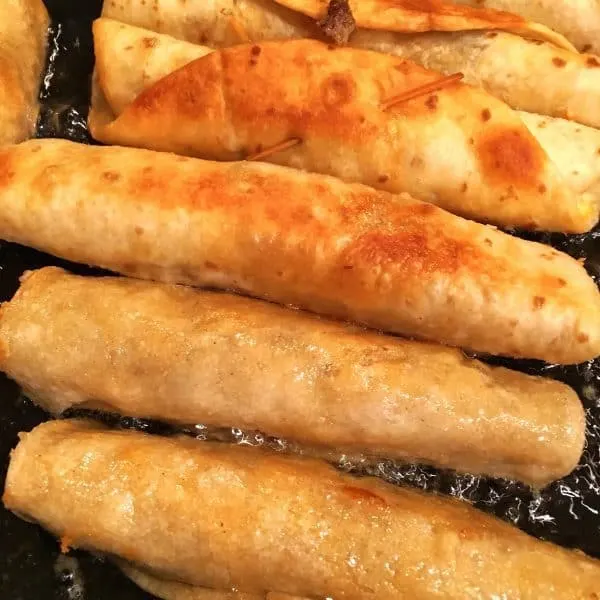 Oh… those look SO good! Once they are nice and golden brown on all sides, carefully remove them from the hot oil and place them on a paper towel lined plate. (One of those fancy Dixie one's will do just fine!)
Now you are ready to serve your Taquitos and Flautas.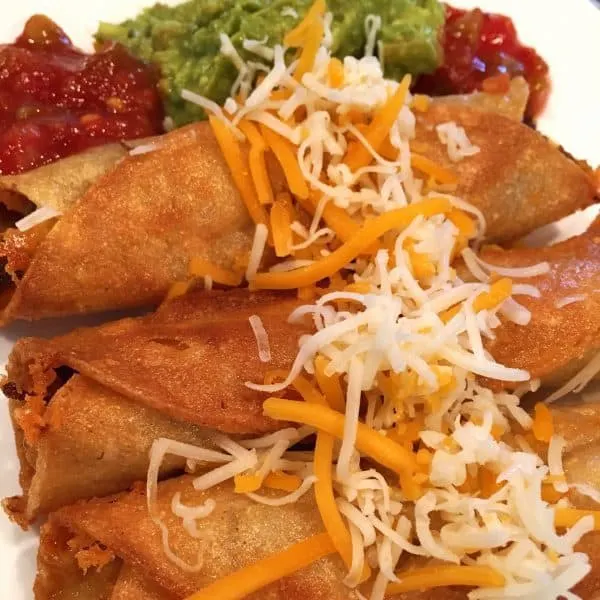 I love to serve mine with some extra cheese on top, remember…addiction problem…then a scoop of Guacamole, sour cream and salsa! You just need some good dipping sides when having taquitos. It's a must!!!
TIP: Make sure you pull out those tooth picks! Nothing ruins a good taquito like choking on a piece of wood!!!
There you have it! Rolled Tacos or, Taquitos! A favorite Mexican dish from my Nest to yours! I hope you love them as much as we do.
Family Favorite Mexican Recipes
Thanks so much for stopping by my Nest and visiting…have a great week!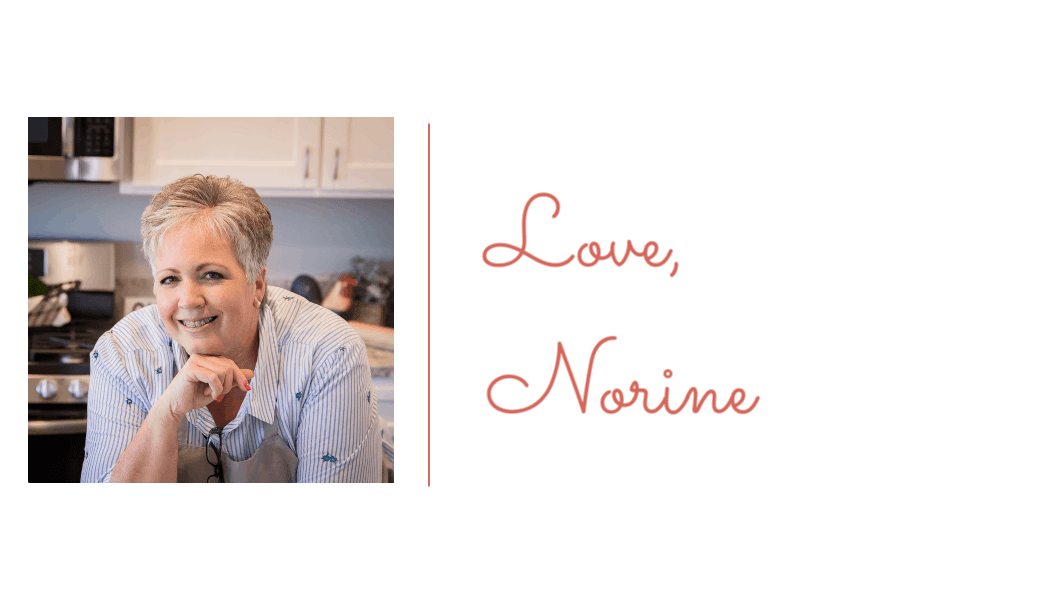 Yield: 12 taquitos or 6 servings
Taquitos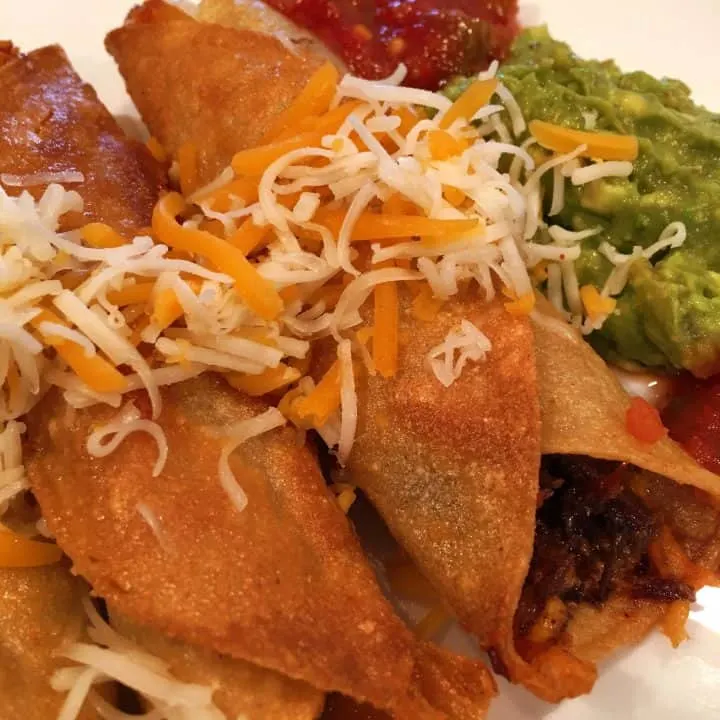 Homemade meat and cheese filled Taquitos or "Rolled Tacos". Easy to make and one of our Nests all time favorite Mexican dishes!
Ingredients
2-3 cups of cooked meat, shredded. Chicken, Pork or Roast Beef
2 Tablespoons water
1 Tablespoon Taco Seasoning
12 corn or flour tortillas
2 cups grated cheddar or mexican blend cheese
Vegetable Oil for frying
Instructions
In a medium skillet, over low heat, mix your meat, water, and taco seasoning. Stir until warmed through. Remove from heat.
Place your tortillas on a plate and cover with a clean dish towel. Place in microwave and heat for one and a half to two minutes until all tortillas are steaming hot.
Carefully remove a tortilla from the covered plate. Lay the tortilla flat. Place 2 Tablespoons grated cheese and 2 Tablespoons meat down the center of the tortilla.
Grab the outside edge of one side of the tortilla and cover the meat and cheese. Gently pull back to tighten your roll. Continue rolling until you reach the outer opposite edge. Using a toothpick, lace it down and back up through the tortilla, like you would a needle in fabric, to hold the edge down and keep the taquito rolled. Continue filling and tacking down until you have filled all the tortillas.
In a medium skillet pour a half inch of vegetable oil. Heat over medium heat, on back burner, until hot enough to fry a tortilla crunchy.
Lay the taquitos toothpick side down first. Fry until golden brown. Using tongs or two fork carefully turn the taquitos over and fry until the other side is golden brown. 2-3 minutes per side.
Remove from oil and place on a paper towel lined plate to drain off any excess oil.
Serve with more grated cheese, sour cream, guacamole, and salsa.
Nutrition Information:
Yield:
6
Serving Size:
2 taquitos
Amount Per Serving:
Calories:

793
Total Fat:

39g
Saturated Fat:

16g
Trans Fat:

0g
Unsaturated Fat:

19g
Cholesterol:

195mg
Sodium:

538mg
Carbohydrates:

50g
Fiber:

5g
Sugar:

10g
Protein:

64g