This is a GREAT beginner Instant Pot Recipe! Tender chunks of pork in a delicious flavorful green Chili Verde Sauce serve over rice, as a soup, a sauce, or as the main course for burritos, tacos, and enchiladas… this Instant Pot Easy Chili Verde is perfect!
We have a small Mexican restaurant here in our little hometown and they serve the most wonderful Chili Verde sauce over many of their dishes, and if they don't I request it. (Cause I know a good thing when I taste it…and I'm "that" customer!)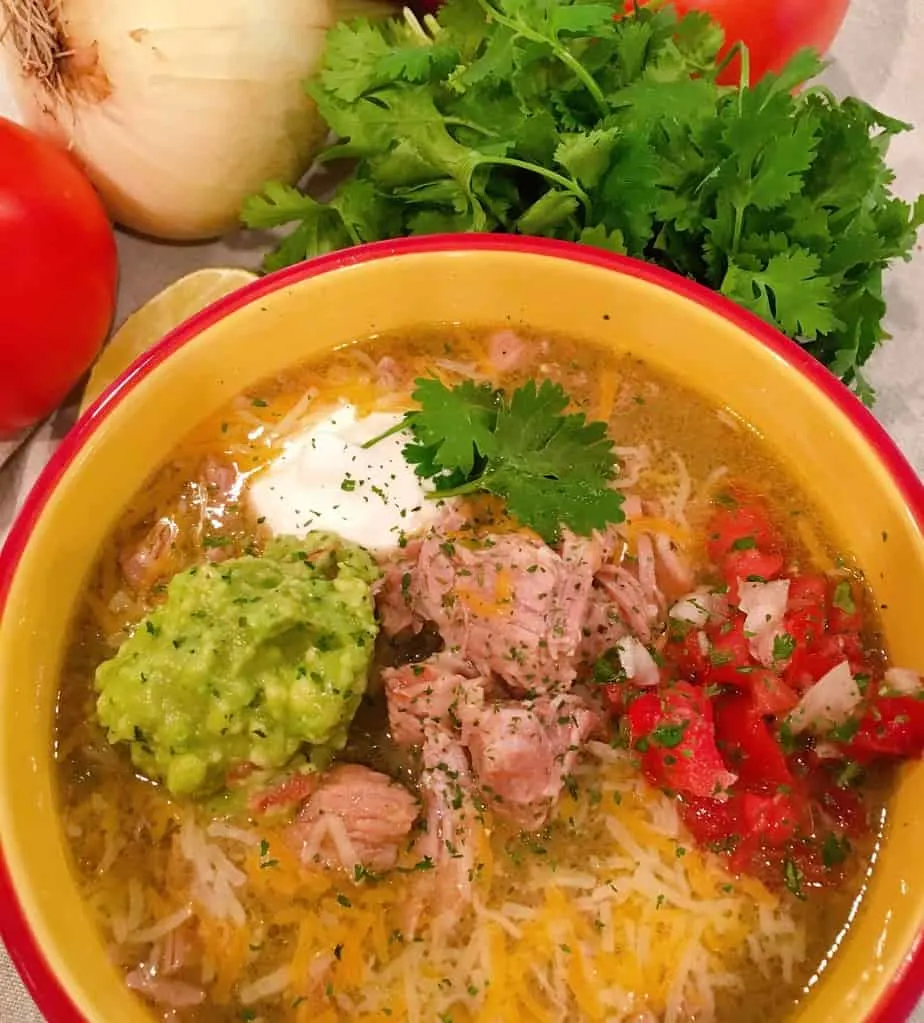 It's my favorite and it's SO good! I had to try my hand at recreating my own version. Let's just say…someone at this Nest is a very Happy Camper…and it's not just the cook!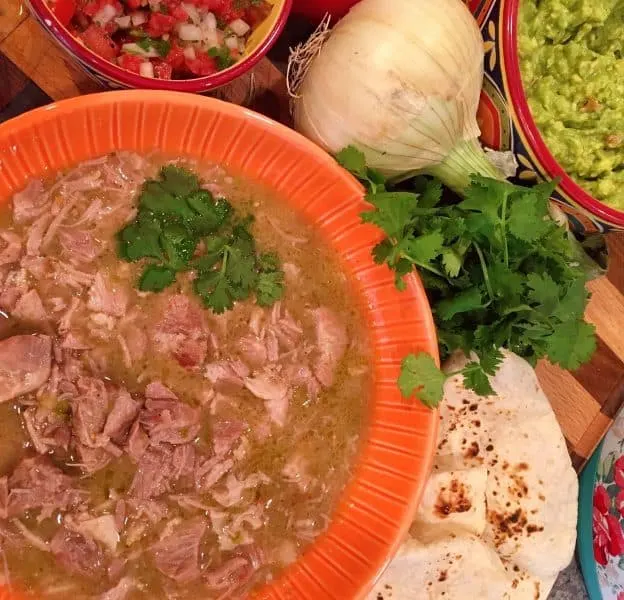 You can make this with chicken…but true Chili Verde is made with tender chunks of pork! The flavor from that pork roast is what it's all about! A boneless pork shoulder roast works best…but, I used a regular bone-in pork shoulder roast and cut the meat off the bone. (I saved the bone to make a big ol' pot of soup on another day! A good cook doesn't waste food! Just ask my buddy Gordon Ramsey!)
This is such an incredibly easy dish it's sure to become a regular on your menu rotation. The flavors are rich and warm…they'll have you lapping up every last drop! (Yep! It's THAT good!)
How To Make Instant Pot Easy Chili Verde
Begin with 4 -5 pounds of boneless pork shoulder roast. (Remember you can use a bone in pork shoulder roast. They are generally less expensive and on often on sale. You can carefully cut the meat off the bone)
Season with Salt and Pepper on all sides of the roast. Cut the roast into 1 inch pieces.
TIP: You may want to remove the excess fat…I did not. The reason? FAT equals flavor! I say this all the time! It's why we love bacon and steaks with marbling! They are so much more tender and flavorful thanks to my personal friend "fat"!!! (We've been life long buddies!).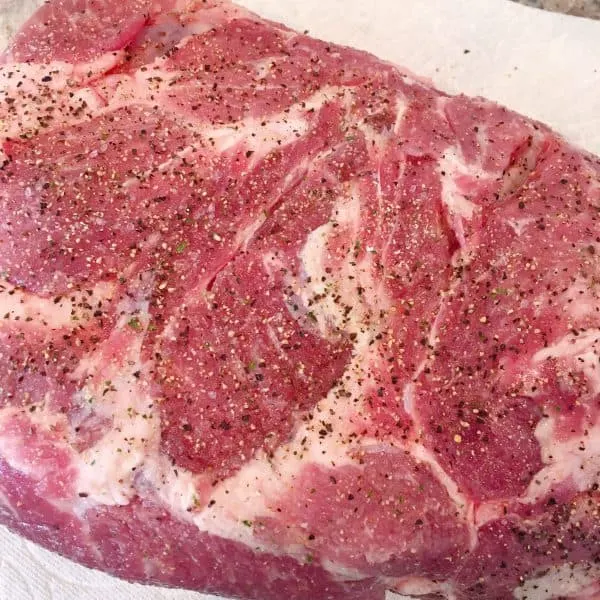 Add 2-3 Tablespoons Olive Oil to the bottom of your Instant Pot and set for saute! (Yep we're gonna brown up those 1 inch cubes of pork for a minute or two!)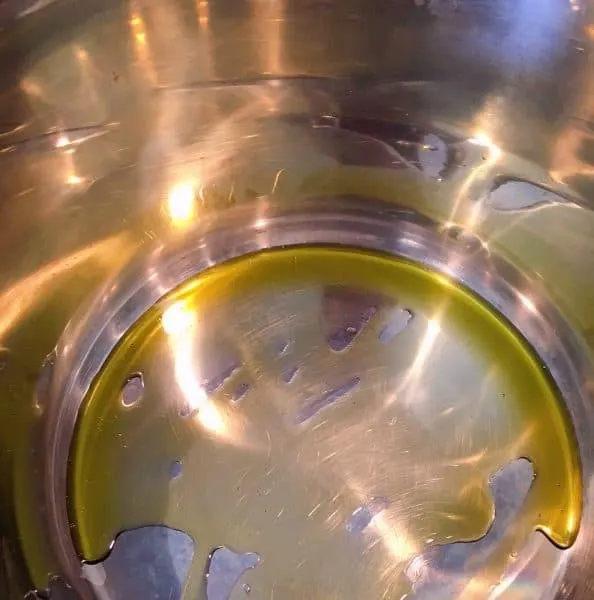 Cook the pork pieces until brown, but not cooked through. This will allow the juices to be seared into the pork and release the fat to add flavor to the Chili Verde. It's a win-win!! Plus the brown bits look so pretty in this dish!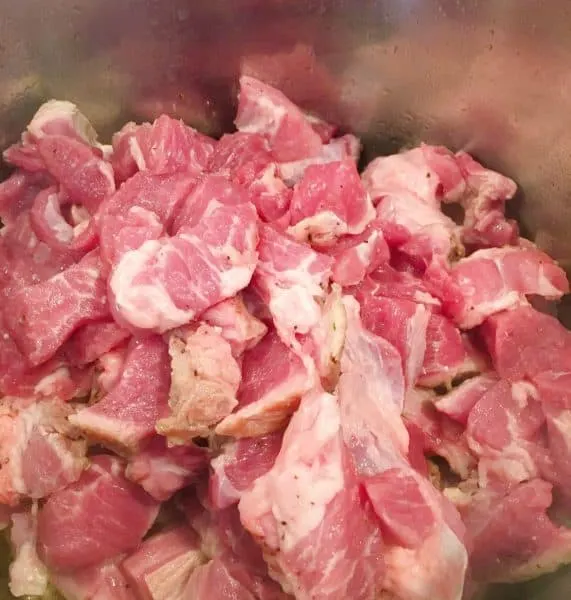 Turn the Instant Pot off and add 1 can (20 oz.) Green enchilada sauce, 1 Cup Salsa Verde, 1 can (4 oz) chopped green chile peppers, 1/2 teaspoon salt, and 2 teaspoons cumin. (Gotta have that beautiful warm flavorful of cumin…Howdy!)
Give it a good stir to be sure everything blends together before cooking…but wait…there's one more ingredient we need to add…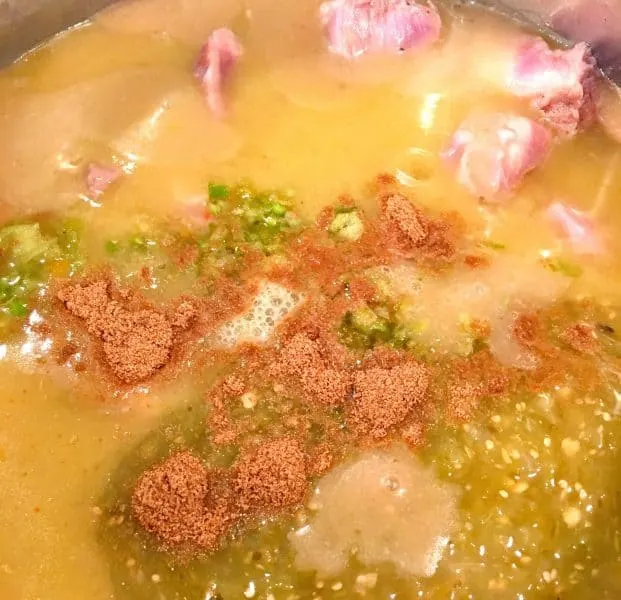 Chopped dried onion flakes! You can use fresh onions…I wanted quick and easy! (…and I didn't want to mess with the whole crying thing while chopping onions!)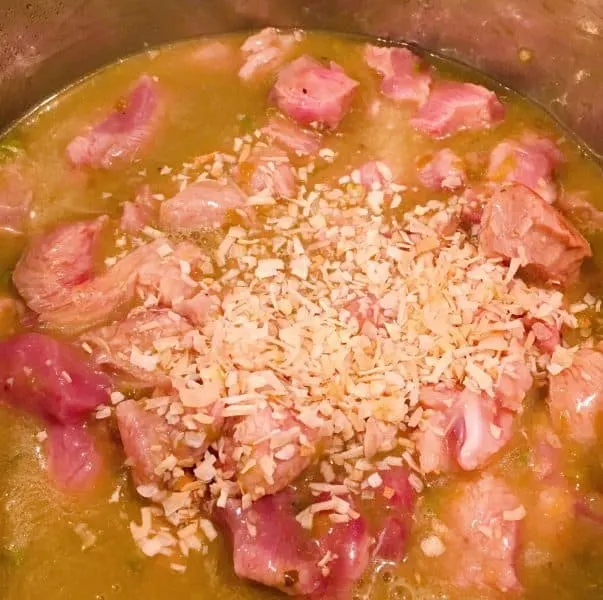 Place the lid on the Instant Pot and select "meat/stew" button, normal temperature, and adjust the time to 80 minutes. Be sure the Valve is set to "seal"! Note…You can do 50 minutes…but I wanted the flavors to steep together longer. I really recommend the 80 minutes!
Allow the pot to slow release for 20-30 minutes, then quick release remaining steam until valve pops down and the lid releases. Tip the lid away from you when removing so you don't burn yourself.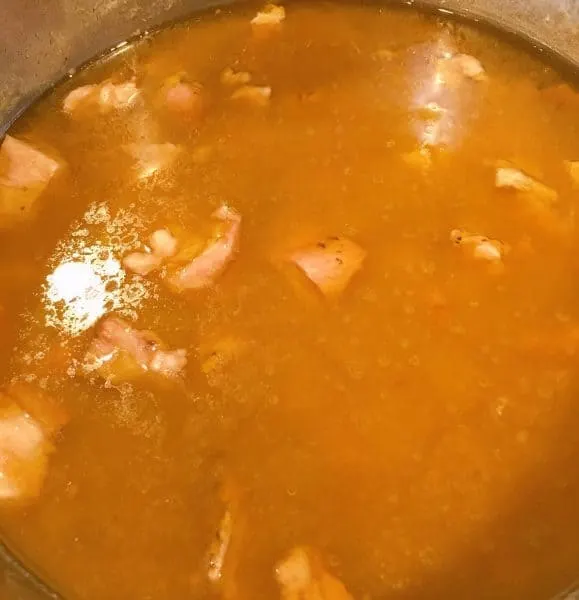 If you've cooked the pork with the fat on the roast, the pieces of remaining fat may float up to the top and be easily skimmed off.
The meat is extra tender (Thanks to the magic of steam cooking and that amazing fat!) and the Verde sauce is loaded…and I do mean LOADED with the rich warm flavors traditional to Chili Verde.
Also, this is "one of those" dishes that become more flavorful over time! It's outstanding in the flavor department!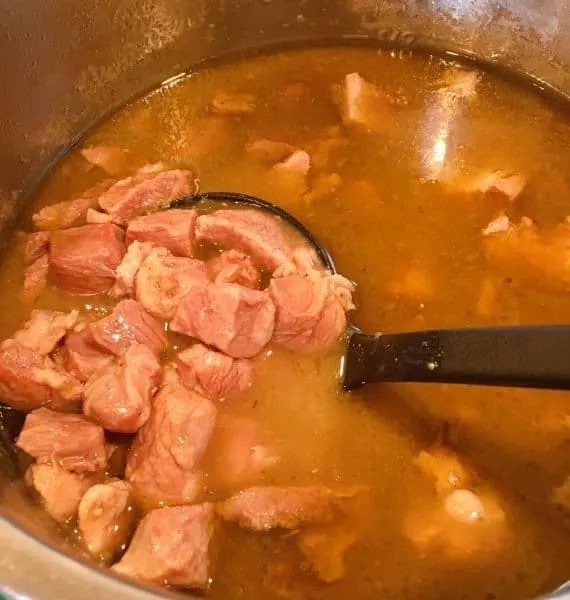 Give the meat a little push around the pot with a potato masher, or fork, to break up some, not all, of the pork chunks.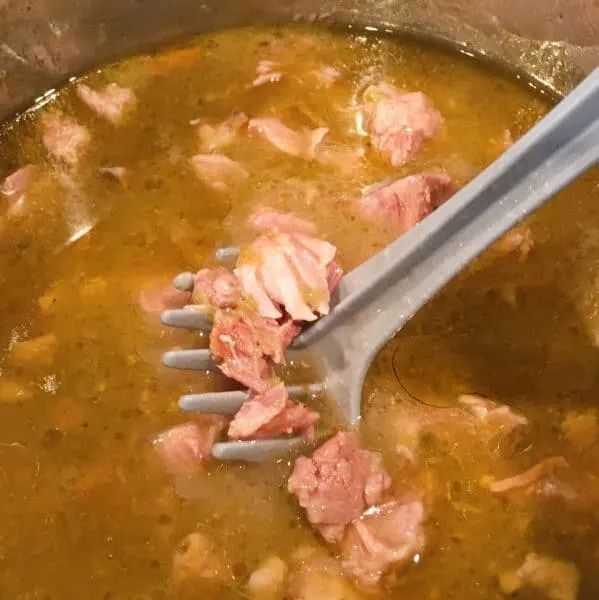 While the pork is cooking in the instant pot…it's the perfect time to mix up a batch of Fresh Pico De Gallo and Fresh Homemade Guacamole. I'm sharing my recipe for Pico de Gallo below!
How To Make Pico De Gallo
Everything in this Pico is fresh. From the garden tomatoes to the cilantro! This recipe has 5 fresh ingredients with a little garlic salt and coarse black pepper to taste.
Begin by washing your veggies! You'll need one large garden ripe tomato, 1/4 a large white onion, 1/2 a fresh jalapeño pepper, 1 and 1/2 Tablespoons of chopped fresh cilantro, and a fresh lime. This will make enough Pico for 2-3 people. So I'd double the recipe if you are feeding more than that.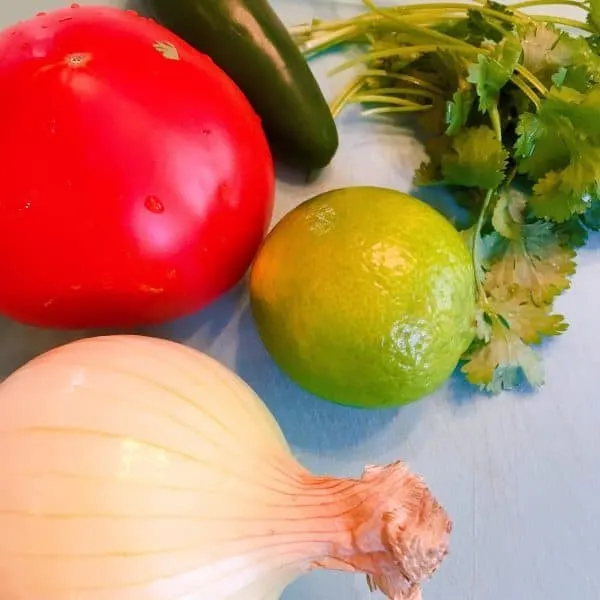 Chop fresh tomato into pieces removing the seed pulp. The secret to this amazing Pico is garden fresh tomatoes. I know you can't always find them year round…but if you can, by all means, use them in this recipe. There is no flavor like a garden ripe tomato!
Mince 1/4 to 1/2 of a fresh jalapeño (you decide for yourself if you want a 4 alarm fire in your mouth…) , add 1/4 cups chopped white or red onion, and 1 – 2 Tablespoons finely chopped cilantro. Add garlic salt and coarse black pepper to taste.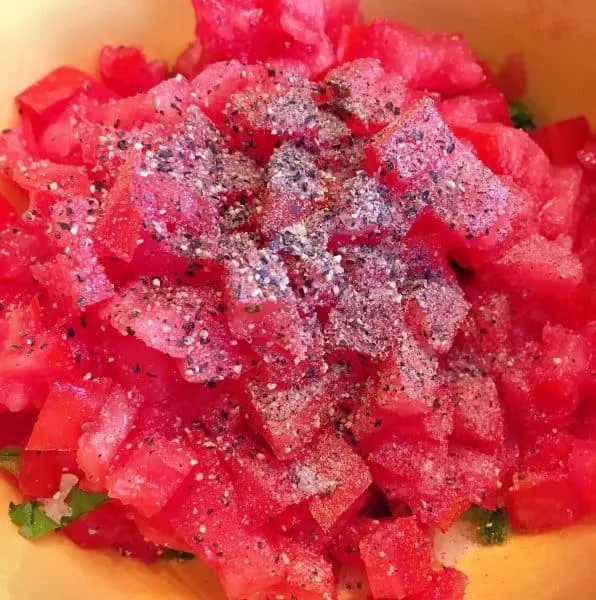 Roll 1 lime, on a hard surface,(try not to have it shoot across the room and knock over your Dr Pepper…it may have happened…) this will release as much juice as possible inside the lime before cutting. Squeeze half a lime into the pico mixture. This will add flavor, but it will also keep all those garden veggies nice and fresh!
Stir with a spoon and mix until combined. The colors are a Fiesta by themselves! Such rich vibrant colors. Let's Party!!! Cover and chill until ready to serve.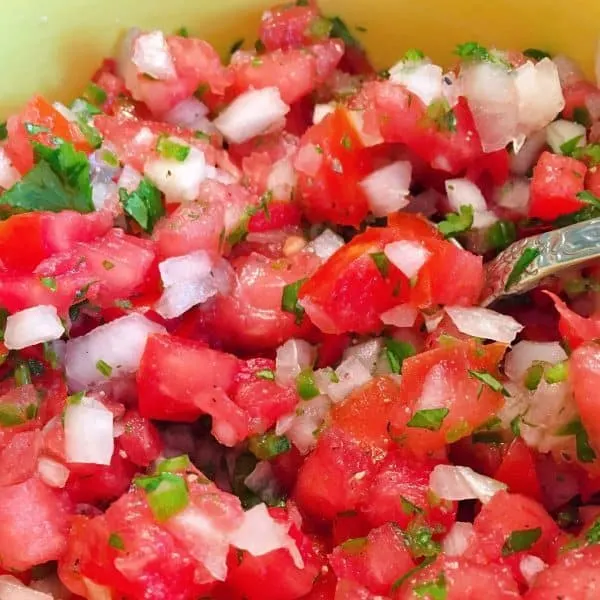 There are several different ways you can serve this Instant Pot Easy Chili Verde. The first is as soup in a bowl topped with grated cheese, a scoop of Pico, guacamole, and sour cream. The flavors all combine to create one of the most flavor filled dishes ever! You can serve it over steamed rice! So good!!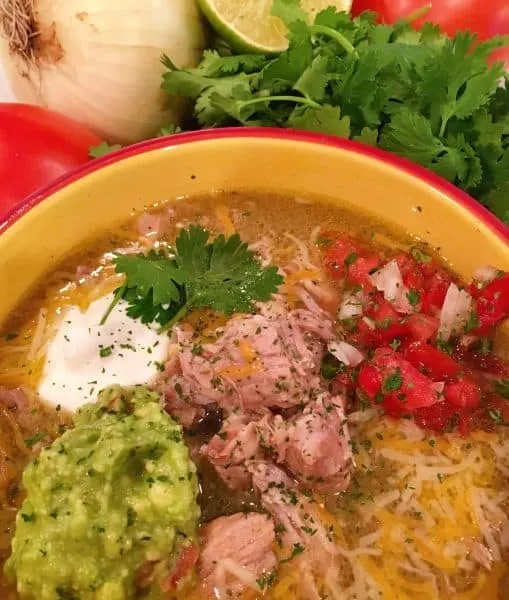 Seriously…look at this one spoonful! There are so many amazing flavors happening in just this one spoonful! The tender melt-in-your-mouth pork, the chili Verde sauce, homemade creamy guacamole, the fresh Pico…what is not to love?!!! I know what you're thinking…" Get in my belly!!!" I know! Right!!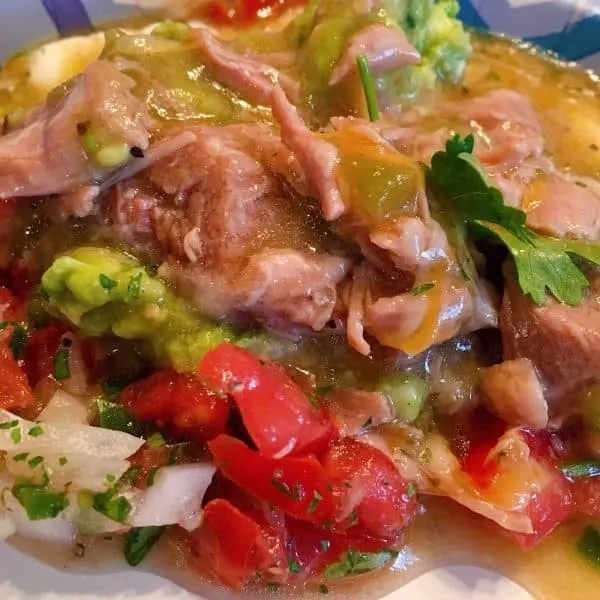 You can also drain a little of the Verde sauce off from the meat (save it though!) and make a burrito bar! Roast up a bunch of flour tortillas over an open flame, stack 'em up, add the Pico and guacamole and have at it! Such a fun party food idea! One that your guests are sure to love!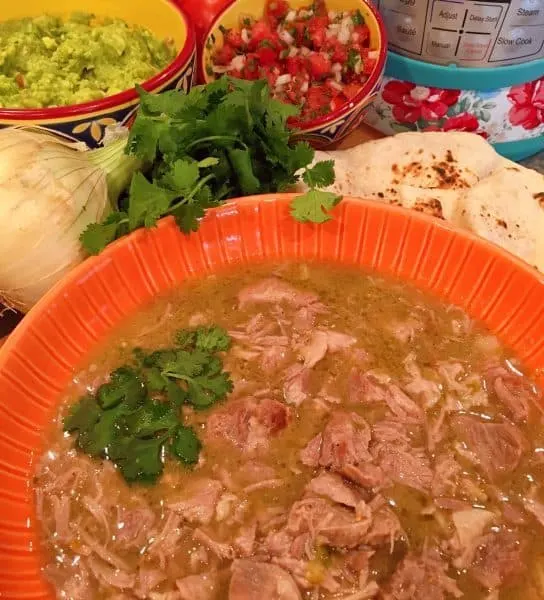 Make sure you have a LOT of napkins on hand cause life is gonna get messy in a good way!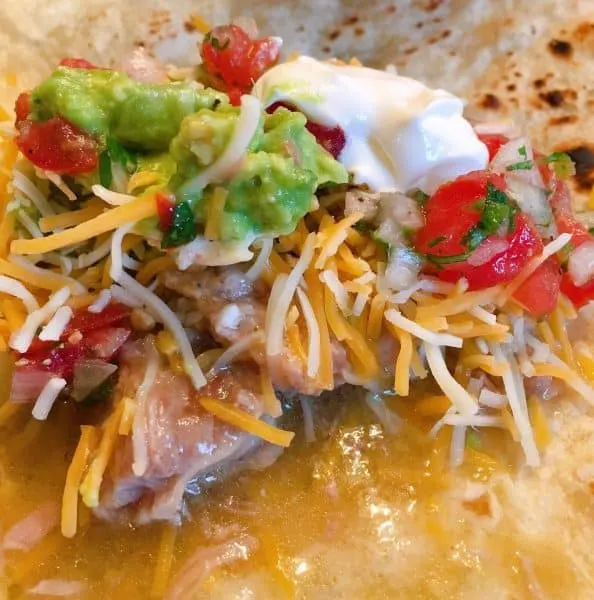 The third option for this amazing Pork Chili Verde is to use it as a "sauce" to smother burritos, enchiladas, or in casseroles. You can freeze it in containers and pull it out when you need a little extra "zip" for special Mexican dishes.
However, you choose to serve this amazing Instant Pot dish you're sure to fall in LOVE with it! I know we are in love here at this Nest! Mr. Nest couldn't stop raving about the deep delicious explosion of flavors in this recipe!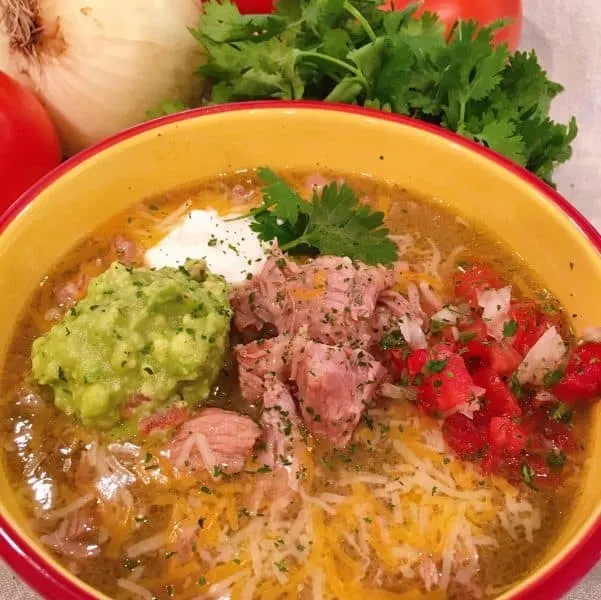 Tips for Instant Pot Pork Chili Verde
Chili Verde can be placed in food storage containers and frozen until ready to use. Up to 3 months.
It can also be stored in a food storage container up to one week in the refrigerator.
This recipe can be made in a Slow Cooker. Cook on low for 8-10 hours. Serve according to directions.
Adjust the heat of this recipe by adding or subtracting the amount of chopped green chile peppers.
You can substitute chicken for the pork in this recipe, however please note, it will not have the same depth of flavor because of the deep smokey flavors in the pork fat.
This Pork Chili Verde is superb on scrambled eggs and omelets!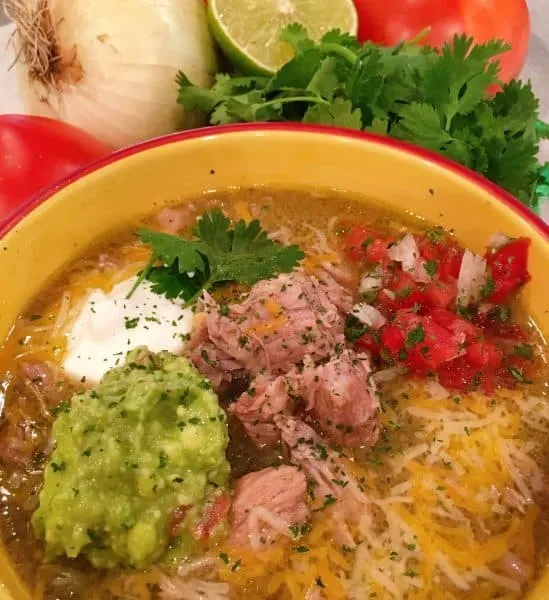 I hope you'll give this recipe a try. It's the perfect "newbie" Instant Pot recipe…so break those Instant Pots out of their boxes and get cooking! You're gonna thank me!
Other fantastic Mexican Recipes from my Nest to Yours
I'd love to have you follow me on Pinterest, Facebook, and Instagram, where I share all my latest recipes, or you can sign up for my monthly Newsletter!
As always, thanks for stopping by my Nest!
Happy Nesting!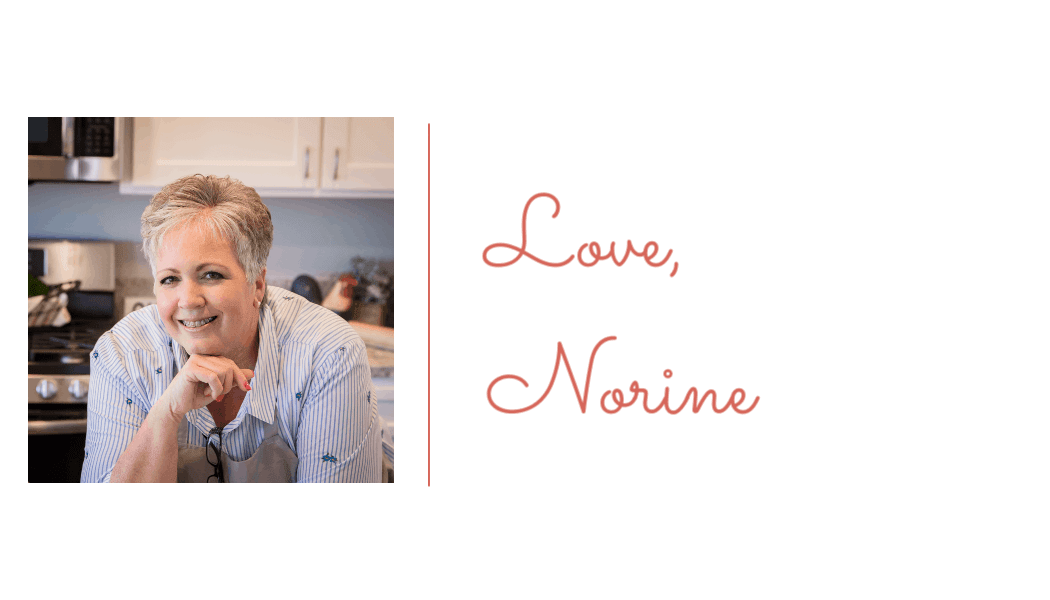 Yield: 10 servings
Instant Pot Easy Pork Chili Verde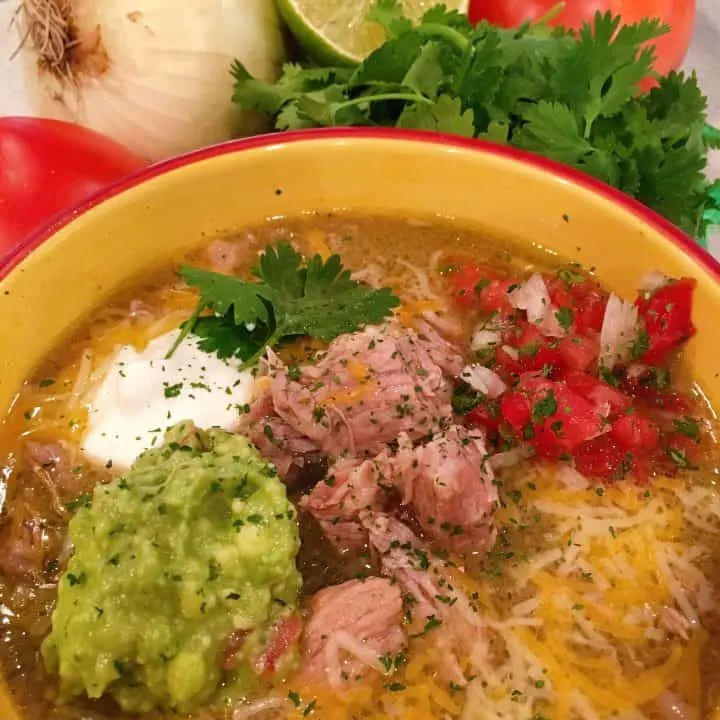 Tender chunks of pork in a rich and warm easy instant pot Chili Verde perfect as a soup, over rice, as a sauce for your Mexican dishes. A delicious, quick, and easy dish!
Cook Time
1 hour
20 minutes
Additional Time
25 minutes
Total Time
1 hour
55 minutes
Ingredients
1 boneless pork shoulder roast (4-5 pounds) cut into 1 inch pieces
2-3 Tablespoons Olive Oil
1 (20 oz) can green enchilada sauce
1 Cup salsa Verde
1 can (4 oz) chopped green Chiles
1/2 teaspoon salt
1 Tablespoon dried onion flakes or 1/4 cup finely chopped onion
2 teaspoons cumin
Instructions
Set your Instant Pot to Saute and add 2-3 Tablespoons Olive Oil.
Add pork shoulder cubes and brown quickly. Note: Meat will not be fully cooked. Turn off Instant pot.
Add enchilada sauce, salsa Verde, chopped green Chiles, salt, onion flakes and cumin. Mix until combined.
Place and lock lid on Instant pot and set vent valve to "sealed".
Select "Meat/Stew" and manual adjust time to 80 minutes. Allow to natural release for 20-30 minutes. Carefully Quick release remaining steam. Note: There will be a lot of steam built up from the liquids in this recipe. Be sure to natural release if valve is NOT down.
Remove lid making sure the lid is facing away from you. Using a potato masher or large fork, slightly break up some of the meat.
Serve immediately as soup, sauce, or filling for burritos, tacos, enchiladas, or store in air tight containers in refrigerator for one week.
Notes
*Other time is natural release time.
Nutrition Information:
Yield:
10
Serving Size:
1 1/2 cups
Amount Per Serving:
Calories:

93
Total Fat:

7g
Saturated Fat:

2g
Trans Fat:

0g
Unsaturated Fat:

5g
Cholesterol:

12mg
Sodium:

278mg
Carbohydrates:

3g
Fiber:

1g
Sugar:

2g
Protein:

4g