Bacon, Lettuce, Grape Tomatoes, fresh greens, homemade croutons and a divine creamy fresh basil dressing all come together in this spectacular B.L.T. Salad!
How did this BLT Salad with Fresh Basil Dressing come to exist? It was summer…it was hot…and I didn't want to cook! (Need I say more? I have lofty goals…like trying to keep those I live with alive!)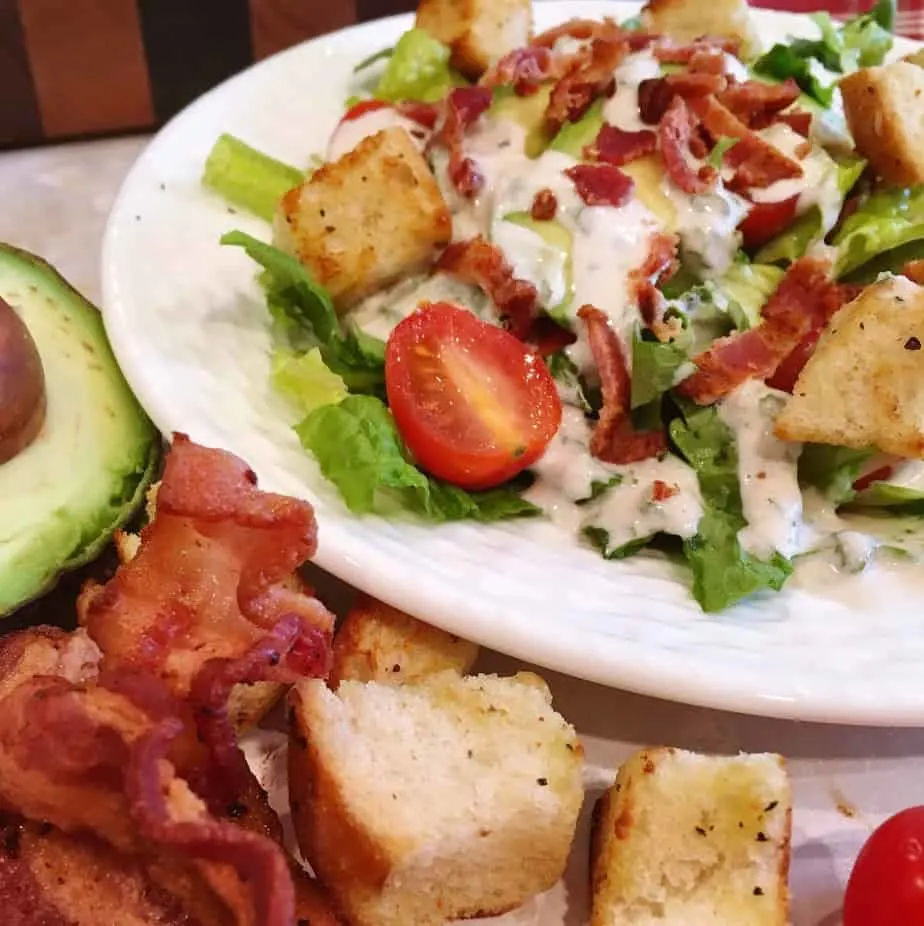 What I wanted was a big cool tasty salad! However, as every Mom knows…trying to feed your family salad is not always the easiest feat! Especially if the "kids" are anti-green eating teenagers!
I went in search of the perfect salad! One the entire family would eat!
They don't totally hate salad…they just don't like all the things I like in a salad. What they do love are B.L.T. sandwiches! (Sure…some don't like tomatoes…we let them stay! It's not easy, but we keep 'em around!) So this BLT salad is perfect! The non-tomato loving peeps can pick out the tomatoes. (Yes! It's painful for me to watch!)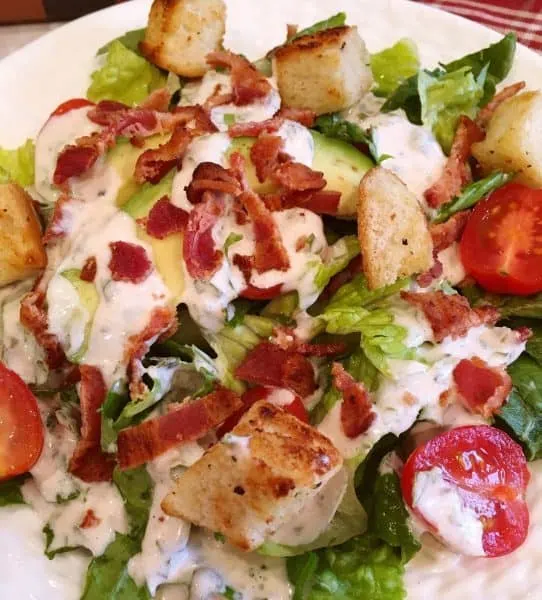 This Bacon Lettuce and Tomato salad is even better thanks to two over the top elements!
First…the homemade croutons made from a thick slices of french bread. They're golden and crispy on the outside and soft and chewy on the inside!
Second…hands down…the Fresh Basil Homemade dressing! Made with Real Mayonnaise (Note…NO MENTION was made of Miracle Whip! Walk away from the "whip"!), Red wine vinegar, salt, pepper, bacon drippings…(yes I said bacon drippings), and fresh chopped basil! It's spectacular!
Let's get cooking!
Cook 1/2 pound bacon.
NOTE: If you're like me, just cook up the entire pound of bacon…ya never know when you'll need a slice or two…or 6!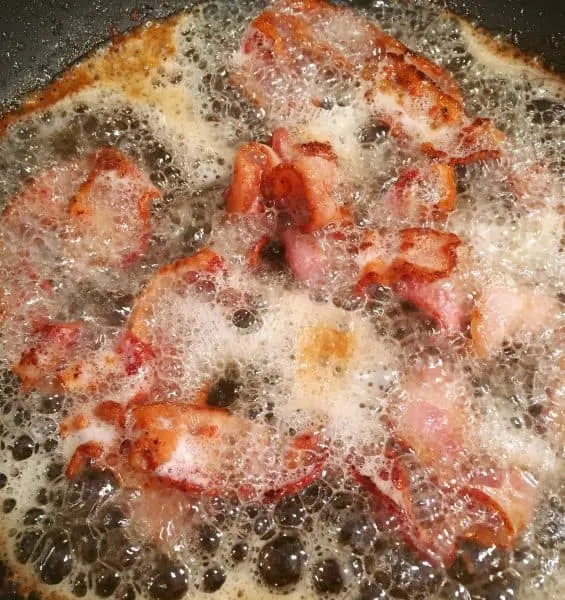 Drain on a paper towel. Crumble and set aside. Reserve 2 Tablespoons of the bacon drippings for the salad dressing. (That photo is so purty…it should be framed and hung in an art museum!)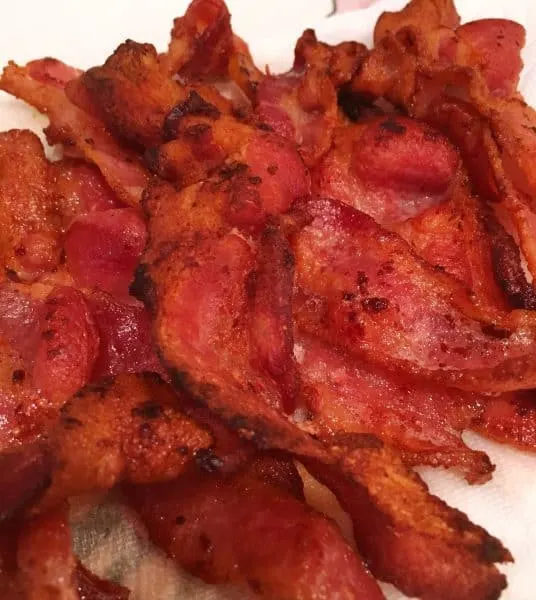 Chop 1/4 cup of fresh basil.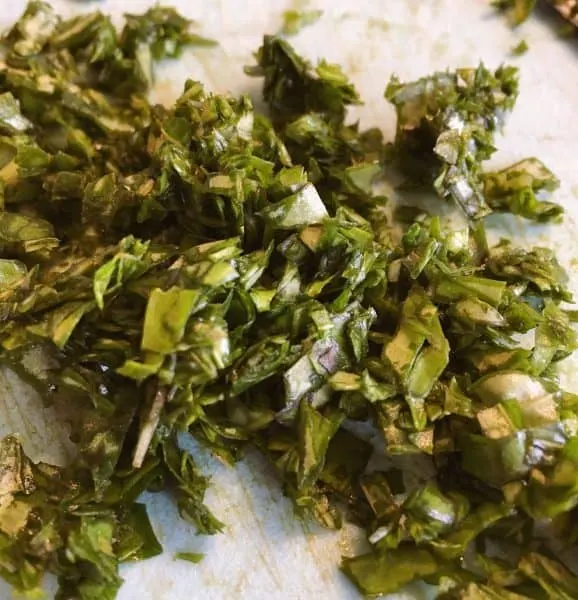 In a small bowl, or measuring cup, add the reserved bacon drippings, mayonnaise, and 2 Tablespoons red wine vinegar.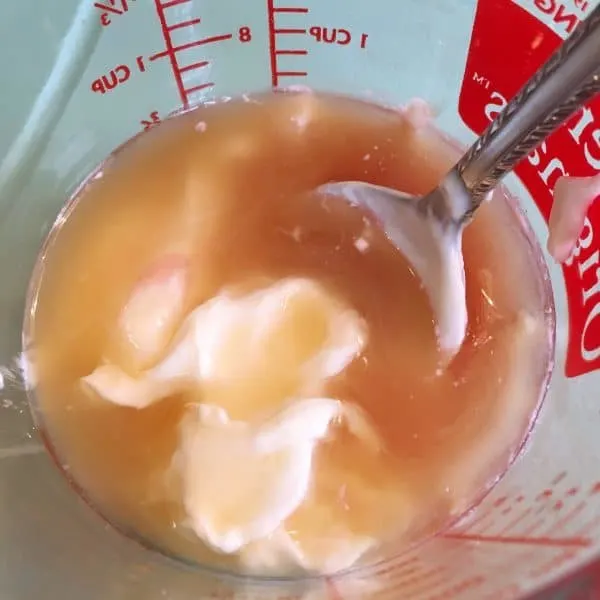 Add salt and pepper to taste. Whisk together to combine.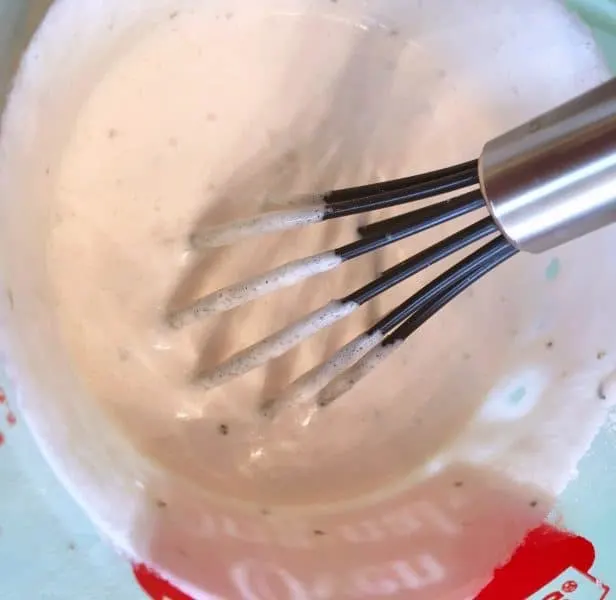 Add freshly chopped basil. Whisk together to combine, cover, and left at room temperature until ready to serve salad.
Note: Because this dressing needs to be left out at room temperature it's best to make it right before serving the salad.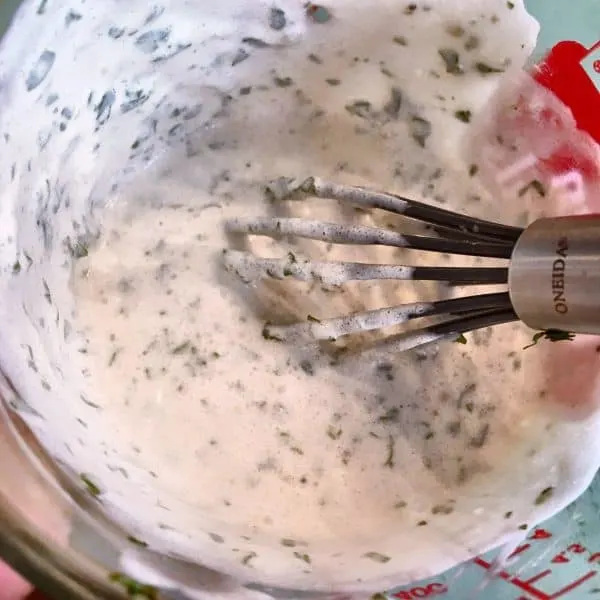 Cut four slices of 1/2 inch thick french bread into cubes. Place in a bowl and drizzle with olive oil. Season with salt and ground black pepper. Toss to coat.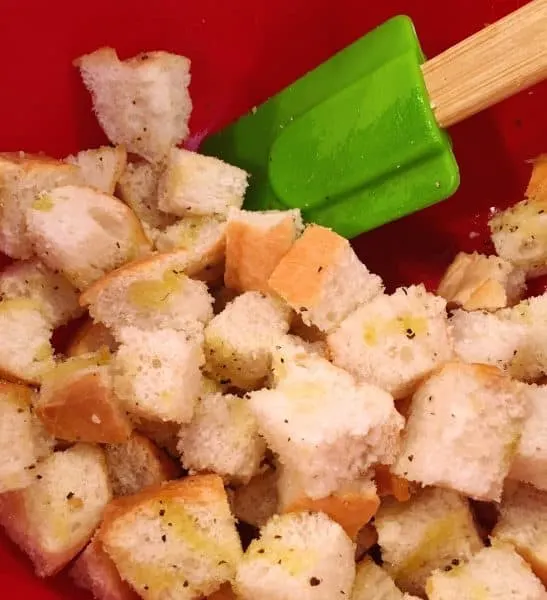 I had Mr. Nest toast the croutons! He rocked it! I may make him my new side kick in the kitchen!
Place in a large skillet over medium heat. Toss and cook over medium heat until golden brown.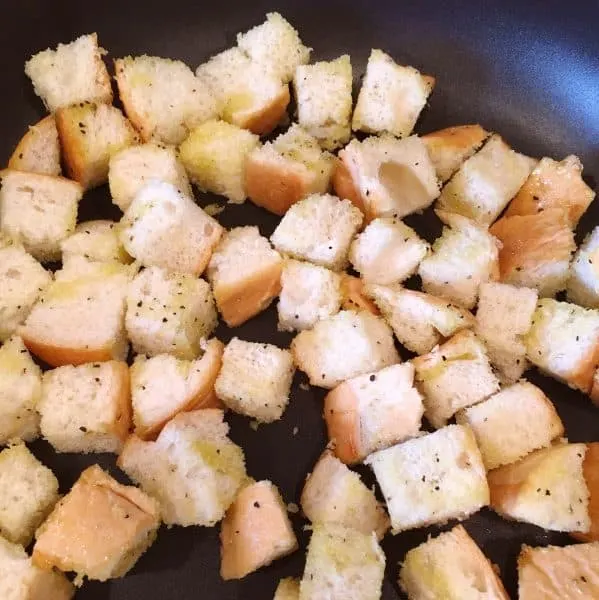 When golden brown and toasty…move to a bowl to cool.
Homemade croutons are so good! Crispy golden on the outside and soft and chewy inside. If popcorn wasn't around…these might be my new favorite movie snack!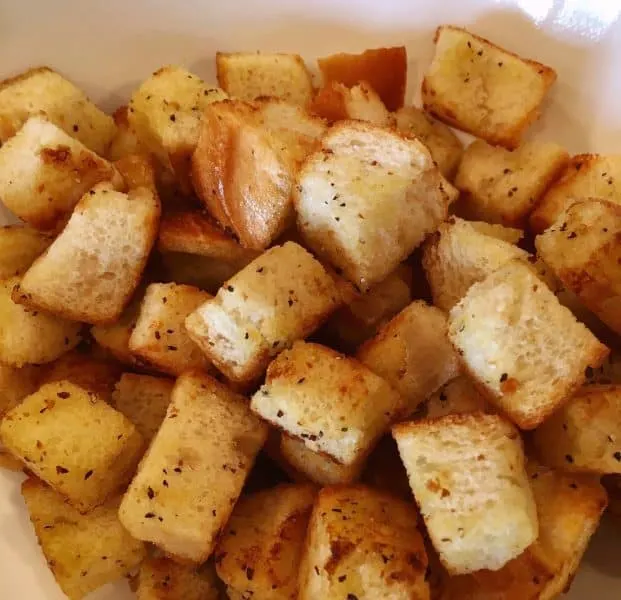 Prepare 1 pound of romaine lettuce. I chopped up one head and called it good. I don't like scales and it's not fair to stress lettuce out with that kind of pressure!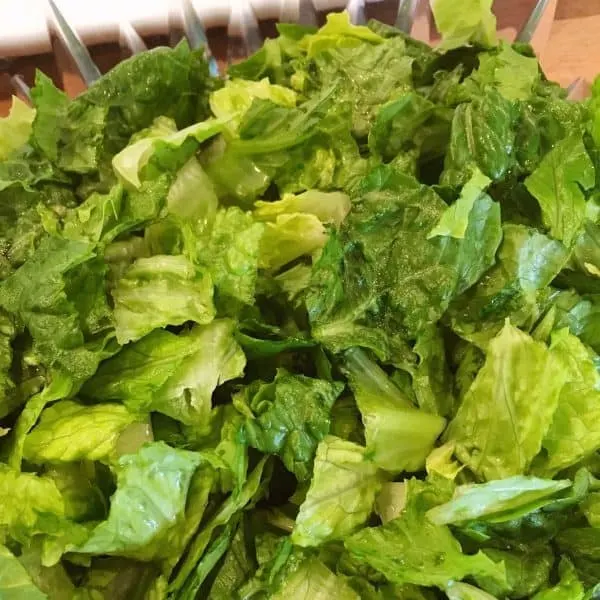 In a large bowl, mix together the prepared lettuce, juicy sliced grape tomatoes, and crumbled bacon. Now since I'm a rebel…and I like to frustrate the tomato haters in this family….I add avocado! That's right! Those same tomato peeps don't like the creamy green goddess, Miss Avocado. (I don't know what I'm going to do with them!)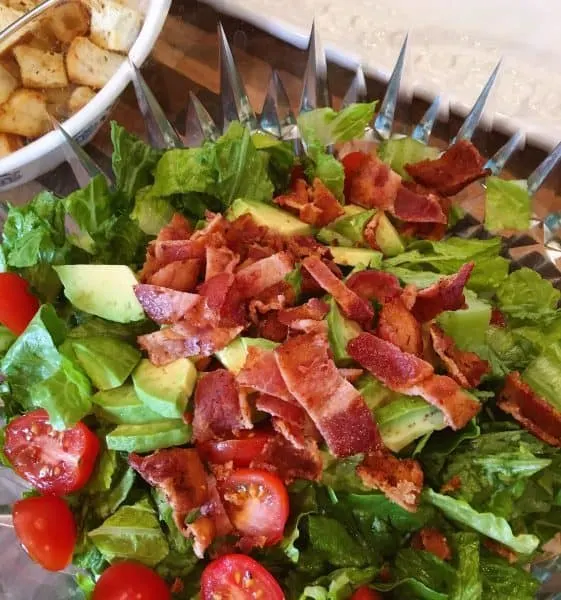 Add those golden cubes of deliciousness! The lettuce, tomatoes, and bacon are all cheering! They're so excited about those croutons!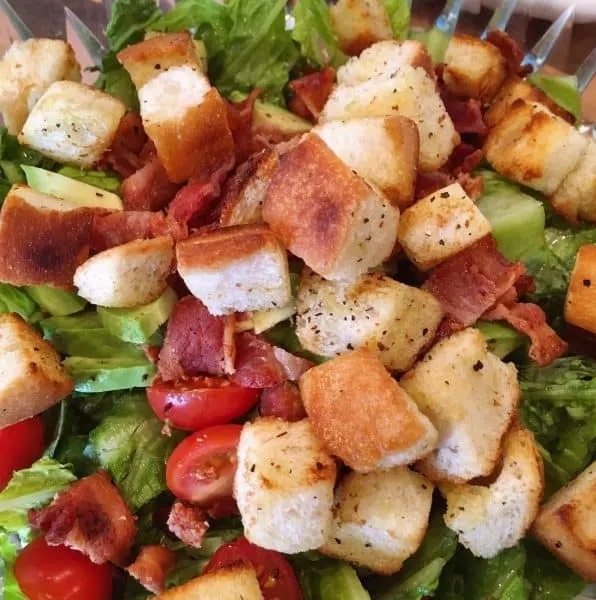 Pour the dressing over the salad. Things are getting serious now!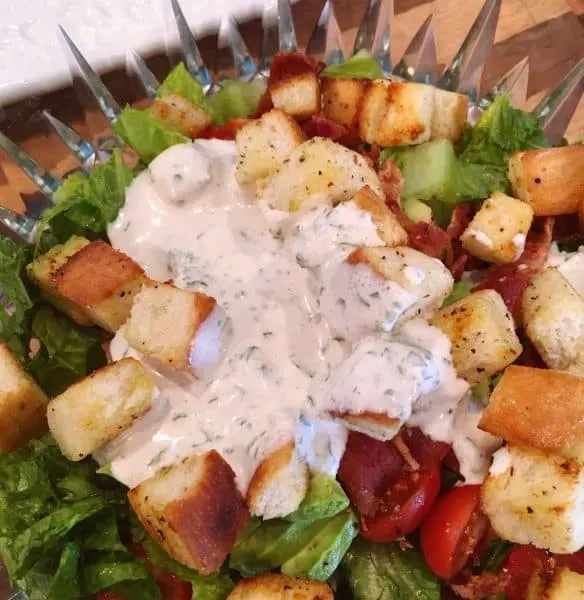 Toss everything together until well combined.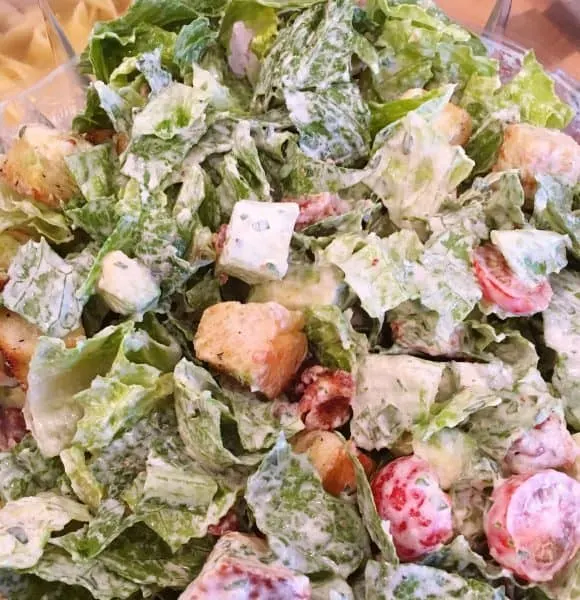 Every single morsel of that salad is covered in that creamy basil mayo dressing! Isn't it beautiful!
Each bite tastes just like a B.L.T. if you "stack" your fork right. One crouton, lettuce, tomato and a crumble of bacon. I don't necessarily recommend you do that with every bite…but ya can!
If you're having a dinner party you can plate each salad individually and dress it after rather than tossing the dressing with the salad.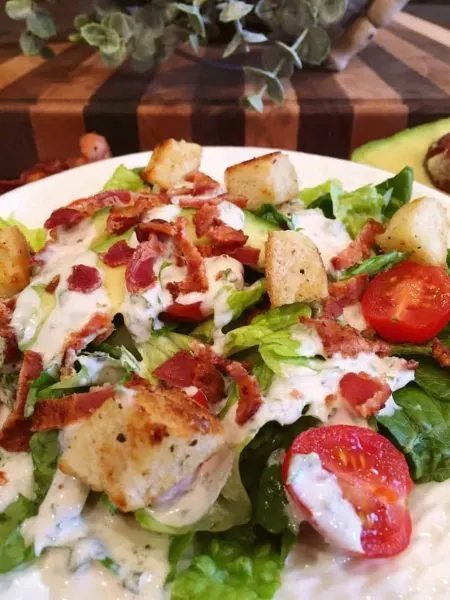 This is truly a simple, yet elegant salad. It's loaded with the smokey fresh flavors of a superb BLT and the Fresh Creamy Basil Dressing brings everything to an amazing crescendo!
Favorite Salad Recipes
You're gonna love this salad! It's an amazing or a great main course. You can even add grilled chicken to kick it up a few notches! Just make sure you top it off with a heaping handful of those fantastic croutons!
Thanks for stopping by today! I love having you visit.
Happy Nesting!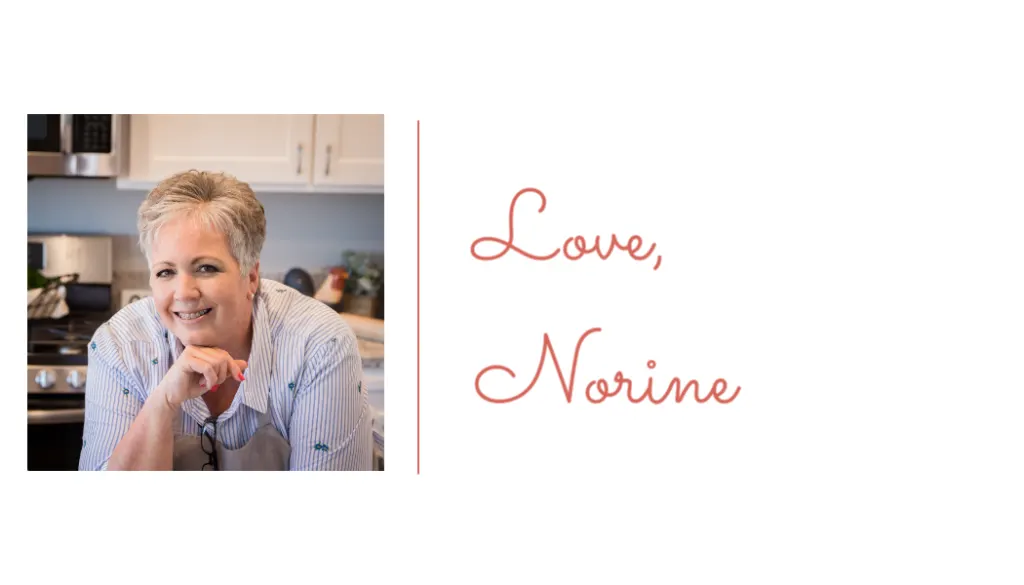 Yield: 4 servings
BLT Salad With Fresh Basil Dressing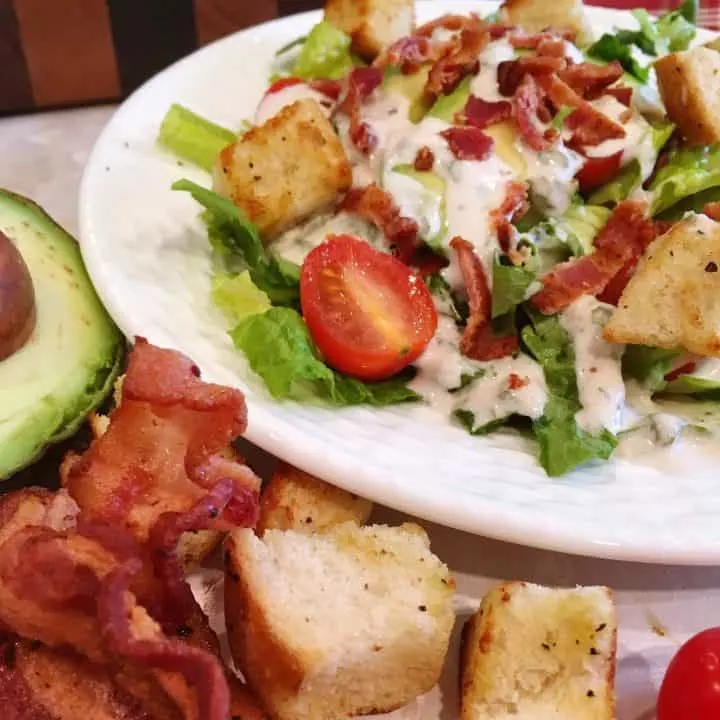 Crispy romaine lettuce, juicy grape tomatoes, crunchy-fried bacon, ripe avocado and homemade golden croutons are tossed with a creamy, tangy, fresh basil infused dressing in a hearty satisfying salad!
Ingredients
1/2 pound bacon
1/2 cup mayonnaise
2 Tablespoons red wine vinegar
1/4 cup finely chopped fresh basil
2 Tablespoon reserved bacon drippings
4 slices French bread, cut into 1/2 inch pieces
1 teaspoon salt
1 teaspoon ground black pepper
1 Tablespoon olive oil
1 pound romaine lettuce - rinsed, dried.
1 cup sliced grape tomatoes
1 cup diced avocado
Instructions
Place bacon in a large, deep skillet. Cook over medium high heat until evenly brown. Drain, crumble and set aside. Reserve 2 Tablespoons of the drippings.
In a small bowl, whisk together the reserved bacon drippings, mayonnaise, vinegar, and basil and let dressing stand, covered, at room temperature.
In a bowl toss cut up french bread cubes with olive oil, salt and pepper. In a large skillet over medium heat, toast the bread pieces with the salt and pepper. Drizzle with more olive oil if needed, continue tossing and cook over medium-low heat until golden brown. Remove from pan and allow to cool.
In a large bowl mix together the romaine, tomatoes, bacon, avocado, and croutons. Pour the dressing over the salad and toss well.
Recommended Products
As an Amazon Associate and member of other affiliate programs, I earn from qualifying purchases.
Nutrition Information:
Yield:
4
Serving Size:
1 1/2 cups
Amount Per Serving:
Calories:

871
Total Fat:

56g
Saturated Fat:

13g
Trans Fat:

0g
Unsaturated Fat:

40g
Cholesterol:

75mg
Sodium:

2339mg
Carbohydrates:

58g
Fiber:

8g
Sugar:

7g
Protein:

34g
Norine's Nest in no way provides any warranty, express or implied, towards the content of recipes in this website. It is the reader's responsibility to determine the value and quality of any recipe or instructions provided for food preparation and to determine the nutritional value, if any, and safety of the preparation instructions.