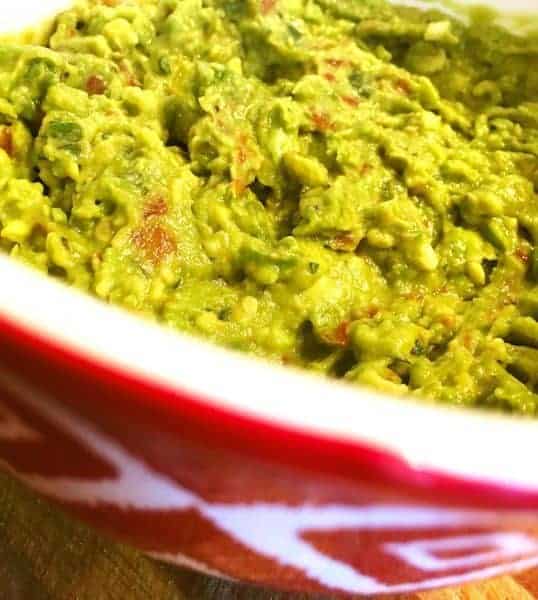 *As an Amazon Associate I earn from qualifying purchases. This post may contain affiliate links, which means that I may make a commission from any purchases at no additional cost to you. Thank you for your support!
Homemade Guacamole made with creamy ripe Haas Avocados, seasoned with just the right spices, and a touch of homemade salsa…well, it has to be just about the most delicious thing on the planet. Give me a big ol' bowl of chips and pass the Guac!
Today I had a friend, in the comment section, ask me to share my Guacamole recipe. Who am I to turn down a fellow Guac lover? Not gonna happen! I don't think there can be bad Guacamole…but I do happen to love mine the best! Yep..I think this is the Best Guacamole!
There's all different types of Guacamole from thick and chunky, to thin and smooth! I happen to love mine a little chunky! (Let's not go there…I know some of you!)
Which Avocado's Make The BEST Guacamole
Guacamole is basically smashed up Avocado! What makes a good Guacamole great? The type of avocado you use! Did you know there are hundreds of varieties!
However, the KING of all avocados are Haas! Why…because they have an 18-22 percent oil content, and that my friends spells what? FAT! You are going to hear this over, and over, and over again here at Norine's Nest. Fat is key! Why? Because fat adds flavor to our food! It's really just that simple. From butter to bacon…fat is one of the most important key elements when cooking.
So for a full flavored creamy Guacamole, it stands to reason we'd want the avocado with the best oil content.
How To Make Guacamole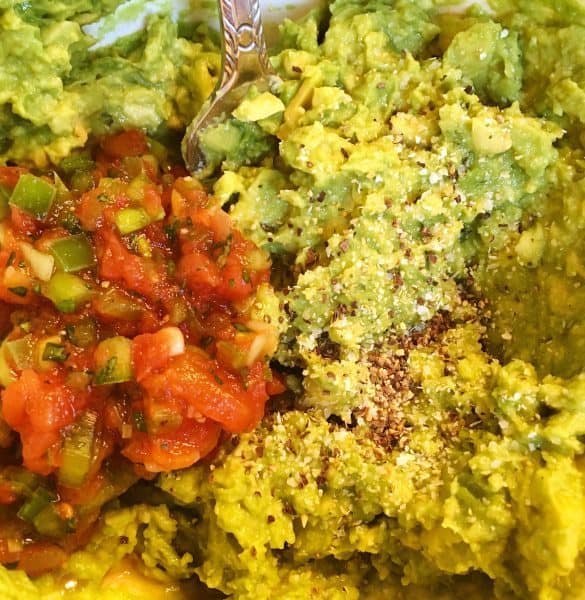 Start with 2-3 Ripe Haas Avocado's. Be sure that the "button" is still in the naval of your avocado. This will insure that the inside is nice and green and hasn't turned brown and stringy! Ya want the "belly button"!
Cut your Avocado in half, pit them, and peel them. Place the halves into a large bowl.
TIP: I do this really "weird" thing to "mush" my Avo's. (Yep, I do weird things!) I take a sharp pairing knife and I cut, cut, cut, cut (whew that's a lot of cutting) that avocado while it's in the bowl.
Keep slicing through the beautiful creamy green meat until it's diced up teeny tiny. (If I'm doing a super large batch I use the potato masher!) To get a really good "mash" use a regular dinner fork to finish the "smushing" process! ( I may love the word "smush" too much. Thus the over use of it! lol)
Once you have the desired consistency, which for me is somewhere between smooth, yet slight chunky, add ½ tsp garlic salt, ¼ tsp coarse black pepper, and a big heaping spoonful of fresh salsa! You can use jarred if you don't have fresh in the house. Then stir it all together until well combined.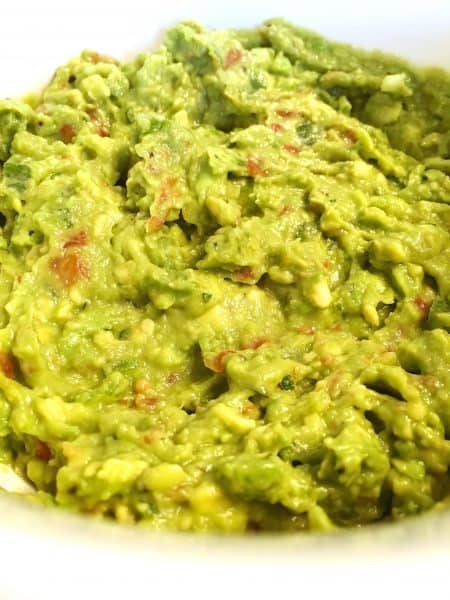 How to Keep Guacamole Fresh
There are several theories out there about the "best" way to keep your Guacamole Fresh and green. I mean let's face it…no one wants brown guacamole. Gross!
You can place the pit in the center of your guacamole and that will help. You can add lemon juice or lime. That will certainly help too. However, the number one way to keep your Guacamole nice and green…make sure NO air can get to it. That means more than just placing it in an air tight container. Why? Because there's air in there! The space between the guacamole and the lid…that's called "air space"…and air is NOT a friend to Guacamole!
I keep mine super fresh by placing it in an air tight container. Then I take a piece of plastic wrap and place it directly on top of the guacamole and gently press it down so that all the air is pressed out. Then I press the plastic wrap up against the inside of the container. Place the lid on top and store it in the refrigerator.
When I'm ready to serve it, I remove the plastic wrap and give it a little stir. You will have a hint of light brown…a very light hint that can just be easily mixed in and no one will ever no. (I promise…our secret!)
Ta-Da!!! Prefect Guacamole! That's it! This picture illustrates what I mean about the texture. It's also how it should look when you are finished. The onions, cilantro, tomato, bell pepper and seasonings from the fresh salsa add such a heavenly flavor to this Guacamole you'll want a straw to slurp it down!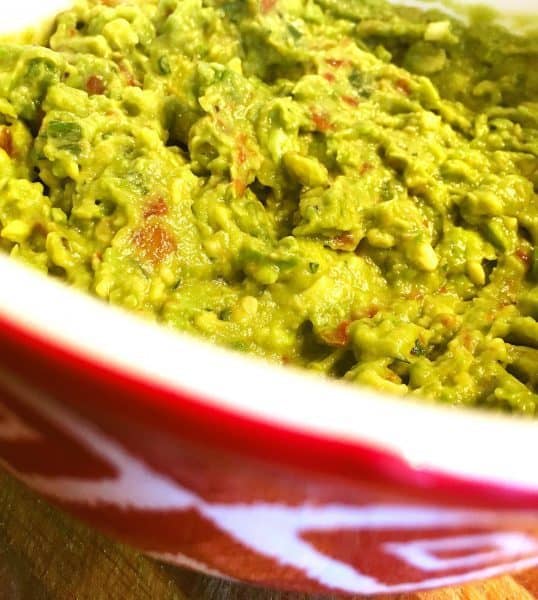 Now all we need is a great big bowl of our favorite tortilla chips and a good Netflix movie…oh and of course a Dr Pepper. (You know me and my love affair with the "doc"! I could seriously just eat chips and this heavenly homemade guacamole for lunch, dinner, or a snack!
Recipe That Go GREAT with Homemade Guacamole
There is nothing better for snacking than a big ol' bowl of this Homemade Guacamole!
Enjoy!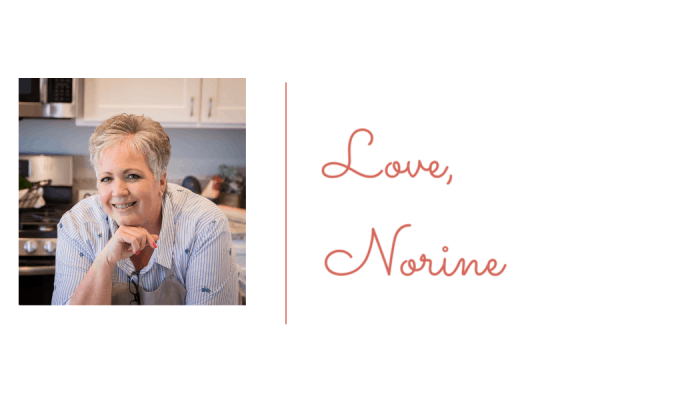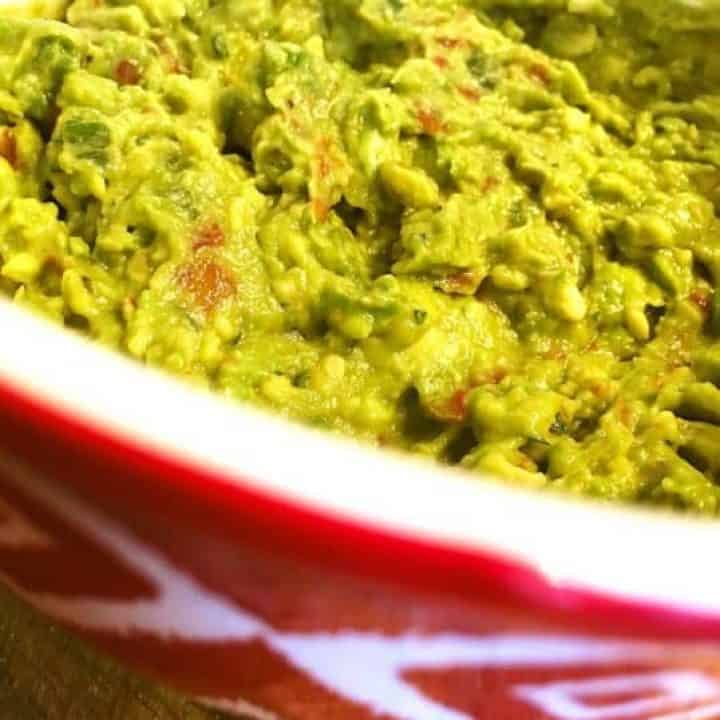 Creamy rich mashed avocados with seasonings and a touch of fresh salsa create the BEST homemade guacamole.
Ingredients
2-3 ripe Avocado's, peeled and pit removed
½ teaspoon garlic salt
¼ teaspoon cracked pepper
1 Large heaping Tablespoon Fresh Salsa
Instructions
Pit and peel the avocados. In a large bowl mash up the avocado's until they are slightly chunky in texture.
Add the garlic salt, cracked pepper and the Fresh Salsa. Mix until well blended. Eat immediately or Cover and Refrigerate until ready to serve.
Recommended Products
As an Amazon Associate and member of other affiliate programs, I earn from qualifying purchases.
Nutrition Information:
Yield:
8
Serving Size:
¼ cup
Amount Per Serving:
Calories:

86
Total Fat:

8g
Saturated Fat:

1g
Trans Fat:

0g
Unsaturated Fat:

6g
Cholesterol:

0mg
Sodium:

118mg
Carbohydrates:

5g
Fiber:

4g
Sugar:

0g
Protein:

1g