Traditional Homemade Chile Rellenos are one of my all time favorite Mexican dishes. Roasted or canned chili peppers stuffed with cheese, dipped in a fluffy egg batter and fried to golden crisp perfection! Top them off with your favorite salsa or sauce. They're amazing!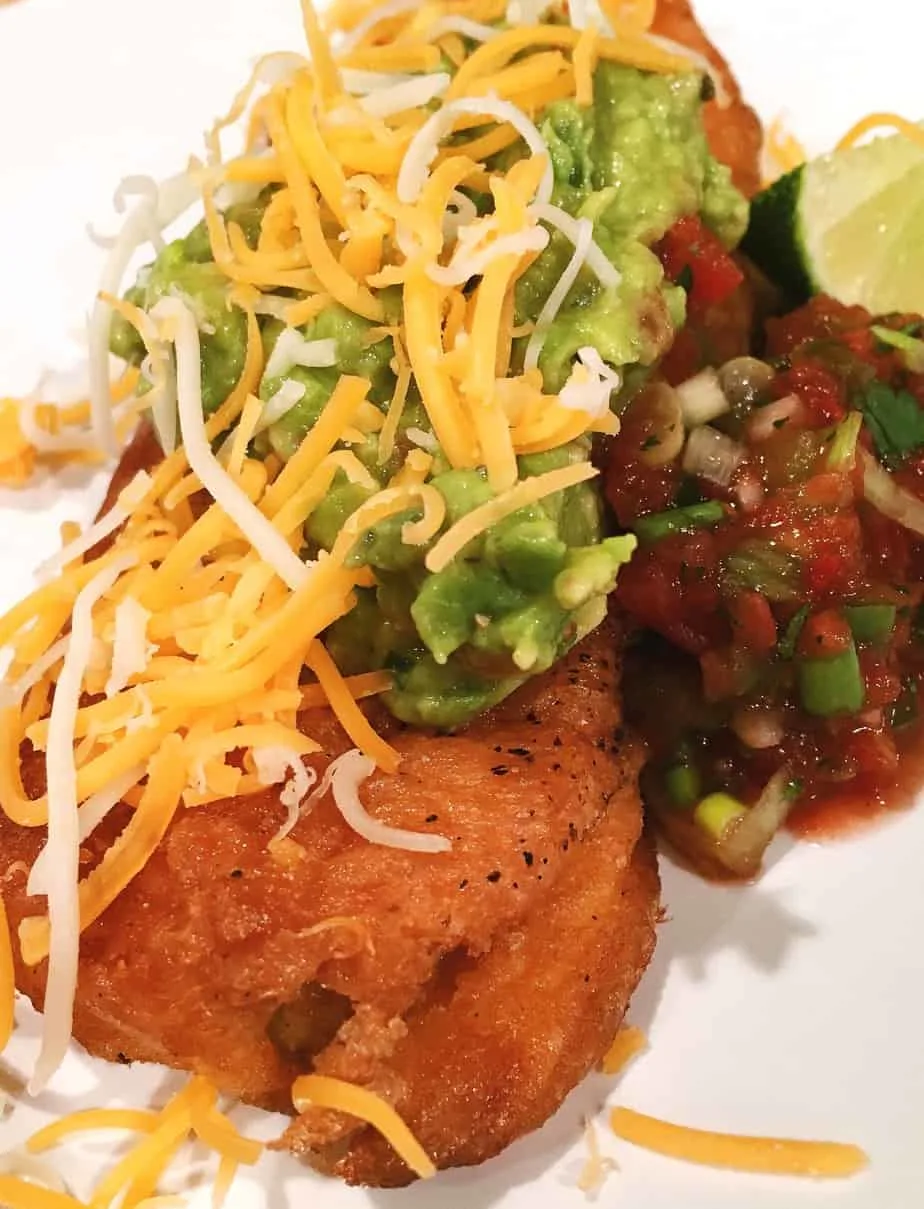 This is not a chile relleno casserole. While those are good, and I enjoy them, they will never measure up to fresh homemade Chile Rellenos! They just can't…it's not their fault, they try, but they are a substitute for the real thing. This is the REAL thing!
Now Mars will argue with me that if you truly want the REAL deal you have to use a Poblano pepper. While I won't admit it to his face…he is right! (Shhhhhh…don't you tell!)
I was taught by my Aunt how to make these using Anaheim Peppers. I suggest, starting out, you do to. The reasons are simple…you can buy them canned already roasted, with the seeds, stems and skins removed. (Whew!) Also, they are a thicker meatier pepper than a Poblano, in my opinion, so they are easier to work with. (Hooray for easy!) Lastly, they are generally a milder pepper so your lips won't swell up the size of…of…never mind…you get the point!
I'm going to give you step by step instructions and I KNOW you can make these! They really aren't as difficult as they may seem. You will love the experience! Come on…let's give it a whirl!
How To Make A Homemade Chile Relleno
First remove the Chile's from the can and drain them on a paper towel.
While the peppers are draining, cut your cheese into nice quarter inch sticks about 3 inches long. I've found cutting them into sticks makes it easier to stuff them into the peppers.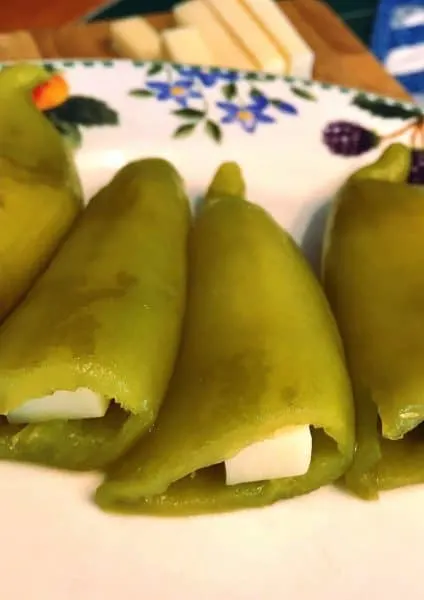 Look how easy those cheese sticks slide into those peppers!
TIP: If a pepper tears while stuffing it…Scream and Panic!! I'm just kidding! lol It's not a big deal. It will be okay. Just move along. (These are going to be SO good!)
Once they are all nicely stuffed you are going to set them aside and mix up the batter to dip them in.
How To Make Chile Relleno Batter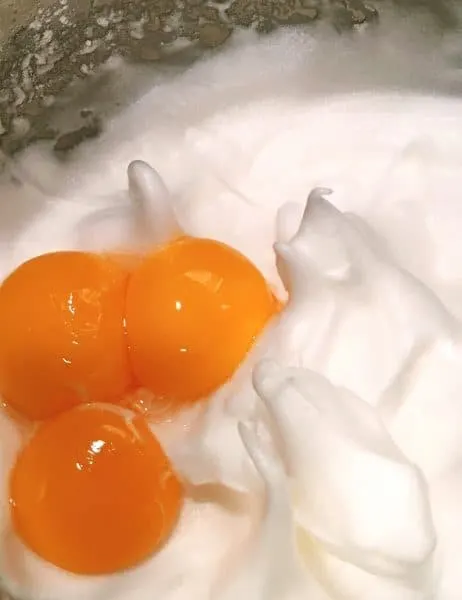 You will need three large eggs.
Separate the whites from the yolks. Place the yolks in a small bowl.
Place the egg whites in your handy dandy mixer and with the wire whisk attachment whip them until they form stiff white peaks. (Just like in the photo. Are you impressed? I'm remembering to take photo's of all the steps! WOW!) While whipping them, add one teaspoon of cream of tartar. This is REALLY important.
Why? I have absolutely no idea! Because my Aunt told me so, and now I'm telling you. Okay, I'm joking. I forgot once and all the lovely fluffy batter fell off my pepper. (Sad…sad…sad!) So don't forget. You don't want a naked pepper!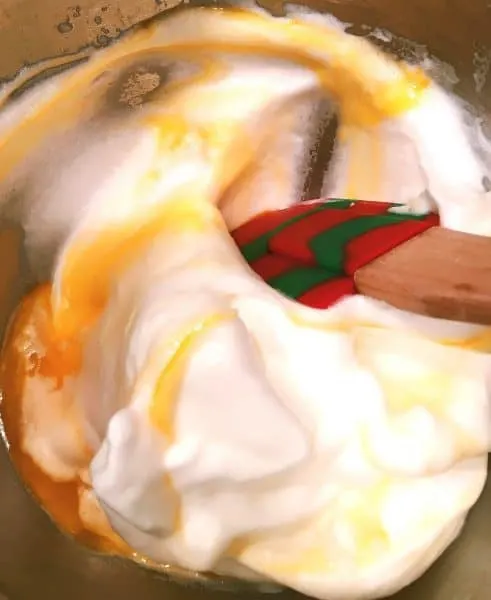 Next, fold the yellow egg yolks into your firm peaks. It's important to fold. Those egg whites are "diva's" and want to be treated as such! (Don't ya love my Christmas spatula!)
Once everything is folded in and nicely blended we need those peppers you set aside. Oops…before you do that…heat a large skillet with about 1/2 inch of vegetable on medium heat. Okay…go find those peppers!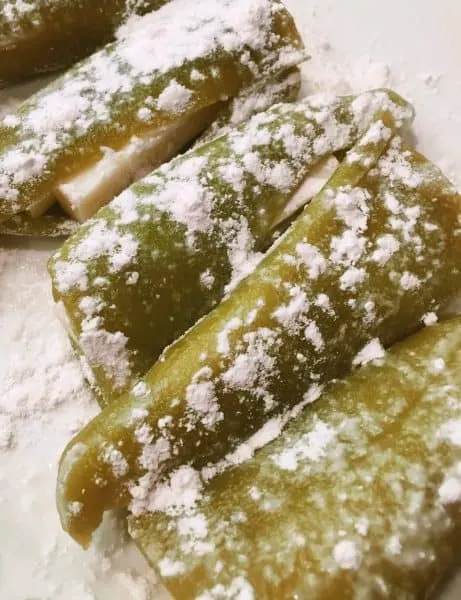 Sprinkle your stuffed peppers with a little all-purpose flour. This will just help keep that "diva" batter on your peppers. (Do you get the feeling those peppers don't like the batter? lol) Now for the fun part….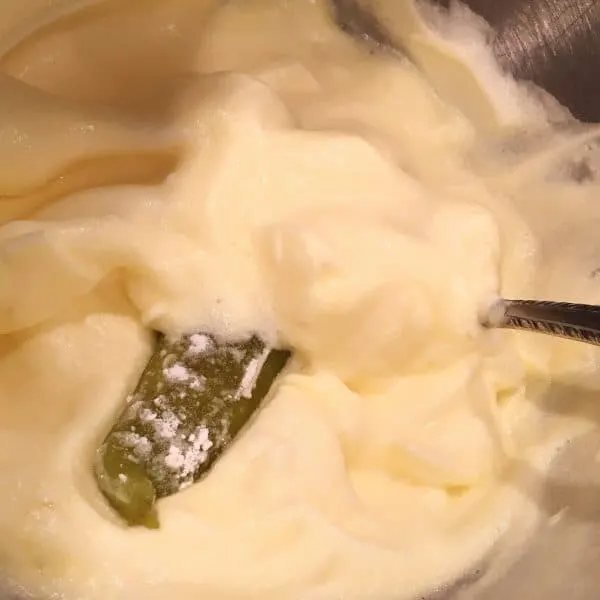 How To Cook Chile Rellenos
Using a regular table fork, slide it under the pepper, lift if off the plate, and gently dip it into the egg batter. Use the fork to gently push it down into the batter and cover the entire pepper with the egg batter. Then, slide the fork back under the pepper and lift it out of the bowl and over to your hot skillet.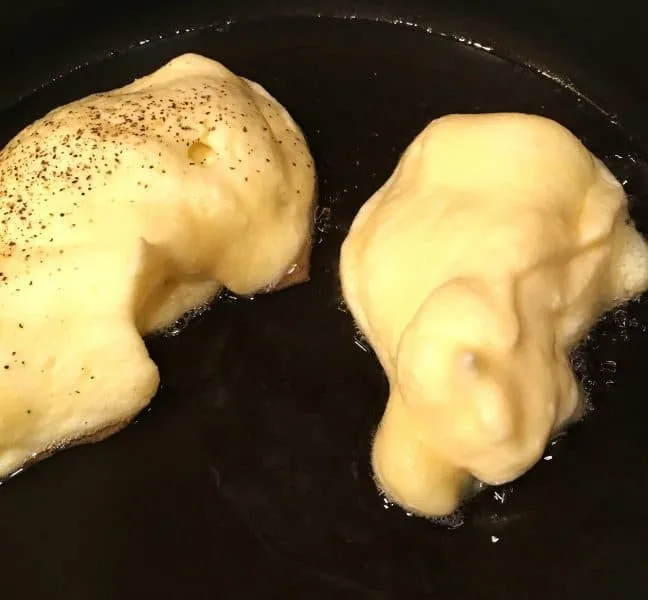 Gently place the pepper into the hot oil and slide the fork out.
Tip: The oil should be hot enough to immediately begin cooking the pepper.
I sprinkle the top with cracked pepper and salt. Once the edges begin to brown take a "turner" or "pancake flippy thingy", as I like to call it, and carefully flip them over. It's really more like carefully "rolling" them over.
So beautiful! Now, just cook them a few minutes longer so that both sides are golden brown. Once done, remove from the hot skillet with your turner and lay them on a paper towel to drain off any excess oil. When they have drained you can plate them!
Traditional Homemade Chile Rellenos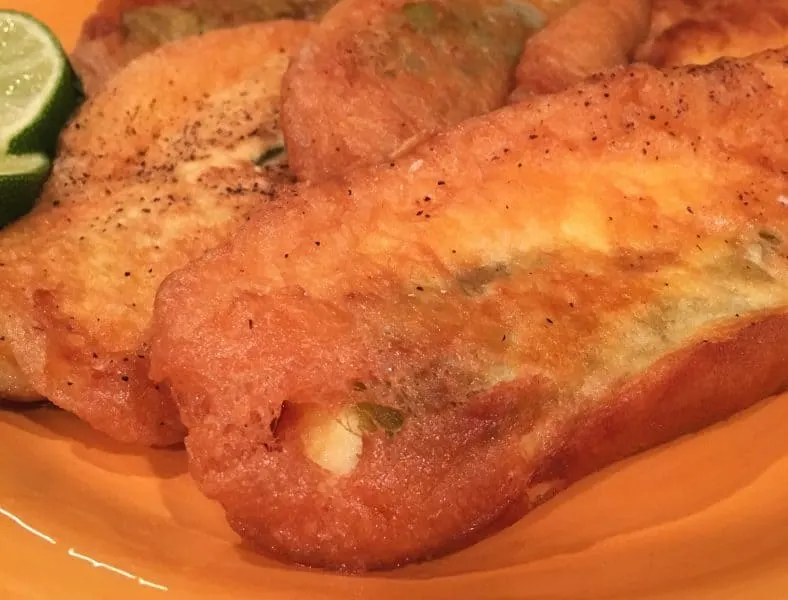 Now you have a plate full of scrumptious mouth watering Chile Rellenos! We love to top ours with more grated cheese, guacamole, and the fresh homemade salsa. You can find the link for the salsa by clicking on it.
Traditional Homemade Chile Rellenos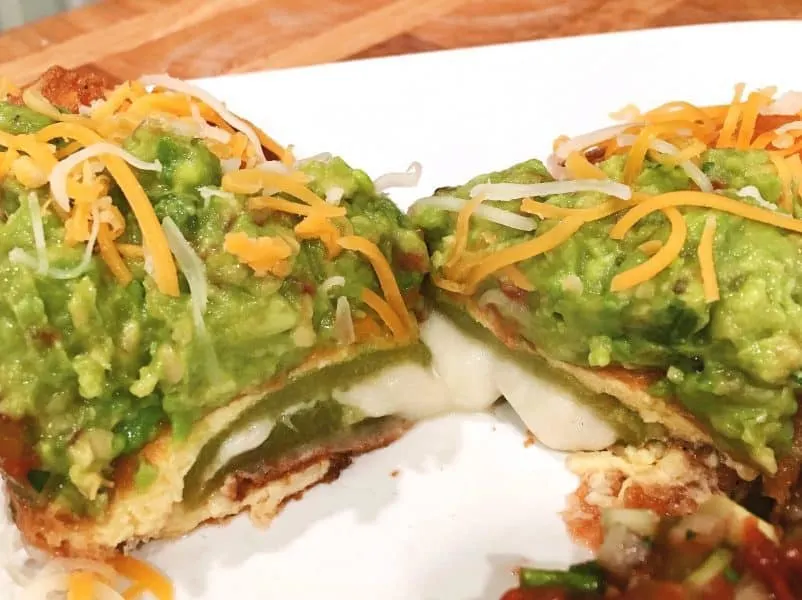 This is exactly how they should look inside. All your cheese should be perfectly melted. You should have a nice fluffy golden batter on the outside. Batter, pepper, cheese. Ahhhh…delightful! Doesn't that look YUMMY!!! Someone find me a fork!
That is it! Serve them with rice and beans, or even the Chicken Fajita's, for a full Mexican meal! Enjoy and as always…Thanks for stopping by my Nest! Have a "Chile" day! (You knew it was coming!)
Other Great Side Dish Recipes to serve with Chili Relleno's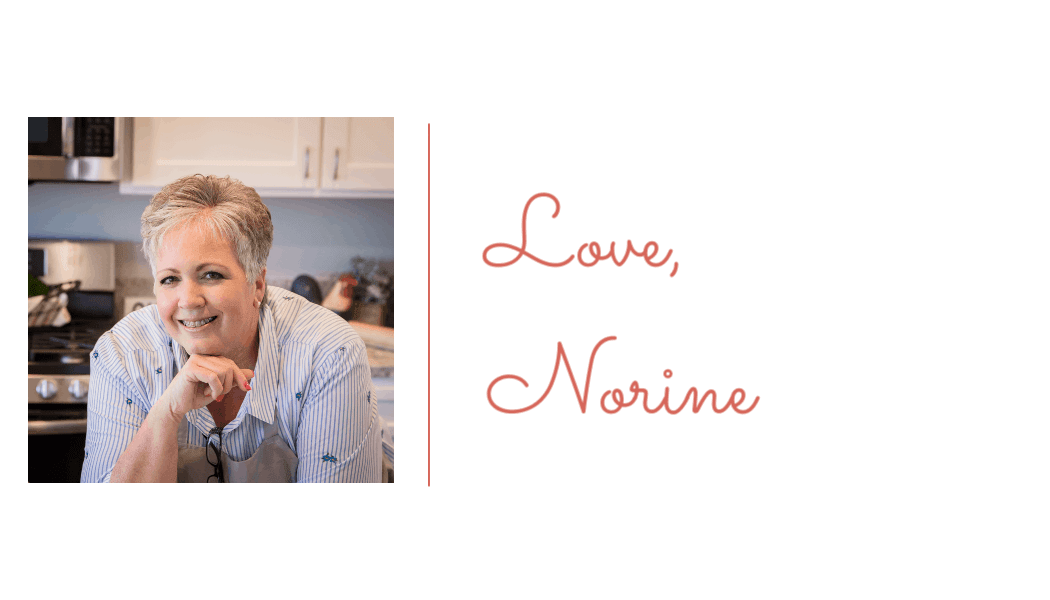 Yield: 5-6 servings
Homemade Traditional Chile Relleno's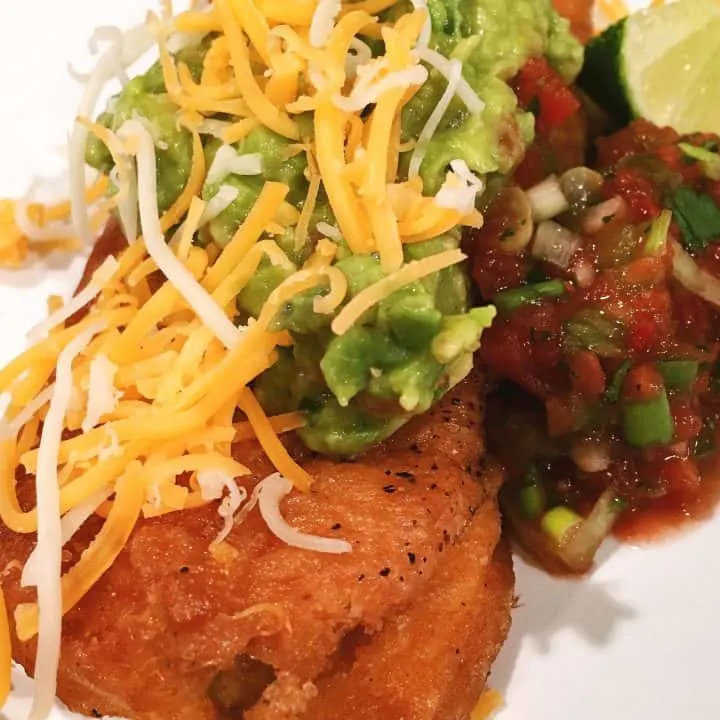 Traditional Chile Relleno's stuffed with Monterey Jack Cheese and dipped in a fluffy light egg batter. Serve with cheese, Guacamole and Fresh Salsa.
Ingredients
1 can whole green Chile peppers, about 5-6, drained
6-8 3 inch long cut, 1/4 inch thick monterey jack cheese sticks
3 large eggs, whites separated from yolks
1 teaspoon cream of tartar
vegetable oil for frying
2-3 Tablespoons all-purpose flour
Instructions
On a paper towel drain your Chile Peppers. Cut your cheese into 3 inch long strips and 1/4 inch square. Stuff the cheese inside your peppers.
Separate your yolks from the whites. In a large mixing bowl, with the wire whisk attachment, whisk your egg whites until stiff peaks form. Add in 1 teaspoon of cream of tartar. Gently fold in your egg yolks until well blended.
Sprinkle your peppers with flour. In a large skillet heat a 1/2 inch of oil till hot. Using a fork gently dip the pepper into the egg batter and cover the pepper completely. Lift the pepper out of the mixing bowl, with the fork, and carefully place it into the hot skillet. Sprinkle the top with pepper and salt. When the edges turn brown, using a turner gently turn the pepper over. Cook the other side till done.
When done cooking remove from skillet and drain excess oil on paper towel. Repeat process until all peppers are cooked. Serve with extra cheese, guacamole, and fresh salsa. Serve immediately.
Recommended Products
As an Amazon Associate and member of other affiliate programs, I earn from qualifying purchases.
Nutrition Information:
Yield:
6 servings
Serving Size:
1 Chile pepper
Amount Per Serving:
Calories:

88
Total Fat:

6g
Saturated Fat:

1g
Trans Fat:

0g
Unsaturated Fat:

4g
Cholesterol:

125mg
Sodium:

45mg
Carbohydrates:

4g
Fiber:

0g
Sugar:

1g
Protein:

4g
Norine's Nest in no way provides any warranty, express or implied, towards the content of recipes in this website. It is the reader's responsibility to determine the value and quality of any recipe or instructions provided for food preparation and to determine the nutritional value, if any, and safety of the preparation instructions.