Tangy Chicken Fajitas are EASY and FULL of flavor! Tender chicken, fresh peppers, and a tangy marinade combine to great the best chicken fajitas with a little zing!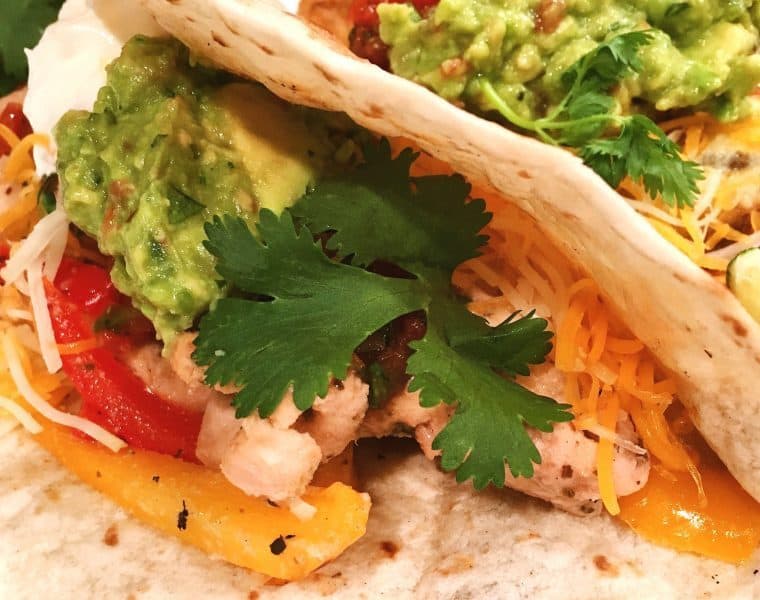 I've been making these delicious fajitas for years. It's always a favorite at this nest! What's not to love when it involves a roasted flour tortilla filled with tender chunks of chicken loaded with zesty flavor and all your favorite toppings.
To go with my Fajita's I made my fresh salsa and you can find that recipe here . Love that Fresh Salsa recipe with my Mexican Food plus I used it in my Guacamole… and I'm not having Fajita's if I can't have my "green's" with it! (If ya know what I mean?)
I don't get people who don't like Avocado! My husbands family had a 20 acre Avocado Ranch…Them hills were filled with "gold"! So, you could say we are avocado lovers!
Let's make Chicken Fajita's!
Oh, and if you are going to make these right…you gotta say it right…You have to say it like I do…FaaaaaaaHeeeeeetaaaaa's! Add a little accent…you got it!
Start off with beautiful peppers!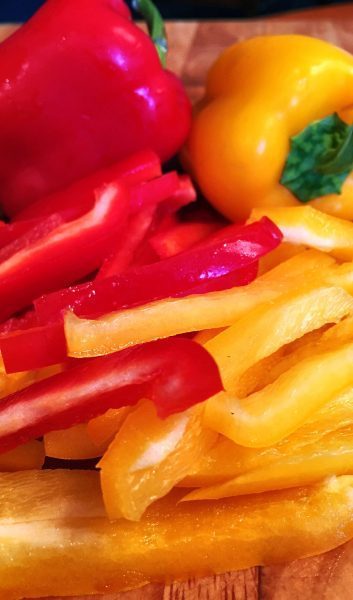 I'm not a huge fan of Green Bell Peppers! (Gasp!) I do, however, love red, yellow, and orange peppers and …they have a wonderful mild flavor…and "pretty colors". You are going to cut them into thin strips along with one medium onion.
Slice your boneless skinless chicken breast into thin strips.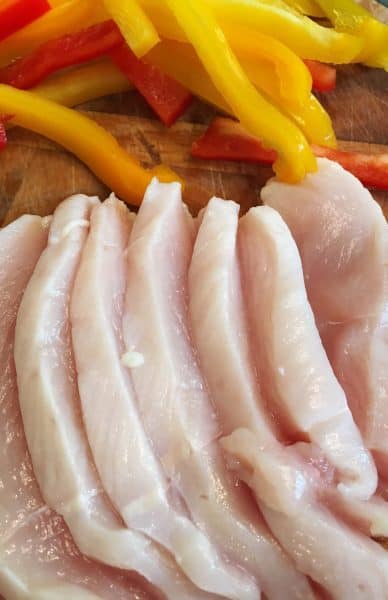 TIP: I cut thin strips and then cut those strips in half just so they are more "bite sized" you don't have to though! You can leave them just like the picture above.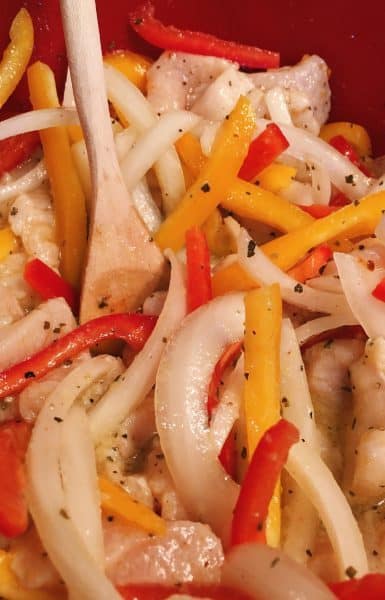 Place all those beautiful peppers and onions you've sliced, and the chicken, into a big bowl.
In a small bowl mix together the marinade ingredients. Blend well with a wire whisk. Pour the marinade over all of it, cover, and refrigerate 3-6 hours. (You could even leave it over night.)
This is a good time to make your guacamole! Maybe do a little dancing!
How to Store Prepared Guacamole
TIP: Here's a little secret to guacamole! Don't worry about putting lemon juice or the avocado pit in there to keep it from turning brown. Mix up your Guacamole and place it in the bottom of an air tight container.
Tear off a piece of plastic wrap and lay it on top of your guacamole. Press the plastic wrap down into the Guacamole all the way to the edge of your air tight container. Don't leave any air bubbles or any way for ANY air to get to it. Place the lid on top of your container and place in the refrigerator until ready to serve.
When ready to serve remove the plastic wrap and stir it up a bit. It's good to go! You'll have some slight discoloration on top but, not puke brown!
We have everything ready now to finish up these amazing fajita's!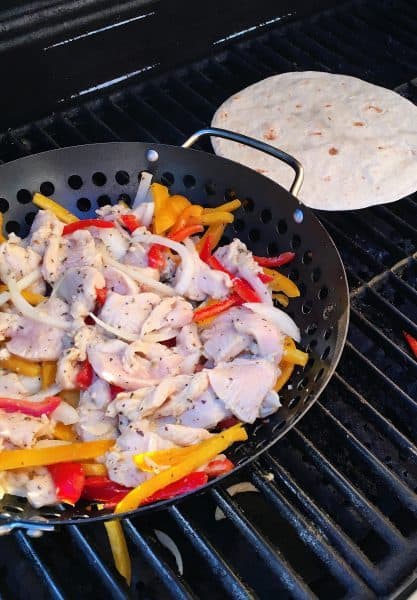 How To Cook Chicken Fajitas
You can make these in a skillet on top of the stove but, since it is a Bazillion Trillion degree's right now there was NO way we were going to add any extra heat to my kitchen so "Mars" did his "grill thaaaang" that he is so good at! Plus, it's a great way to make the neighbor's jealous! lol
We have this handy dandy grill basket. Drain the excess marinade from the peppers and chicken. Heat up the grill and the basket.
When it's nice and hot, place the fajita mix into the basket. Keep turning and grilling fajitas until they are completely cooked.
Some of those peppers and onions are slippery little devils and they'll make their escape into the flames! Look close…you'll see our escapee's!
Mars also heated our flour tortilla's on the grill. Mars is really good at multi-tasking on the grill. He was flippin' those tortilla's to a perfect golden brown crispness and stirring fajita's at the same time! He's amazing like that!
We LOVE tortilla's done on the grill. I realize generally fajita's are served with soft flour tortilla's but, trust me on this one, we were both over the moon, with the crispy grilled tortilla's!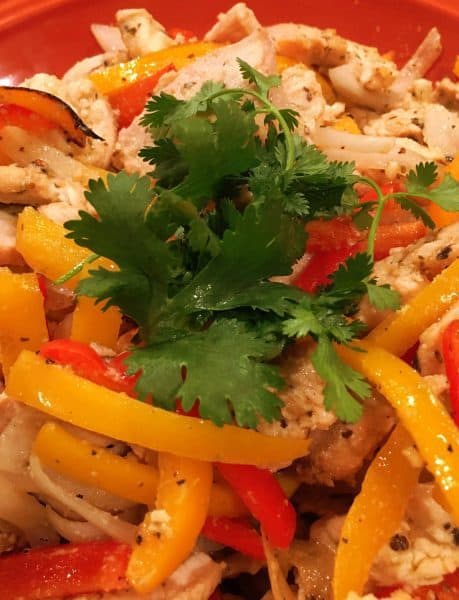 When it's all done a cookin' you have a beautiful plate of Heavenly Yum! Ahhhhh! "Hi, heavenly yum!"
Let's get going… Time to fill those bad boy tortilla's with all this goodness! (Seeing this…I can taste them all over again and they are SO good!)
Tangy Chicken Fajita's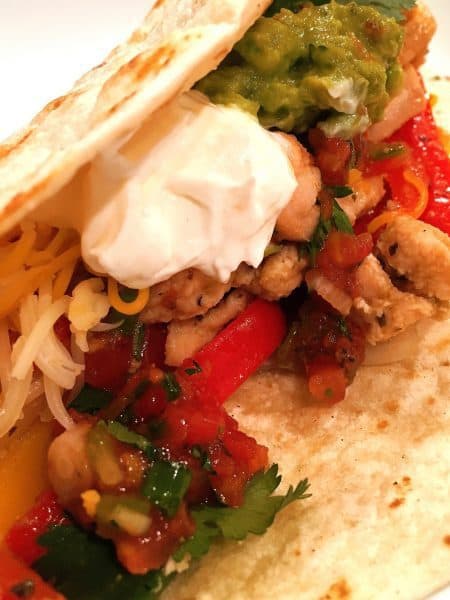 Add your favorite toppings! We love the fresh salsa, sour cream, cheese and some of that amazing Guacamole! Serve it up with some rice and beans or call it good as is!
I love Mexican food so much! I could honestly eat it 5-6 times a week without any guilt whatsoever! Wanna join me?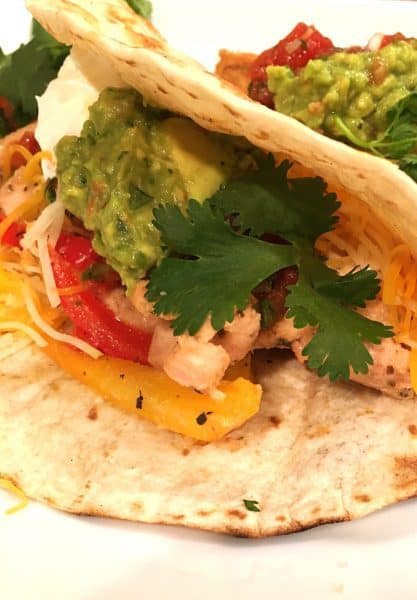 If you love this recipe you'll love these other Mexican Favorites!
I hope these delicious Tangy Fajita's become a regular at your Nest too! They are so scrumptious!
Thanks for popping by and I'll see ya soon!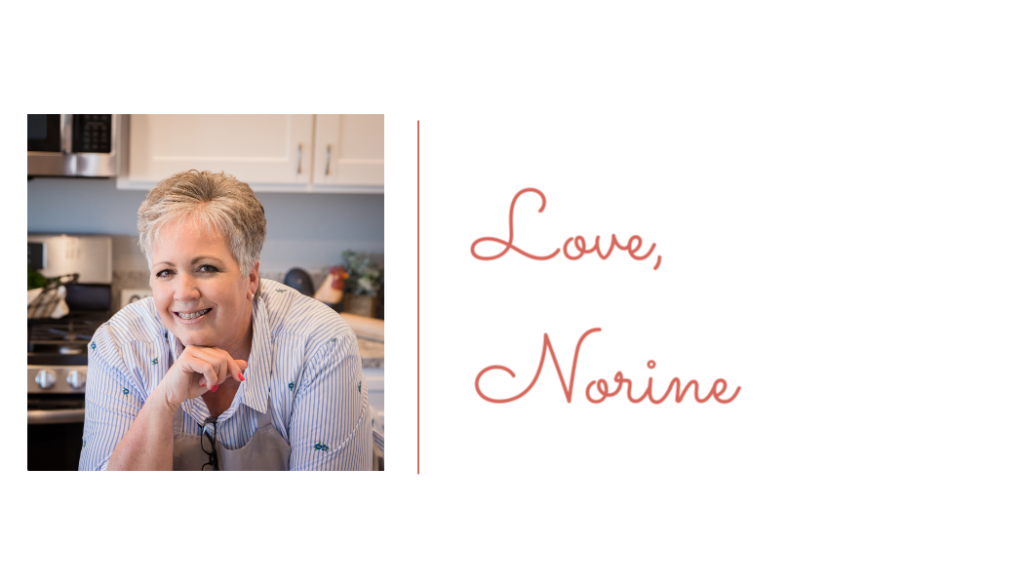 Yield: 4-6 servings
Tangy Chicken Fajita's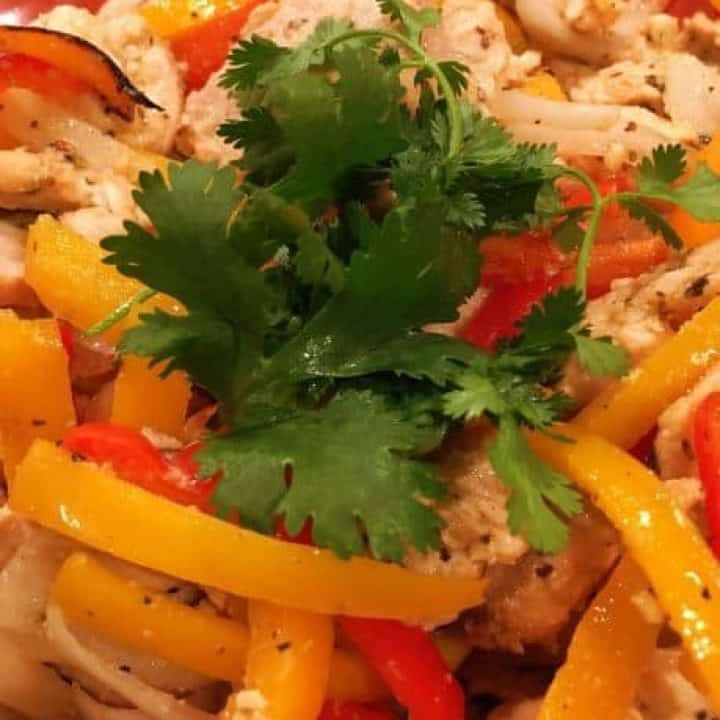 Tangy Chicken Fajita's have a different flavor from usual chicken fajita's. If desired serve with tortillas, salsa, cheese, gaucamole, sour cream, rice and beans. A super flavorful dish! Enjoy!
Prep Time
3 hours
15 minutes
Total Time
3 hours
35 minutes
Ingredients
1/2 cup olive oil
1/2 cup distilled white vinegar
1/2 cup fresh lime juice (you can substitute in 1/4 cup bottled lime juice)
1 Tablespoon dry Italian-style salad dressing mix
1/2 teaspoon cumin
1/4 teaspoon chipolte pepper powder
3 whole boneless, skinless chicken breast, sliced and cubed
1 onion, sliced thin
1 yellow pepper sliced thin
1 red pepper sliced thin
Instructions
In a large glass bowl combine the oil, vinegar, lime juice, and seasonings. Mix together. Add chicken strips, onion, and peppers. Cover dish and refrigerate. Marinate 3-6 hours.
In a large skillet, heat oil, Remove chicken, onion and bell pepper from marinade. Saute in oil until chicken is cooked through (juices run clear) and onion is translucent.
You can cook the Fajita's in a basket on the grill.
Serve with tortillas, cheese, salsa, guacamole, sour cream or any toppings you like. Enjoy!
Recommended Products
As an Amazon Associate and member of other affiliate programs, I earn from qualifying purchases.
Nutrition Information:
Yield:
6
Serving Size:
1/2 cup
Amount Per Serving:
Calories:

292
Total Fat:

20g
Saturated Fat:

3g
Trans Fat:

0g
Unsaturated Fat:

16g
Cholesterol:

51mg
Sodium:

186mg
Carbohydrates:

7g
Fiber:

1g
Sugar:

2g
Protein:

20g
Norine's Nest in no way provides any warranty, express or implied, towards the content of recipes in this website. It is the reader's responsibility to determine the value and quality of any recipe or instructions provided for food preparation and to determine the nutritional value, if any, and safety of the preparation instructions.