Salmon Cobb Salad is a great way to use up extra grilled salmon! Tender leafy greens are lined with all the traditional cobb salad toppings with one exception…we've removed the chicken and added glorious grilled salmon! Top it with an amazing dressing…like honey mustard and you have one amazing lunch or dinner idea.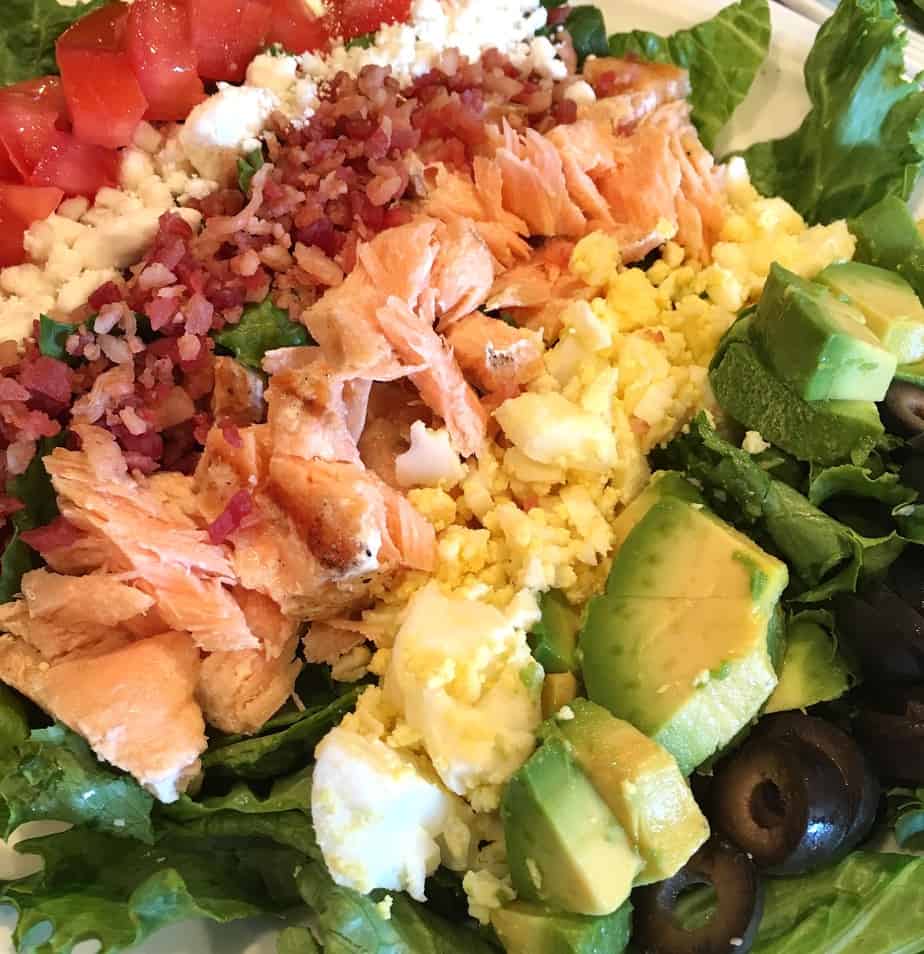 A week ago we had a Paaaaar-Tay! A little gathering, I like to call, a… "Salmonque!" (I'm making up words again! Ahhh, the joys of literary bloggers license. lol) My friends had three huge Salmon fillets, so they made me an offer. They'd provide the Salmon if I cooked it? (Hmmmmmm… let me take an entire second to think about that!) Heck Yeah!!! Hence the "Salmonque" was born!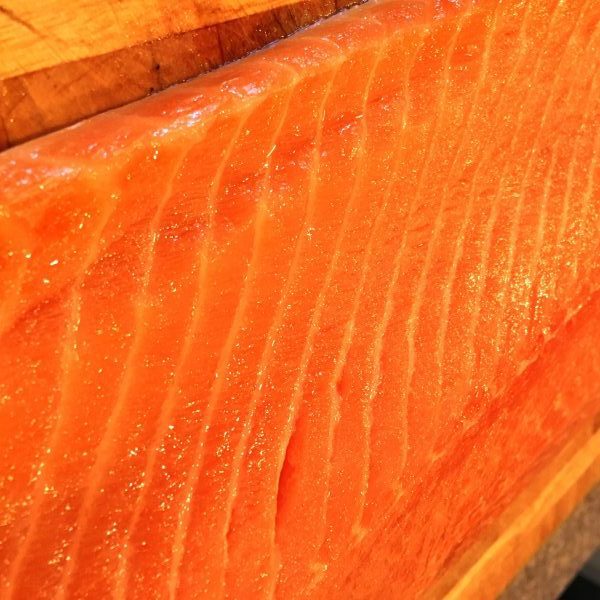 How To Grill Salmon
When it comes to grilling Salmon we allow the Salmon to be…Salmon! We don't marinade it or try to turn it into Teriyaki chicken. We let the natural color and flavor be the star of the show! It's personal preference but, it's how I think it should be. It's really, really good too!
I completely remove all the skin, brush it with melted butter, and sprinkle it with some seasoning salt! That's it! The rest is up to Mr. Salmon, the BBQ, and the Grill Master! What you get is…perfect, mouthwatering, scrumptious salmon! Serve with a little lemon and you are good to go! Isn't that amazing?! YUM!!!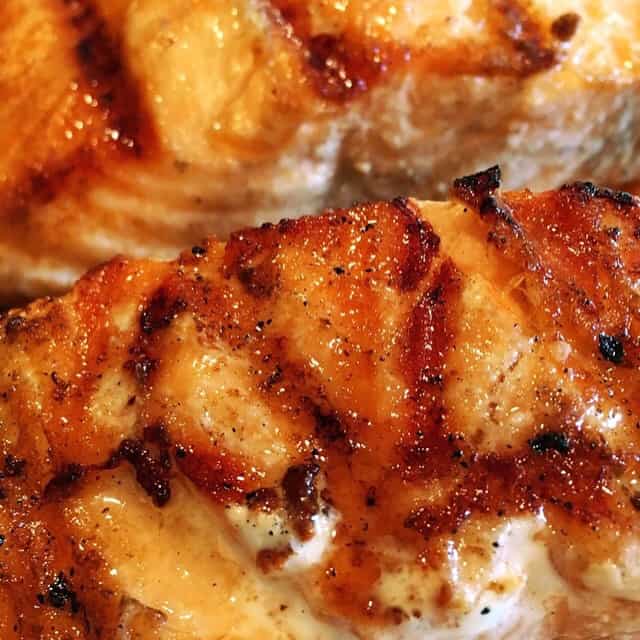 What to do with leftover Salmon
Now, small problem… when you have 12 pounds of Salmon and half your guests are "littles" who want the Grill Masters glorious chicken legs rather than Mr. Fishy…you have a LOT of left over salmon! (Ohhhhh, so sad!) What to do? What to do?
I don't know what you do, but….you can bet I'm going to use every single last drop of that glorious fish! This week I decided to use some in my very favorite salad of all time! Cobb Salad! Summer and Salads…lifelong friends!
I absolutely adore Cobb Salad! I have for as long as I can remember! Thankfully my family loves it too and they love Salmon! It was the perfect combination. Does that look good enough to eat or what?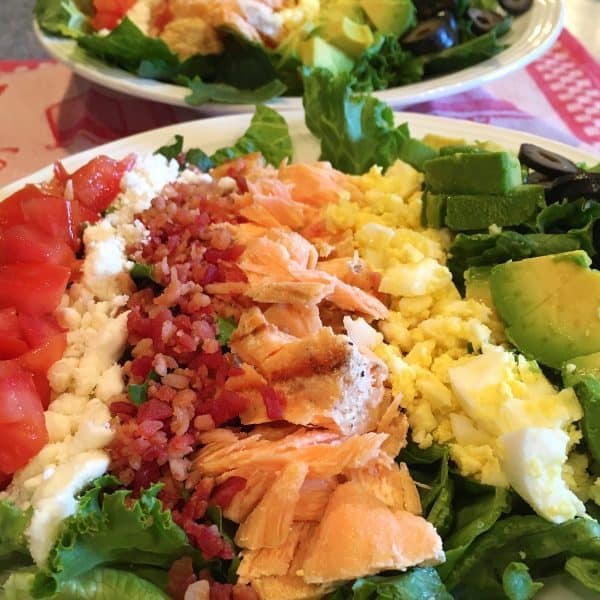 Traditional Cobb salad generally is made with chicken, blue cheese, tomatoes, avocado, dice hard boiled eggs, bacon, and black olives. All lined up in nice neat rows (my O.C.D. comes out to visit when making this dish!) on a bed of lettuce greens.
All I did was switch out the chicken and replace it with the salmon, and the same for the blue cheese with Feta. I was also extremely lazy that day and used the "Real" bacon bits, found in the salad aisle, instead of cooking up a package of bacon.
It was just too hot and I was too tired! Thankfully we live in a day where there are "real" bacon bits! I'll admit it would have look prettier if I had used real home cooked bacon. Lesson learned! Next time my friends…next time!
This salad is so perfect for dinner! It's filling, flavorful, and stunningly beautiful! I love to serve this luscious salad to friends when I have a lunch! You just can't go wrong with all the varied ingredients. The cold Salmon was an awesome addition! We serve ours with Ranch but… you could do Blue Cheese, French, or a beautiful honey mustard vinaigrette…any dressing of your choice.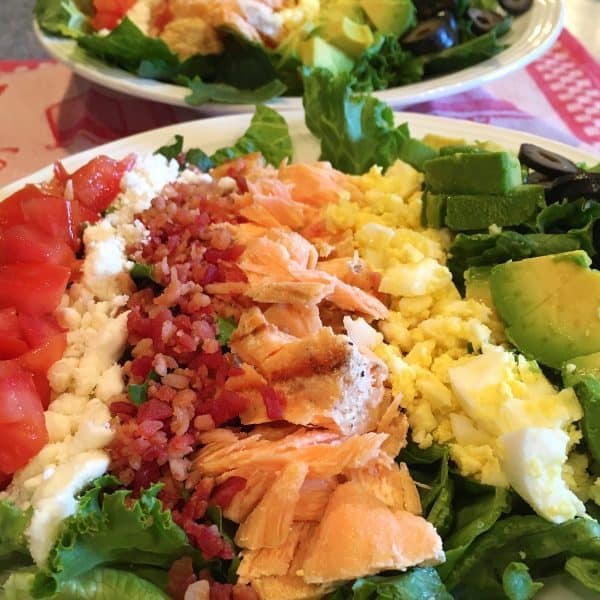 Serve this salad with some hearty crusty sour dough bread and a tall glass of my favorite triple berry lemonade and you have the perfect summertime meal!
This weekend is my favorite summer festival! Every year in our little town, they close down main street and hundreds of vintage cars line the street! It's the July Jamboree!
I love walking up the middle of main street with my guy, a Texas Twister Lemonade in one hand, mini-doughnuts in the other, the band playing, and beautiful restored vintage cars for as far as the eye can see! Not to mention bumping into my friends and neighbors! I love summer nights! So excited!
It's also the perfect time to serve this amazingly delicious cold summer salad!
Other Amazing Summer Salad Recipes
Whatever you do this weekend I hope it's fantastic! Thanks so much for stopping by!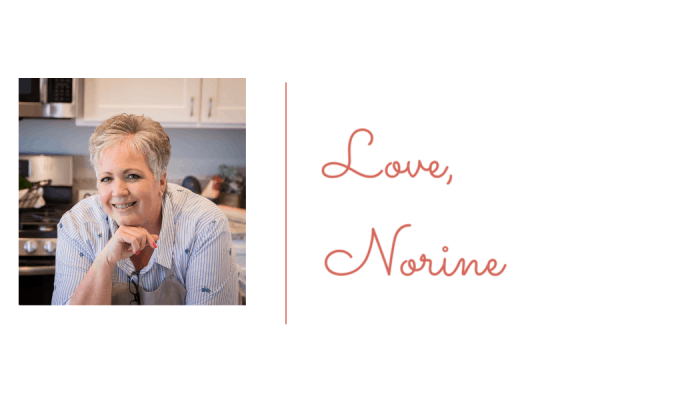 Yield: 2 servings
Salmon Cobb Salad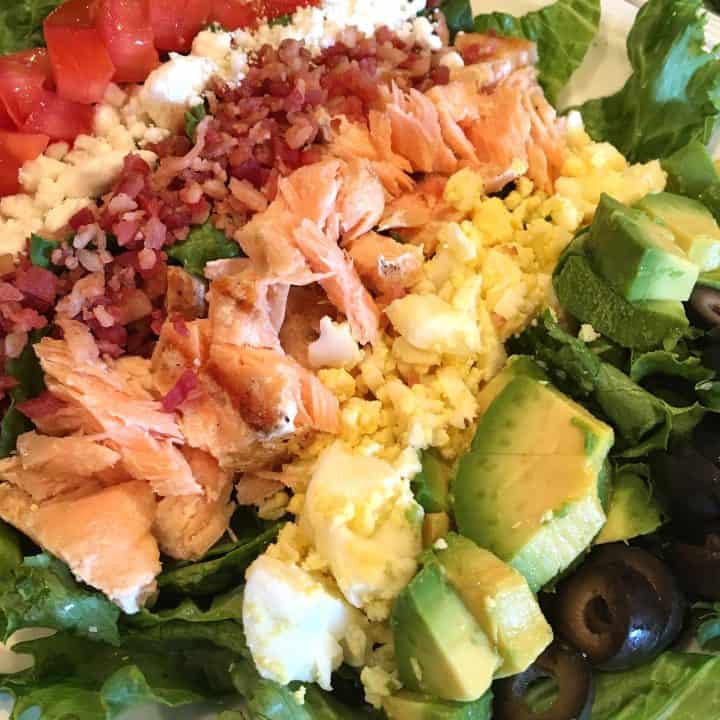 A traditional Cobb Salad with Salmon and Feta Cheese. Fresh, flavorful, and the perfect summertime meal!
Ingredients
1 head of romaine lettuce, washed, dried and torn into bite size pieces
2 Roma tomatoes, seeded and diced
1 large Haas Avocado, seeded, peeled and diced
1/2 cup slice olives
3/4 cup Feta Cheese or Blue Cheese crumbles
2-3 hard boiled eggs, peeled, and diced
1/2 cup bacon pieces
1 1/2 cups Salmon pieces (can use diced chicken instead)
Ranch Dressing
Instructions
In a salad bowl lay down a bed of lettuce greens.
Starting in the middle, use your salmon to make one neat middle row. Working out towards the edge of the bowl make rows of egg on one side of the salmon and bacon on the other side.
Next to the egg add the diced avocado then olives. On the opposite side next to the bacon do the Feta cheese then the tomatoes.
Serve with Ranch Dressing or any dressing of choice.
Recommended Products
As an Amazon Associate and member of other affiliate programs, I earn from qualifying purchases.
Nutrition Information:
Yield:
2
Serving Size:
3 cups
Amount Per Serving:
Calories:

1305
Total Fat:

92g
Saturated Fat:

29g
Trans Fat:

0g
Unsaturated Fat:

56g
Cholesterol:

548mg
Sodium:

2277mg
Carbohydrates:

26g
Fiber:

13g
Sugar:

9g
Protein:

94g