Creamy baked classic Macaroni and Cheese with Bacon. It's my Dad's recipe and it's pure comfort food!
My brother and his family spent the night last night on their way back from Arizona, where they attended a little "football" game. This morning my nephew was asking me some questions about our family history. I shared with him several experiences including the infamous Grandma's Macaroni and Cheese.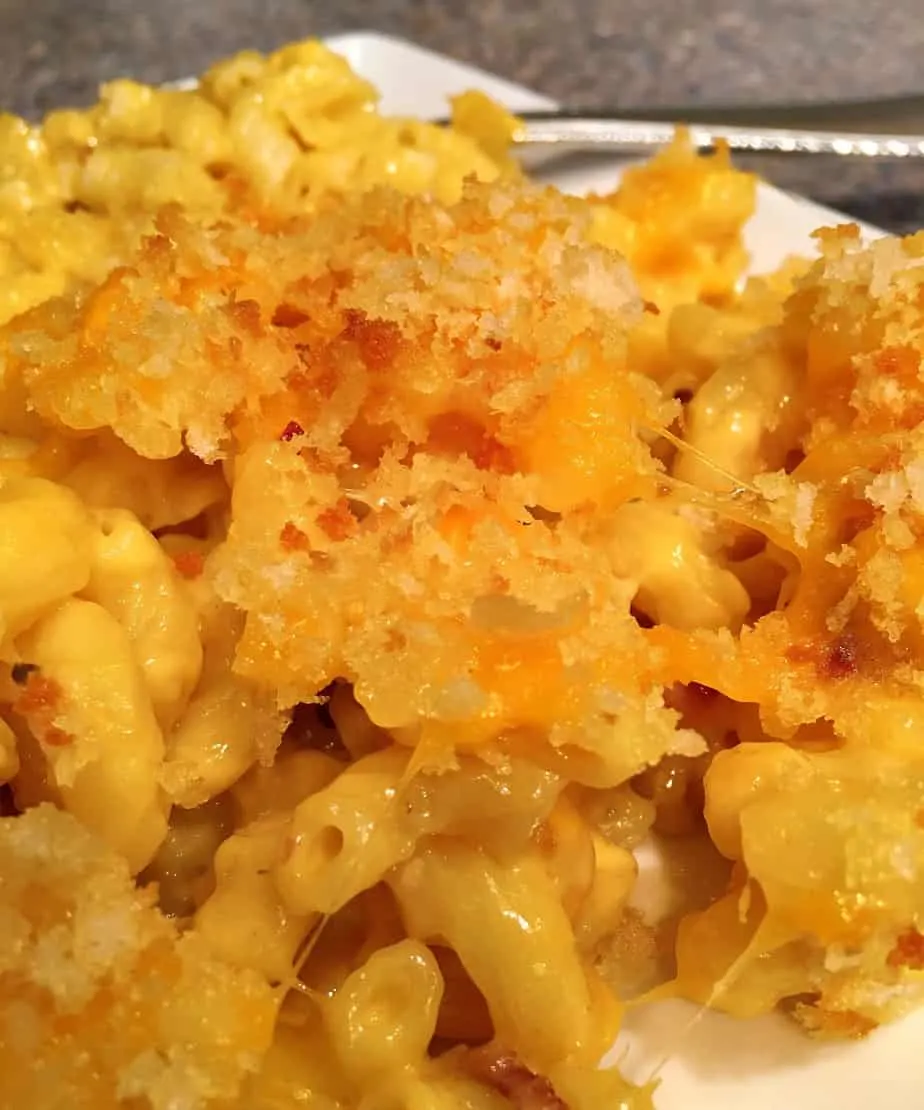 Now, before I share this little "tidbit" of family history let me be clear, my Mom is/was an amazing baker! (Her health doesn't allow her to bake like she used to)
Cooking…eh! So-so. If it had a recipe she was good to go! She was teased constantly that she needed a recipe for peanut butter and jelly. (Not true! She had that one down!) Regardless, hands down, one of the best bakers I know!
I was explaining to my nephew that Grandma had made the absolute worst macaroni and cheese I had ever eaten in my life. (It holds the record still to this day! Sorry Mom…that was some BAD Mac-n-cheese!)
I was about 9 and I refused to eat it. I was told I would sit at the table till I consumed said horrid mac-n-cheese , but even at age 9, my palate had it's discriminating nature. If not for the fact that she wanted to go to bed I'd probably still be sitting there to this day!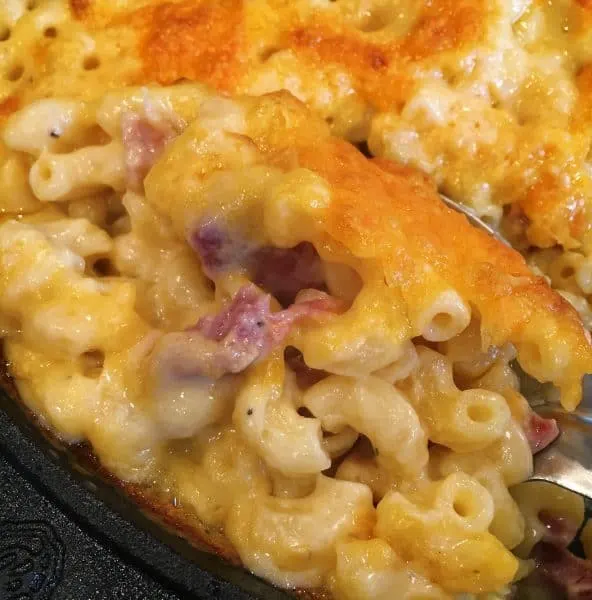 Now, on the flip side of that… my Dad made the world's BEST mac-n-cheese!
When my brother came downstairs this morning we were still discussing the topic of Mac-n-cheese. He said "Dad made the BEST mac-n-cheese!" (I told you!)
He turned to me and said "You don't remember how he made that do you?" I had to laugh because I had this post all planned out. I said "I sure do and it's going up on the blog today!" I was having mad cravings last week for Dad's Mac-n-cheese! Evidently so is my brother! I think you can understand why!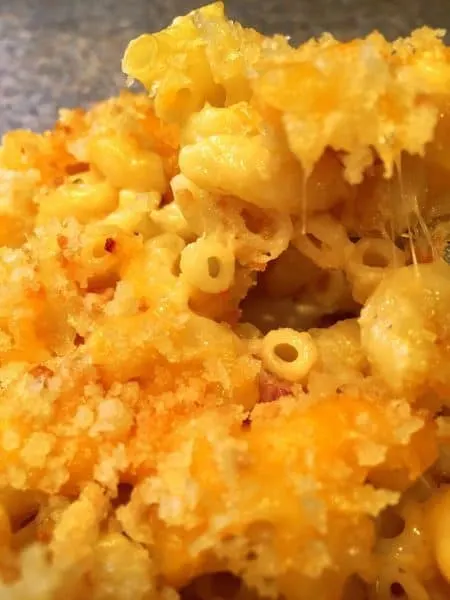 So without further "Ado" here is my Dad's Semi-Famous Macaroni and Cheese Recipe! I've done a small update on it to make it a little creamier, but it's still Dad's famous Mac-n-cheese.
How To Make Macaroni and Cheese With Bacon
Fill a large pot with 8 cups of water. Bring to a rolling boil and cook your elbow pasta for about 7-8 minutes till al dente. While you are waiting for the water to boil let's make that amazing cheese sauce.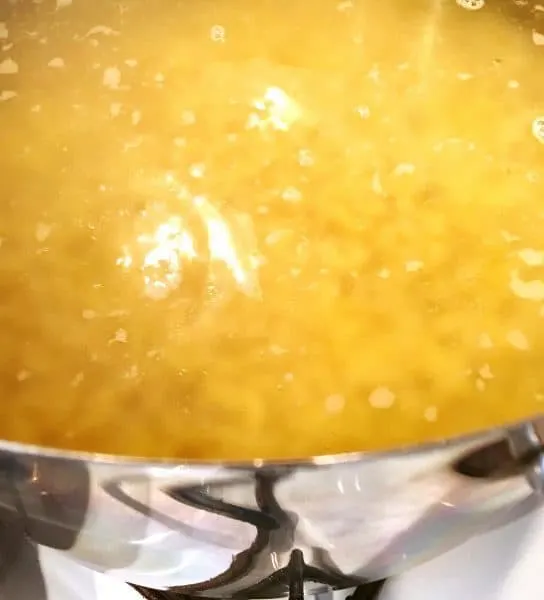 You will need one cup of cube mild cheddar cheese, one cup of cubed Monterey jack cheese, one cup Cache Valley Triple grated Cheddar cheese, or any grated cheese you like, four slices of Colby jack cheese, onions, bacon or ham, flour, butter and milk. *Please note you can just use Cheddar Cheese if that is all you have and all you like. You do not have to use all the various cheese's I used just be sure to use the same quantity.
You'll also need One pouch of Velveeta Cheese Sauce. They come in a box with 4 pouches. Just add one pouch to this recipe!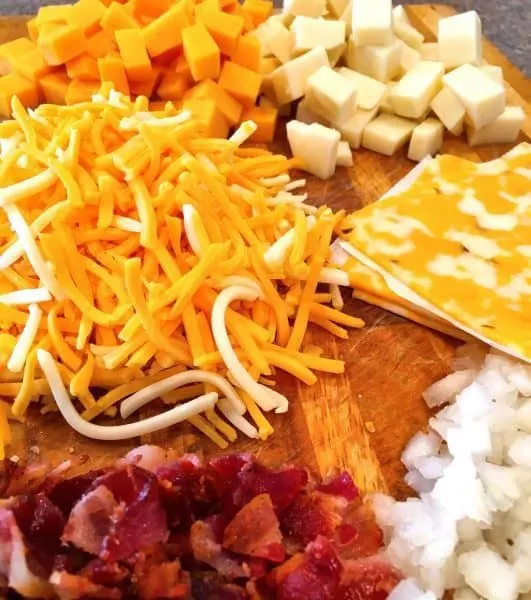 In a large skillet melt 1/3 cup butter. Add chopped onions and saute till tender and translucent.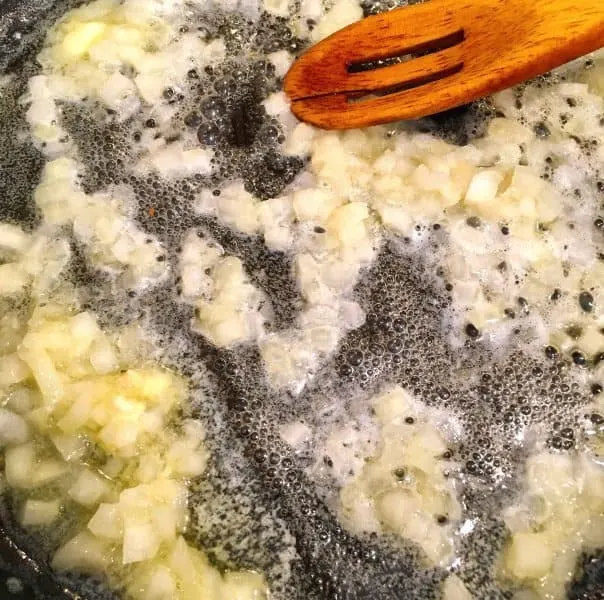 Add in 1/4 cup of flour. Sprinkle it all over the top of the onions and butter. Whisk to make a thick paste. We are making a "roux" which will become our cheese sauce. Don't let that scare you. I think a lot of beginner cooks get scared about making a "rue" or "gravy's". They've heard all the horrible "lumpy" stories and think it will happen to them. It won't. Use a whisk and keep whisking!!! Show me those muscles!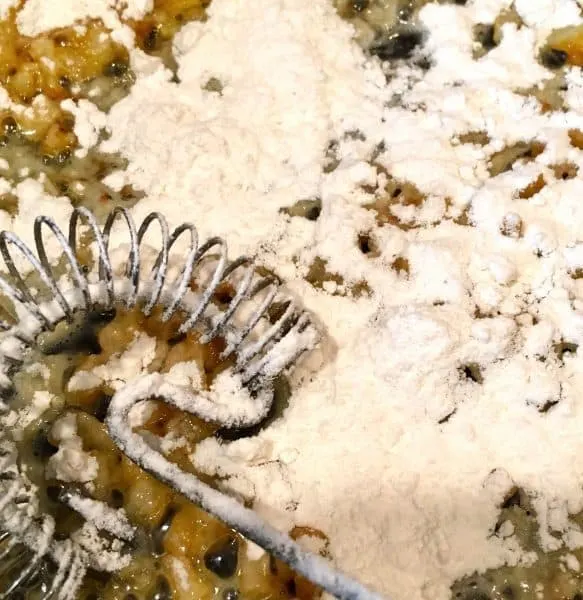 Next slowly add in 2 cups of milk. Continue whisking as you add the milk, until smooth and well blended. The only lumps you should have will be from your onion pieces. Those are good lumps. (wink, wink)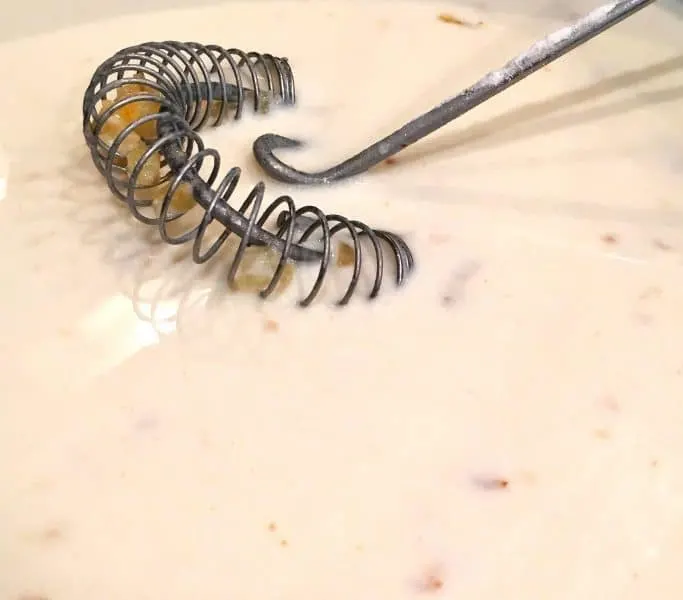 Next add in your two types of cubed cheese and your pouch of Velveeta Cheese. Using your whisk continue to stir until it is all melted and nice and smooth! Like velvet! Ahhhhhh….it's looking good. We're over half way there.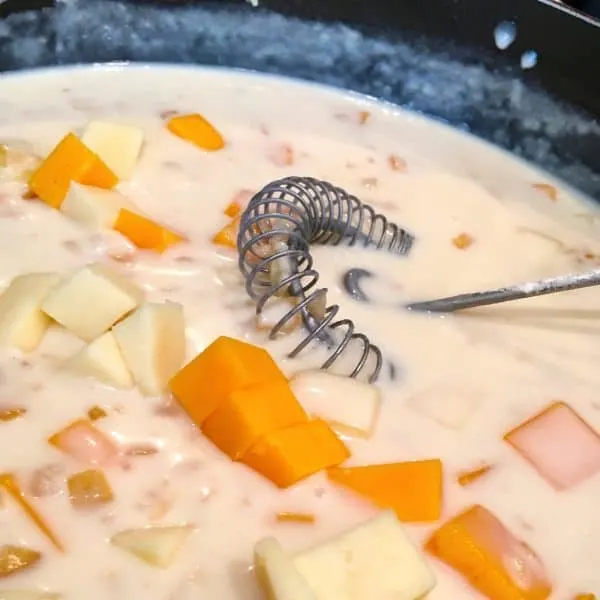 Add in salt and pepper for additional seasoning and flavor. Whisk that in. (Are you seeing a "whisking" trend here! lol)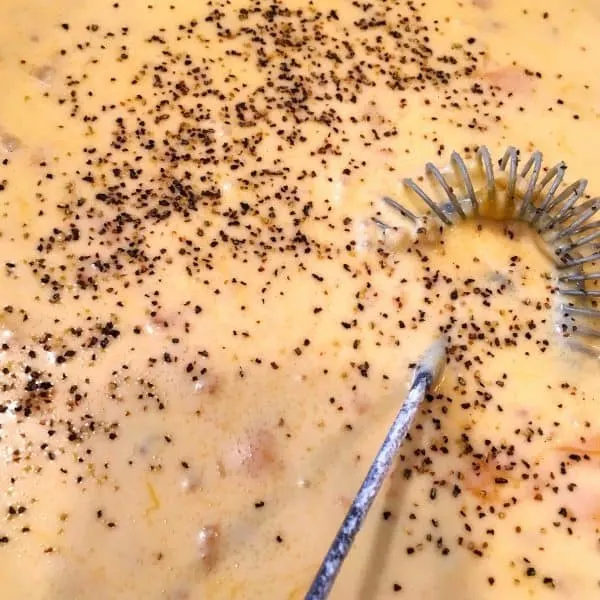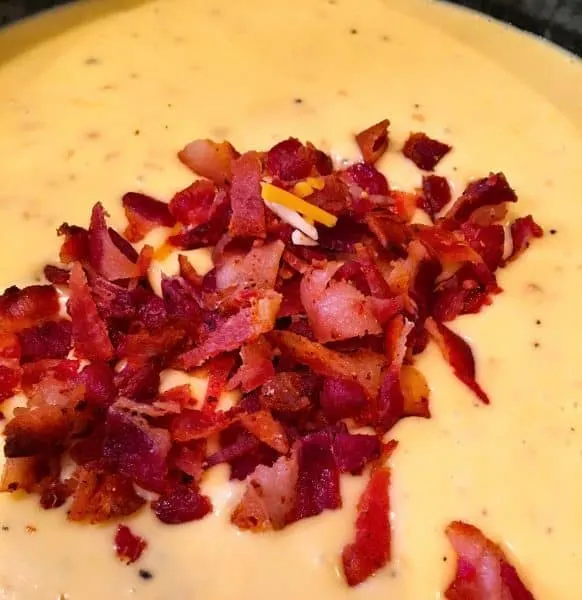 If you are adding bacon, or diced ham, now is the time! Hello little pieces of piggy heaven! You should now have a rich, smooth, cheesy sauce. Ignore the little shreds of cheese you see on the bacon in the picture. They just wanted to hop in early! Stir this all together and set aside.
Rinse and drain your pasta and place in a large bowl.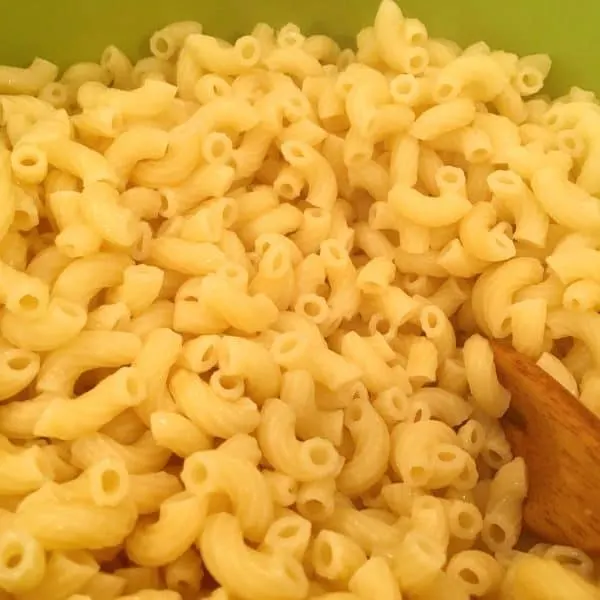 Pour your wonderful piggy filled smooth cheesy sauce (Whew! That was a mouthful!) over the macaroni and stir it all together. Refrain from grabbing a giant serving spoon and devouring. It's not done yet! Oh, alright…take a taste test. I know your dying too! Hello, I'm pretty sure this America's number one comfort food and for a very good reason! That's a giant bowl of YUM right there!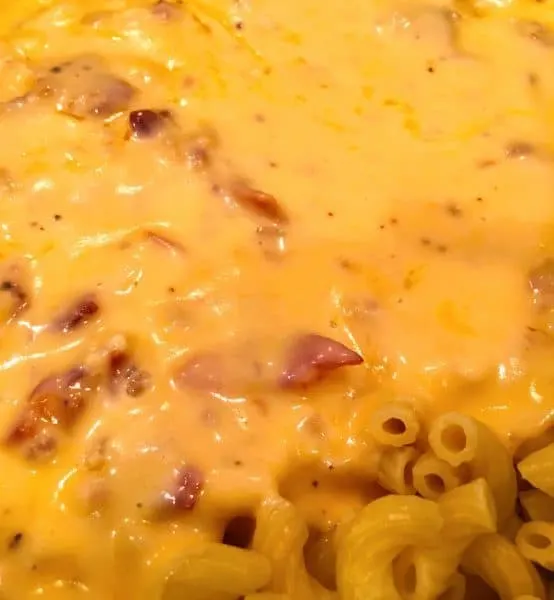 Once you have taste tested it, and if there is still some left, lol, you are going to pour half of it into a lightly greased baking dish. Then lay the four slices of Colby Jack down on top. I'll be honest with you … this wasn't part of my Dad's original recipe. I added this step because I LOVE CHEESE! It is my friend! Alright…I also wanted it extra cheesy with a little bit of mild spunk. Mar's loves a little spice in his life! You could use any cheese you want. Munster would be divine or provolone! The list is endless folks.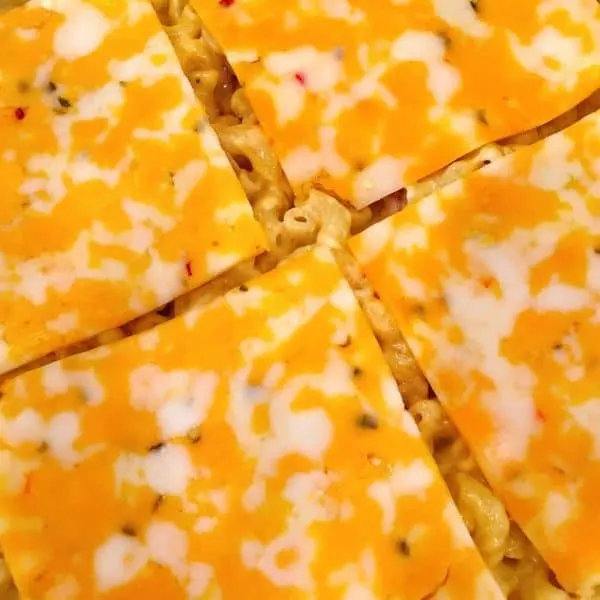 Pour the remainder of the macaroni and cheese mixture on top of your cheese slices. Doesn't that look amazing? Mac-n-cheese should be ooey-gooey-nummy-nummy-cheesy! (I'm pretty sure that was the worst English grammar ever used in a blog post, but I'm sticking with it!)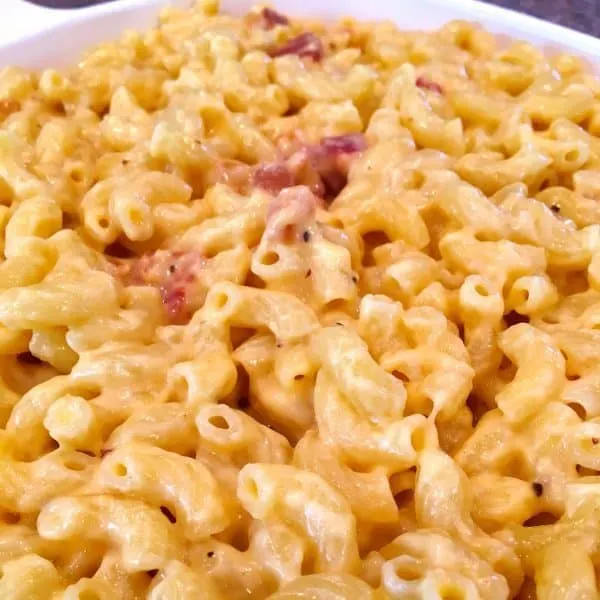 Hmmmm, what else can we do to make this even better? Oh, I know, let's add more cheese! Yep, that grated triple cheddar cheese, or any grated cheese you choose, goes on top. Remember this is Mac-n-CHEESE!!! It's not MAC-n-cheese! It's not orange-colored powder and noodles. Don't get me wrong…the blue boxes have their time and place. Just not here and not today. Let's pay homage to the cheese please! This is the mac-n-cheese of cheese lovers world-wide! (I like to dream big when dreaming and use lots and lots of adjectives!)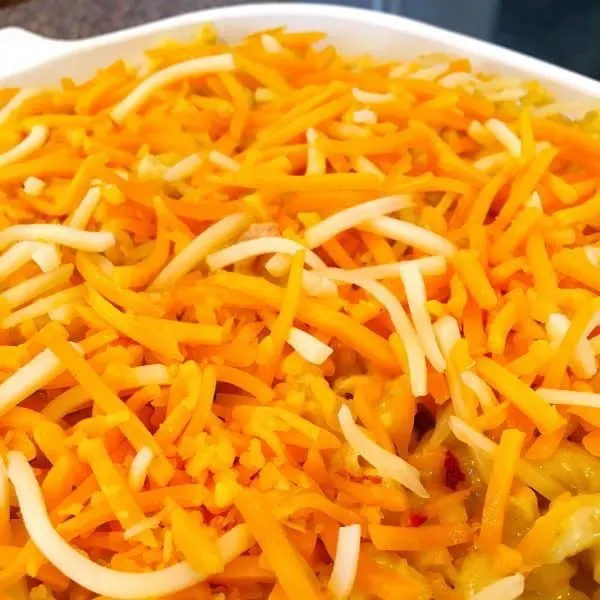 Now one last thing I added that Dad never did, but that my family L.O.V.E.D. was Buttered Panko Bread Crumbs!
I know, you're all saying "Oh STOP the madness! This is just crazy! She's gone insane!" (I think I may have because I painted my nails Tiffany blue last night and I keep looking down and thinking the circulation has been cut off from my fingers! It definitely looks better on a 15-year-old!) SQUIRREL! Oops…my mind wandered…sorry folks.
Okay! Back to the bread crumbs. They were a huge hit! My son-in-law said he loved the crispy with the creaminess of the mac-n-cheese! So, I leave it up to you. You can skip the bread crumbs and just pop it in the oven with the cheese on top or you can add the crumbs and go WILD and live on the edge!
Hooray! It's time to pop it in the oven. I cover mine and bake it for about 35 minutes at 325 degrees. Remove the lid for the last 10 minutes of baking to allow the crumbs to brown.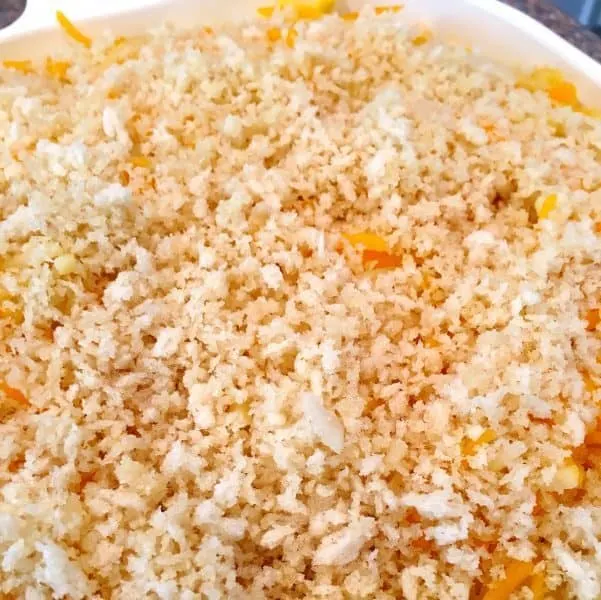 In 35 minutes your macaroni and cheese should be ready to eat! Everything is already cooked. We just want to allow it a little time to let those extra cheese's melt and the bread crumbs to brown to a rich golden color. Don't those bread crumbs look amazing?!!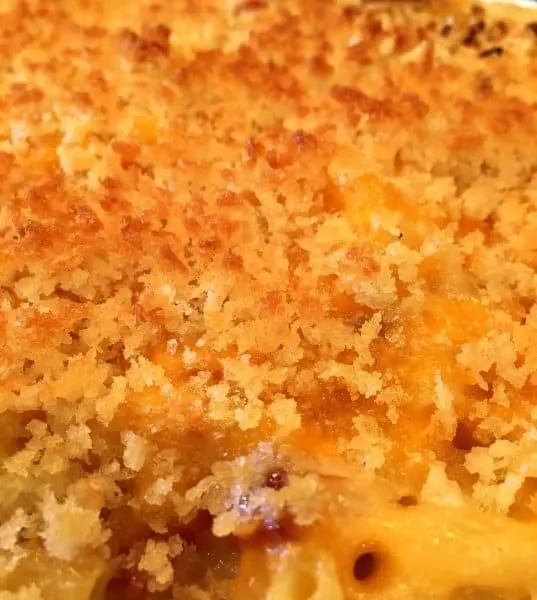 Time to serve the worlds best Macaroni and Cheese! Your children will not be forced to sit at the dinner table refusing to eat it. Not this mouth-watering cheesy plate of goodness! I will warn you that they may never want the "blue" box again!
Oh, maybe if they get hit upside the head with a baseball during practice, and have a concussion they may ask for the blue box, but I think even in a state of total delirium they will want THIS mac-n-cheese!
I know my family gobbled this one down in no time flat! Mars even came home from work the next day and heated himself up a big huge plate of it. Declared it the BEST! It even passed the Baby "B" test! She was shoveling it in as fast as her little fingers could pick up the noodles! Followed by exclaims of "Mmmm"!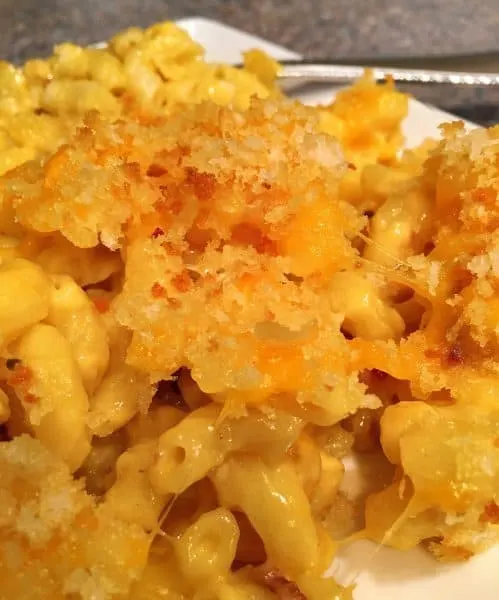 If you're looking for a side dish to go with your grilled chicken this Labor Day or if you just want to sit down to a big comforting bowl of Mac-N-Cheese I promise this recipe won't disappoint!
It just can't! It was Dad's and he really did make the best macaroni and cheese! I served mine with a big green salad chocked full of wonderful fresh veggies and steamed squash…because it's that "squashy" time of year! It hit the spot and was a great week night dinner!
I hope everyone at your Nest loves it as much as everyone at my Nest! Have a wonderful holiday and I can't wait to share with all of you what we are doing today to celebrate! It's something I've always wanted to do! The printable for the Mac-N-Cheese is below.
Here's some other favorite Pasta Recipes
Thanks for stopping by and Happy Nesting Friends!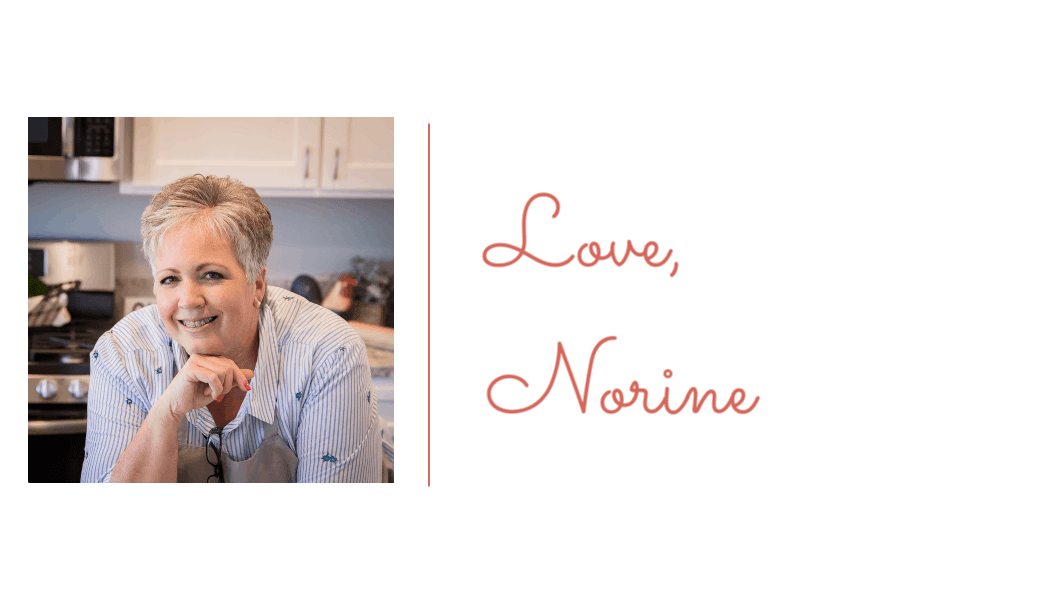 Yield: 10 servings
Macaroni and Cheese with Bacon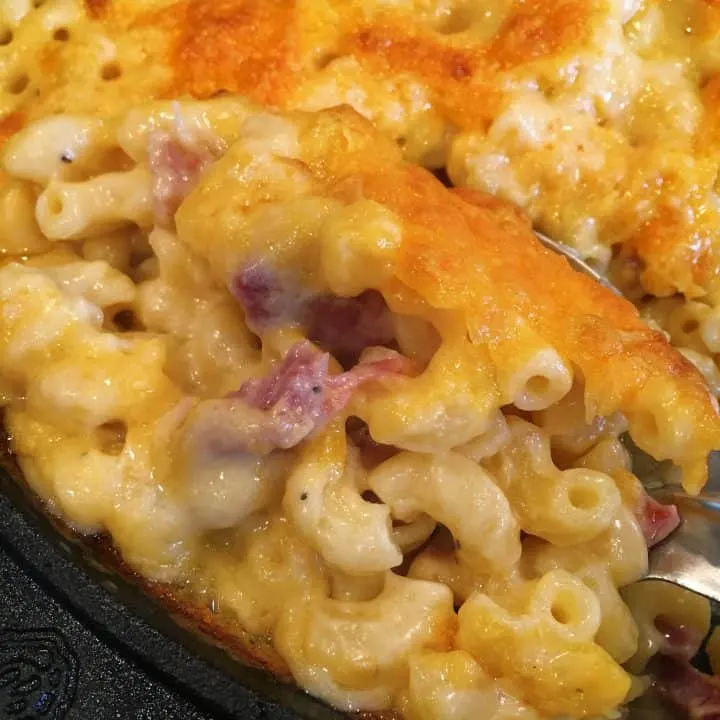 A rich and creamy super cheesy homemade macaroni and cheese with a hint of bacon. Topped with a buttery panko bread crust. The ultimate perfect comfort food!
Ingredients
1 1 lb. box of elbow macaroni
8 cups of water
1 Pouch of Velveeta Cheese Sauce
1 cup cubed mild cheddar cheese
1 cup cubed monterey jack cheese *If you only like Mild Cheddar just use cheddar for all the cheese involved in this recipe. Just keep the same measurements.
1 cup shredded triple cheddar cheese or 1 cup of shredded cheddar cheese
4 slices of colby jack cheese
1/3 cup butter, melted
1/4 cup finely chopped onion
1/4 cup all purpose flour
2 cups milk
1/4 cup cooked bacon crumbles or 1 cup cubed ham
1 cup panko bread crumbs
2 tablespoons melted butter
Instructions
In a large pot bring 8 cups of water to a rolling boil. Add in the 1 pound box of elbow macaroni. Cook 7-8 minutes till al dente.
While waiting for water to boil begin making the cheese sauce. In a large skillet melt 1/3 cup of butter. Add onions and saute till tender and translucent. Sprinkle flour over butter and onions. Whisk together to form a paste. Slowly add in, while whisking continually, the two cups of milk. Continue to whisk till the mixture thickens and creates a smooth roux.
Add in 1 cup cubed cheddar, Velveeta Cheese Pouch, and 1 cup Monterey jack. Whisk until smooth and creamy. Add Salt and pepper to taste.
Add in cooked bacon crumbles. Mix well and set aside. If sauce is too thick you can add more milk to thin it out.
Drain and rinse pasta.
Place pasta in a large bowl. Pour cheese sauce over the top of the macaroni noodles and stir until combined.
In a large, lightly greased, baking dish pour half the macaroni and cheese mixture. Smooth out. Lay the 4 slices of Colby Jack over the Macaroni and Cheese. Pour remaining Macaroni and Cheese mixture on top of the cheese slices.
Top with the grated triple cheese.
In a small bowl melt the 2 Tablespoons of butter. Add in the Panko Bread crumbs and stir till well coated. Sprinkle evenly on top of the Macaroni and Cheese. Cover.
Bake in a pre-heated 325 degree oven for 35 minutes. Remove the cover for the last 10 minutes of cook time so that the bread crumbs will brown.
Serve immediately while cheeses are melted and gooey! Enjoy!
Notes
If baking without the bread crumbs do not cover. Just place the casserole with the cheese on top in the oven for 30-35 minutes till cheese's are bubbly.
Recommended Products
As an Amazon Associate and member of other affiliate programs, I earn from qualifying purchases.
Nutrition Information:
Yield:
10
Serving Size:
1 cup
Amount Per Serving:
Calories:

544
Total Fat:

35g
Saturated Fat:

20g
Trans Fat:

1g
Unsaturated Fat:

12g
Cholesterol:

105mg
Sodium:

918mg
Carbohydrates:

30g
Fiber:

2g
Sugar:

3g
Protein:

27g
Norine's Nest in no way provides any warranty, express or implied, towards the content of recipes in this website. It is the reader's responsibility to determine the value and quality of any recipe or instructions provided for food preparation and to determine the nutritional value, if any, and safety of the preparation instructions.