Crab, baby potatoes, jumbo shrimp, corn on the cob, and summer sausage combine in a boiling pot with seasonings to create the BEST Shrimp and Crab Seafood Boil!
I decided this Labor Day, since it was just Mars and me, that we would do something totally different from our typical "hamburger" cookout.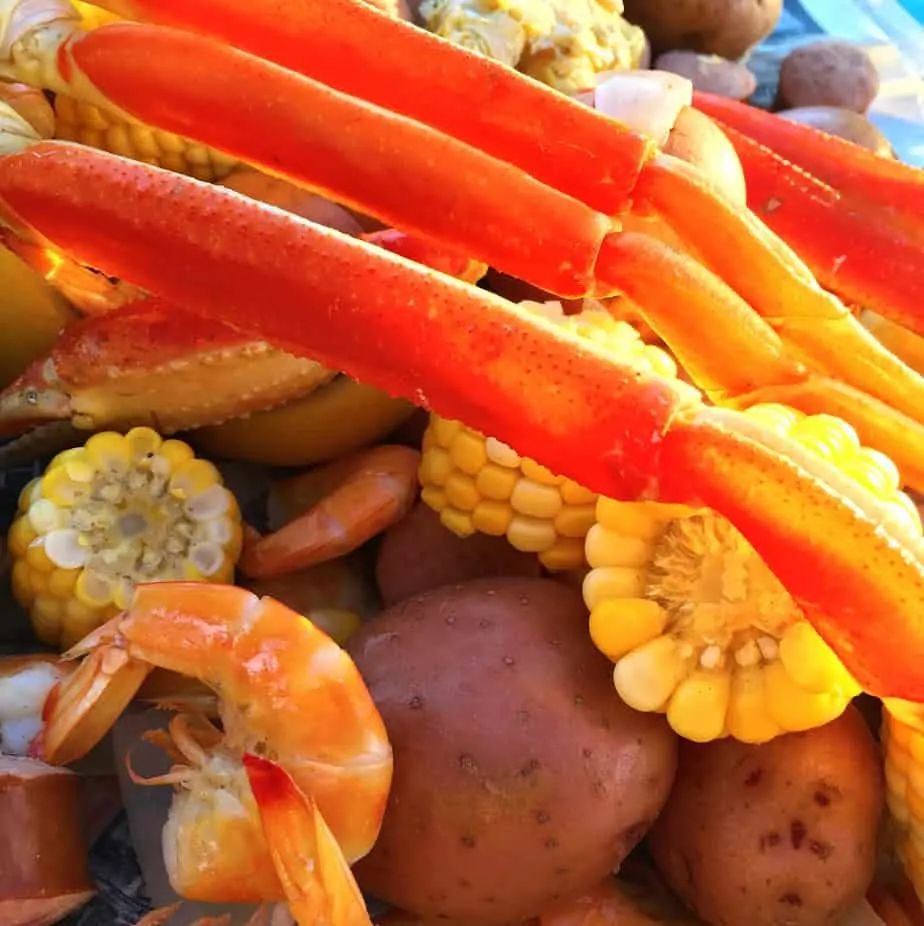 For years, I've dreamt of doing a Seafood Boil! I think it's because I have this dream of some day visiting all the New England states in the Fall. All the beautiful colors, smell the ocean air, see the stately lighthouses, and eat lots and lots of seafood!
It's a happy dream! So…every time I see pictures of Seafood Boils I think of my dream and tell myself that I am going to have a boil some day! A "precursor" to the main event! Well, that day was on Monday! I'm happy to report it was worth all the long years of anticipation! Who Knew?!!!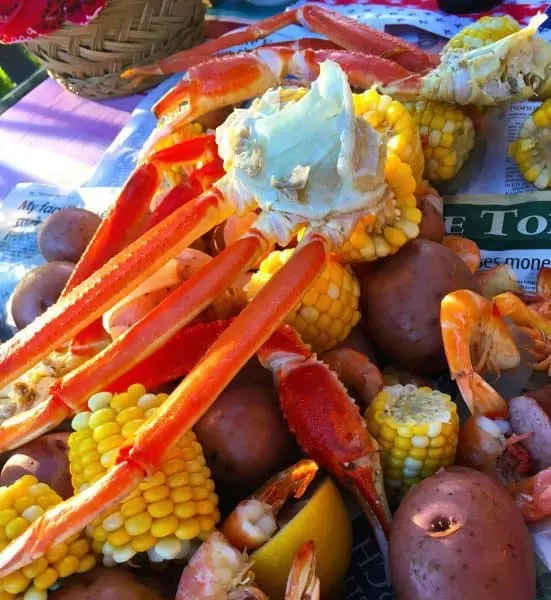 I had this plan "cooking", so to speak, for a month now. If I was doing a seafood boil I wanted the freshest seafood I could find and that meant a trip down south to my very own personal favorite food paradise…Harmons!
If you live in Utah you're lucky enough to have a Harmons somewhere near you. There are grocery stores and then…(que that heavenly music)… there's HARMONS! It's a Mecca of food wonders!
You know you are a true foodie, and food blogger, when the thought of going into this market sends your heart racing with excitement! It's such a stunningly beautiful store. I love to go there! It's my Disneyland!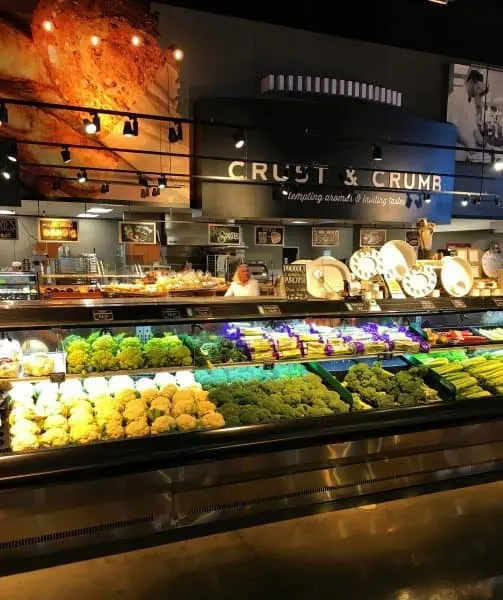 From the amazing produce section to the crusty sour dough breads made fresh from scratch, with real San Francisco starter, to the mouth-watering pastry counter. It's all complete food perfection!
Speaking of the pastries…can we just observe a moment of silence for those masterpieces of delight! Don't ask me how I made it out of there without a few of those treats in my basket but, I did. Whew!
Any who… I knew they would have what I was looking for! They did not disappoint! Their seafood selection is out of this world and I can't even begin to describe how fresh the snow crab was!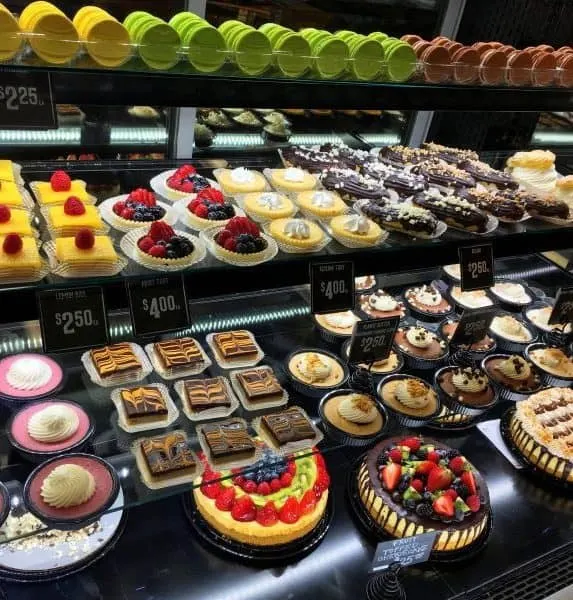 The great thing about a seafood boil is it is SO EASY & SO TASTY!!! If you can boil water, you can make this amazing meal! You throw everything into a pot, let it boil, pull it out, dump it on the table and dig in! Easy-Peasy Right? Right!!!
TIPS FOR THE PERFECT SEAFOOD BOIL
Now, let me share with you a few little tricks if this is something you want to do at your Nest.
First, you need a BIG pot with a steam insert! I am lucky and happen to have an Electric Turkey fryer. It has never been graced with a Turkey, but it was waiting for its seafood boil debut!
Second, have all your items ready beforehand. You'll be placing things in at different times during the boiling process. It's really helpful to have everything ready and in separate bowls.
In one bowl you will fill it full of baby red potatoes, 1 quartered onion, 7 cloves of whole garlic, 2 lemons cut into quarters also.
In your second bowl your corn cobbett's and cut up sausage. The last bowl will be filled with your crab and shrimp.
Third, This recipe makes enough for 4 people or two piggy's! (Which we happened to be that night! No judgements! Lol)
Most seafood boils are for the masses! I get that since most are done for a large party out on the beach! This smaller recipe is nice. We ate till we were bursting at the seams and still had leftovers, so this is the perfect recipe for a family of 4-5. Remember, you can add more or less of the different ingredients depending on what you like. So, let's get started shall we?
HOW TO MAKE YOUR SEAFOOD BOIL
In a very large pot place 3 gallons of water, or enough to cover the items you will be boiling.
Into the pot place 1 1/2 Tablespoons of Old Bay Seasoning. Cover with the lid and bring water and spices to a boil.
Warning: Inserting personal issues…. At this point Mars was annoying me to no end! (There I said it!) He kept asking me if I was going to put EVERYTHING into the spices. I kept saying "Yes!! I'm going to put EVERYTHING into the boiling spice water!" He would then say "I don't think I'll like those spices. It smells funny." Oh my goodness!!! (insert multiple eye rolls) that pot wasn't the only thing about to boil!
Okay… back to our recipe… Once your water is boiling add your potatoes, onions, garlic, and lemons.
Cover and boil for 20–25 minutes. Add in your corn and sausage. Replace the lid and bring the water back to a boil and boil for 10 minutes. Lastly…add in your shrimp and then your crab, cover (y'all getting the lid covering thing…lol).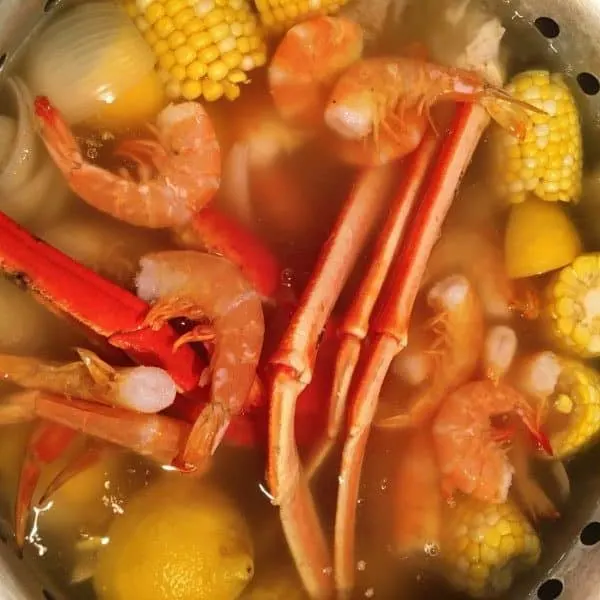 It doesn't look like much, but that is one very deep pot and it was full! (This was right after I added the shrimp and crab.)
You'll let it come to a boil again and cook it for another 5 minutes. Turn everything off and let it set in the pot for an additional 5 minutes. Once done cooking lift the strainer out and allow to drain for a minute or two. Now comes the fun part!
How To Serve a Seafood Boil
We lined our out-door dinning table with newspaper and dumped the entire bucket of seafood boil out on top of the Newspaper.
Served it with individual cups of lemon butter, tartar sauce, some of that amazing crusty sour dough bread, which is perfect for sopping up some of that butter, and apple beer.
I did use plastic picnic/hamburger baskets at each place setting so that we had something to put our potatoes and corn in. Other than that we just picked up crab and shrimp and cracked our way into a seafood coma!
Tip: Be sure to have crab crackers and kitchen scissors on the table to get at that crab!
That Crab! Oh, that crab was seriously the BEST I have EVER had in my life!
I wish I could have invited you all over to join us. It was SO much fun to just sit out on the deck with dinner poured out on the table eating the most flavorful simple seafood dish, I have ever made, with our fingers. It was the perfect evening with the sun setting in the background and a nice cool breeze. This was the best goodbye to summer we've ever had!
Another big perk to this dish…when you're done…roll up the newspaper with all the "discarded" shells and toss it away! Clean up was never so easy!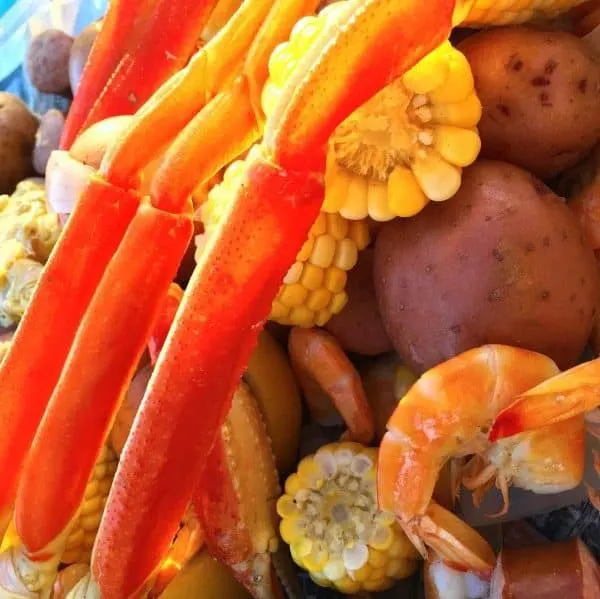 And about those spices that Mars was so worried about…5 minutes into this amazing meal he proclaimed "I think this needs to become a Labor Day tradition from now on! This is the best seafood dinner I have ever had and it's so much fun!" It really was fun, and we are looking forward to doing it again next summer!
Other Favorite Seafood Recipes
I'm including a printable version of the recipe below. If you have any questions feel free to comment, and I'll get back to you in a jiffy!
There's still time to make this dish before summer comes to an end and we here at this Nest highly recommend it! Don't waste the years like we did waiting….do it now! You only live once! Thanks for stopping by!
Happy Nesting!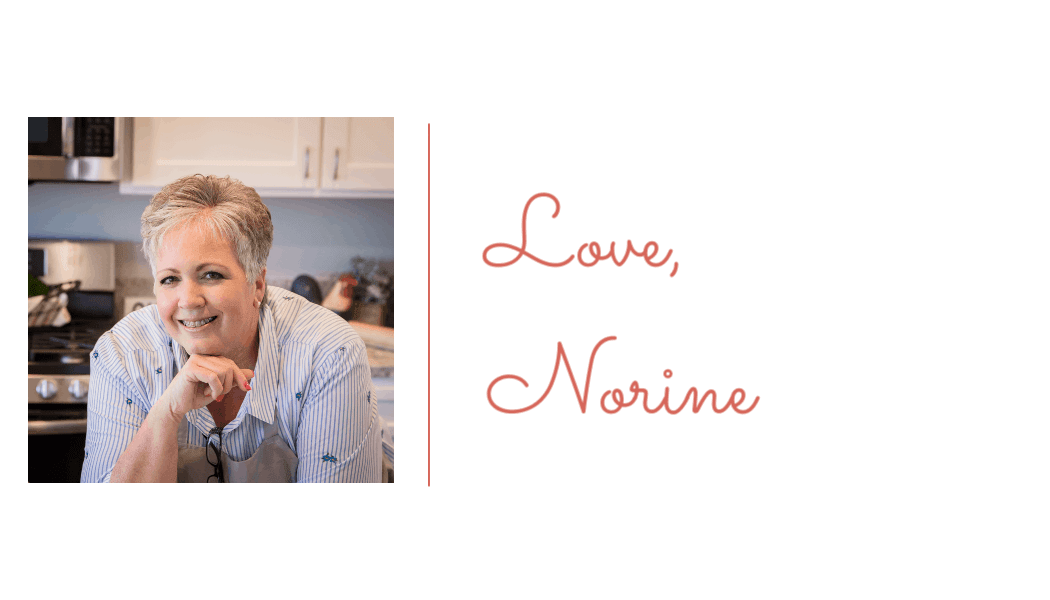 Yield: 4 servings
Labor Day Seafood Boil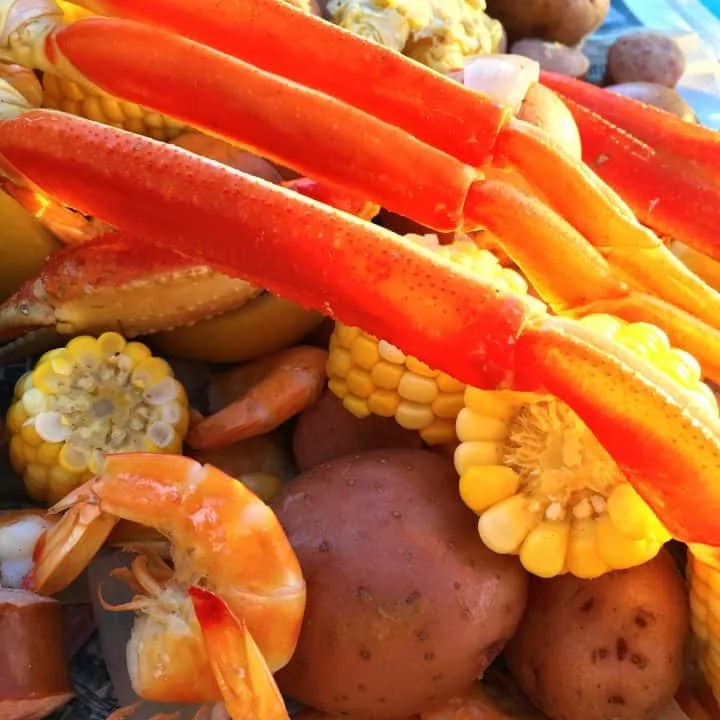 smaller version of a delicious mouth-watering Seafood Boil made wAith Shrimp and Crab. This recipe will serve 4 adults. This is the perfect end of summer meal or perfect for a party at the beach!
Ingredients
10-12 baby red potatoes, washed
3 ears fresh corn cut into 2 inch pieces
2 lemons, quartered
1 large onion, quartered
6-7 whole cloves of garlic
1 1/2 - 2 tablespoons Old Bay Seasonings
1 pound smoked sausage
1 pound gulf bay shrimp, raw, rinsed
1 pound snow crab legs (about three legs) rinsed.
Instructions
In a large stock pot with a steamer insert, place 3 gallons of water. Add the Old Bay Seasonings. Bring to boil. Add in the potatoes, onions, garlic, and lemon. Cover and Boil for 20-25 minutes.
Next add in the sausage and corn. Cover and bring to a boil and boil for an additional 5 minutes.
Lastly add in the shrimp and crab. Cover and bring to a boil and cook for an additional 5 minutes. Once done cooking turn off heat and allow to sit, covered for an additional 5-10 minutes until crab and shrimp are completely cooked.
Drain and dump on newspaper lined table.
Serve with lemon butter. Make the lemon butter by melting one stick of butter, 1/2 cup, and adding the juice of 1 lemon.
Enjoy!
Notes
You can add more or less of any of the ingredients depending on personal taste. If you want more seafood then add more seafood. Just watch your cooking times to be sure your meats are completely cooked.
Recommended Products
As an Amazon Associate and member of other affiliate programs, I earn from qualifying purchases.
Nutrition Information:
Yield:
4
Serving Size:
3 cups
Amount Per Serving:
Calories:

1504
Total Fat:

38g
Saturated Fat:

12g
Trans Fat:

0g
Unsaturated Fat:

20g
Cholesterol:

389mg
Sodium:

3827mg
Carbohydrates:

199g
Fiber:

20g
Sugar:

19g
Protein:

90g