A Rich Dish of Baked Spaghetti loaded with 3 Meats and 5 cheeses, that is sure delight any Pasta Lover in your family!
Time for another episode of "True Confessions"! (Honestly ya'll know more about me than the chicks at this Nest! lol)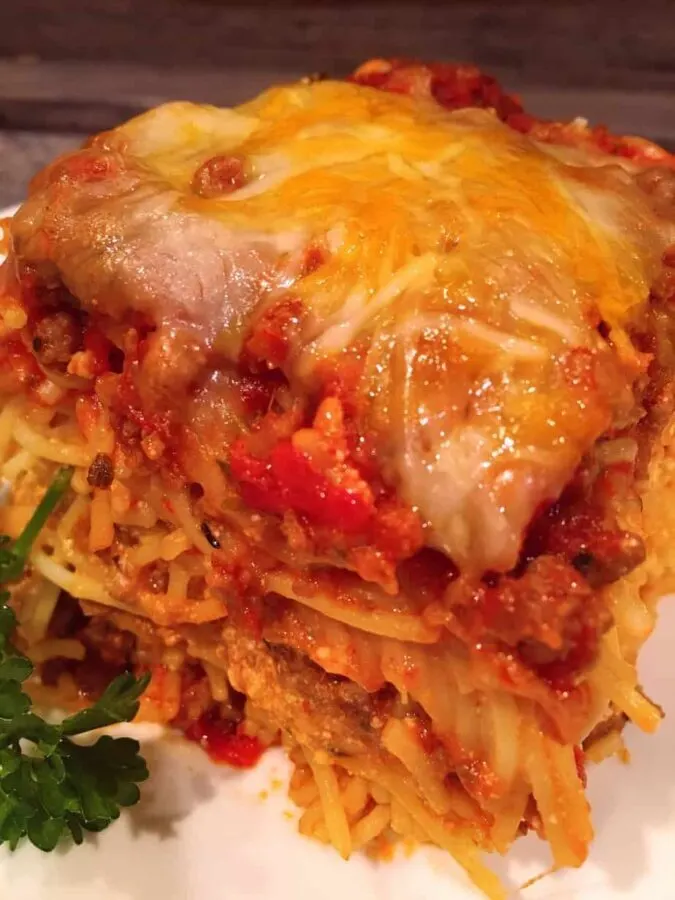 I'm not a huge fan of regular spaghetti! It's okay. It just doesn't grab me and send me swooning! It's just "Eh".
A lot of the other birds at this Nest aren't super duper cray-cray about it either.
I decided I needed to do something about that. What if I loaded it with three different types of meats, five types of cheese, and smother it in a thick rich sauce and baked it! Basically take the drab old weak sauce spaghetti and turn it into a SUPER CARB! (I say…be yo' best self…even if your spaghetti! lol)
How did it turn out? Well… The "guys" at this Nest each had several helpings of this dish!
It's not low calorie and it's not low carb…it wasn't meant to be. It was meant to be a rich delicious flavorful hearty main course. And it is!
How To Make Meat Lover Baked Spaghetti
Brown 1 pound lean ground beef, and 1 pound of Italian Sausage, with 2 teaspoons minced garlic and 1/4 cup diced onion.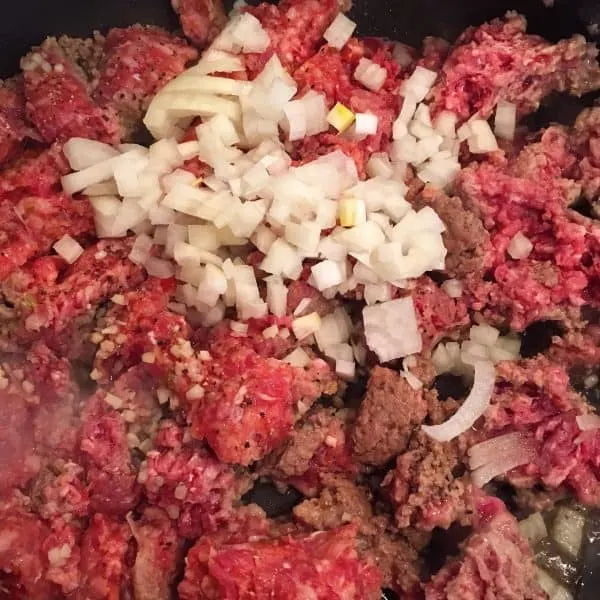 Tip: If you don't like Italian Sausage you can leave it out. This is a pretty flexible recipe.
Add 1 can petite diced tomatoes, 2 small cans tomato sauce, 1 small can tomato paste, 1/2 cup water. Still until well blended. Add 1 teaspoon of dried oregano, crushed rosemary, garlic salt, coarse black pepper, basil, and 1 teaspoon of dried Italian seasonings. In addition to that add 1 Tablespoon white sugar, and 1 Tablespoon dried parsley.
Tip: Dont' want to make your own sauce? Okay add pre-made bottled spaghetti sauce. Remember it's a very forgiving dish.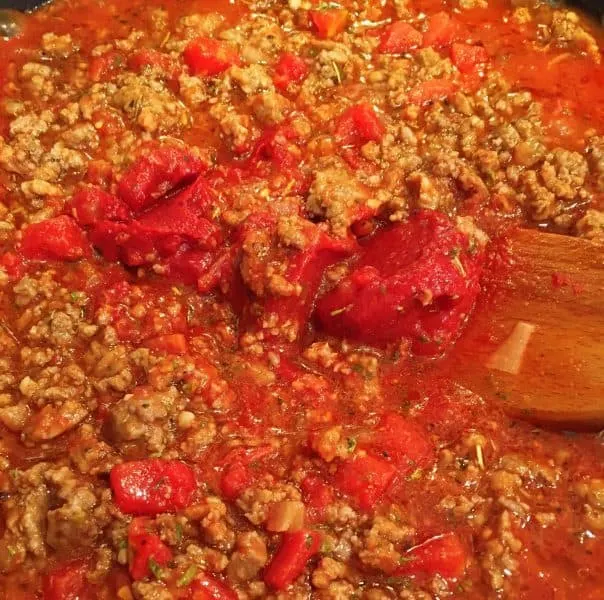 Stir until well blended. Cover and simmer for 30 minutes to an hour. Stirring occasionally.
Note, the longer this sauce can simmer, the thicker, and more flavorful it will be.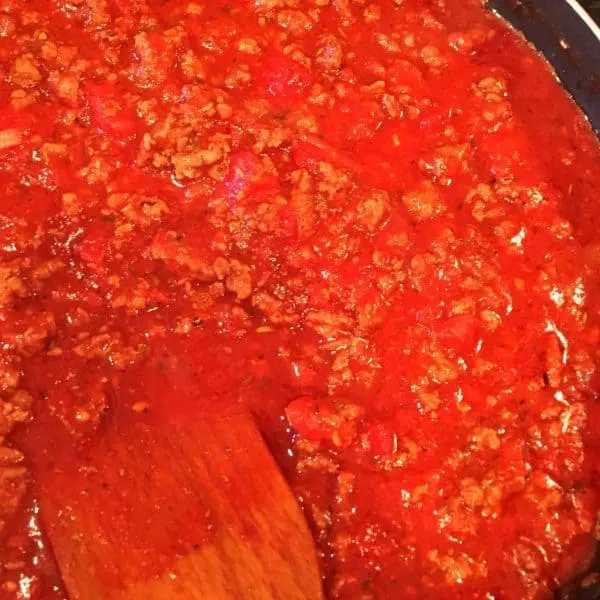 TIP: If your sauce becomes too thick, add about 1/2 cup of water. However, keep in mind this is a thicker sauce for this dish.
While the sauce is simmering…Fill a large pot with water and bring to a boil. Add a pinch of salt and a Tablespoon of oil. This will add more flavor to your pasta and keep the noodles from sticking together.
To the boiling water add one 16 oz. package of angel hair pasta.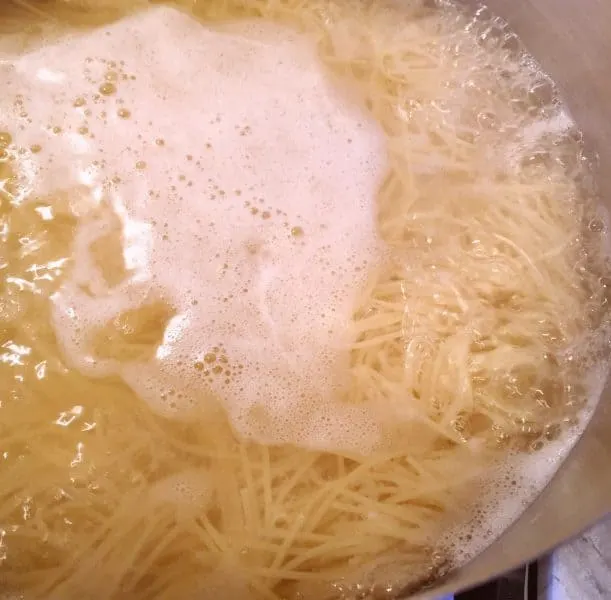 Cook until pasta is "al dente". Drain pasta. Place Pasta in a large bowl.
Add 1/3 cup grated Parmesan cheese and 5 tablespoons of melted butter.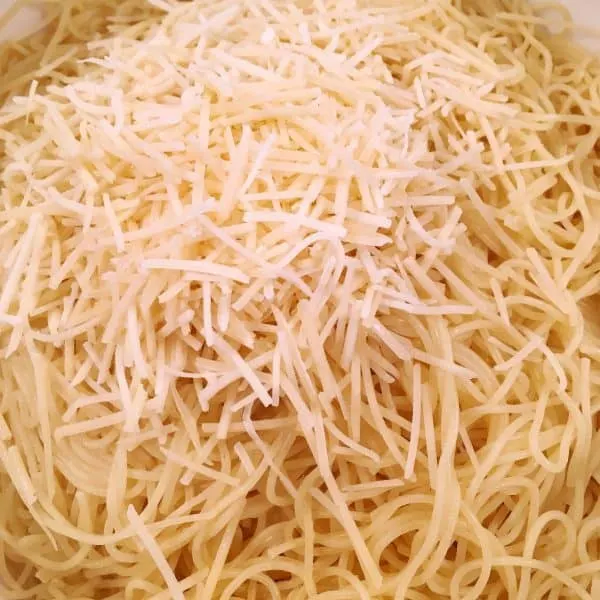 Add two eggs. This will help the pasta "bind" together. We need something to help the pasta stick together for this casserole. Mix well.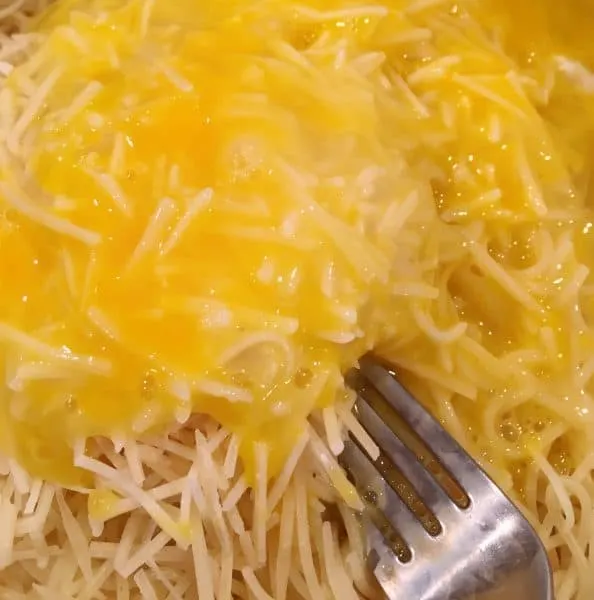 Now it's time for the fun part! Time to start layering all the different components of this recipe! It sounds a lot more complex than it is. Really all we are going to do is layer this dish like Lasagna.
Keep in mind that you will need three layers of meat sauce, three layers of pasta mixture, three layers of Mozzarella, and three layers of mixed cheddar and jack cheese.
Spray a deep dish casserole baking dish with non-stick cooking spray.
TIP: I used a 9 x 13 baking dish. I'll be honest…it was a "close" fit. If you have a deep dish lasagna pan…that would be even better.
Place 1/3 of the meat sauce on the bottom of your pan.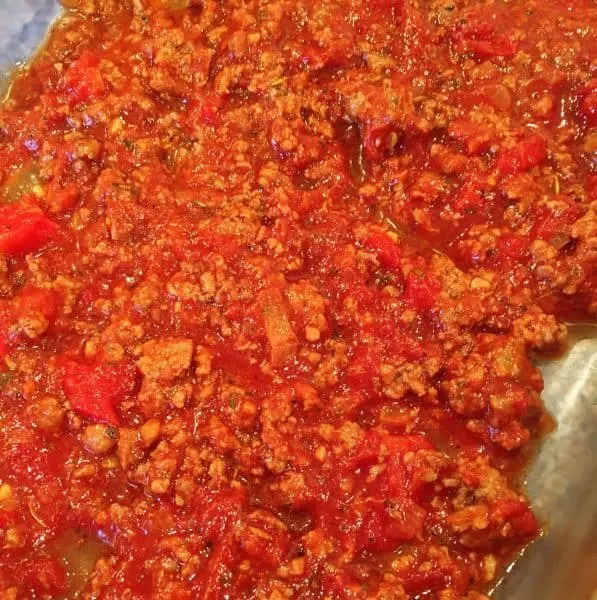 Add a layer of the pasta mixture. Top with a sprinkle of mozzarella cheese, followed by a sprinkling of blended cheddar and jack cheese.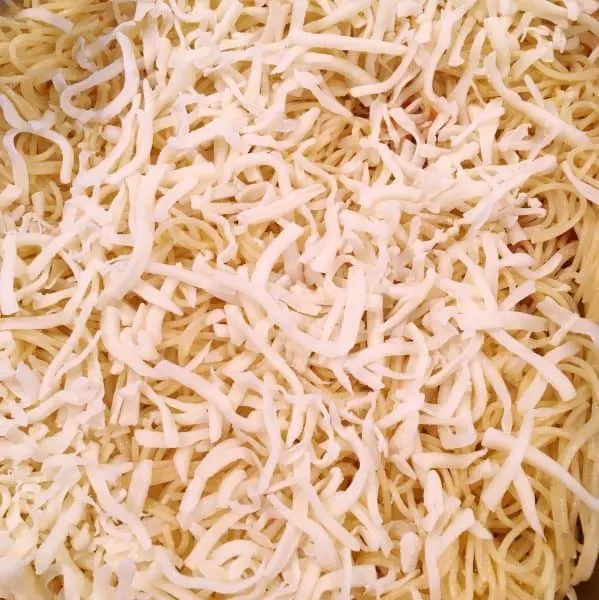 Remember this is a Meat Lovers Baked Spaghetti? So we're gonna add a layer of pepperoni!
It's getting better with each layer. Just wait!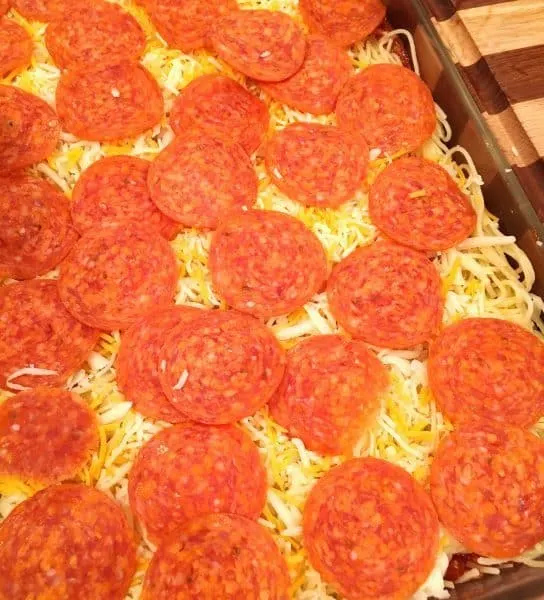 Top with more pasta mixture. Followed by another sprinkling of mozzarella cheese and blended cheese.
Add a layer of meat sauce.
Let's really KICK things up by adding Ricotta Cheese! That's right…more cheese please! Seriously, I beg you…don't add cottage cheese. A lot of baked spaghetti recipes call for cottage cheese…and that's…wrong. lol (I may or may not have strong opinions on substituting cottage cheese for Ricotta!)
Place a Tablespoon of Ricotta cheese here and there, over the top of the meat sauce. Don't spread it out. It's going to do that on its own while it is baking!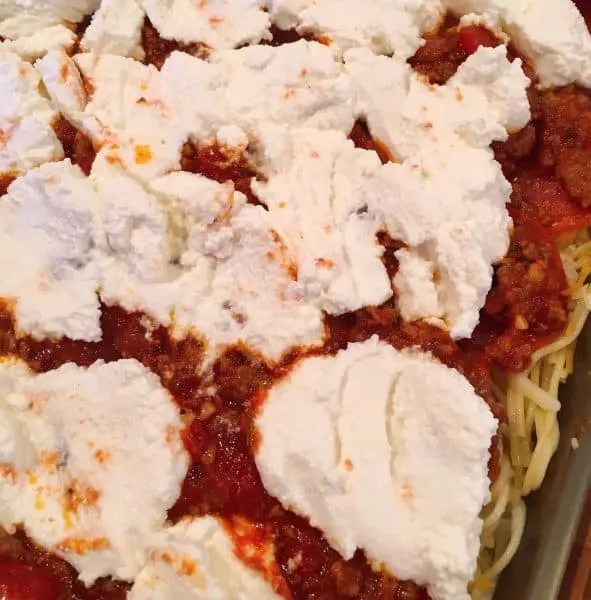 Guess what comes next? Yep…more of the pasta mixture. This is your last layer!
You may notice that my lil' old 9 x 13 pan is REALLY FULL at this point! Gently…VERY GENTLY…push down on top of that last layer of noodles to compact it all together so you can get the very last layer of sauce and cheese on top! YIKES! (Yes! I was holding my breath…thanks for asking! lol I was also wondering why I don't have a deep dish lasagna pan? WHY?!!)
TIP: If you are using a 9 x 13 baking dish…place it on top of a baking sheet lined with foil. This way if it bubbles over…it won't be on the bottom of your oven. Mine didn't bubble over…but I hate the smell of things burning on the bottom of my oven!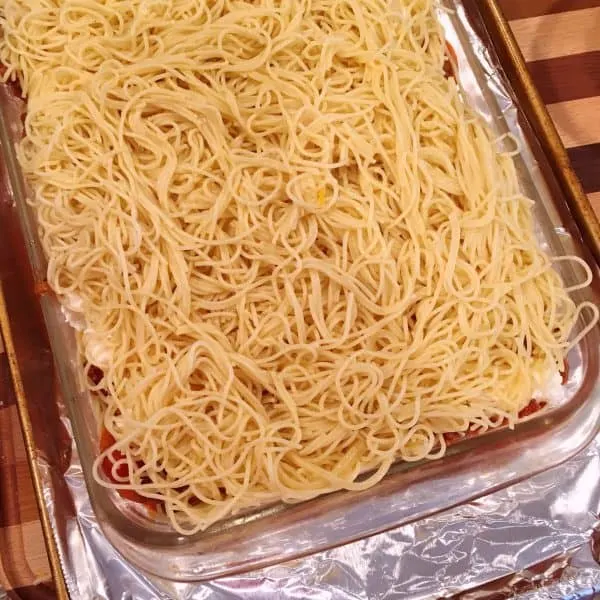 Time for the last layer….Top off that pasta with the remaining meat sauce….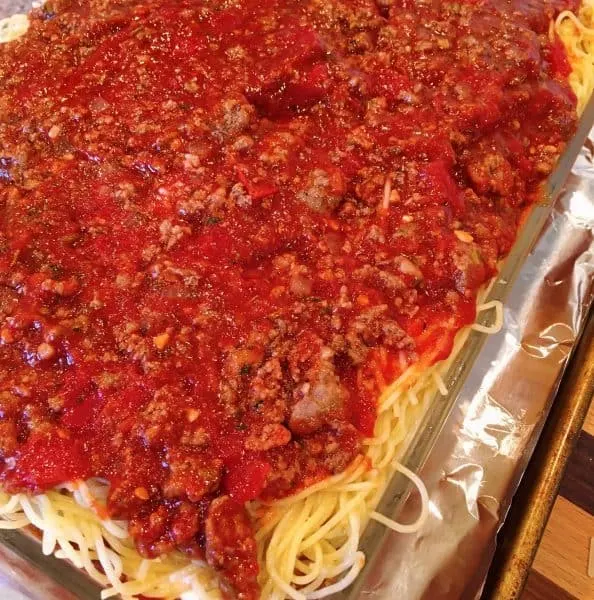 One more sprinkle of mozzarella cheese and mixed cheddar jack cheese! Cause…can you ever have too much cheese? (This is a purely rhetorical question…I'm not expecting an answer!)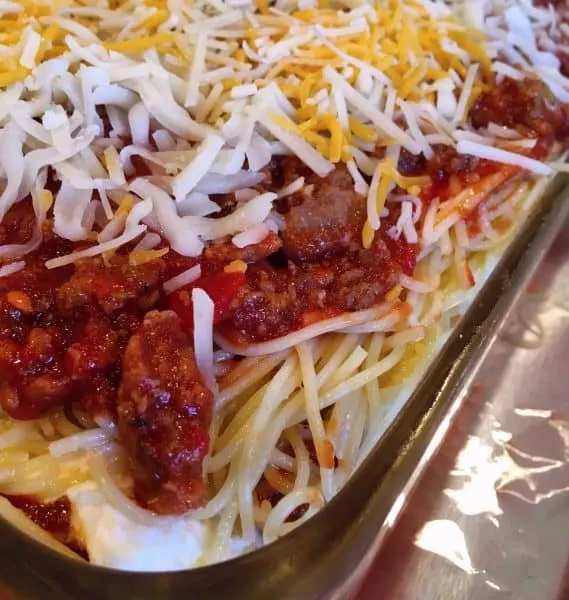 Now…go find The Hulk at your Nest! Seriously! You're gonna need muscle to get this into your preheated 350° oven.
It weighs about 150 pounds! (I may be exaggerating…a bit…but it is VERY heavy! There was grunting involved…lol)
Bake for 45 minutes or until sauce is bubbling and cheese has melted. Remove from oven and cut into 12 squares.
TIP: If you want a brown crisp to the cheese on top…you can slide it under the broiler for 5-10 minutes.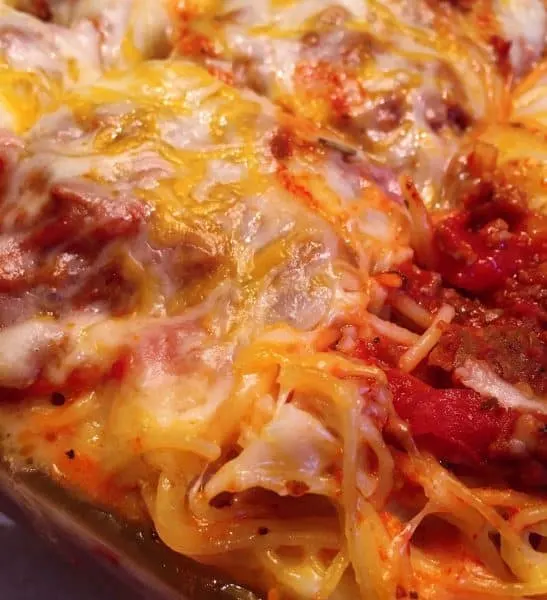 I'll admit…I was nervous to serve this dish. I had visions of the spaghetti falling all apart and going everywhere! I mean…it is spaghetti. However, the egg and cheese you mix into the noodles really does help hold everything together during baking.
See…The cut squares hold their shape. (Maybe my body has egg and Parmesan mixed into it…cause unfortunately…it's holding it's shape too! Hmmm?)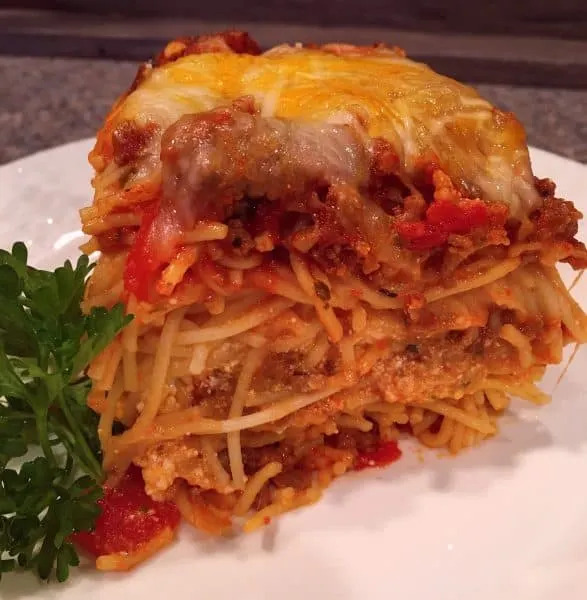 This dish is sumptuously delicious! The layers of meat sauce, cheeses, and spaghetti blend together spectacularly!
The best way I can describe it, is to compare it to lasagna. I think certain pasta dishes are even better the next day when you reheat them…like lasagna! The flavors are deeper and richer as the sauces and cheese soak into the pasta. That's what happens to this spaghetti when it is baked! It's amazing!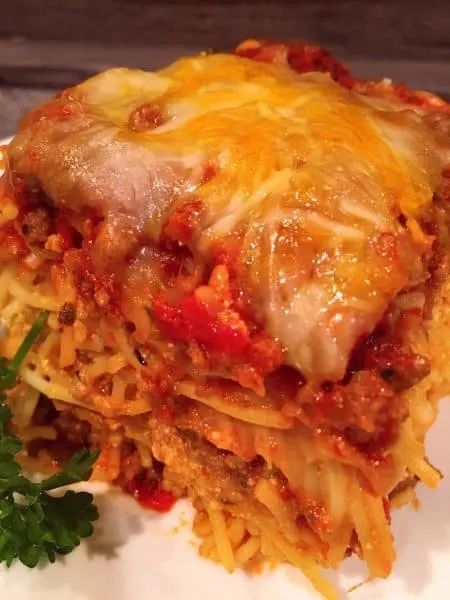 You just want to grab a fork, dig in, and never come up for air! Each bite is better than the previous!
This Meat Lovers Baked Pasta was a HUGE hit at our Sunday Dinner a few weeks ago! Everyone loved all the different meats and cheeses.
If you have pasta lovers at your Nest they will L.O.V.E. this dish! We're welcoming this new Spaghetti with open arms!
It's worth every bit of extra work to make. It reheats beautifully the next day too! (Someone, who shall remain nameless…sweetheart.. may have eaten it for 3 days…every chance he could get!)
Great Pasta Recipes you might like
If you haven't signed up for my bi-monthly Newsletter be sure to jump on my mailing list so you can see all the delicious "Yum" I have headed your way each month! I promise I don't sell your information or bug you more than twice a month. It's just my way of saying "Hey…look what's coming up!"
Thanks for stopping by! The free printable is below.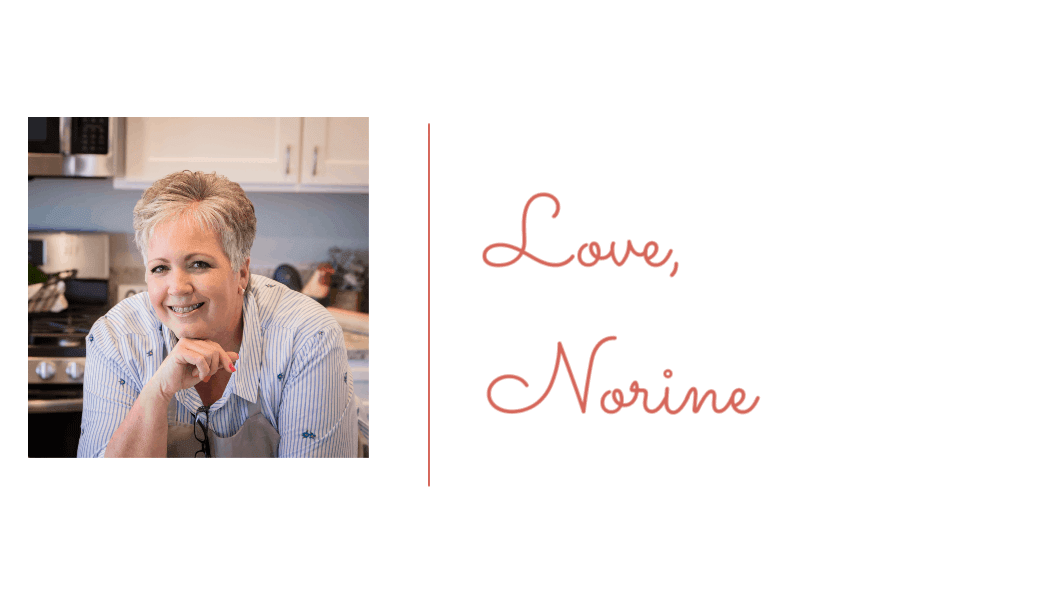 Yield: 12 servings
Meat Lovers Baked Spaghetti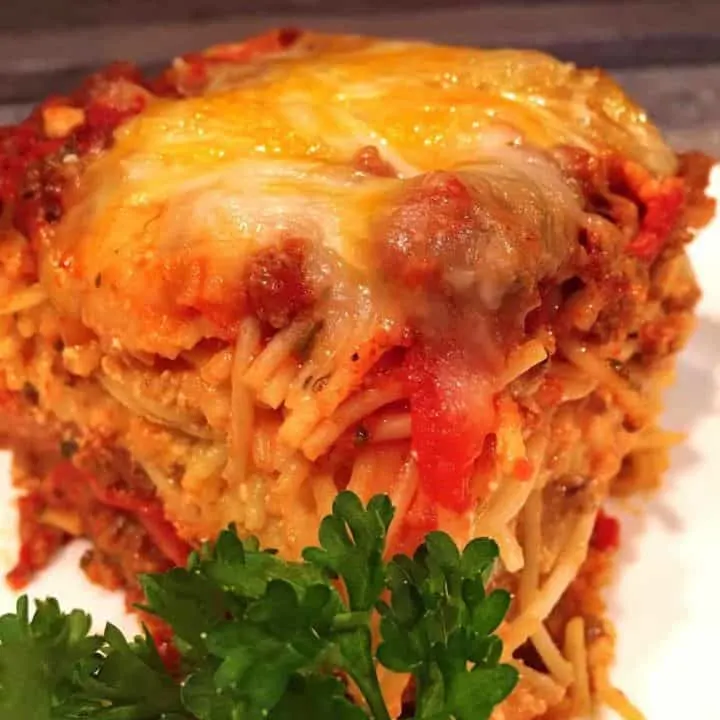 A Rich Dish of Baked Spaghetti loaded with 3 Meats and 5 cheeses, that is sure delight any Pasta Lover in your family!
Cook Time
1 hour
15 minutes
Total Time
1 hour
35 minutes
Ingredients
1 lb. lean ground beef
1 lb. Italian Sausage
2 teaspoons minced garlic
1/4 cup diced onion
1 Cup Sliced Pepperoni
1 14.5 oz. Can Diced Petite Tomatoes
2 8 oz. cans Tomato Sauce
1 6oz. can Tomato Paste
1/2 cup water
1 teaspoon dried basil, crushed rosemary, dried oregano, Italian Seasoning, Coarse Black pepper, Garlic Salt.
1 Tablespoon White Sugar
1 Tablespoon Dried Parsley
16 oz. package Angel Hair Pasta
1/3 cup Parmesan Cheese
2 Large Eggs, lightly beaten
5 Tablespoons Melted Butter
1 1/2 Cup Ricotta Cheese
4 Cups Grated Mozzarella Cheese
2 Cups Blended Grated Cheddar and Jack Cheese
Instructions
Preheat Oven to 350°
In a large skillet brown ground beef and Italian Sausage with garlic and diced onion.
Add Diced Petite Tomatoes, 2 cans tomato sauce, 1 can tomato paste, water, seasonings, Parsley, and sugar.
Mix well. Turn heat to low. Cover and Simmer for minimum of 30 minutes up to 2 hours. If sauce becomes too thick add another 1/2 cup of water.
Bring a large pot of water to boil. Add a pinch of salt and 1 Tablespoon of Olive Oil.
Once water is boiling add 16 oz. of Angel Hair Pasta and Cook until "al dente".
Drain cooked pasta. Place Pasta in a large bowl. Add Melted butter and 1/3 cup of Grated Parmesan. Mix well.
Add two large eggs into the pasta. Mix well.
Spray a 9 x 13 inch baking dish with non-stick cooking spray.
You will need to mentally divide sauce, pasta, and cheeses into thirds to create all three layers of this dish.
Place a layer of meat sauce in the bottom of the baking dish. Add a layer of pasta. Sprinkle with 1 1/4 cup Mozzarella Cheese and a sprinkle of combined cheddar cheese and jack.
Top with a layer of 1 cup of sliced Pepperoni.
Add another layer of Pasta Mixture and Cheeses, starting with Mozzarella and ending with Cheddar.
Top, by the Tablespoonful, with Ricotta Cheese.
Add another layer of Pasta mixture. Gently push down into baking dish to create room for the final layer of sauce and cheese.
Top with remaining sauce and the last of the cheese.
Place pan in Preheated 350° oven and bake for 45-60 minutes or until cheese is melted and sauce is bubbling.
Cut into 12 squares. Serve immediately.
Recommended Products
As an Amazon Associate and member of other affiliate programs, I earn from qualifying purchases.
Nutrition Information:
Yield:
12 servings
Serving Size:
1 serving
Amount Per Serving:
Calories:

662
Total Fat:

45g
Saturated Fat:

22g
Trans Fat:

1g
Unsaturated Fat:

21g
Cholesterol:

172mg
Sodium:

1091mg
Carbohydrates:

22g
Fiber:

2g
Sugar:

5g
Protein:

42g