Take mounds of leftover pulled pork and heap it on top of creamy homemade mac and cheese, bake it, and top it with BBQ sauce! What you have is Leftover BBQ Pulled Pork Macaroni and Cheese! A fabulous comfort dish the whole family will love.
A few weeks ago we had a big family reunion. We divide up the dinners for our family reunions by family units. So our family had Sunday dinner.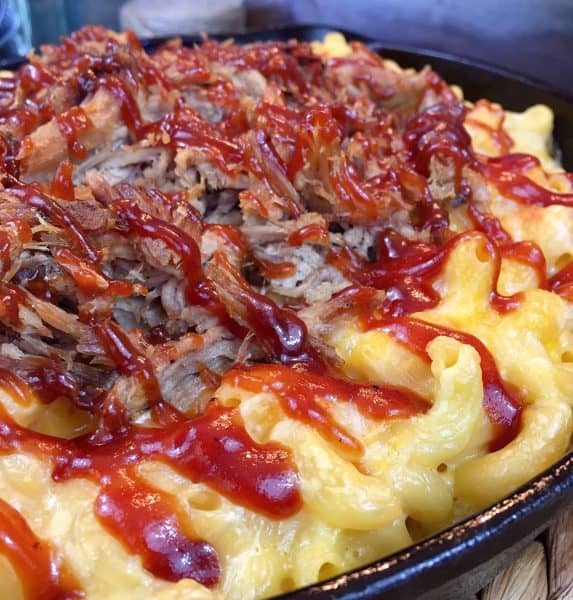 I went with a Hawaiian themed menu. It was a great dinner and everyone loved the food. What's not to love when mounds of pulled pork is the star attraction!
However, we had a lot…and I do mean A LOT, of delicious moist pulled pork leftover! You can only eat so many burritos and pulled pork sandwiches before you're looking at shredded pork with hostility and loathing!
That's when it's time to come up with another way to use up that pulled pork and save the ol' grocery budget!
I decided to combine two southern comforts and create one great casserole! Leftover BBQ Pulled Pork Macaroni and Cheese! It's such a fun way to use up leftover pulled pork and one I know your family will love as much as mine did!
How To Make BBQ Pulled Pork with Macaroni and Cheese
Prepare pasta by bringing 4 cups water to boil in a large pot. Add 2 cups elbow macaroni. Cook until al dente. Drain and set aside.
Tip: Always cook your pasta "al dente" when combining with sauces. The pasta will absorb all that delicious warm sauce and continue to cook. Nothing worse than mushy pasta!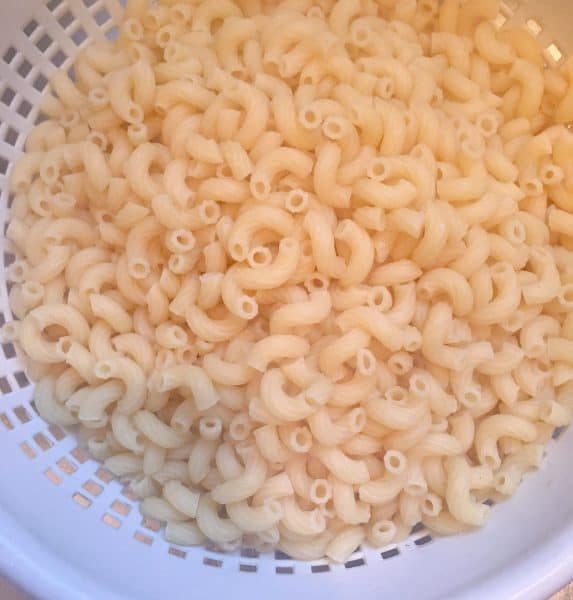 How To Make Homemade Cheese Sauce
In a large sauce pan, over medium heat, melt 1/4 cup butter. Every good Macaroni and Cheese dish starts with buttah! Lots of delicious buttah!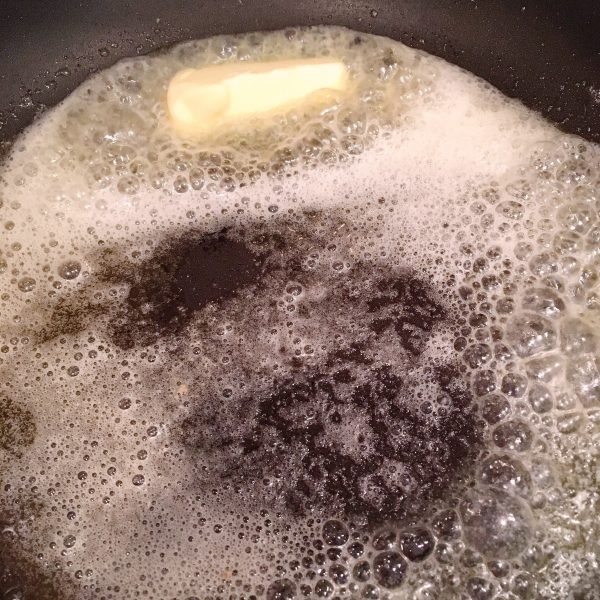 Add 1/4 cup flour and…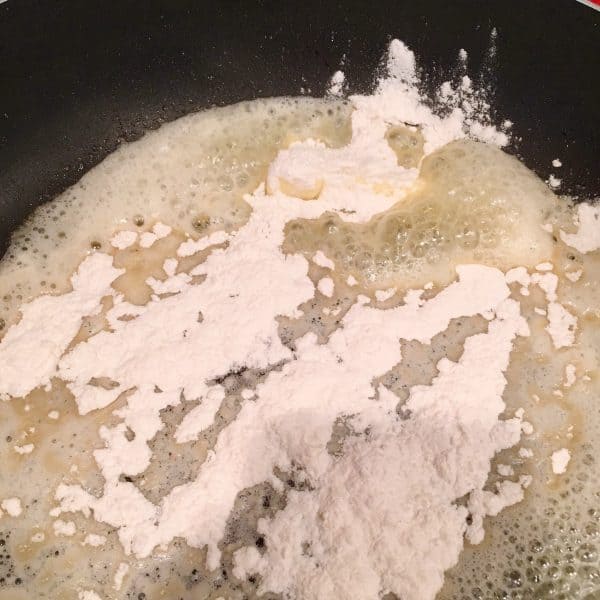 Whisk the two together! You need to do this quickly…1,2,3…let's do this! Go, go, go! (This is my Mom drill sargent voice!)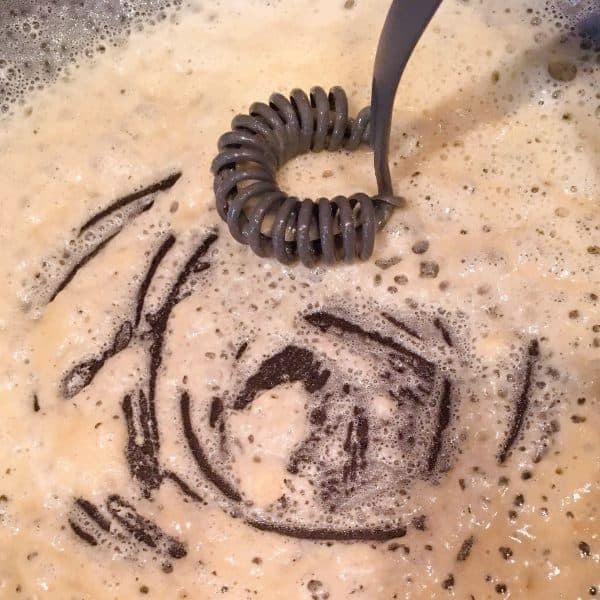 Time to kick in those multi-tasking skills y'all have! While whisking slowly add 2 cups milk. The mixture will begin to thicken. How ya doing? This is a two handed job. Stir with one hand…pour with the other…while you're at it help little Joey with his science fair project and there's that load of laundry. You got this!
Tip: Combining flour and butter is what is commonly known as making a "roux". If you've never done this before…congratulations! You just made your first roux! Roux is really just a fancy name for creating the thickening base for a sauce.
Add 1/4 teaspoon onion powder, 1/4 teaspoon garlic salt or regular salt, and 1/4 teaspoon coarse black pepper. Stir to combine. (Good News! You only need one hand for this part!)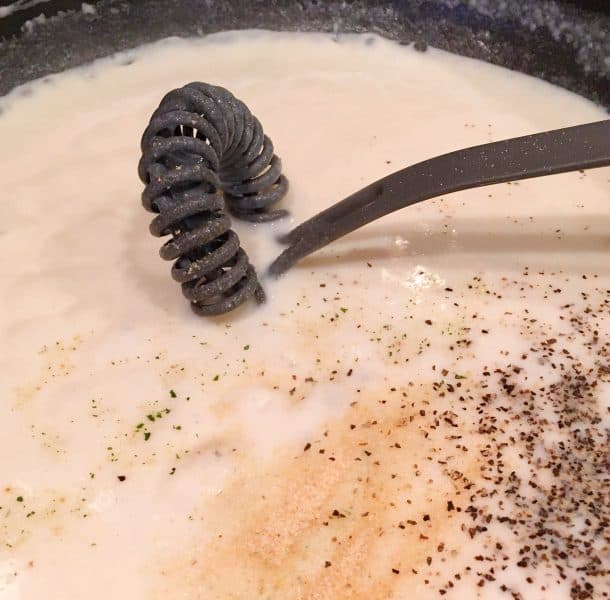 Let's get cheesy! Really cheesy! Add 2 cups grated cheese blend. Stir until cheese melts.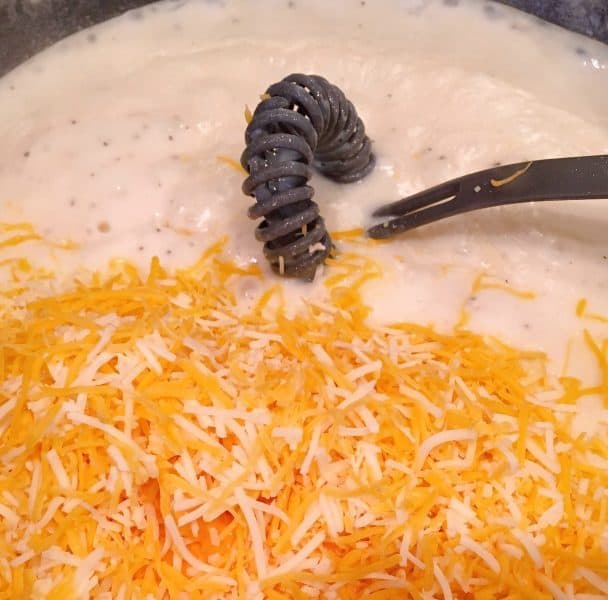 Next up…my secret weapon. I know! Don't y'all go hating on me! Velveeta Cheese sauce packets are my secret weapon for extra creamy macaroni and cheese! It works!
Stir in one pouch of cheese sauce.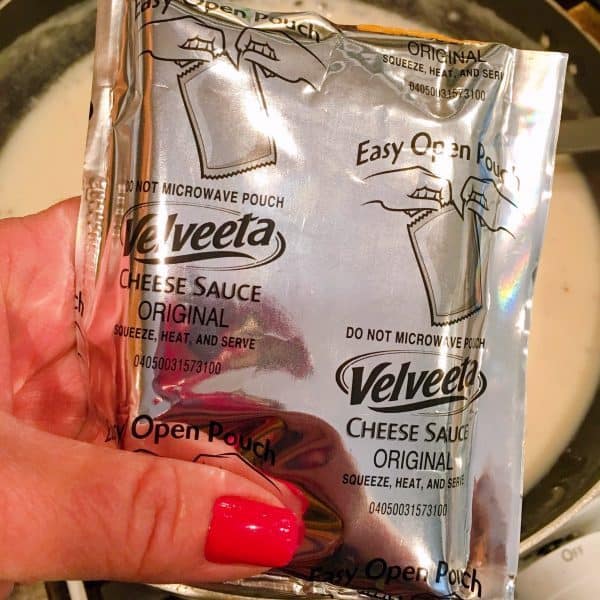 Add 3/4 cup shredded Mozzarella cheese! I told you I was getting cheesy!
As your sauce is coming together it may get too thick for your liking. If this is the case…slowly add more milk, a little at a time, until you get to your desired consistency.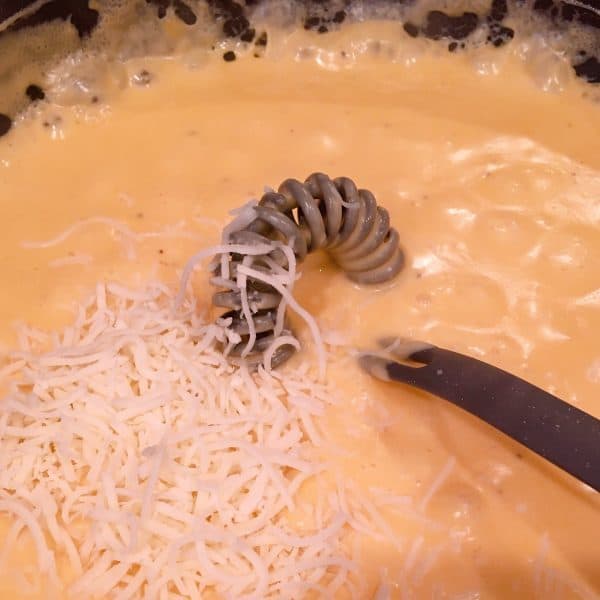 Add pasta directly into the skillet with the cheese sauce. No sense getting another dish dirty! Unless you L.O.V.E. doing dishes…then don't let me stop ya!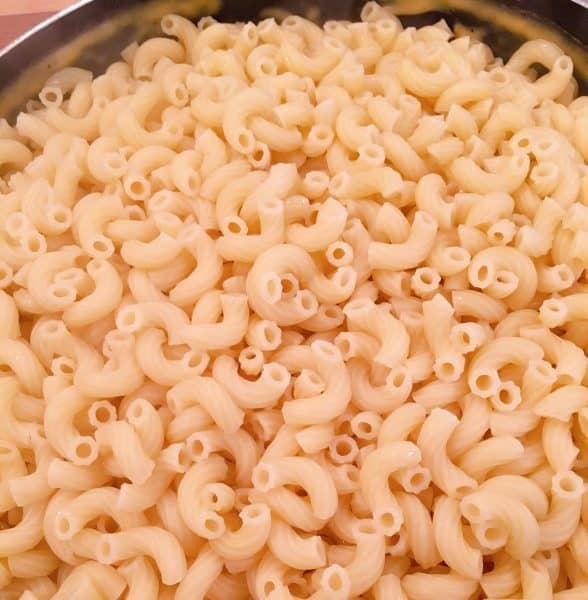 Stir pasta into cheese sauce until well coated. Look how rich and creamy that cheese sauce is! Liquid gold.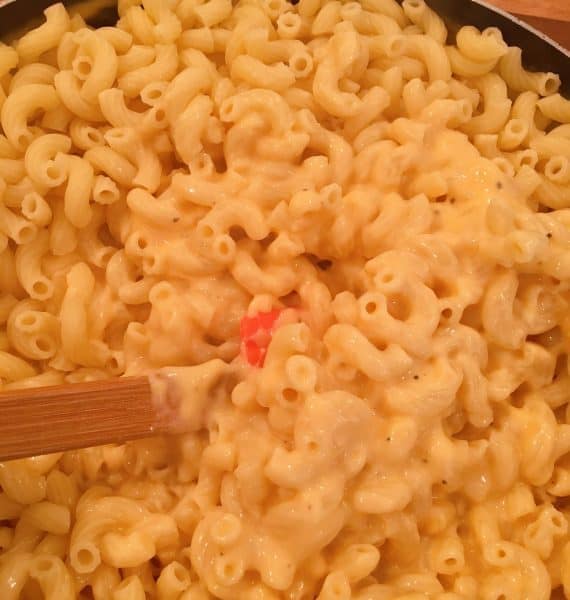 Baking Macaroni and Cheese
Prepare a baking dish by coating it with non-stick cooking spray. I used my cast iron skillet. You can use a regular 9 x 13 baking dish. Any type of casserole dish you have will work. Don't let the cast iron skillet scare you off. It's not a requirement for this recipe.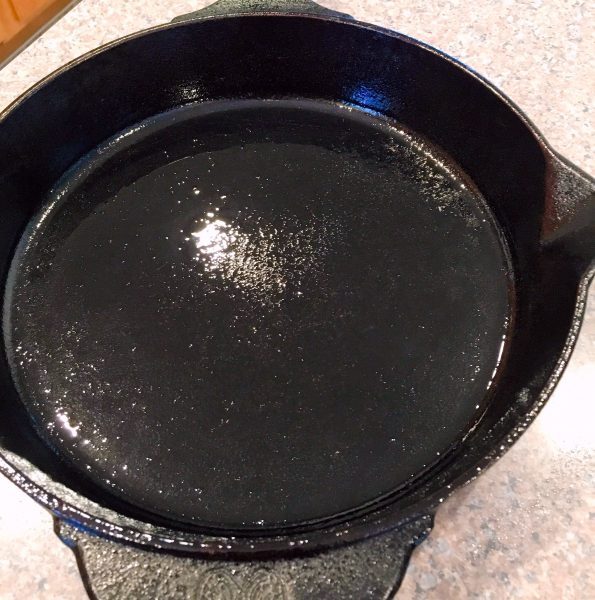 Pour macaroni and cheese into your baking dish. Spread evenly.
Did I mention this is a Macaroni with LOTS of cheese! Sprinkle the top of the macaroni and cheese with MORE cheese! About 1 cup of grated cheese. You can add more or less depending on your personal taste. I love cheese. So more cheese was called for. Basically I should call it Cheese and Macaroni!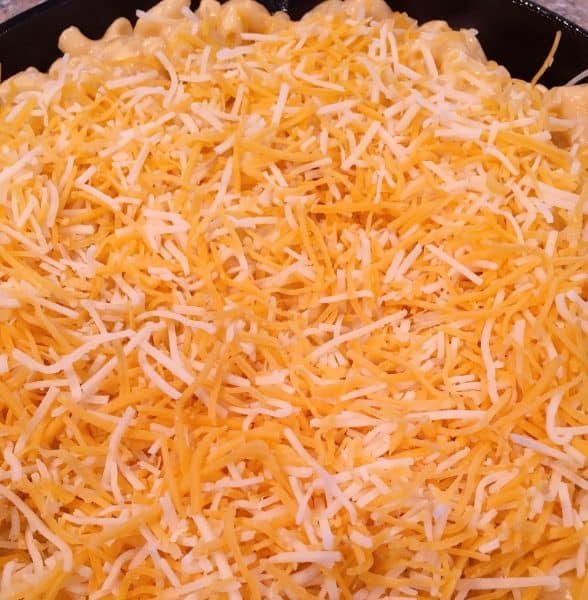 Add 3-4 cups leftover pulled pork on top of the macaroni and cheese.
Bake for 25 minutes in preheated 350° oven in the center of the rack.
Zoom in for a closer look! Isn't it awesome how the cheese sauce sneaks into the elbow holes and snuggles down in there. Its a thing of beauty!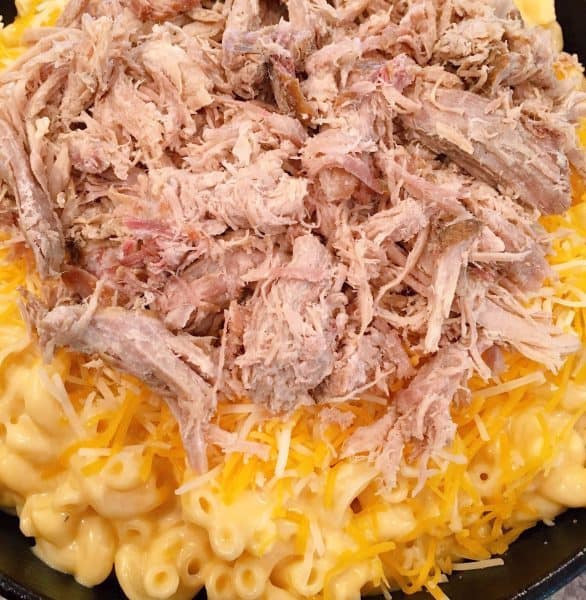 After the 25 minutes of baking time turn the oven on to broil. Broil for 5 minutes until the cheese turns a beautiful golden brown on top and the meat tips begin to crisp up. Those crispy bits are amazing!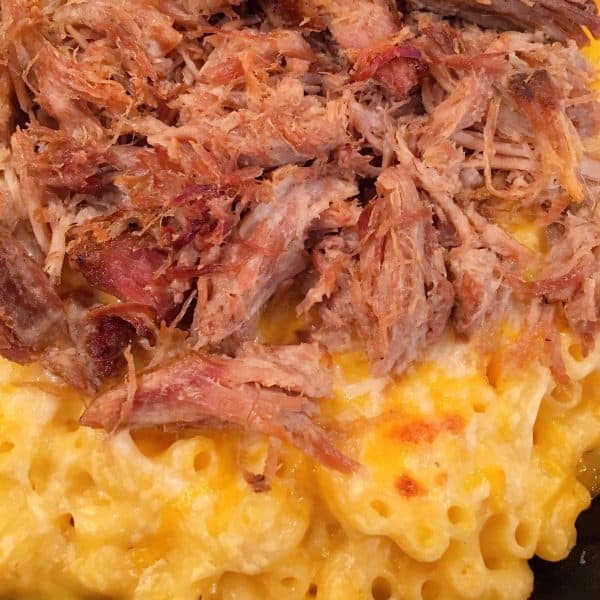 Finishing Off The Pulled-Pork and Mac-n-Cheese
Finish this dish off with a drizzle of your favorite BBQ sauce. My favorite is Sweet Baby Ray's! I love the balance of BBQ spice and southern sweet. It's great on pork! You use the BBQ sauce your family likes most. In other words…you do YOU!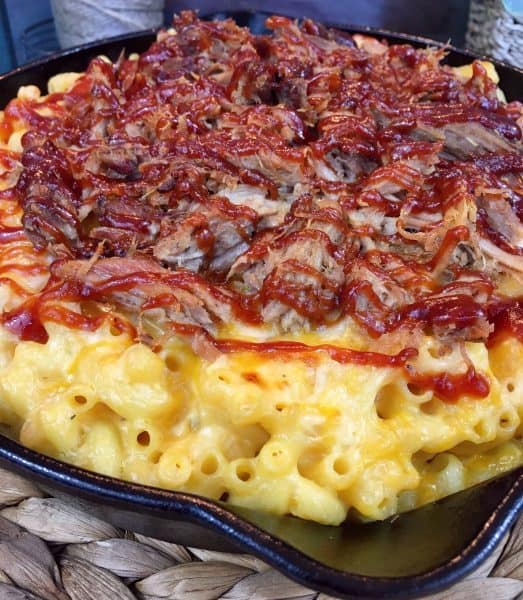 That's the extent of this dish! Easy right? I love an easy comfort dish with a down home twist!
Basic homemade Macaroni and Cheese topped with leftover pulled pork and drizzled with BBQ sauce.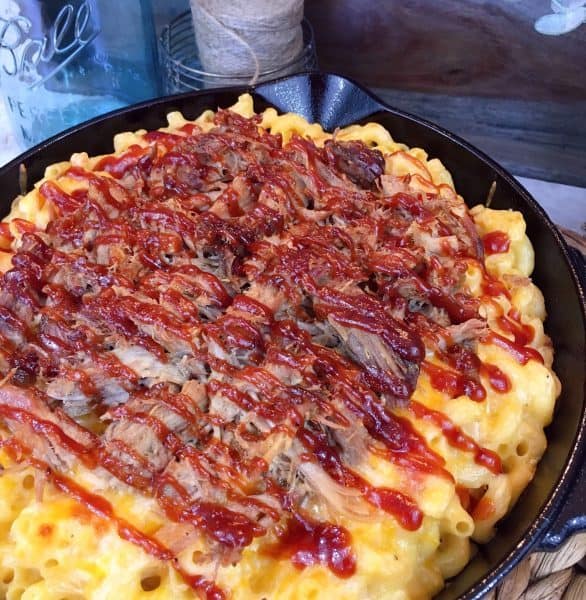 All that's left is to grab yourself a big ol' scoop of this yummy macaroni and cheese.
There's something about forkfuls of creamy mac-n-cheese topped with tender moist smokey pulled pork and hints of BBQ sauce.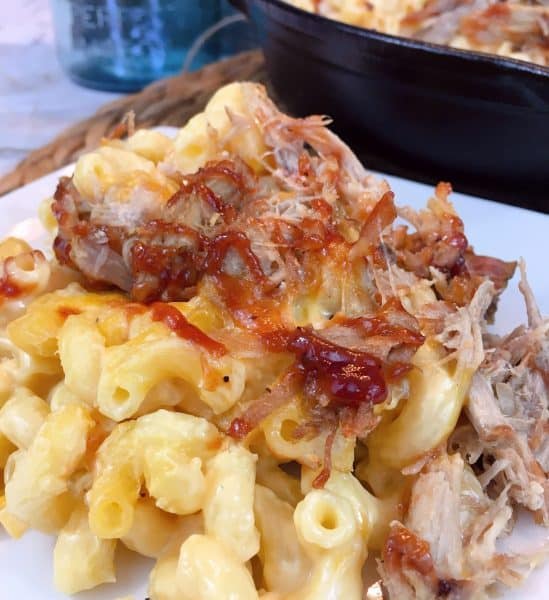 Serve with a side garden salad and corn on the cob and you've got a complete dinner! One that will make everyone at your Nest happy!
Other Family Favorite Comfort Food Recipes
I hope you enjoy this recipe, and as always, thanks so much for stopping by! Have a GREAT day!
Happy Nesting!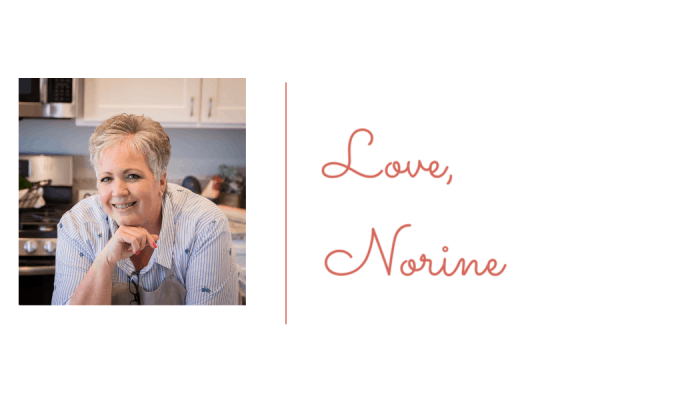 Yield: 8 servings
Leftover BBQ Pulled Pork Mac and Cheese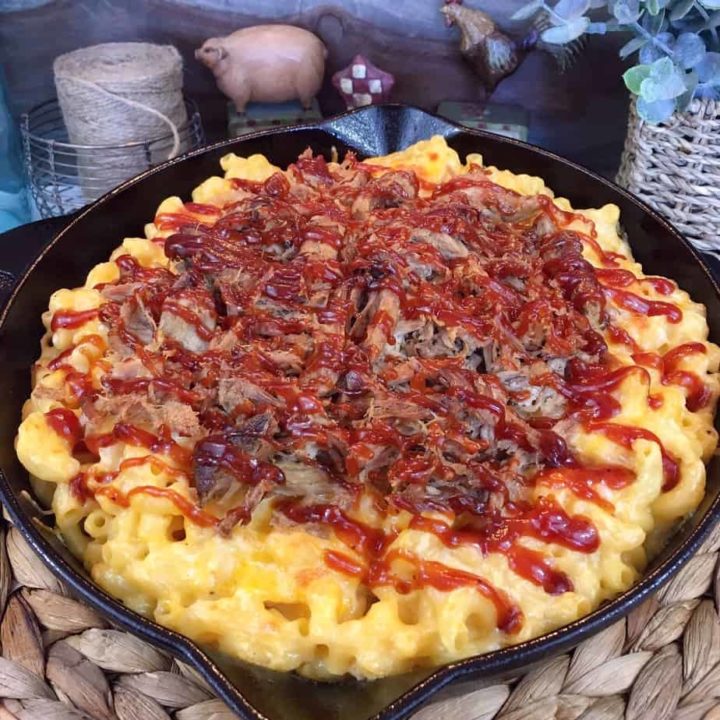 Creamy homemade macaroni and cheese topped with leftover pulled pork and drizzled with BBQ sauce. A comforting down home dish that's quick and easy to make.
Ingredients
4 cups water
2 cups elbow pasta
1/4 butter
1/4 cup All-purpose flour
2 cups milk
1/4 teaspoon onion powder
1/4 teaspoon garlic salt
1/4 teaspoon coarse black pepper
salt to taste
2 cups grated blended cheddar cheese
1 - 4 ounce packet velveeta cheese sauce
3/4 cup shredded mozzarella cheese
1 cup grated cheddar cheese
3-4 cups leftover pulled pork
1/2 cup BBQ sauce for topping
Instructions
In large pot bring 4 cups water to a boil. Add elbow pasta and cook until al dente. Rinse and Drain. Set aside.
Preheat over to 350°
In a large skillet over medium heat, melt butter. Sprinkle flour over top of melted butter and whisk together to combine.
Slowly add 2 cups milk while continually whisking until mixture thickens. Add onion powder, garlic salt, and coarse black pepper. Mix well. Add additional salt to taste.
Add 2 cups grated cheese. Stir. Add velveeta cheese and mix until well combined. Add 3/4 cup grated mozzarella cheese and continue stirring until everything is well blended and creamy. Add additional milk if sauce is too thick until desired consistency is reached.
Add cooked pasta. Stir pasta into cheese sauce until completely coated. Pour into a 9 x 13 prepared baking dish sprayed with non-stick cooking spray.
Spread Macaroni and cheese evenly in baking dish and sprinkle with 1 cup grated cheddar cheese. Top with 3 -4 cups left over pulled pork.
Place on center of oven rack and bake at 350° for 25 minutes. After 25 minutes bake time, increase temp to broil high, and broil for 5 minutes until pork tips are crispy and cheesy is golden brown.
Remove from oven and drizzle with BBQ sauce.
Recommended Products
Some of the links below are affiliate links meaning, at no additional cost to you, I will earn a commission if you click through and make a purchase.
Nutrition Information:
Yield:
8
Serving Size:
1 1/2 cups
Amount Per Serving:
Calories:

1025
Total Fat:

38g
Saturated Fat:

18g
Trans Fat:

1g
Unsaturated Fat:

16g
Cholesterol:

198mg
Sodium:

3388mg
Carbohydrates:

100g
Fiber:

6g
Sugar:

65g
Protein:

69g