Canned biscuits are dipped in a spiced pumpkin batter and placed in a loaf pan to create this intoxicatingly delicious and fun Pumpkin Spice Bubble Bites!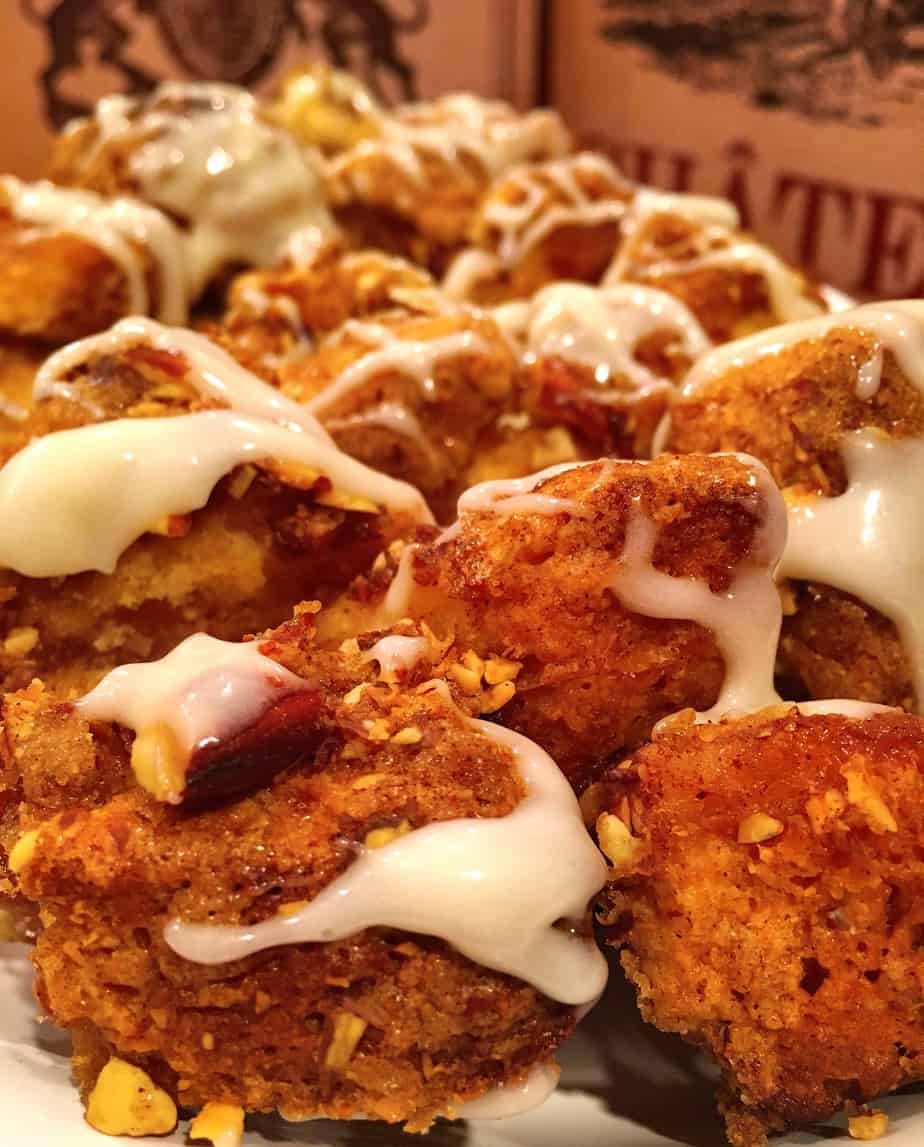 Hello September! It's Official! I've move to the land of Pumpkin Spice where I'll be residing for the next 2-3 months! Wanna join me? Come on, I know you do! It's like living inside a gigantic Scentsy fragrance burner!
Personally I'm content to be here! I love the smells of Fall. I'm pretty sure spices were invented for this season… Cinnamon, Clove, All-spice, Ginger, and Nutmeg! Throw in a side of pumpkin and I'm happy camper! (As long as I'm not really camping!)
The other day I was trying to figure out how to use up a little pumpkin I had left over from that glorious Pumpkin Pound Cake Recipe. My mind was ticking off all the ingredients I had on hand.
I knew I had a can of Pillsbury buttermilk biscuits in the refrigerator. Ba-Zinga…Sudden Flash! A few years ago for Thanksgiving breakfast I made a simple "Monkey" bread using Pillsbury Biscuits. Maybe I could take that same recipe and tweak it a bit? So I did! I'm happy to say…it worked out beautifully! Introducing…Pumpkin Spice Bubble Bites!
How To Make Pumpkin Spice Bubble Bites
First things first. You will need one can of large 8 count Pillsbury Grand Homestyle Buttermilk Biscuits. Cut each biscuit into six pieces. I double stacked and cut. They don't have to be perfect. Just bite size.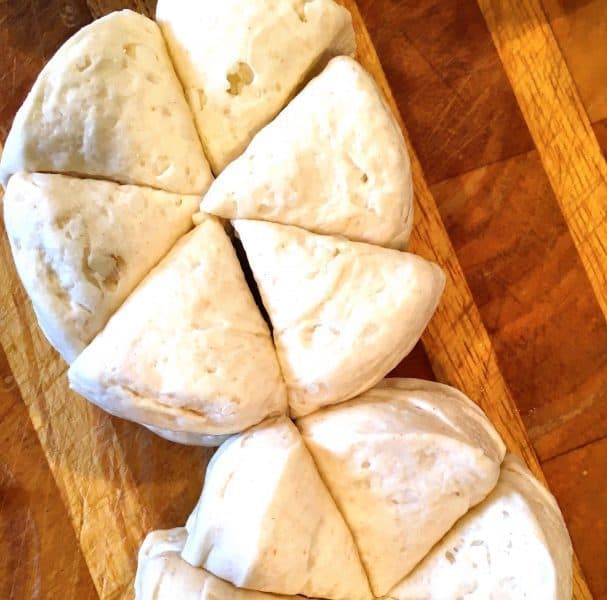 Next time to make your "pumpkin butter"!
The original recipe calls for melted butter. It's Fall and we want to live in the land of "spice" and everything nice for right now, so we are kicking it up a notch or two, and making pumpkin butter!
In a microwave safe bowl melt your butter, mix in the canned pumpkin and…of course…your pumpkin pie spice! (It makes the pumpkin fairies happy!) Once that is all blended together you will gently coat your cut biscuit pieces in the pumpkin butter using a fork.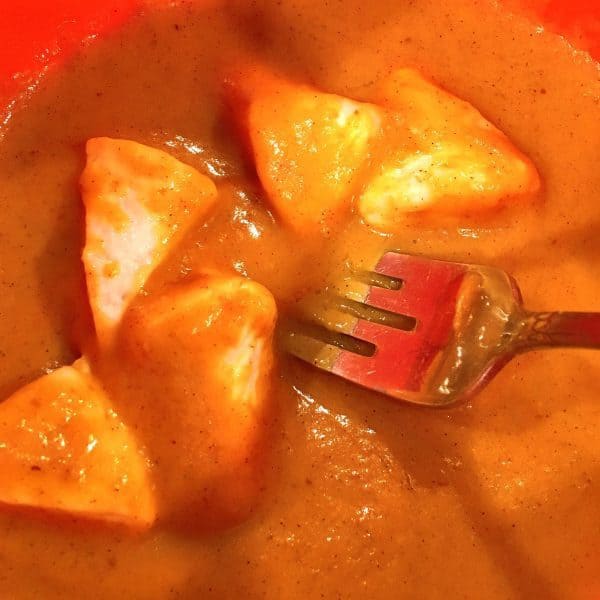 In a shallow pan mix your sugar and cinnamon. Now comes the FUN part! Roll those coated buttery pumpkin biscuit pieces in the cinnamon-sugar mixture. (You're going to get ooey-gooey fingers…it can't be helped!)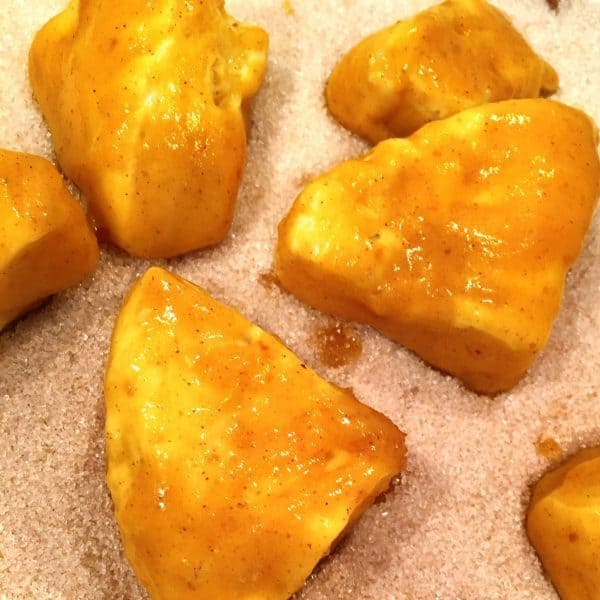 Place each coated piece in a greased and floured 9 x 5 bread loaf pan.
Keep layering each batch of sugar dipped bites on top of each other until your pan is evenly filled. It won't be perfect and that's…well…perfect!
Any left over pumpkin butter simply must be drizzled all over the top. You want every single drop of that golden goodness!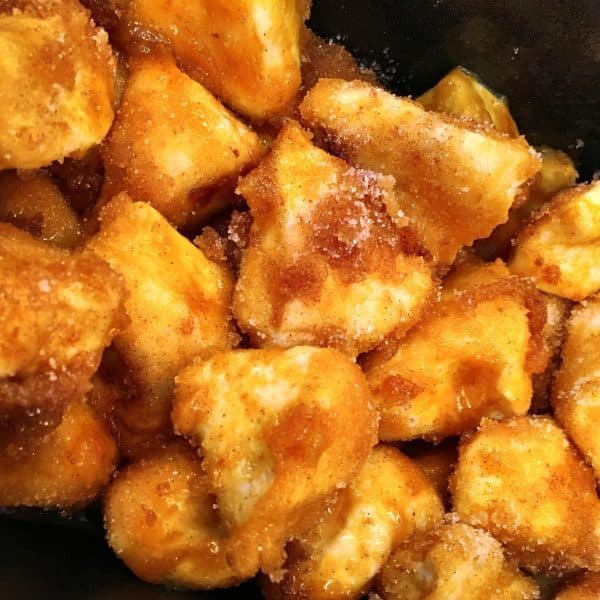 I sprinkled toasted almonds on top of mine but, you could use pecans, walnuts, or no nuts if your gang isn't fans of nuts! It will taste great either way. (I think it looks delicious already!)
Preheat oven to 350°. Place bubble loaf in the middle of your oven and bake for 50-65 minutes.
Check the center by inserting a tooth pick. If it comes out clean it's ready to remove from the oven. You just don't want your center to be "doughy". Nobody likes uncooked pastries!
Tip: My oven cooks about 25 degree's warmer than the temp on the dial. I always lower my cook temp by 25 degree's. I ALWAYS tell you the correct cook temperature. I bring this up because most ovens, over time, lose their calibration and cook a bit differently than the temp on the knob. So get to know your oven and adjust temps accordingly. You'll be amazed at the difference in your bake goods!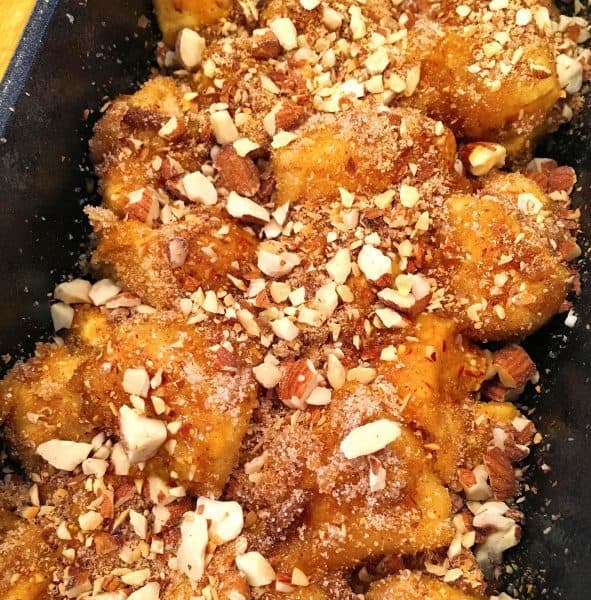 Okay confession time!
When I envisioned this recipe it "popped" out of the pan whole as one big bubbly loaf. However, I had a meeting to go to when it came out of the oven so, it set on the counter "cooling" for about 2 hours!
When I came home and tried to "Pop" it out of the pan… it rudely refused to budge! All that pumpkin cinnamon butter goodness wanted to stay right there in it's nice little home. I was sad and slightly depressed. I knew I had to resort to digging it out. (Metal pans and microwaves…not a good mix! Scratch reheating it!)
So I carefully scooped it out and in doing so was surprised to realize that I liked it better served this way! This way people can just use a spoon or fork to grab the portion size they want! What do you think?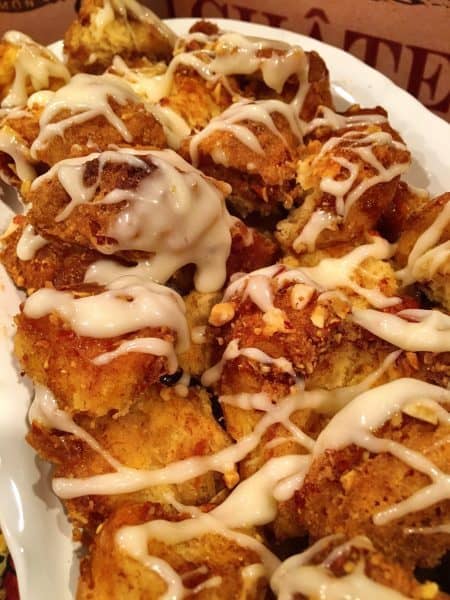 I pulled it apart and placed it on an oblong serving dish and then drizzled it with the homemade cream cheese frosting.
I recommend if you are making this to allow it to cool for about 10 minutes and then spoon it out onto your serving plate.
You are going to want to serve it warm. It's so tender on the inside and crispy on the outside with the sprinkling of sugar and cinnamon. The pumpkin butter becomes a magical finger licking sticky good glaze that melts in your mouth! Mmmmmm!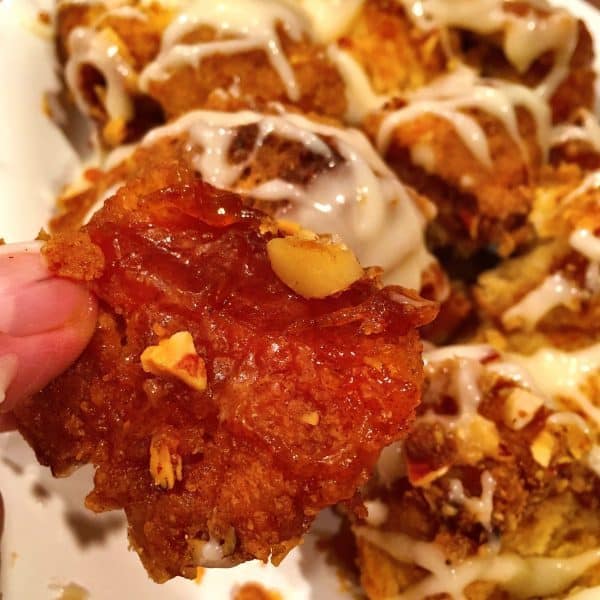 The moral of this story…don't sweat the small stuff! I wanted this beautiful perfect loaf of bubble bread. When things weren't going as planned I went with it and you know what? I ended up loving the finished product even more than what I had planned.
Life is like that. We just need to "let go" and go with it!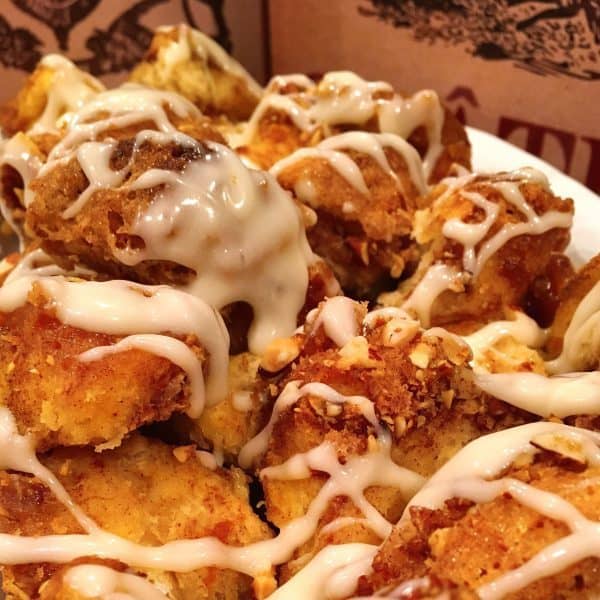 You better believe this will be on my holiday breakfast table! It is perfect for this time of year. The light hint of pumpkin and the full flavor of fall spices are wonderful.
Favorite Pumpkin Recipes
I know your family will love it and you'll love how easy it is to prepare. (Thank you dough boy! Gotta love a guy with a squishy belly!)
Serve it with some fresh fruit and scrambled eggs and, Ta-da… you have breakfast covered!
Thanks so much for hopping on by my Nest! Have a Great Day!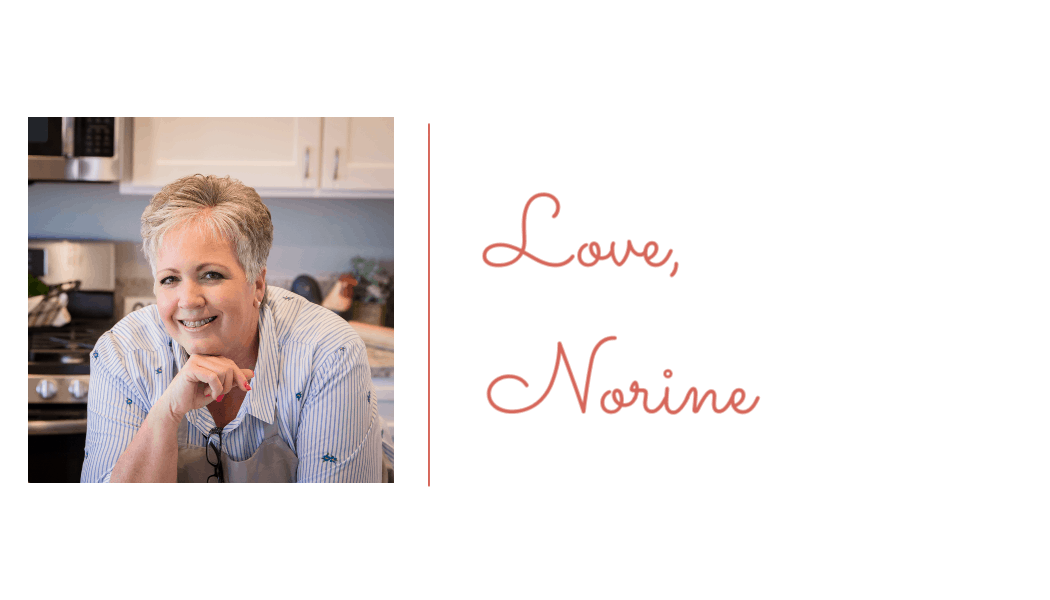 Yield: 6-8 servings
Pumpkin Spice Bubble Bites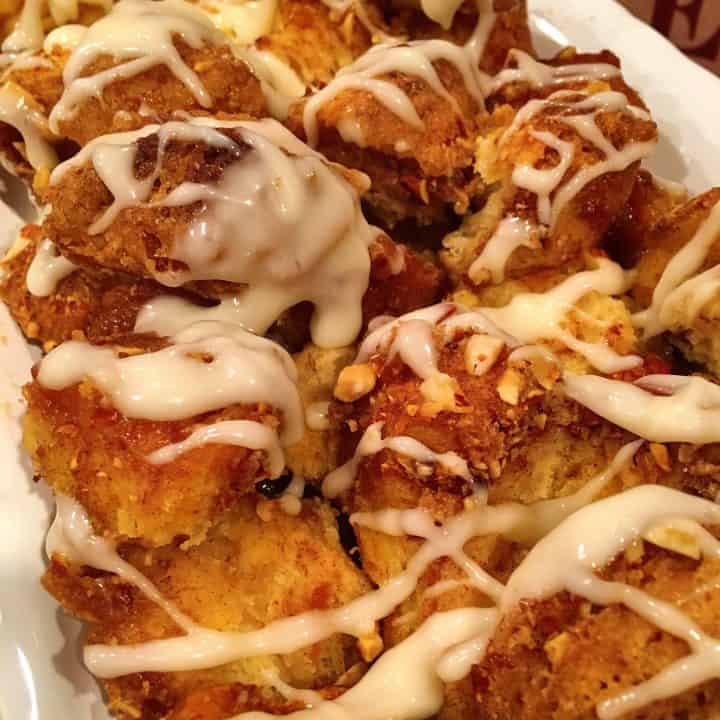 Pillsbury biscuit dough is cut into pieces and rolled in pumpkin butter & cinnamon sugar to create this amazing breakfast pastry the whole family will enjoy!
Total Time
1 hour
15 minutes
Ingredients
1 can Pillsybury Grands Homestyle Buttermilk Biscuits (16.3 oz) 8 biscuits
1/3 cup butter, melted
1/4 cup canned pumpkin
3/4 tsp. pumpkin pie spice
3/4 cup granulated sugar
1 1/2 tsp. cinnamon
1/4 cup chopped nuts, almond, pecans, walnuts (Optional)
Cream Cheese Frosting
1/4 cup cream cheese
1/8 cup butter
1 cup powder sugar
1/2 tsp. vanilla
Instructions
Cut each biscuit into 6 equal pieces
In a medium size microwave safe bowl, melt butter. Add in Pumpkin and Pumpkin pie spice. Mix with whisk until well blended and creamy.
In a pie plate or shallow dish, mix together the sugar and cinnamon.
Preheat oven to 350 degree's.
Spray a 9 x 5 bread loaf pan with Baker's joy or grease and lightly flour pan.
Working in batches place 6-8 cut biscuit pieces into the pumpkin butter and roll till coated. Remove and place in the cinnamon sugar and roll to completely coat.
Place in layers into the bread pan until you have completed all the dough pieces.
Sprinkle with nuts
Place in the oven and bake at 350 degrees for 50-65 minutes until done. Check with toothpick. Be sure to check the middle so that it is not doughy.
Remove from oven and allow to cool 10-15 minutes.
Spoon out onto serving platter and drizzle with cream cheese frosting.
Frosting
In a small bow cream together the cream cheese and butter till smooth.
Add in the powder sugar and vanilla.
Mix till well blended. If too stiff to drizzle place in microwave for 20 seconds, stir, and drizzle.
Recommended Products
As an Amazon Associate and member of other affiliate programs, I earn from qualifying purchases.
Nutrition Information:
Yield:
6 servings
Serving Size:
1
Amount Per Serving:
Calories:

509
Total Fat:

24g
Saturated Fat:

12g
Trans Fat:

1g
Unsaturated Fat:

10g
Cholesterol:

48mg
Sodium:

387mg
Carbohydrates:

73g
Fiber:

1g
Sugar:

62g
Protein:

5g