No-Bake Strawberry Cream Pie Quick Easy Show Stopping Dessert that is light, creamy, and loaded with Strawberry flavor!
It's Strawberry Season! (Can I get a Hallelujah?!!!)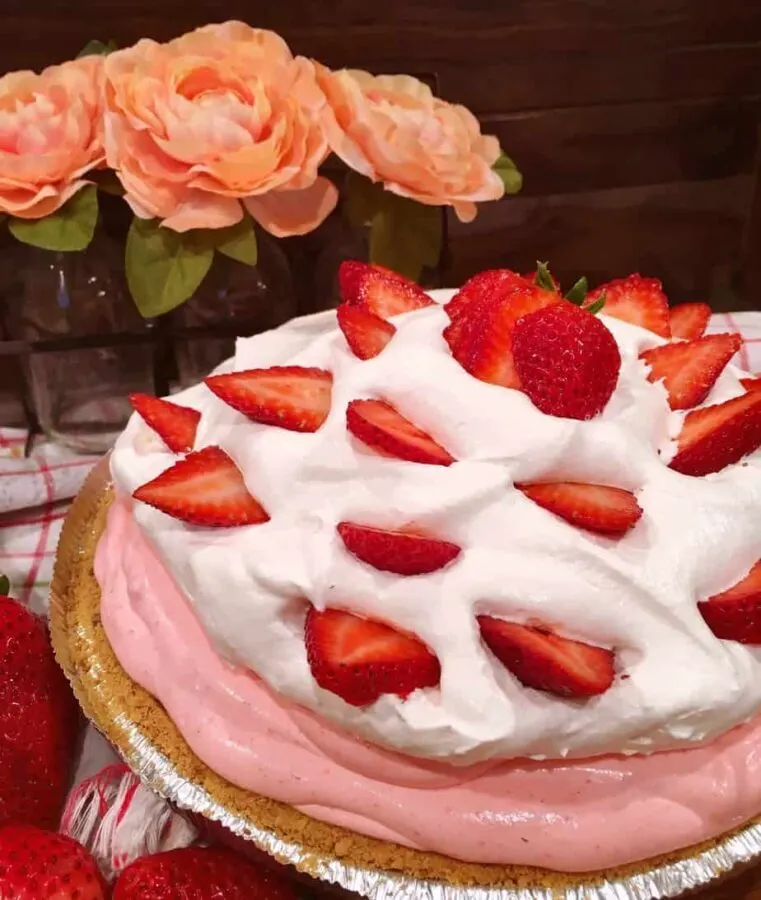 I've been waiting 365 days for Strawberry Season to arrive so that I could make this No-Bake Strawberry Cream Pie. Isn't it pretty? Don't ya just love pretty desserts…I do! (Course if it fell on the floor and was ugly…that wouldn't stop me…10 second rule applies to all desserts! ALL DESSERTS! lol)
I was so excited I ordered two flats of Strawberries last weekend. I guess I was planning on making 50 of these pies? Seriously…I have strawberries coming out of my ears!
I'm excited to share this recipe with you. It's not my own, I found it on Pinterest, and I did change a few things! (Cause that's just how I roll!) Truthfully I think this recipe has been made for years by our Grandmother's and Mother's!
It's so simple my 2 and 1/2-year-old Granddaughter helped me make this Strawberry Cream No Bake Jello Pie. She loved being Grandma's helper! This is a great dessert for the beginning chef's at your nest.
How To Make No-Bake Strawberry Cream Pie
In a medium bowl, or the bowl of your mixer, add one 8 oz. package of soften cream cheese and 1/4 cup of sugar.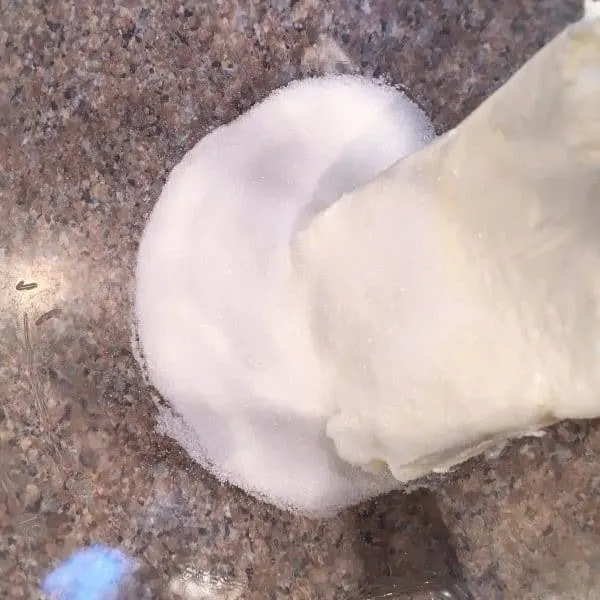 Mix on medium speed with the "whisk" attachment until well blended and creamy. Making sure to scrape down the side of your bowl. (Cream cheese likes cling to the sides of the bowl like a grown man clinging to his wife when he has to go to the doctor! lol)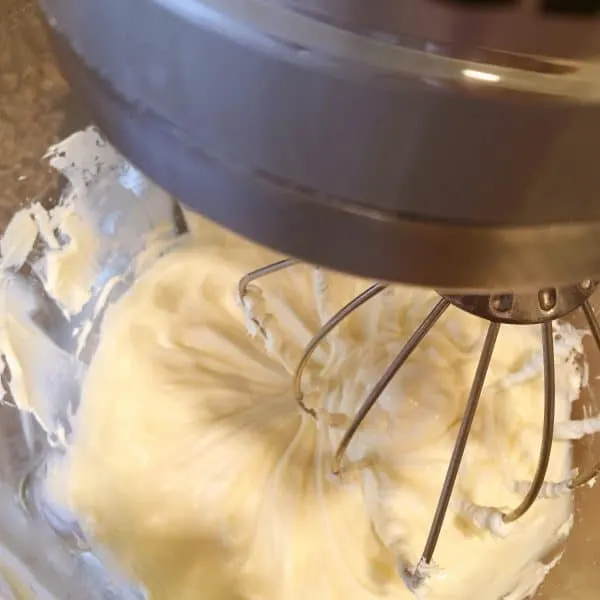 In a separate small bowl combine one 3 oz. package of Strawberry gelatin and 1 cup of milk!
I know! This all seems very strange…you're just gonna have to trust me.
Whisk, whisk, whisk! (Lawdy I thought my arm was gonna fall off!) Keep Whisking until the gelatin dissolves. (This will be the equivalent of watching your 4-year-old try to tie his shoes! Gahhhhh!) Can someone please tell me why it takes sugar so long to dissolve when ya want it too?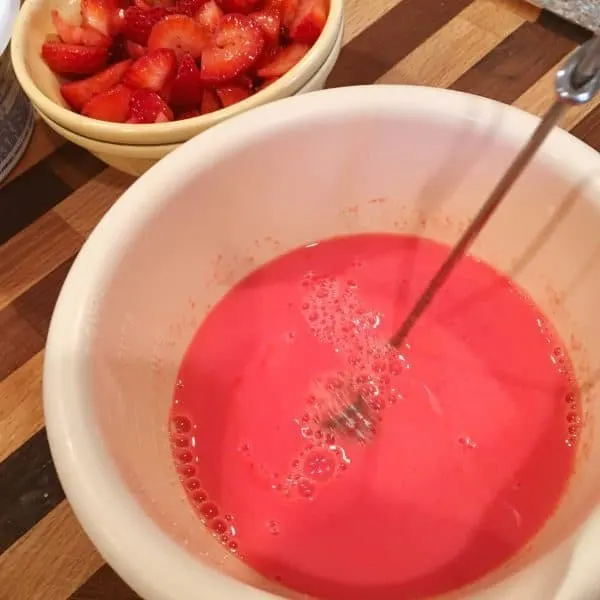 Slowly…(which is good cause you now have "limp arm". It's hanging there flopping about!)… pour the strawberry jello mixture into the cream cheese mixture on "low-speed".
You can place it on high speed…if you want to have a pink polka-dotted back splash and kitchen ceiling. I'll leave that up to you! lol I bake…I don't make major decorating decisions.
Be sure to scrape the bowl as you combine the two mixtures. (If ya need to…ask one of the kids to flop your arm up there with the spatula duct tapped to your hand! You got this!)
Remove the bowl from the mixer…(I'm not a big fan of dragging my mixer across the kitchen…plus…HELLO..limp arm!)…kinda nice that the bowl detaches!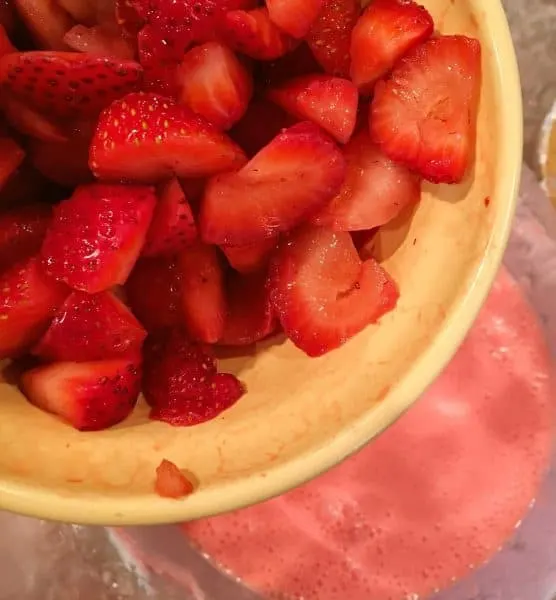 Stir in one cup of fresh (Insert heavenly choirs of angels singing) Strawberries!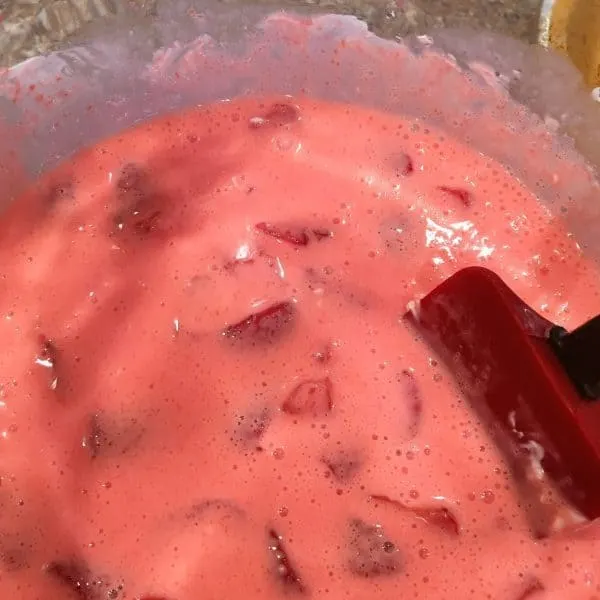 Now that the feeling has come back to your arm…fold in one 8 oz. container of Cool Whip! Continue to fold ingredients together until well blended. (That's my little granddaughter mixing this together!)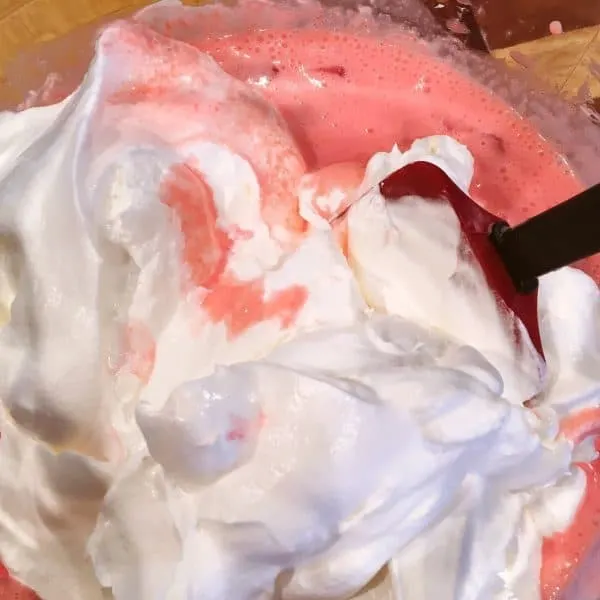 Pour mixture into prepared graham crust. (This was my favorite part of this recipe…besides eating it!) Like pouring a beautiful pink fluffy cloud into golden crumbs of deliciousness! Sigh!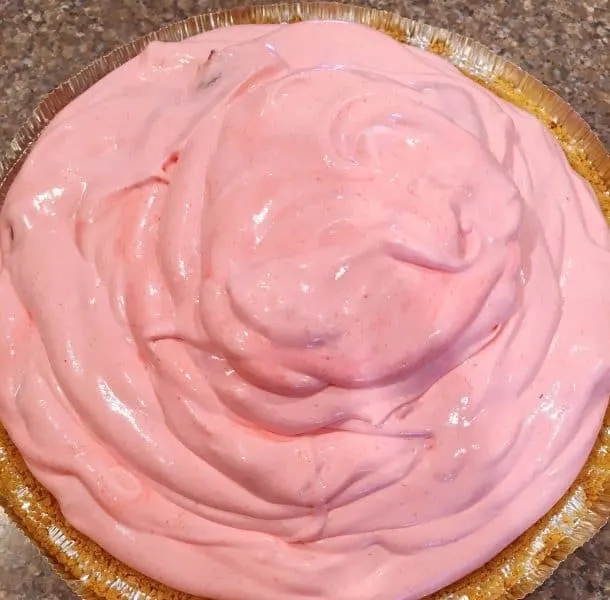 Chill for 2 hours.
Time to finish this "Pretty In Pink" dessert! (Oh…I'm sorry…did my "80's" just peek out from under my wrinkles?)
Finish this beautiful pie with 4-6 oz. of whipped topping! (It's like a cloud on top of a cloud!)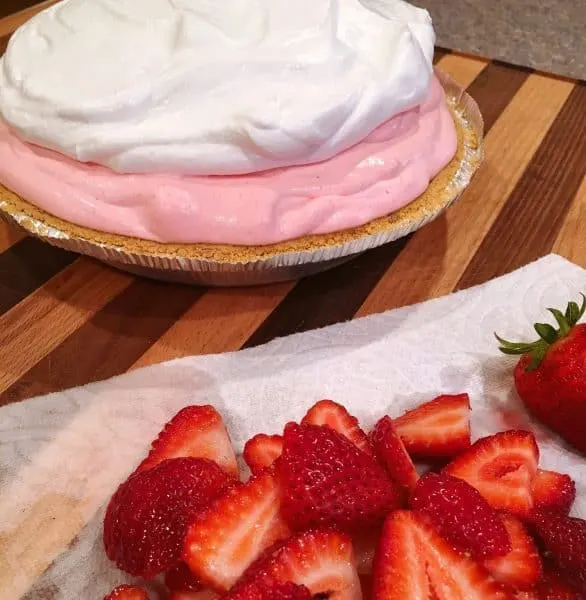 Decorate with fresh sliced strawberries. Poke them here and there and every where. Here a berry, there a berry, every where a berry-berry! (Nope…I haven't even had caffeine today! This pie just makes me super happy!)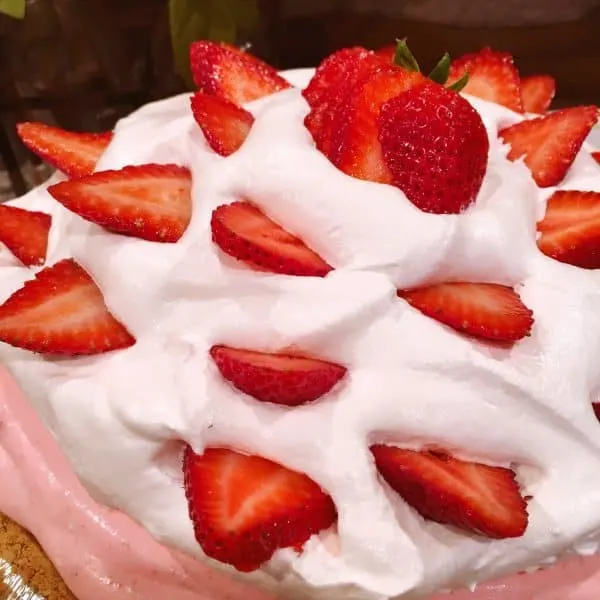 Now for the best part! Slice and serve. It holds it shape really well after slicing. It's creamy and dreamy! It will remind you of a light fruity cheesecake thanks to the cream cheese and fresh chopped strawberries.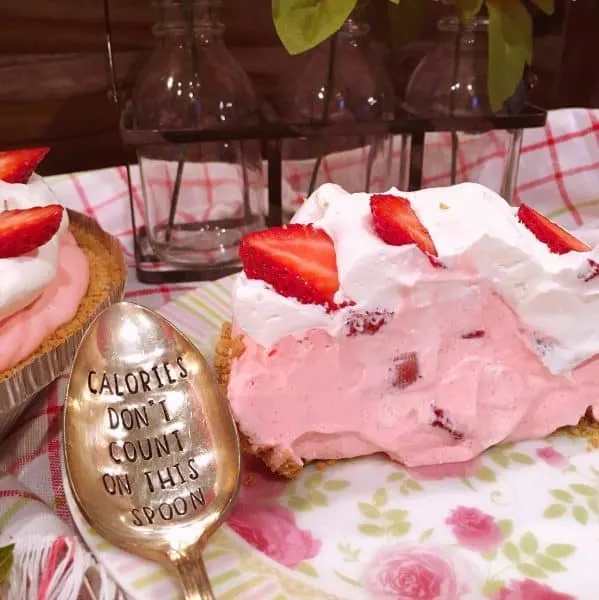 This dessert is a true show stopper! Perfect for Mother's Day or a Summer Family Dinner! Your guests will think it took you all day to make this beautiful dessert, when it only took minutes! (Hooray!)
Other Show Stopping Desserts your Family might enjoy!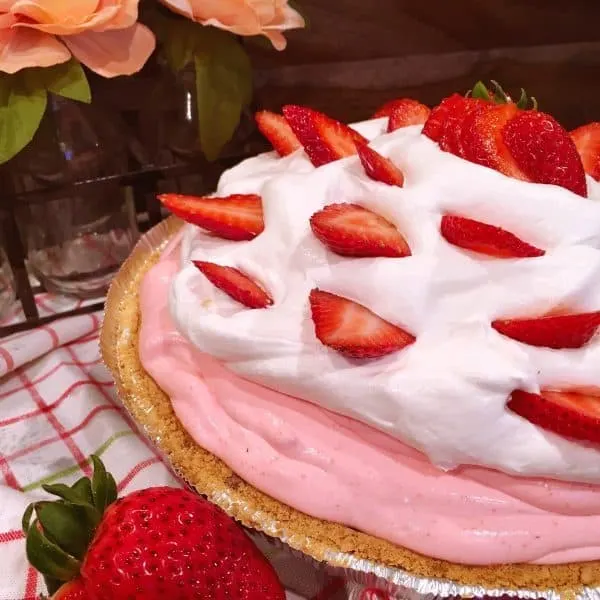 Thanks so much for stopping by my Nest and visiting with me. Enjoy! Printable recipe below.
Happy Nesting!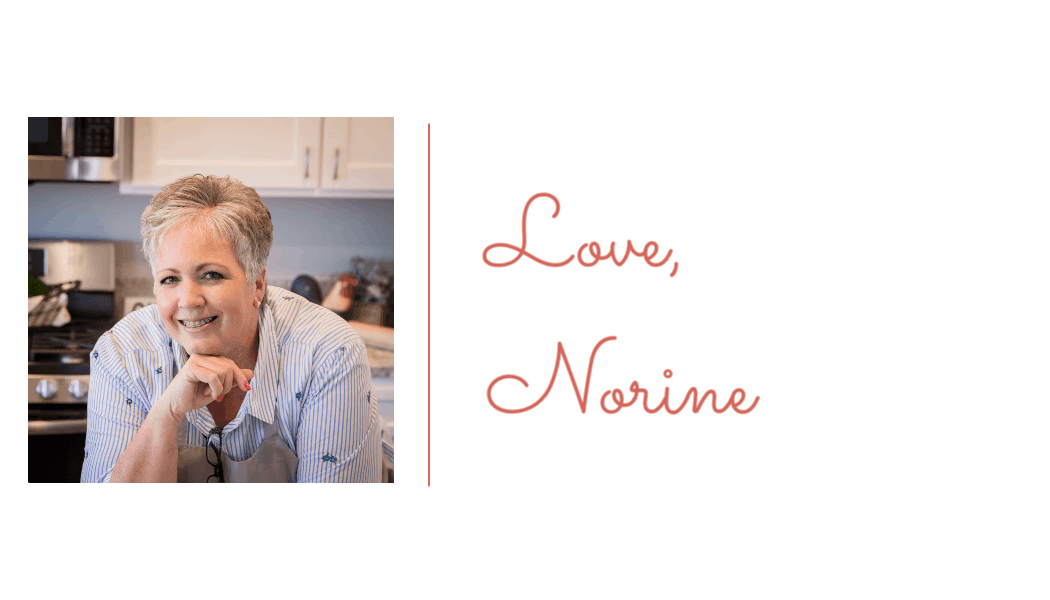 Yield: 8-10 servings
No-Bake Strawberry Cream Pie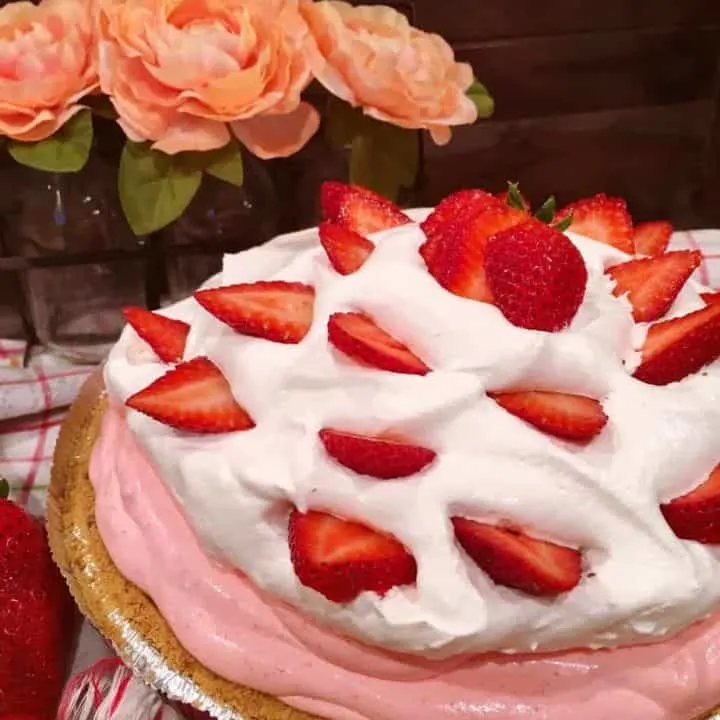 A Quick Easy Show Stopping Dessert that is light, creamy, and loaded with Strawberry flavor!
Total Time
2 hours
10 minutes
Ingredients
1 prepared Graham Cracker Pie Crust
1 (8 oz.) package, cream cheese, softened
1/4 cup of sugar
1 cup milk
1 (3 oz.) package Strawberry Jell-o
1 Cup Fresh Strawberries, chopped
8 oz. (half of a 16 oz. carton) whipped topping, thawed
Toppings
4-6 oz. of remaining whipped topping, thawed
1 - 1 1/2 cups sliced Strawberries
Instructions
In your mixer bowl, with the whisk attachment, cream together cream cheese and 1/4 cup of sugar until smooth and creamy. Scrapping down sides of bowl.
In a separate bowl or cup, pour the strawberry gelatin mix into the milk, and stir until dissolved. With the mixer running on low, and fitted with that whisk attachment, gradually pour the milk mixture into the cream cheese mixture, stopping occasionally to scrape down the sides of the bowl. Continue until milk cream cheese mixture is smooth.
Using a rubber spatula, fold in the chopped strawberries. Fold in 8 oz. of the whipped topping until mixture is completely combined. Pour the filling into the prepared crust and refrigerate for at least 2 hours.
Just before serving, top the pie with additional whipped topping. Add the sliced strawberries to the top of the whipped topping. Slice and Serve.
Notes
Total time includes 2 hours of "Chill" Time.
Recommended Products
As an Amazon Associate and member of other affiliate programs, I earn from qualifying purchases.
Nutrition Information:
Yield:
10 servings
Serving Size:
1 slice of pie
Amount Per Serving:
Calories:

375
Total Fat:

23g
Saturated Fat:

17g
Trans Fat:

0g
Unsaturated Fat:

5g
Cholesterol:

5mg
Sodium:

136mg
Carbohydrates:

40g
Fiber:

1g
Sugar:

28g
Protein:

3g