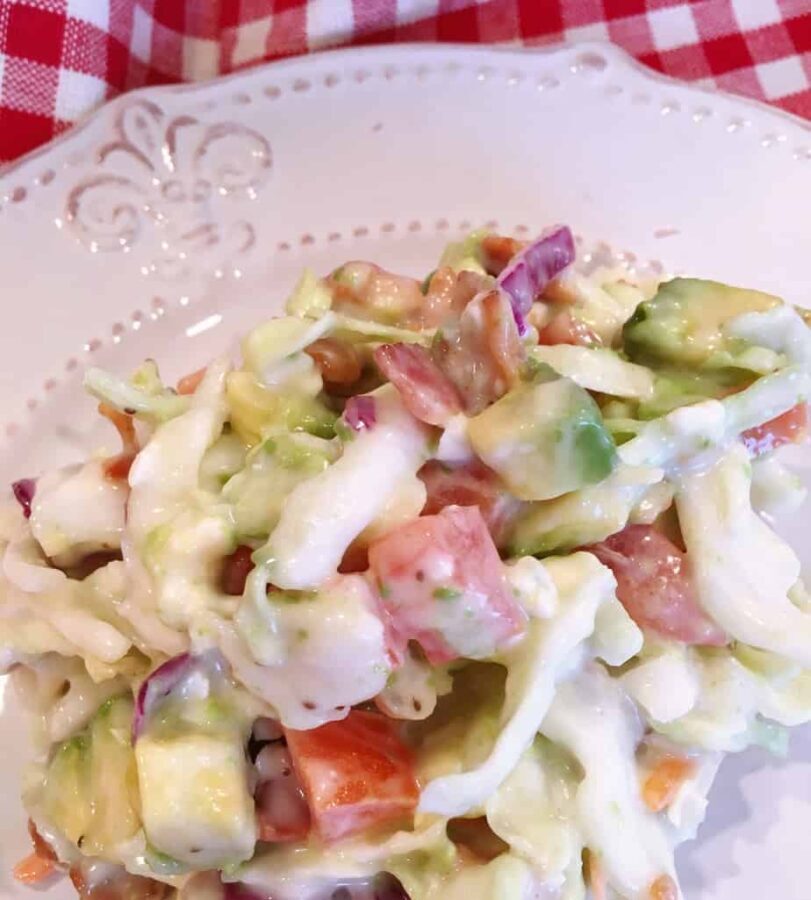 Classic Coleslaw gets a make over with this delicious California Slaw by adding blue cheese, bacon, tomato, and avocado. The Blue Cheese adds a deep rich flavor to this spectacular slaw!
Several years ago I was looking for a salad I could serve with BBQ chicken. I didn't want all the regular salad guests at my table.
*As an Amazon Associate I earn from qualifying purchases. This post may contain affiliate links, which means that I may make a commission from any purchases at no additional cost to you. Thank you for your support!
Ya know…potato, jello, coleslaw, crunchy Asian,… blah, blah, blah! (Snore…which happens a lot at this house!) Not that those aren't all wonderful salads. I just wanted something NEW and different!
That's when I stumbled upon this California Slaw! I was so intrigued by the list of ingredients and it's simplicity! (I'm always "All-in" when a recipe is easy and delicious!)
I'll admit I was a tad skeptical of "bottled" coleslaw dressing mixed with blue cheese? I mean…talk about out of the ordinary!
My fears were quickly laid to rest! It was love at first bite! To make sure my emotions weren't playing tricks on me…I had another bite…and another…and another. Yep! It was true love! (Shhhh…I don't want Mars to know!)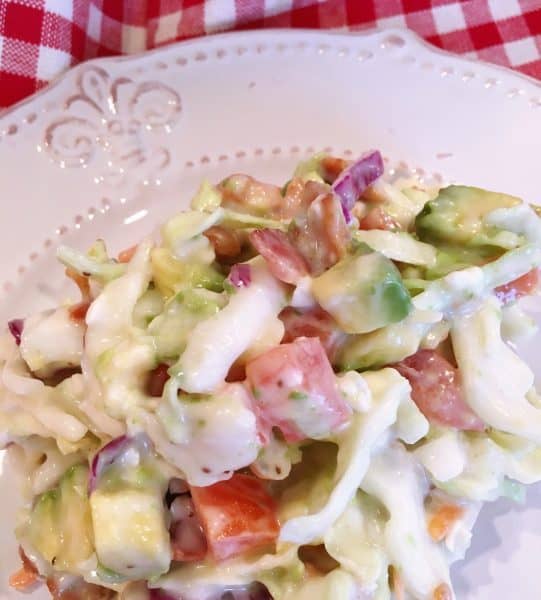 Now I know some of you are going to run from this recipe screaming because it has "blue cheese"! (Stop it! It can't help that it's blue!) I'm a big blue cheese lover.
In this salad its spectacular! The blue cheese adds a deep, rich flavor to this sensational salad! Throw in the avocado for extra creaminess and that crunchy smokey bacon…and hang on to yer taste buds my friends!
TIP: This is a "two-part" salad recipe. You'll want to mix the first half together and then chill. Right before serving gently toss in the avocado and tomatoes.
Let's do this!
How To Make California Coleslaw
In a large bowl add one package of shredded cabbage. I like to use the coleslaw mix with carrots and red cabbage for the extra "pop" of color! It's so pretty! (Food should be pretty!) Add 1 cup of Blue Cheese Crumbles.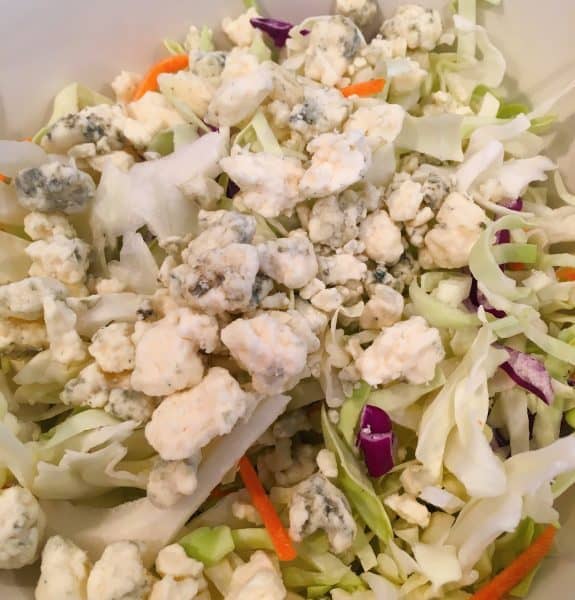 Next add in 1/2 cup fresh Bacon Bits.
Tip: I think making your own bacon bits adds more flavor to this salad. I like to cook up a pound of bacon all at once and then store in a zip lock bag and use as needed.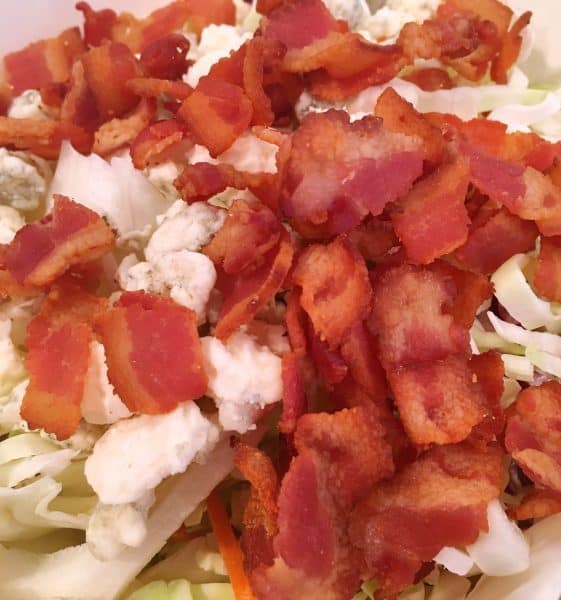 The original recipe calls for Marzetti Slaw Dressing. I couldn't find that here in my little ol' country town. I used 1 1/2 cups of Litehouse Coleslaw dressing found in the refrigerated section of your produce department.
You may want to go easy on the dressing and add more to it as necessary! I like to about 1 cup of dressing for this salad.
Add dressing and gently fold ingredients together. Cover and Chill.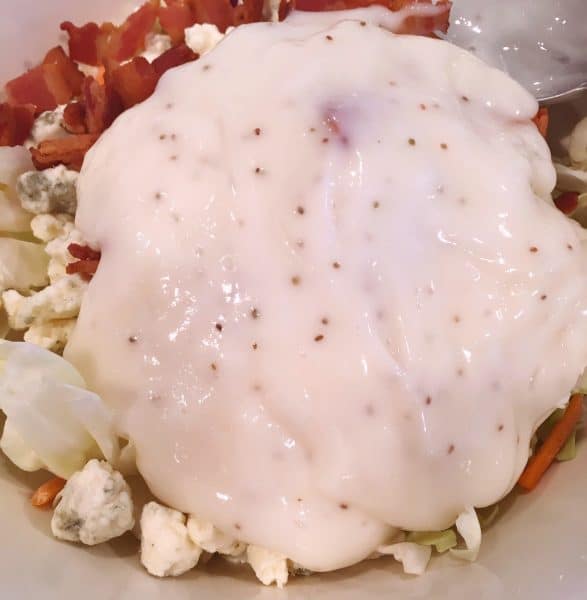 Just before serving dice up one large ripe Avocado and one large Tomato. Look at the pretty colors! (There's that "pretty" word again!)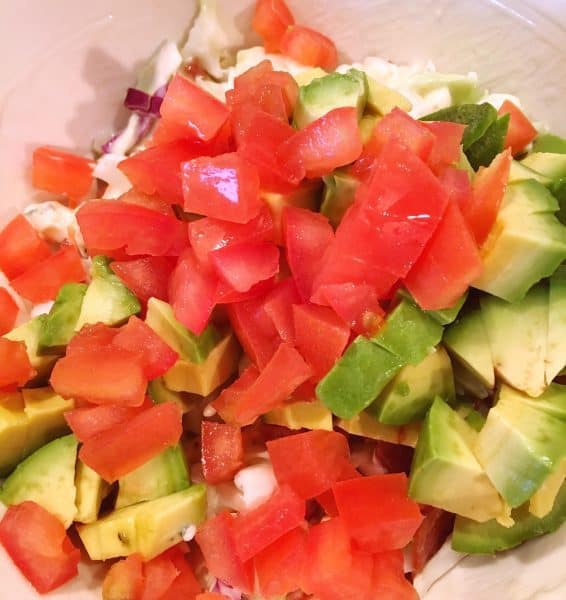 Add to Salad and Toss gently. (The key here is the word "gently"…unless you want stringy guacamole! lol)
Do a taste test and season with salt and pepper to fit your individual likes. I think it's fine as is…but I know some of you may want to kick it up with a little "spice"!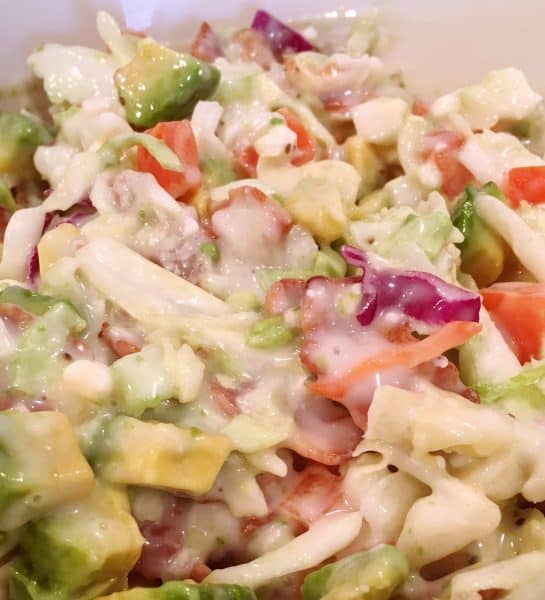 My mouth is watering just looking at this photo! Honestly those "bits" of blue cheese mix with each bite, and the flavor truly is OUT OF THIS WORLD!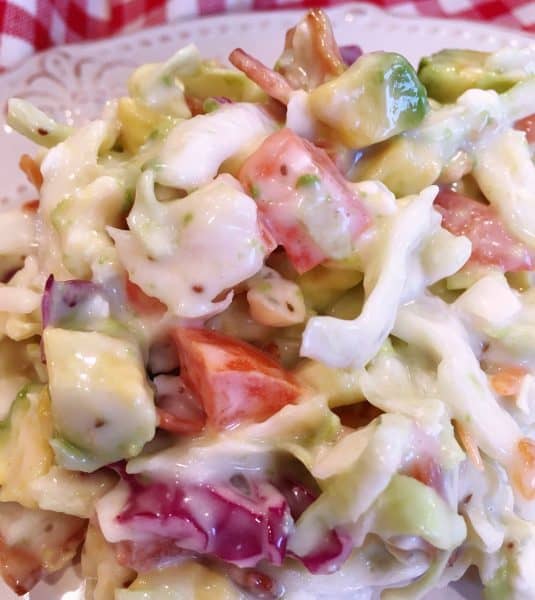 This California Slaw pairs so beautifully with so many main dishes. Grilled Chicken, Ribs, Hamburgers, Pork Chops, Steak…I think I'm ready for grilling' season! (Goodness me…I'm drooling' over here! Not to worry. It will just land on my chest with my lunch! Real life boob problems! Yes I just said "boob"! Watch Google pick that word out instead of coleslaw! lol)
There you go! A quick, easy, delicious salad with a great twist on the classic!
It's always amazing to me how just adding a few different flavorful ingredients can really dramatically change an everyday recipe into a 5 star dish! (I wonder if changing my blush would have the same effect? Hmmmm?)
Favorite Salads to enjoy with your grilling recipes
Remember to sign up for my bi-monthly Newsletter! It's a great way to see what's happening here at my Nest.
You can also follow me on Facebook, Pinterest, Twitter, and Instagram. I also share recipes I'm working on in my Insta-stories on Instagram. There are limitless ways I can be an annoying part of your daily life! lol
Have a wonderful week friends and Happy Nesting!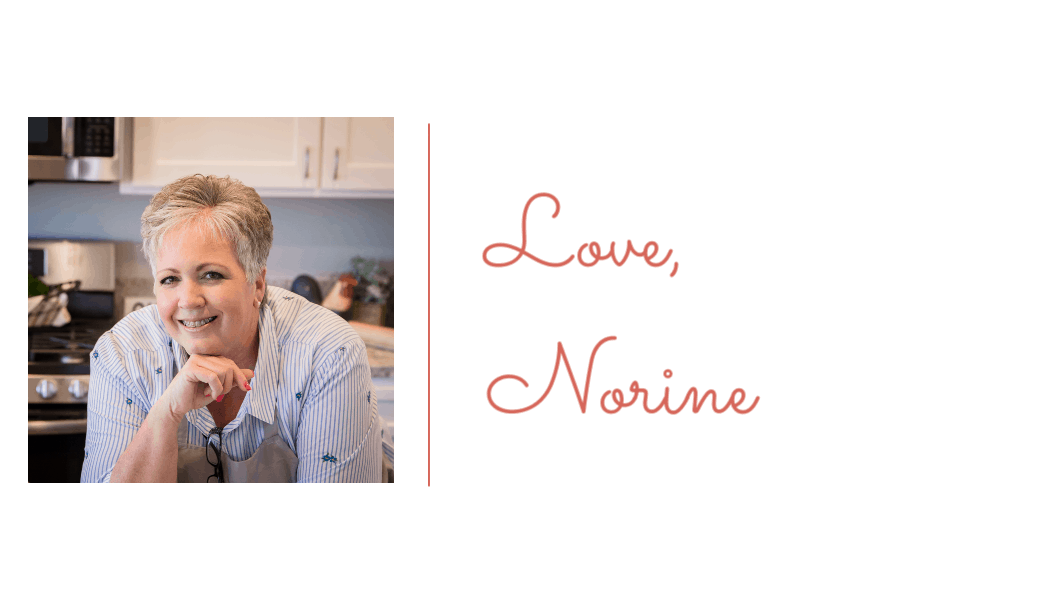 Yield: 8 servings
California Slaw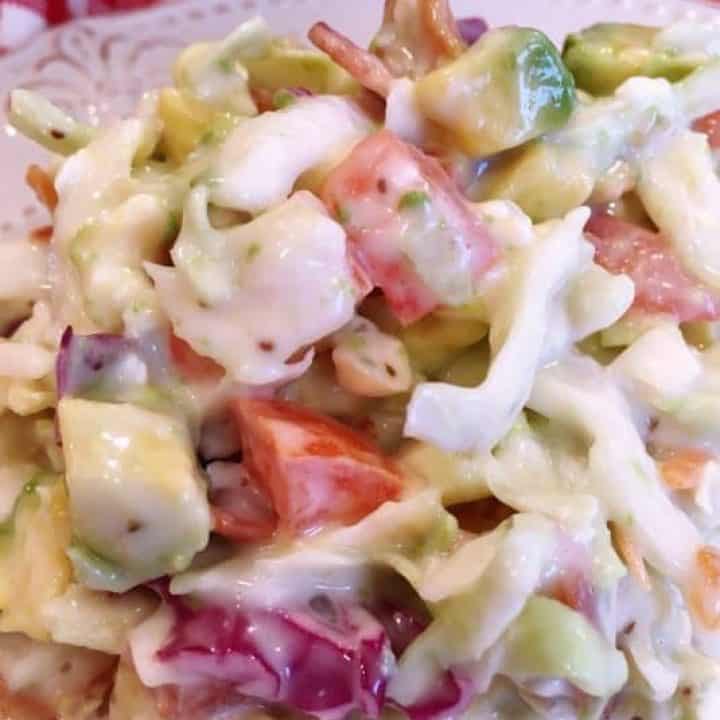 Classic Coleslaw gets a make over with this delicious version by adding blue cheese, bacon, tomato, and avocado. The Blue Cheese adds a deep rich flavor to this spectacular slaw!
Ingredients
1 package shredded coleslaw mix or cabbage
1 cup Blue Cheese Crumbles
1/2 cup fresh Bacon Bits
1 large Avocado, peeled and diced
1 Tomato, seeded and diced
1 1/2 cups Litehouse Slaw dressing
Instructions
Combine cabbage mix, blue cheese crumbles, and bacon bits in a medium serving bowl. Fold in Litehouse Slaw Dressing. Chill till ready to serve.
Just before serving, add avocado and tomato. Toss gently.
Recommended Products
As an Amazon Associate and member of other affiliate programs, I earn from qualifying purchases.
Nutrition Information:
Yield:
8 servings
Serving Size:
1/2 cup
Amount Per Serving:
Calories:

343
Total Fat:

28g
Saturated Fat:

7g
Trans Fat:

0g
Unsaturated Fat:

20g
Cholesterol:

26mg
Sodium:

684mg
Carbohydrates:

19g
Fiber:

3g
Sugar:

12g
Protein:

7g