This spectacular Raspberry Bread Pudding is a Copy Cat of Kneader's Raspberry Bread Pudding with Vanilla Cream Sauce. Traditional hearty Country French Bread is soaked in a rich creamy egg vanilla batter, layered with fresh raspberries, topped off with more delicious vanilla cream soaked bread… and baked to a golden crisp. The finishing touch is a healthy drizzle of a decadent delicious warm vanilla cream sauce.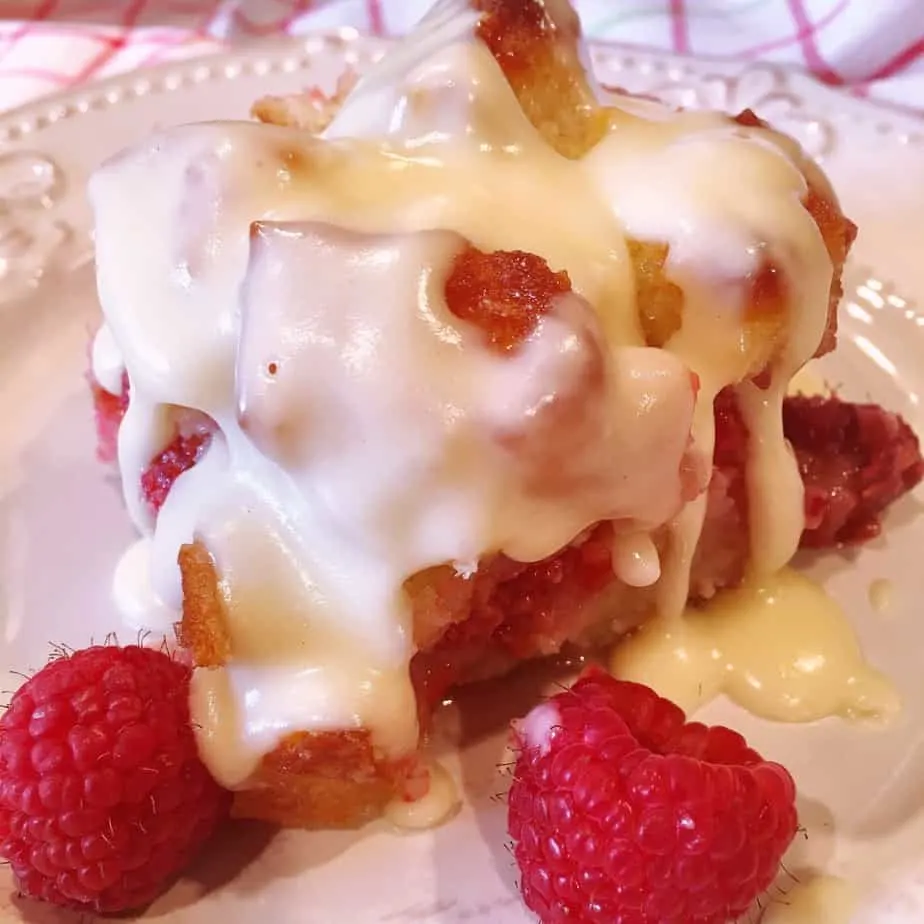 This dessert is why the word "Yum" was invented!
Last year I was having lunch with my daughter at one of our favorite local bakeries…"Kneaders". They have the most amazing sandwiches and baked goods.
Their front door is the gateway to "Carb Heaven"! (I seriously hear angels singing every time I enter!) Any who…I decided to try a new dessert from their repertoire.
I strayed outside my chocolate comfort zone and ordered a piece of their Raspberry Bread Pudding with Warm Vanilla Cream Sauce. A small disclaimer here…I'm not generally a huge bread pudding fan. (My dearly departed English relatives all just gave one collective sigh of disgust!)
However…in an attempt to redeem myself…I went with the Bread Pudding. OH. MY. WORD! Friends! There are desserts and there are DESSERTS!
From the first fantastic bite, until I was licking the last drop of cream sauce off my finger (Yes! I ran my finger around the dish collecting every last tiny morsel! I have no shame at all…and I'm proud of it!) I was in dessert ecstasy.
I had to make this Raspberry Bread Pudding at home. A dessert this good needs to be available to all! This is identical to Kneaders! Maybe even better? (Sorry Kneaders)
Okay, so this isn't a low-fat, low-calorie friendly dessert. (Who wants to be friends with them anyway?) If you're looking for that…this isn't it! This is a truly decadent dessert and I'm not making any apologies for it. Not when it's this good!
How To Make Raspberry Bread Pudding with Vanilla Cream Sauce
Start with the raspberry filling. We want the raspberries to have time to release all their juices and the sugar to dissolve.
In a medium bowl place fresh raspberries, sugar, and apple juice.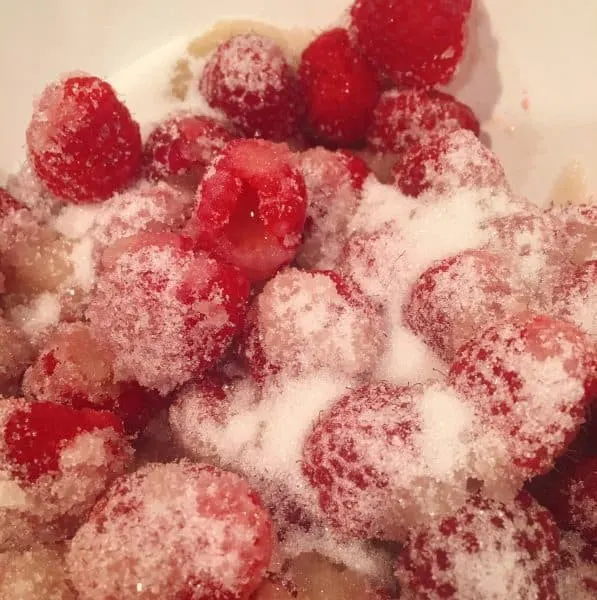 Gently fold the mixture together, being careful not to smash the raspberries. Now set them aside and let them "macerate". That's a cooking term for allowing fruit to sit in liquid.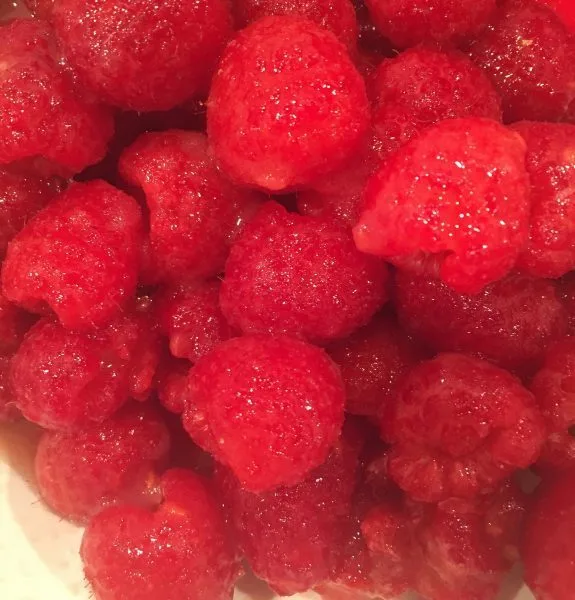 Bread and Vanilla Cream Mixture
Cut bread into 1 to 1 1/2 inch cubes.
In a large mixing bowl combine together cream, sugar, egg, and vanilla. Mix until smooth and creamy.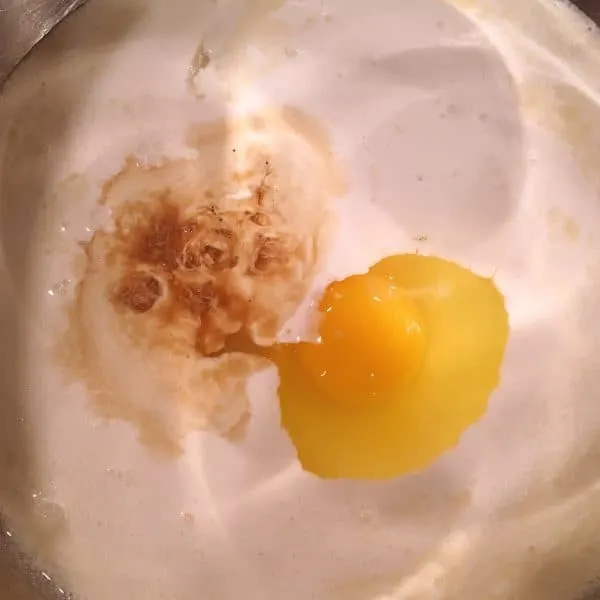 Add prepared bread squares. Allow to soak for 30 minutes gently turning every five minutes. Make sure you turn from the bottom and fold over the top. You want the bread cubes to absorb as much of the cream batter as possible.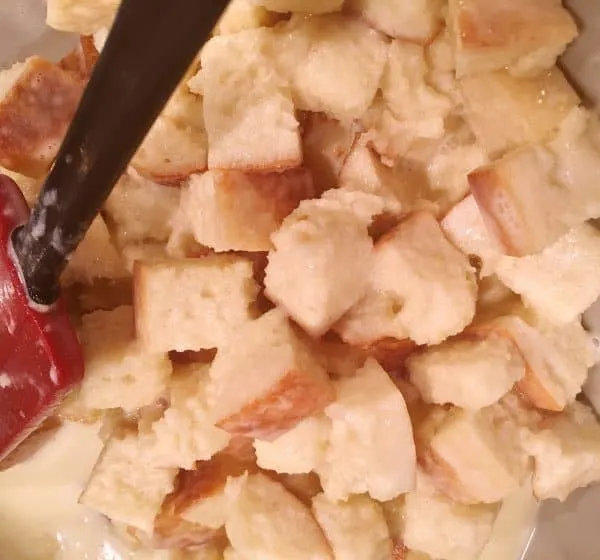 Assembling the Bread Pudding
Preheat your oven to 375°. Prepare a 9 x 13 baking dish by spraying with non-stick cooking spray.
Add 3/4 of the bread mixture to the bottom of the dish.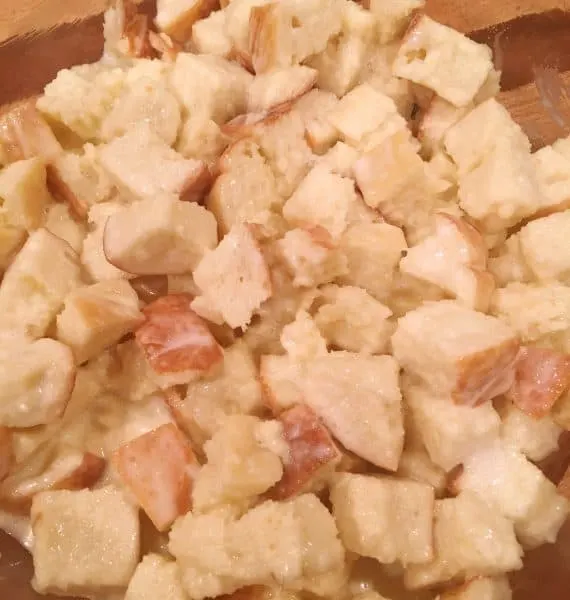 Add Raspberry mixture on top of the bread mixture. Note…You should be drooling by now! Isn't that beautiful.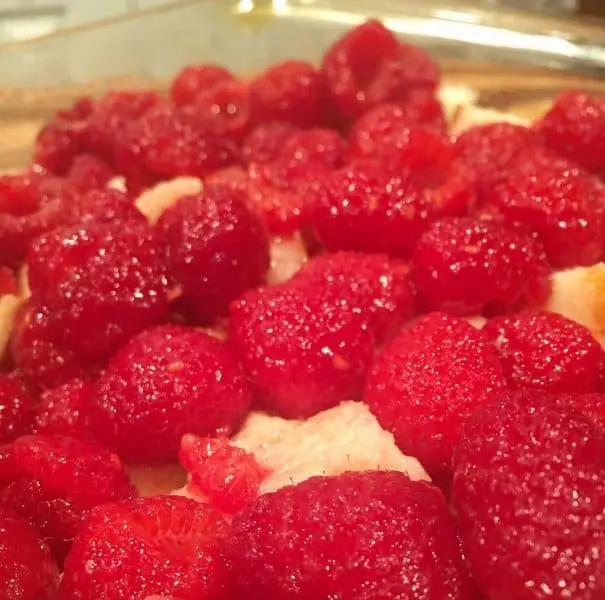 Add remaining soaked bread cubes. Gently push them down to compact the ingredients slightly.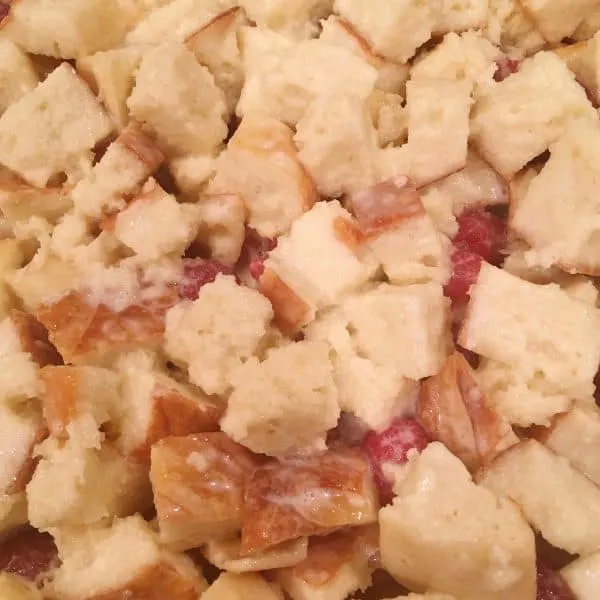 Baking Bread Pudding to Perfection
Place in the center of your oven rack . Set the timer for 40 minutes. Start warming up those taste buds! Cause they're in for the taste treat of a lifetime!!!
When the Bread Pudding is done…it will have spectacular golden crusty peaks with bubbling raspberry filling peeking out from under that golden top! (Isn't that beautiful and completely calorie worthy!)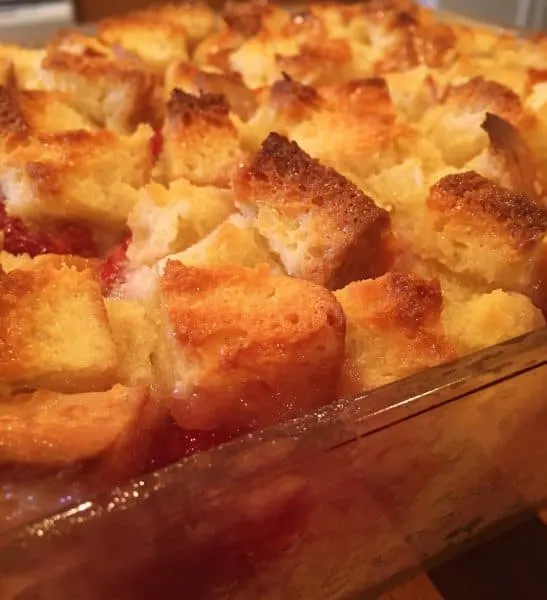 How to Make Vanilla Cream Sauce
Next you'll want to make the swooney (I'm not sure that's a word…but who cares! Ya get what I'm saying right?) Vanilla Cream Sauce! This cream sauce takes a fantastic dessert and elevates it too magnificent!
In a medium size sauce pan melt 1 1/3 cups butter. Add 5 Tablespoons of flour and whisk into melted butter. Stir 10 minutes until it has a nutty aroma. Do NOT brown the mixture. It should still be light in color.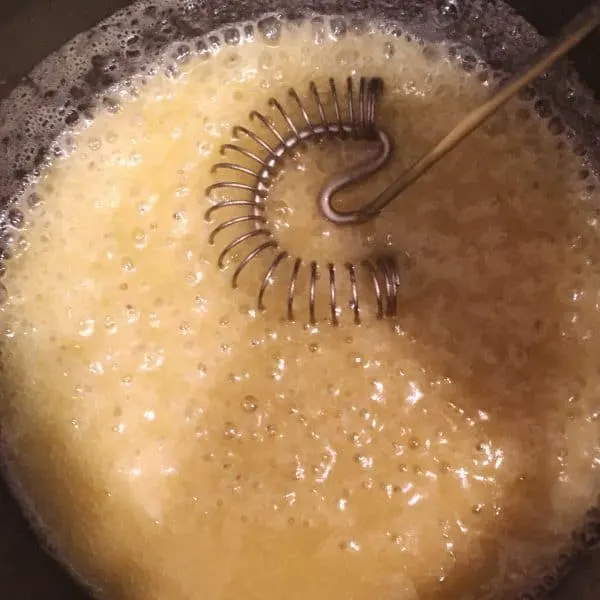 Add salt, a million gallons of cream (I'm kidding!)… add 3 cups…just shy of a million gallons. lol Now it's time to add the sugar. Continue stirring over low heat until mixture thickens slightly.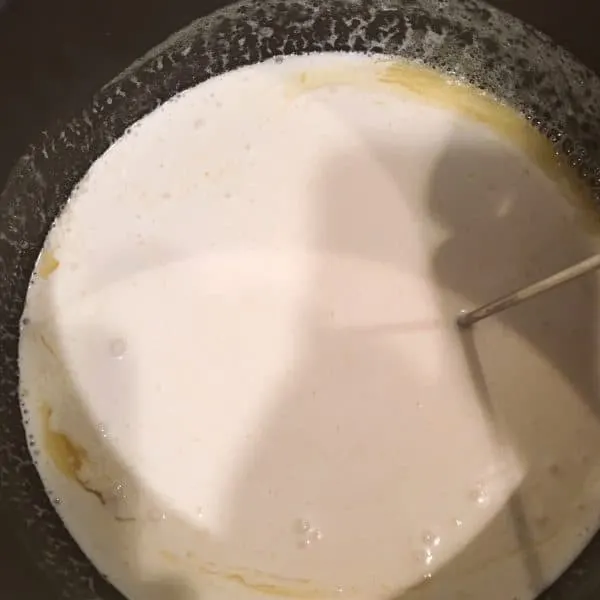 Remove from heat. Add in vanilla. Stir until smooth and creamy.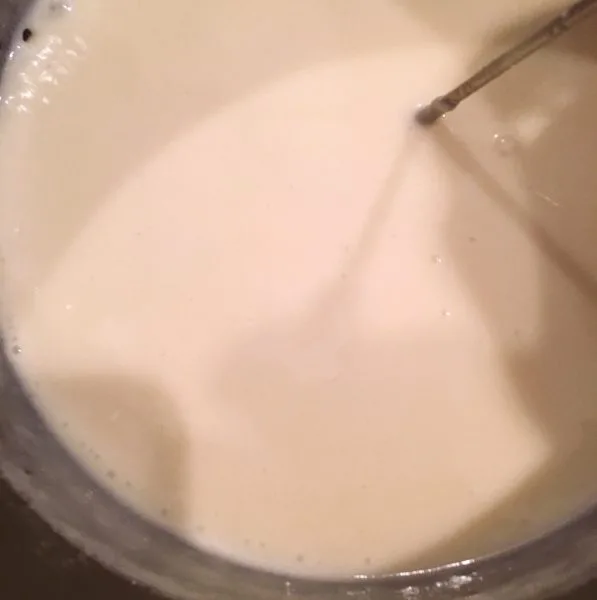 Cut your Raspberry Bread Pudding into squares. Serve the warm Vanilla Cream Sauce drizzled over that spectacular warm Raspberry Bread Pudding.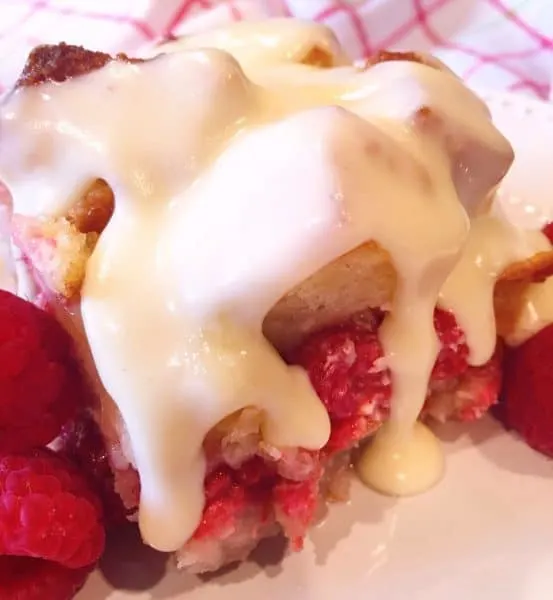 A Few Helpful Tips About This Dessert
If you want perfect squares chill this dessert for several hours before cutting and serving. Then heat up each serving of the bread pudding in the microwave for 20-25 seconds. Drizzle with warm Vanilla Sauce.
Vanilla Sauce can be made ahead of time, stored in the refrigerator, and reheated. If too thick add a little extra cream to thin to the consistency desired.
You can use frozen Raspberries in this recipe.
This recipe can be cut in half and made in an 8 x 8 glass baking dish. Reduce all ingredients by half EXCEPT for the egg. Still add one egg. (I don't know about you, but the last time I tried to cut a raw egg in half it was disaster! I don't recommend it! lol)
Use the best possible quality ingredients. This dessert is simple and easy to make, but a little pricey. It's worth every penny. I promise!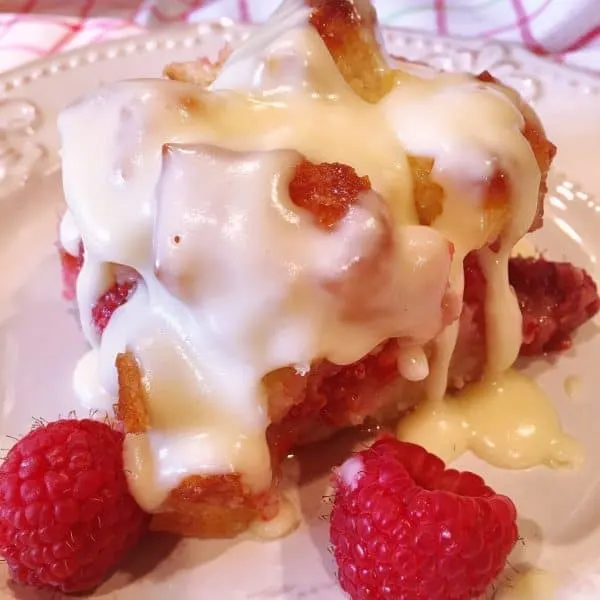 All you need now is a fork….and a bib! (You're gonna drool! Just embrace it!)
Nesting Friends…this dessert was taste tested by a group of my friends. I can promise you…every single one of them was raving about this Raspberry Bread Pudding.
It's the perfect combination of flavors and textures. Throw in the mandatory… (Yes! It's Mandatory!)… Vanilla Cream Sauce…let's just say…food love was in full swing!
Raspberry Bread Pudding with Vanilla Cream Sauce is the perfect Easter dessert for your Holiday dinner table. Actually it's perfect any time and for any occasion! It's truly spectacular. I sincerely cannot recommend this dessert enough.
Here are some of my other favorite Holiday Dessert Recipes
Thanks for joining me today! Please sign up for my be-weekly Newsletter that comes out every other Friday. I'd love to share with you what's happening at my Nest!
Happy Nesting My Friends!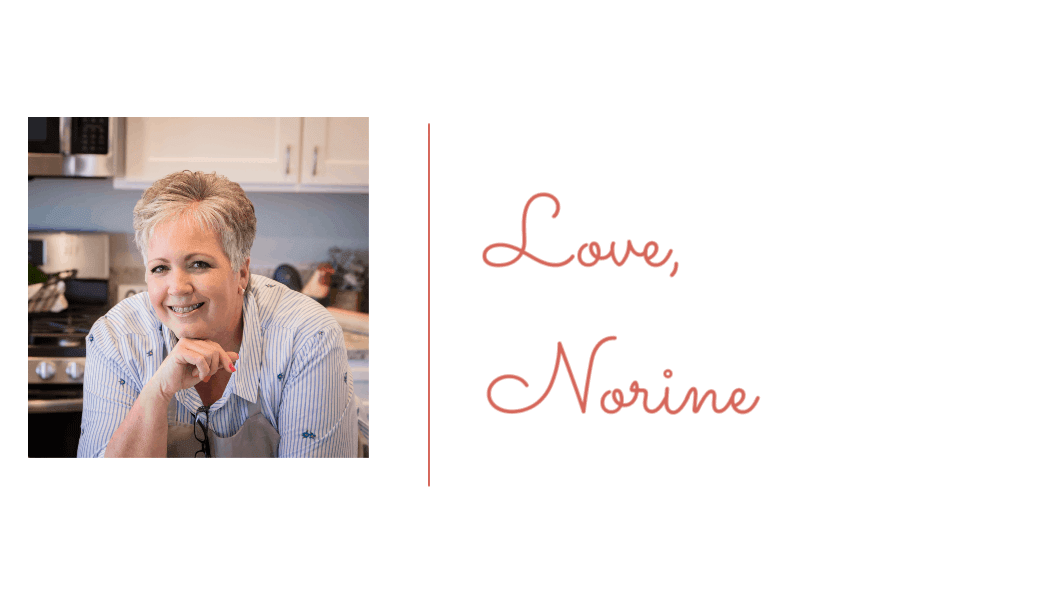 Yield: 12 servings
Raspberry Bread Pudding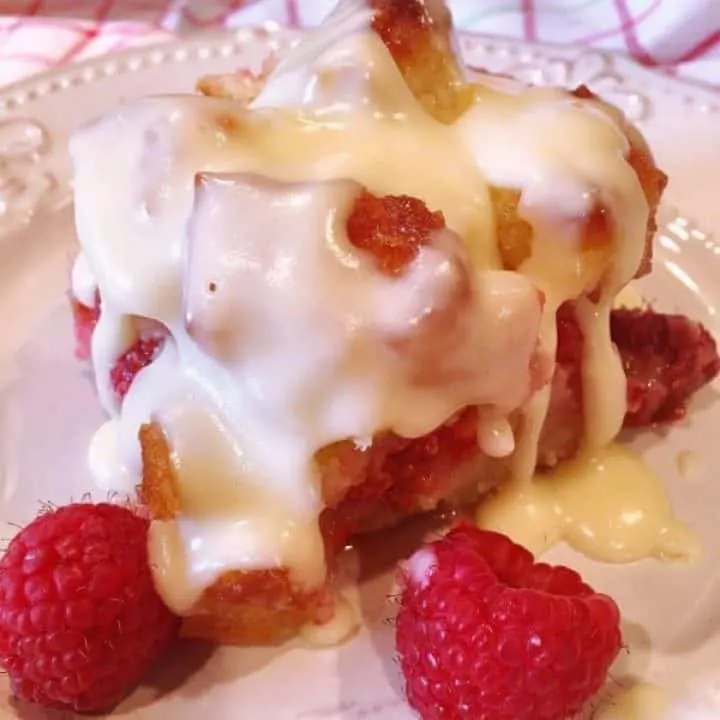 A delicious mouth-watering Spring Bread Pudding with a filling of fresh Raspberries and topped with an amazing warm Vanilla Cream Sauce. Each bite is better than the one before! It's a truly Heavenly Dessert and So Easy to Make.
Total Time
1 hour
10 minutes
Ingredients
1 1/2 loaves aged or day old, White French Country Bread (or any heavy type bread)
1 quart heavy cream
3 Cups Sugar
1 egg
1 tsp. vanilla
5 Cups Raspberries, fresh or frozen (Mine are fresh)
1 Cup Sugar
1/2 Cup apple Juice
Vanilla Cream Sauce
1 1/3 Cup Butter
5 Tablespoons Flour
3 Cups Heavy Cream
1/2 teaspoon salt
2 teaspoons vanilla
2/3 Cups Sugar
Instructions
Raspberry Bread Pudding
Preheat Oven to 375°. Prepare a 9 x 13 glass baking dish by spraying with non-stick cook spray.
In a large bowl mix the cream, sugar, egg, and vanilla until smooth and creamy.
Cut bread into 1 - 1 1/2 inch cubes and add to cream mixture, coating the bread well. Let stand 30 minutes. Stir bread mixture every 5 minutes to allow cream to absorb.
In a separate bowl mix the raspberries, sugar, and apple juice. Stir until sugar is dissolved. Set aside.
Layer a 9 x 13 inch baking pan 3/4 full with bread mix. Pour Fruit filling over the bread mixture, spreading evenly.
Top with remaining bread. Bake 40 minutes at 375°.
Serve warm topped with vanilla cream sauce (see directions below)
Warm Vanilla Cream Sauce
Melt butter in medium saucepan over medium heat. Add flour. Stir with a whisk. Stir 10 minutes until it has a "nutty" aroma. Do not allow to brown.
Add salt, cream, and sugar until mix is thick. Remove from heat and stir in vanilla. Serve warm over the pudding.
*See Additional Tips below
Notes
If you want this dessert to cut into nice squares, chill it before hand and then cut it into squares. Then microwave each piece for 20-25 seconds and top it off with the warm vanilla cream sauce.
Recommended Products
As an Amazon Associate and member of other affiliate programs, I earn from qualifying purchases.
Nutrition Information:
Yield:
12
Serving Size:
One square
Amount Per Serving:
Calories:

1013
Total Fat:

71g
Saturated Fat:

45g
Trans Fat:

3g
Unsaturated Fat:

21g
Cholesterol:

227mg
Sodium:

307mg
Carbohydrates:

93g
Fiber:

4g
Sugar:

85g
Protein:

6g