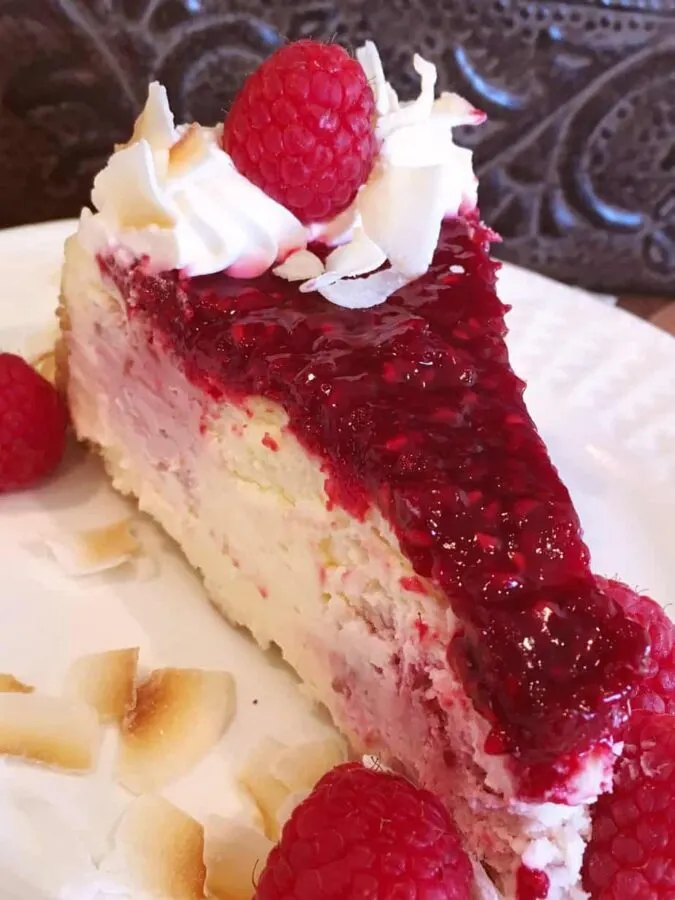 A light decadent buttery coconut amaretto crust is piled high with rich creamy coconut cheesecake swirled together with raspberry cheesecake, topped with fresh raspberry glaze, whipped cream, and garnished with fresh raspberries and toasted coconut flakes. (Get those drool cloths ready!)
I wanted an incredible dessert for Easter. The show stopper of any great meal is the "big finish"! I know that my Raspberry Bread Pudding would be fantastic…but "someone" at this Nest doesn't like bread pudding. (I know!!!) However…He does love Cheesecake! (This is why we're married! Well that…and his baby blues! Swoon worthy!)
So, I created this beautiful Coconut Raspberry Cheesecake! I decided to take two of our favorite flavors and combine them! This recipe is 100% all mine! (I feel it's worthy of a Noble prize! Just my personal opinion…but I think it could be life changing! lol)
Coconut Raspberry Cheesecake is by far THE BEST CHEESECAKE I have EVER had pass between my lips and slide on down to my thighs! (Trust me…I've got lots of cheesecake on those puppies!) It's so good I didn't care where it was landing on my body when I was "taste testing"! (It's my JOB! I HAVE to do it! Okay…fine! Maybe I didn't have to try three slices to come to this conclusion! I didn't want to leave it up to chance. lol)
How good is it? It's SO good…when I die…I want a slice of this in the coffin with me…just in case!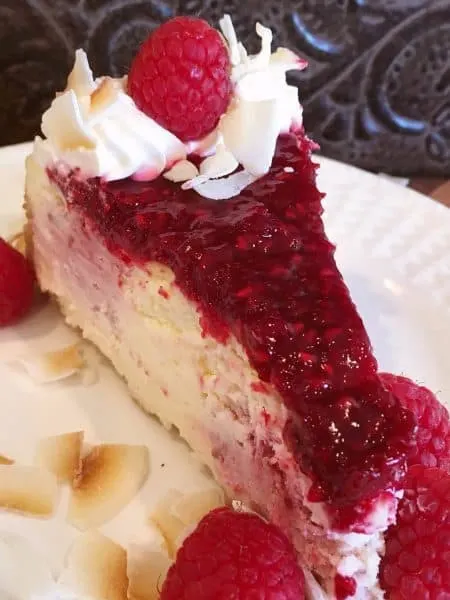 How to Make Coconut Raspberry Cheesecake
Pre-make your Raspberry Sauce by placing 1 thawed 12 oz. package of raspberries in a medium sauce pan over medium-low heat. Add 1/2 cup granulated sugar and 2 Tablespoons of Cornstarch. Mix well.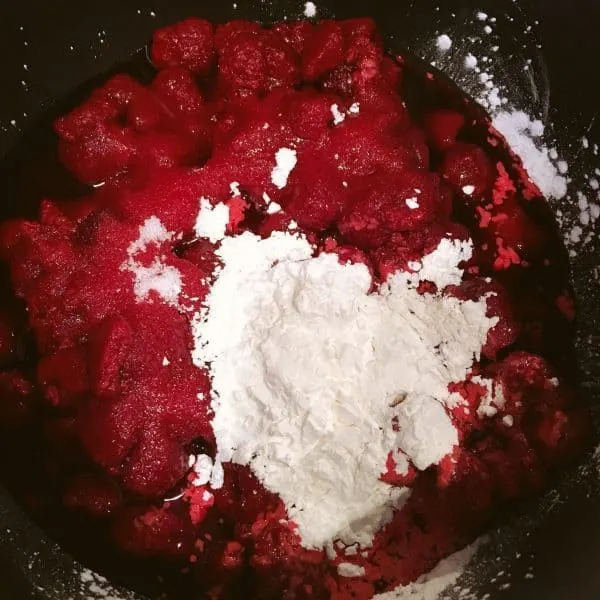 Stir continually until mixture thickens! You should have this beautiful ruby-red sauce.
You can, if you want…at this point, strain the sauce to remove the seeds. I did not. I love the seeds in my raspberry dishes! I want the whole raspberry experience!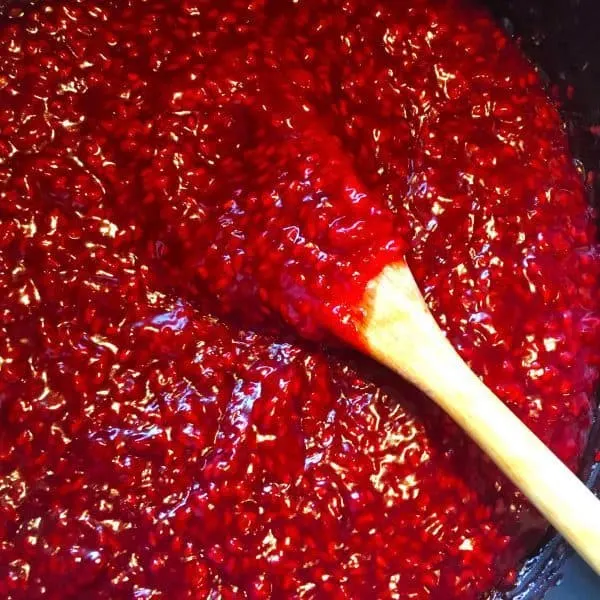 Place Raspberry Sauce in a covered bowl and place in the refrigerator to cool.
In food processor crush 3/4th of the coconut cocada cookies until a fine crumb. Place in a small bowl with 3 Tablespoons melted butter and 1 Tablespoon Amaretto. The Amaretto is optional! You could substitute with 2 teaspoons of coconut extract or vanilla extract.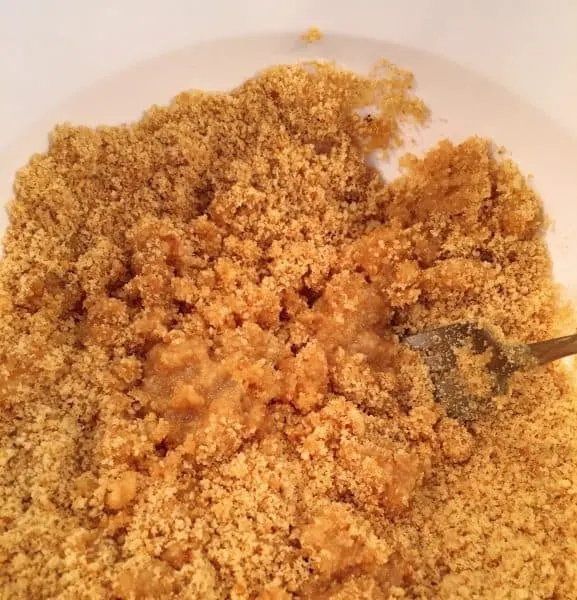 Mix until well combined. This is going to make the BEST cheesecake crust you have ever had. It's so light that it melts in your mouth and disappears into the flavor experience of this cheesecake. It's phenomenal!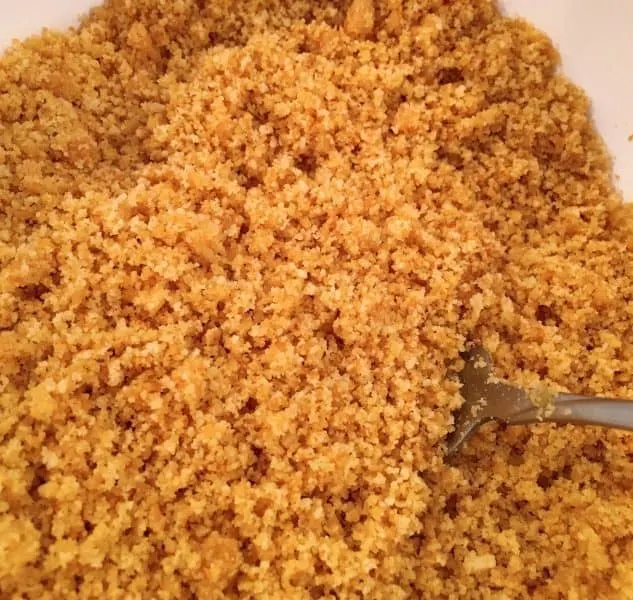 Prepare a 9 inch spring form pan for a water bath bake by covering the pan with aluminum foil. Place crumbs inside of pan and press in the bottom and half way up the sides of the pan.
TIP: I use a glass jar to press my crumbs inside the pan. It makes it easy-peasy!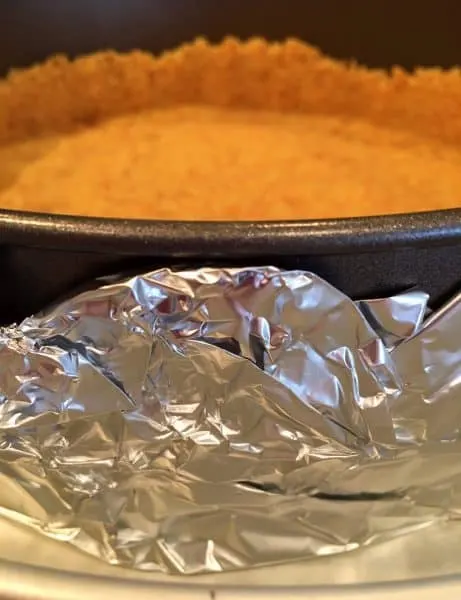 Place spring form pan inside a bigger baking dish that you can fill half way full with water. This helps prevent cracking while backing.
In mixing bowl, add 4 packages of softened cream cheese and 3/4 cup of sugar. Beat cream cheese and sugar until well blended. Add 4 eggs 1 at a time. Add coconut milk, heavy whipping cream, and 1/2 cup coconut flakes that have been processed in food processor into a fine flake. Continue mixing until all ingredients are incorporated.
TIP: Be sure to scrape down the sides of your bowl while mixing.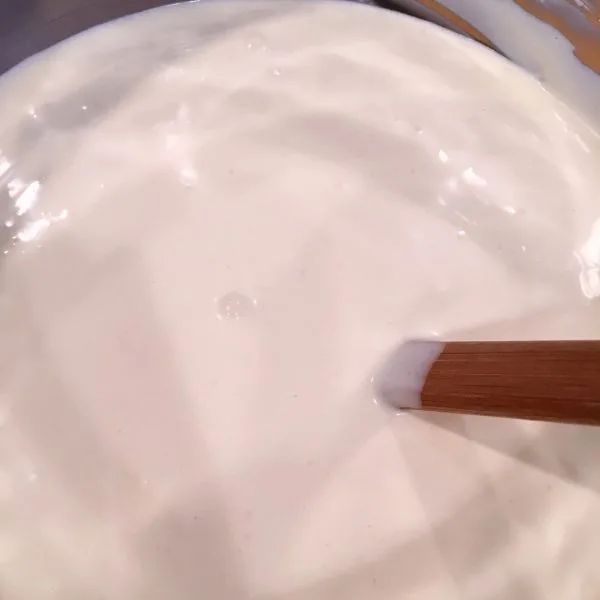 Remove 1 1/2 cups of batter and place in small bowl. Set aside.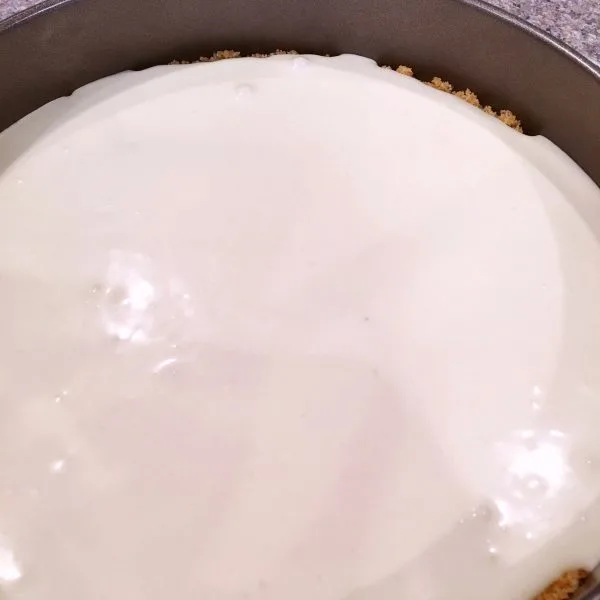 Pour remaining coconut cheesecake batter into prepared crust. I want to caution you that this is a little thinner batter than most cheesecakes. Do NOT let that panic you! It makes for the creamiest cheesecake you will ever have!
In the small bowl with the remaining coconut cheesecake batter add 1/4 cup of chilled raspberry sauce. Mix together until well blended.
Using a large Tablespoon gently dab spoonfuls of the Raspberry Cheesecake Batter on top of the coconut cheesecake batter.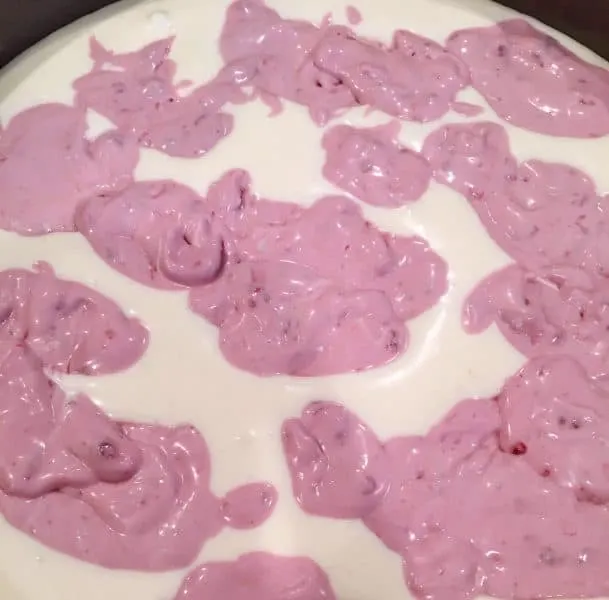 Swirl the Raspberry batter into the coconut cheesecake batter by dragging a butter knife through the mixture. (See photo below)
Add 8 dollops of raspberry sauce. Using the same butter knife…drag raspberry sauce through mixture. It will sink into the middle of the batter…That's Okay!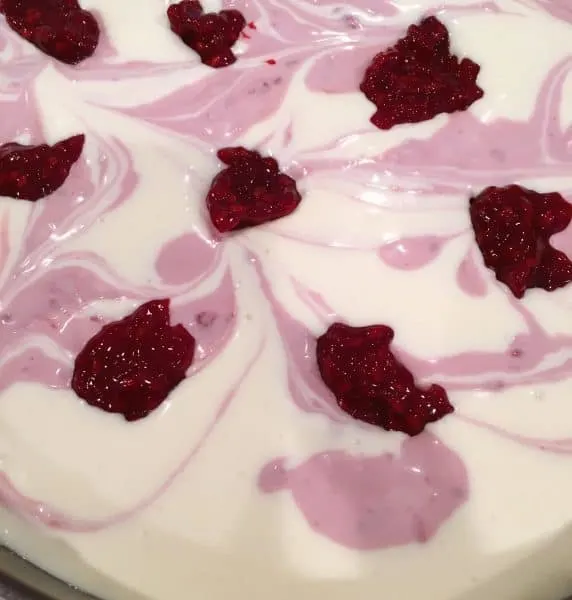 When your done…you have a new bathroom counter top! lol Seriously! Doesn't that look like granite counter tops? Maybe I'm just delusional…it was bound to happen! I've had three slices of this cheesecake for heaven's sake!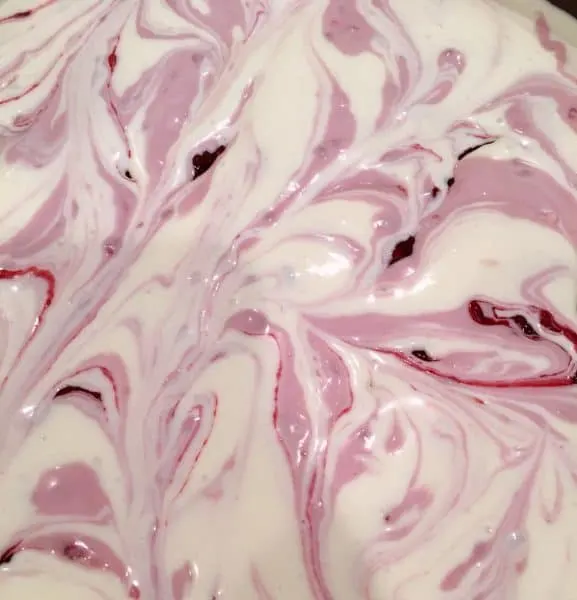 Fill the outer pan with water if you haven't already done so. Carefully place on center rack, centered in preheated 325° oven and bake for 1 hour and 25 minutes.
It will take the entire bake time and may need another 5 minutes. Check that the center is set. It shouldn't be jiggly…ya know…like my arm wings!
When done, crack oven door, turn off heat, and allow to cool with oven. Remove cake from oven, leave in spring form pan, cover, and refrigerate over night!
Run a knife around the outside of the cheesecake and remove spring form pan sides. Isn't that a beautiful Coconut Raspberry marble cheesecake?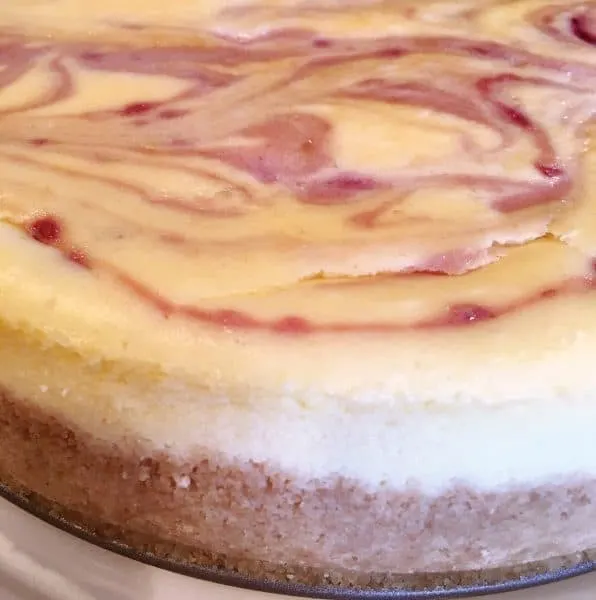 To add the finishing touches…use the remaining Raspberry Sauce and spread evenly over the top of the cheesecake to within a 1/2 inch from the edge of the cheesecake.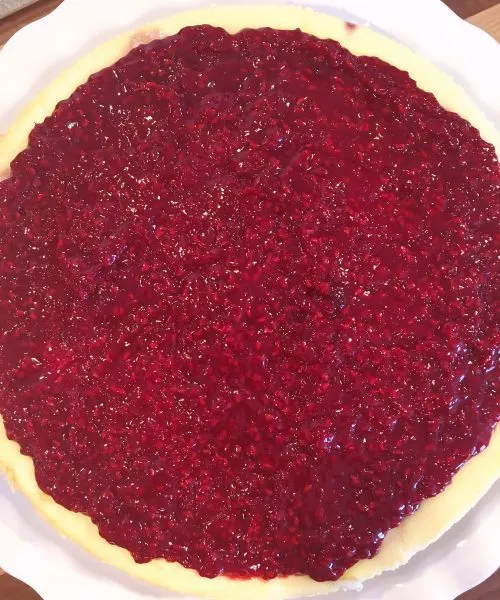 Whip 1 cup of whipping cream with 4 tablespoons of powder sugar and 1/2 tsp vanilla until stiff peaks form. Place your cheesecake on a cake plate or cake stand. I wanted a cake stand for a dramatic presentation.
Pipe the whipped cream around the top edge of the cheesecake and the bottom edge of the cheesecake. Garnish with Fresh Raspberries and large pre-toasted coconut flakes.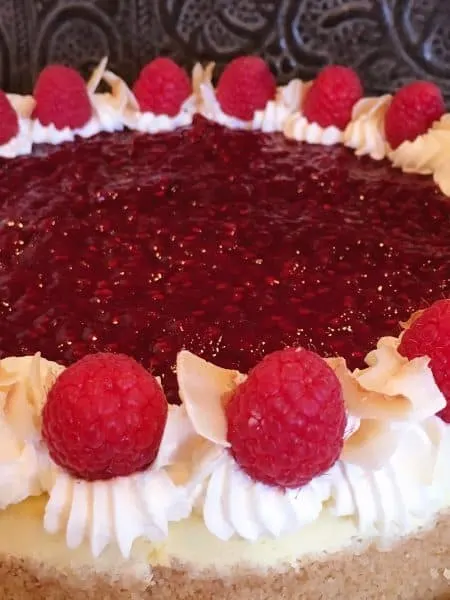 Chill until ready to serve. When ready to serve, cut with fishing line or dental floss…personally not my favorite method. It hurts my hands!!! (But I know I'll get mail about not mentioning this method of cutting cheesecake! Y'all take this very seriously! lol)
I like to use a sharp large knife. I rinse the blade after each cut under hot water.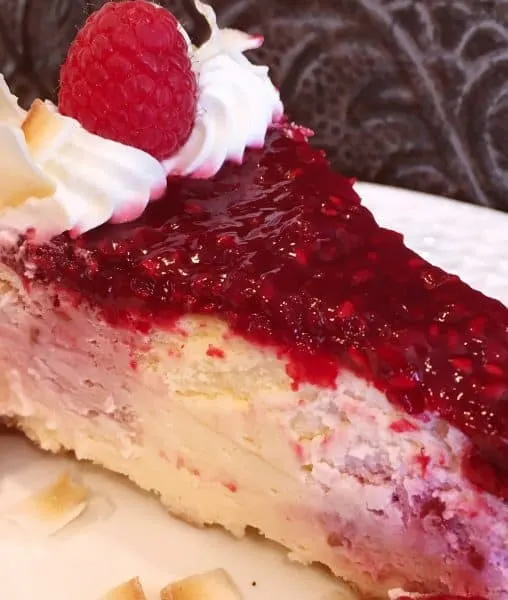 The rich creamy Coconut Cheesecake mixes with the spectacular fresh tang of the Raspberry Sauce and creates an amazing flavor experience. It's spectacular! From the first bite to the last…each forkful will have you swooning!
Let's go over a few tips on how to make this Coconut Raspberry Cheesecake.
Tips to make the perfect Coconut Raspberry Cheesecake
Prepare the Raspberry Filling ahead of time! At least 2 hours before baking this cheesecake.
Use the water bath method for baking this cheesecake to avoid cracking! Wrap your 9 or 10 inch spring form pan in aluminum foil and place inside a larger baking dish and fill the larger dish with 1 1/2 to 2 inches of water.
Leave the cheesecake in the oven when done baking (With the oven off) to cool down. Leave the oven door open a crack.
Use a knife to go around the cheesecake BEFORE removing spring form pan.
Chill cheesecake in the refrigerator for 24 hours before serving.
Cut with sharp knife and wash blade with hot water after each cut.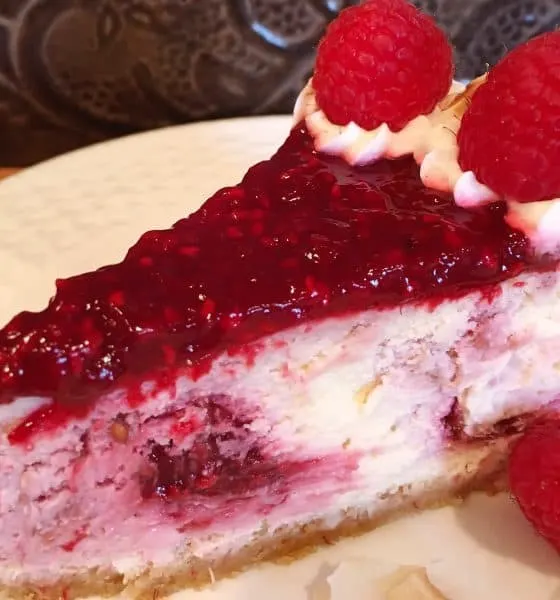 It's a desserts that makes you sad when the last forkful is heading towards your mouth! It's truly a dinning "experience"! I don't throw words like that around carelessly when it comes to food! I may say "Yum" a lot…but a true foodie experience is a whole other ball game!
It's worth the extra effort to make this truly stunning dessert for your holiday dinner table. Coconut Raspberry Cheesecake or Raspberry Coconut Cheesecake…which ever way you say it…it's worthy of the title "Show Stopper"! So maybe I'll just call it "Show Stopper Cheesecake"! Naw…I'll just call it heaven!
Remember to follow me on Facebook, Instagram, and Pinterest for all the latest YUM I have going on here at Norine's Nest!
Happy Nesting!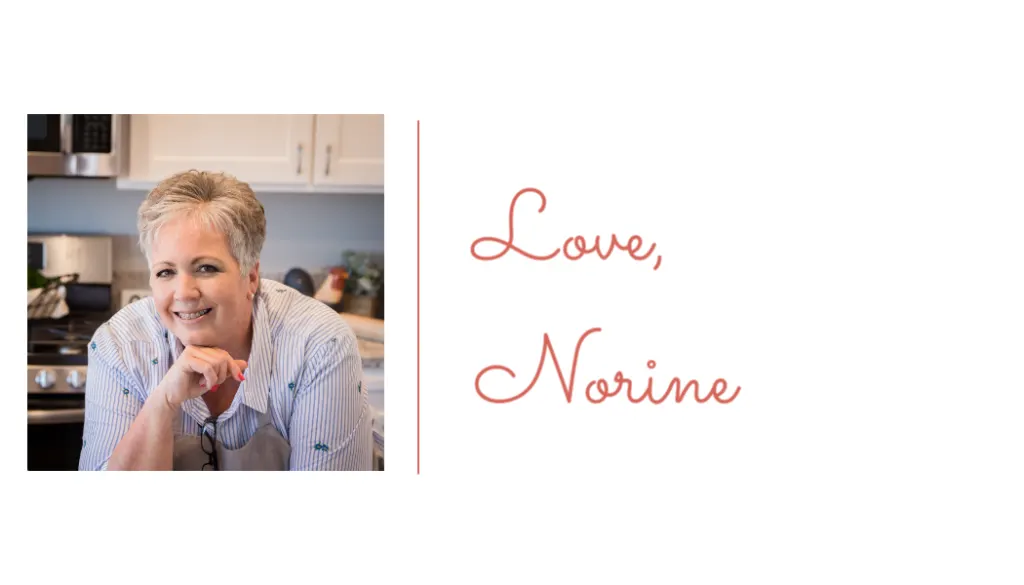 Yield: 16 servings
Coconut Raspberry Cheesecake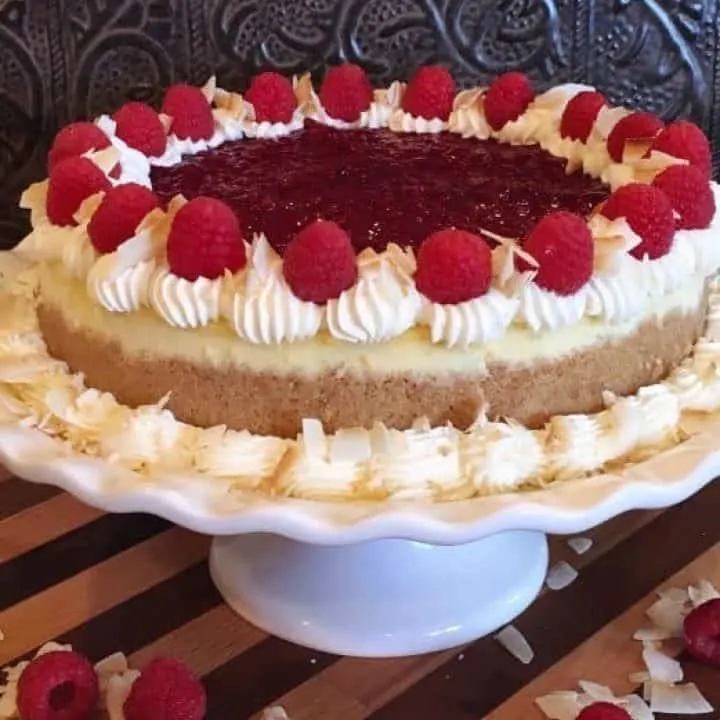 Rich Creamy Coconut Cheesecake is swirled with Raspberry Cheesecake and topped off with a fresh raspberry sauce, whipped cream, fresh raspberries and large toasted coconut flakes. It's the most spectacular cheesecake EVER!
Prep Time
2 hours
30 minutes
Cook Time
1 hour
25 minutes
Total Time
3 hours
55 minutes
Ingredients
Crust
2 1/2 cups Mother's Mini's Coconut Cocada's cookies, crumbled
1 Tablespoon Amaretto (Optional)
3 Tablespoons melted butter
Raspberry Sauce
12 oz. package frozen Raspberries, Thawed with juice
1/2 cup sugar
2 Tablespoons Corn Starch
Coconut Cheesecake
4 - 8 oz. packages softened cream cheese
4 large eggs
1 teaspoon coconut extract
1 Cup Heavy Whipping Cream
1/2 Cup Canned Coconut Milk
3/4 Cup Sugar
1/2 Cup Coconut Flakes, processed into fine flakes in food processor
Garnish
1 Cup Heavy Whipping Cream
4 Tablespoons Powder Sugar
1/4 teaspoon vanilla extract
Fresh Raspberries
Fresh Raspberries
Toasted Coconut flakes
Toasted Coconut flakes
Instructions
In a medium sauce pan combine thawed package of Raspberries, 1/2 cup sugar, and 2 Tablespoon cornstarch. Mix well. Stir over medium-low heat until mixture thickens. Place in air tight container and chill for 2 hours. *Please note you will use this mixture three different times.
Preheat oven to 325°.
Prepare springform pan by covering outside with aluminum foil. Place pan inside larger baking dish for a water bath bake.
In a small bowl mix together 2 1/2 cups Coconut Cocada cookie crumbs with 3 Tablespoons melted butter and 1 Tablespoon Amaretto (Optional). Mix until well combined. Place crumbs in bottom of spring form pan and press into bottom of pan and 1/2 way up the sides. Set aside.
In mixer bowl mix together four 8 oz. packages of soften cream cheese with 3/4 cups of sugar. Beat together until smooth and creamy. Scrape bowl often. Add large eggs one at a time. Add 1 teaspoon coconut extract, 1 cup whipping cream, 1/2 cup coconut flakes, and 1/2 cup coconut milk. Mix until smooth.
Reserve 1 1/2 cups of coconut cheesecake batter in a small bowl.
Pour remaining coconut cheesecake batter into crust lined spring form pan.
Add 1/8 cup chilled Raspberry sauce with reserved coconut cheesecake batter. Mix until well blended. Drop by the spoonful onto the top of the coconut cheesecake batter. With a butter knife swirl the raspberry batter into the cheesecake batter.
Add 8 half-tablespoon dollops of raspberry sauce on top of the cheesecake batter. Using the same knife, swirl into the batter. It may sink...that is okay!
Add 1 1/2 inches to 2 inches of water into the outer baking dish for water bath. Place pans on the center rack of the oven in the center of the rack.
Bake for 1 hour and 25 minutes until center of cheesecake is set. It should not be jiggly!
Turn oven off. Crack oven door. Allow cheesecake to cool inside the oven as oven cools.
Remove cheesecake from oven. Cover and chill for 24 hours.
Use a knife to loosen cheesecake edges from the sides of the spring form pan. Remove Spring Form pan. Place cheesecake on a cake plate.
Spread remaining chilled raspberry sauce over top of cheesecake to within a 1/2 inch of the edge of the cheesecake.
In your mixing bowl, add 1 cup cold whipping cream, 4 Tablespoons of powder sugar, and 1/4 teaspoon vanilla. Beat on high speed until stiff peaks form. Pipe whip cream around upper and lower edges of cheesecake.
Garnish with Fresh Raspberries and toasted coconut.
Notes
*Please not prep time does not include 24 hour chill time.
Nutrition Information:
Yield:
16 servings
Serving Size:
1 slice
Amount Per Serving:
Calories:

556
Total Fat:

42g
Saturated Fat:

27g
Trans Fat:

0g
Unsaturated Fat:

11g
Cholesterol:

143mg
Sodium:

298mg
Carbohydrates:

41g
Fiber:

4g
Sugar:

33g
Protein:

7g