This Salmon Party Log Recipe has been a family favorite since the first time it was brought to a family gathering! It comes together quickly and is the perfect party appetizer for the Holidays or any time!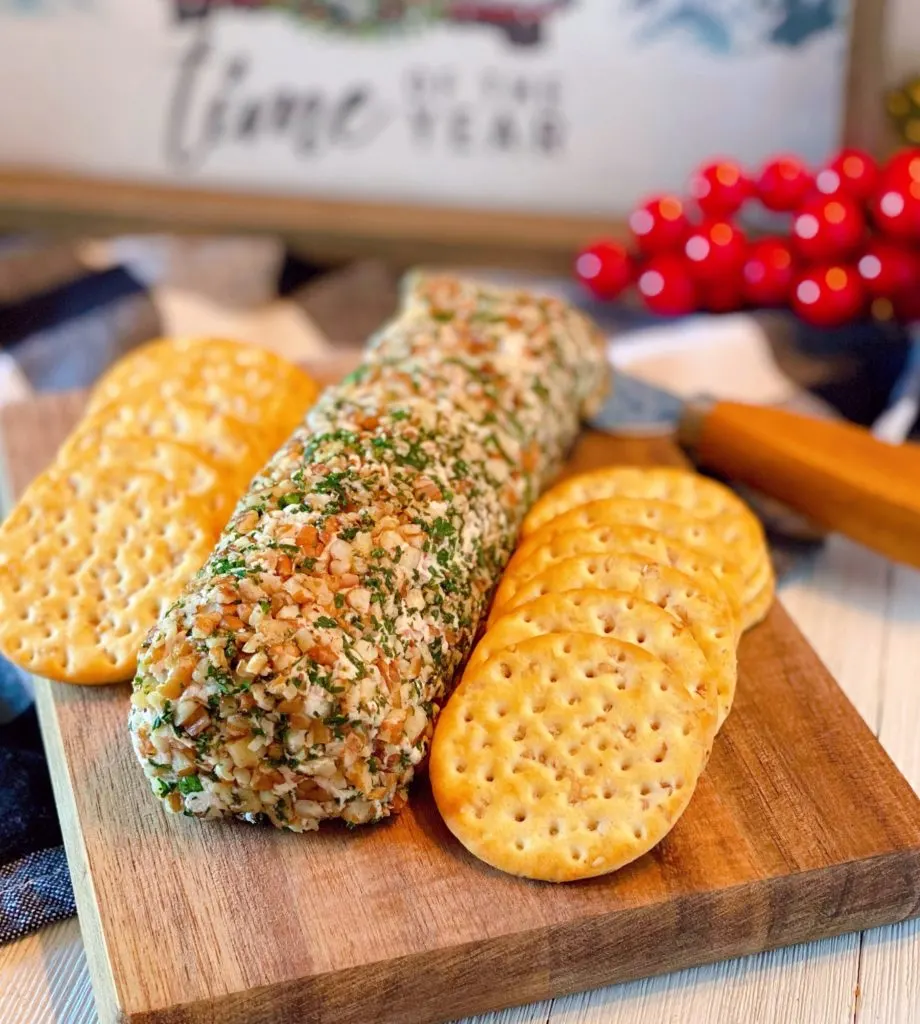 Years ago, at a family Christmas Party, my Aunt Marsha brought a Salmon Party Log with a box, or two, of wheat thins!
I was a mere teenager at the time…and really didn't know much about Salmon or "Party Logs"! That doesn't mean my taste buds were dead to anything other than hamburgers, fries, or pizza! That Salmon log was covered in chopped pecans, and I've always loved nuts! My uneducated teenage taste buds ventured out and tried a bit of that Salmon cheese log on a wheat thin. I was instantly in love! I remember eating a LOT of salmon slathered crackers that day!
Needless to say, that Salmon Party Log became a family "must have" at all Holiday family gatherings. I'm not sure Aunt Marsha knew what she was getting into that day? I'm just glad she brought it, and it's now a part of our Holiday Cheese Board every year!
I love how easy this recipe is to make, much like a cheese ball, and there is no cooking involved! If you love Salmon, you're sure to love this recipe.
How To Make A Salmon Party Log with Cream Cheese
Oddly enough this recipe begins with Salmon! (I know! Kind of a shocker! Lol I'm all about curveballs!)
In all actuality you will need one 16 oz. can of pink salmon. Drain and flake the salmon. Remove the skin (yuck) and bones! I know…this is disgusting, and I've just lost half you! Get back here!! You can do this!
You'll notice in the photo that my Salmon is not "Pink"! Thank you, Walmart Shopper for another stellar day of customer service! (lol…I just heard y'all moan! Been there and done that! Right?) We're going to pretend my salmon was pink!
TIP: First you need to know you will NOT remove every single bone. It's okay, most of the smaller bones fall apart from the canning process, and are extremely tender. However, you do need to remove the bigger bones.
To remove the bones, split the salmon pieces in half-length wise. Carefully remove the backbone. Using a fork lightly scrape it across the inside of each half, just below the backbone, until it flakes off. The skin is easiest to remove by running it under warm tap water and brushing it away with your thumb and forefinger.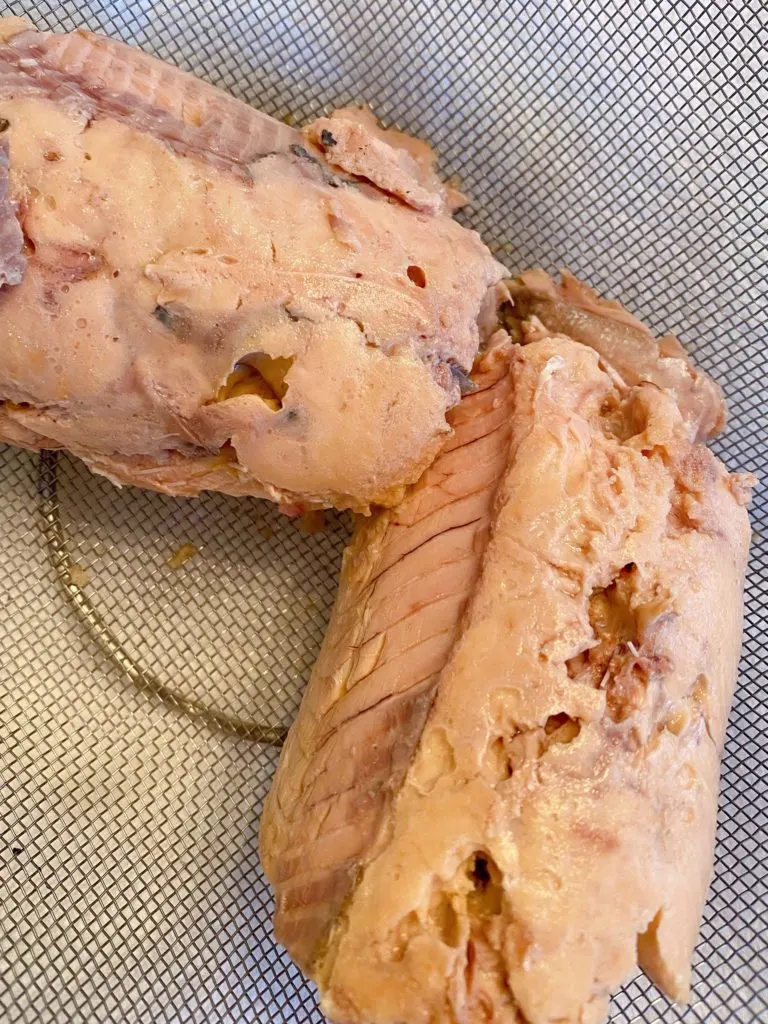 Flake the Salmon into a medium size bowl. Carefully go through the flakes and remove any additional bones.
Add 1 – 8 ounce package of softened cream cheese, 2 teaspoons of grated onion, 1 teaspoon prepared horseradish, and 1/4 teaspoon salt…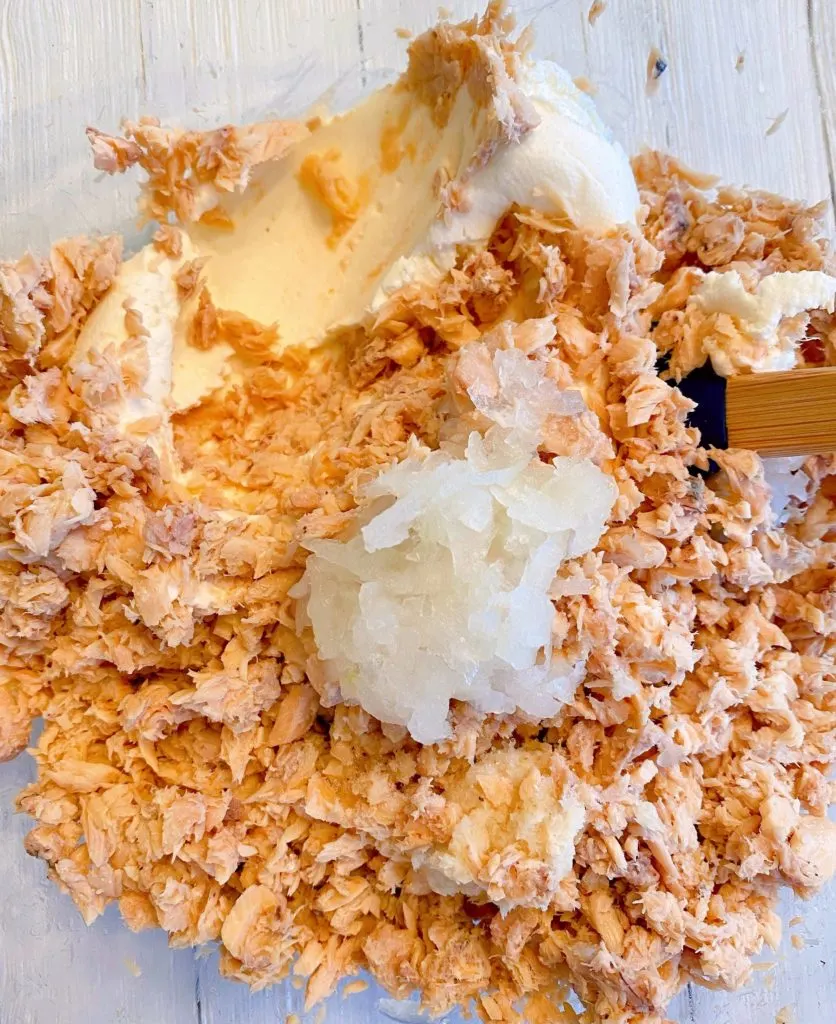 Add 1 Tablespoon lemon juice and 1/4 teaspoon liquid smoke! (Look at that! The Salmon looks light pink! What good imaginations y'all have…or I'm a horrible photographer and don't know lighting? Hmmm!)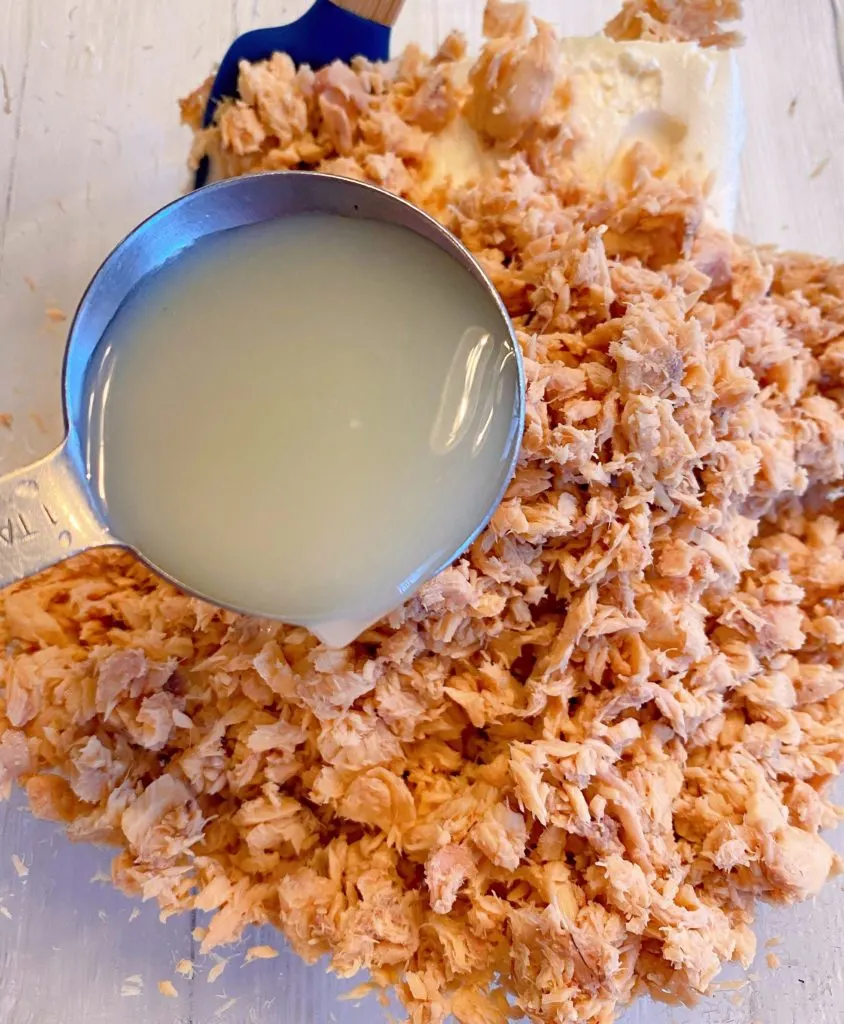 Combine ingredients until thoroughly mixed. Cover and chill for 2–3 hours before shaping into logs.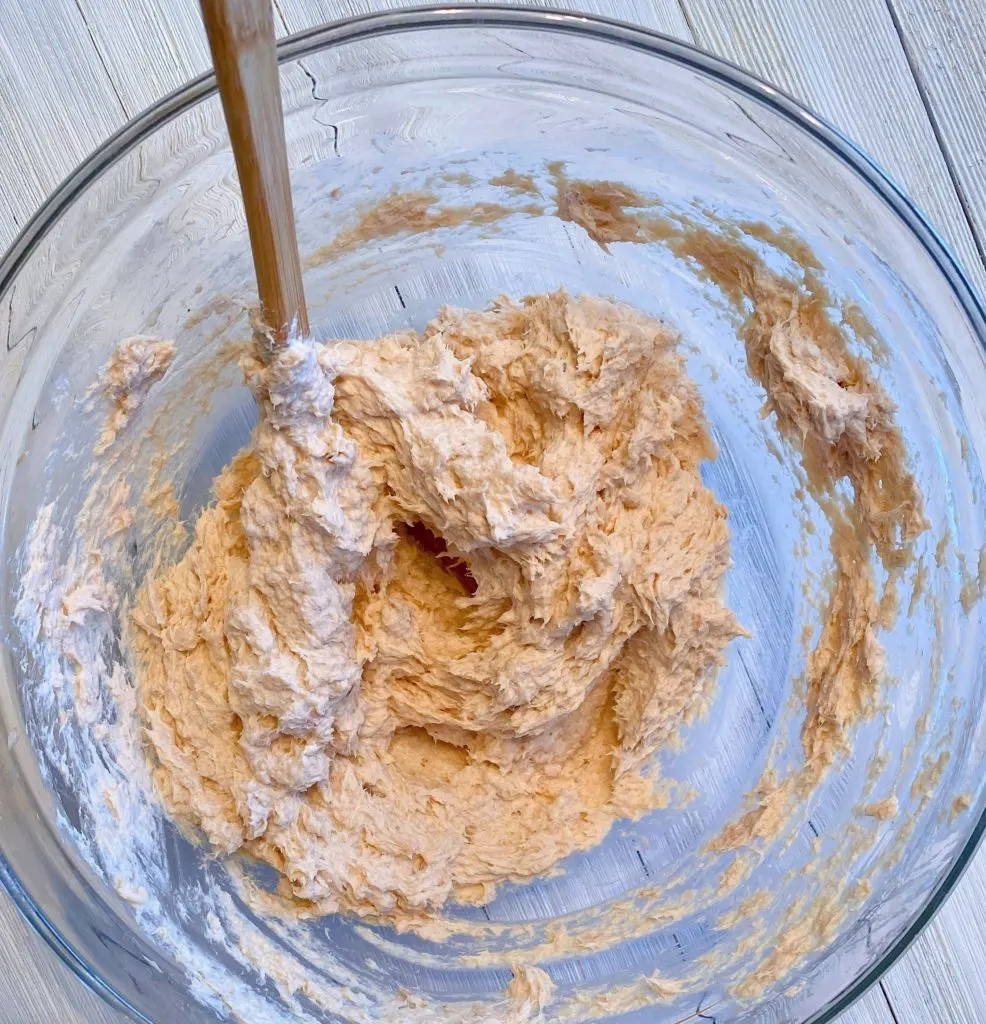 How To Finish Salmon Party Logs
Chop 1 cup of pecans and 3–4 Tablespoons of fresh parsley! I prefer to use my mini food processor to chop the nuts. I finely chop the Parsley too. Appetizers equal "bite size" so always keep that in mind when preparing them. No one wants a big ol' hunk of nut or parsley with their salmon cheese spread!
Place the chopped pecans and parsley on a sheet of parchment, or wax paper. Lightly mix them together with your fingers.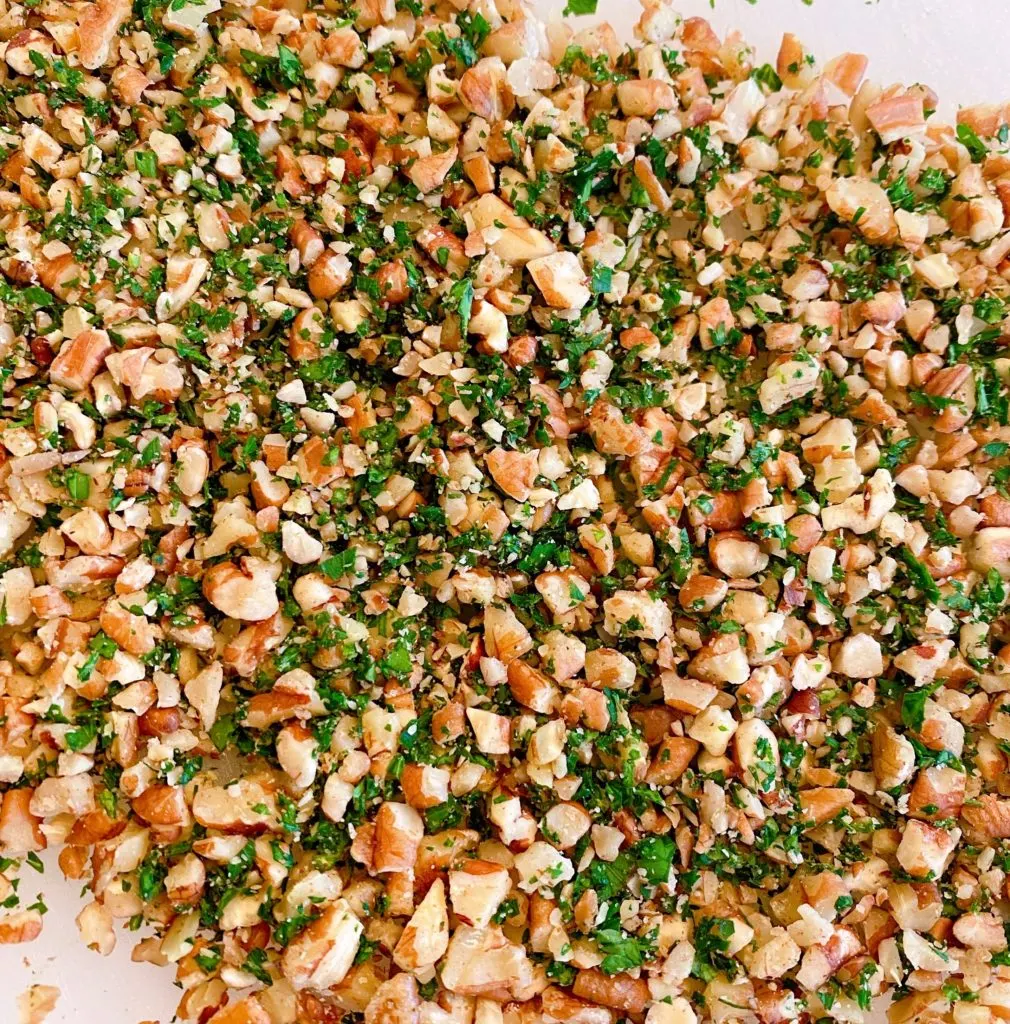 Remove chilled Salmon and cheese mixture from the refrigerator. Using your hands shape into an 8-10 inch log. It's a sticky process!
TIP: You can spray your hands with non-stick cooking spray to make it easier.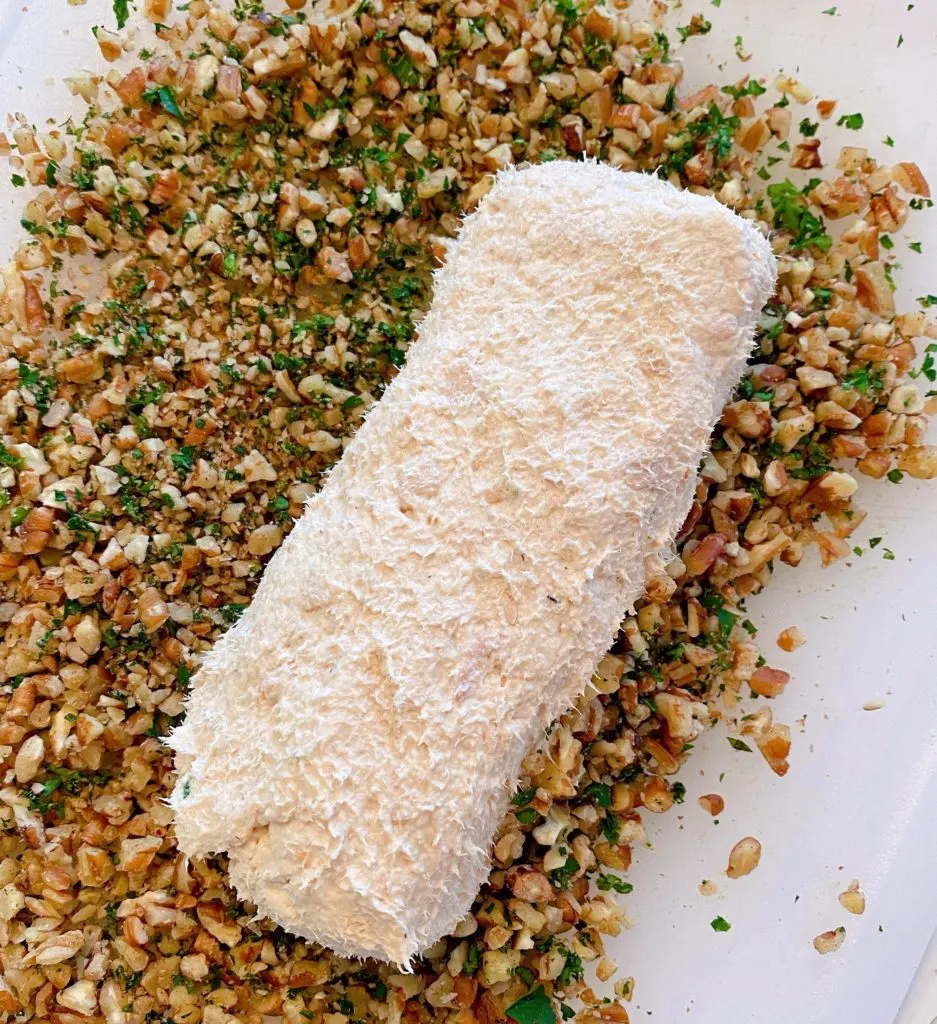 Let's stop here for a second and chat!
I have found that it is better to make three smaller logs, than to make two larger logs! Depending on the size of the guests you will be serving. No one wants to save a leftover cheese ball that has been dug into! Just something to keep in mind! You can always pull out another Salmon Log if need be!
Rinse your hands, and gently roll the formed Salmon Log in the chopped pecans and parsley until fully covered. Don't forget the ends!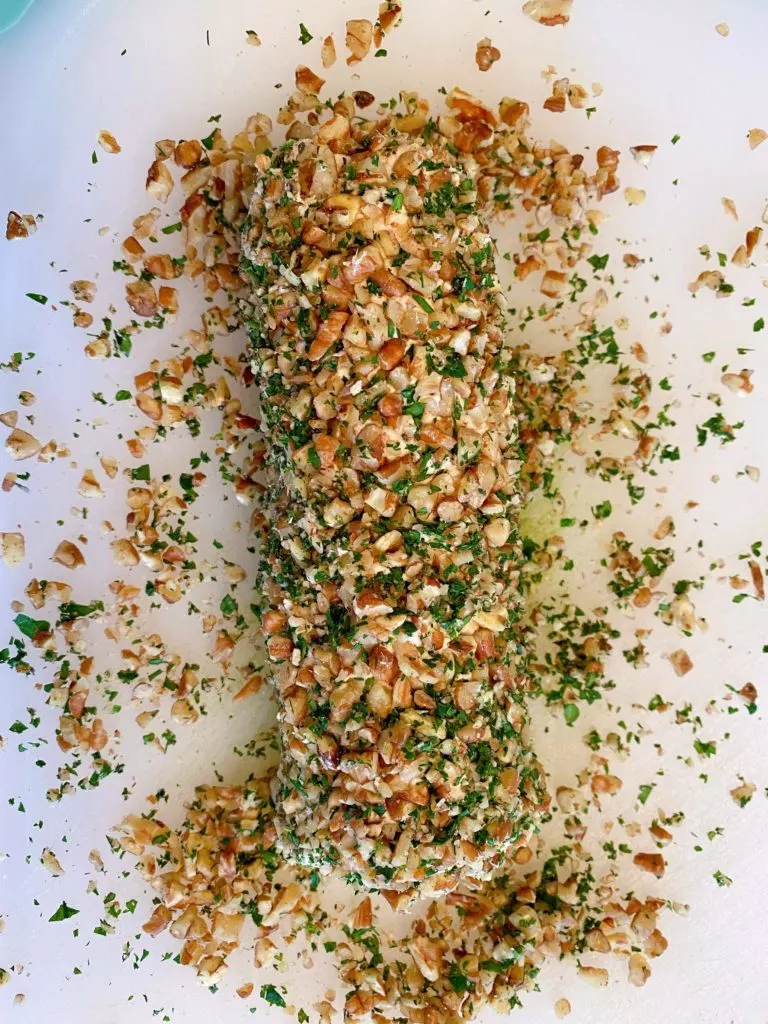 Storing Salmon Logs
Wrap each prepared Salmon log in parchment paper, or wax paper. Twist, or fold the ends. Wrap again in a sheet of foil and twist the ends closed. Chill.
The parchment, or wax paper, keeps the log from sticking, and the foil gives it a little extra protection in the refrigerator.
I would NOT freeze this prepared Salmon Log! This is better when served within 24–48 hours of preparation.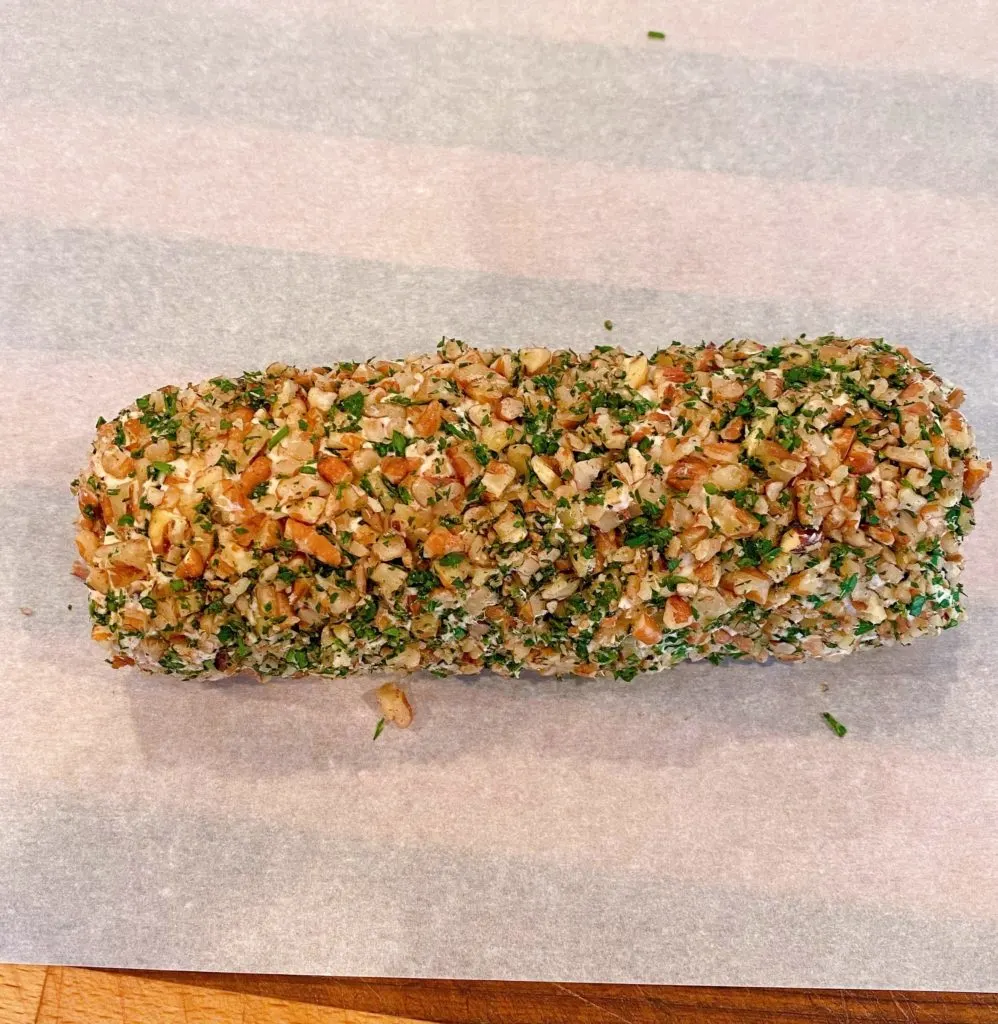 Serving A Salmon Party Log
I love serving these beautiful nutty Salmon Logs on a small wooden cutting board with my favorite crackers!
Isn't it a stunning presentation. Make sure you have a small cheese ball, or Salmon log, knife nearby for your guests to serve themselves.
Also, keep in mind, you don't have to have just one type of cracker. You can use a mixture of crackers! Get creative.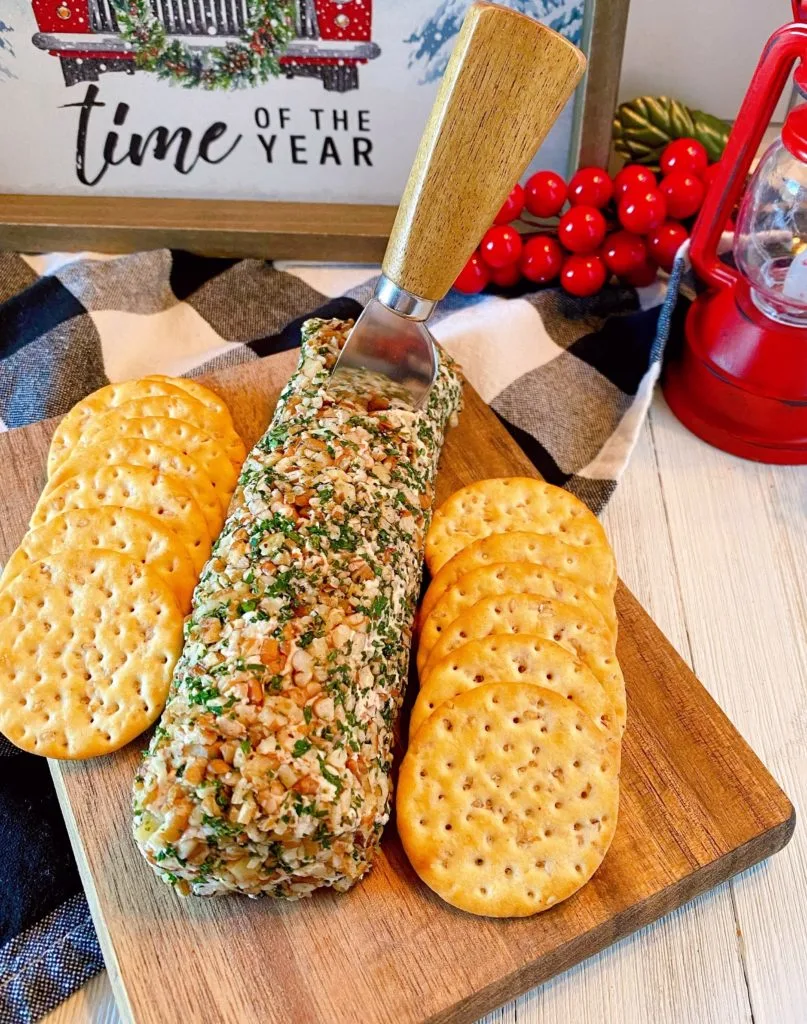 I love the flavors in this Salmon Cheese Log! The pecans give a nice toasty crunch, the Salmon is tender and flaky, encompassed in the smoky cream cheese with hints of lemon! The cream cheese really subdues the overly fishy flavor of the Salmon! Which is one of the reasons I think this is such a beloved recipe of party goers!
It is SO good! Don't you just want to reach through the screen and grab that cracker! I know I do!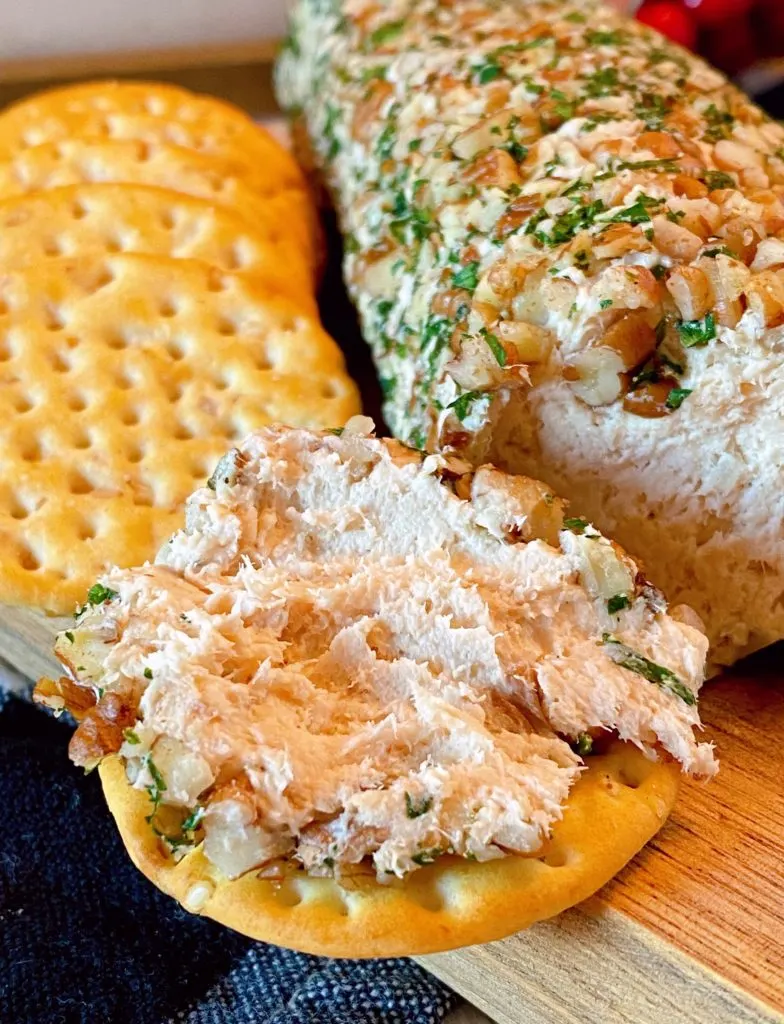 Other Favorite Holiday Appetizer Recipes
I hope this delicious appetizer, and some of the others listed above, make it onto your Holiday Party list this Christmas Season!
Have a Wonderful Day, and Thanks so much for stopping by and visiting with me today!
Happy Nesting!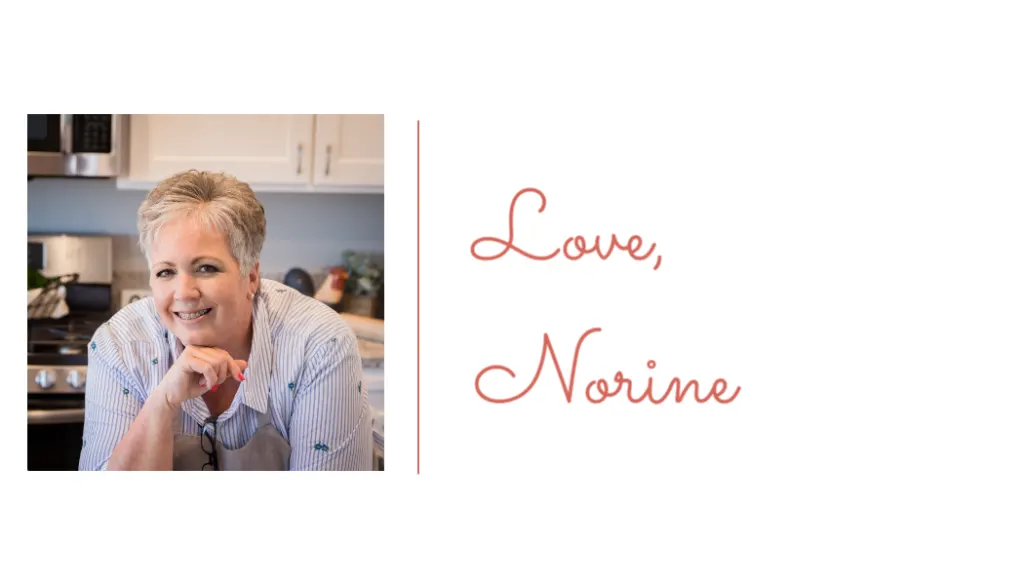 Yield: 3 cups
Salmon Party Log Recipe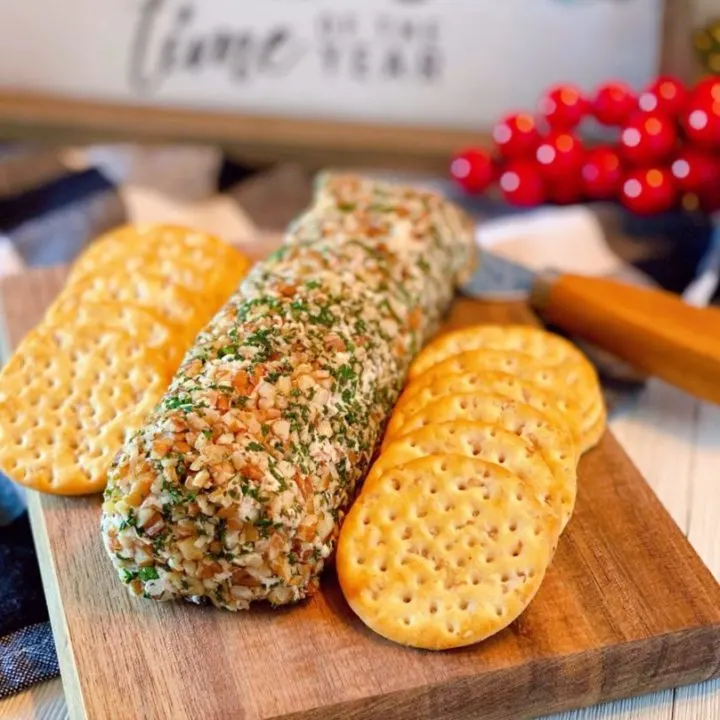 This Salmon Party Log Recipe has been a family favorite since the first time it was brought to a family gathering! It comes together quickly and is the perfect party appetizer for the Holidays or any time!
Total Time
3 hours
25 minutes
Ingredients
1 Can Pink Salmon (16 oz.)
1 - 8 ounce package cream cheese, softened
1 Tablespoon lemon juice
2 teaspoons grated onion
1 teaspoon prepared horseradish
1/4 teaspoon salt
1/4 teaspoon liquid smoke
1 cup chopped pecans
3-4 Tablespoon snipped parsley
Instructions
Drain Salmon. Remove skin and bones. Flake Salmon into a medium size bowl.
Add softened cream cheese, lemon juice, grated onion, prepared horseradish, salt, and liquid smoke. Mix until well combined. Cover and Chill 3 hours.
Combine nuts and parsley on a large sheet of parchment, or wax paper.
Divide Salmon mixture into halves, or thirds. Shape into logs about 6-7 inches long. Roll each log in nut/parsley mixture. Pat the ends in the nut mixture as well. Wrap in wax paper, or parchment paper. Twist ends. Wrap each wrapped log in a large piece of foil and twist ends. Store in refrigerator, up to a week, until ready to serve.
Remove from wrapping and serve with crackers.
Recommended Products
As an Amazon Associate and member of other affiliate programs, I earn from qualifying purchases.
Nutrition Information:
Yield:
15
Serving Size:
1 Tablespoon
Amount Per Serving:
Calories:

135
Total Fat:

12g
Saturated Fat:

4g
Trans Fat:

0g
Unsaturated Fat:

7g
Cholesterol:

25mg
Sodium:

94mg
Carbohydrates:

2g
Fiber:

1g
Sugar:

1g
Protein:

5g