Savory Herbs are made into a paste and spread across the top of a Cross Rib Roast, or Beef Shoulder Roast, and roasted until flavorful and juicy for this Herb Crusted Cross Rib Roast!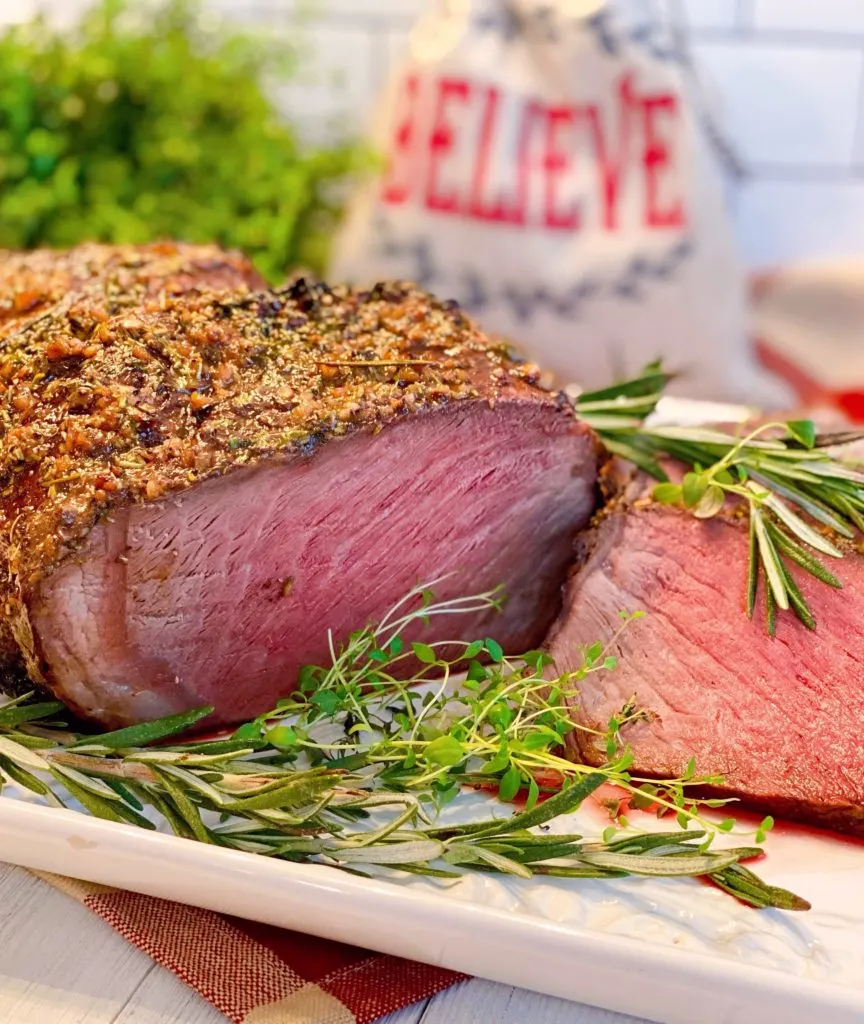 While a beautiful Prime Rib Roast is the ultimate Christmas Dinner Feast, it's also a very costly one! This year, meat prices have risen even higher, along with everything else! Figuring out how to provide the flavors of our traditional favorites and stay within our budgets can be tricky, but it can be done!
I wanted to create a beautiful Roast Beef Recipe that would be more budget friendly, yet still offer up all the wonderful beefy flavors of a Prime Rib or Rib-Eye roast.
I happened to stumble upon a great deal on Cross-Rib Roasts! The unwanted "step-roast" to it's mightier brothers… Prime and Rib-eye! However, I'm a firm believer that with a little patience and some great seasonings anything is possible.
I'm going to share two different cooking techniques for this Beef Shoulder, or Boston Cut roast! Each will produce a flavor filled result, but with much different textures. How you chose to cook this Cross Rib Roast is up to you and your nests individual tastes.
What is the difference between Cross Rib Roast and Other Cuts of Beef
Cross Rib Roast and Chuck Roasts are located closest to the shoulder, also known as the "large end" of the ribs. The meat near the larger end of the ribs, tends to be larger cuts of beef, but they are also composed of several lateral muscles. Which is a really nice way of saying "They can tend to be a bit tough"!
Prime Rib Roasts and Standing Rib Roasts, are located towards the smaller, or better, end of the ribs where the "eye meat" is located. Basically, a naturally tender, well-marbled cut of beef roast.
Don't let this information sway you from trying this Cross Rib Roast. Honestly if you follow my tips you will end up with a tender, juicy, roast everyone at your Holiday table will love.
How To Prepare Herb Crusted Cross Rib Roast
As mentioned above, I'm going to share two distinctly different methods of cooking this roast. High and quick, or Low and slow. Both produce a delicious roast. One slices beautifully and is a bit firmer. (Let's just say you don't want to fix this for Great-Grandma Jean and her dentures! This roast is for those with chompers firmly in place!) The other method will produce a fork tender roast that will fall apart and shred!
Regardless of the cooking method you chose, both begin with a 2 lb. Cross-Rib Roast that will serve 4–6 adults. Place Roast on a roasting rack in a large roasting pan. Preheat your oven to 450° for either cooking method.
TIP: High roasting temps for the first 15 minutes of cook time help seal in the juices as it sears the outside of the meat.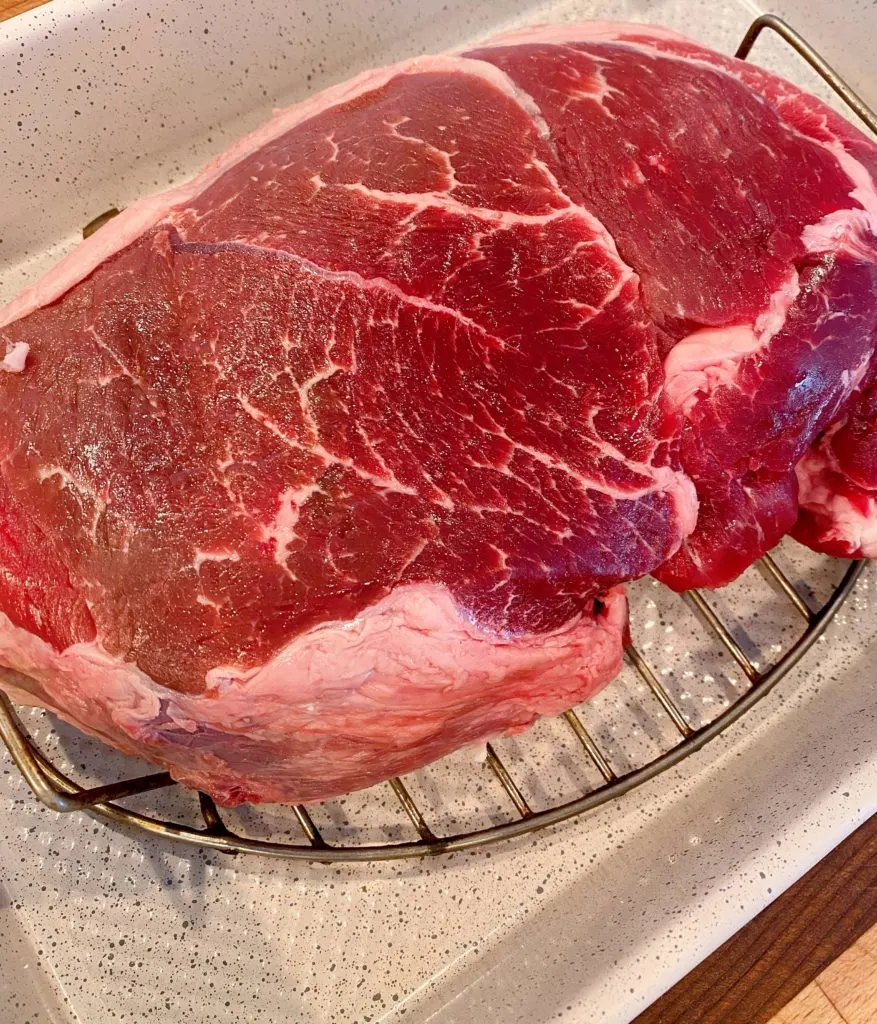 Brush Roast with 2 Tablespoons of good quality Balsamic Vinegar. This infuses the meat with amazing flavor and gives a "base" for the Herb Paste to stick to. Think of it as really expensive delicious Italian glue!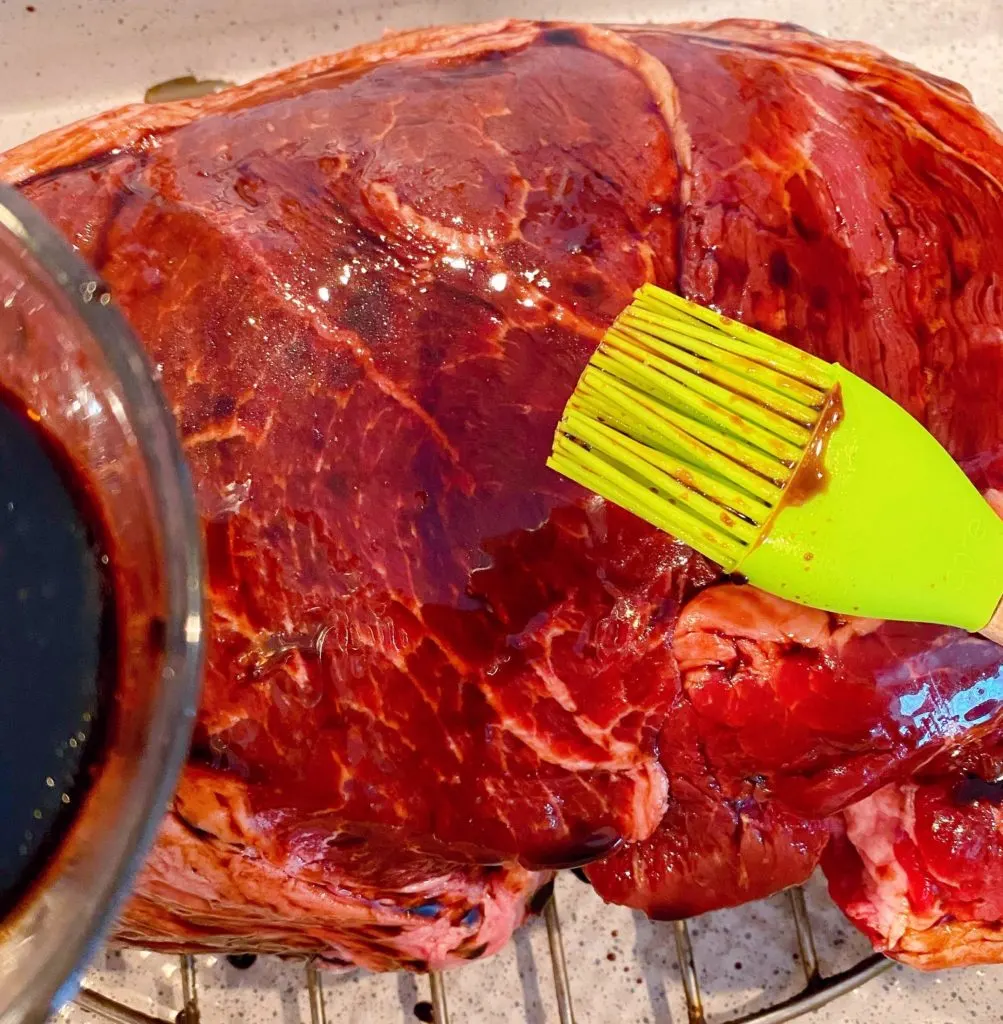 How To Make Herb Roasting Paste
In a small bowl combine 2 Tablespoons minced garlic, 2 teaspoons dried thyme leaves, 1 teaspoon dried rosemary, 1/2 Tablespoon Salt, 1 teaspoon coarse black pepper, and 1 Tablespoon Olive Oil.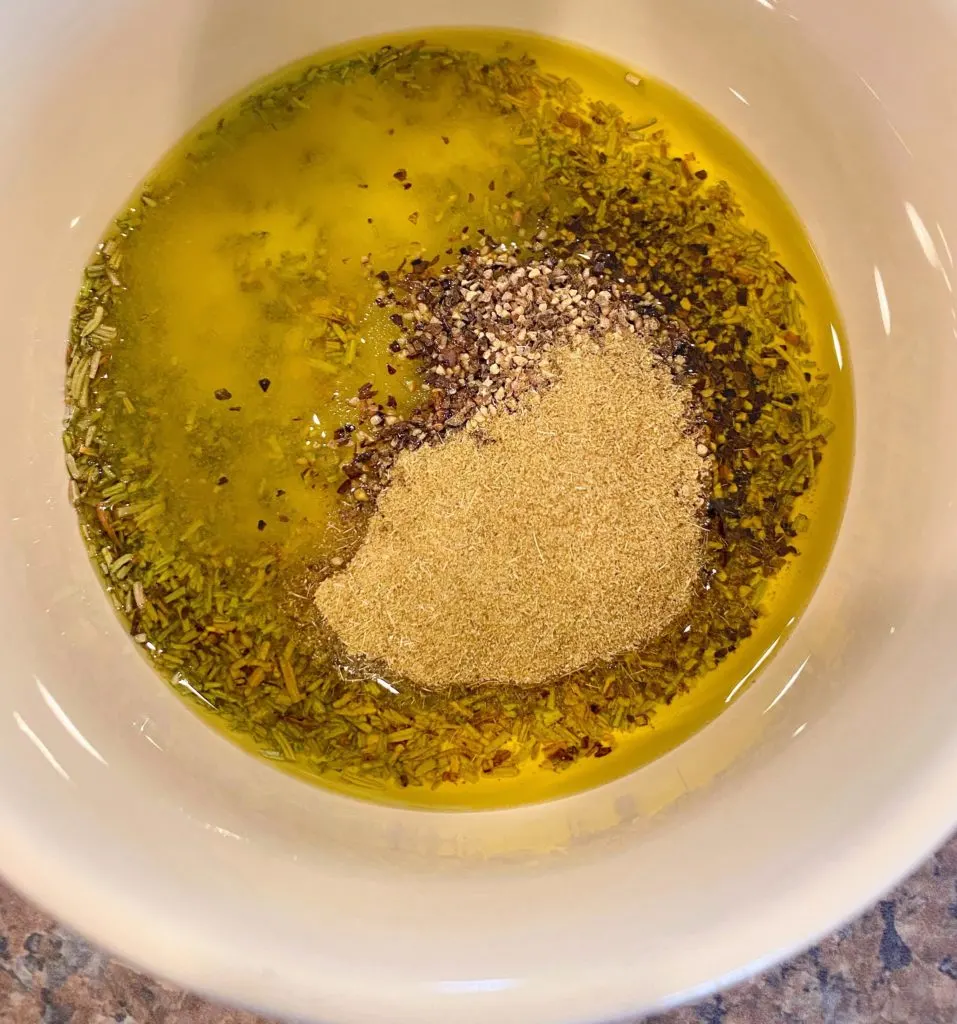 Add 1 Tablespoon freshly chopped Basil for an extra pop of flavor! Nothing better than fresh basil and Balsamic Vinegar.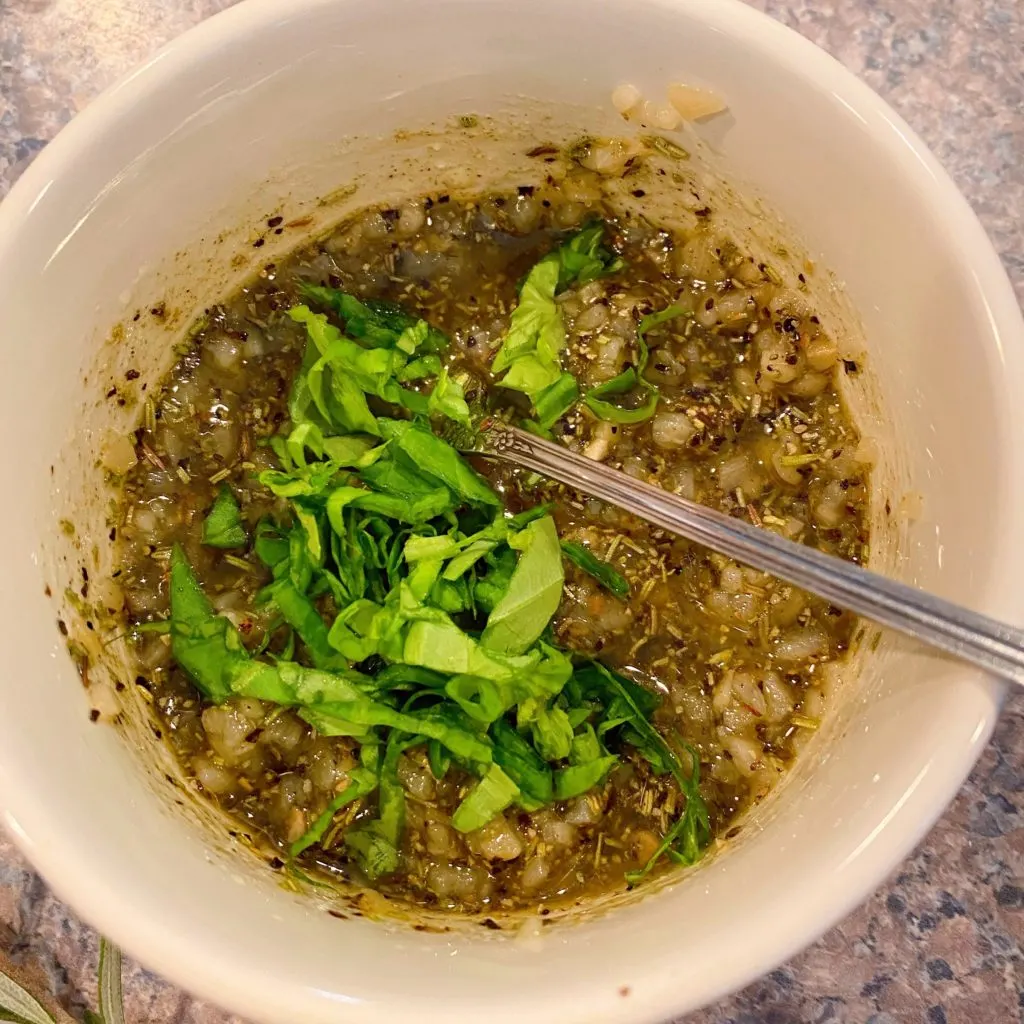 Mix with small wire whisk, or fork, until well combined.
Adding Herb Paste to Roast Beef
Using a basting brush liberally brush herb paste over the top of the Balsamic basted Cross Rib Roast. Make sure you use every single drop of that herb paste! It will create the most beautiful crust on top of this roast.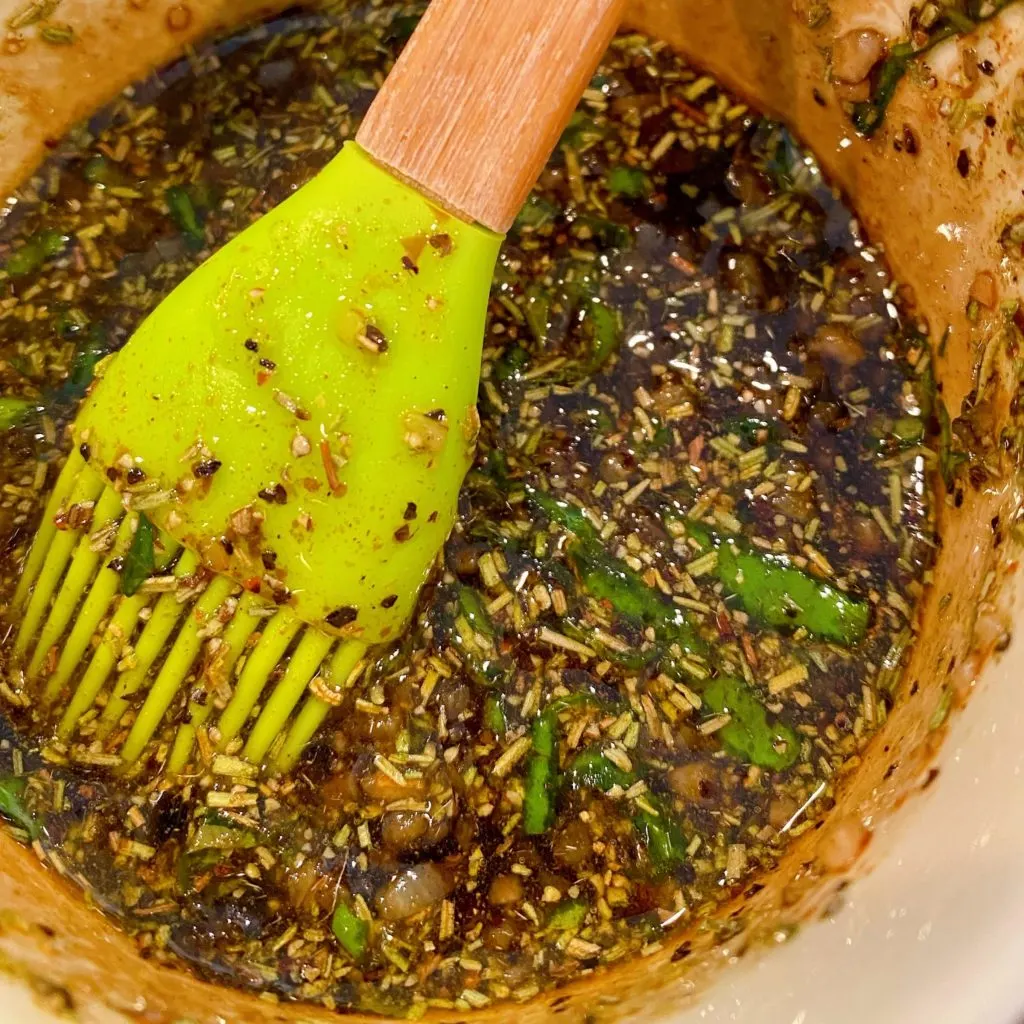 To add an extra "pop" of flavor, and to create a stunning presentation, I recommend laying some fresh thyme and one sprig of rosemary on top of the herb paste. The oils from the herb paste, and the fat from the roast, will release the flavors of the fresh herbs into the meat during cooking.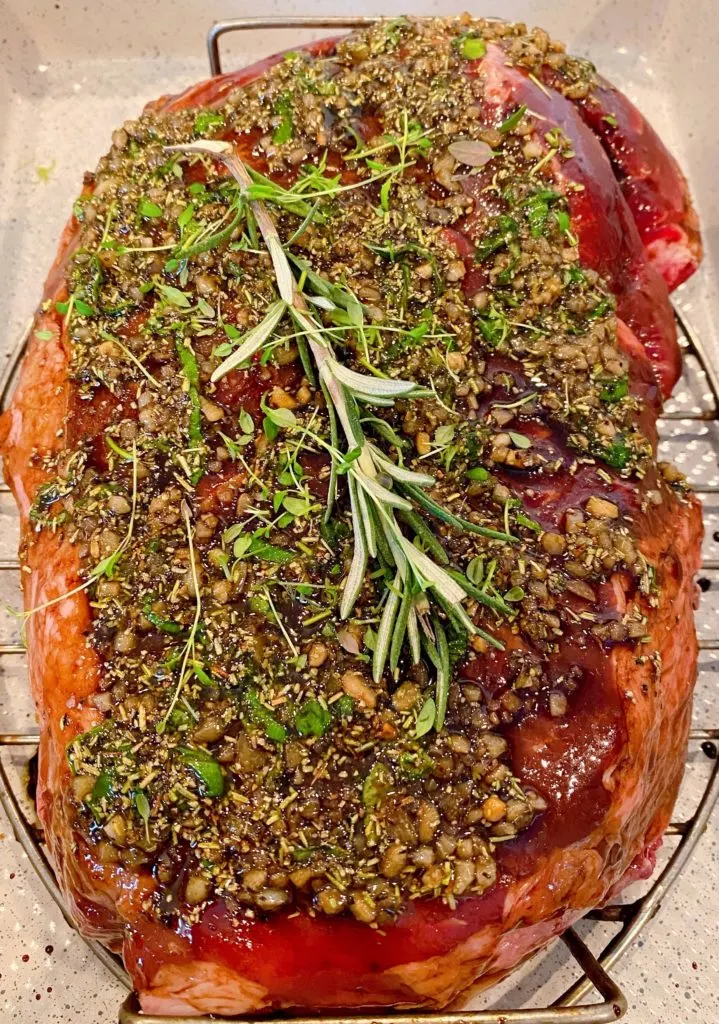 Cooking Cross Rib Roast Two Ways!
Cooking Method 1
The High and Quick method that will produce a firm roast.
The trick to this method is not OVER COOKING the roast!!! You want it to be a little pink inside so that it is not horribly chewy! We could all use a little extra exercise this time of year…but value those teeth! You only get one set!
Place prepared roast in preheated 450° oven and cook for 15 minutes. DO NOT OPEN THE OVEN TO PEEK! Just let it form that beautiful crispy crust on top! Cooking at a high heat quickly helps seal the juices in the meat by searing the meat in the oven.
Next reduce the oven temperature to 350° and cook an additional 40–60 minutes, or until the center of the roast reaches an internal temperature of 125° for rare or 145° for medium. I wanted Medium Rare to help keep the roast as tender as possible with this cooking method and settled on 135° which was perfect for us.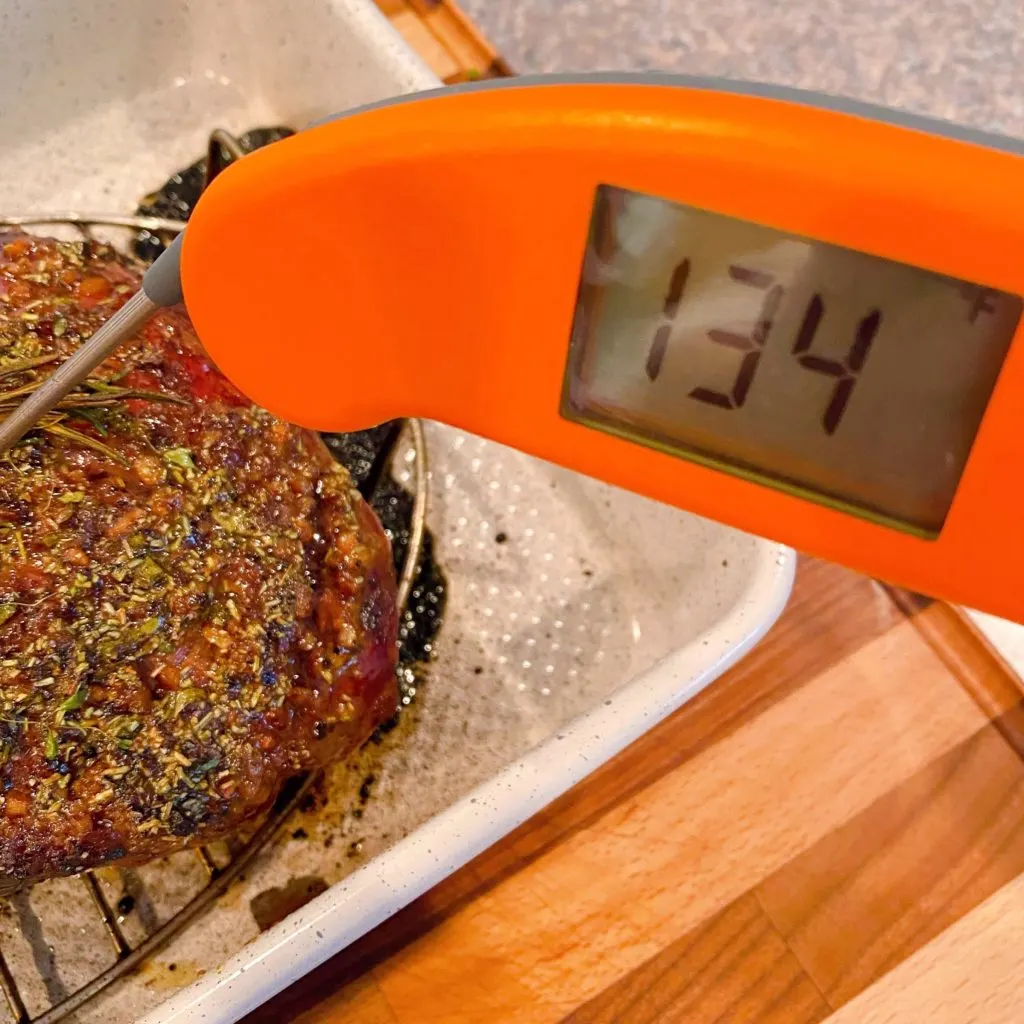 Carefully, using oven mitts, remove roast and cover with foil to rest. (I wonder if I cover myself in foil if I can rest this Holiday Season? Hmmm!)
Let the roast stand 15–25 minutes. This will allow the juices to settle back into the meat and the roast to continue to finish cooking.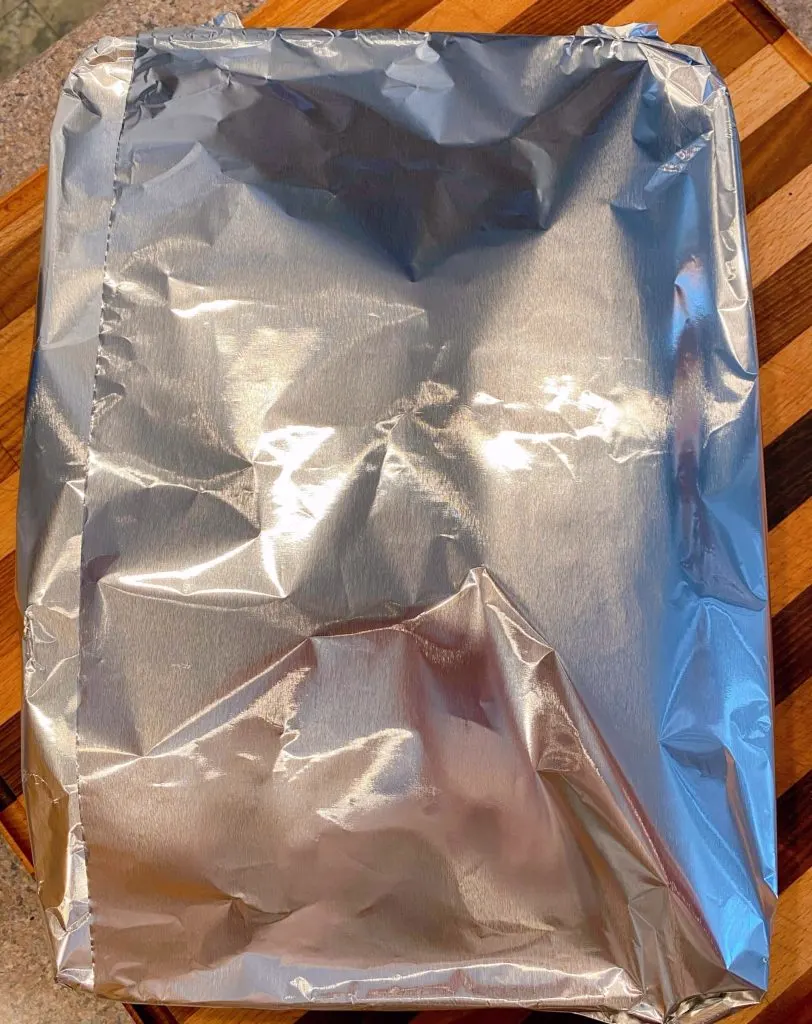 Once the meat has rested, remove foil and place on cutting board. Slice into thin strips and place on a serving platter.
Now before the "red meat" haters start writing comments below…remember this is a personal choice. If you like your meat with no pink and extra chewy…by all means cook that bad boy another 20–30 minutes, and you will have zero pink! You can also try the second cooking method! Which I think may be just your speed!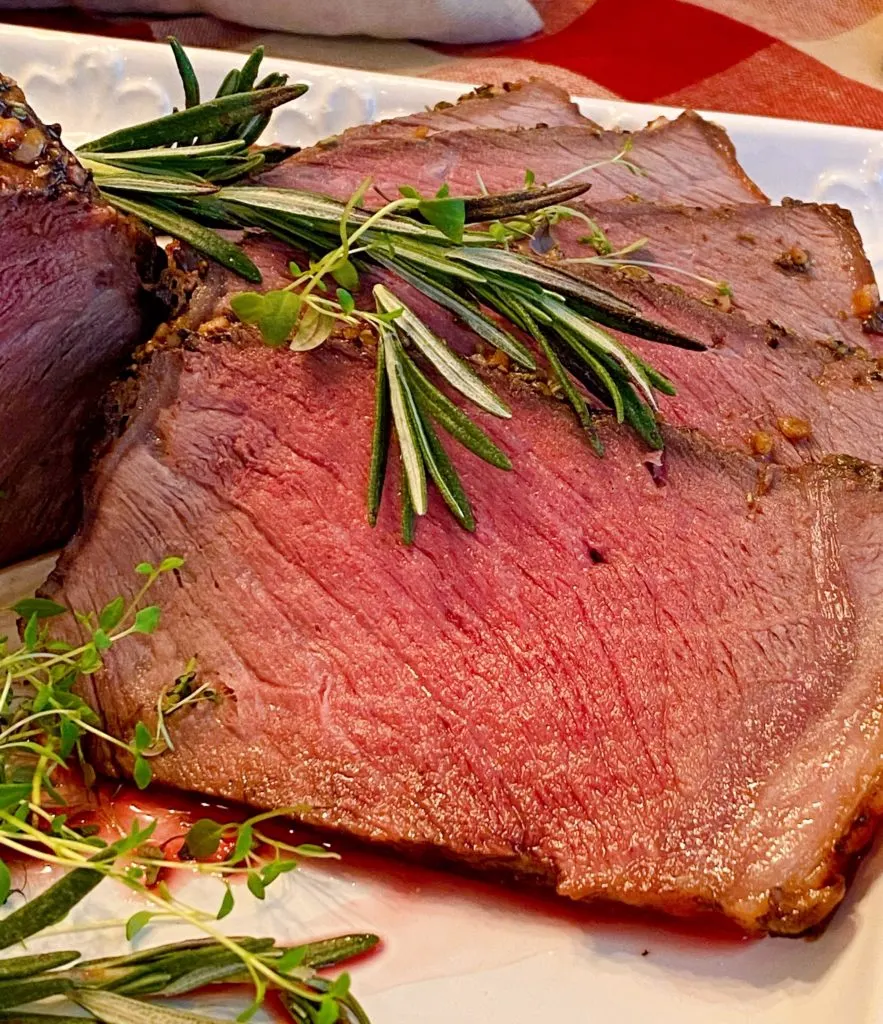 Cooking Method 2
I promised two different cooking methods for this roast, so here is the "Low and Slow" method as promised! This method will produce a roast that is completely cooked through and ultra tender! It will shred rather than slice. Please note that when preparing your roast using this cooking method.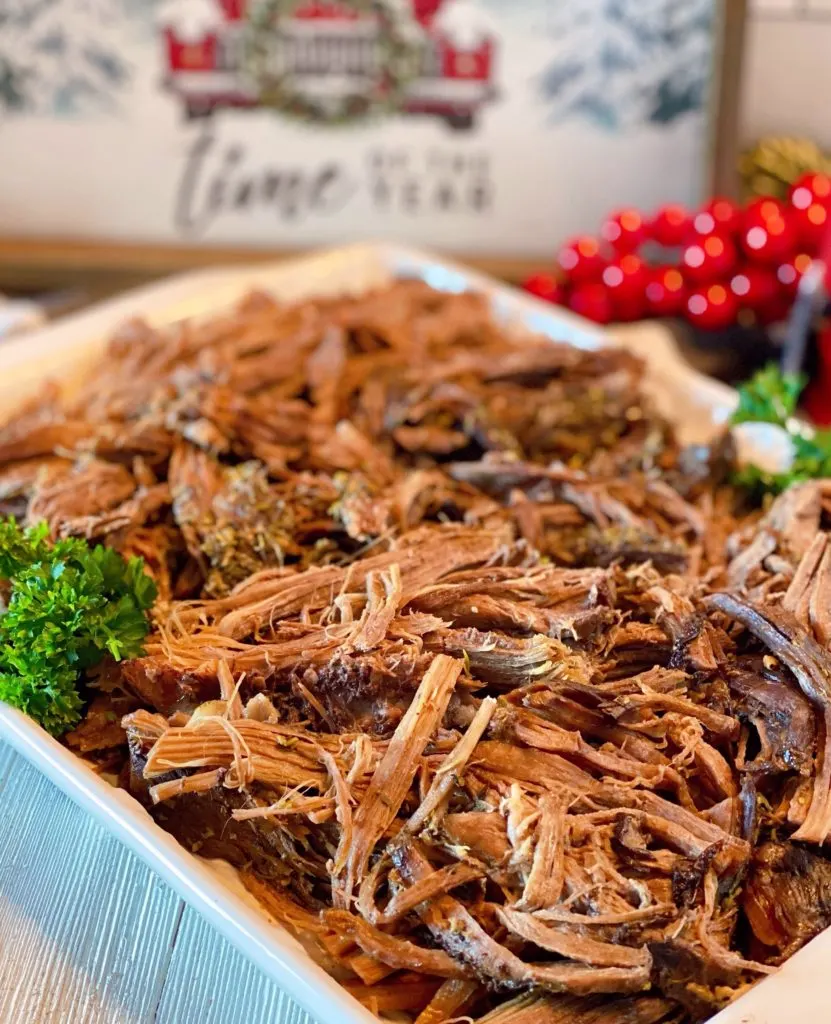 Place the roast in preheat 450° oven and cook for 15 minutes. Again this is to seal in the juices and provide a flavorful roast beef.
Turn the oven temperature down to 275°. Remove the roast from the oven and wait for the oven temperature to decrease to 275 °F.
Carefully add 1–2 cups of water to the bottom of your roasting pan. Enough to cover the bottom with 1 inch of water. Cover the roast with aluminum foil, being careful of the hot roasting pan. Please, please, please use oven-mittens. Place roast back into the oven and cook 1 hour per pound. For this two pound roast you will need 2 hours to 2 1/2 hours.
TIP: If you need to make a larger roast, plan 1 hour cooking time per pound of meat! Example a 3 pound roast would require 3 hours cooking time.
Carefully remove the roast and keep the meat "tented" in foil for 15 minutes to allow the juices to settle back into the meat. Shred the meat and place on a serving platter.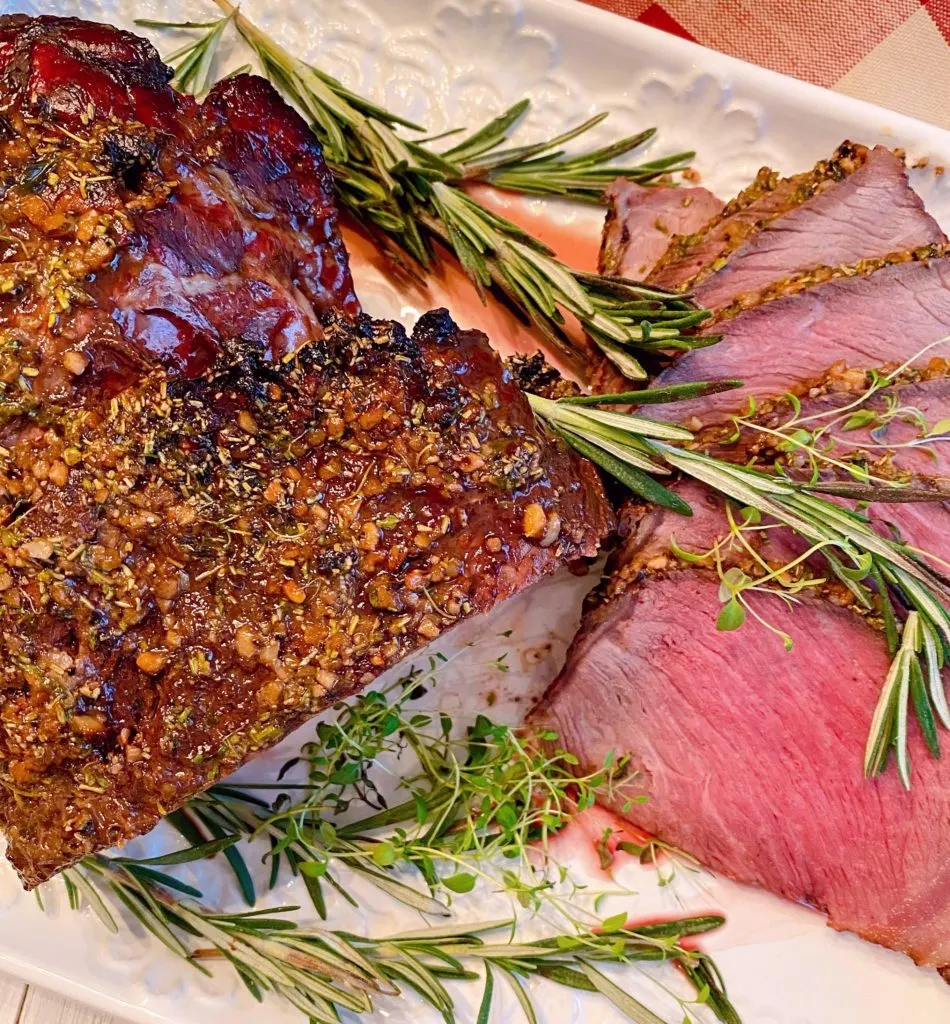 However, you chose to cook this cut of beef, I can promise you will love the flavor that is infused into the beef from the Herb Coating.
One of my favorite things about this roast, besides the price, is that crispy coating of herbs and garlic. Getting little bits with each bite is heavenly! It also makes for great gravy! Enjoy!
Favorite Holiday Side Dish Recipes
As always, thank you for stopping by and visiting with me today. My wish for you as we embark on this special time of year, is for a Happy and Healthy Holiday Season. I hope Food, Fun, and Family are at the center of all your blessings this Christmas Season!
Happy Holidays and Happy Nesting!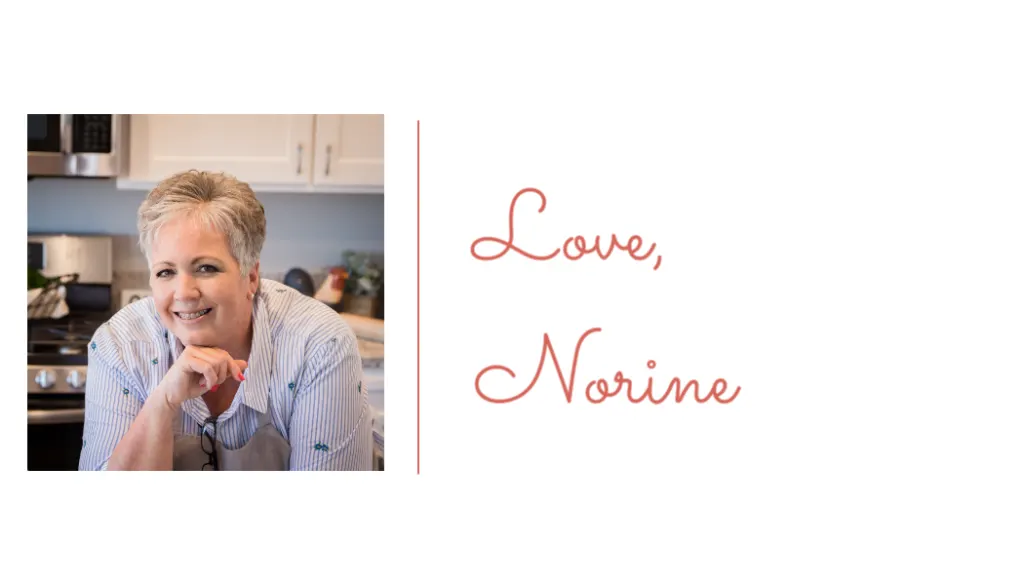 Yield: 4-6 servings
Herb Crusted Cross Rib Roast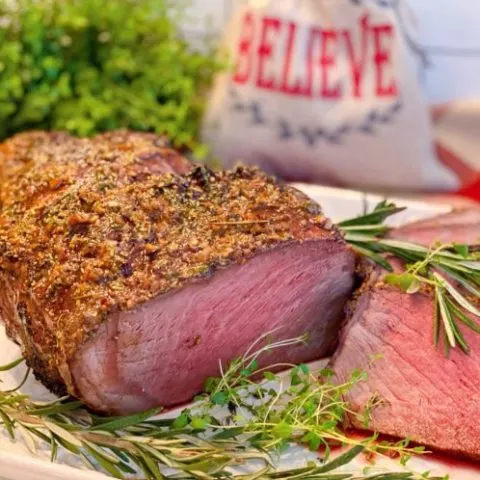 Savory Herbs are made into a paste and spread across the top of a Cross Rib Roast, or Beef Shoulder Roast, roasted until flavorful and juicy for this Herb Crusted Cross Rib Roast!
Additional Time
15 minutes
Total Time
1 hour
25 minutes
Ingredients
1 Cross Rib Roast, 2 lbs.
2 Tablespoons Balsamic Vinegar
2 Tablespoon minced garlic
2 teaspoons dried thyme
1 Tablespoon freshly chopped basil
1 teaspoon dried rosemary
1/2 Tablespoon Salt
1 teaspoon coarse black pepper
1 Tablespoon Olive Oil
Fresh Rosemary and Thyme for garnish and baking
Instructions
Preheat oven to 450°
Place roast on roasting rack in a roasting pan. Brush top of roast with balsamic vinegar.
In a small bowl combine garlic, thyme, rosemary, fresh basil, salt, pepper and olive oil. Mix until well combined. Place herb paste on the top of the roast and spread evenly. Add a few sprigs of fresh thyme and one sprig of fresh rosemary.
Roast @450° for 15 minutes. Reduce heat to 350° cook 40-60 minutes until internal temperature reaches 125° (rare) or 145° (medium). *See alternate cooking method below in notes.
Carefully remove roast and cover loosely with foil. Let stand 15 minutes. Slice thin and place on serving platter.
Notes
Alternate Cooking Method for Low and Slow Shredded Beef. Place roast in preheated 450° oven for 15 minutes. Carefully remove from oven and add 1-2 cups of water for a 1 inch base at the bottom of roasting pan. Cover with foil. Reduce oven temperature to 275° and cook an hour per pound of roast up to 3 hours, check the meat to see if it easily shreds, if not return to oven for additional cooking time. Remove from oven and allow to rest 15 minutes before shredding.
Recommended Products
As an Amazon Associate and member of other affiliate programs, I earn from qualifying purchases.
Nutrition Information:
Yield:
6
Serving Size:
1/4 pound
Amount Per Serving:
Calories:

389
Total Fat:

25g
Saturated Fat:

10g
Trans Fat:

1g
Unsaturated Fat:

14g
Cholesterol:

125mg
Sodium:

646mg
Carbohydrates:

2g
Fiber:

0g
Sugar:

1g
Protein:

38g