Tender red potatoes, hard boiled eggs, chopped celery and green onion, dill pickles and the best mustard dressing all come together in this amazing Classic Red Potato Salad Recipe!
I love potato salad! There, I said it, and I own it…but I'm a potato salad snob! (Big time Potato Salad snob! My face can't even hide if I take a bite of icky potato salad! There are some BAD potato salads out there my friends!)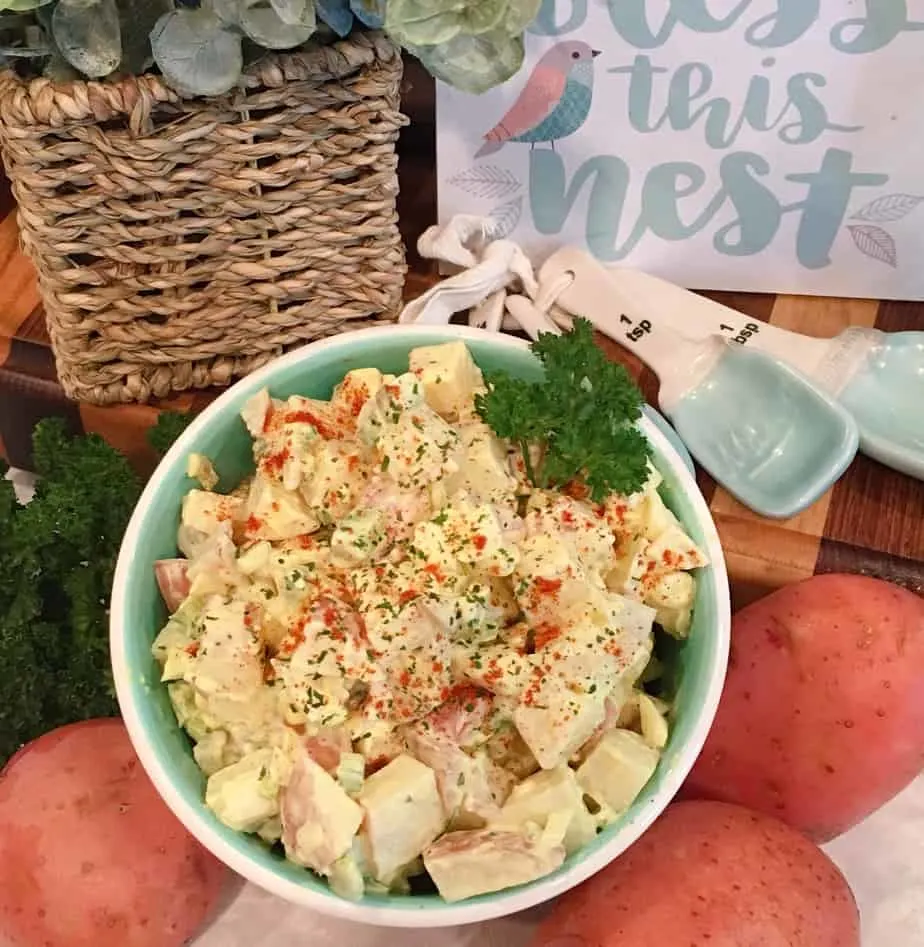 A GREAT potato salad must be creamy, not heavy on the vinegar, and loaded with all the right seasonings! I want hard boiled eggs and a delicious mustard dressing.
Truthfully I don't use vinegar in my potato salad. I don't want it to bite me back! (That's what kids, dogs, and relatives are for!)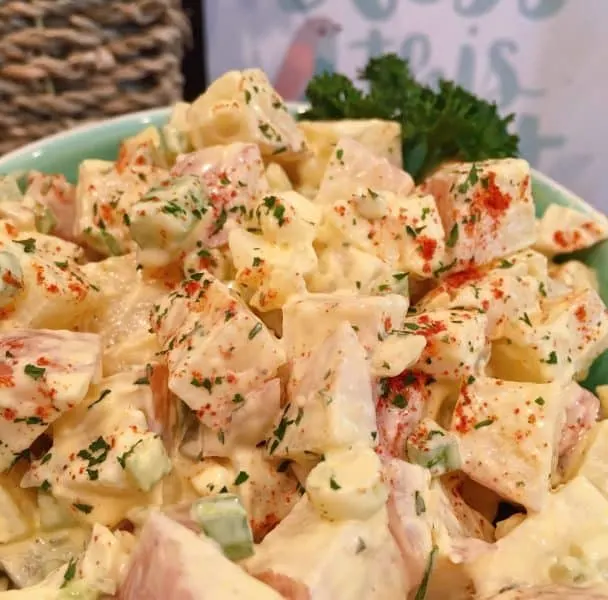 So for the last 30+ years I've worked at creating the BEST potato salad. There have been a lot of flops! (My poor husband has endured endless bad attempts!) However, this year I finally nailed it! I knew I had a winner when my husband took it to lunch 3 days in a row. (Hooray Me!!! Only took me 30 years, but I'm no quitter!)
Let's make this Classic Red Potato Salad Recipe 30 years in the making!
How To Make Classic Red Potato Salad
Wash and cube 8 medium size red potatoes into bite size pieces. DO NOT PEEL! One of the things I love…and I do mean L.O.V.E. about this potato salad, is that there's no peeling potatoes! The skins on red potatoes are so tender you won't even notice.
Place the cubed potatoes in a large pot and fill with just enough water to cover. Bring to a boil over medium high heat. Boil 15-20 minutes until potatoes are "fork tender", but not mushy! The potatoes should hold their shape.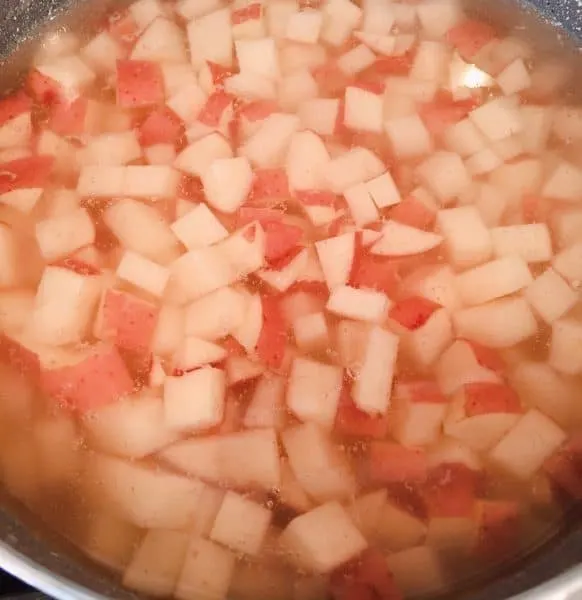 Drain potatoes, gently rinse, drain again. Allow to cool for at least 30 minutes.
Hot To Hard Boil Eggs
Fill a large sauce pan with 3-4 inches of water. Place a steam basket in the bottom of the sauce pan. Add 6 large eggs. (I added extra for deviled eggs…cause ya know…as long as I'm boiling eggs! Right!)
Cover sauce pan and bring water to a boil. Once water begins to boil, steam eggs for 5-8 minutes. Remove eggs from sauce pan and place in a bowl full of ice water. Allow to cool for 10 minutes. Crack and peel eggs. Shells should peel off easily from steaming and cooling in ice water.
TIP: The shells remove from hard boiled eggs more easily when they are steamed rather than placed directly into boiling water and when they sit in an ice water bath.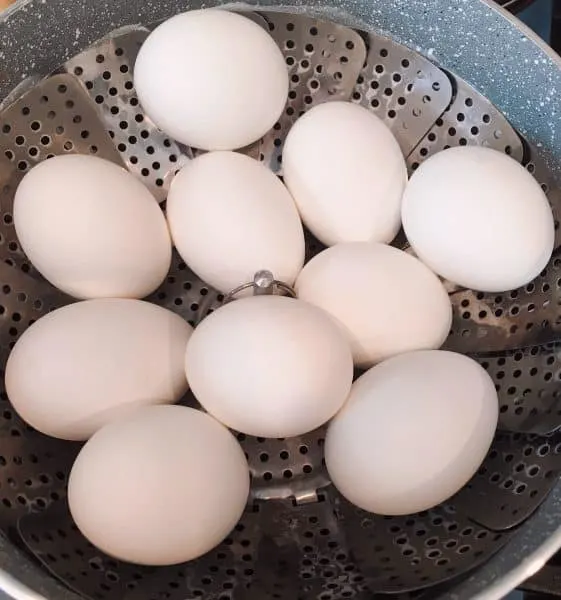 Dice eggs into small pieces. I like the smaller pieces for this potato salad! It helps everything kinda come together.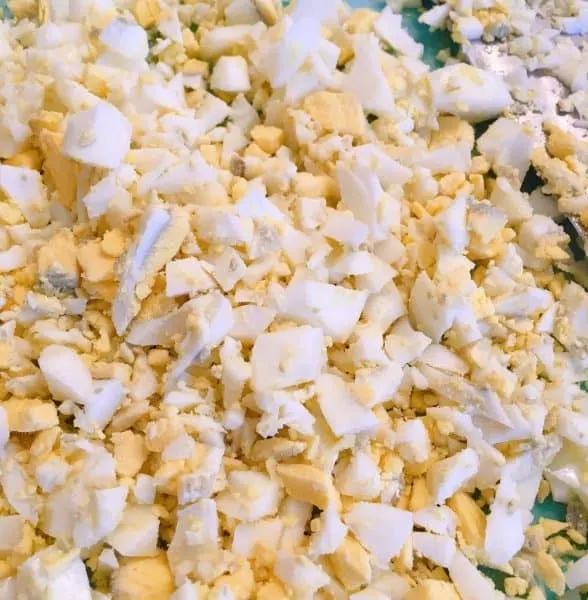 In a large bowl add cooled diced potatoes and eggs. Dice 3-4 stalks of celery into small pieces and chop 4-5 green onions. I prefer the subtle flavor of the green onions over red or yellow onions. HUGE difference in this traditional potato salad!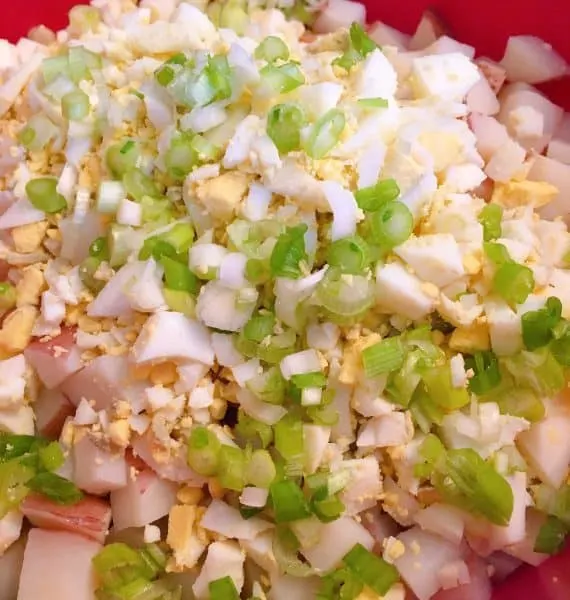 Now for one of the KEY ingredients for this potato salad.
Dill pickles! Why dill pickles? Because they have the vinegar we aren't adding into this salad and they don't over power it like adding straight vinegar would. Sweet pickles make potato too sweet and over power the true flavor of a traditional potato salad! So we are going with dill! They're so good in this salad!
Slice 4-6 dill pickle spears into pieces and then chop into smaller pieces with a sharp knife.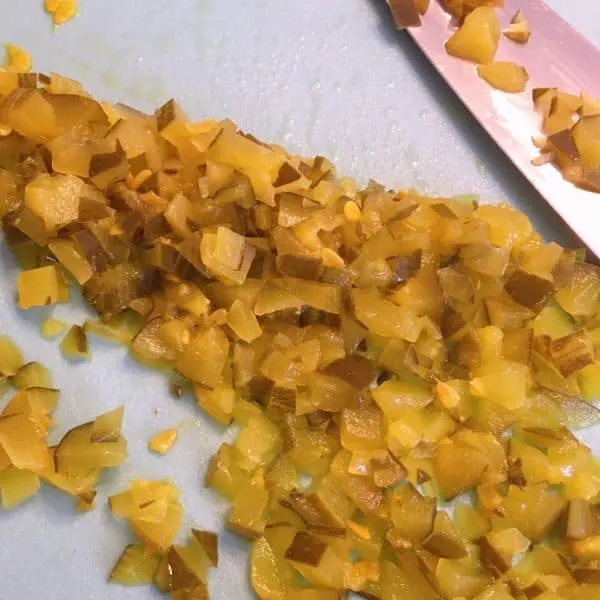 Add chopped dill pickles to potatoes, eggs, celery and onion. In addition add 1/2 teaspoon black pepper, 3/4 teaspoon salt, 1/4 teaspoon onion powder, 1/4 teaspoon garlic powder, and 2 Tablespoons yellow mustard!
Don't skip the MUSTARD! That mustard is my second secret ingredient.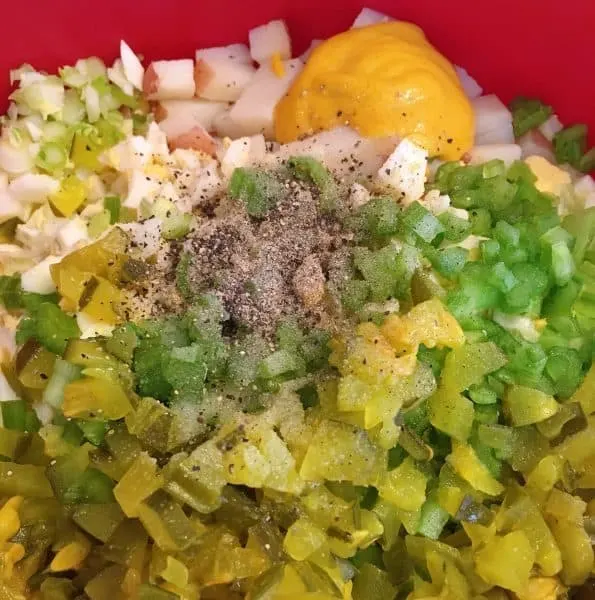 Add 1 1/4 cups Mayonnaise. Raise your right hand and repeat after me…"I promise to only use Mayonnaise because Miracle Whip is NOT Mayonnaise, So help me Potato Salad!" Okay…now that we have that out of the way…add the Mayonnaise…Best Foods is my choice!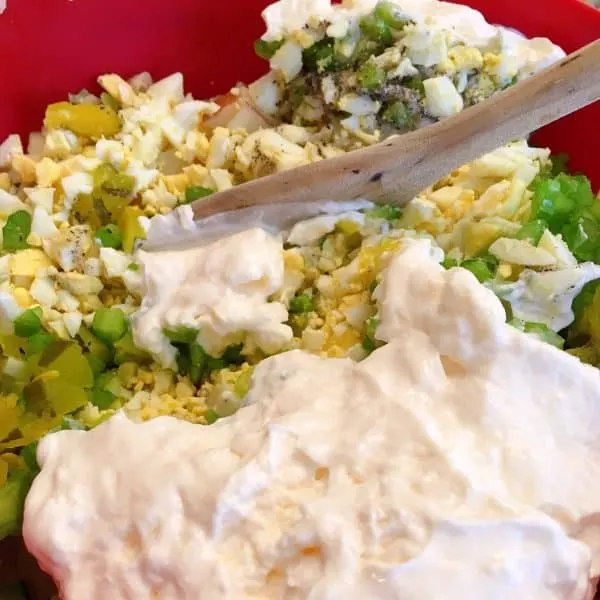 Mix everything together until well combined. If the potato salad is too dry add more mayonnaise.
TIP: You want the salad slightly wet as the potatoes and egg yolks will absorb a portion of that mayonnaise.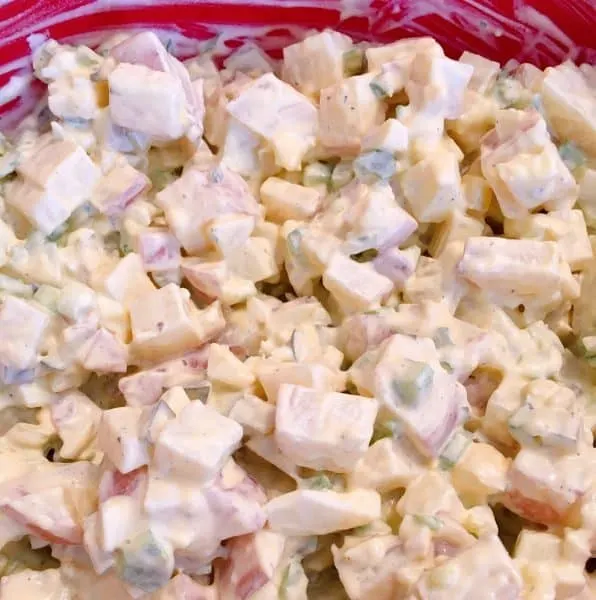 Chill potato salad for 4-6 hours before serving. Garnish with a sprinkle of paprika and fresh parsley.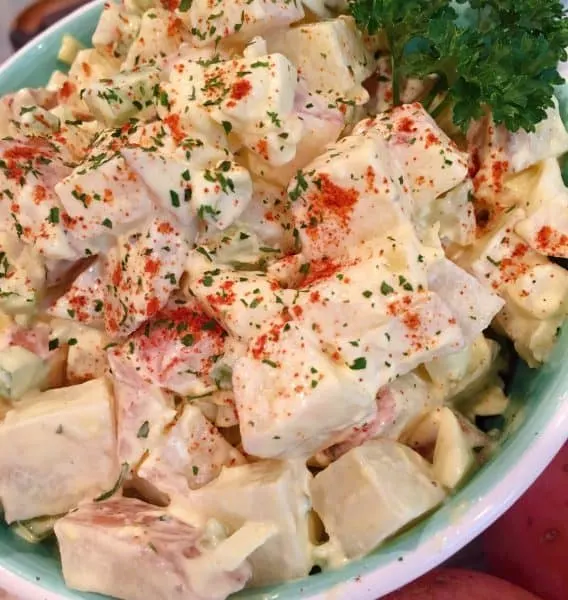 Doesn't this potato salad look amazing! Chunks of potatoes, bits of hard boiled eggs, crunchy celery and onions, the pop of tangy dill pickles, subtle seasonings, and a delicious mustard mayonnaise dressing.
A great creamy delicious traditional potato salad! Your Family is going to LOVE this summer classic!
Potato Salad Questions and Tips?
Can Potato Salad be made ahead of time? Yes it can! However since this is a mayonnaise-based potato salad, stay away from adding the dressing to warm potatoes. This is why I recommend you allow the potatoes to cool for at least 30 minutes. This will prevent the Mayo from getting oily when mixed into the salad.
How long will homemade Potato Salad last? The USDA recommends that "if the potato salad was held in excess for 41° for over two hours, then discard". (Toss it! Better safe than sorry!) If the salad was refrigerated right away it should easily last 3-4 days.
How long can Potato Salad sit out? Two hours! Salads made with bottled mayonnaise are not more fragile than other foods. As with any food, you don't want to leave it out more than two hours (if it is really hot, one hour!)
What goes well with Potato Salad? Anything! Okay maybe not anything…but sandwiches, BBQ main dishes, hamburgers, ribs, etc. Here are some of my favorite pairings.
Recipes That Go Well With Potato Salad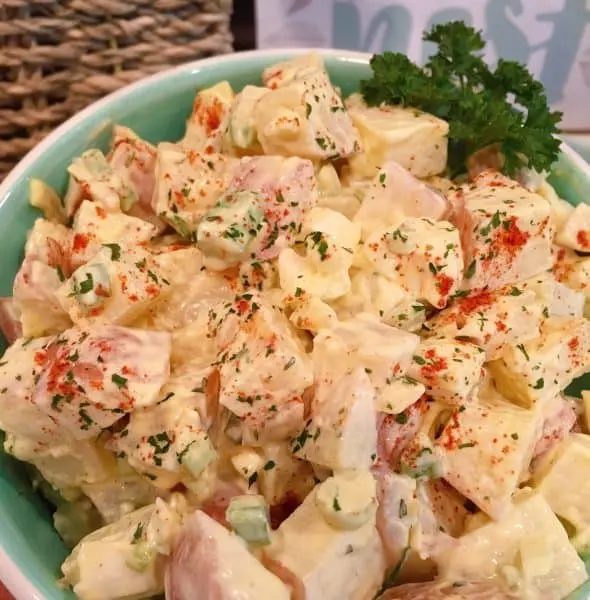 Hope you enjoy this simple Classic Red Potato Salad as much as we do! It was thirty years in the making…and it was totally worth the wait! As are most of the good things in this life!
Thanks so much for stopping by my Nest! Be sure to follow me on Pinterest, Facebook, and Instagram! You'll find me by searching "Norine's Nest"!
Happy Nesting!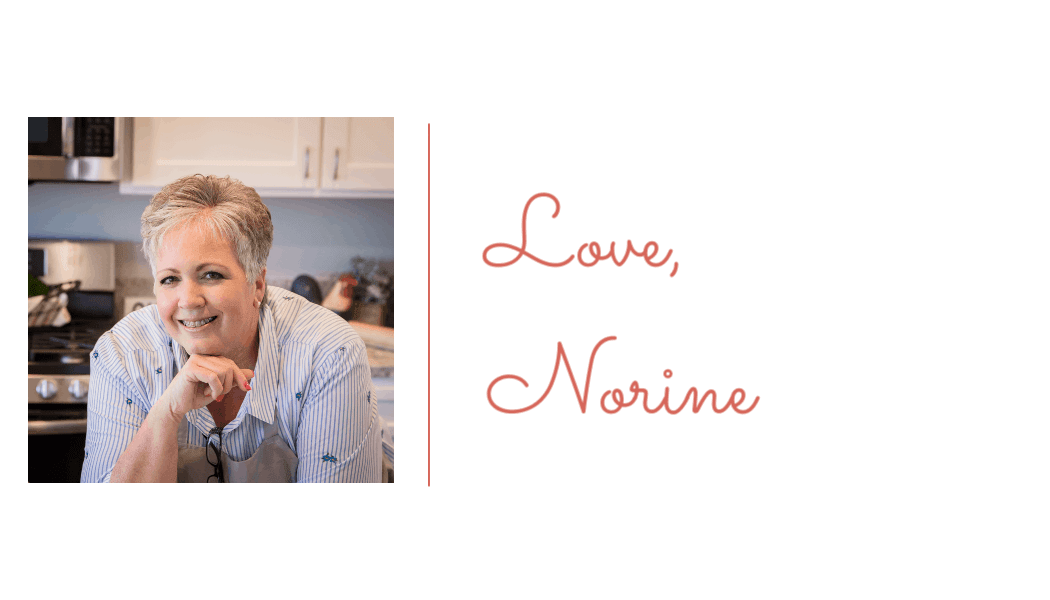 Yield: 10 servings
Classic Red Potato Salad Recipe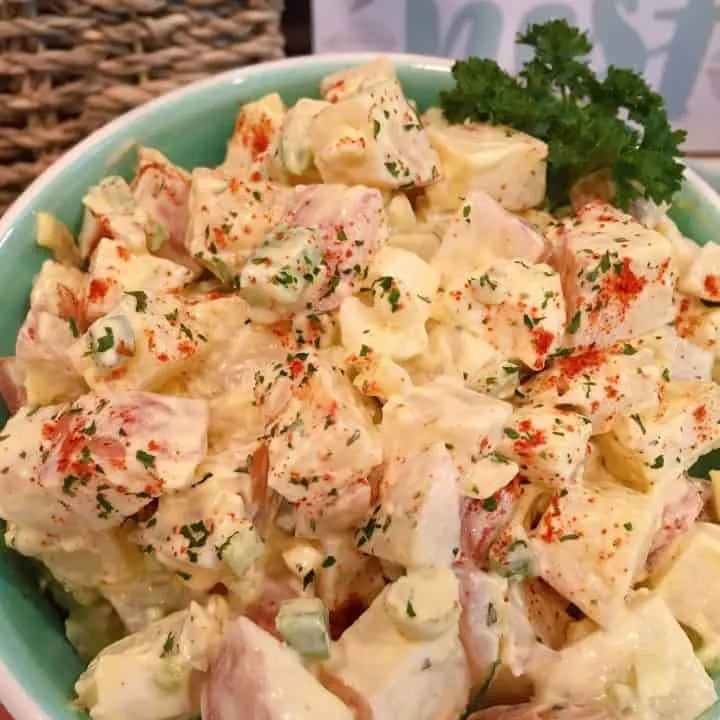 Creamy classic potato salad with tender red potatoes, hard boiled eggs, celery, onion, dill pickles, seasonings, and mustard dressing. Just like Grandma used to make..maybe even better!
Total Time
4 hours
40 minutes
Ingredients
8 medium, red potatoes, diced
6 large hard boiled eggs, diced
3 - 4 celery stalks, diced
4 - 5 green onions, chopped
4 - 6 dill pickle spears, finely diced
1/2 teaspoon coarse black pepper
3/4 teaspoon salt
1/4 teaspoon onion powder
1/4 teaspoon garlic powder
2 Tablespoons prepared mustard
1 1/4 cup Mayonnaise
Paprika and Chopped Parsley for Garnish
Instructions
In a large pot add diced red potatoes. Add enough water to cover potatoes. Bring to a boil over medium heat. Cook until fork tender. 15-20 minutes.
Drain potatoes, rinse, and drain again. Allow to cool 30 minutes.
Add diced hard boiled eggs to cooled potatoes in large bowl. Add diced celery, onion, and pickles.
Add black pepper, salt, garlic powder, onion powder, and mustard. Add Mayonnaise. Mix until well combined.
Cover and chill at least 4 hours. Sprinkle with paprika and parsley before serving.
Recommended Products
As an Amazon Associate and member of other affiliate programs, I earn from qualifying purchases.
Nutrition Information:
Yield:
10
Serving Size:
1 cup
Amount Per Serving:
Calories:

367
Total Fat:

24g
Saturated Fat:

4g
Trans Fat:

0g
Unsaturated Fat:

19g
Cholesterol:

123mg
Sodium:

549mg
Carbohydrates:

30g
Fiber:

3g
Sugar:

3g
Protein:

8g