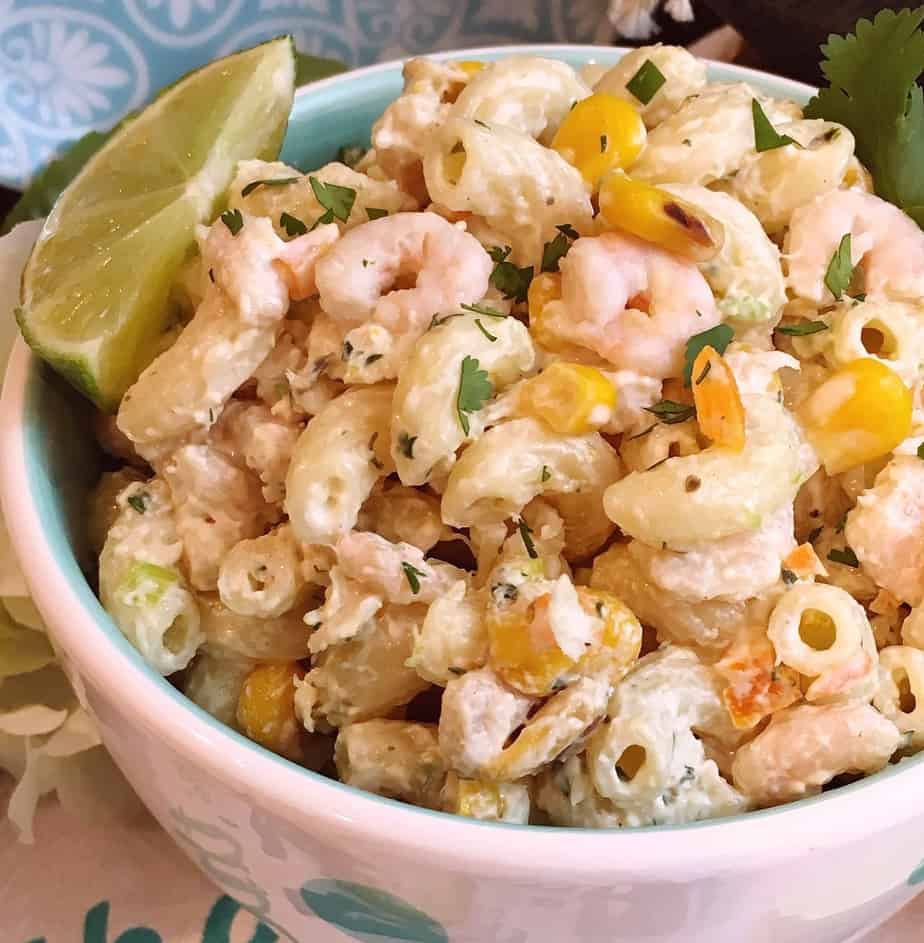 Mexican Seafood Pasta Salad is loaded with shrimp, lump crab, roasted corn, and a delicious creamy cilantro dressing! It's the perfect Summer side or meal if stuffed in an avocado!
*As an Amazon Associate I earn from qualifying purchases. This post may contain affiliate links, which means that I may make a commission from any purchases at no additional cost to you. Thank you for your support!
When the weather heats up…I like to prepare a meal that won't heat up my nest later in the day! So Pasta salads that can double as a main dish, as well as a side dish, are always a favorite!
I had a can of lump crab meat in the pantry that was calling out … "Hey! Remember me back here! Use me!!!" So I sat there pondering what I could do with that little ol' can of lump crab meat? Then I remembered the two tiny bags of frozen salad shrimp that were hanging out in the freezer! I felt bad for those little guys! Decided the two needed to come together and have a little "Fiesta" in a Mexican Pasta Salad!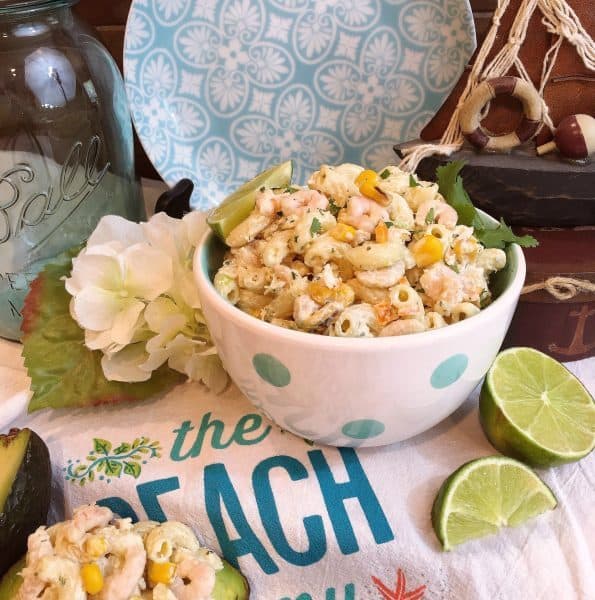 My brain got to work creating this salad. Honestly I wasn't sure if it was going to be good or not. I just started creating, crossed my fingers, and hoped for the best!
It's like Cabo in a cup! A mini vacation with a fork! It's that GOOD!!
How To Make Mexican Seafood Pasta Salad
Let's start out with lip smacking, slap yo' mama dressing for this amazing salad! (Don't really slap yo'mama…that's not nice! You might want to…but it's not nice!) It's a lot like the taco sauce for my Easy Fish Tacos with Amazing Taco Sauce recipe! Which is going crazy over on Pinterest!
To make the sauce, in a medium size bowl combine 1/2 cup sour cream, 1 1/4 cup of mayonnaise, 1/4 teaspoon dried chipotle powder, 1/2 teaspoon dried dill weed, (nothing like having weeds in your salad!), 1 Tablespoon chopped cilantro, 1/2 teaspoon oregano, 1/2 a jalapeno pepper minced, 1 teaspoon chopped capers, 1/2 teaspoon cumin, 1 teaspoon salt, 1/2 teaspoon black pepper. (My high school English teacher would be so proud of that run on sentence!) Mix together and chill till ready to use.
In a strainer drain and rinse two 4 ounce packages of wild caught salad shrimp, cooked and peeled, and one 6 oz. can of Fancy White-lump crab meat.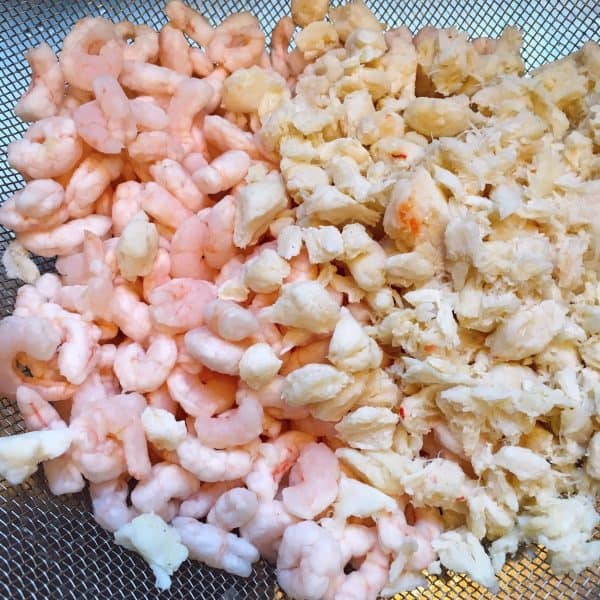 Fill a large pot, half way, with water. Bring to a boil. Add 2 cups elbow pasta. Cook until al dente!
TIP: Do NOT over cook the pasta as the dressing for the salad will absorb into the pasta and cause it become more tender.
Drain pasta in strainer…you can just dump it on top of the shrimp and crab…they're all gonna get cozy soon enough. Allow pasta to drain thoroughly.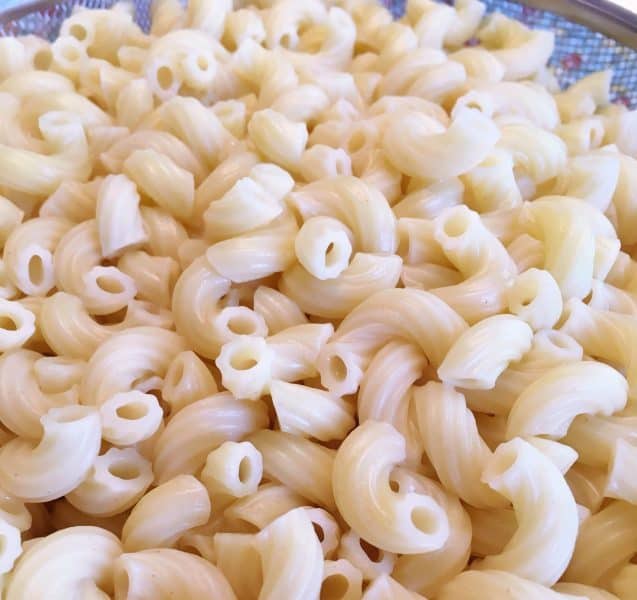 While the pasta is cooking and draining…prepare the vegetables for the Mexican Seafood Pasta Salad!
Begin with mincing 4 green onions, including half way up the stem. Place minced onions in a large bowl.
TIP: The best way to mince green onions is to slice them first, and then finely chop them.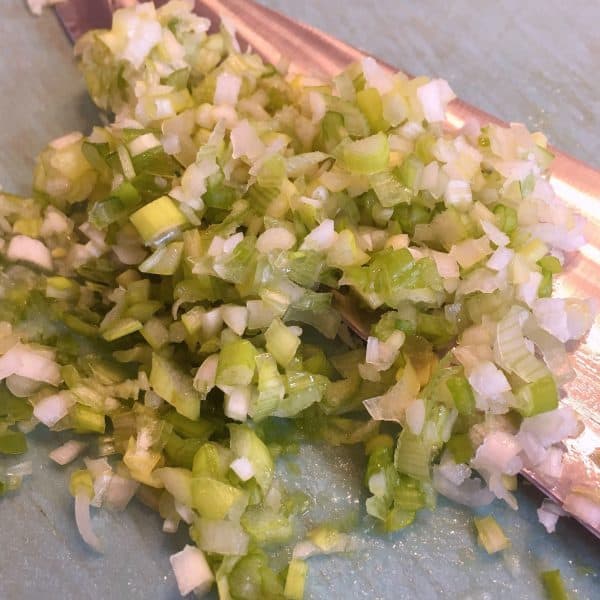 Next finely chop 1/4 sweet yellow peppers and 2 Tablespoons cilantro.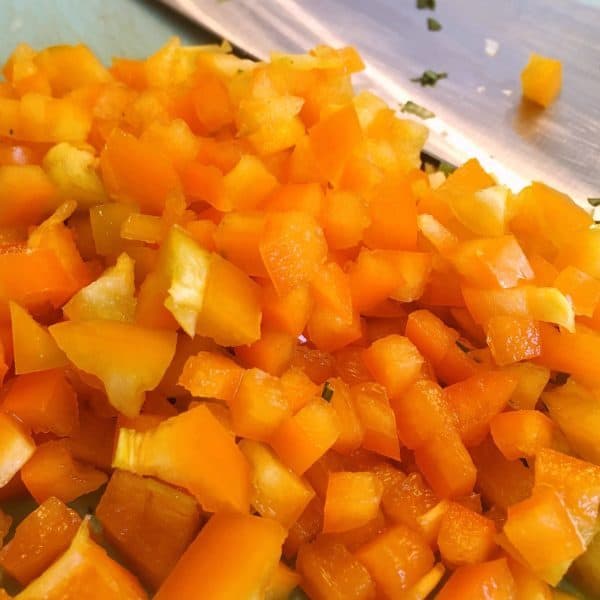 How to Make Roasted Corn On The Stove Top
In a small skillet melt 1/2 Tablespoon butter. Turn heat up to high, and add one can well-drained corn. Allow corn to sit over high heat until it begins to pop.
That's right…this corn is gonna fly right out of the pan like popcorn! (It makes cooking fun…it's like dodging hot mini paint balls being fired at you every 3 seconds!) Corn obviously doesn't like heat! (Maybe I'm corn? Never thought of that before!)
Stir corn and allow remaining kernels to slightly brown. Remove corn from skillet, place on paper plate or bowl, and allow to cool slightly.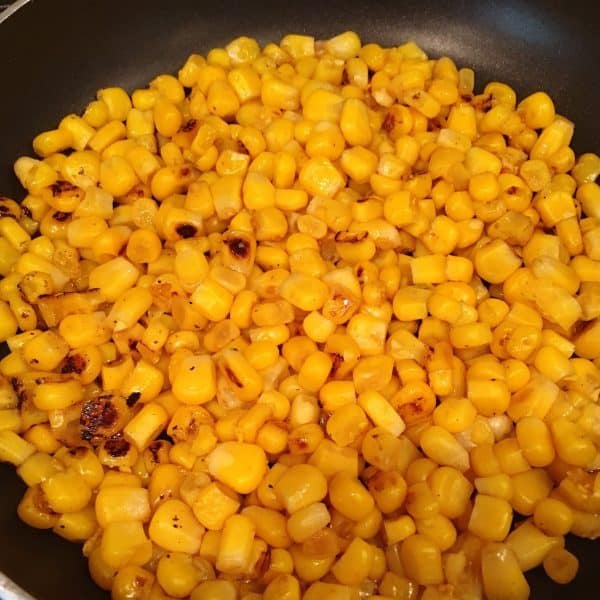 Add corn to chopped vegetables. Isn't that pretty! I love the golden colors happening in this bowl!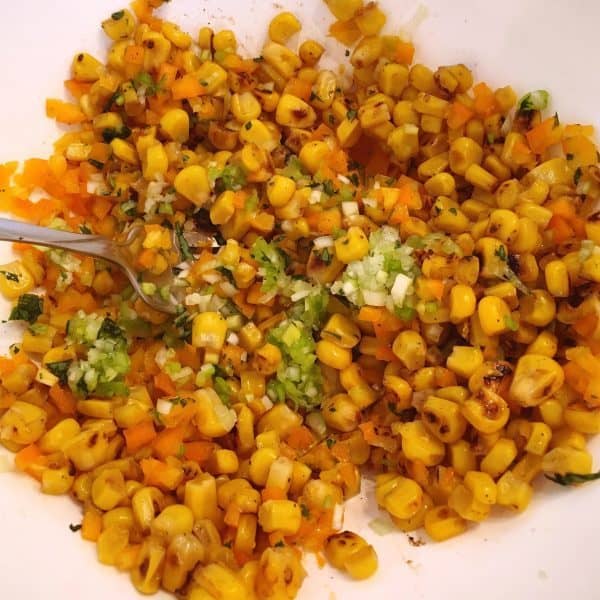 Add drained pasta, shrimp, and lump crab. YES! Time for those sea critters to stop their siesta and kick up their game!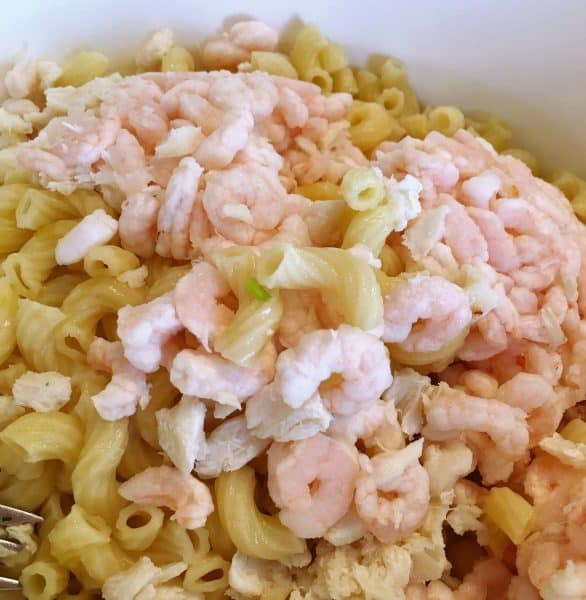 Add chilled dressing. The flavors in this dressing are so scrumptious. The longer they sit…the better they get! You can see from looking at it that it is loaded with so many wonderful seasonings.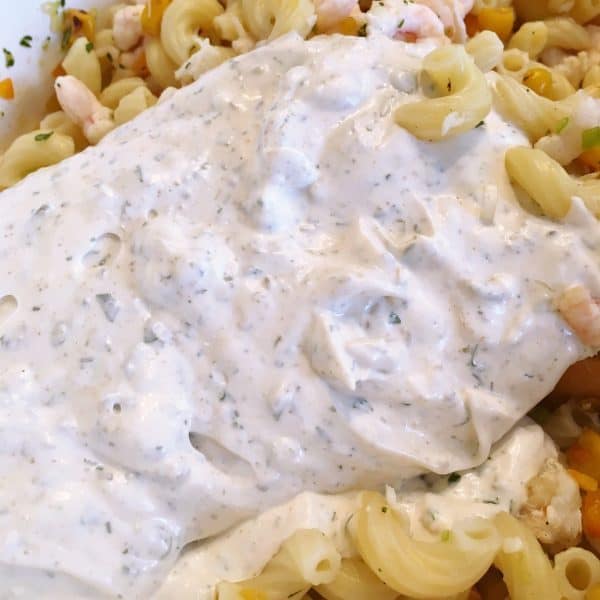 Gently mix everything together to combine! This is where the Fiesta starts!!!
Squeeze two limes over the top of the salad and mix well! This will add a little zest! Zing! Ba-zinga! We all need a little "olè" in our lives…even basic elbow macaroni!
TIP: You can also just add the lime juice to the dressing! I just forgot to do that!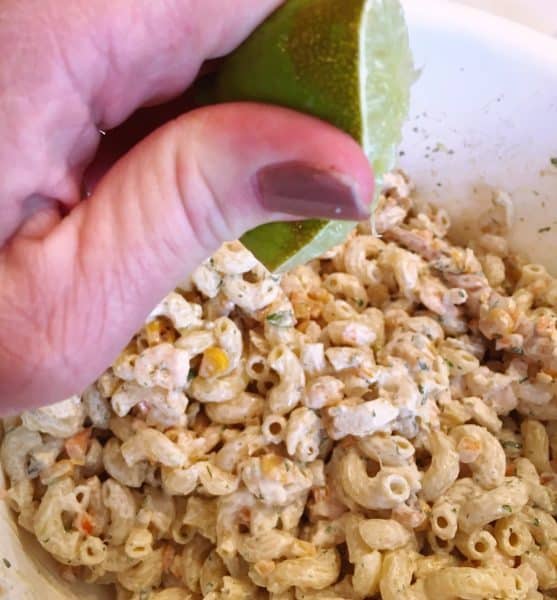 Now for the "plot twist"… every good recipe has a plot twist! Add 1/4 cup crumble Cotija cheese! You can skip the Cotija cheese if you don't have any or you're not a fan…but trust me when I say, this cheese has a very unique flavor you can't replicate! It's delicious in this Mexican Pasta Salad!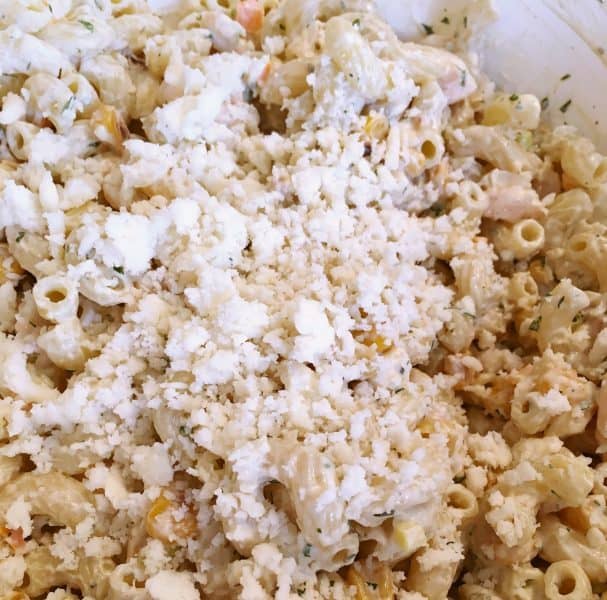 Give the salad one more stir, just to make sure everything is well combined, take a quick taste test to determine if you need to add a little more salt or pepper. Cover and chill for 2-3 hours!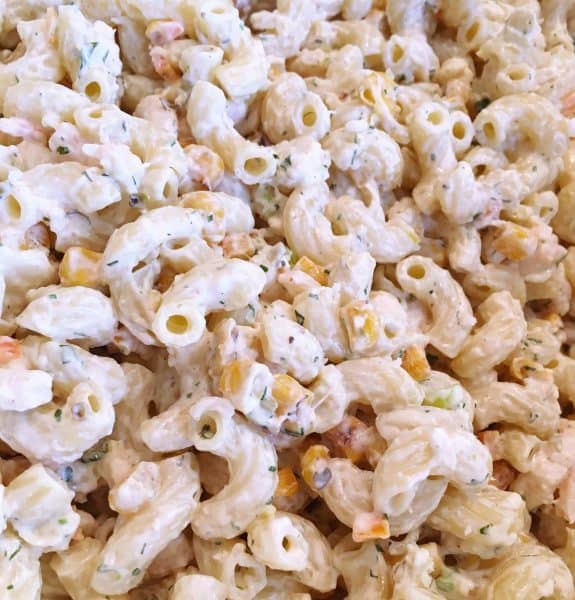 Don't you just love all the flavors popping out at you in this Mexican Pasta salad! From the peppers to the dill and cilantro! You can even spy little pieces of chopped capers!
So much seafood too! This salad doesn't skimp on the seafood! Every forkful is filled with crab, shrimp, pasta and all the wonderful flavors of Mexico!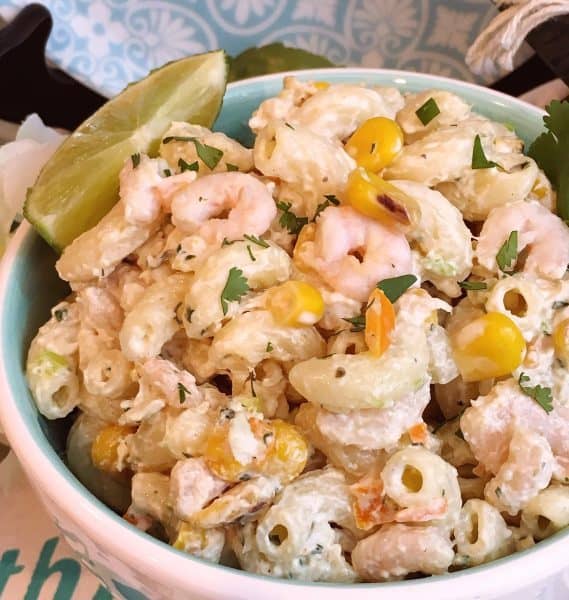 Want to make it a meal? Cut an Avocado in half, scoop out part of the avocado, and fill with seafood pasta salad!
The creaminess of the avocado combines with the spices and flavors of seafood are outstanding and such a great simple spring and summer meal!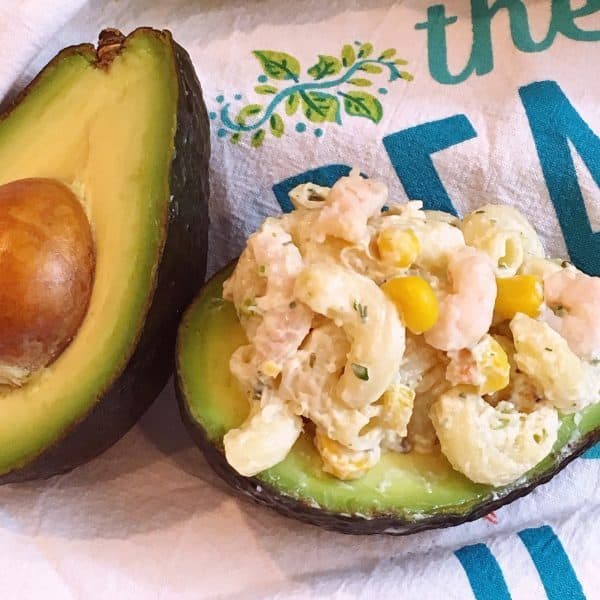 I hope you enjoy this new tasty summer favorite from our Nest…Mexican Seafood Pasta Salad!
Here Are Other Favorite Summer Salad Recipes
Thanks so much for stopping by and visiting with me today! Remember you can always follow me on Facebook, Pinterest, and Instagram!
Happy Nesting!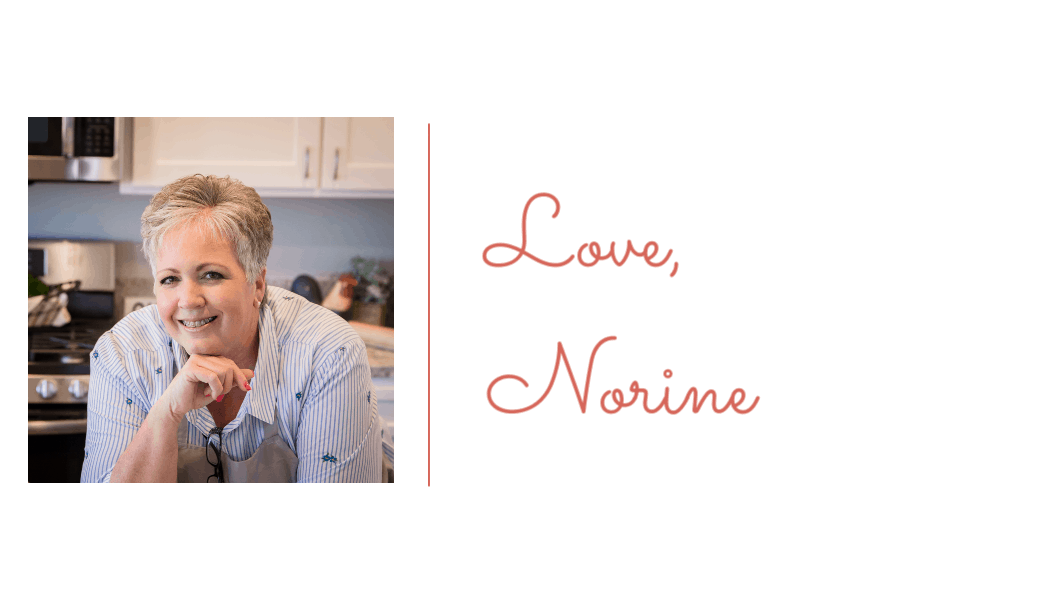 Yield: 10 servings
Mexican Seafood Pasta Salad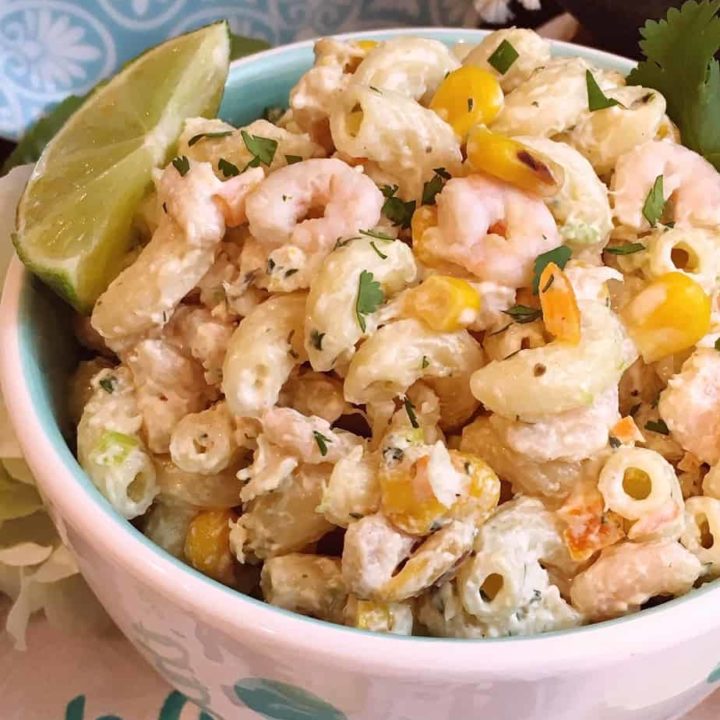 Creamy Cilantro dressing, tender macaroni, shrimp, white-lump crab, and roasted corn all come together to create this amazingly delicious and different Mexican Seafood Pasta Salad.
Ingredients
2 cups uncooked elbow macaroni
2 - 4 oz. bags frozen wild caught, salad shrimp, cooked and peeled
1 - 6 oz. can fancy white-lump crab meat
1 can whole kernel corn, drained
1/2 Tablespoon butter
1/2 cup diced yellow pepper
1/4 cup minced green onions
2 Tablespoons chopped cilantro
1/4 cup Cotija Cheese crumbles
1 1/4 cup mayonnaise
1/2 cup sour cream
1 Tablespoon chopped cilantro
1/2 teaspoon cumin
1 teaspoon chopped capers
1/2 teaspoon oregano, dried
1/4 teaspoon Chipotle chili, ground powder
1/2 teaspoon dried dill weed
1/2 a hot pepper, jalapeno, finely chopped
2 limes
Instructions
Fill a large pot, half way, with water. Bring to a boil, over medim-high heat, and cook elbow macaroni till al dente about 10 minutes. Rinse and drain.
Rinse and drain shrimp and lump-crab. Set aside.
In a small skillet, over high heat, melt 1/2 Tablespoon butter. Add drained corn. Do not stir. As corn roasts/browns it will begin to pop. Gently stir corn until half the kernels are golden brown. Remove from heat and allow to cool.
To make the dressing, in a small bowl combine mayonnaise, sour cream, chopped cilantro, cumin, capers, oregano, Chipotle chili powder, dried dill weed, finely chopped jalapeno pepper, and juice of two limes. Mix well.
In a large bowl add cooked macaroni, shrimp, crab, chopped onions, peppers, and additional cilantro. Add roasted corn and mix well. Add 1/4 cup crumbled Cotija cheese. Add dressing mixture and stir gently until everything is well combined.
Chill Salad for 3 hours before serving.
Recommended Products
As an Amazon Associate and member of other affiliate programs, I earn from qualifying purchases.
Nutrition Information:
Yield:
10
Serving Size:
1 1/2 cups
Amount Per Serving:
Calories:

342
Total Fat:

28g
Saturated Fat:

6g
Trans Fat:

0g
Unsaturated Fat:

21g
Cholesterol:

72mg
Sodium:

438mg
Carbohydrates:

14g
Fiber:

1g
Sugar:

2g
Protein:

9g