Shrimp Pasta Caesar Salad is loaded with fresh romaine greens, grape tomatoes, avocado, croutons, Parmesan cheese, Penne Pasta, and freshly sautéed seasoned shrimp for one amazing dinner salad!
Cooking! Some nights I just don't wanna! That's right…sometimes I just want a quick easy meal that's kind of "girly". Isn't that what men think of "salad" for dinner? (It's kind of fun to serve salad for dinner…just to watch their faces as they scan the horizon in anticipation of the "rest" of the meal! Lol)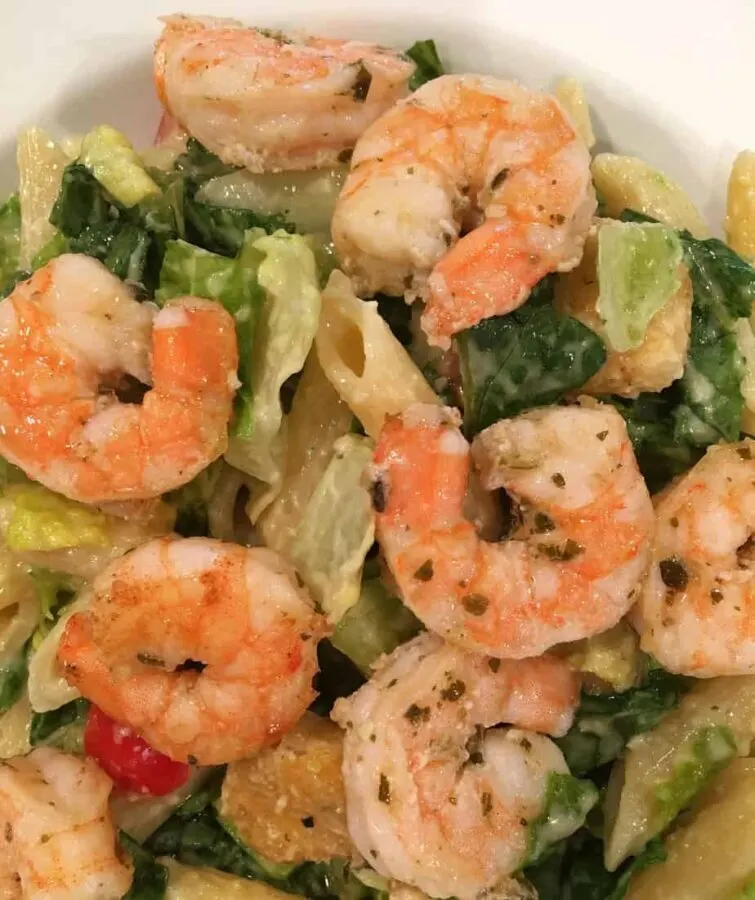 This recipe is SO good! It comes together quickly and easily. So it's perfect for those "I don't wanna cook" nights and so much better for you than running to your local fast food joint.
How To Make Shrimp Pasta Caesar Salad
To start… Chop up one head of romaine lettuce! That's right…one whole head. Generally I'm a stickler for washing and tearing my lettuce and tossing the thick vein…especially with romaine. However, this salad calls for "chopped" lettuce.
TIP: Best way to chop lettuce? Wrap your hand around the entire head of romaine. Squeezing it to hold it together. With a large kitchen knife… Whack the end off… about 5 inches from the base. Toss that end! Keep a hold of the lettuce. Start at the freshly cut base and cut across in 1/2 inch sections, going all the way up until you reach the top of the leaves. (Please be sure to move your hand that is holding the lettuce. This is NOT a chopped hand salad!)
Now take the knife and go across the opposite direction until you have nice little pieces. Place all the chopped lettuce in a salad spinner. Rinse and toss, rinse and toss. Spin it dry!!! If you do not have a salad spinner…GO GET ONE! (You can often find them in thrift stores.)
Place your chopped lettuce in a large salad bowl.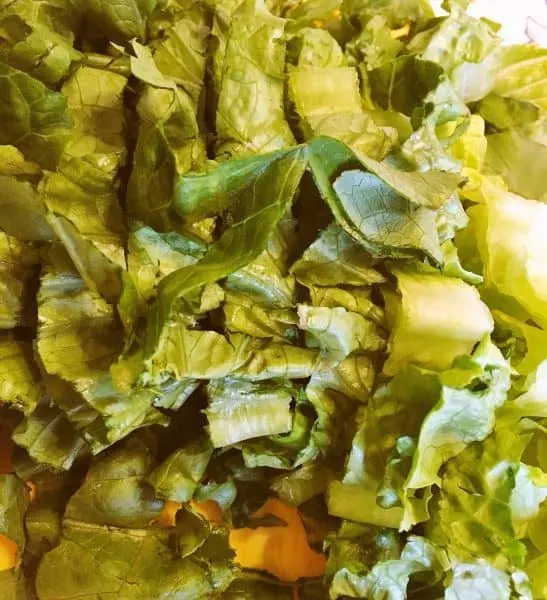 To the lettuce add 1 cup croutons, 1 cup cut up small grape tomatoes, 1 ripe avocado diced, 1/4 cup of grated Parmesan Cheese. I threw in the kernels from two left over corn cobs. It's completely optional. You could add artichoke hearts, olives, etc. It's really up to you and your tastes.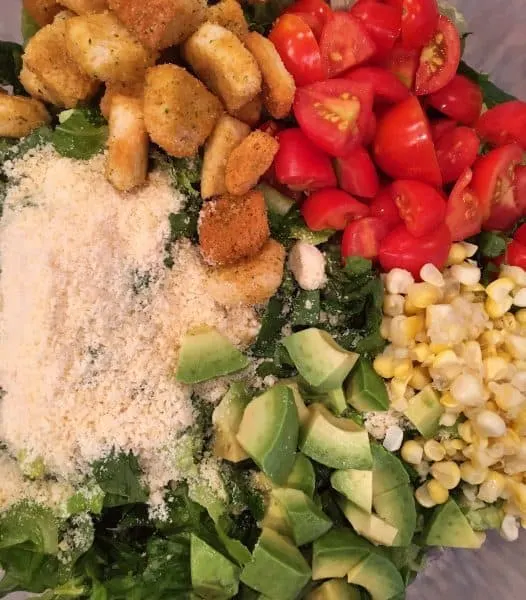 Remove the tail from 15-20 raw medium/large shrimp. Rinse. Place shrimp in a zip lock baggie with 1 tablespoon prepared pesto sauce. Place in refrigerator until ready to use. (At least 5 minutes)
TIP: I use Classico Pesto Sauce. I always have a jar on hand in my refrigerator. Pesto sauce is an amazing way to season and marinade a lot of different sauces and meats.
Bring a large pot of water to a boil. Add 2 cups of uncooked medium Penne Pasta. Cook according to package directions. Generally 5–10 minutes until al dente. Rinse and drain. Allow to cool while you are cooking your shrimp.
Speaking of those shrimp… In a medium skillet over medium high heat cook shrimp until pink, slightly golden on the edges, and firm. Shrimp cook quickly so keep an eye on them.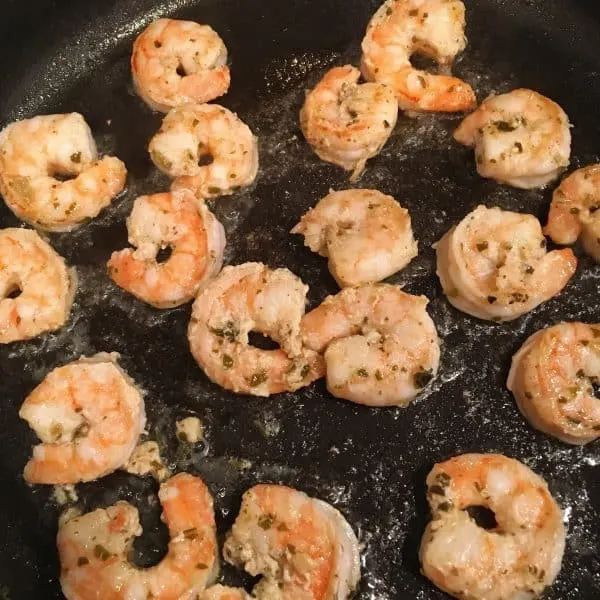 Remove Shrimp from pan and place on a plate until ready to serve salad.
Add the cooled pasta to the salad…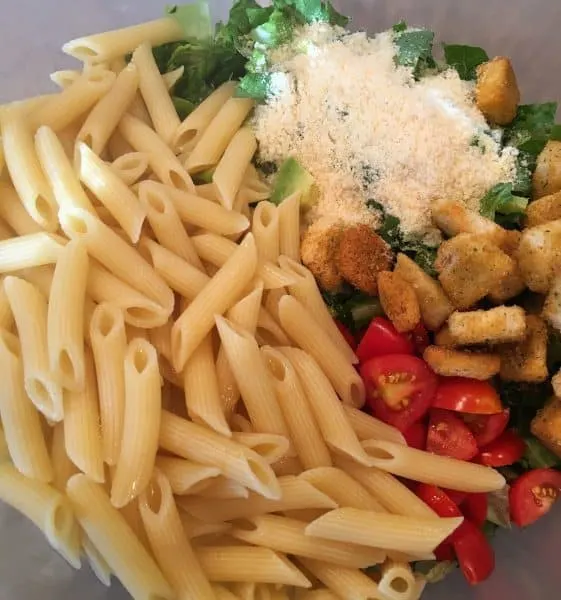 Let's talk Caesar Dressing for a minute. I'm a HUGE fan of Cardini's Caesar dressing. This is not a paid sponsored post. I just LOVE Cardini's Caesar Salad dressing!
I'm so thrilled our local grocery store carries the "large size" bottle! It's easier to get the straw down the neck of the bottle. Lol (I'm joking! I don't really drink the stuff…yet!)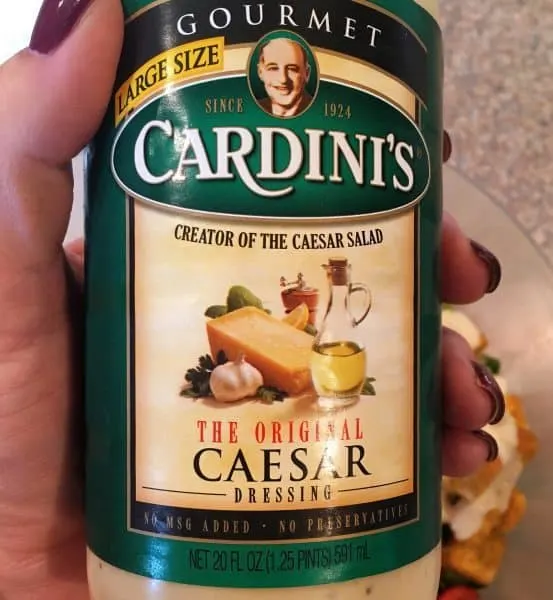 Drizzle the dressing over the entire salad. Remember to start off with a smaller amount than you think you want. You can always add more…however you can't take off what you put on. 😉 (Well…you could if your into washing really small pieces of lettuce!)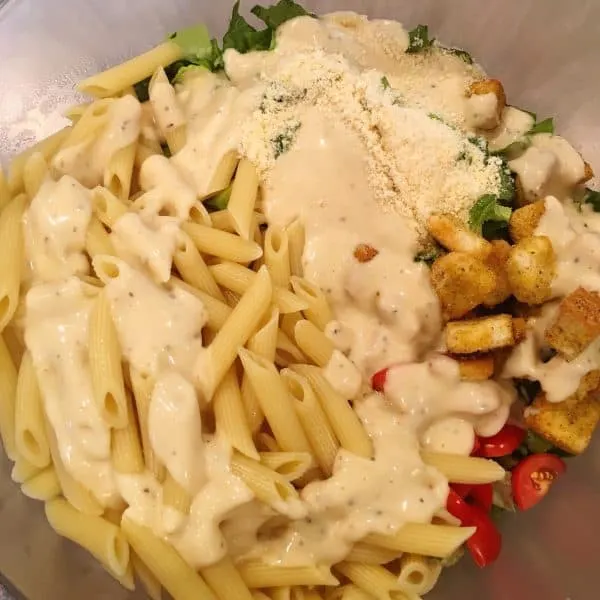 Toss that all together until everything is beautifully blended and covered in that delectable dressing. I'm starting to get "hangry"!!!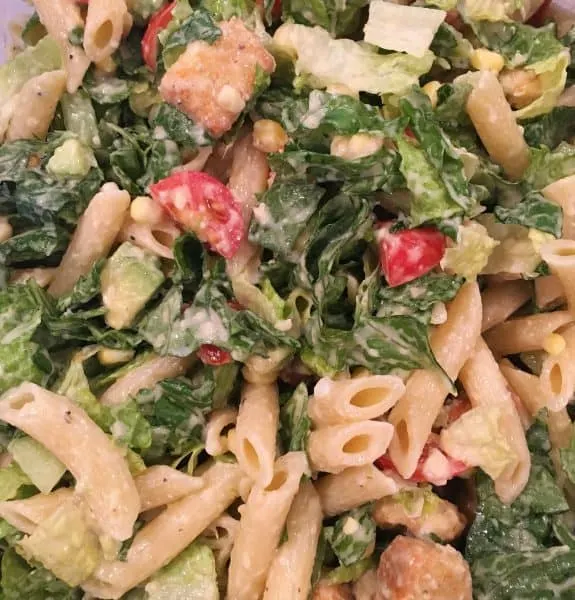 Plate the salad and top with 6-8 of the sautéed shrimp. (Okay fine…10! I put TEN shrimp on my salad! Maybe I'm not as "girly" as I thought I was!)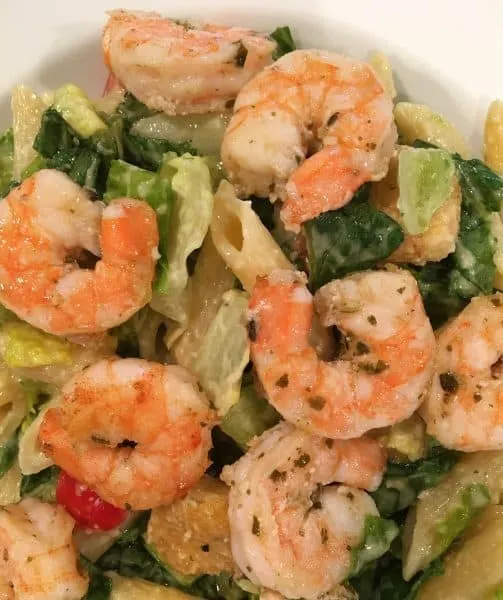 Now hurry…go find a fork and DIG IN!!! You don't want any of those juicy flavor packed shrimp jumping ship!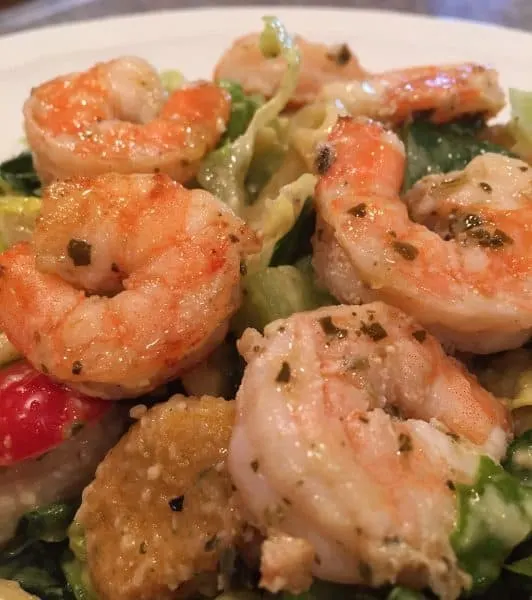 This salad is a tantalizing tango of flavor in your mouth! Switching directions at every turn. Each bite better than the next!
The creaminess of the avocado. The crunch of the croutons! The explosion of the garden fresh grape tomatoes! Let's not forget the rich garlic shrimp. Before you know it you're staring at the bottom of an empty bowl with a pout on your face!
The pasta may seem like a strange combo with a "green leaf" salad…you just have to trust me when I say it's AMAZING!
This salad will not keep so be sure to serve it right after you mix it all together, or mix in smaller batches.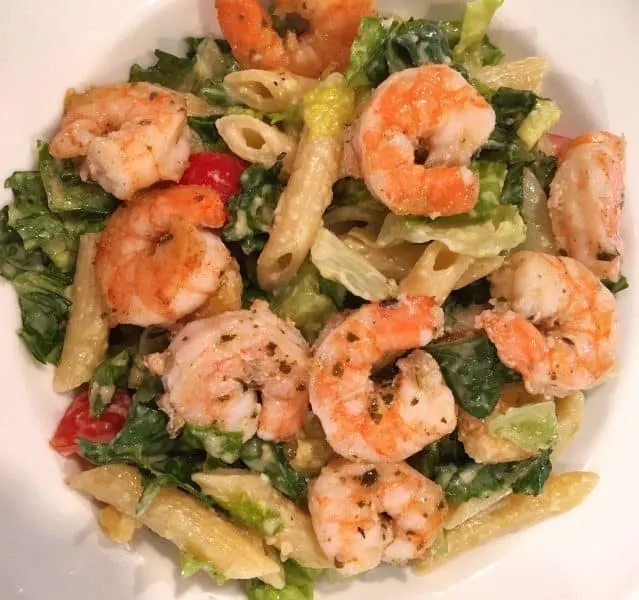 This is a meal! The only thing I would add would be a thick slice of garlic bread. "Mars Man" loved this salad! Maybe this salad isn't so "girly" after all.
It sure is a nice easy and delicious meal to make on a night when you're feeling too exhausted to really cook.
If you liked this delicious salad you may also enjoy these other great Salad Recipes
Enjoy Friends!
Happy Nesting…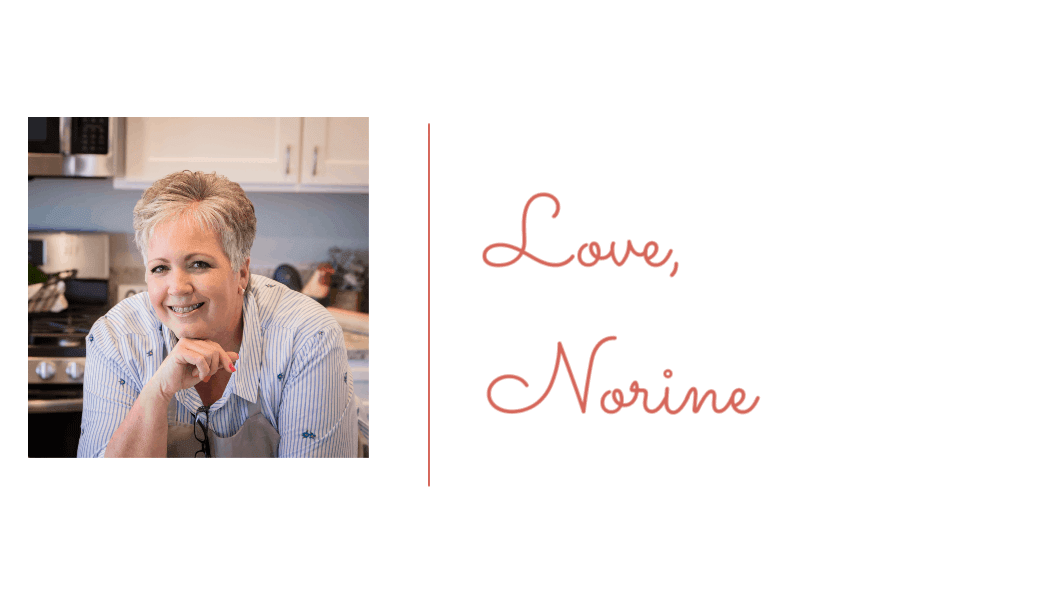 Yield: 4 servings
Shrimp Pasta Caesar Salad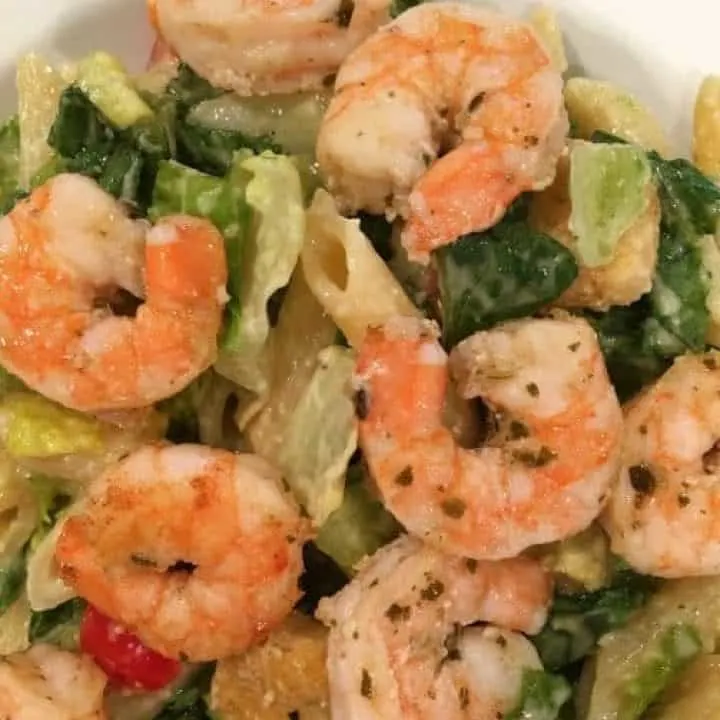 This salad is loaded with chopped romaine lettuce, crunchy croutons, grape tomatoes, diced avocado, penne pasta and delicious sauteed marinated shrimp for a dinner salad that's out of this world!
Ingredients
1 head romaine lettuce, chopped, washed, and dried.
1 cup cut up grape tomatoes
1 large avocado diced
1/4 cup of corn kernels
1 cup salad croutons
1/4 cup grated Parmesan cheese
2 cups uncooked Penne Pasta
Water to cook Pasta
15-20 medium to large raw shrimp, tails removed.
1 Tablespoon prepared Pesto Sauce
1 Tablespoon Olive Oil for cooking shrimp
Cardini's Caesar dressing or other Caesar dressing
Instructions
In a small sandwich zip lock bag place cleaned shrimp and 1 Tablespoon Pesto Sauce. Zip Lock the bag and mix together with your hands to combine pesto and shrimp. Marinate in the Refrigerator until ready to cook.
In a large pot bring water to a boil. Add Penne pasta and cook per cooking directions on box. Drain and allow to cool 10-15 minutes.
In a large salad bowl add prepared romaine lettuce. Corn Kernels, grape tomatoes, diced avocado,Parmesan Cheese, and Croutons.
In a medium skillet over medium high heat add 1 Tablespoon olive oil. When pan is hot add marinated shrimp one at time. Turn when shrimp is pink and firm. Cook on other side until done. Remove from heat and place on a plate.
Add cooled Penne pasta to Salad ingredients.
Drizzle with Cardini's Caesar dressing and toss salad until it is mixed together well and coated in dressing.
Plate salad and top with about 6-8 sauteed shrimp.
Serve immediately.
Recommended Products
As an Amazon Associate and member of other affiliate programs, I earn from qualifying purchases.
Nutrition Information:
Yield:
4 servings
Serving Size:
2 cups
Amount Per Serving:
Calories:

478
Total Fat:

26g
Saturated Fat:

5g
Trans Fat:

0g
Unsaturated Fat:

19g
Cholesterol:

53mg
Sodium:

577mg
Carbohydrates:

48g
Fiber:

10g
Sugar:

6g
Protein:

17g