Tortellini Olive Salad is loaded with cheese filled tortellini, green and black olives, salami, and marinated in a cheesy Italian Dressing! It's the favorite summer pasta salad at this Nest! It's a taste treat for the senses!
When I was first married I loved the Pillsbury magazine cookbooks at the check out stand. This was long before the internet… and long, long before food bloggers took over the world of cooking…ya know…back in the dinosaur period! lol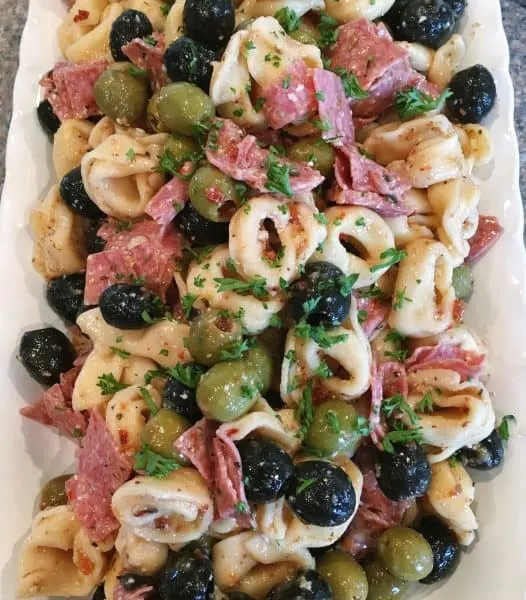 I love cookbooks filled with recipes from women who cook for their families. Great everyday family foods! Those are the recipes that last.
Seriously…think about it…biscuits. Chicken fried steaks. Fried Chicken. Stew. Apple Pie. Chicken and Dumplings. All great recipes that have been around for ages because Grandma's Granny made them in her kitchen. The Best!
When we purchased our first home, we had a small "house-warming" party. I wanted a fun new appetizer. In my newest Pillsbury cookbook was a recipe for Tortellini Kabobs. They were AMAZING! That was over 25 years ago and they are still one of the most requested dish at this Nest.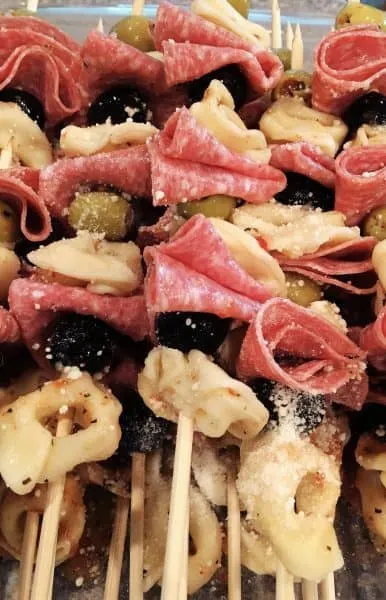 Well fast forward 25+ years. I decided last summer it was time to "update" this recipe. Translation: I didn't want to sit and shove everything on bamboo skewers any more that were going in the trash! (Seriously friends…my birdies can PACK these babies down in no time flat! Great for a party! Family meal time…not so much so!)
The family favorite got a make-over! All the same ingredients minus the bamboo skewer. The salami is cut into smaller bite size pieces too. If it is possible…the newer version is loved even more!
This amazing salad has just FIVE ingredients, plus garnish, and it's going to knock your socks off!
How To Make The BEST Tortellini Olive Salad
Precook your frozen tortellini per the package directions. Be sure NOT to over cook them. Follow the instructions on the package and they'll turn out perfect for this salad. You want them al dente!
TIP: They are going to soak up the dressing so you really do want them al dente.
Drain the tortellini, after cooking, and both types of olives. (I drain everything together. May as well keep it simple.) We love delicious simple food here at Norine's Nest.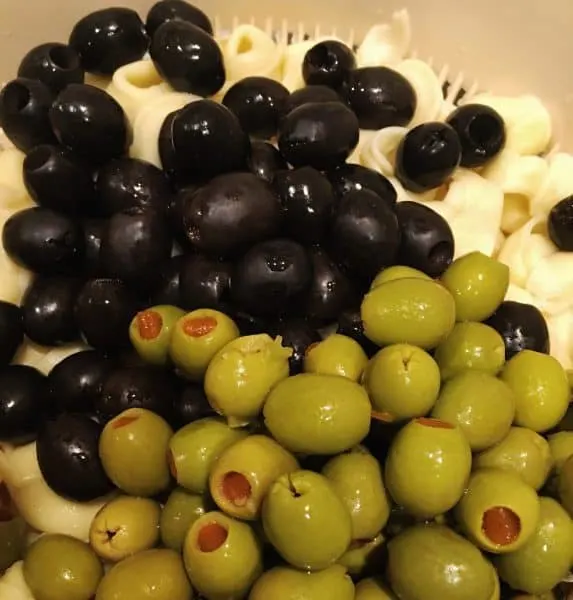 Place the tortellini and olives in a large bowl. Add the diced salami and about 3/4 of the *Cheese Fantastico bottle of dressing. (Be sure to shake the dressing well before adding it to the salad.)
TIP: Before you start to panic because your store doesn't carry Bernstein's Cheese Fantastico dressing…it's OKAY! Just substitute a really good Italian dressing and 1/4 a cup finely grated Parmesan Cheese. Voila! You are good to go.
Let me pause, and let's talk hard salami for a second…
The original recipe for the Kabobs called for thinly sliced hard salami, this was so you could fold it in half and then into a quarter, for the skewer.
In this new version…I cut the thin salami into bite size pieces to make it is easier to serve in "salad" form.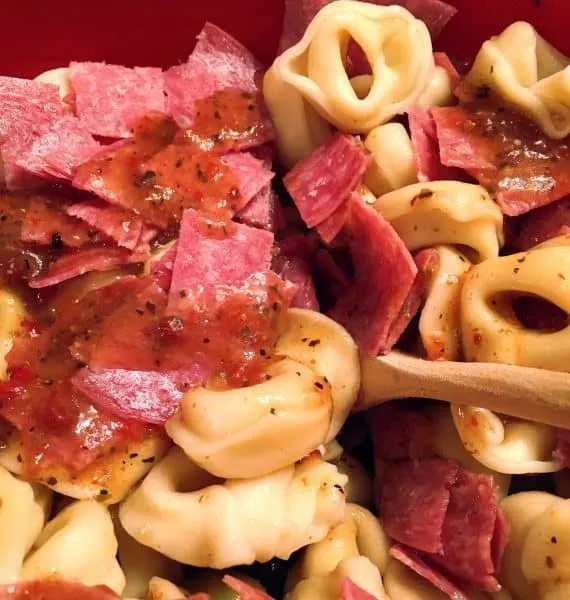 Stir everything together and refrigerate for 2-3 hours or overnight. (Shhhh don't tell on me, but sometimes I add marinated Artichoke hearts! SO GOOD!)
Stir again before serving to mix in any salad dressing that may have settled. If it is a little dry, add more dressing in, and garnish with grated Parmesan and chopped parsley.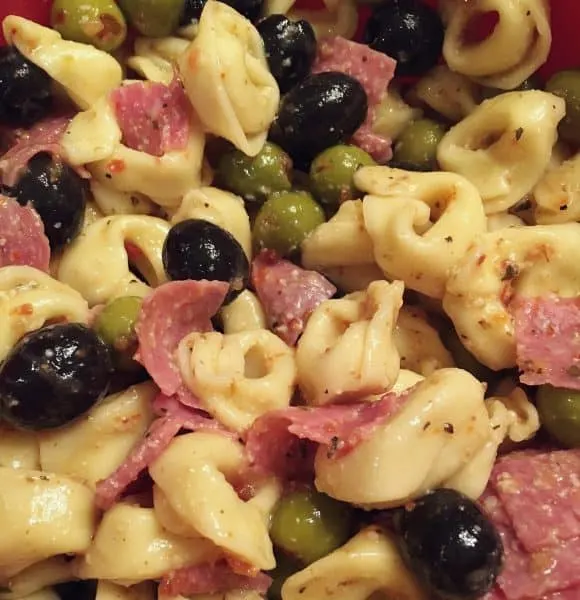 The Perfect Pasta Salad
Ta-Da! There you have it.
Simple right? It's not a salad that requires a ton of ingredients. It doesn't need them. The blend of flavors from the olives and the dressing is pure perfection. Sometimes simple really is better.
The perfect forkful contains at least one olive, one tortellini, and a few slices of salami! (As you can see I've done extensive research on this topic!)
Confession time… I am NOT a green olive fan. Not at all! BUT…I LOVE them in this salad! So much… I seek them out so that my fork has one of them on there before I take bite!
My point…if you're not a green olive lover…give it a chance before you turn up your nose. I think you'll be pleasantly surprised.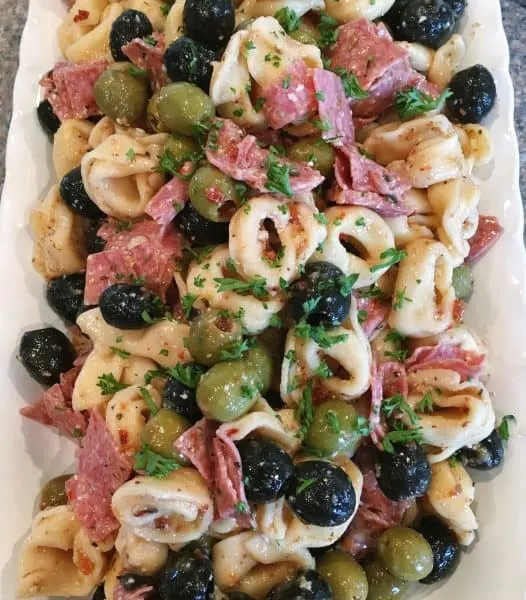 WARNING: This salad is addictive!!! Isn't it pretty. It draws you into it cheesy clutches and you can't let go!
The only way this salad made it on to this dish was because I had to take photos of it for this post. Other wise, Mars and I stand with forks in hand and "snitch" forkfuls while hovering over the bowl. (We are sad, pathetic human beings!) We seriously could, and have, made a meal out of this salad. It's so YUMMY!
Pasta Salad Recipes You Might Enjoy
Enjoy Friends! Thanks for stopping by my Nest today. Remember to sign up for my Newsletter! You'll find out every Monday what's coming that week at Norine's Nest. Every week is a party filled with lots of tasty recipes, fun crafts, and funny stories.
Remember to follow me on Instagram, Facebook, Twitter, and Pinterest! I'd love to have you join me.
Hugs from my Nest to Yours…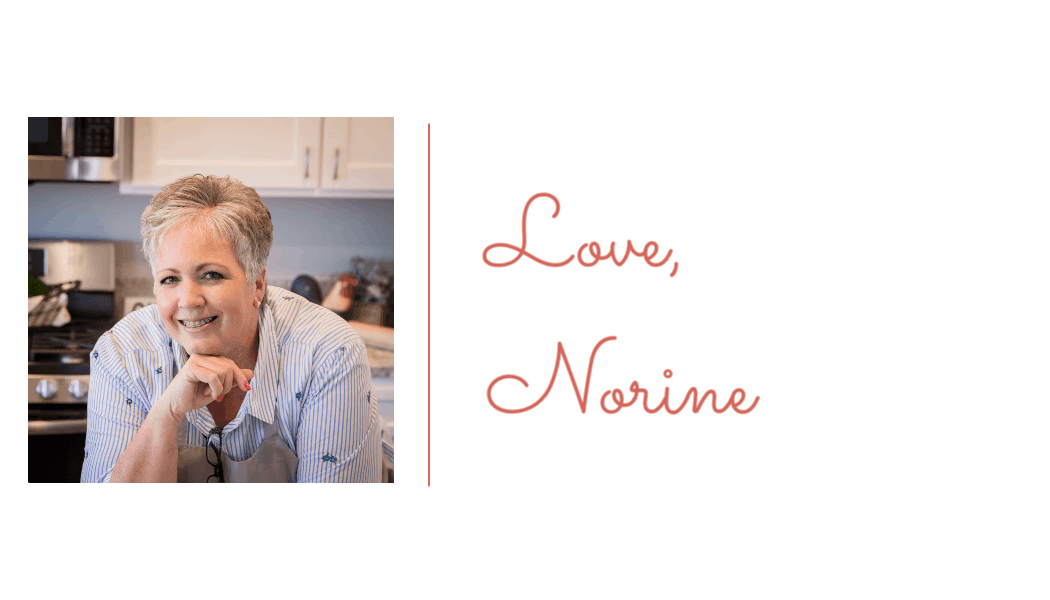 Yield: 8-10 servings
Tortellini Olive Salad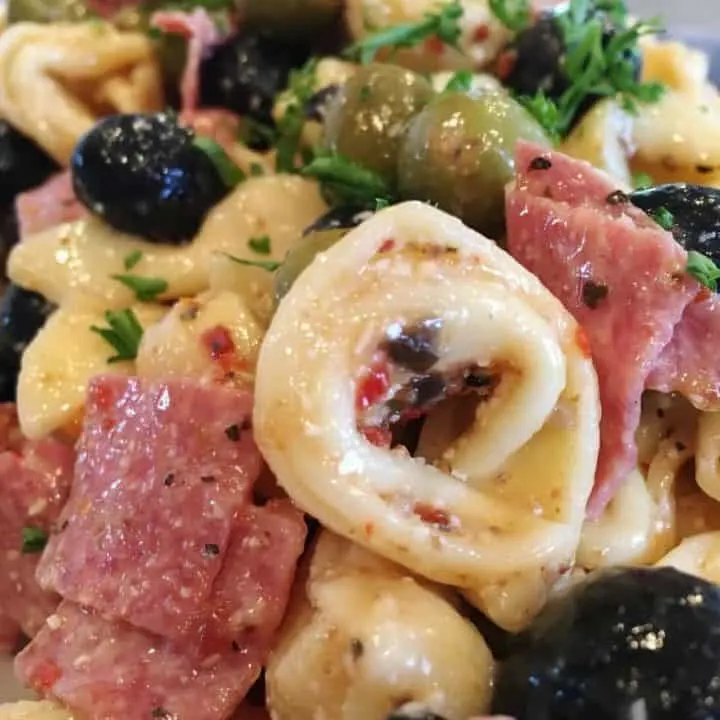 Cheese filled Tortellini are combined with green and black olives, hard salami and Cheese Fantastico dressing for one scrumptious cold pasta salad!
Ingredients
1 19oz. package frozen cheese tortellini, cooked and drained
1 6oz. can of medium size black olives, drained
1 7oz jar of manzanilla, green, olives, drained
1 14oz. bottle of Bernsteins Cheese Fantastico dressing OR any really good Italian Dressing and 1/4 cup of finely grated Parmesan Cheese. Either will work.
1/2 pound hard salami, thinly sliced and cut into bite size pieces OR about 4 slices cut into 1/4 inch thick slices and cubed.
Chopped parsley and grated Parmesan for garnish
Instructions
Follow directions on package of tortellini for cooking pasta al dente. Be sure NOT to over cook the pasta.
Cook Pasta and drain.
Drain both types of olives.
Place the tortellini and olives in a large bowl. Add the diced hard salami.
Add 3/4 the bottle, of well shaken, Cheese Fantastico dressing.
Stir until all ingredients are well combined. All to chill for 2-3 hours or overnight.
Stir just before serving. If needed, add more dressing. Garnish with Parmesan Cheese and chopped Parsley.
Serve.
Will keep in the refrigerator for 3-4 days.
Recommended Products
As an Amazon Associate and member of other affiliate programs, I earn from qualifying purchases.
Nutrition Information:
Yield:
10
Serving Size:
1
Amount Per Serving:
Calories:

470
Total Fat:

30g
Saturated Fat:

13g
Trans Fat:

1g
Unsaturated Fat:

14g
Cholesterol:

90mg
Sodium:

1284mg
Carbohydrates:

28g
Fiber:

2g
Sugar:

1g
Protein:

22g