Dark leafy greens, fresh juicy pears, candied pecans, crumbled blue cheese, spring onions, and sliced ripe avocado with a scrumptious vinegarette all come together to create this amazing Blue Cheese Pear Salad!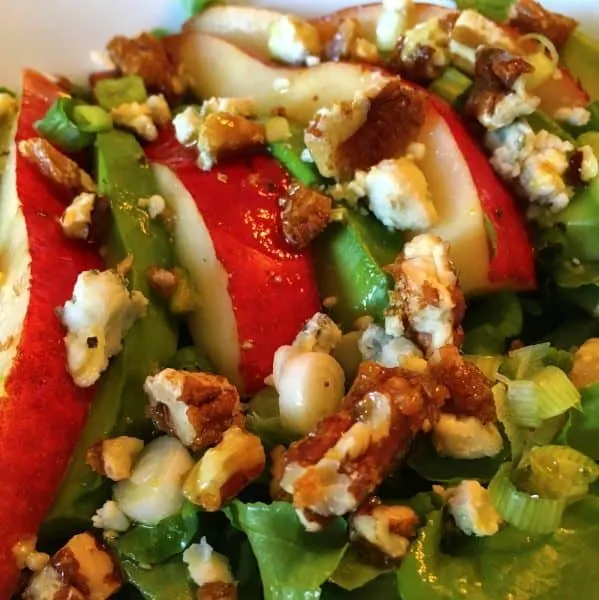 Years ago I was searching for a new salad recipe for Thanksgiving dinner. I finally ran across one on All Recipes.com that sounded amazing! So, I gave it a try. When I say this is one of my all time favorite salads, it is not an exaggeration. The flavor combination is incredible!!! Out of this world incredible!!!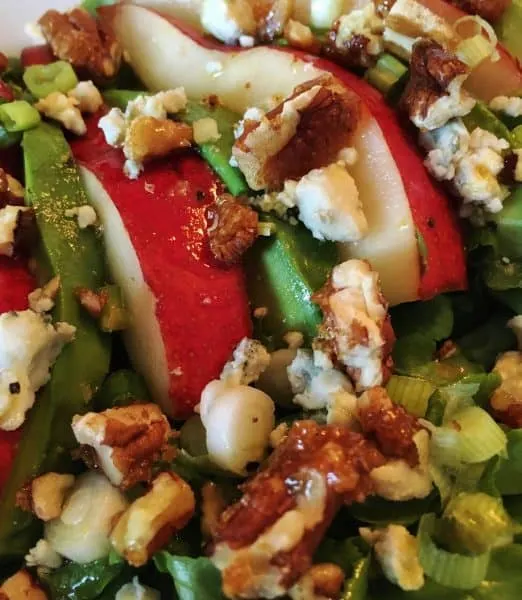 This salad has all the components of a great salad. It has rich leafy greens, flavor gaaaaa-lore, fruity sweet pears, tangy blue cheese crumbles and it's loaded with crunchy candied pecans. (Oh those candied pecans! Hold on to your seats folks!) As if all of that weren't enough to send your taste buds in to overtime, it's brought together with an amazing mustard garlic vinaigrette dressing.
How To Make Blue Cheese Pear Salad with Candied Pecans
I'm going to start off with those candied pecans, because truthfully they are the most intimidating part of this salad.
They really aren't that difficult. I do these a little different from the original recipe, but I like how they turn out better. The nuts make this salad! Truly, they do! So, we are going to begin with a small skillet heating up over medium low heat. In the pan pour 1/4 cup granulated sugar and shake to even it out in the pan like so…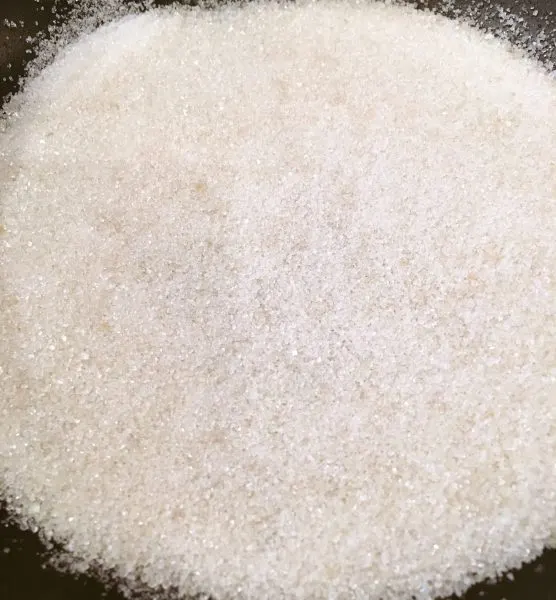 Leave the pan over the heat and do nothing! That's right … "Nothing"…don't stir it, don't shake it, don't move it. Avoid the temptation…and you will be tempted. (I speak from experience! I want to do it every time! lol) In a few minutes the sugar will begin to melt. Just like in the picture below. Continue to watch the pan so that the sugars don't burn.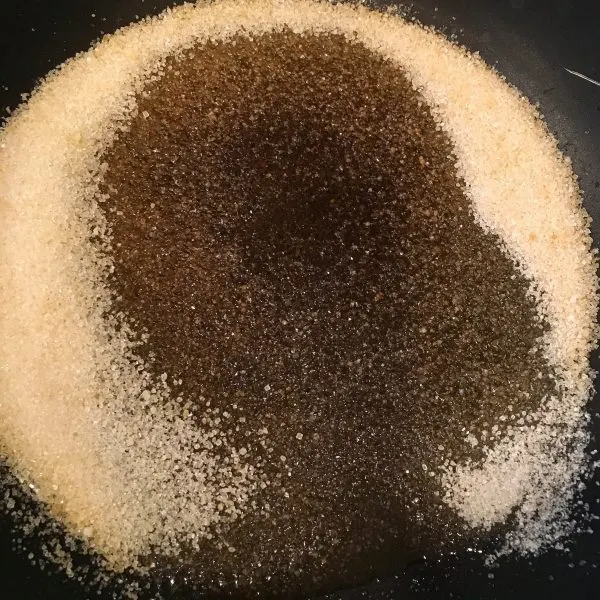 After several minutes your sugar will look like this. At this point it is okay to stir it a little bit to incorporate those last little stubborn stragglers who don't want to join the melting party!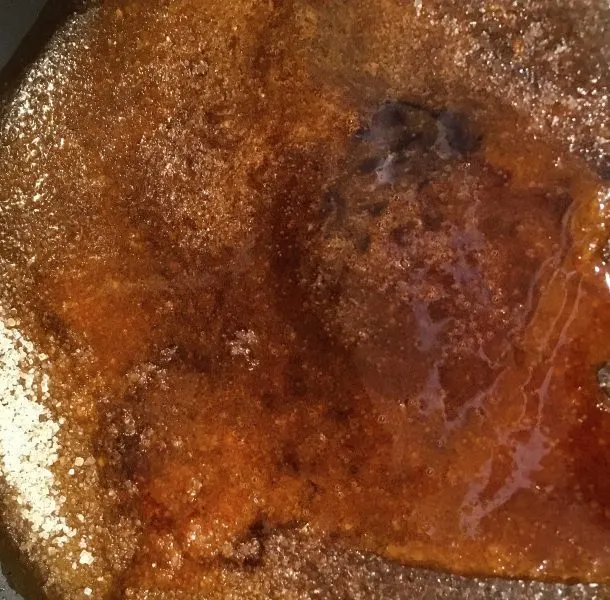 Add in a 1/2 cup of pecan halves and stir quickly to coat. They won't coat perfectly and that's just fine and dandy! It will be good enough!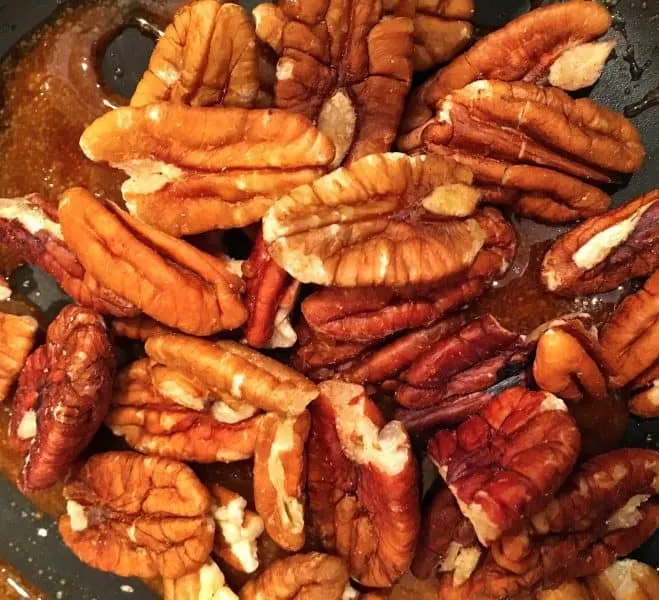 Once coated pour onto wax paper and allow to cool. After they have cooled you can place them in a zip lock bag or fold the wax paper over and break them into smaller bite size pieces. (Tip: Using a meat tenderizer is a great way to break up candied nuts and get a little free therapy in the process!) You don't want big chunks, but nice bite size pieces.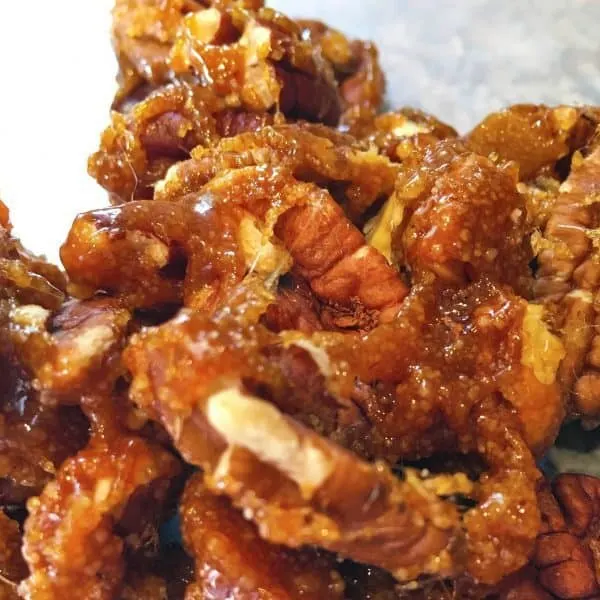 Next slice three pears. You can chop them if you want or just slice them like I did. It may depend on how you choose to serve the salad. The choice is up to you. I found these beautiful red Bartlett pears this past weekend at a little local fruit stand and they are so sweet and juicy, yet the meat is firm not mushy! (It was pear perfection!) You can use Bartlett pears or any "in season" pear you like.
You will also need to peel, pit, and dice your avocado. I just slice my avocado and lay it next to the pear, but again, this is your presentation so do what suits your entertaining style and needs best. You will need a 1/2 cup of thinly sliced green onions and 1 head of leafy lettuce. Red, green, or spring mix, your choice, torn into bite-size pieces.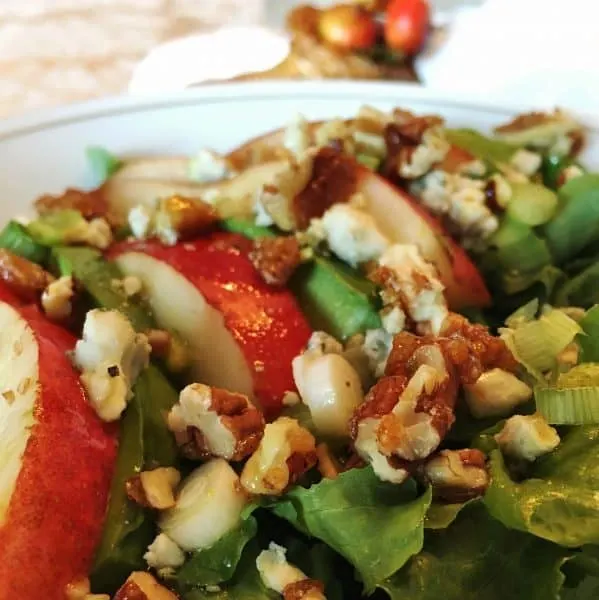 Mix your dressing up by combining your olive oil, vinegar, sugar, mustard, chopped garlic, salt and black pepper. Whisk it all together and set aside for a minute while you finish preparing the rest of the salad.
If doing individual plated servings…place a handful of your greens on your individual serving plate, then layer your pear and avocado slices. Sprinkle each salad with thinly sliced green onions and blue cheese. Drizzle with the mustard garlic dressing (you may need to mix it again if it is separating). Top the salad off with a healthy sprinkling of the candied pecans.
If you choose to do one big salad you will fill your bowl with your choice of greens, top with chopped pears, avocado, green onions and blue cheese. Drizzle the entire salad with the vinaigrette dressing and sprinkle with the 1/2 cup of candied pecans.
I hope you can see how beautifully this salad presents! Don't let that stop you from making it for lunch…"Serving for one please". It's easy enough to do! This is one of those times I wish I could offer "taste samples"! The sweet of the candied pecans and fruity pears blended with the tang of the blue cheese and the vinaigrette dressing just compliment each other perfectly. Add in the creaminess of the avocado and the additional flavor of the onions and this is one luscious salad. Perfect for the Holidays or any Fall dinner.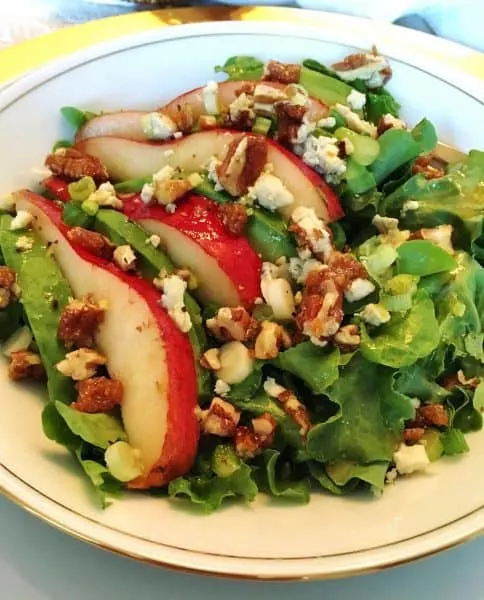 This is a seasonal salad with the addition of the pears. Pears and Apples are just coming into their peak right now. I always feel they are the "nod off to summer"! I know you can find them in the markets year round but, they are truly in their glory now. You can make this salad a meal all by itself, but it is a beautiful salad to serve with any special dinner.
Here are a few of our other Favorite Dinner Salad Recipes
The free printable is below. Thanks for stopping by my little Nest! Remember you can always follow me on Instagram, Twitter, and Facebook all under "Norine's Nest".
I absolutely love hearing from my readers and it makes my day when you send me emails and messages to let me know you are trying my recipes! I hope this is one you will enjoy trying too. Have a Great Weekend! Enjoy a meal with your family!
Much Love From My Nest to Yours!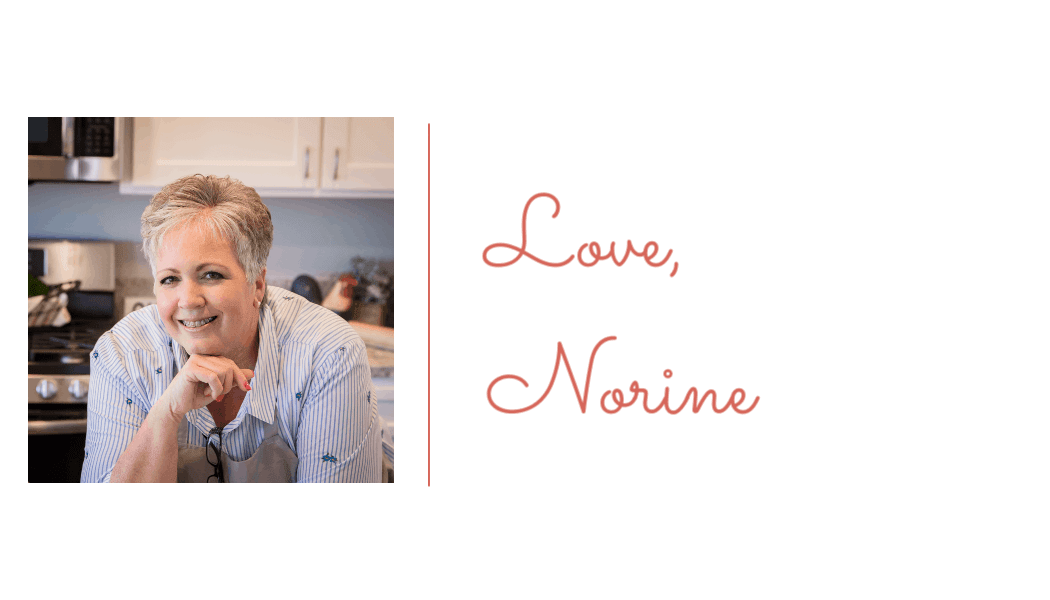 Yield: 6 servings
Blue Cheese Pear Salad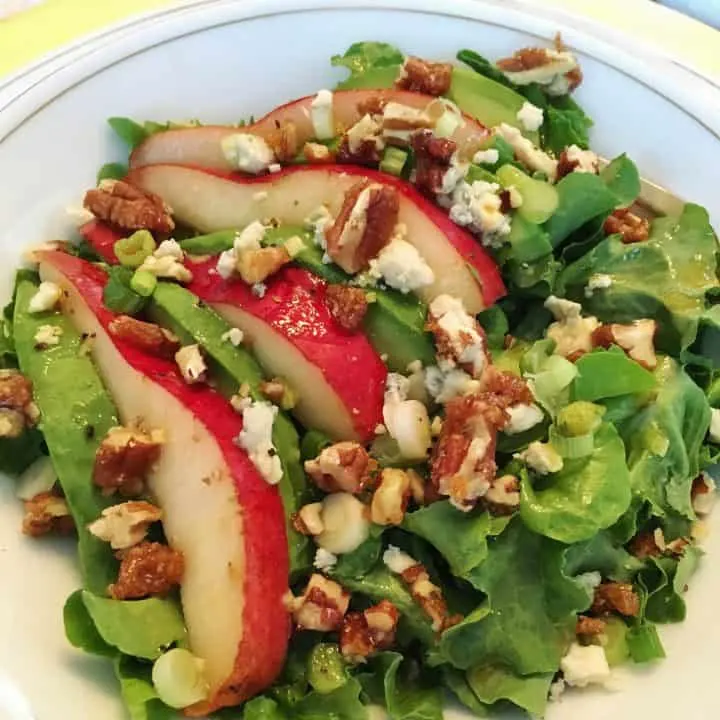 Tangy blue cheese, fruity sliced sweet pears, creamy avocado, and crunchy candied pecans are all pulled together with a mustard garlic vinaigrette dressing to create one outstandingly delicious salad!
Ingredients
1 head leaf lettuce, torn into bite-size pieces (red, green, or spring mix will work)
3 pears - peeled, cored, and either chopped or sliced
5 ounces of blue cheese, crumbled
1 avocado - peeled, pitted, and diced. You can slice if you prefer.
1/2 cup thinly sliced green onions
1/4 cup white sugar
1/2 cup pecan halves
Salad Dressing Ingredients
1/3 cup olive oil
1 1/2 teaspoons sugar
3 Tablespoons red wine vinegar
1 1/2 teaspoons prepared mustard
1 clove garlic, chopped
1/2 teaspoon salt
fresh ground black pepper to taste
Instructions
In a skillet over medium low heat, add 1/4 cup of white sugar and shake to even it out in the pan. Allow the sugar to slowly caramelize without stirring. Watch carefully to make sure it doesn't burn. Once sugar is melted and golden brown, remove for the heat and stir in 1/2 cup of pecan halves. Carefully transfer nuts onto waxed paper. Allow to cool, and break into pieces.
For the dressing, blend oil, vinegar, 1 1/2 teaspoons sugar, mustard, chopped garlic, salt, and black pepper.
In a large serving bowl, layer lettuce, pears, blue cheese, avocado, and green onions. Pour dressing over salad, sprinkle with pecans, and serve.
Notes
Please note you can also individually plate this salad by layering the pear and avocado in slices rather than dicing them.
Recommended Products
As an Amazon Associate and member of other affiliate programs, I earn from qualifying purchases.
Nutrition Information:
Yield:
6
Serving Size:
1
Amount Per Serving:
Calories:

413
Total Fat:

30g
Saturated Fat:

7g
Trans Fat:

0g
Unsaturated Fat:

22g
Cholesterol:

18mg
Sodium:

475mg
Carbohydrates:

32g
Fiber:

8g
Sugar:

20g
Protein:

8g