Caesar Salad Wedges are a twist on the classic Wedge Salad! Romaine hearts are sliced in half, topped with avocado, croutons, Parmesan Cheese, and Caesar dressing for a delicious elegant salad!
Any salad lovers out there? I adore salad and don't eat nearly as many as I should. The main reason? The prep time! Especially the lettuce. (I'm lazy when it comes to prepping lettuce. Yep…I'm a sad and pathetic human being!)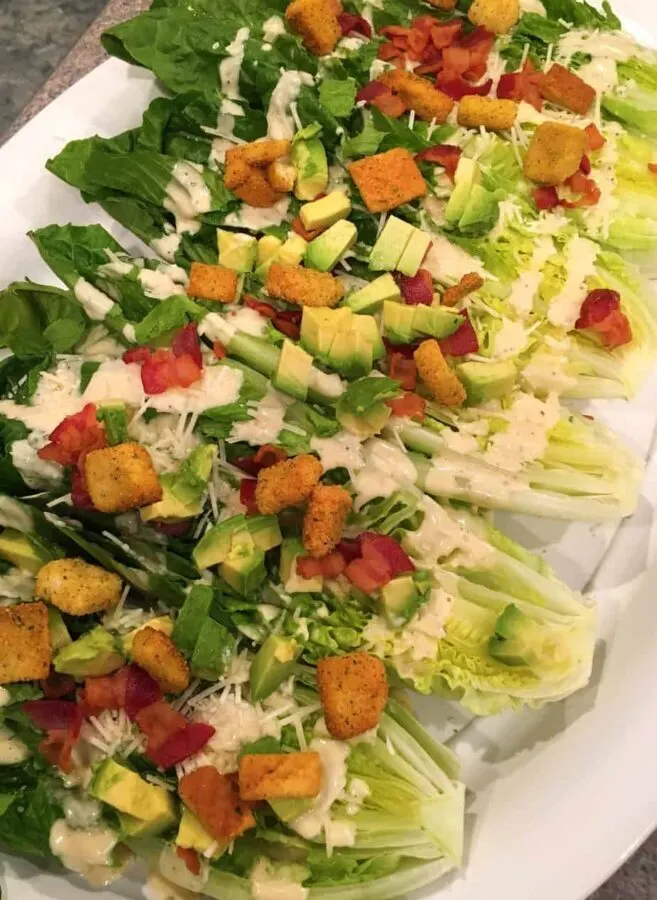 When a friend of mine, over the holidays, shared this idea for a "Wedge Caesar" salad…I JUMPED at the idea! Lettuce I don't have to tear…Sign me up! (Let's face it…wedge salads were designed by an over worked, tired chef! One day he just chopped the lettuce into hunks and said "Done!" lol)
I'm almost embarrassed to be posting this recipe, and in all honesty… probably wouldn't if it weren't for the fact that it was SO good! The birds at this Nest went CRAZY for this salad! They gave it TWO big thumbs up!
I love how "elegant" this salad presents. It's perfect for a dinner party or luncheon.
How To Make Wedge Caesar Salad
Begin with a package of 3 Romaine Lettuce Hearts. Three hearts will equal 6 salads.
Cut the hearts in half-length wise. Trim the bottom core button, but do not remove it. This is what is holding that lettuce together.
Rinse and place cut side down on a paper towel to drain.
Tip: Smell your lettuce! That's right…stick your nose right down in there and take a good whiff of that lettuce! (Don't worry about looking crazy! We're all a little nuts! Besides if your a mother…other shoppers will think you're just going in for a "time out"!)
Does it smell bitter? Don't buy it! Put that one down and repeat the process until you find one that doesn't smell "sour" or "bitter"!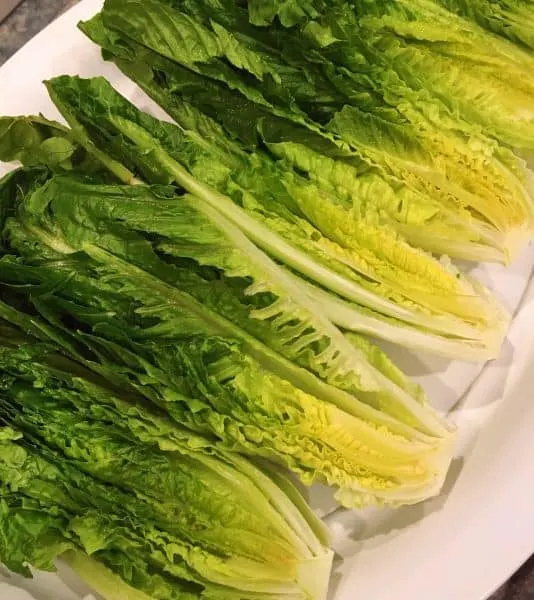 Once the lettuce has drained, place on a large platter cut side up. Isn't that pretty!
Assembling Wedge Salad Platter
We start with the dressing FIRST rather than LAST. This salad is ALL about presentation! We don't want to cover up all the delicious toppings!
Drizzle, back and forth, over the lettuce wedge with your choice of Caesar Salad Dressing. My favorite is Cardini's Original Caesar Salad Dressing. It's the BEST!
Food Fact: Caesar Cardini is credited, with his brother Alex, in creating the first Caesar salad! I figure it's the best route to go!
Truthfully though…your favorite Caesar dressing will work beautifully.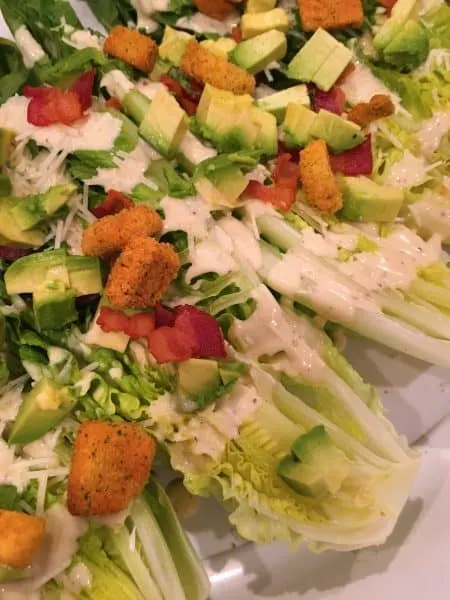 Sprinkle with freshly grated Parmesan Cheese. Top with 1 cup bacon crumbles and 1 diced avocado! (The addition of the avocado was my idea. I'm owning this one friends!)
If you have not had a Caesar Salad with fresh Avocado…you've been missing out! It's heavenly!!! I'm not 100% sure how Mr. Cardini would have felt about it…but I'm 99% sure if he had tried it he would have to agree!
Lastly add your favorite crouton's. (Mine are the new Olive Garden brand available at most grocery stores.)
That's it! I think this salad is so elegant. Don't you?
If you pre-cook your bacon it's ready in a matter of minutes! All you have to do is assemble the salad right before dinner.
Quick and delicious. The perfect winning combination!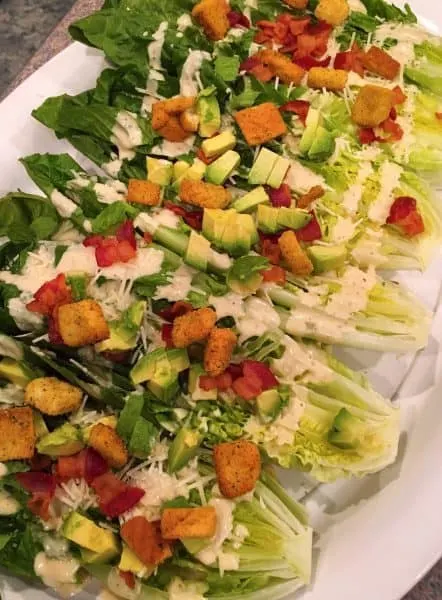 I loved being able to cut up my salad to the size I wanted. The addition of bacon and avocado to a Caesar Salad is scrumptious! All-in-all…This is a GREAT salad!
I'm 99% sure the birds at your Nest will love this salad as much as my birds did! It's my new favorite way of making a Caesar Salad and I can see lots of wedge salads in my future! (Being the Lazy Lettuce Human that I am! lol)
If you enjoyed this salad you may also like these other Delicious Salad Recipes
Remember to follow me on Facebook, Instagram, Twitter, and Pinterest! Where I'm always sharing new recipe idea's, delicious food, and the Crazy that is happening at My Nest!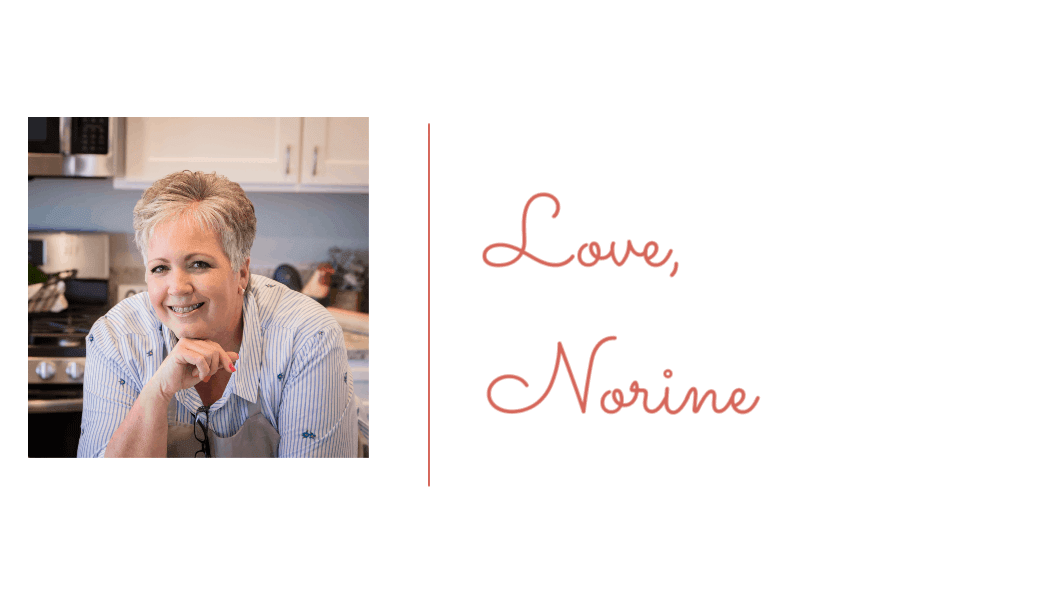 Yield: 6 servings
Caesar Salad Wedges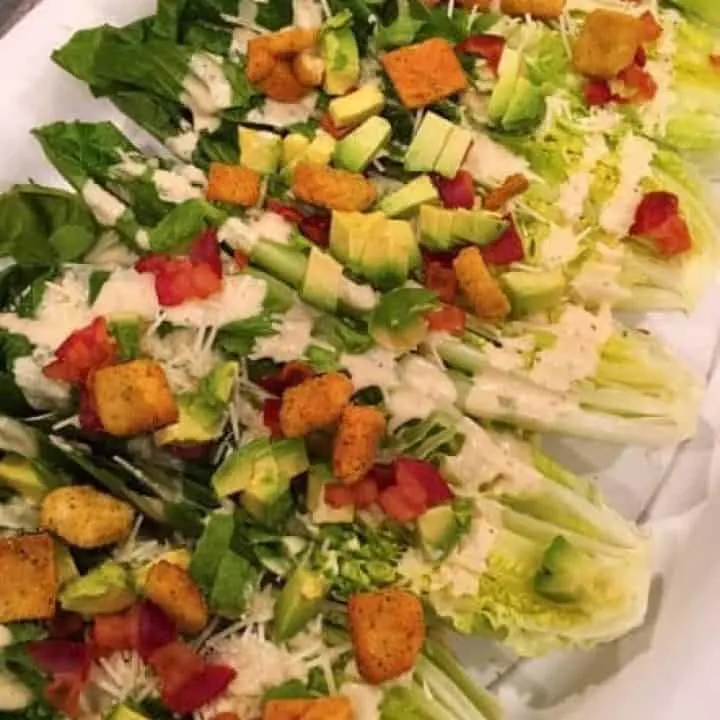 Wedge of Romaine Lettuce are topped with freshly grated cheese, bacon crumbles, and fresh diced avocado and drizzled with creamy Caesar dressing. An elegant and easy salad perfect for any dinner!
Ingredients
3 Romaine Lettuce Hearts,cut in half length wise, rinsed and drained.
1 cup bacon crumbles
1 Ripe Avocado, diced
1/2 cup freshly grated Parmesan Cheese
1 Cup Salad Croutons
Cardini's Caesar Salad Dressing OR Caesar dressing of your choice
Instructions
Cut Romaine hearts in half length wise. Trim off any brown from bottom of lettuce core button. Do NOT remove core. Rinse and drain, cut side down, on a paper towel.
Place sliced lettuce wedges on a large platter.
Drizzle Caesar dressing back and forth across the lettuce wedges.
Top with Parmesan Cheese.
Sprinkle with Bacon Crumbles, Diced Avocado, and Croutons.
Serve Immediately.
Recommended Products
As an Amazon Associate and member of other affiliate programs, I earn from qualifying purchases.
Nutrition Information:
Yield:
6 servings
Serving Size:
1 serving
Amount Per Serving:
Calories:

393
Total Fat:

28g
Saturated Fat:

8g
Trans Fat:

0g
Unsaturated Fat:

18g
Cholesterol:

49mg
Sodium:

975mg
Carbohydrates:

19g
Fiber:

10g
Sugar:

5g
Protein:

21g