A delicious peanut butter candy glaze is poured over freshly popped popcorn and then drizzled with melted chocolate to create this decadent Peanut Butter Chocolate Popcorn!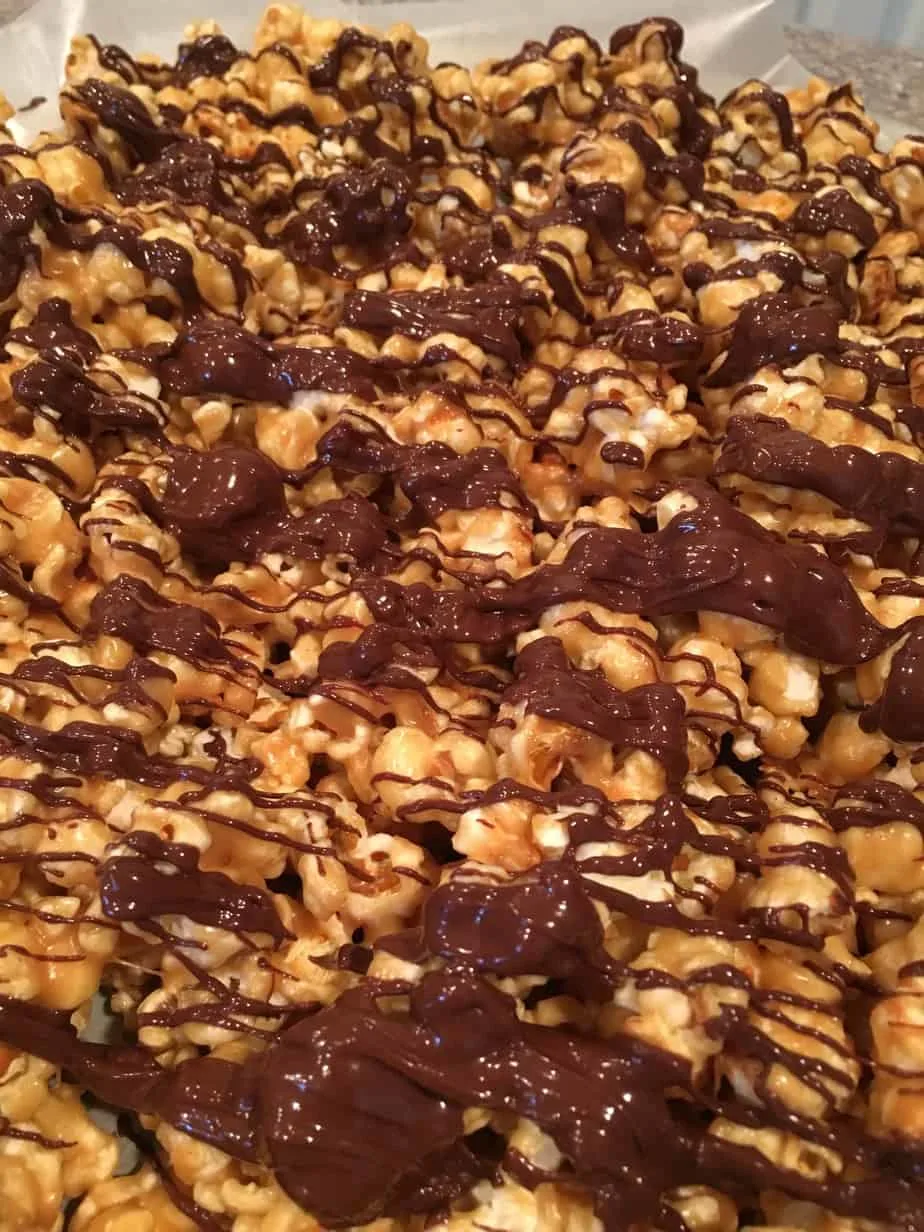 I'm not sure who the first person was to discover the epic combination of peanut butter and chocolate? Whom ever it was should automatically receive a "Golden Ticket" past the pearly gates! Truly!
Never before have two ingredients combined together in such total and complete harmony as these two guilty pleasures. I can stand at a grocery check out line and ignore all the other impulse products on parade, but my eyes hit that orange and brown wrapper with two cups of chocolate, stuffed with the butter of peanuts, and I'm a goner! WHAM! My hand is grabbing before my brain can yell "STOP!" (Although truthfully my brain is probably smarter than that and has decided to choose life!)
Then they made the Mega Cups! OH. STOP. THE. MADNESS! Many a days I've been found hiding in my car with an ice-cold Dr. Pepper and a peanut butter cup shoved in my mouth! I like to think of it as the "healthy" Prozac alternative!
So, when my daughter was getting married and I was trying 3,000 different popcorn combinations for the "popcorn" bar (FINE! Huff…Perhaps a slight exaggeration…2,999!) I found a recipe for Peanut Butter Chocolate Popcorn! (Say What!!!) I know! I wondered though… could it really be as delectable as the photo? I'm happy to report…it was and is!
This is such a fantastic treat! If you're looking for something different from your typical "caramel" corn you have to try this! It's not hard and it goes together really quickly! Just be very careful…it's addicting like any good peanut butter and chocolate combo should be!
How To Make Peanut Butter Chocolate Popcorn
You will need 10 cups of plain popped popcorn. No butter. Just plain ol' popcorn. We're gonna give it the red carpet treatment in a minute and dress it up to the nines! Make sure this is 10 cups of POPPED popcorn!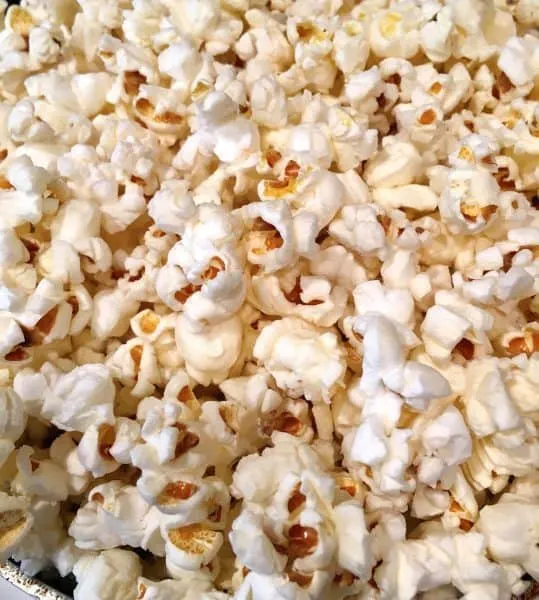 In a medium sauce pan add one cup sugar (Remember I'm using that 100 pounds of free evaporated sugar right now so it's caramel in color. Just use regular granulated sugar) and one cup of light corn syrup.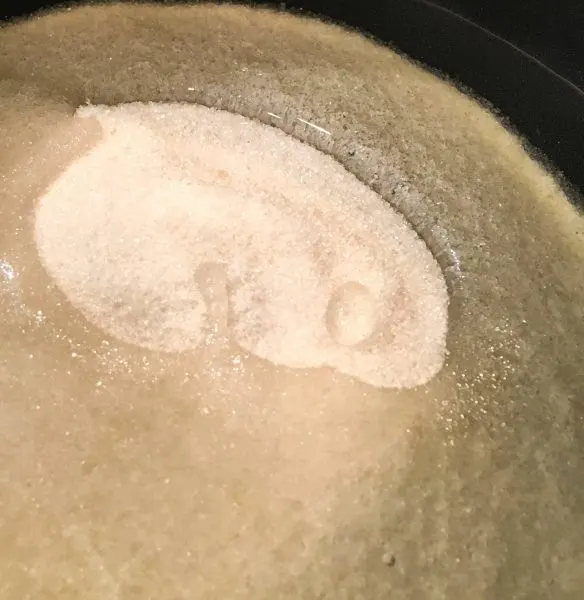 Stir constantly over medium heat until it comes to a full boil. Just like the picture. Turn off the heat.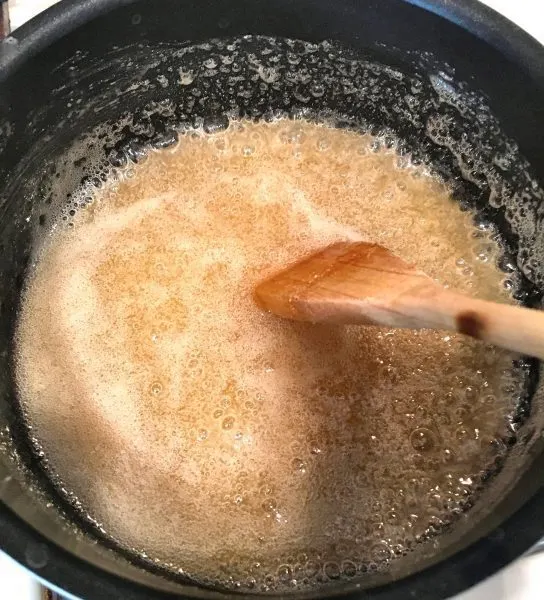 Add in one cup of peanut butter. You can use creamy or chunky. It's all about how nutty you are! (Do you like the burned handle on my wooden spoon? Just keeping it real here at my "Nest" lol)
TIP: CAUTION…Please remember this mixture is BOILING HOT! Watch your fingers and don't lick the spoon! Ouch!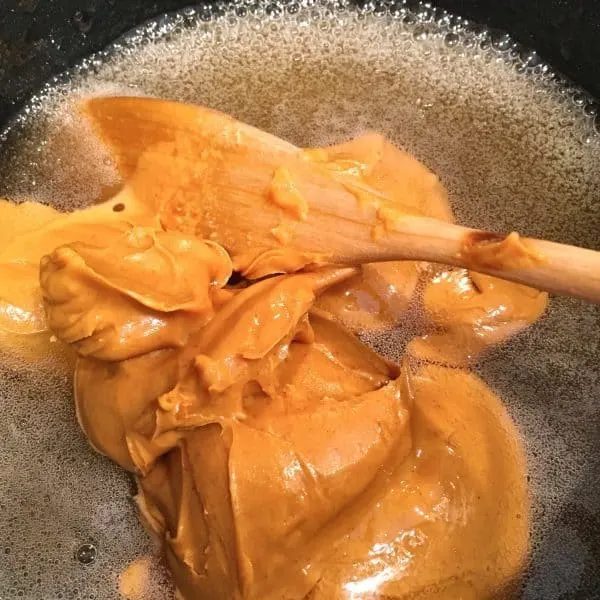 Stir the peanut butter and sugar mixture together until well blended. You should have a nice creamy mixture. (Still super-duper hot!)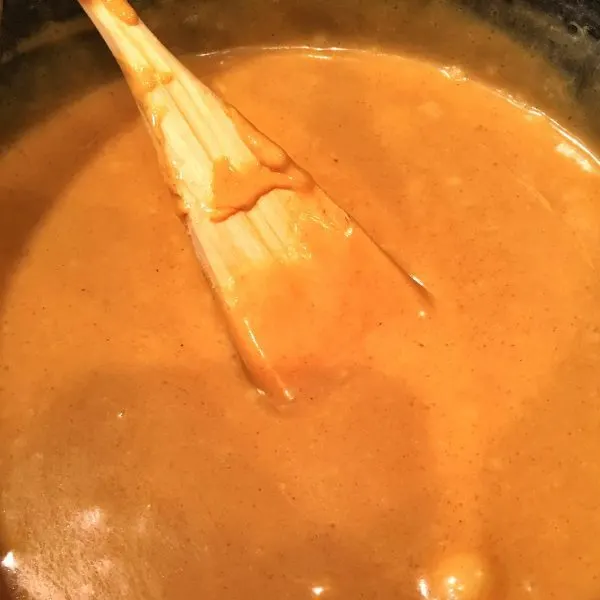 Place your 10 cups of popped popcorn into a deep pan. I used a roasting pan.
Pour that VERY hot peanut butter mixture over your popcorn.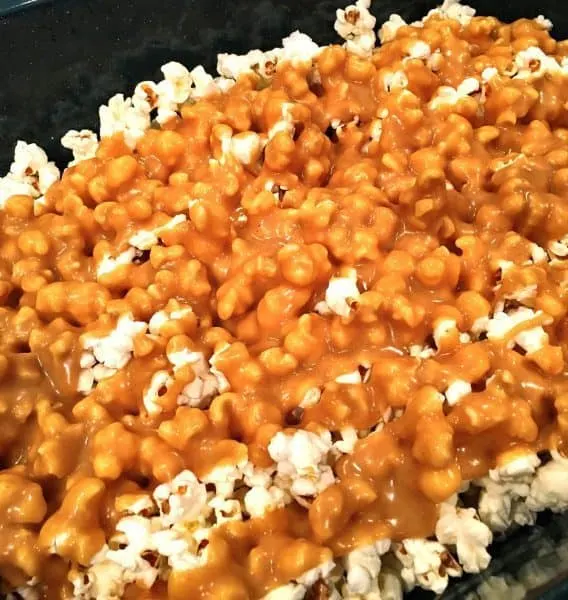 Using a wooden spoon or spatula gently stir to coat the popcorn.
Place the mixture in a 325 degree oven and bake for 10 minutes. Stir at the half way mark to prevent the bottom from burning.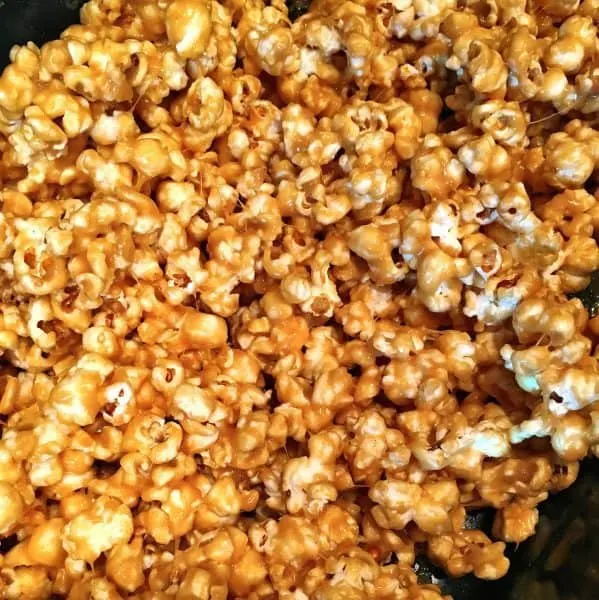 Line a cookie sheet or pizza pan with wax paper. Pour the peanut butter popcorn out onto the wax paper and spread it out.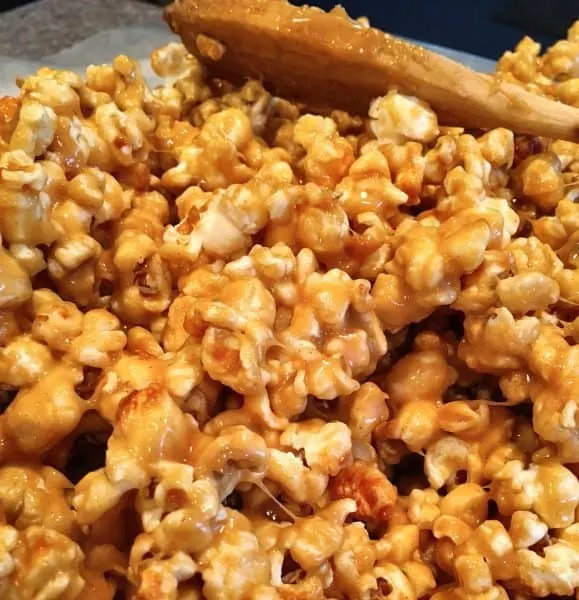 In a microwave safe bowl melt 1/2 cup semi-sweet chocolates with 1/2 a tablespoon vegetable oil on 50% power for 2-3 minutes.
Tip: Cook times vary depending on microwave
Remove bowl from microwave and stir till all the chocolate pieces are melted.
Once popcorn is completely cool, drizzle chocolate over the top of your peanut butter popcorn using a spoon. Allow chocolate to set …lol…who are we kidding? That's never gonna happen!
Just dig in and be prepared to lick your fingers a LOT! I used a fork to split the crunchy coated popcorn apart. If you leave it sitting out over night the chocolate will set up and then you can store it in an air tight container. Then you can watch your husband sneak handfuls of it every night! That's right…my non-caramel corn loving husband has been eating this by the bowl full every night!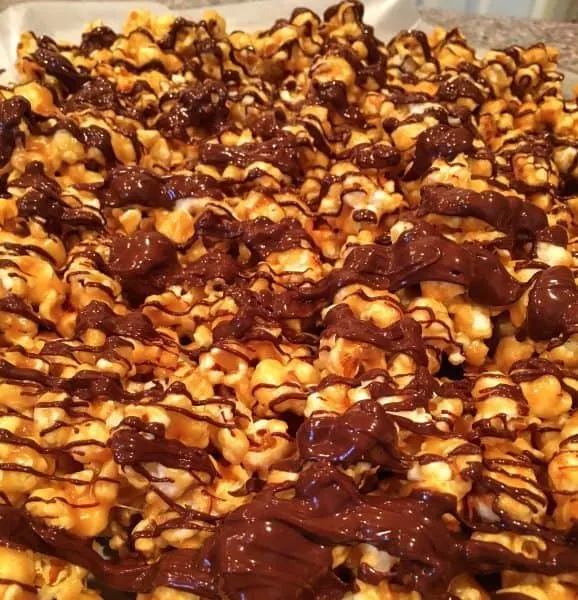 If you're searching for a super yummy treat to curb those peanut butter and chocolate cravings…this is it! I promise it's "out of this world" good!
I'm so glad you're not all in my office right now because my mouth is pretty much tied up chewing a big piece of this delectable gooey goodness! (That's right I'm typing with my mouth full! lol)
The printable recipe is below! This would be a great Fall treat to pass out to your neighbors or you could just hide out with the bowl and a Dr. Pepper in the car out in the garage! Both work for me real well and I won't judge ya… which ever way you go!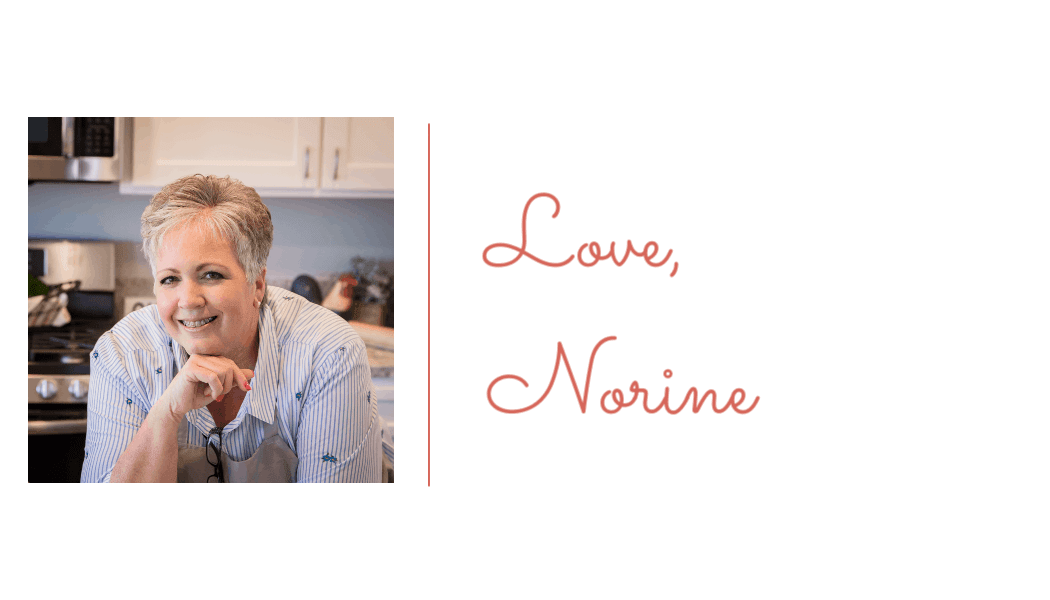 Yield: 10 servings
Peanut Butter Chocolate Popcorn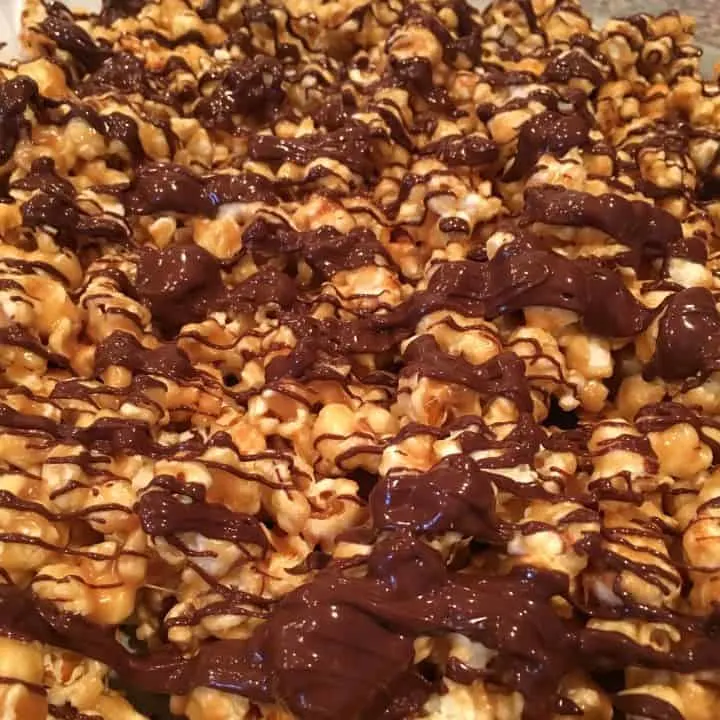 Big kernels of puffy fresh popcorn coated in a crispy peanut butter caramel and drizzled with melted chocolate. A fantastic peanut butter chocolate popcorn the whole family will love.
Ingredients
10 cups popped plain popcorn
1 cup pure cane sugar
1 cup light corn syrup
1 cup peanut butter, creamy or chunky, your choice
1/2 cup semi-sweet chocolate chips
1/2 Tablespoon vegetable oil
Instructions
In a medium sauce pan over medium heat combine sugar and corn syrup. Stir constantly until the mixture comes to a boil. Turn off the heat and add one cup of peanut butter. Mix till well blended.
Preheat the oven to 325 degrees. Place the popcorn in a deep roasting pan. Pour hot peanut butter mixture over the popcorn. With a wooden spoon or spatula carefully stir and turn the popcorn until well coated. Place in the oven for 10 minutes. Halfway through the baking process turn the popcorn making sure to move the bottom pieces to the top so they do not burn.
Once done place on a wax paper lined baking sheet or pie pan. Spread it out. Allow to cool completely.
While popcorn is cooling place your chocolate chips and vegetable oil in a small microwave safe bowl. Set the microwave for 50% power. Heat for 2-3 minutes. Remove from heat and stir until the chocolate chips are melted. Using a spoon drizzle melted chocolate on top of your cooled peanut butter popcorn.
Break popcorn apart using a fork. Store uneaten portion in air tight container. Will hold up to one week.
Recommended Products
As an Amazon Associate and member of other affiliate programs, I earn from qualifying purchases.
Nutrition Information:
Yield:
10
Serving Size:
1/2 cup
Amount Per Serving:
Calories:

417
Total Fat:

19g
Saturated Fat:

5g
Trans Fat:

1g
Unsaturated Fat:

12g
Cholesterol:

0mg
Sodium:

205mg
Carbohydrates:

62g
Fiber:

3g
Sugar:

53g
Protein:

7g