A tender moist "sponge" type cake baked in a tart pan and topped off with slices of fresh peaches and peach glaze and a heaping scoop of vanilla ice cream create this superb summer dessert of Fresh Peach Cake A La Mode!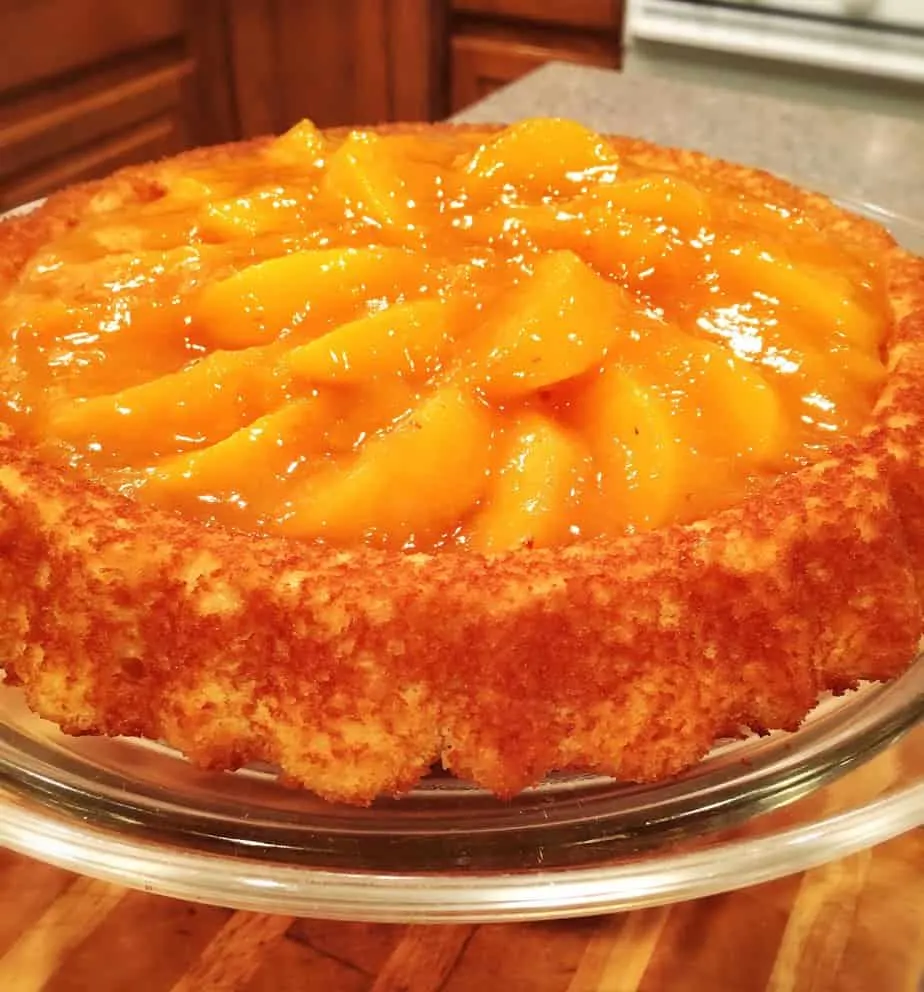 Peaches, peaches, peaches! I've been up to my eyeballs in peaches! Which is "fine and dandy right as candy" by me because I L.O.V.E. fresh peaches! Even the smell is superb! All those peaches have led to a lot of peach madness at this Nest!
My daughter came over yesterday and we were been busy canning fresh peaches, making peach jam and dehydrating a case of apples! It's been a lot of work but, it's also been a lot of fun!
I wanted to make this yummy peach dessert long ago, but I live with a fresh peach monster! Every time I bought peaches from the farmers market to bring home to bake with…they magically disappeared! (The juice running down Mars chin was a bit of a give away!) Suddenly finding myself in peach overload I knew I had found my opportunity! Hooray!!!
I tasted this dessert 20 years ago when I first moved to Utah. My mother-in-law made it and it was sublime! I love fresh peaches with ice cream! The original recipe called for beaten ice cream served on top and was made with peach pie filling. I changed it up a bit. I prefer this version with fresh peaches covered in a fresh peach glaze and served with a side of ice cream!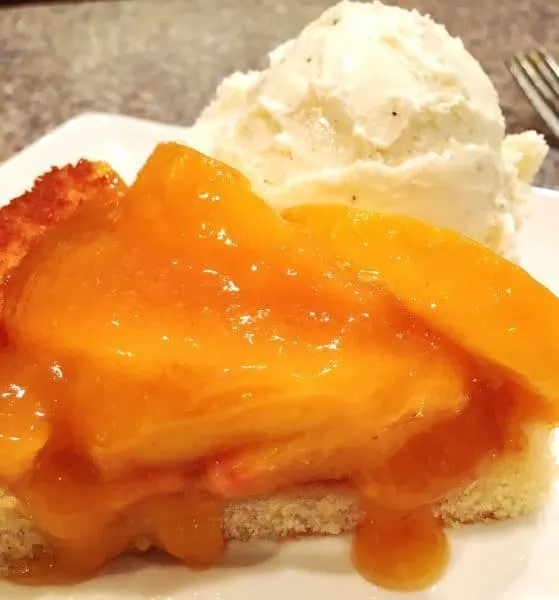 I struggled to come up with a name for this recipe! It's made in a "tart" pan, but it's a cake not a pie/tart crust. You invert the tart pan after baking and pile the peaches on top rather than filling the "inside" of the tart crust.
In addition there is no cream filling like a traditional tart has. So you can see where the struggle came in. I should have just called it "Peachy!" Because… it is! It's the best peach dessert ever, and simply put…it's yummilicious!
This is a dessert that should be made and serve the same day! It doesn't save well. So, just make sure you serve a light supper and load 'em up on dessert!
How To Make Fresh Peach Cake A La Mode
Let's start with the glaze. You will need 3 cups of peeled, pitted, and chopped fresh peaches.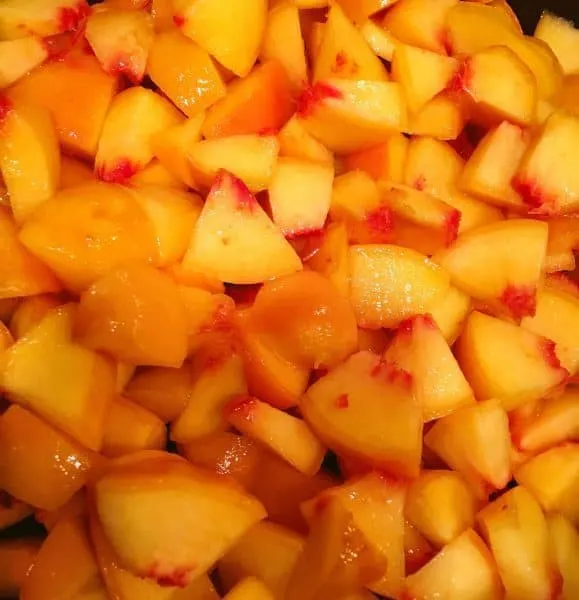 Place them in a medium pan over medium low heat. Add 1/2 cup of sugar and 1/4 cup of water and 1 Tablespoon fresh lemon juice or a teaspoon of fruit fresh. (You don't want an ugly brown glaze and you have to remember you are using fresh fruit!) Bring to a low boil then reduce the heat and simmer for 15 minutes.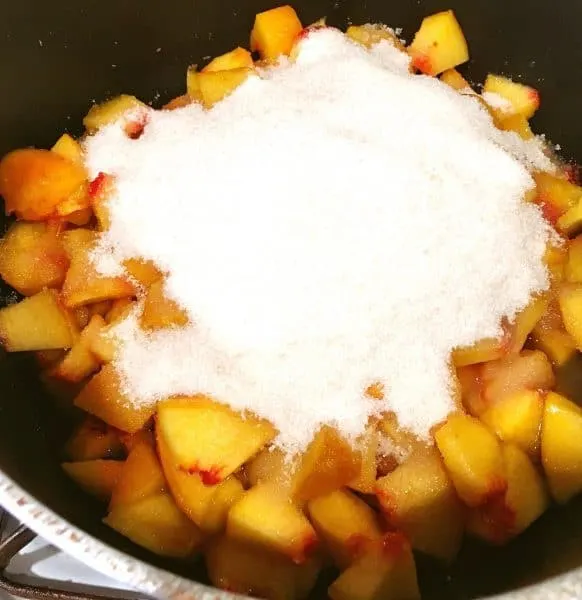 Using an electric blender stick, or a potato masher, mash/blend the peaches into a nice thick sauce. In a small bowl mix 6 Tablespoons of water with 2 Tablespoons of corn starch. Slowly add to the puree peaches and mix till thickened over medium heat. Once thick turn off the heat and allow to cool to room temperature. Then refrigerate until ready to use.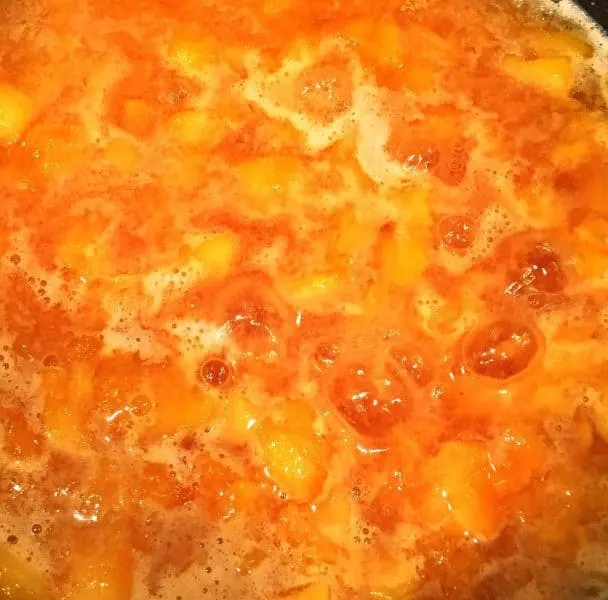 In a medium bowl mix all your cake ingredients together. Grease and flour your tart pan or spray with Baker's Joy.
Tip: I love Baker's Joy! It's a oil spray with the flour already mixed in! So much easier than the old fashioned grease and flour method! (Don't we all love "easier" when baking!)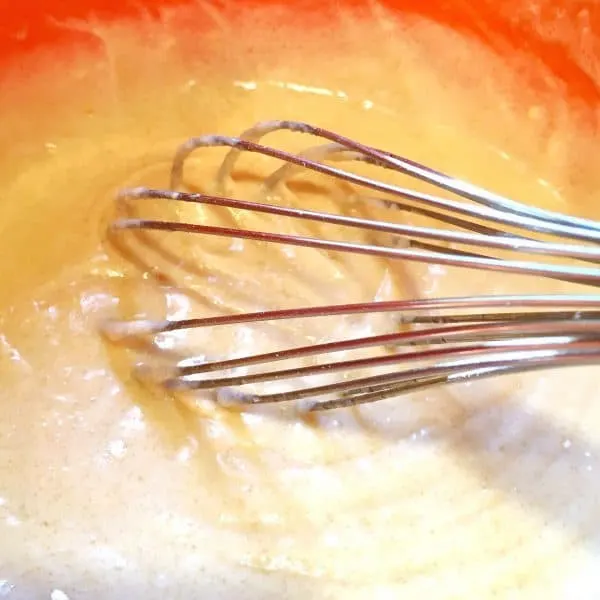 Pour the cake batter into the greased and floured tart pan and gently shake back and forth to even out the batter.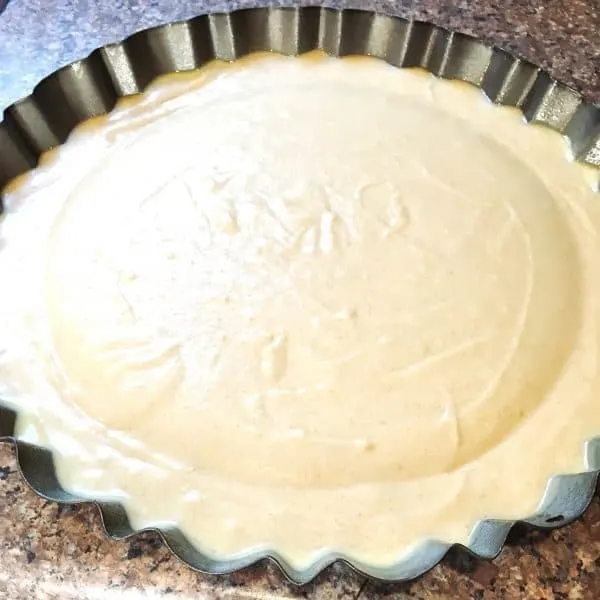 Place in a 325 degree oven for 25-30 minutes or until done. It should be golden around the edges. Allow to cool for 10-15 minutes. Remove and place on a large plate.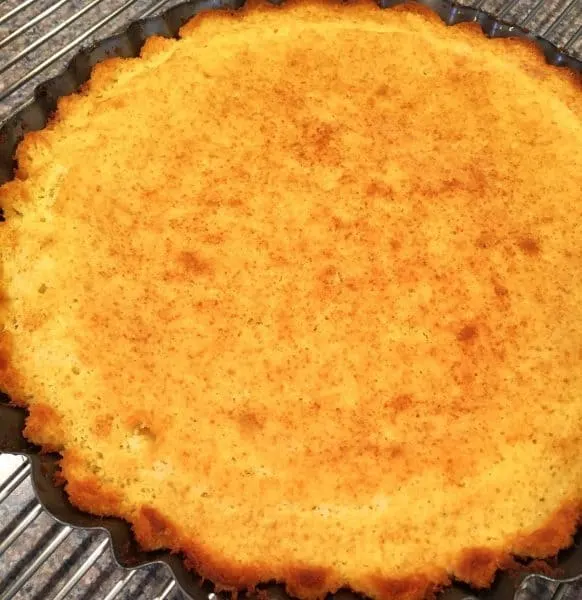 Your cake should be beautifully golden,lightly crispy on the outside, and tender and moist on the inside. Let's fill that indentation with beautiful fresh peaches!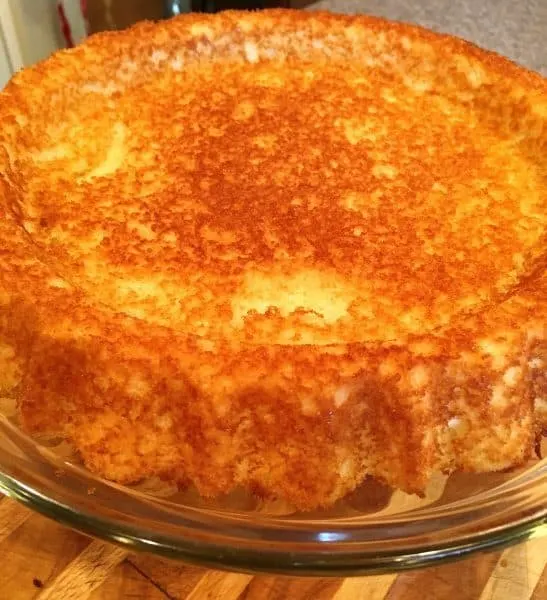 Starting on the outside edge lay your peaches in a pretty pattern around the edge being sure to overlap the peaches. They're slickery little devils so be careful! They kind of want to fly out of your hands and on to the kitchen floor! (Not saying it happened…not saying it didn't! lol But, I will be mopping this week!)
Repeat the process with a second row which will fill in the middle of your cake nicely.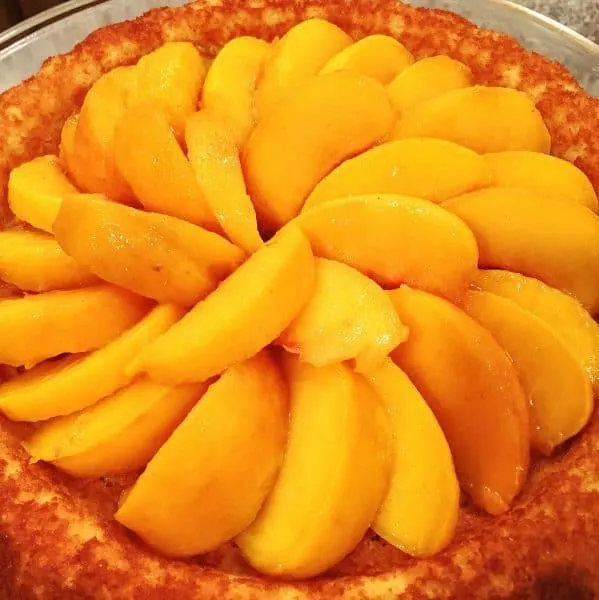 Once the peaches are all beautifully arranged, and you are marveling at how talented you are, you will need to grab the glaze out of the refrigerator. Stir it a little and then gently spoon it over the top of that pretty peach flower! What do you think? Good enough to eat?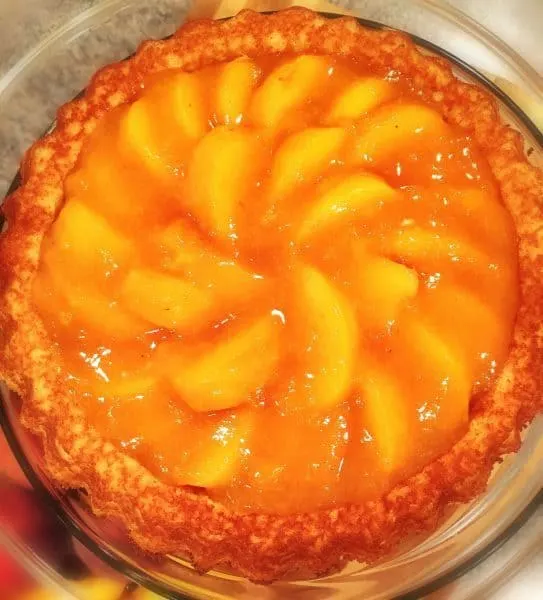 It is so spectacular with those colors of light brown, peach, and blush! I really love this dessert!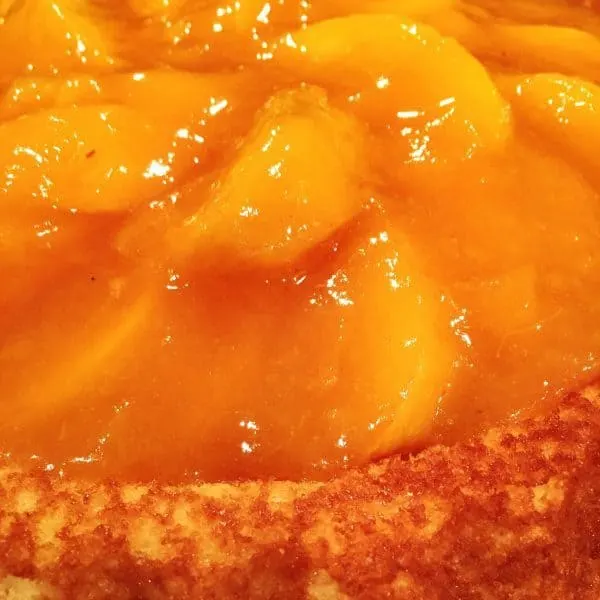 Now remember how I stated I had a hard time naming this dessert! As good as this cake is, and it is, it is one thousand times better with a side of vanilla bean ice cream. In fact this cake isn't worth making or serving if you aren't going to "a la mode" it! Thus the "a la mode" in the name!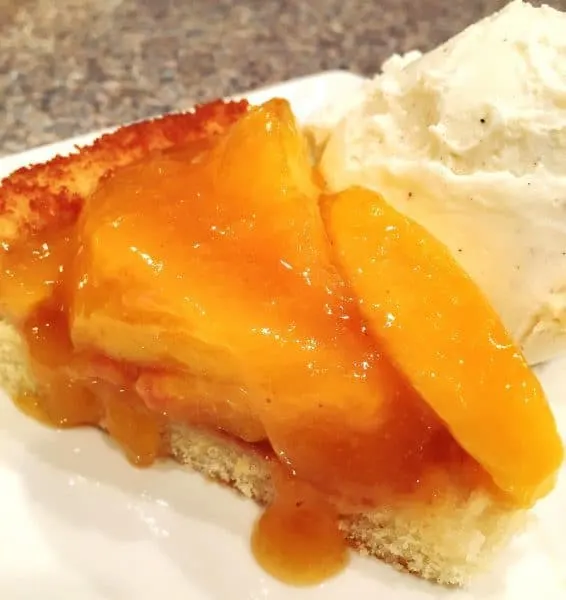 The perfect balanced bite, which leads to flavor ecstasy, can only be achieved when your fork is loaded with a small portion of cake, peach, AND…Vanilla bean ice cream! All three, every bite, every time! No exceptions!
Look at those beautiful fresh peaches a top that incredibly moist cake. Let's not overlook the fresh peach glaze slowly dripping down the sides. It's a simple, easy, stunning, mouth-watering fresh dessert!
I know it's fall and y'all are thinking "Why is she doing this to us when we are bathing in pumpkin and spice right now?" Because! It's the end of peach season and it isn't officially fall yet. Grab a hold of these last few days of summer, when there's a tinge of gold on the tree's, and it's cool enough to sit out side and enjoy the sunsets! Let's not rush things. Fall and pumpkins will be here soon enough, but let's enjoy the summer nights we have left!
Some of My Other Favorite Fresh Fruit Desserts
Thanks for poppin' by! I hope you'll stop back by and that you have a fantastic week! I have some other great recipes coming your way and some fun things coming up here at Norine's Nest! Remember you can always follow me on Instagram, Twitter, Facebook, or Pinterest under "Norine's Nest"! The printable recipe is below.
See ya soon!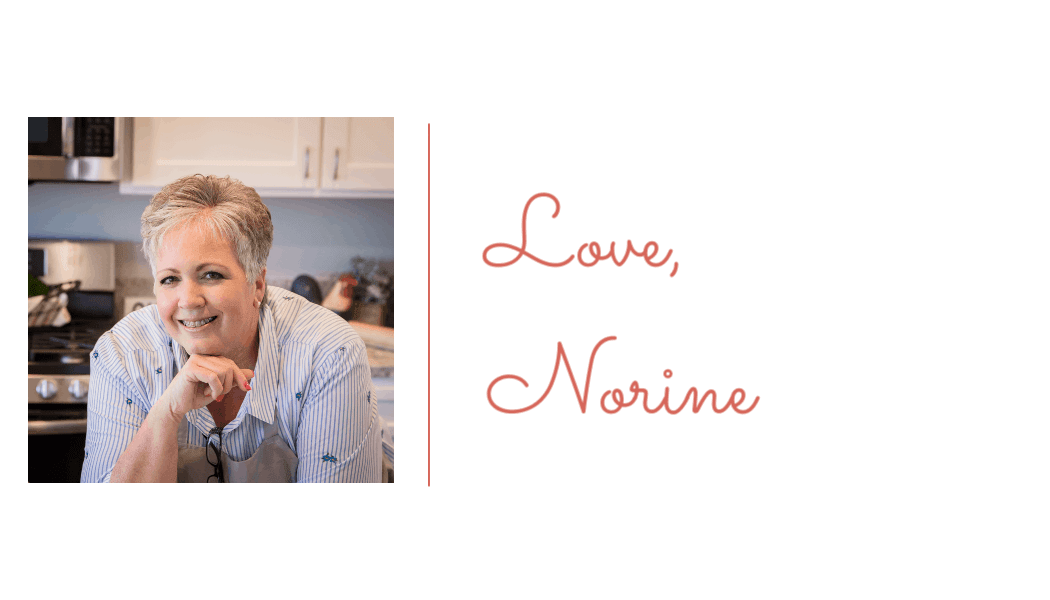 Yield: 12 servings
Fresh Peach Cake A La Mode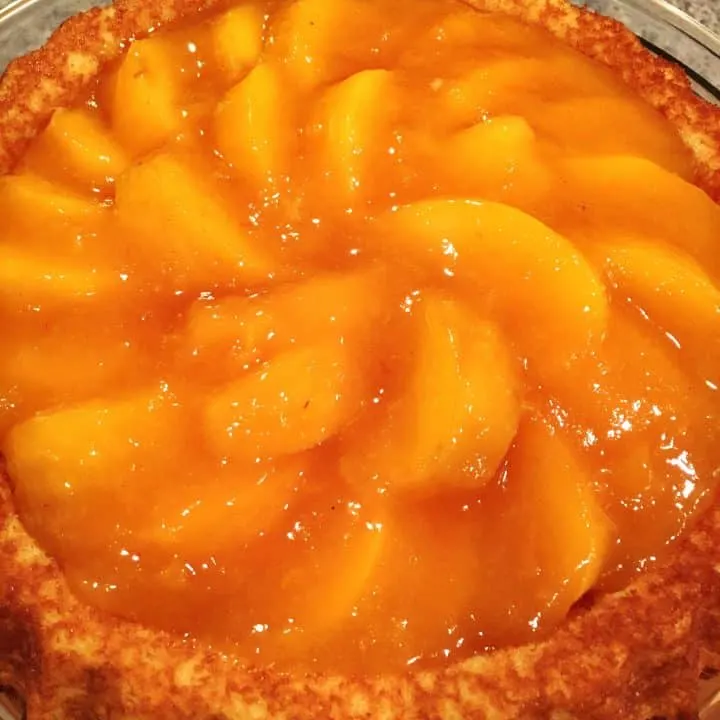 A moist shortcake with fresh peaches and a fresh peach glaze served with a heaping scoop of vanilla bean ice cream.
Total Time
1 hour
10 minutes
Ingredients
1 cup flour
2/3 cups sugar
1 1/4 tsp baking powder
1/2 cup milk
1 egg
1/2 tsp vanilla
Peach topping and Glaze
2 large peaches. Peeled, pitted, and sliced. Dipped in lemon juice or fruit fresh to keep from turning brown.
3 large peaches, peeled, pitted, and finely chopped
1/2 cup sugar
1/4 cup water
2 Tablespoons corn starch
1 Tablespoon lemon juice or 1 tsp. fruit fresh
6 Tablespoons water
1 container of vanilla bean ice cream
Instructions
Mix all the cake ingredients together in a medium bowl until well blended. Pour into a greased and floured tart pan. Preheat oven to 350 degree's. Bake for 20-25 minutes or until golden brown. Allow to cool on wire rack for 10-15 minutes. Invert onto large cake plate.
Glaze
Place finely diced peaches, sugar, lemon juice, and 1/4 cup of water in a medium size sauce pan over medium-low heat. Bring to a boil and simmer for 15 minutes. Using a potato masher or an electric hand blender, blend the peaches until smooth. In a small bowl or mixing cup, mix 6 tablespoons of water with 2 Tablespoons of corn starch. Mix until corn starch is dissolved. Slowly add to peach mixture, over low heat, while whisking. Continue mixing until glaze has thickened. Turn off the heat. Allow to cool then place in an air tight container and chill for 1 hour.
Arrange the peach slices on top of the cake. With a large spoon drizzle glaze over the top of the peaches until all the peaches are covered. Serve immediately or chill for 1-3 hours and then serve. Serve with a scoop of vanilla bean ice cream.
Recommended Products
As an Amazon Associate and member of other affiliate programs, I earn from qualifying purchases.
Nutrition Information:
Yield:
12
Serving Size:
1 slice with scoop of ice cream
Amount Per Serving:
Calories:

190
Total Fat:

2g
Saturated Fat:

1g
Trans Fat:

0g
Unsaturated Fat:

1g
Cholesterol:

21mg
Sodium:

72mg
Carbohydrates:

41g
Fiber:

2g
Sugar:

29g
Protein:

3g