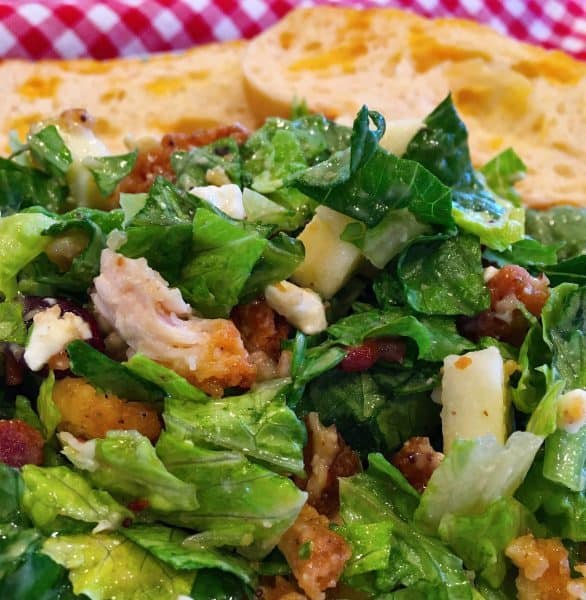 Chopped Autumn Harvest Salad is LOADED with all the amazing ingredients we "chicks" love during the Fall! Dried cranberries, Feta Cheese, Candied Pecans, Bacon, Apples, breaded chicken breast and it is topped off with a fantastically flavorful easy Poppy Seed Balsamic Dressing!
*As an Amazon Associate I earn from qualifying purchases. This post may contain affiliate links, which means that I may make a commission from any purchases at no additional cost to you. Thank you for your support!
I had a meeting yesterday with some girlfriends. I decided it was the perfect excuse to have a "girls" lunch with some delicious "Chick" food!
"Chick Food?" Yep! You know, the kind of dish you set down in front of your "Man", and he looks down at it, then back up at you, and asks… "So where's the main course?" (insert eye roll, followed by head shaking!) Chick Food! (Can I get a "Hallelujah-Amen!" ) Nothing better than some amazing food, friends, and girl talk to re-energize the spirits!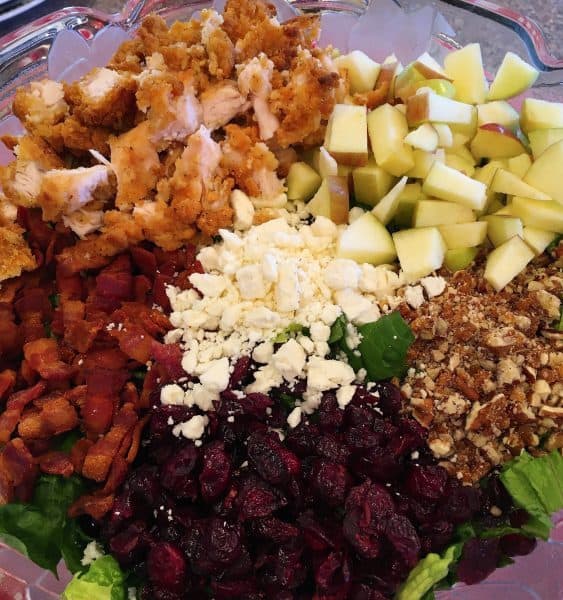 This recipe is enough for 4 "healthy" servings! (Meaning we may have gone back for seconds! It's SALAD! Zero calories! HELLO!!!) (Hey! It was a stressful election day! We could have been "feed-bagging" gallon containers of Dryers Ice Cream! Instead we were eating salad… The ice cream came later! lol )
How To Make Chopped Autumn Harvest Salad
Chop two heads of romaine lettuce. Place your chopped lettuce into a salad spinner, rinse, and spin dry. Store in refrigerator until ready to use.
Tip: This is a great salad to make "ahead". Meaning you can make all the components ahead of time and then throw it all together when your guest arrive.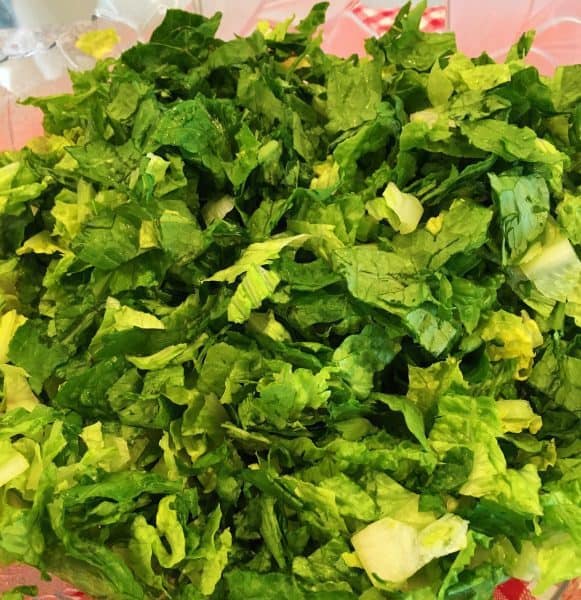 Cook 8 slices of bacon.
Tip: To make bacon pieces I pre-cut the bacon into smaller bite size pieces using my kitchen scissor. Then fry them off in a skillet. This allows the bacon to cook quickly and with ease.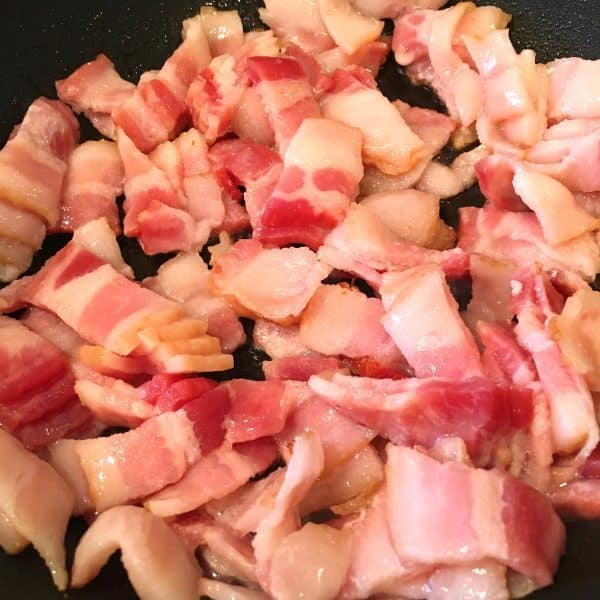 This really is so much easier than cooking strips of bacon and than trying to crumble them later.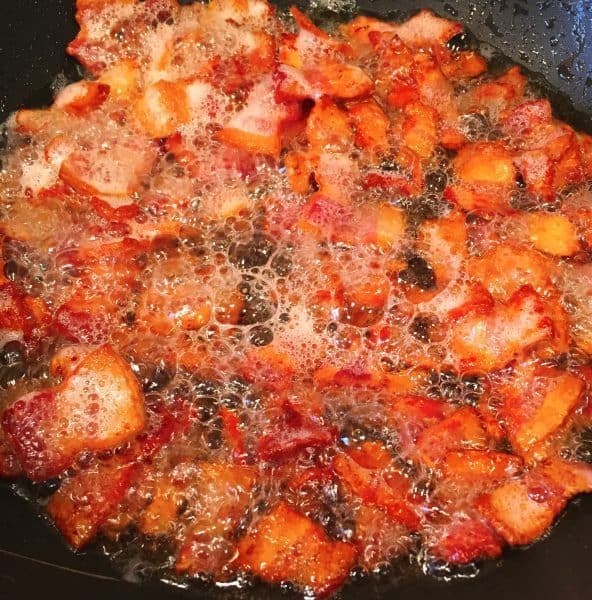 After your bacon pieces are all cooked, drain them on a paper towel lined paper plate.
I do this so clean-up is easy peasy! (If you haven't guess by now I'm all about making cooking easy from start to finish! Finish = clean-up too!)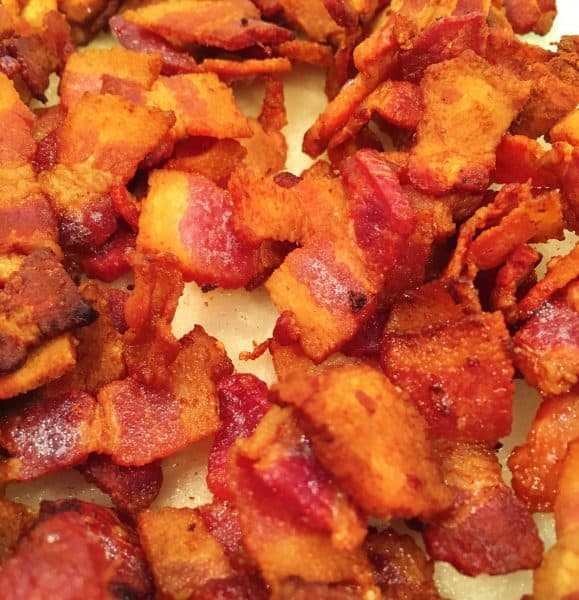 Caramelized Pecans are easier to make than you'd think and so delicious in salads!
TIP: I like to make a big batch and then store them in a zip lock bag to use on salads any time I want. Please note you can buy candied pecans in the grocery store usually by the produce section or salad topping section.
In a small skillet place 1/2 cup of sugar (or more if you are doing more pecans or walnuts). Over low heat melt the sugar slowly. DO NOT STIR.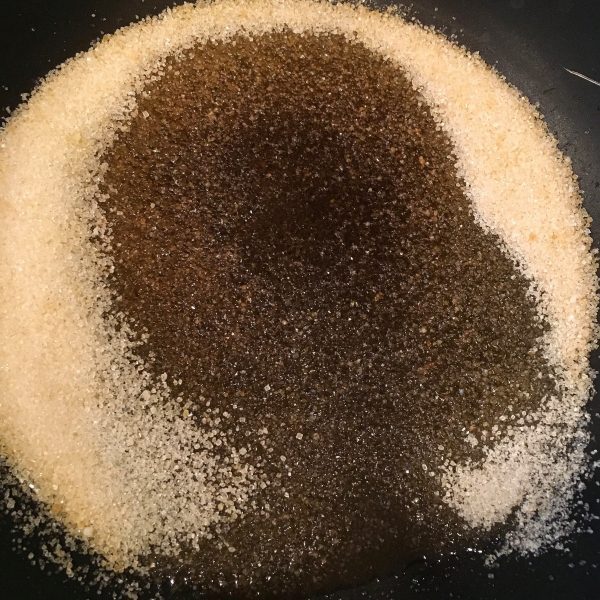 Once the sugar is almost melted, remove pan from the heat, and add in 1 cup of pecan halves. Stir quickly to coat.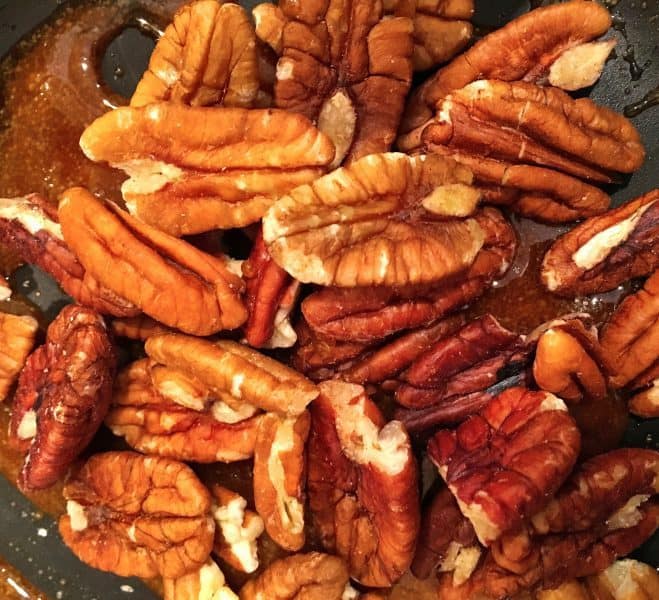 Once the nuts are coated, place on a piece of wax paper or foil, sprayed with cooking spray and allow to cool.
Place cooled candy coated pecans in a plastic bag. Use a rolling-pin or meat tenderizer to smash nuts into bite size pieces. Store in plastic bag or air tight container until ready to use.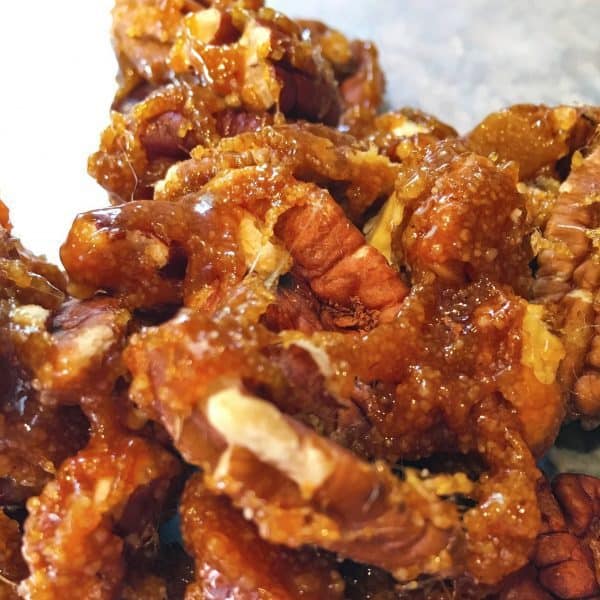 The only other thing you will need for this salad, besides the dressing, is to either bake, 3-4 breaded frozen chicken breast, like Tyson, or purchase breaded chicken tenders from your grocer's service deli.
TIP: Make sure you get all those crispy bits into the salad when you chop the chicken up!
I wanted a really pretty presentation for this salad. It's just so beautiful!
I began by placing the lettuce into a large glass serving bowl. Then arrange all the ingredients around the bowl on top of the lettuce. Dried Cherry Cranberries, Candied Pecans, Chopped Fresh Apple, Chopped Chicken breast, Bacon Bits, and Feta Cheese in the center.
I decided I would "toss" the salad when all my guest arrived so that it would be fresh and not soggy. Plus it would be so impressive!
If you do decide to serve the salad in this manner, with full presentation, be sure you can actually toss a salad and keep it in the bowl! Not flying across the room into your guests faces like I did! You don't want to look like the Swedish Chef on Sesame Street! (I have to say though…I think I nailed the likeness! Sigh…Sorry Ladies! )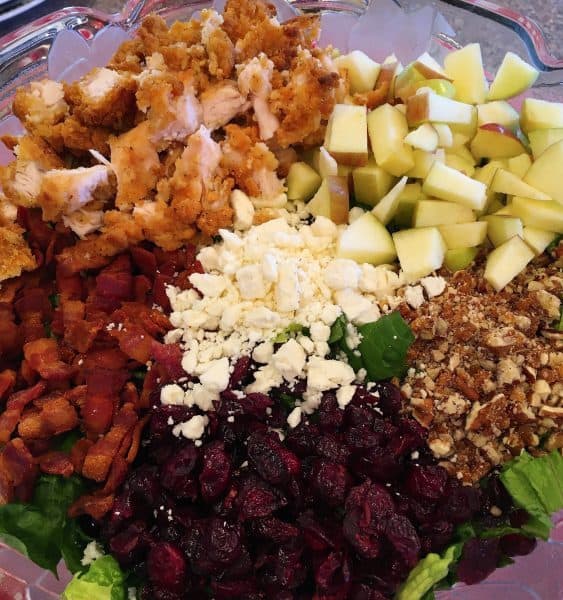 I stated in the beginning that the dressing for this salad is AMAZING and SUPER easy! I wasn't exaggerating! It's 3/4 a cup of Kraft Creamy Poppy Seed dressing to 1/4 cup of Kraft Balsamic Vinaigrette.
Mix well and pour onto the salad before tossing, or throwing in your guests faces! I only used about a 1/2 cup of dressing on my entire salad and we all agreed it was plenty. Save the extra for the next time! (I know you are going to be making this again! It's JUST THAT GOOD!)
This is the type of salad you go "out" to lunch to order! It's packed with so many awesome autumn flavors. It's really like a flavor explosion of happiness in your mouth!
The sweetness of the dried cherry flavored cranberries and fresh autumn apples, the crunch from the candied pecans, the tart from the feta cheese, and the rustic robust smoky flavor of the bacon. Throw in the tender crispy chicken and top it off with the sweet full flavored poppy-seed balsamic dressing and…WOW! A Salad that will impress the best!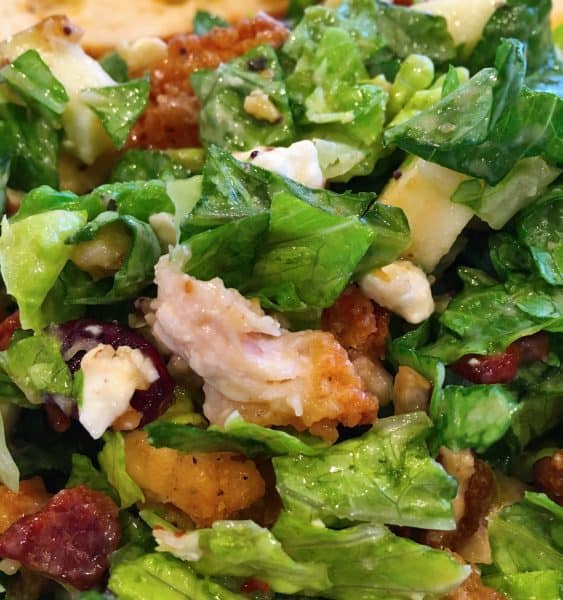 I served this salad with cheddar cheese bread. It was, in my opinion, the perfect flavor combination to go along with this salad. I didn't make it. I purchased a "Marketside" loaf from Wal-Mart. It was delicious and may be my new addiction! I kept the beverage light by serving water with fresh orange slices and cranberries.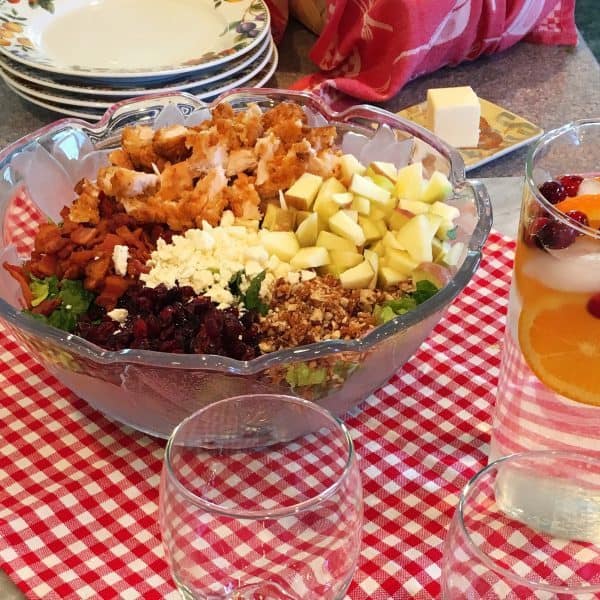 I think this salad was good enough to have tossed in your face! lol I hope my guest thought so too?!
I hope you'll love this salad as much as we did. You could even make this the day after Thanksgiving and use some of that leftover Turkey! What a great light lunch to have the day after.
Other Great Salad Recipes
Thanks for stopping by my Nest! I want to thank all of you for your comments, encouragement, follows, shares and pins! YOU make my day brighter! Hugs!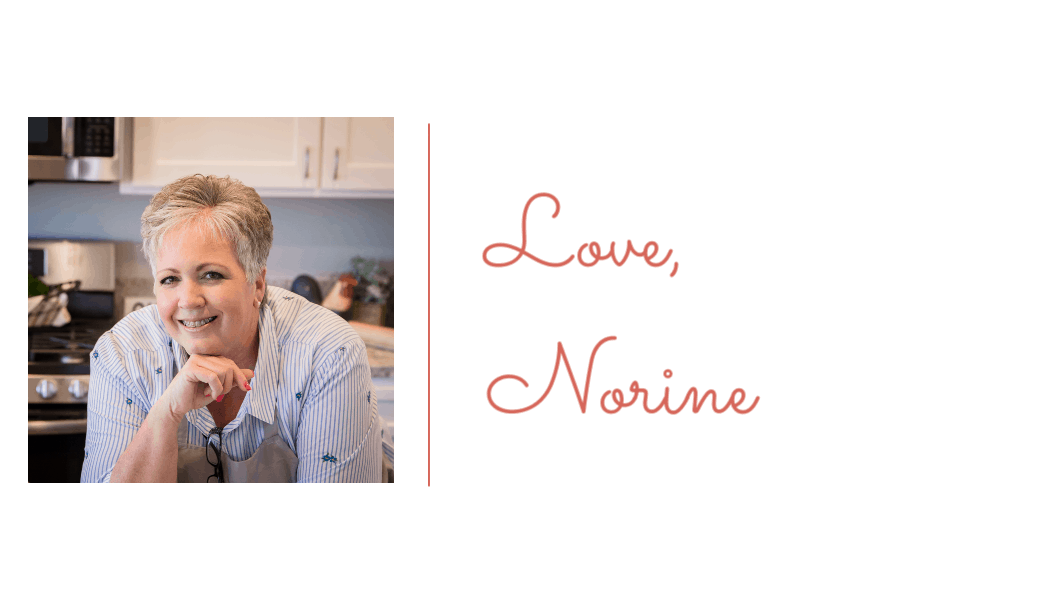 Yield: 4-6 servings
Chopped Autumn Harvest Salad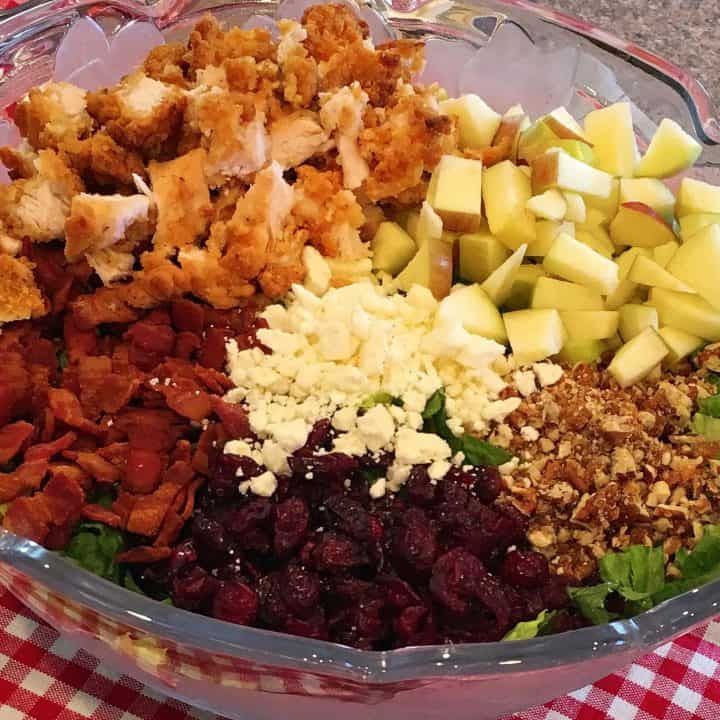 A delightfully delicious chopped salad packed with all the wonderful ingredients Fall has to offer and topped with an amazingly flavorful creamy poppy seed balsamic dressing! This one will have you coming back for more!
Ingredients
2 heads of Romaine Lettuce, chopped, washed, and dried
1 1/4 cups dried cherry flavored Ocean Spray Cranberries
1 cup candied pecans
1/2 cup crumbled Feta Cheese
1 large Jonagold Apple, washed, cored, and chopped
8 slices of bacon, cooked and crumbled
3-4 Tyson breaded Chicken Tenders, baked, cooled and chopped
Dressing
3/4 cup Kraft Creamy Poppy Seed Dressing
1/4 cup Kraft Balsamic Vinaigrette
Instructions
In a large bowl combine chopped lettuce, apples pieces, bacon, candied pecans, dried cherry cranberries, chicken, and feta cheese. Toss with Creamy Poppy Seed Balsamic Dressing. Serve immediately.
Candied Pecans
Place 1/2 cup sugar into a small skillet over low heat. DO NOT STIR. Wait until almost all the sugar has melted and is golden in color. Remove pan from heat. Stir in 1 cup of Pecan halves. Once coated place on wax paper or tin foil that has been sprayed with cooking spray. When cool place in a plastic bag and smash with a rolling pin or meat tenderizer. Store in air tight container or plastic zip lock bag.
Salad Dressing
In a small bowl mix together both types of salad dressings until well blended. Store in Refrigerator until ready to use.
Notes
Please note that you can buy candied pecans in our grocery store by the salad section and you can also use Real Bacon Bits if you prefer.
Recommended Products
As an Amazon Associate and member of other affiliate programs, I earn from qualifying purchases.
Nutrition Information:
Yield:
6
Serving Size:
2 cups
Amount Per Serving:
Calories:

558
Total Fat:

30g
Saturated Fat:

7g
Trans Fat:

0g
Unsaturated Fat:

21g
Cholesterol:

43mg
Sodium:

945mg
Carbohydrates:

59g
Fiber:

8g
Sugar:

42g
Protein:

16g