Boneless pork chops with a flavorful brown sugar glaze are tender, juicy, and full of flavor. The perfect Brown Sugar Glazed Pork Chop!
Normally I like to present my food dishes with flair… a little parsley on the side, a pretty plate, a beautiful back drop…but I felt these Glazed Brown Sugar Pork Chops could shine on the their own. (Are you buying this? Nah? I didn't think so, but it was worth a try!)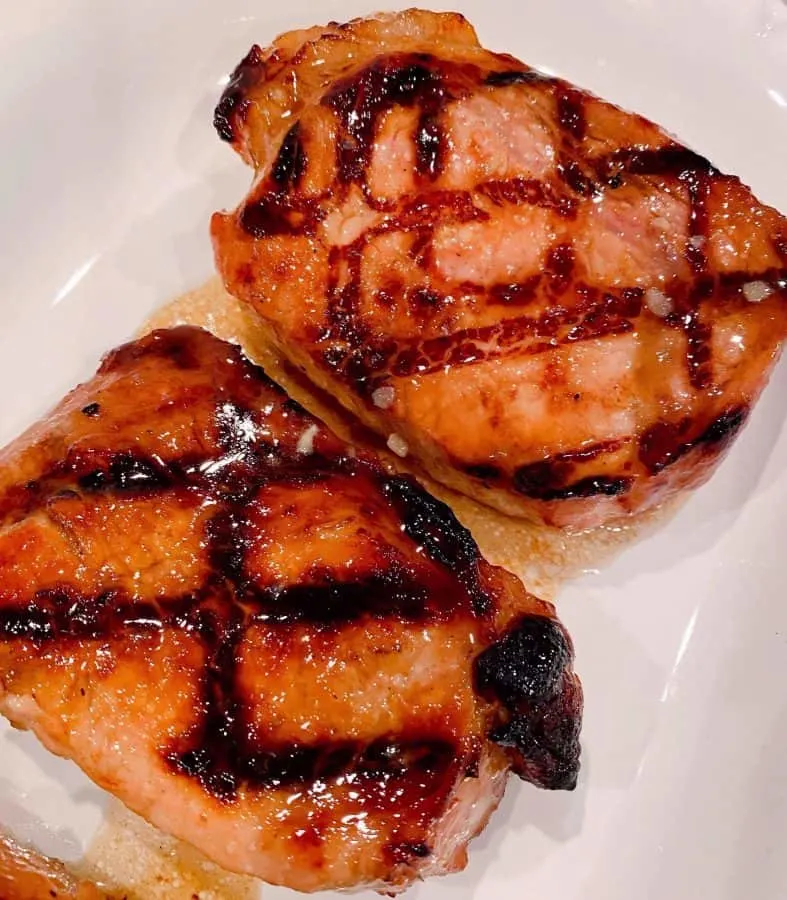 So the truth! I've been dying to post the recipe for these boneless pork chops forever! In my office I have a board covered with recipe ideas I want to share with y'all! This recipe for brown sugar pork chops has been on that board for like 2 years!! (Hi! My name is "Pamela Procrastinator"! Anybody else out there with the same problem?)
This summer I finally made them! (I know…shocking! What can I say…I had a little extra time on my hands this year stuck at home!) I was going to photograph them with all the fluff they deserve…but we were kind of hangry that night… and ate them before I got to those purtty photos!
I took a poll recently on my Instagram. Y'all wanted this recipe! I decided we could do pretty photo's later…let's just get to the "meat" of this recipe! (Yep…bad puns are free here at Norine's Nest!)
How To Make Brown Sugar Glazed Pork Chops
The Pork chops in this recipe can be grilled or cooked in a skillet on the stove top. They're great in summer or winter!
What is a "chop"? A chop is just a term for a cut of meat. The term is somewhat interchangeable with steak or cutlets, but a chop is most often a single-serving, thick cut of meat from the pork loin, usually with the bone-in, but they can be boneless. I recommend boneless for this recipe.
I love the thick cut boneless chops from Costco. I fillet mine in half and make them about 1/2 inch thick.
Pork chops can be kind of tricky to cook, but the most important thing to remember is that pork chops cook quickly, 5 to 8 minutes per side for bone-in, or 4-6 minutes per side for boneless. Watch them carefully and when the juices run clear or the internal temperature reaches 145° degrees it's time to pull them off the heat and allow them to "rest" for 10 minutes.
TIP: I HIGHLY recommend using a digital meat thermometer. It will give you a perfectly cooked piece of meat every time.
Note: Before we make the marinade I just want to advise you that you'll be using the marinade later for the glaze.
In a large container combine 1/2 cup brown sugar, firmly packed, 1/2 cup apple juice or apple cider, 4 Tablespoons vegetable oil, 1 Tablespoon soy sauce, and 1/2 teaspoon ground ginger or ginger paste! 1/2 teaspoon minced garlic. Salt and Pepper to taste, mix well. The brown sugar may remain slightly granular…which is fine.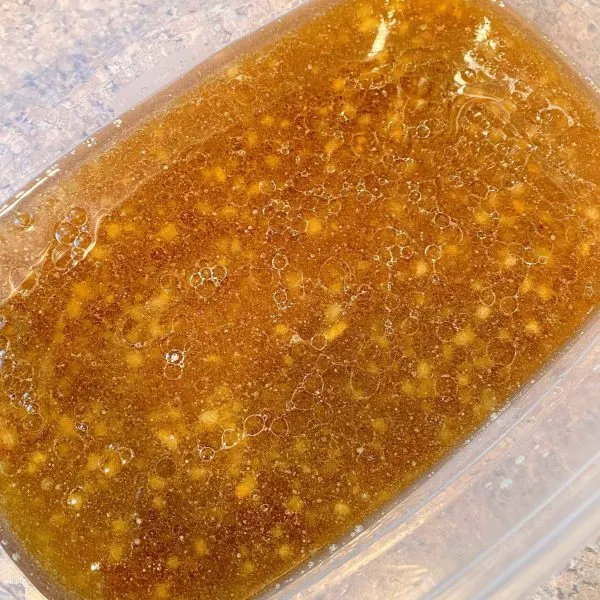 Place 5-6 pork chops in the marinade. Allow the pork chops to hang out there for at least 2-4 hours or over night.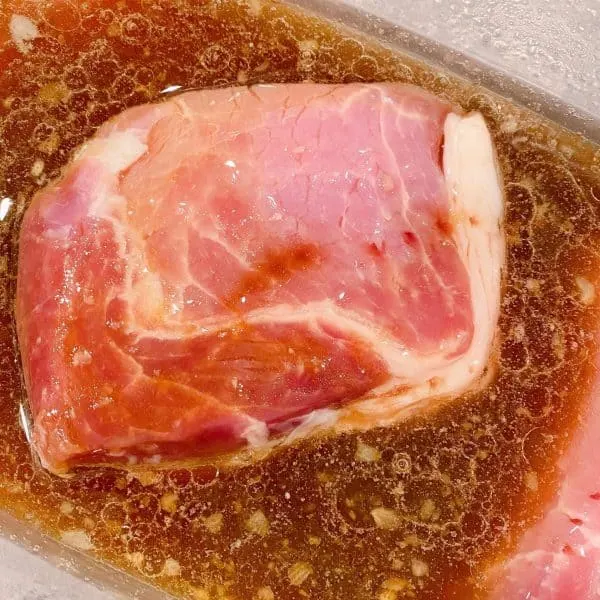 Preheat your grill and brush the grate lightly with oil before beginning to cook.
Remove pork chops and place the marinade in a large sauce pan over medium heat. Bring to a boil.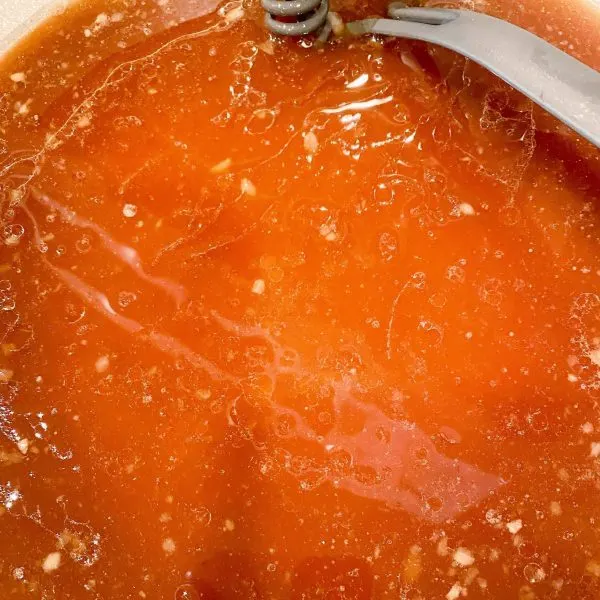 In a small bowl combine 1/2 cup water and 2 teaspoons cornstarch, whisk to combine. You can also use some of the marinade before bringing it to a boil for a thicker glaze. Which is what I prefer to do. Either will work fine!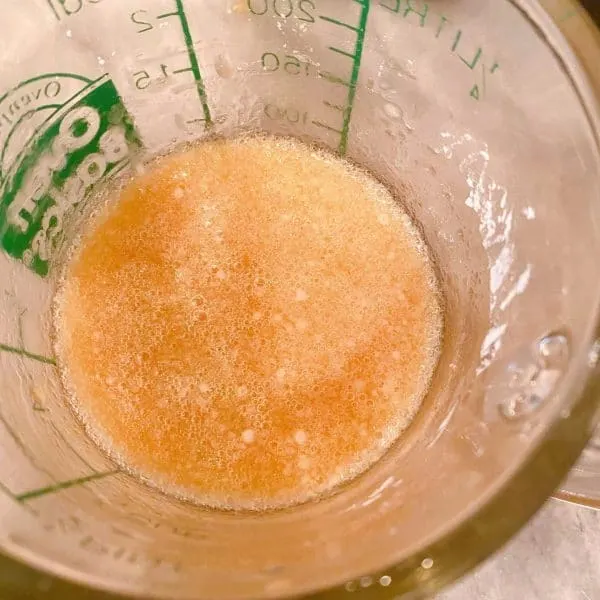 Whisk cornstarch into brown sugar mixture. Continue to stir until thick. Don't worry if it lightly foams during this process. It will settle back down after it cools. (Kind of like me the time my oldest drove up the off ramp of the freeway!)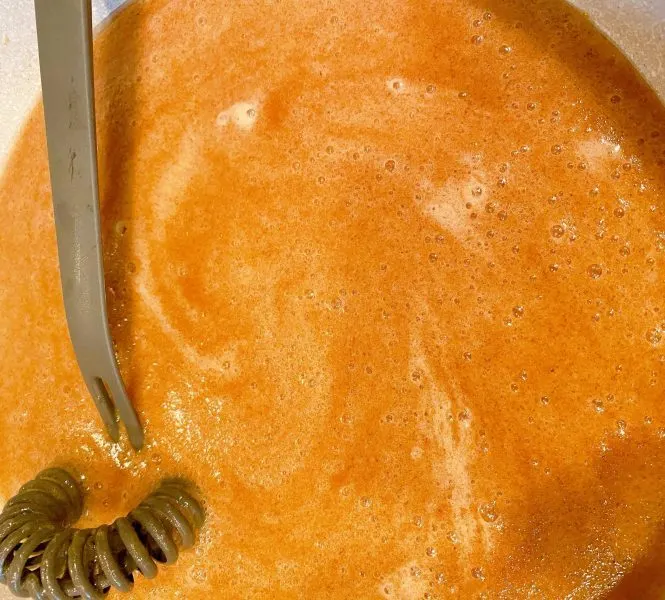 Place marinated pork chops on prepared grill or in a large pre-heated skillet.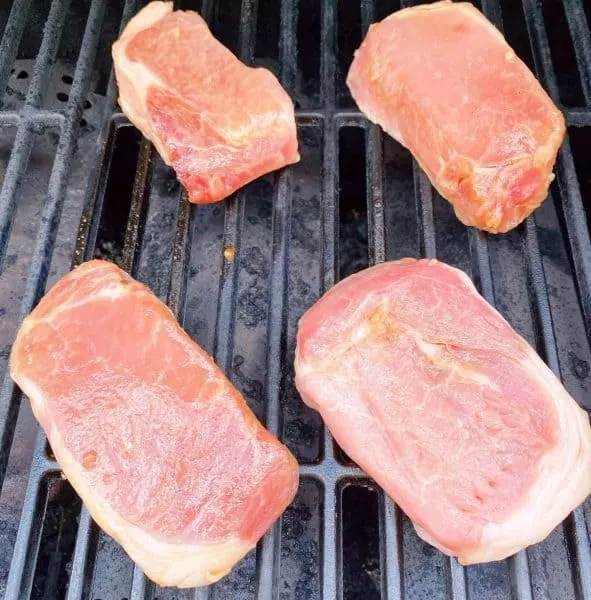 Cook for a total of 10-12 minutes, turning once during cooking.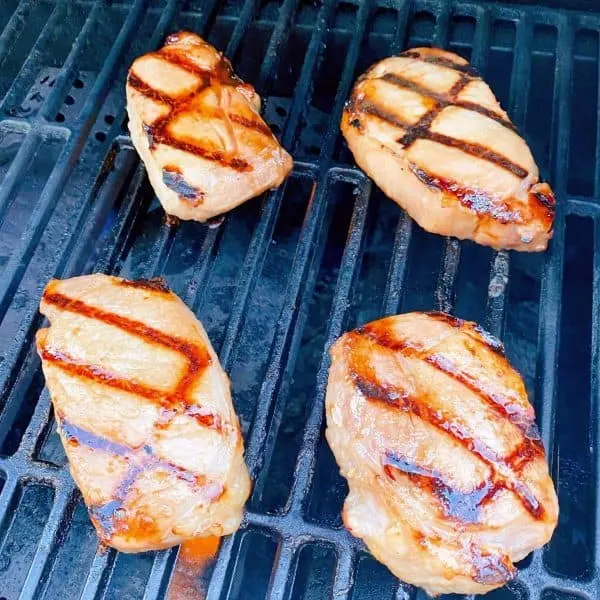 Cook for a total of 10-12 minutes, turning once during cooking. The sugars will caramelize during grilling creating those beautiful char lines we love on grilled meats!
Brush with the thickened brown sugar glaze just before removing the chops from the grill. Allow the pork chops to set and rest for a minute. (Now is when you realize your jealous of a pork chop…it gets to set and rest…while you set the table or finish up that 5th grade math homework!)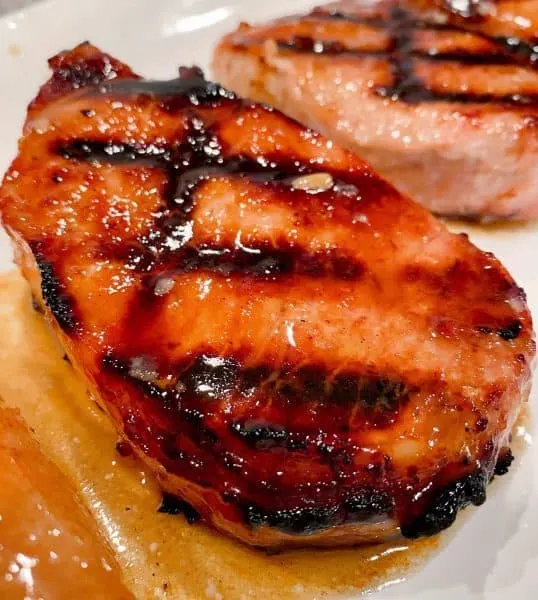 Pour the remaining glaze over the pork chops. I recommend setting the glazed pork chops on a bed of rice and then pouring the glaze over the entire rice and chop plate! That sauce is AMAZING!!! Lip licking delicious. It pairs beautifully with steamed rice.
The pork chops are tender and moist. So juicy…with just the right amount of sear! I love the subtle flavors in this dish with the garlic and ginger…hints of apple. They're even great in the Fall!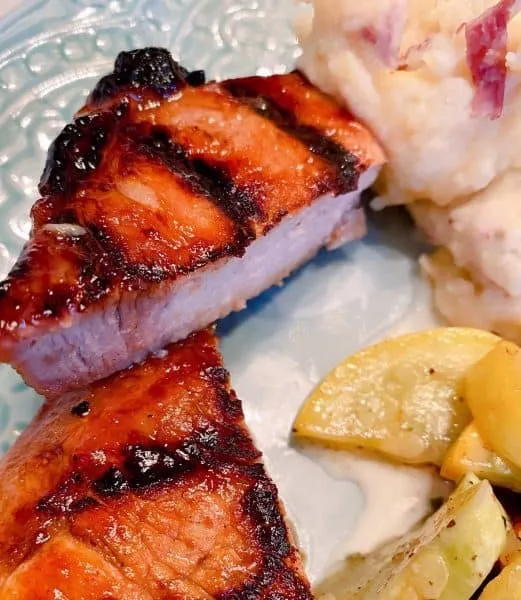 Your family is sure to love these yummy chops! Sometimes the best dishes are the most simple! This is one of those main dish recipes.
Aren't they beautiful?!!!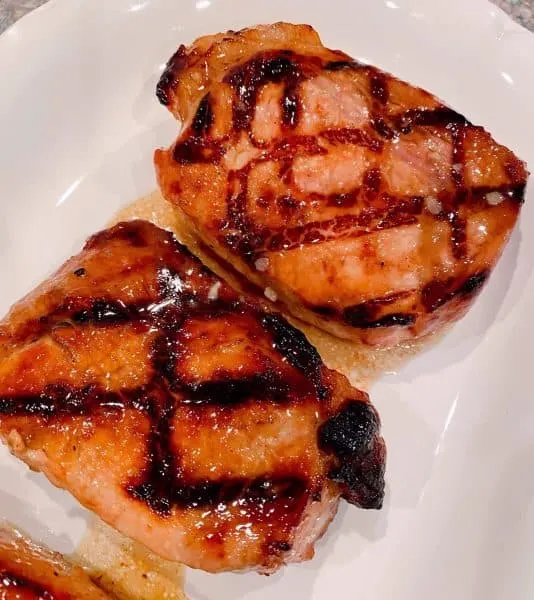 Here are some other Favorite Pork Chop Recipes
Thanks so much for stopping by and visiting with me today! Let me know how you like these delicious Grilled boneless pork chops!
Happy Nesting!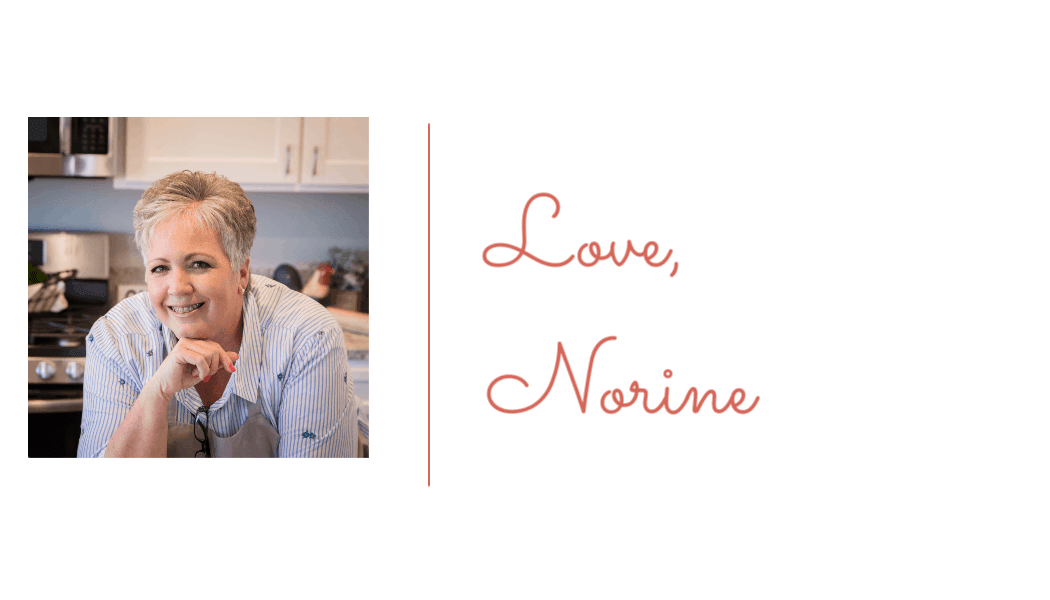 Yield: 6 servngs
Brown Sugar Glazed Pork Chops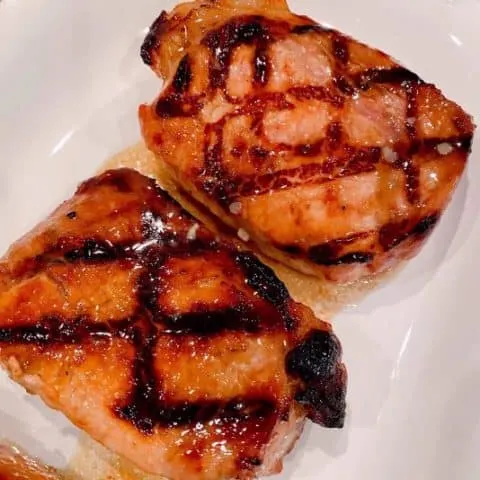 Boneless pork chops with a flavorful brown sugar glaze are tender, moist, and full of flavor. The perfect Brown Sugar Glazed Pork Chop!
Total Time
2 hours
40 minutes
Ingredients
5-6 boneless pork chops, about 1/2 inch thick, (4 ounces total)
1/2 cup brown sugar, firmly packed
1/2 cup apple juice
4 Tablespoons vegetable oil
1 Tablespoons soy sauce
1/2 teaspoons ground ginger; or ginger paste
1/2 teaspoon minced garlic
salt and pepper to taste
2 teaspoons cornstarch
1/2 cup water
Instructions
In a large container add brown sugar, apple juice, vegetable oil, soy sauce, ginger, garlic, salt and pepper. Mix until well combined. Brown sugar will be a little granular. Add pork chops, cover and chill 2-4 hours.
Preheat an outdoor grill for high heat.
Remove pork chops from marinade. In a small sauce pan, over medium-high heat, add marinade ingredients. Bring to a boil. Combine water and cornstarch in a small bowl, and whisk into brown sugar mixture. Stir until thick. Remove from heat.
Brush grate of grill lightly with oil before placing pork chops on the grill. Cook for 10 - 12 minutes, turning once. Internal temperature should be 145°. Brush with glaze just before removing chops from grill. Allow to rest 10 minutes. Serve with remaining sauce.
Nutrition Information:
Yield:
6 servings
Serving Size:
1 serving
Amount Per Serving:
Calories:

474
Total Fat:

28g
Saturated Fat:

7g
Trans Fat:

0g
Unsaturated Fat:

20g
Cholesterol:

103mg
Sodium:

319mg
Carbohydrates:

19g
Fiber:

0g
Sugar:

17g
Protein:

37g