Delicious bone-in Pork Chops, marinated in a scrumptious Honey Garlic marinade, then grilled to tender juicy perfection! Served with a side of fresh fried cinnamon sugar apples for the perfect pairing!
Remember my new favorite Meat Market the next country town over? Well when we dropped by I asked if they had any bone-in pork chops?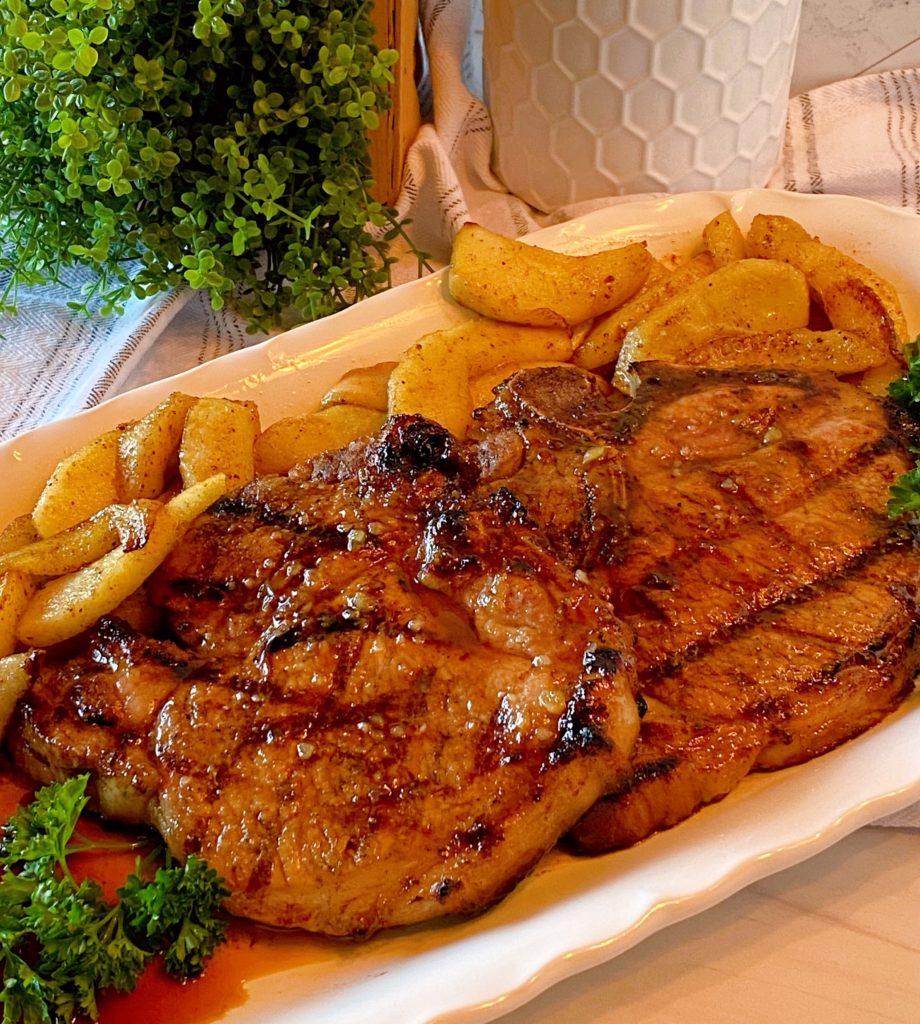 They Did! Lots of packages of beautiful bone-in pork chops! I was giddy! Yes…giddy over pork! (Don't y'all be jealous of my exciting life!)
I've been dying to create a flavor-filled Honey Garlic marinade for bone-in pork chops that could be pan fried or grilled. The perfect easy summer dish when you don't have a lot of time for dinner!
With just a few everyday pantry ingredients you can create a marinade that adds a delicious depth of flavor to pork or chicken. That's right, this marinade would be equally amazing on grilled bone-less skinless chicken breast. Today however, I'm focusing on these beautiful Pork Chops!
How To Create a Garlic Honey Marinade
This recipe will make enough marinade for two, 1 inch thick, Center Cut, bone-in Pork Chops. You can easily double it if you need additional pork chops.
Why "bone-in"? Bones equal flavor! That's why I prefer bone-in. That said, you can use boneless pork chops as well in this recipe. However, I really recommend a bone-in chop!
In a small bowl combine 1 Tablespoons Worcestershire sauce, 2 Tablespoons Real Honey, 1/4 cup brown sugar, 1/2 teaspoon ground dry mustard, 2 Tablespoons Olive Oil, 1/2 cup of Apple Juice, and 2 teaspoons minced garlic. Whisk until well blended.
Let's chat about the flavors in this marinade for just a second. The apple juice adds an incredible fruity flavor that pairs beautifully with pork. Remember the old saying "Pork Chops and Applesauce"? There was a reason for that…they pair well together and compliment each other.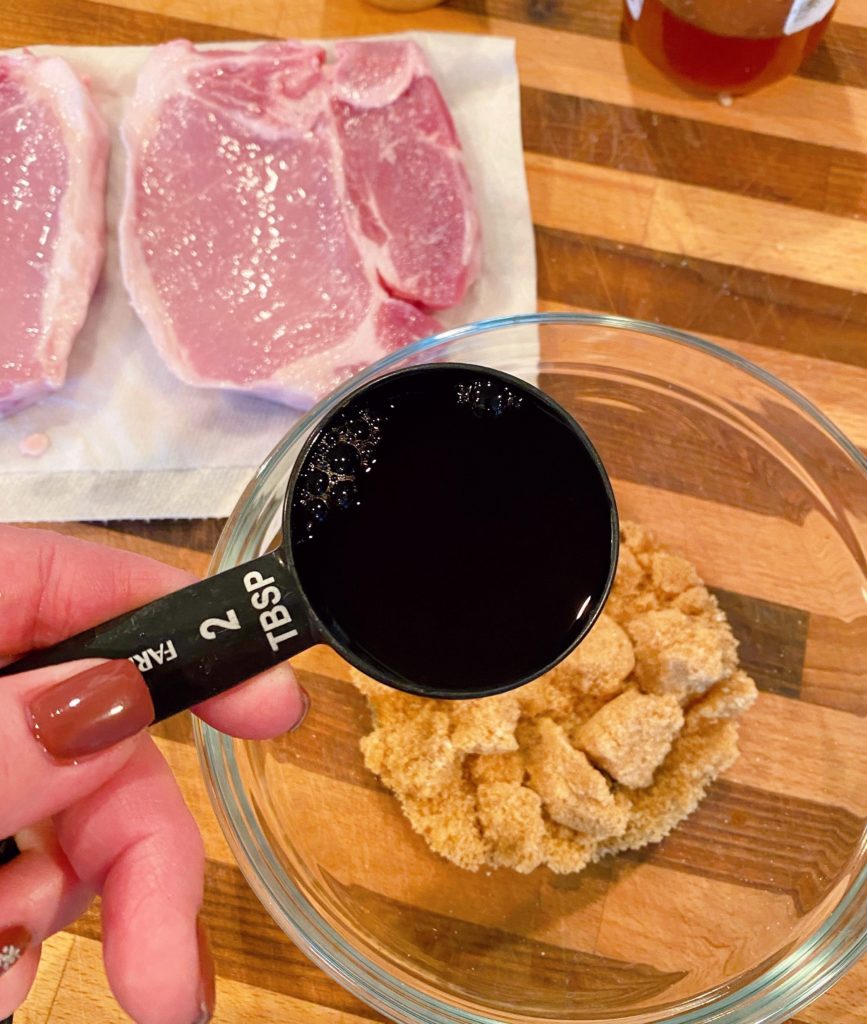 I opted not to use any Soy Sauce in this recipe. Teriyaki undertones were not the direction I was headed towards. I wanted a warm, slightly sweet flavor for Pork Chops.
Most pork chop marinades contain Soy Sauce…but this one does not and you won't miss it! Not even a little.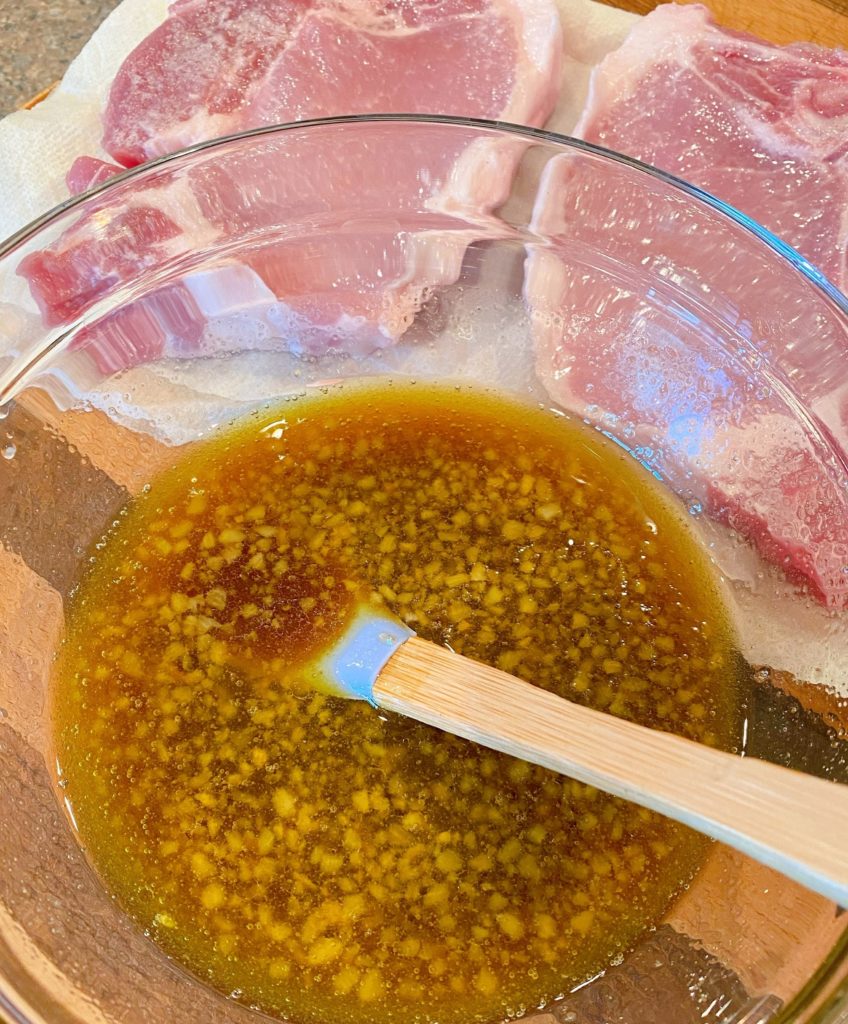 Place the Pork Chops in a gallon size Ziploc bag.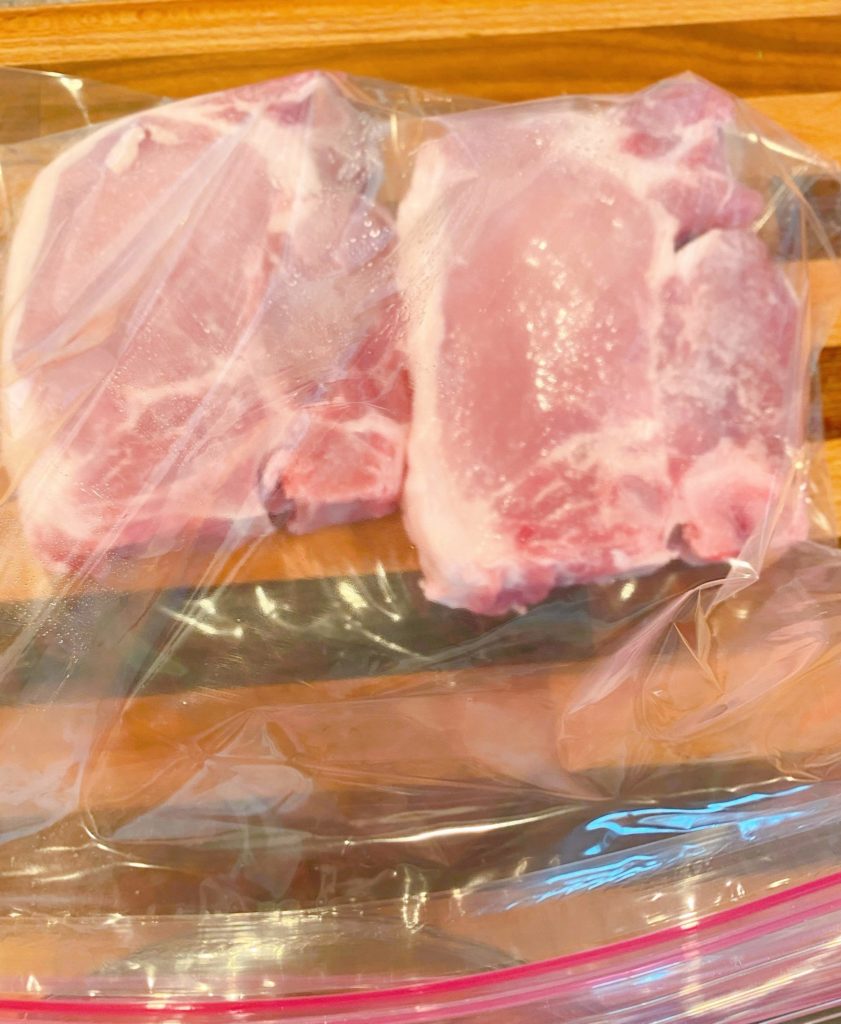 Pour the marinade, carefully, over the pork chops. Seal the bag shut and massage the marinade into the meat.
Place the bag in the refrigerator and marinade for a minimum of 2 hours, up to, 24 hours. Be sure to turn the bag over 2-3 times during the marinating time. It helps to evenly distribute the marinade on the meat.
TIP: This is a perfect weekend meal prep idea. Prepare it on Sunday and Grill it on Monday!
Freezing Pork Chops and Marinade
You can also Freeze the pork chops with the marinade. Just pop the raw pork chops in the marinade into your freezer. You can freeze them up to three months.
To cook, thaw them in the refrigerator, and grill when thawed.
Tip: Freeze the pork chops in a freezer Ziploc bag, rather than a regular food storage Ziploc bag, that is a little thicker and can withstand the cooler freezer temperatures.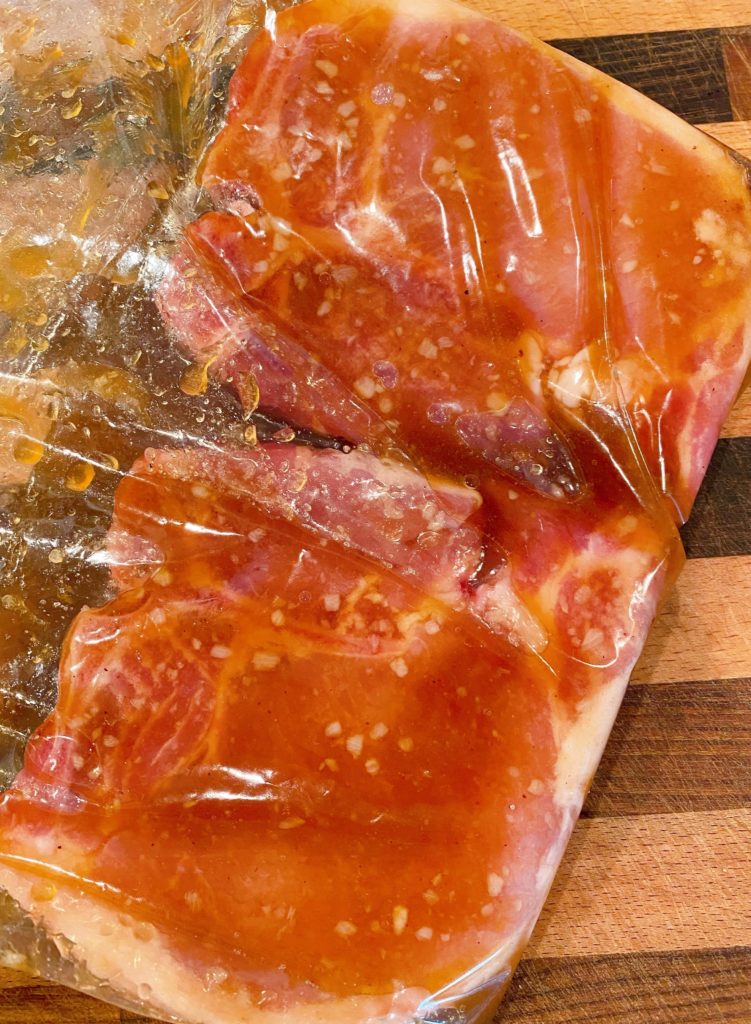 How to Grill Marinated Pork Chops
Remove pork chops from marinade.
Do NOT throw out the leftover marinade. Place it in a small sauce pan and bring to a low boil until the fluids reduce by half.
TIP: It is important to make sure that you bring the mixture to a boil and allow it to boil for at 5-10 minutes! This will kill off any possible contamination from the raw pork juice that may be in the marinade. Please note this is not a necessary step…it just makes a delicious sauce to pour over the pork chops.
Heat your grill to High Heat! About 400 degrees. Quickly sear the pork chops on each side, then reduce the heat to medium.
Tip: Searing the meat quickly seals in the juices. Reducing the heat allows the meat to cook slowly retaining the majority of the moisture.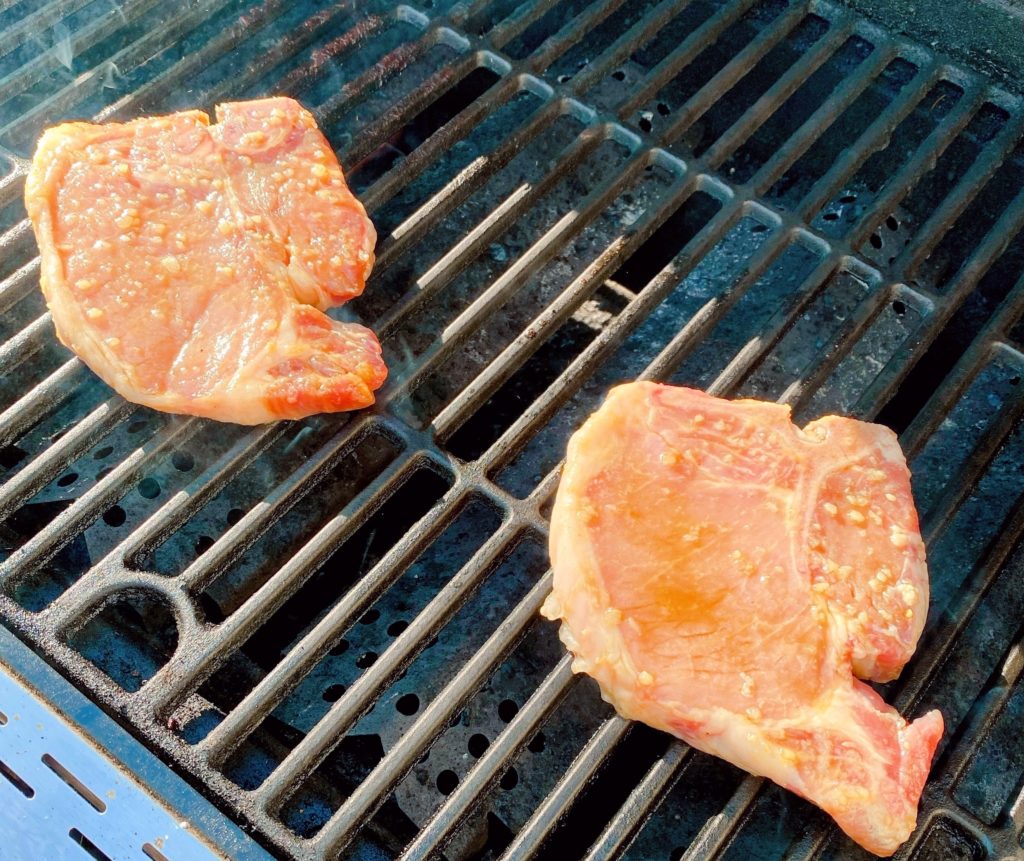 Allow the Pork chops to cook about 5-8 minutes per side or until the pork reaches an eternal temperature of 140°.
Make sure to turn the pork chops during grilling to get a beautiful crisscross design. The chops will begin to firm up when they are fully cooked.
Remove them from the grill and allow them to rest 5 minutes before serving.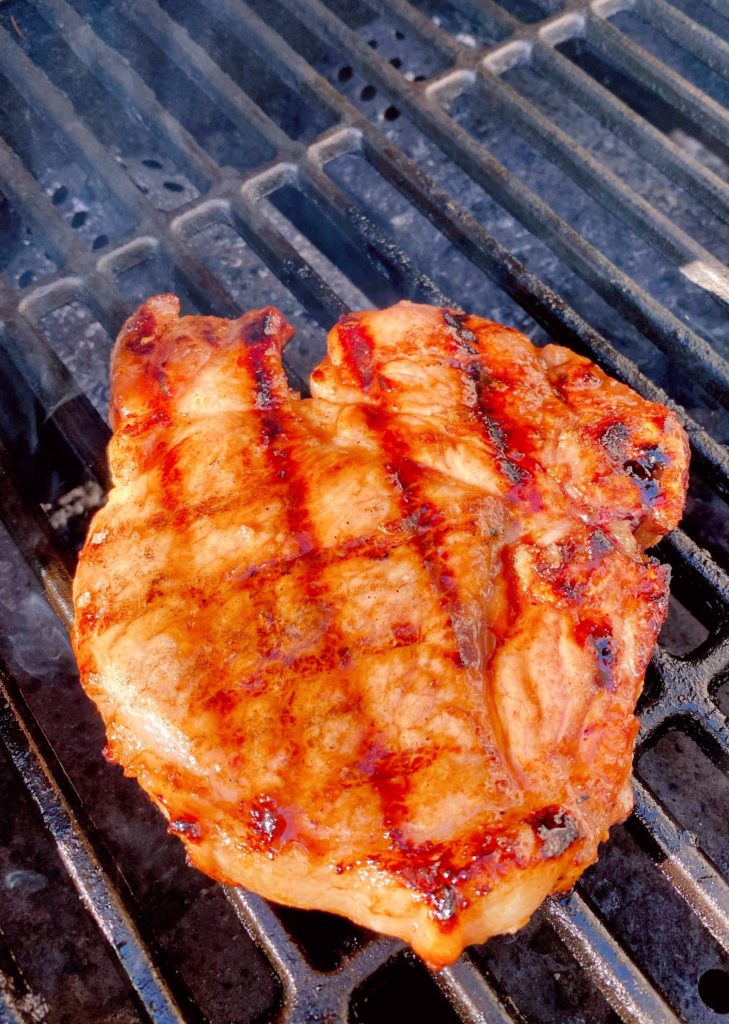 While the pork chops rest, place 4 Tablespoons of butter in a large sauce pan. Peel, seed, and slice, two Granny Smith Apples. Place in skillet with melted butter. Add 1 Tablespoon cinnamon sugar.
Saute until tender crisp and sugar is dissolved.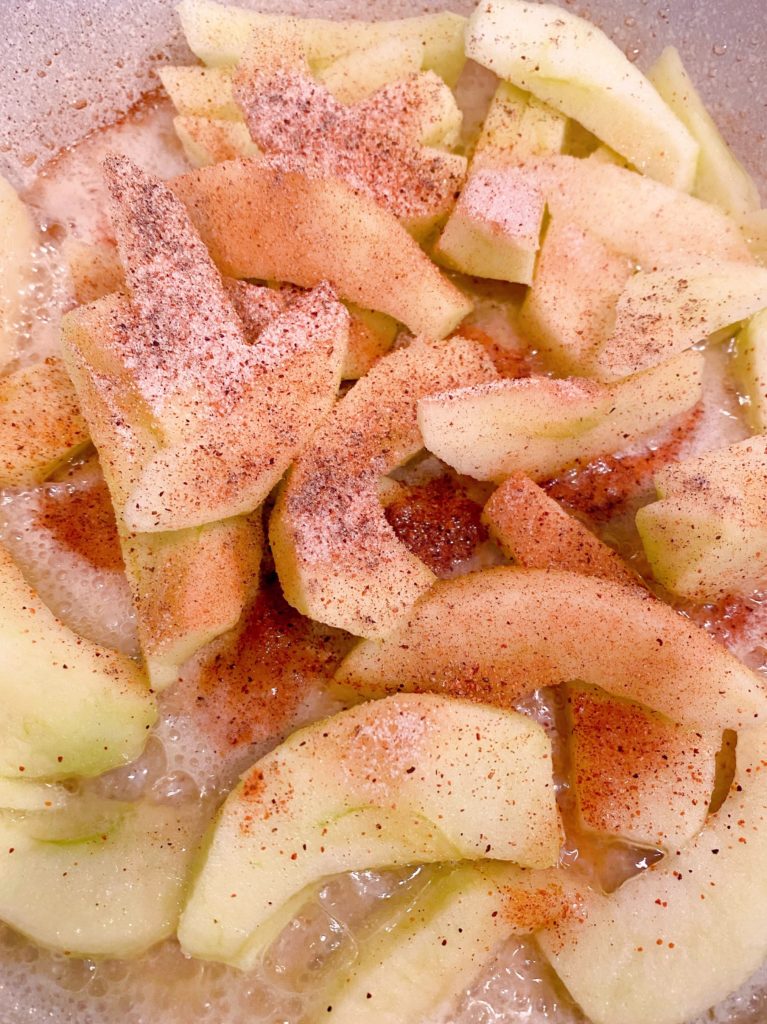 Place Pork Chops on a serving platter. (You could just slap them onto your hand, go all out barbarian…but I don't highly recommend this method! Get's a little messy.) Spoon the reduction marinade over the top of each pork chop. Place the fried apples next to the pork chops. Let them get cozy on that platter!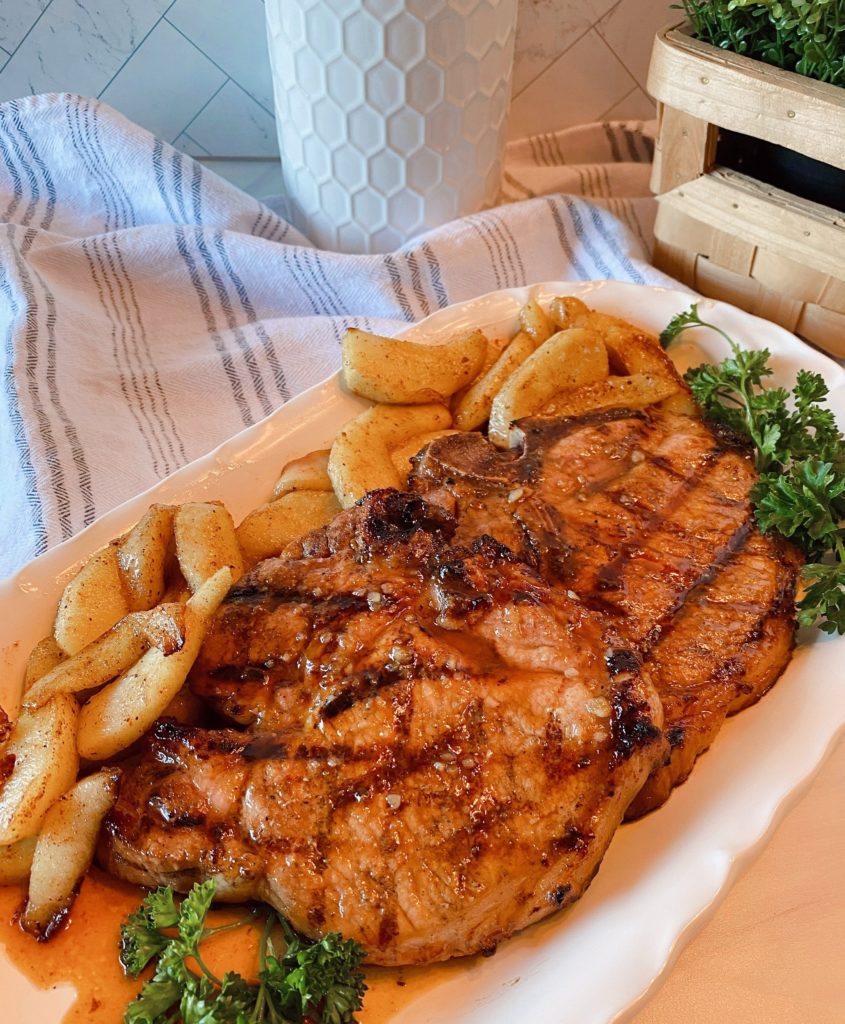 Grilling adds so much flavor to meats! Combine it with the Honey Garlic Marinade and this is such an wonderful summer recipe.
You don't have to limit it to summer though! You can stove top grill these as well for a great winter dish!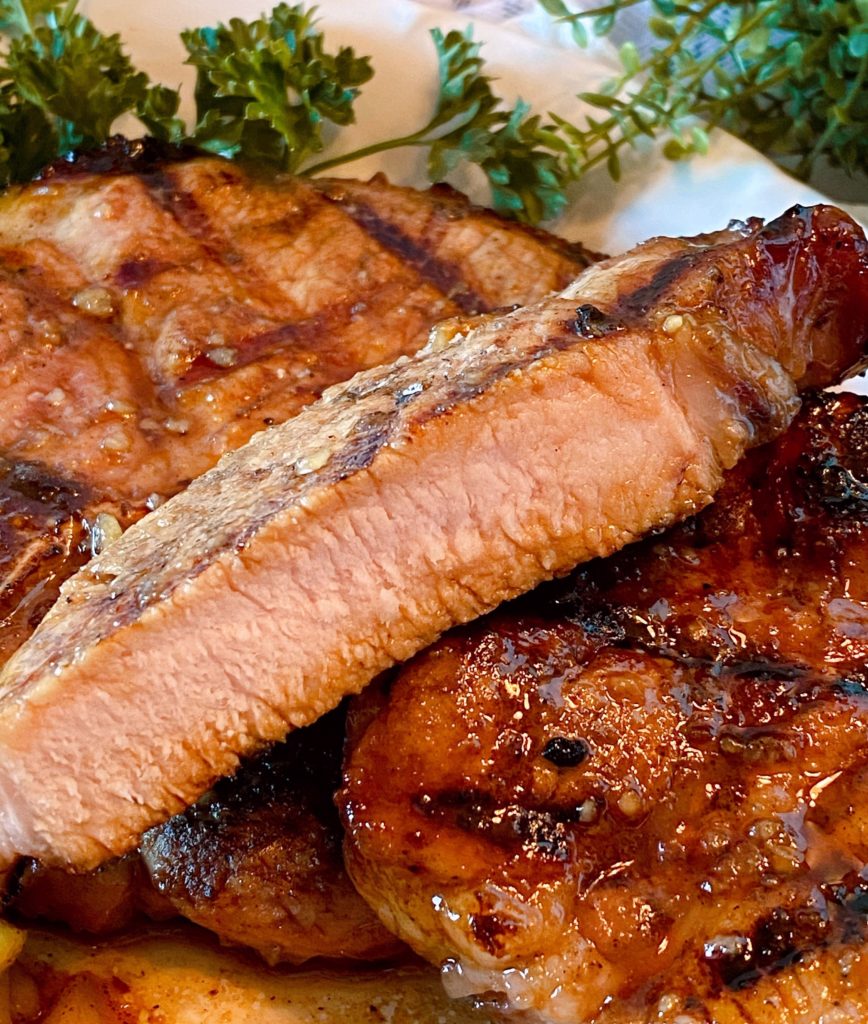 I loved a bite of pork chop with a bite of fried cinnamon apple! It. Was. Heavenly!!!
You're gonna love the flavors in these chops! Uniquely different, but oh so good! Mr. Nest gobbled his chop up before I had even cut into mine! (Ignore the turkey reference there…"oinking them up" just didn't sound right…AT ALL!) They're that good!!
Other Fantastic Pork Chop Recipes
Stoke up that grill my friends and give this recipe a try!
Remember you can always follow me, Norine's Nest, on Facebook, Instagram, and Pinterest where I share my favorite recipes every day!
Happy Nesting!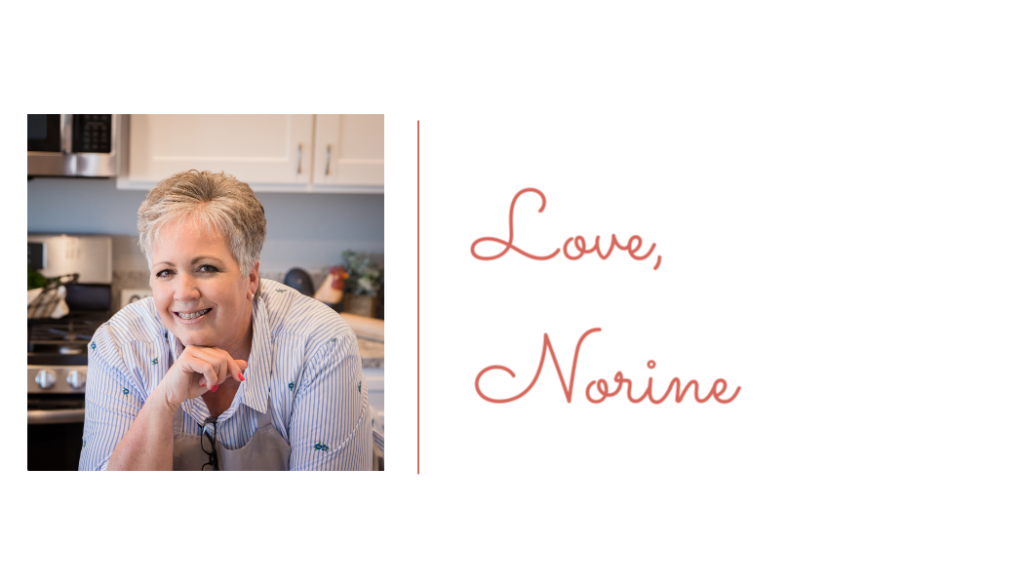 Yield: 2 pork chops
Grilled Honey Garlic Bone-In Pork Chops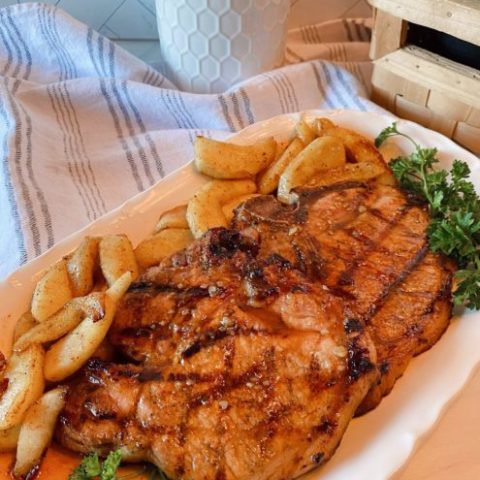 Delicious bone-in Pork Chops, marinated in a scrumptious Honey Garlic marinade, then grilled to tender juicy perfection! Served with a side of fresh fried cinnamon sugar apples for the perfect pairing!
Total Time
2 hours
21 minutes
Ingredients
2 Center Cut Bone-In Pork Chops
1 Tablespoon Worchestershire Sauce
2 Tablespoons Honey
1/4 cup Brown Sugar
1/2 teaspoon ground mustard
2 Tablespoon Olive Oil
1/2 cup Apple Juice or Apple Cider
2 teaspoons minced garlic
2 large granny smith apples, peeled, seeded, and sliced
4 Tablespoons butter, melted
1 Tablespoon cinnamon sugar
Instructions
Rinse and pat dry pork chops.
In a small bowl combine worchestershire sauce, honey, brown sugar, ground mustard, olive oil, apple juice, and garlic. Mix with a wire whisk until well combined.
Place pork chops in a gallon size ziploc bag. Carefully pour marinade over Pork Chops. Zip bag closed and massage marinade into pork chops. Place pork chops in refrigerator for 2-24 hours. Turning the bag 2-3 times during marinating.
When ready to cook, remove pork chops from refrigerator 30 minutes before grilling, and bring chops to room temperature. Pour left over marinade into a small sauce pan and cook over medium heat until it comes to a low boil and reduces in half. Then simmer during grilling of pork chops.
Preheat grill to 400°. Sear Pork Chops on both sides. Reduce heat to medium. Continue to cook over medium heat 5-8 minutes per side until meat firms up and reaches an internal temperature of 140°.
Remove pork chops from grill, cover with foil, and allow to rest.
In a large skillet over medium high heat, place 4 Tablespoons of butter. Melt. Add sliced apples and cinnamon sugar. Saute for 5 minutes until apples are "fork tender".
Place pork chops on a platter. Pour reduction marinade over the top of each pork chop. Spoon fried apples next to pork chops and serve.
Nutrition Information:
Yield:
2 servings
Serving Size:
1 pork chop
Amount Per Serving:
Calories:

874
Total Fat:

46g
Saturated Fat:

19g
Trans Fat:

1g
Unsaturated Fat:

23g
Cholesterol:

127mg
Sodium:

279mg
Carbohydrates:

96g
Fiber:

7g
Sugar:

82g
Protein:

22g