Boneless center cut Pork Chops are dipped in an egg wash and dredged through seasoned Ritz cracker crumbs, dotted with butter…lots of butter, and baked in the oven to create these delicious Oven Fried Butter Crumb Pork Chops.
A few weeks ago I ran across a great sale on whole Pork Tenderloin. So I bought a few, brought them home and cut them into boneless pork chops!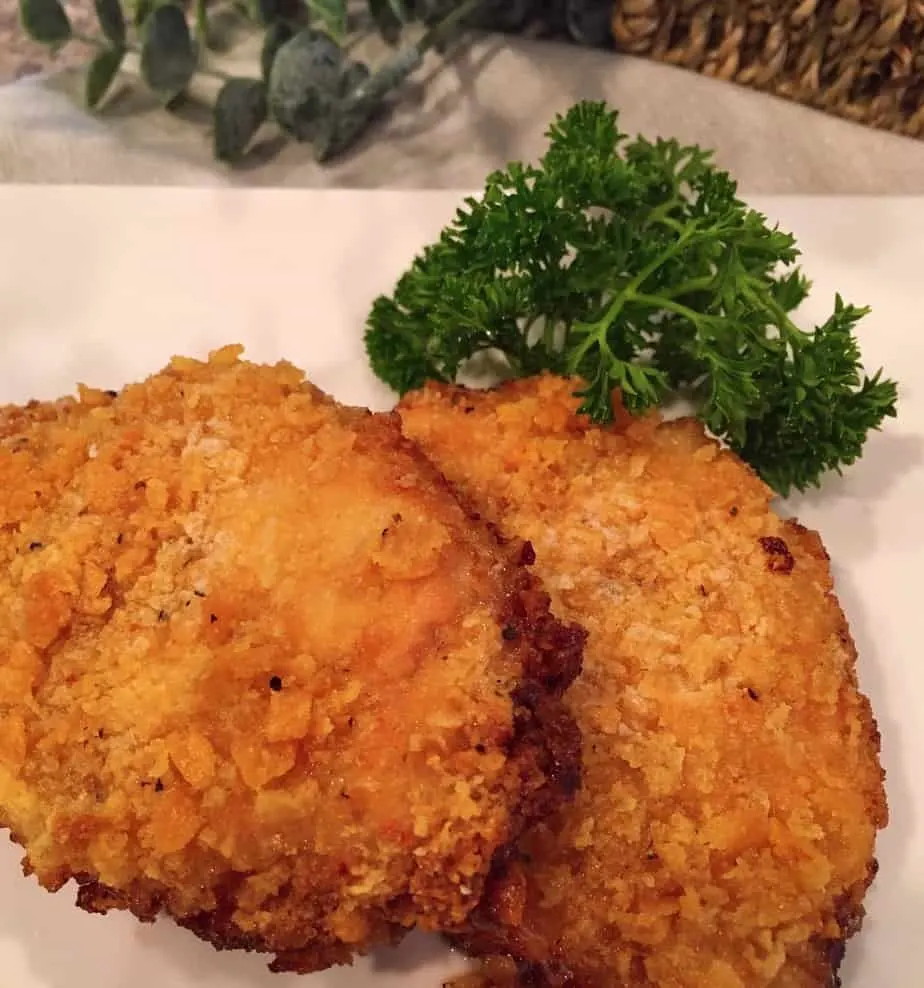 It's a great way to save money on that grocery budget! I'm always looking for ways to cut costs when it comes to feeding the family!
For years folks have used this recipe buttery crumb coating on Chicken. It's a great dish, but I decided to use it on Pork Chops to create these tender and delicious Oven Fried Butter Crumb Pork Chops! A quick, easy, and budget friendly family meal. One I know the birds at your nest will love! (Cause life is all about the crumbly bits!)
How To Make Butter Crumb Pork Chops
Preheat oven to 375°.
Let's get started! Begin by crushing 1 cup buttery crackers, I used Ritz. Cause everything…including a big ol' hunk of pork, is better on a Ritz!
TIP: Use a potato masher to crush the crackers in the same bowl you're going dredge the pork chops in. This recipe doesn't work really well by placing the crumbs in a plastic bag. You are going to need to "press" the pork chops into the crumb mixture.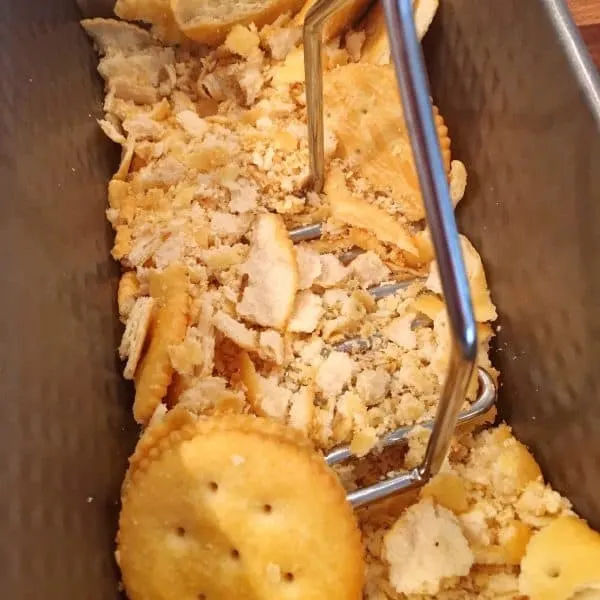 Season the cracker crumbs by adding a little garlic salt and black pepper just to your taste. I did about 1/4 teaspoon of each. Stir everything together to combine. Isn't that simple! I love the simplicity of this recipe!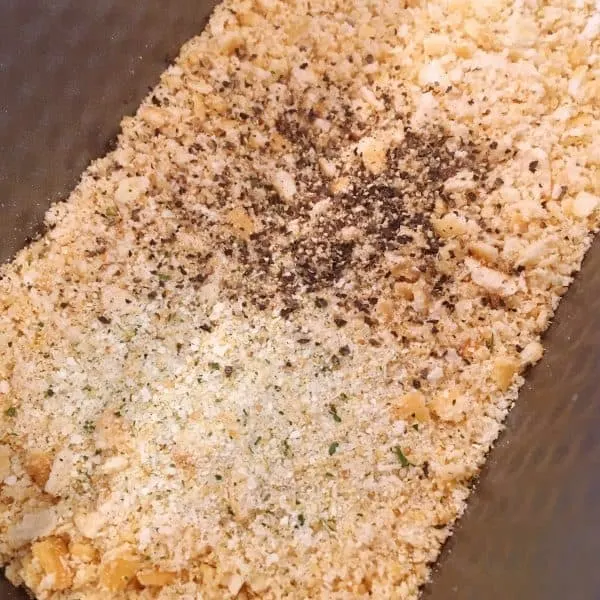 In a separate dish add 3 whole eggs. I made 6 pork chops and had more than enough egg wash. You may even want to just start out with two. I feel I wasted a lot of the egg mixture. However, I was following the original recipe as found on AllRecipes.
Aren't those pretty eggs? Nothing beats farm fresh eggs and these were Farm Fresh thanks to my sweet girl friend! (I don't have time to feed chickens and collect eggs…I can't even keep up with the laundry! I'm convinced I'll die with a load in the dryer waiting for it's 5th go around!)
TIP: I like to use smaller bread pans for this particular recipe. It makes for an easier clean-up and keeps all the ingredients in the pans and not all over your counters. You can use any shallow dish you like.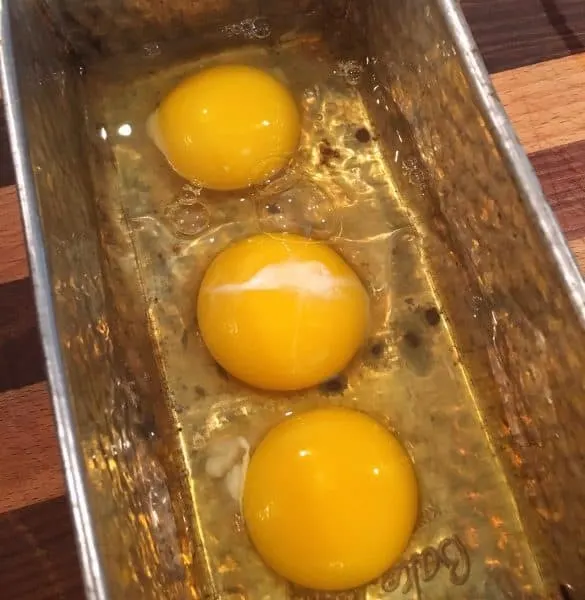 Using a wire whisk beat eggs. Confessions time…half the time I just use a fork! As long as those eggs get a good "whooping" that's all that important!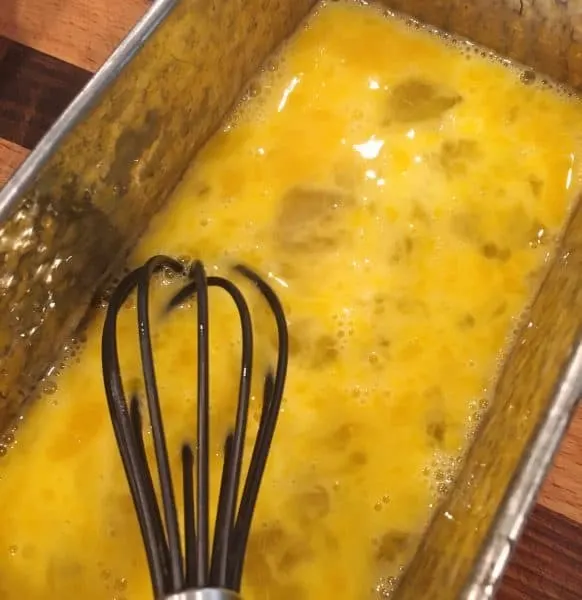 Now we can debate the next step till the cows come home! I prefer to rinse my pork. Some of you don't. You do you! I won't judge you either way!
Rinse pork chops and pat dry. Dip pork chop in egg wash making sure to coat both sides.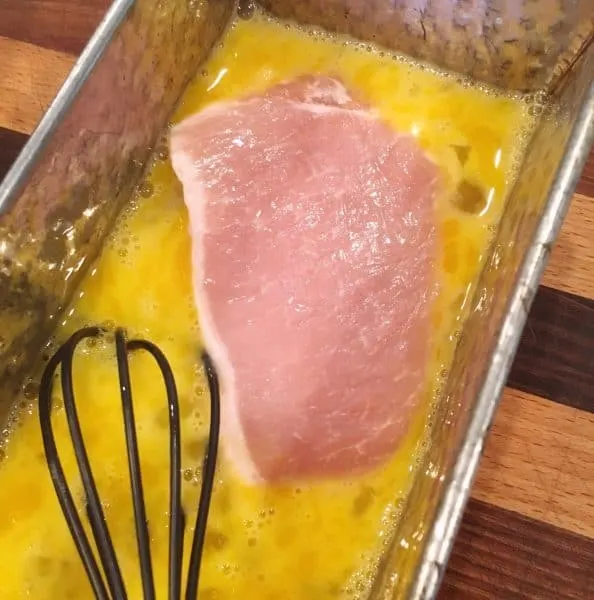 Dredge (I just keep saying that word because it's cool! I don't often sound cool!) the egg washed pork chops in crushed crackers.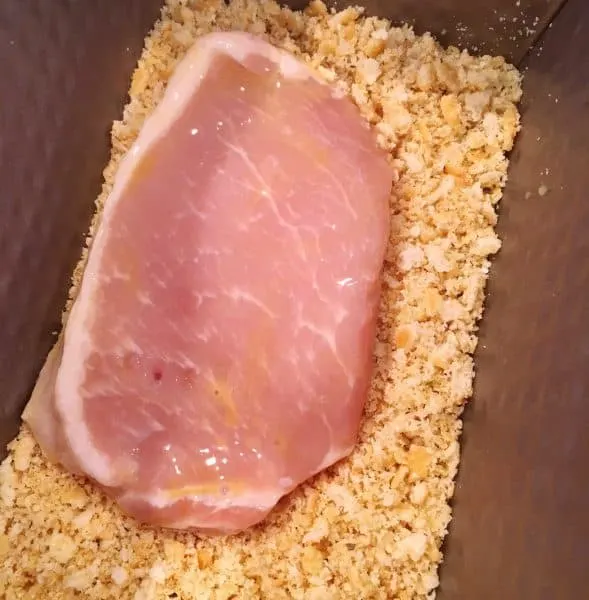 Flip pork chop over and press cracker crumbs into pork chops! I'm serious…press them in into the pork chops. Toss a little of that coating up on top of that pork chop you just coated and press more onto it! These pork chops are all about that golden buttery coating!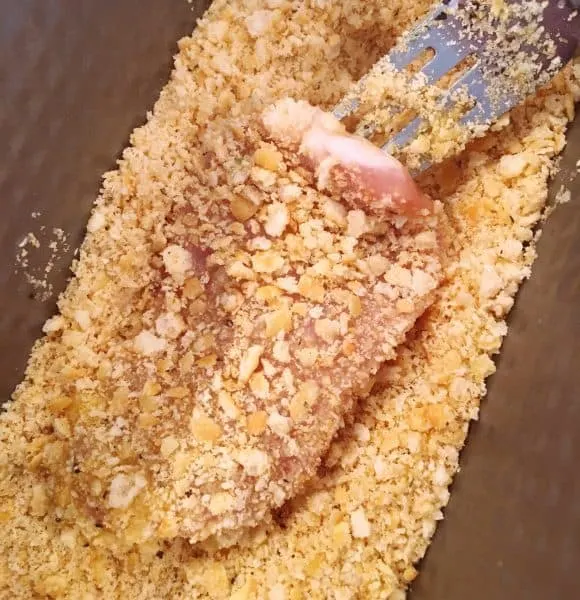 Place the breaded pork chops in 9 x 13 baking dish!
Now it's time to give every heart surgeon out there to gasp! You're going to take an entire stick of butter and slice it into chunks. They don't have to be perfect uniform chunks. Just big ol' dabs of buttah! Place the butter chunks on top of the pork chops and around them.
These Oven Fried Butter Crumb Pork Chops are going swimming in a river of golden happiness!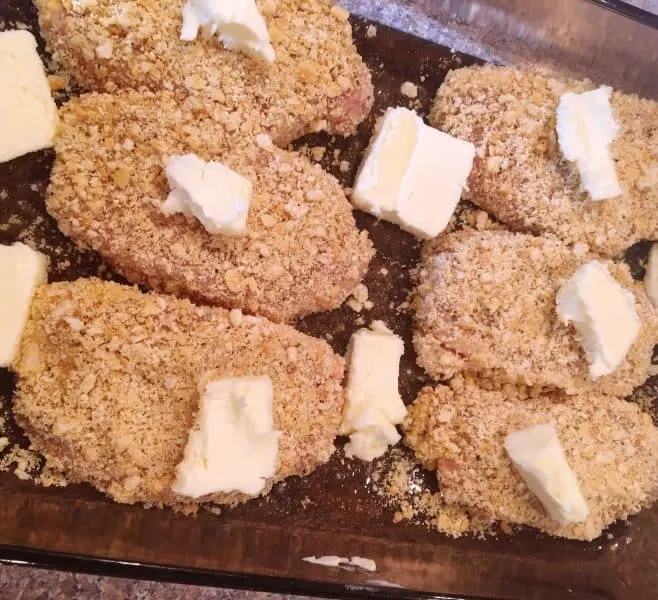 Cover and bake pork chops in a 375° oven for 40-45 minutes. Be careful not to over bake them. Nothing worse than a dry pork chop…unless it's shoe leather! You can remove the foil for the last few minutes of baking to crisp up the tops.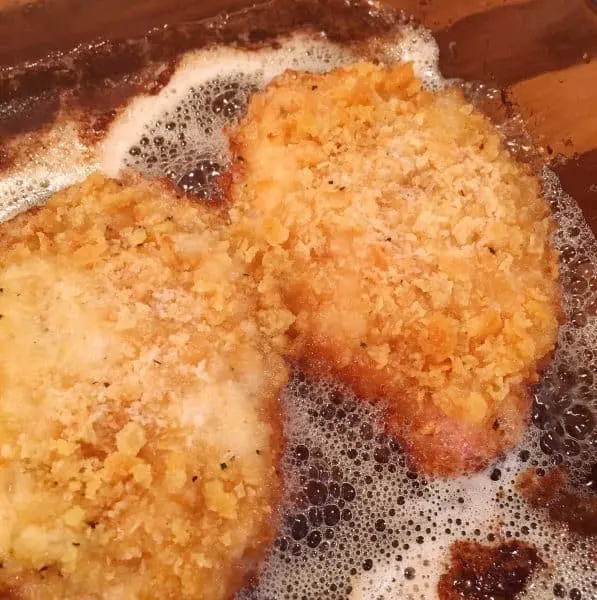 Those Pork Chops are done! Buttery and crispy! Tender and Juicy! Lip Smacking deliciousness!
So tasty and so easy to make! Don't you just love a quick simple recipe!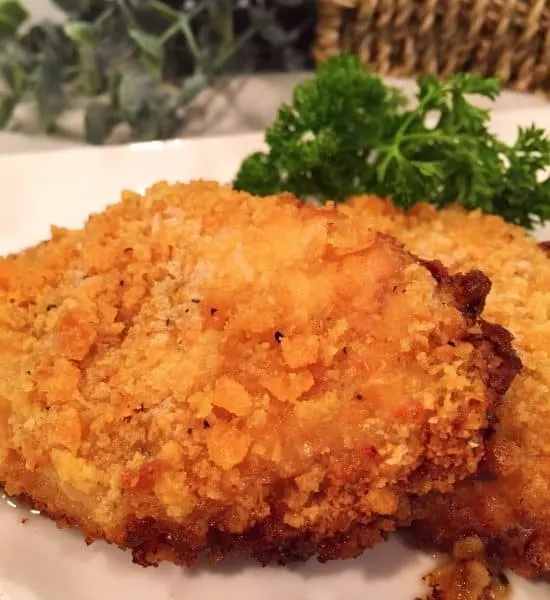 I like to serve these mouth-watering Oven Fried Pork Chops with a baked potato and a fresh steamed vegetable and call it good! A dish like this doesn't need a lot fan fare! Just simple sides and you're good to go!
Other Great Pork Chop Recipes You'll Love!
Thanks so much for stopping by! I hope you enjoy this dish as much as we do! Remember…you can use chicken too if you don't want to use pork chops.
Happy Nesting!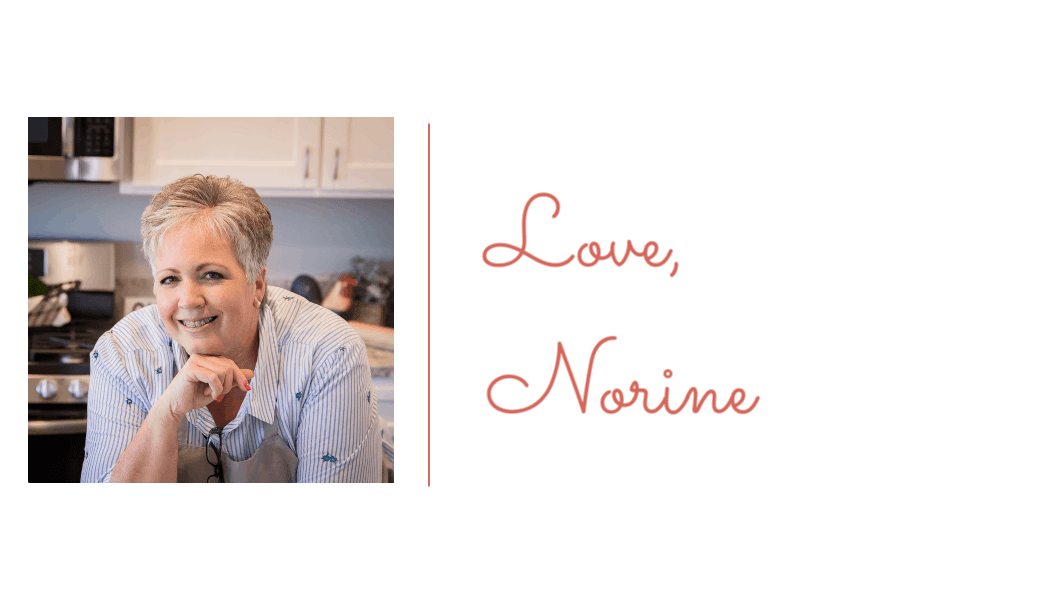 Yield: 4 servings
Oven Fried Butter Crumb Pork Chops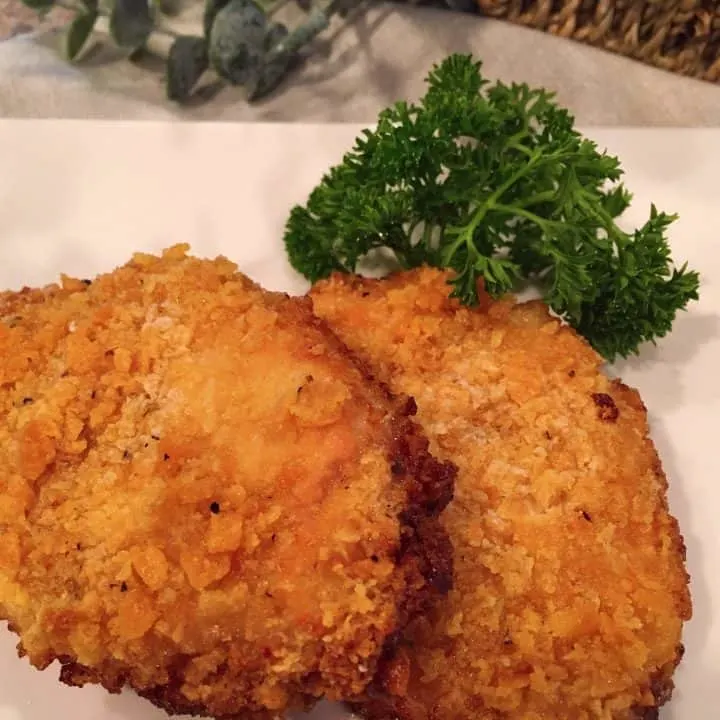 Boneless pork chops are coated in a buttery cracker coating and then oven fried in butter to create the most flavorful crispy budget family friendly main dish. One everyone at your Nest will love!
Ingredients
1 Cup crushed butter crackers
1/4 teaspoon garlic salt
1/4 teaspoon black pepper
3 eggs, beaten
4 boneless pork chops
1/2 cup butter
Instructions
Preheat oven to 375° degrees (190 degrees C)
In a shallow bowl combine crushed crackers, garlic salt, and black pepper. Mix well.
In a separate bowl beat eggs.
Dip your pork chops in the egg batter and then in the cracker mixture. Be sure to press the cracker coating into the pork chops to make sure they are completely covered. Place the pork chops in a casserole dish. Place chunks of butter around and on top of the pork chops. Cover and bake for 45 minutes. Remove the foil for the last 3-5 minutes of baking to crisp up the pork chops.
Allow to rest for 5 minutes and serve.
Recommended Products
As an Amazon Associate and member of other affiliate programs, I earn from qualifying purchases.
Nutrition Information:
Yield:
4
Serving Size:
1 pork chop
Amount Per Serving:
Calories:

660
Total Fat:

49g
Saturated Fat:

23g
Trans Fat:

1g
Unsaturated Fat:

23g
Cholesterol:

303mg
Sodium:

611mg
Carbohydrates:

12g
Fiber:

0g
Sugar:

2g
Protein:

43g