Skillet Honey Garlic Pork Chop are tender, thick, juicy…yes, juicy.. boneless pork chops pan seared to a golden brown. Followed by an easy and outstandingly simple honey garlic sauce that is made with 4 every day pantry items. They'll leave you wanting to lick the pan! (but don't…it's hot!)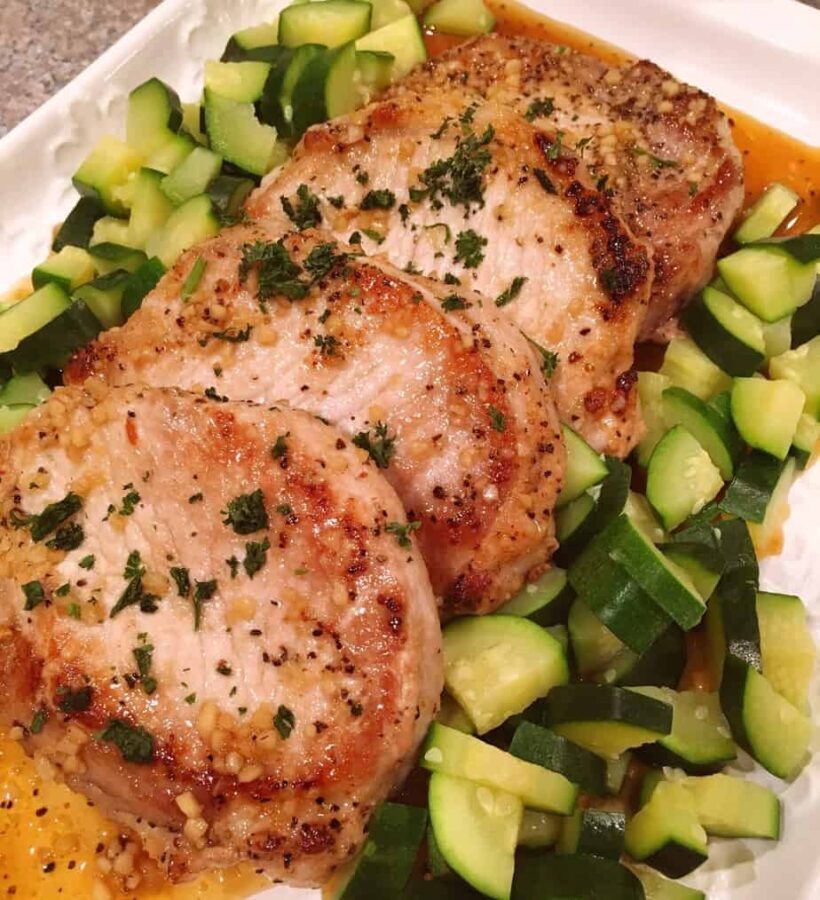 During the Holidays, I was looking for non-dairy recipes I could make while my daughter-in-law and son were visiting. Brooke has a severe dairy allergy…and the poor thing married into a family of "dairy hoarders"! (We have a serious issue! Send help…just make sure they bring nacho's and an extra-large cheese pizza!)
I was so happy when I stumbled upon several recipes that called for honey and garlic as the main ingredients in the glaze. Everyone L.O.V.E.D. this recipe!
Easy One Skillet Honey Garlic Pork Chops
This dish comes together FAST! It's great for busy nights when you are running short on time!
In a measuring cup or small bowl, combine 1/4 cup of honey, 1/4 cup of chicken broth or water, I prefer chicken broth and 2 Tablespoons of Rice Wine Vinegar. Mix well and set aside.
TIP: If you don't have Rice Wine Vinegar you can use Apple Cider, White Vinegar, or white wine vinegar.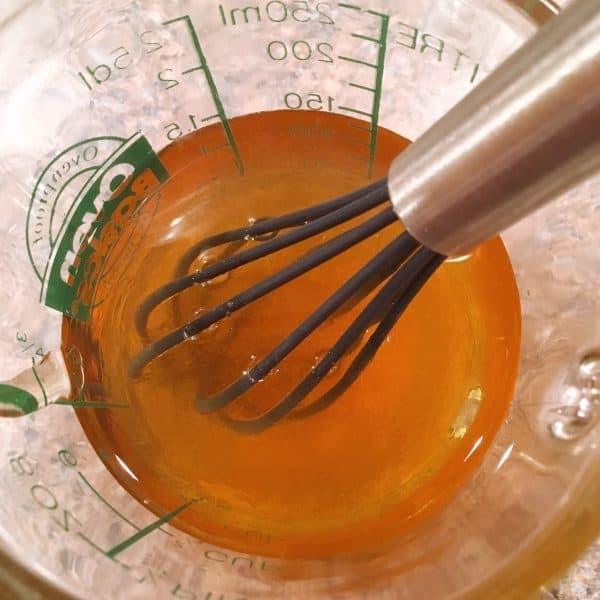 What type of skillet should you use?
You want a skillet that has a heavy base. I like to use a cast iron pan when I'm trying to achieve a deep sear, like this recipe calls for, however, you can also use a heavier non-stick skillet. I've used both for this recipe and both work well.
Cooking Pork Chops
In a large heavy based skillet over medium-high heat, add 2 Tablespoons of Olive Oil. Allow the pan to heat up to achieve a good sear.
Season bone-in or boneless pork chops, you can use either, with salt, pepper, and 1 teaspoon garlic powder. Be sure to season both sides.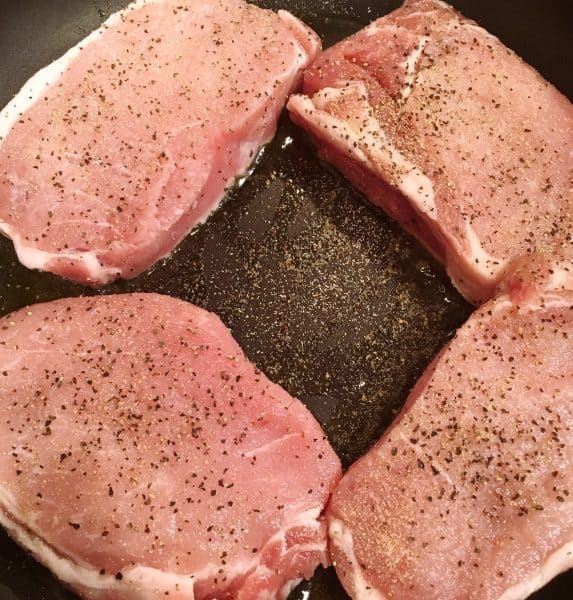 Cook the pork chops for 5-7 minutes, until the chops have a nice golden edge. Turn the pork chops over and cook other side.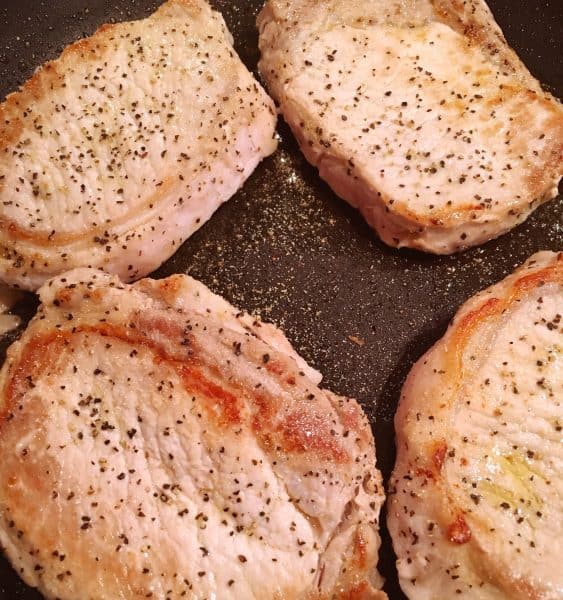 Now here's a little tip to help prevent you from overcooking your pork chops. Nobody likes dry pork chops! Especially me! (Gnawing on pressed sawdust is not my thang and I hate to ruin a good piece of meat. It just costs too much these days!)
Start out under cooking on each side. You can turn those chops back over again until the meat is firm when you press on it. If the chops "give" in the center…they're still raw.
NOTE you will want them slightly under cooked as you will be putting them back into the pan to glaze!
I flipped mine over twice while cooking. Total cook time was about 8 minutes per side. Remember the thickness of your pork chop will come into play while cooking.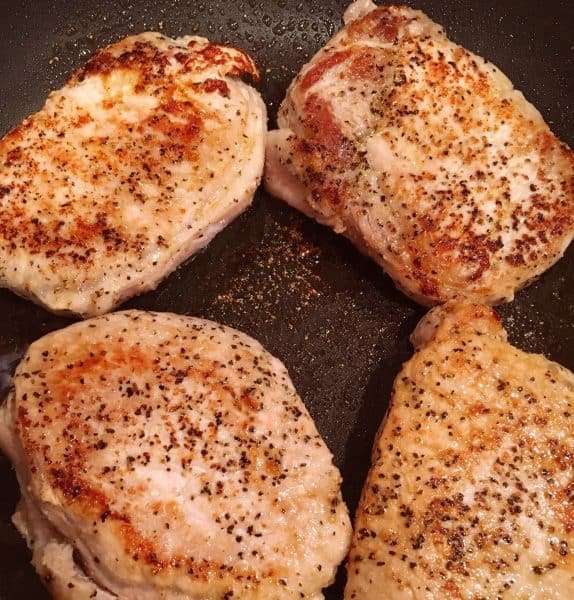 Remove pork chops from skillet and place on a plate.
Turn heat down to medium. Add 1 Tablespoon of butter to the same hot skillet you cooked the pork chops in.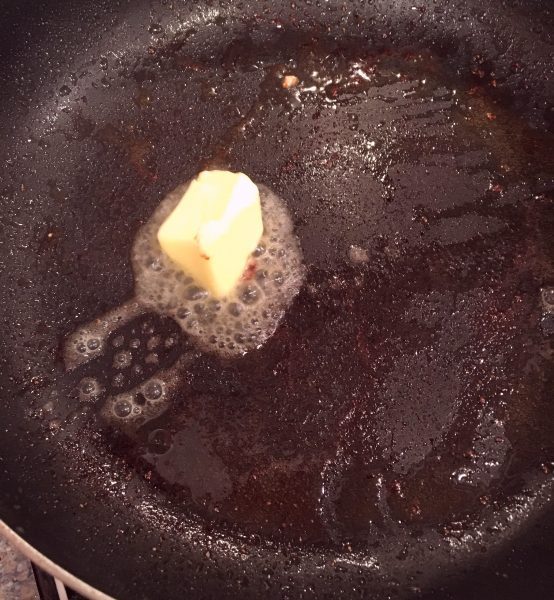 Time for the "Anti-Vampire" portion of this recipe…or as I like to call it…creating a "Twilight" free zone! (some of you will get this…some not…we won't judge!)
Add 6 minced cloves of garlic and sauté for 30 seconds until garlic is fragrant.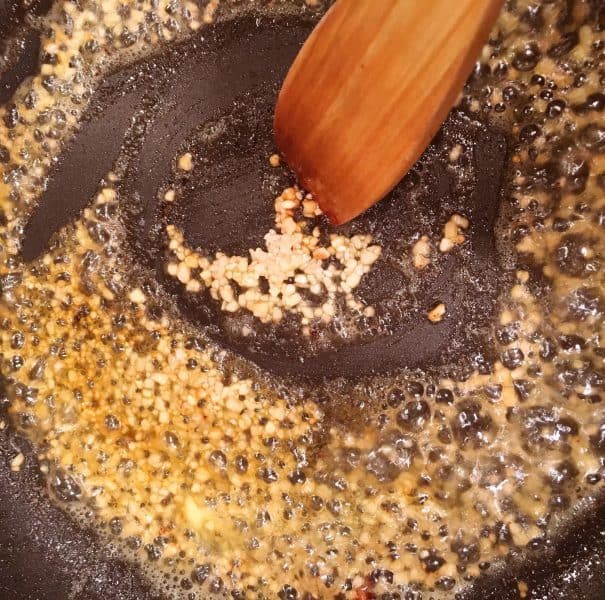 Turn the heat back up to medium high. Add the marinade you set aside and deglaze the pan by stirring the marinade around and loosening the bits from the bottom of the pan. (I love loosening the bits! Ya just know it's gonna be a good dish when bits are involved!)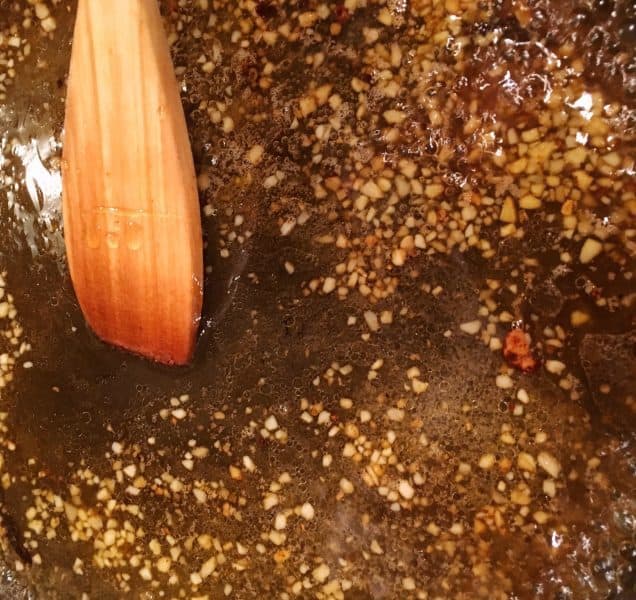 Simmer for 3-4 minutes until marinade reduces. (I wish this would work for "reducing me…sigh! I'd happily simmer for 3-4 minutes!)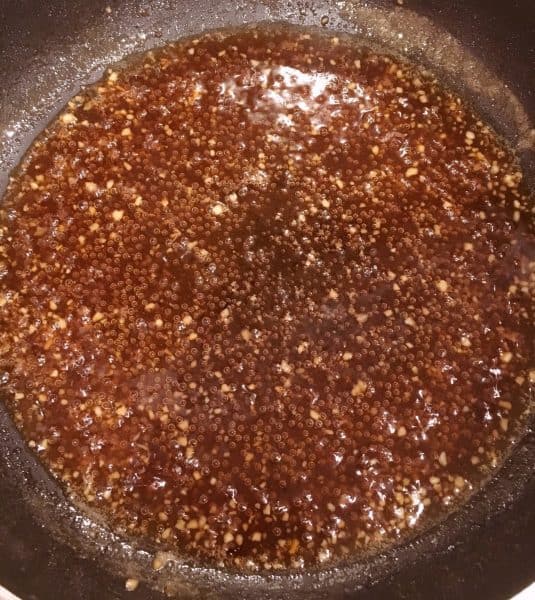 Place pork chops back into the skillet and spoon marinade over top.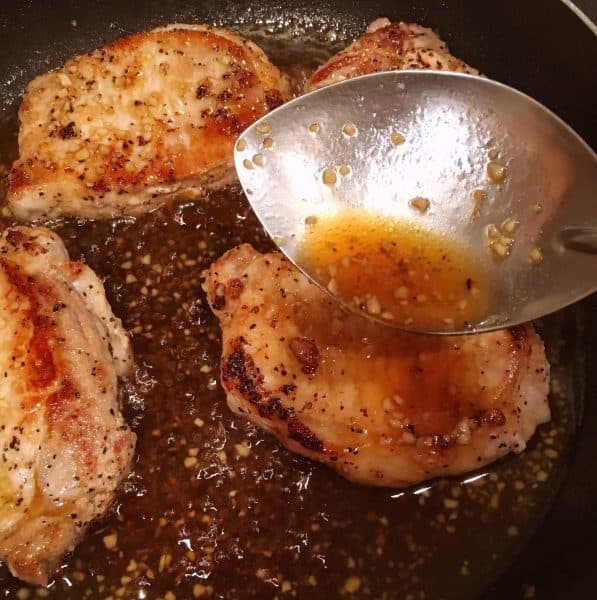 Place pork chops on a serving platter and spoon remaining marinade over the pork chops. Let that glorious juice run all over the place! It's a beautiful thing!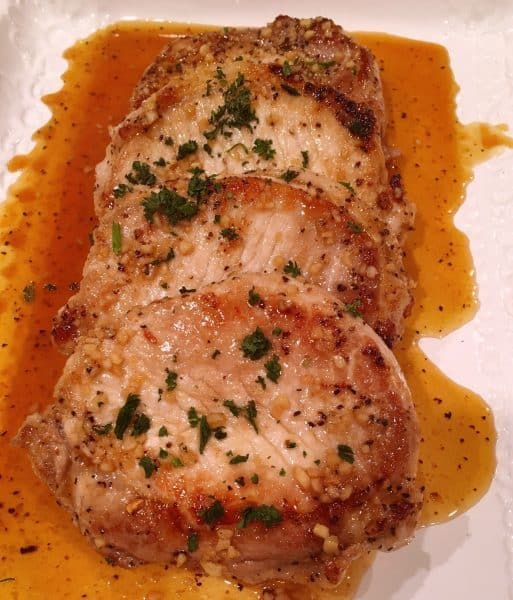 Garnish with chopped parsley! Aren't they stunning! The angels in heaven want one of these beautiful chops…or at least the entire neighborhood does!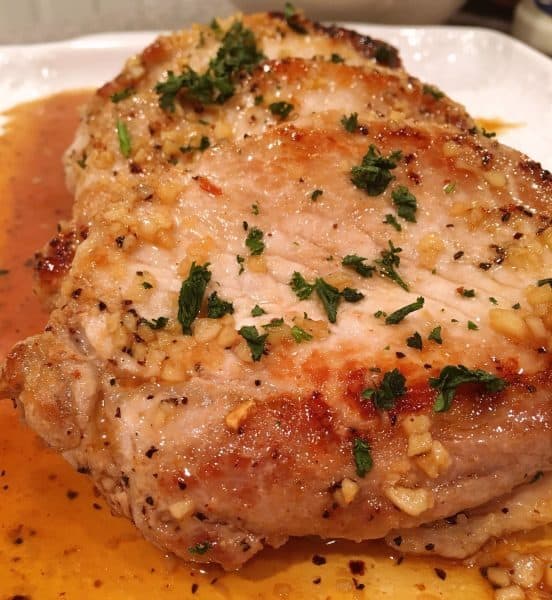 This next step is totally optional…cause I know squash haters gonna hate!
I steamed two medium size zucchini, drained them, and served it alongside the pork chops in that lip smacking glaze! That was some good squash!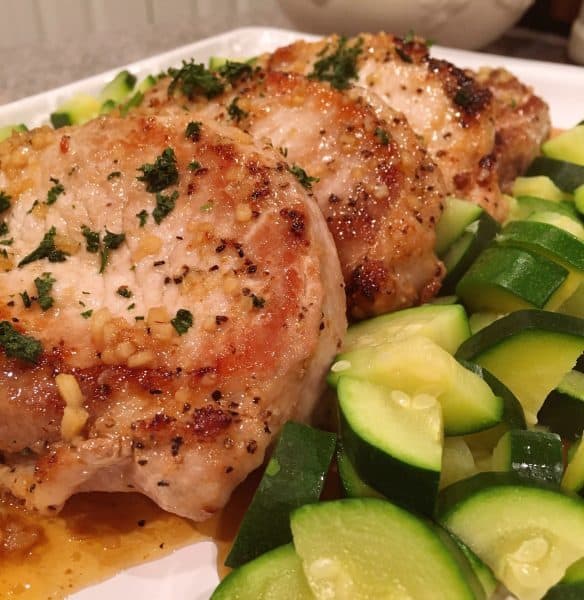 You could also serve it with rice or pasta…however serving it with squash will help keep this a healthier dish!
These Honey Garlic Pork Chops are tender, juicy, and flavorful. They're not dry at all!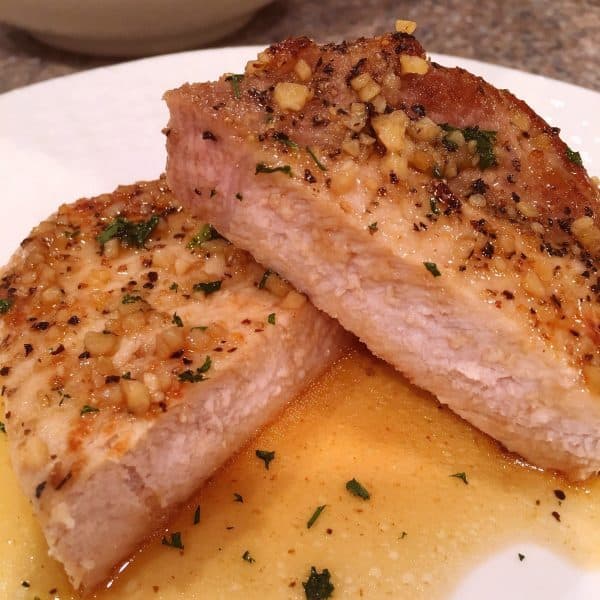 Ready in 15 minutes!
That's a GREAT meal!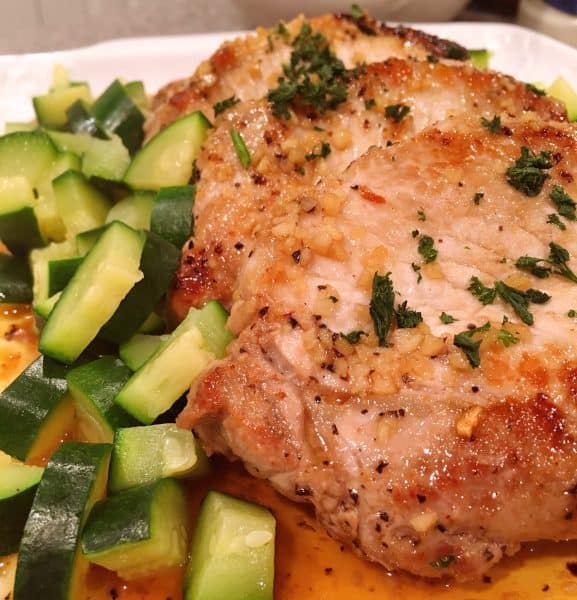 Thanks so much for stopping by!
If you like this Pork Chop Recipe you May enjoy these other Pork Chop Recipes
If you make this dish, or any other recipe here at Norine's Nest please be sure to hashtag us at #norinesnest on Instagram for a chance to be featured!
Follow Norine's Nest on Facebook, Instagram, Pinterest, and Twitter for all of the latest content, recipes and updates!
Happy Nesting!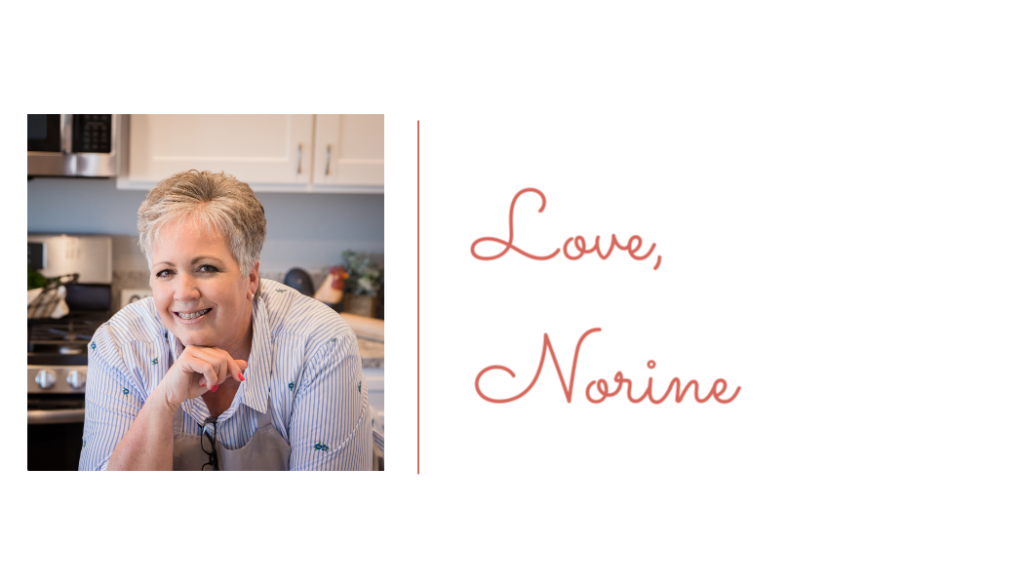 Yield: 4 servings
Skillet Honey Garlic Pork Chops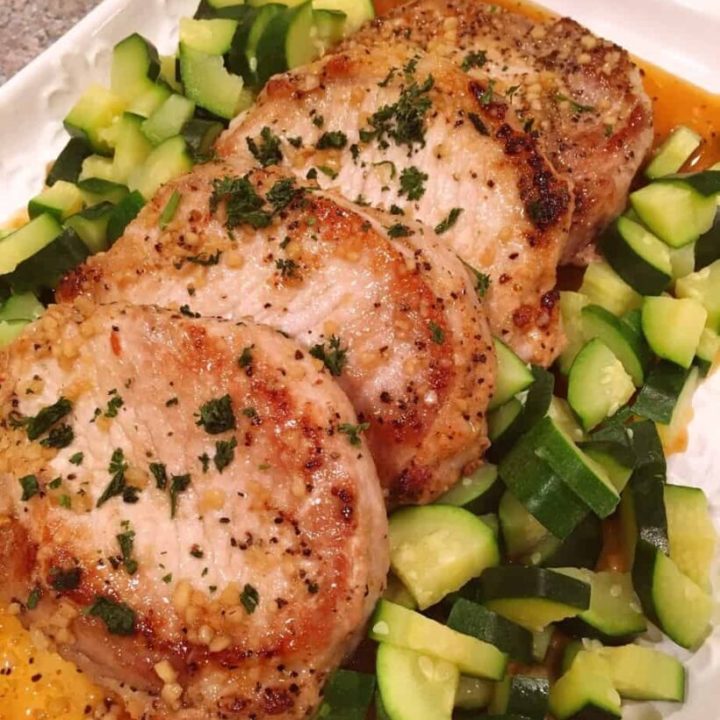 Tender, juicy, honey garlic pork chops are ready in less than 20 minutes and covered in the most amazing easy honey garlic marinade.
Ingredients
4 boneless, or bone-in, pork chops
salt and pepper to taste
1 teaspoon garlic powder
2 Tablespoon Olive Oil
1 Tablespoon butter
6 cloves of garlic, minced
1/4 cup honey
1/4 cup chicken broth, or water
2 Tablespoons Rice Wine Vinegar
Instructions
In a small bowl mix together honey, chicken broth or water, and vinegar. Set aside.
Season chops with salt, pepper and garlic powder just before searing in large skillet.
Heat olive oil in skillet over medium high heat until hot. Sear chops on both sides until golden brown and cooked through. (About 4-6 minutes each side or meat is firm in the center)
Transfer cooked pork chops to a plate; set aside.
Reduce heat to medium. Melt butter in the same skillet, scraping up any browned bits from the bottom of the pan. Saute garlic until fragrant. Add the honey mixture to the garlic and butter. Increase heat to medium-high and continue to cook until the sauce reduces down and thickens slightly. About 3-4 minutes.
Add pork chops back into the skillet, baste with the sauce.
Garnish with parsley and serve over vegetables, rice, or pasta.
Recommended Products
As an Amazon Associate and member of other affiliate programs, I earn from qualifying purchases.
Nutrition Information:
Yield:
4
Serving Size:
1 pork chop
Amount Per Serving:
Calories:

246
Total Fat:

14g
Saturated Fat:

4g
Trans Fat:

0g
Unsaturated Fat:

9g
Cholesterol:

41mg
Sodium:

189mg
Carbohydrates:

20g
Fiber:

1g
Sugar:

18g
Protein:

11g
Norine's Nest in no way provides any warranty, express or implied, towards the content of recipes in this website. It is the reader's responsibility to determine the value and quality of any recipe or instructions provided for food preparation and to determine the nutritional value, if any, and safety of the preparation instructions.