Island Tacos are loaded with tender juicy smokey pulled pork, drizzled with Sweet Baby Ray's Original BBQ sauce, a unique creamy coleslaw, topped off with an amazing fresh pineapple and mango salsa, all stuffed inside a fried corn tortilla! They are out of this world tasty!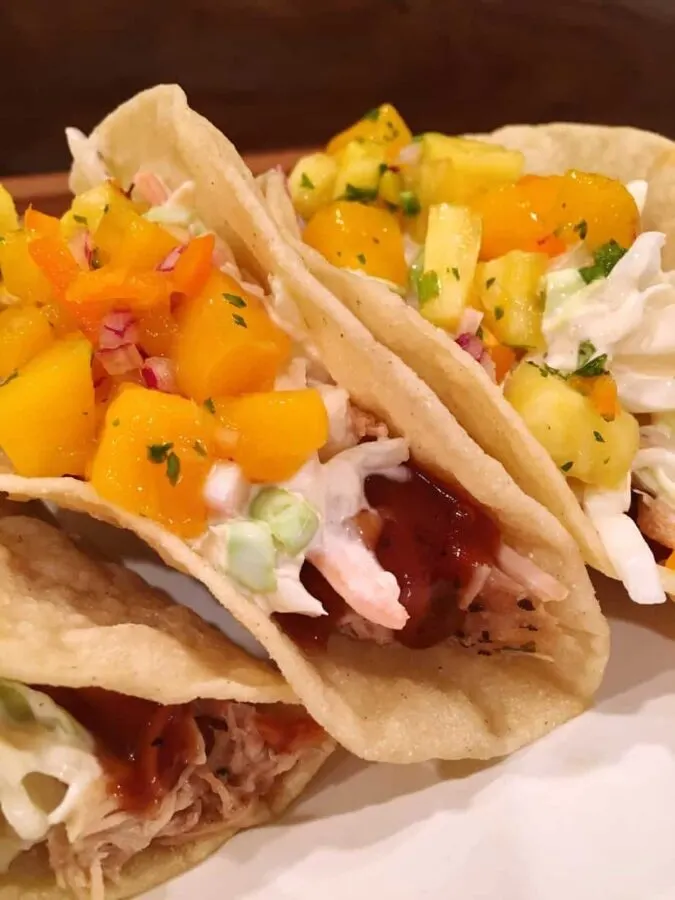 I'm SO Excited to share this recipe with y'all!
Earlier this summer a friend came to visit me and brought with her these amazing tacos. They had a sweet BBQ sauce, coleslaw and this amazing lip smacking mango pineapple salsa. Each bite was a flavor explosion! So ya know…I had to do my best to copy'em!
My attempt was 100% spot on! A true Country Fiesta in yer mouth! (Not sure how my friends south of the border would feel about these beauties…but I know my friends "down south" will love'em!)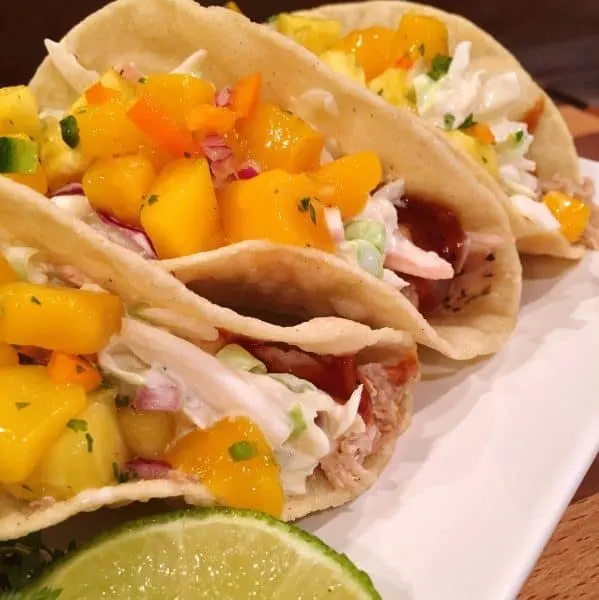 There's three separate steps to making these Island Tacos. When combined they create magic! Each step is crucial and each step is worth the work!
How To Make Island Tacos
Let's start with the meat! (In a perfect world I'd have a photo of this step…In a perfect world I wouldn't have accidentally deleted it! We call it senility at this Nest! Heaven help me!)
In a crock pot place 1 small 1 lb or 1.5 lb Pork Sirloin Tip Roast. Season meat with 1 tsp Garlic Salt and 1/2 tsp Coarse Black Pepper. Sprinkle with 1 tsp liquid smoke. Add one can beef broth. Cover and cook on low for 5-6 hours until meat is tender and falls apart.
TIP: I purchase my roasts in a 4 pack from Costco.
Drain meat, reserving 1 cup juices to mix back in with shredded meat. Use two forks to shred pork roast. (This step is highly therapeutic if you're at your wit's end! Just rip and shred!)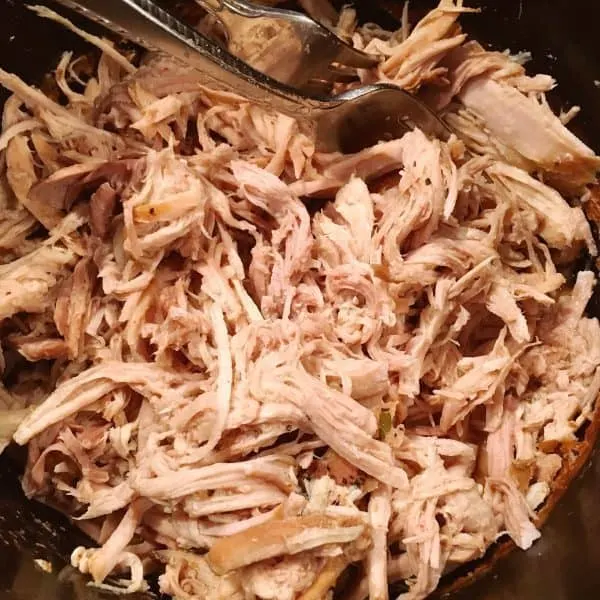 While the meat is cooking it's time to make the pineapple mango salsa.
How To Make Pineapple Mango Salsa
Have you heard the good news? Ya haven't! Well let me tell you…this is life changing!
That's right…canned diced Mangos! One of the reason's I rarely use Mangos is because I hate trying to cut into them. The meat clings to the pit like cheesecake to my thighs! Ugh!
These canned mango are not mushy…they are sweet and perfectly diced…with no swearing involved! lol (And you don't have to worry about that slippery pit shooting out of your hand and flying across the room!)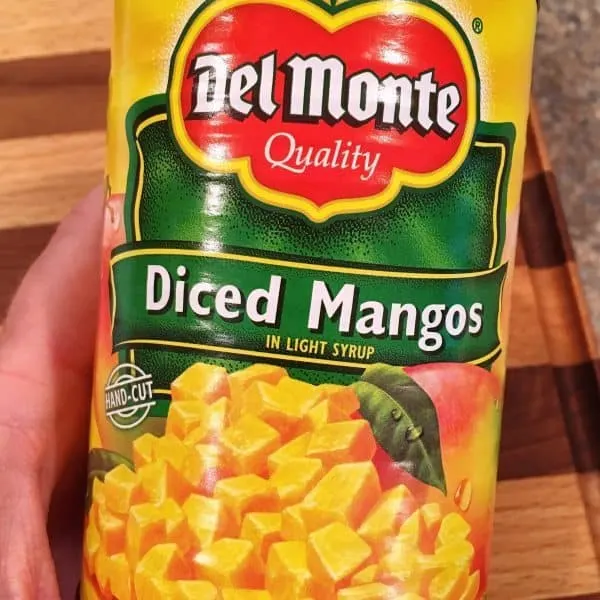 Drain the mangos.
In a small bowl add the drained mangos. Add 1/4 cup of diced sweet mild peppers. Add 1 minced jalapeno pepper, 3 Tablespoons of chopped red onion, the juice of one lime, and chopped cilantro.
Aren't the colors beautiful? I love this salsa so much!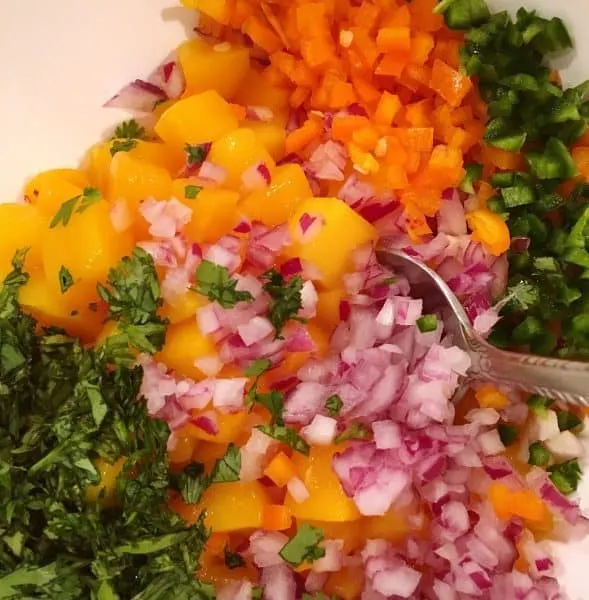 Dice pineapple into tiny bite size bits! Add to salsa… (That pineapple will have ya singing the song "You're Welcome" from Moana!)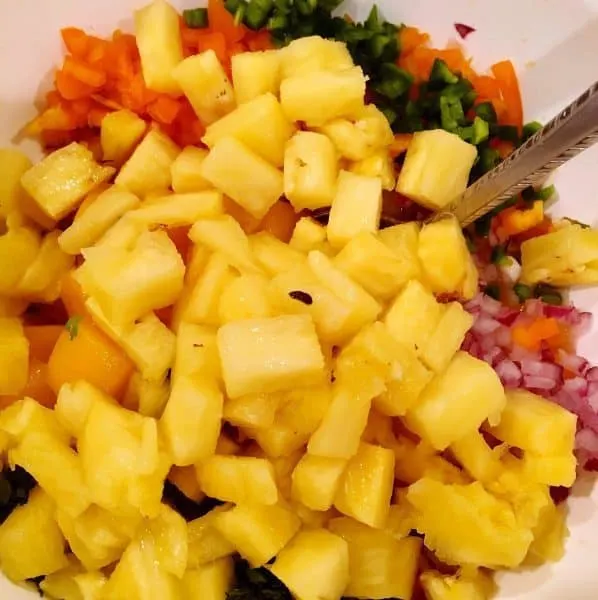 Mix everything together, cover, and place in the refrigerator to chill. About 2-3 hours.
The smell of this tropical delight will have you drooling with anticipation!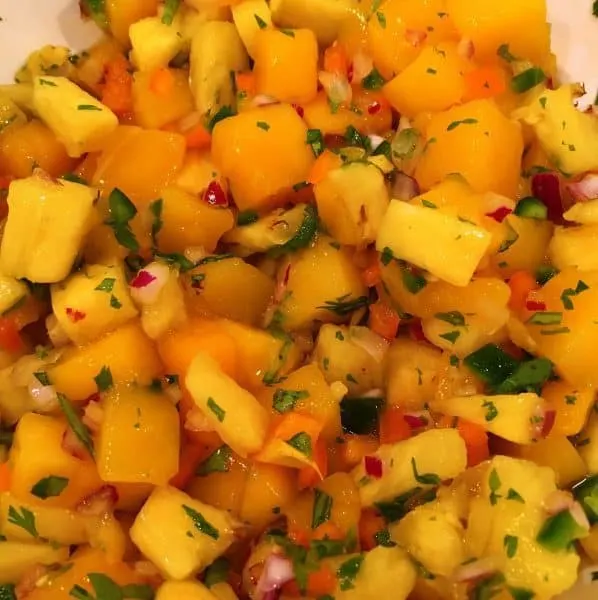 The last part of this ensemble is the creamy coleslaw. I looked high and low until I found just the right one.
I won't take any credit for this coleslaw. It hails from the NY Times.
How To Make Creamy Coleslaw
What makes this coleslaw different from all the others out there, is that it 's made with Dijon mustard and a good drizzle of olive oil.
In a small bowl add 1 Cup Mayonnaise, 1 Tablespoon Dijon Mustard, 1/2 lemon, juiced, 1 Tablespoon red wine vinegar, 1 Tablespoon sugar, Salt and Pepper to taste and a healthy drizzle of extra-virgin olive oil.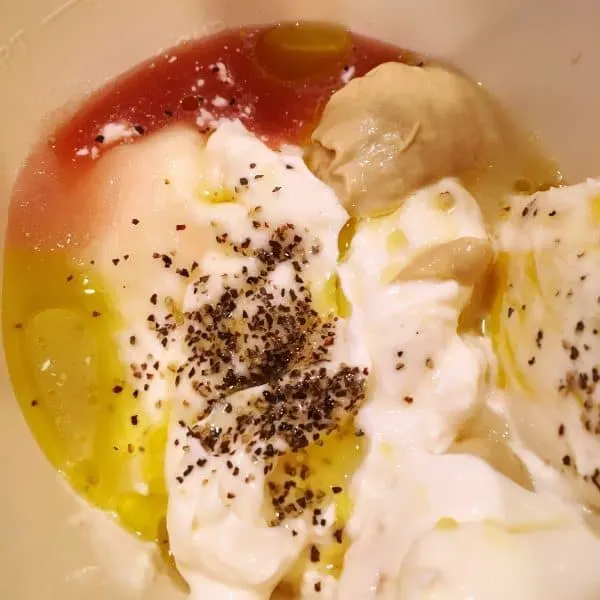 Mix together with a wire whisk!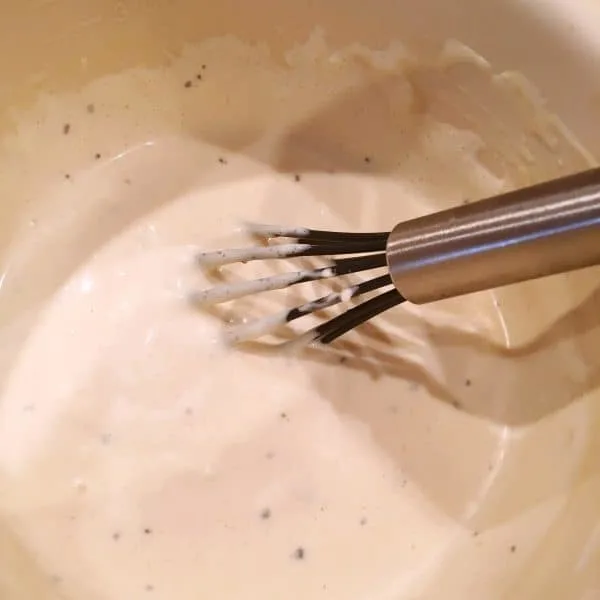 In a large bowl add 1 bag store-bought shredded slaw mix (containing red and green cabbage with carrots).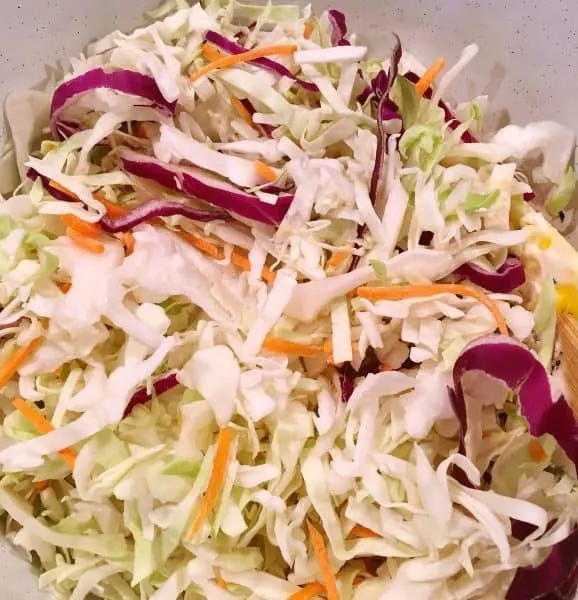 Pour dressing over slaw mixture.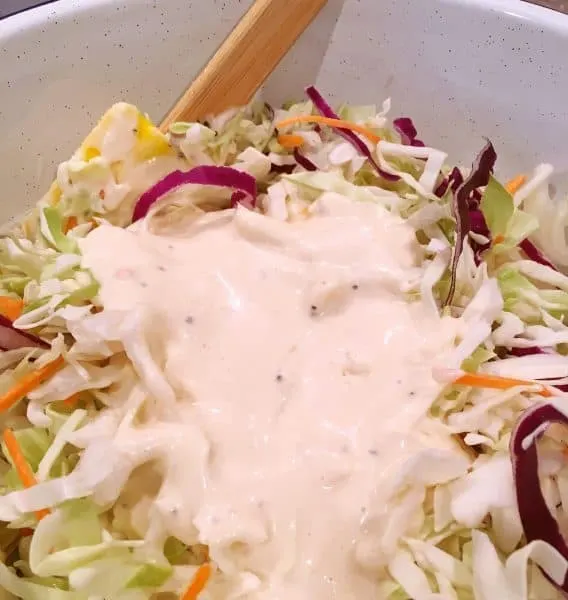 Mix together until well blended and cabbage is coated with dressing. Chill till ready to serve.
This cabbage is creamy with a delicious mild flavor. The cabbage retains it's "crunch" in this Coleslaw! Which is perfect for these special tacos! It's an element you don't want to skip!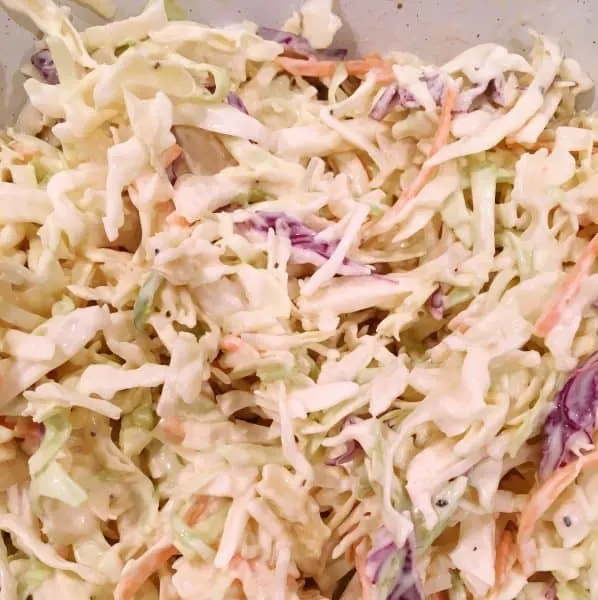 You can either buy crunchy taco shells or fry your own. I recommend frying your own. It takes a few extra minutes, and the life gripping fear of splatter burns…but it's so worth it!
This recipe will easily make 20 tacos. I only made 8 because there's just the two of us. That was plenty! Until I noticed Mars on his 4th taco in a matter of minutes!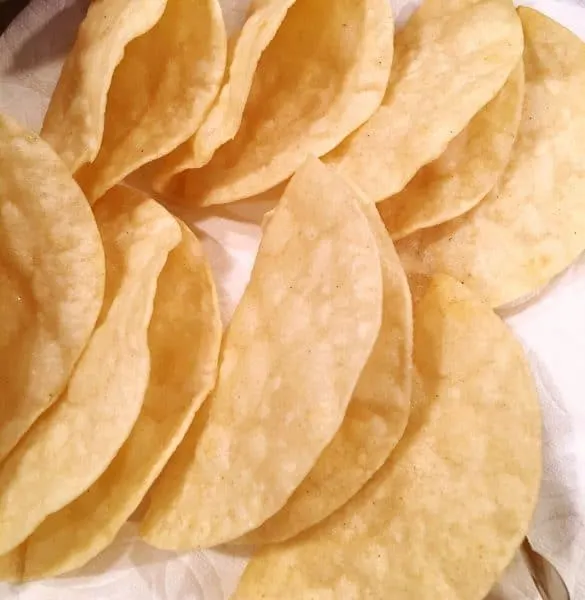 To assemble the Island Tacos… place a heaping scoop of the "pulled" pork into your taco shell.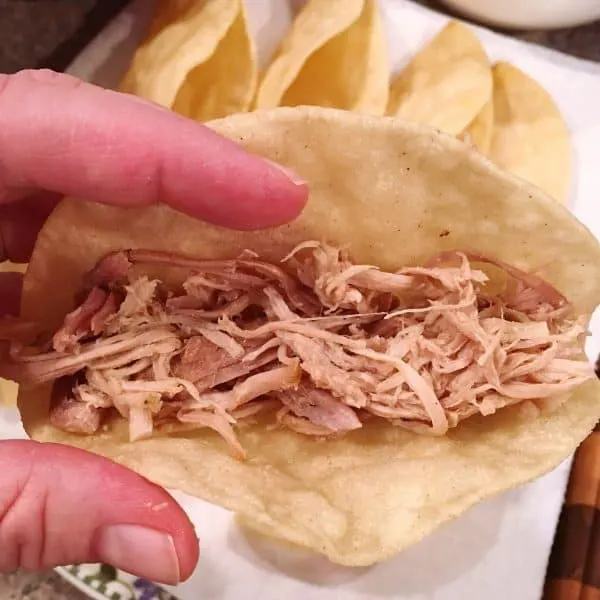 Add a drizzle of your favorite BBQ sauce. I went with Sweet Baby Ray's because it's simply the BEST! Just the right combination of sweet with a little southern kick…but not too acidic!
TIP: Don't go overboard on the BBQ sauce! You don't want it to drown out the other flavors…and BBQ sauce can do that.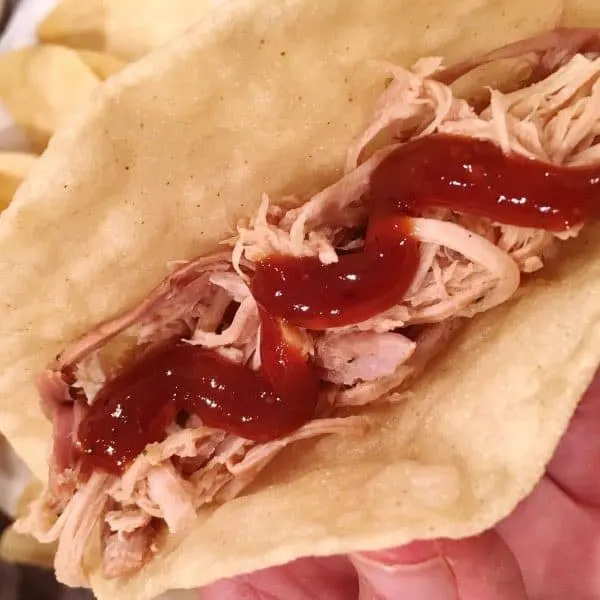 Next add a scoop of creamy Crunchy Coleslaw! (Try to be a little neater than I was…I just slopped it in there…I wanted to get to eating!)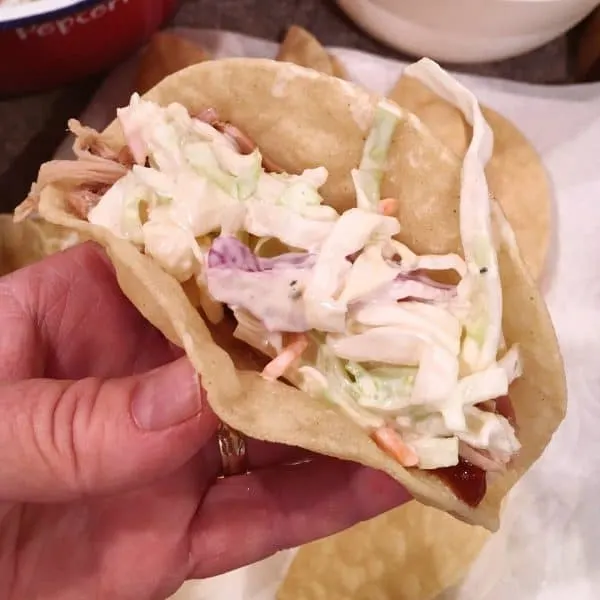 Last, but certainly, not least…add a big ol' heaping scoop of that flavor explosive Pineapple Mango Salsa! Ooooo eeeeee! That's a good-looking Island Taco!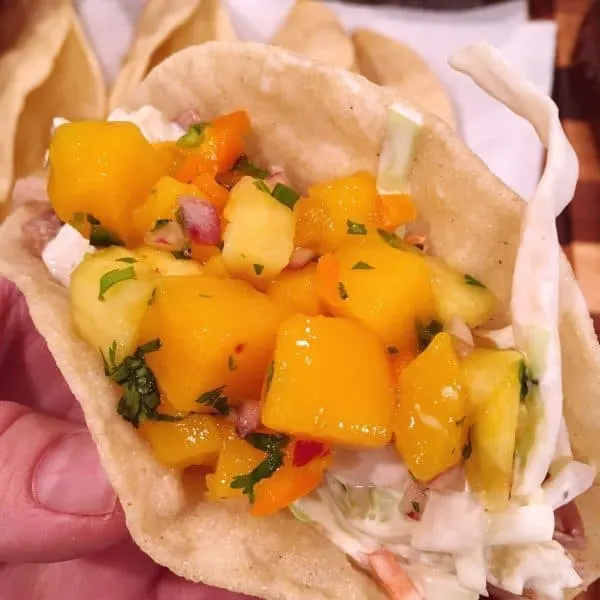 You have assembled the perfect…and I do mean perfect… taco! The best taco that will pass between your lips!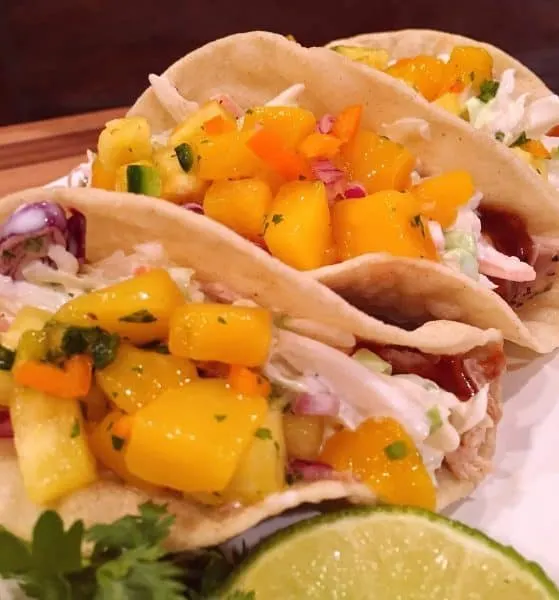 It's not often, as a food writer, that I'm at a loss for finding the perfect words to describe an appetizing meal…however, this one truly leaves me searching for adequate words!
I ate two and wanted to eat another! Tummy just didn't have the room! Hard as I tried!
Mars on the other hand, as I mentioned above…managed to eat FOUR and muttered something between bites about these being the BEST tacos he'd ever had.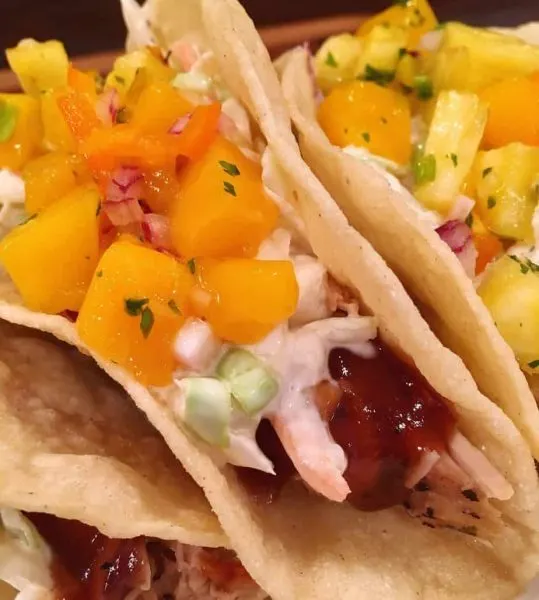 I can honestly say… I think mine are better than the original tacos my friend brought over for lunch that day.! Maybe it's because the salsa and coleslaw are spot on! I say that humbly. (wink, wink…cough…gag!)
I don't often plead with my readers to make one of my recipes…but I'm gonna beg you to make these before summer is over!
I cross my heart… they are out of this world delicious! In fact…I love them SO much I'm making them again for my birthday dinner! Which happens to be today!
If you like these Island Tacos you might also enjoy these other Mexican Recipes
Thanks for stopping by. The printable recipe for all the components of this recipe are below. Be sure to sign up for my bi-monthly Newsletter and you can always follow me on Pinterest, Facebook, and Instagram.
Happy Nesting!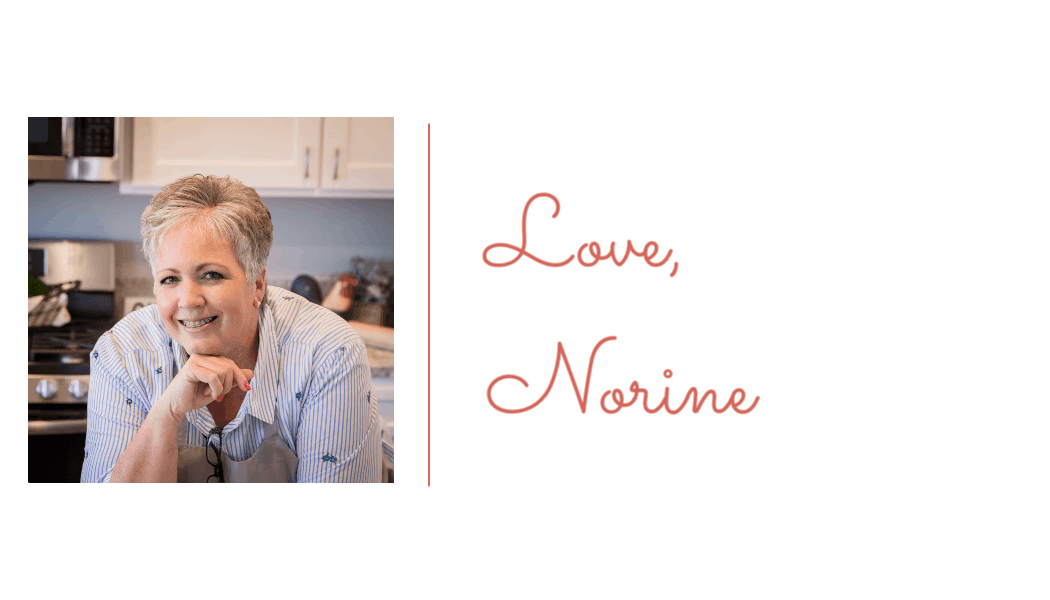 Yield: 10 servings
Island Tacos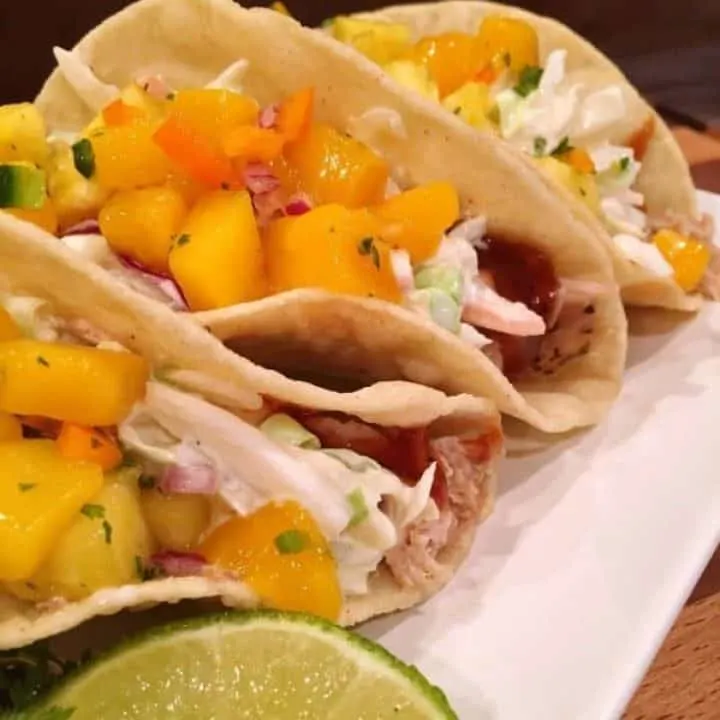 Island Tacos are filled with tender juicy smoke flavored pork, drizzled with BBQ sauce, topped with creamy crunchy coleslaw, and an amazing Mango Pineapple Salsa. They are a flavor experience!
Total Time
6 hours
30 minutes
Ingredients
Meat
1 Pork Top Sirloin Roast (1 lb. - 1.5 lbs)
1 can beef broth
1 tsp. garlic salt
1/2 tsp. coarse black pepper
1 tsp. liquid smoke
Creamy Coleslaw
1 Cup Mayonnaise
1 Tablespoon Dijon Mustard
Drizzle extra-virgin olive oil
1/2 lemon, juiced
Salt and Pepper to taste
1 Tablespoon Red Wine Vinegar
1 Tablespoon sugar
1 Store-bought bag shredded slaw mix (containing red and green cabbage with carrots)
Pineapple Mango Salsa
1 can Del Monte Diced Mango-drained
1 cup diced fresh pineapple in small bite size pieces
3 Tablespoons chopped cilantro
3 Tablespoon minced red onion
1/4 cup diced sweet peppers
Juice of one lime
1 small jalapeno diced
1 package corn tortillas for taco shells
Sweet Baby Rays BBQ sauce or your favorite BBQ sauce
Instructions
Smoked Pork
Place pork roast in the bottom of slow cooker. Add one can of beef broth. Sprinkle meat with garlic salt, coarse black pepper, and liquid smoke.
Cook on low for 5-6 hours.
Drain off all but one cup of juices. Shred pork roast and mix with retained juices. Keep meat warm until ready to serve.
Creamy Coleslaw
In a small bowl combine mayonnaise, Dijon mustard, lemon juice, salt, pepper, red wine vinegar, sugar, and drizzle of olive oil. Mix until well blended.
In a large bowl place one store-bought package of shredded slaw mix. Add dressing. Mix together until slaw is well coated. Cover and refrigerate until ready to serve.
Mango Salsa
In a medium size bowl combine drained diced Mangos, diced pineapple, cilantro, peppers, jalapenos, red onion, and lime juice. Mix until well blended. Cover and refrigerate for 2-3 hours or until chilled.
Fry corn tortilla's. Drain on paper towel.
To serve add pulled pork to one corn tortilla, drizzle with BBQ sauce. Top with Creamy coleslaw and a heaping scoop of Mango Salsa.
Notes
*Please note cooking time is for "slow cooker".
Nutrition Information:
Yield:
10 servings
Serving Size:
2 tacos
Amount Per Serving:
Calories:

283
Total Fat:

22g
Saturated Fat:

4g
Trans Fat:

0g
Unsaturated Fat:

17g
Cholesterol:

25mg
Sodium:

641mg
Carbohydrates:

16g
Fiber:

2g
Sugar:

11g
Protein:

6g