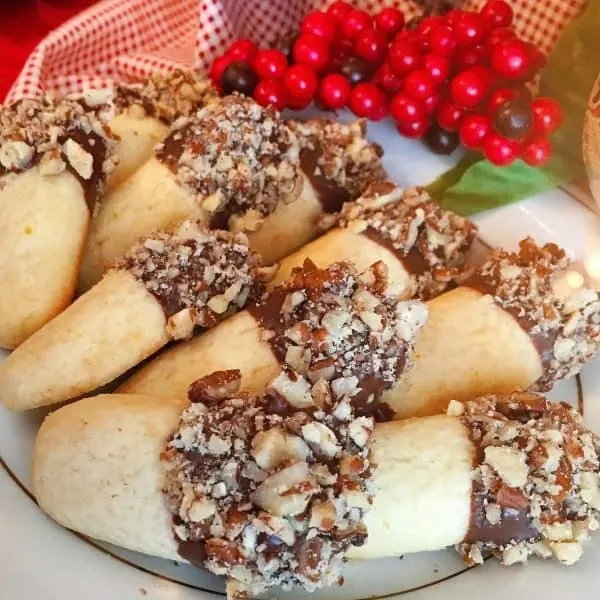 Orange Short bread cookies rolled into logs, dipped in melted semi-sweet chocolate, and rolled in finely chopped pecans. These Chocolate Dipped Orange Logs are a spectacular cookie for your Holiday baking trays!
*Disclosure: This post contains an affiliate link. This is a product that I LOVE! I will never promote links to products that I personally do not use and love. I want my friends to have access to the BEST!
Ever feel like the Universe is conspiring against you? Ugh! I've had the hardest time joining the Holiday Blogging Cookie Parade going on! I was about ready to go down to the store, buy a package of red velvet Oreo's, a can of vanilla frosting, and some Christmas sprinkles and call it good! (The Grinch in me was constricting my little ol' holiday heart!)
However…the stars finally aligned, and…TA-DA!! I proudly present…Chocolate-Dipped Orange Logs! Enjoy! I'm going back to bed…see ya!
No, no,no! I'm just kidding!
When I made my list of Christmas Cookies I wanted to share with y'all these were at the top of the list. I had forgotten how much I L.O.V.E. these cookies!
They are like the yummy Chocolate Oranges you buy at Christmas and "WHACK" on the table to get the slices to separate! (Face it ladies…by Christmas Eve it feels pretty darn good to slam something down and break it, legitimately, and not look like you are loosing it…cause…ummmm… ya are!)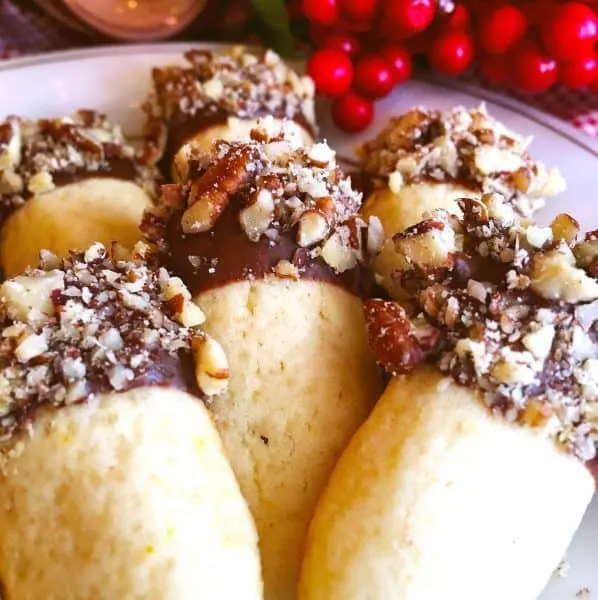 This buttery shortbread log cookie is full of amazing orange flavor! Then you go and dip it in semi-sweet chocolate and chopped pecans!
In a word…Mmmmmmmm!!! Throw in a crackling fire, the Christmas tree, and a cup of your favorite hot beverage…ahhhhh…pure heaven!
These beauties are a lot easier to make than you would think! I learned a little secret that I'm going to share with you that will make them even better than the original recipe! Let's do this…let's get to baking!
How To Make Chocolate Dipped Orange Logs
First the dough…simple! You are going to beat your butter until smooth. Then add in the sugar and beat till fluffy and light. Then your eggs, 1 at a time, then your Orange peel and vanilla. Then the flour and salt.
TIP: Instead of Orange peel use tangerine or "cutie" peel! I recently discovered that "cutie" zest has a richer, deeper, and stronger orange flavor than regular orange zest! Now it's a little tricky because the skin on a cutie isn't as tough or thick as on an orange…but one little cutie is going to give you all the orange zest you'll need and it will seriously knock your socks off flavor wise!
Gather your dough into a ball. (I didn't say it had to be a "pretty" ball! Just a ball!)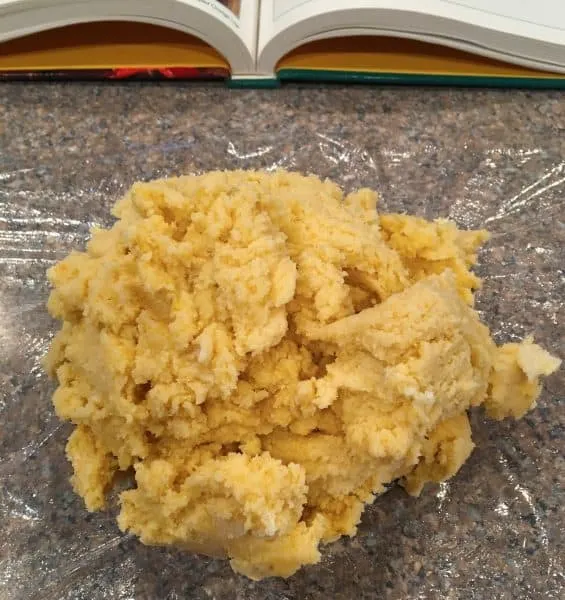 Then flatten it into a disk; wrap in plastic wrap and refrigerate for 2 hours until firm.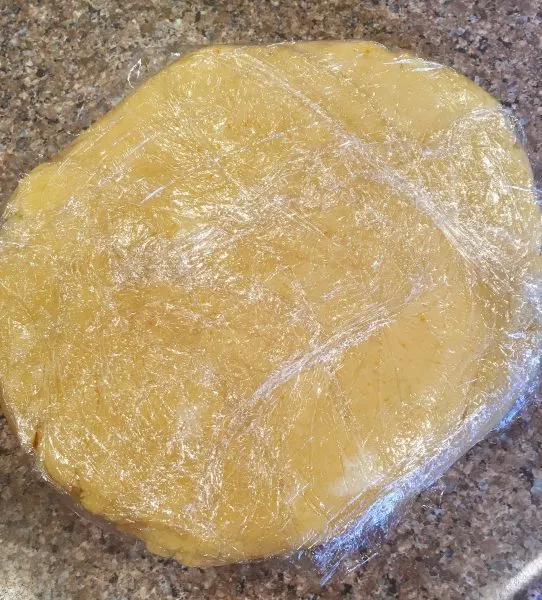 Preheat the oven to 350 degrees.
TIP: The recipe tells you to shape the dough into 1-inch balls. I found it much easier to cut my dough into strips then ball sized portions, and then roll them into balls, then 3 inch logs about 1/2 inch thick.
It's kind of fun! Like playing with play-dough! (This is where I popped in a Christmas movie and rolled my little heart out!)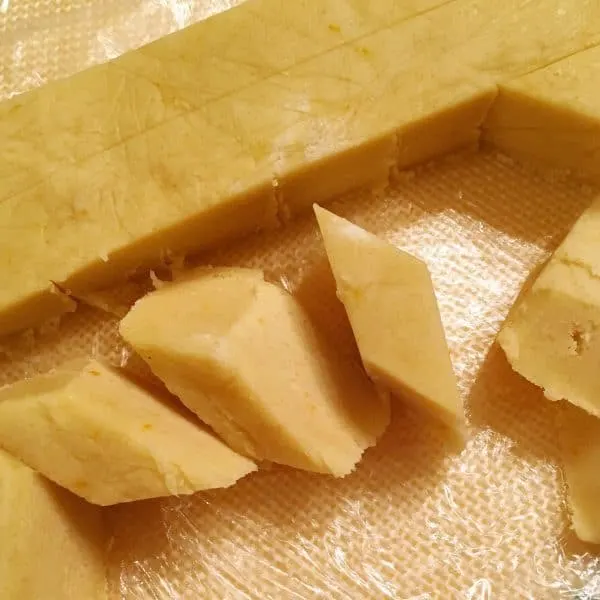 I just rolled the balls in my hands to form logs and pushed the ends down on my cookie sheet, but you can roll them on a flat surface with your fingertips to form 2 – 3 inch long logs. (Mine were 2 inch…the recipe calls for 3 inch, but who wants that much cookies without chocolate? Gasp!)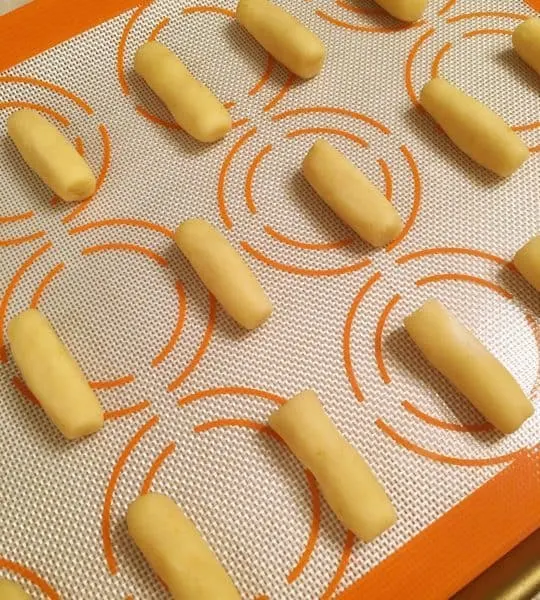 Place the logs on parchment lined or silicone mat lined baking sheets about 1 inch apart. Because we don't use any "leveling" product in these cookies, they will not spread and rise like a regular cookie. These cookies are a shortbread cookie and so no baking soda or baking powder is needed.
Bake 16-18 minutes or until bottoms of cookies are golden brown. I found 12 minutes was perfect so check them at 12 minutes! The cookies will feel soft and look white on top.
They become crisp when they cool. Transfer to wire racks to cool completely.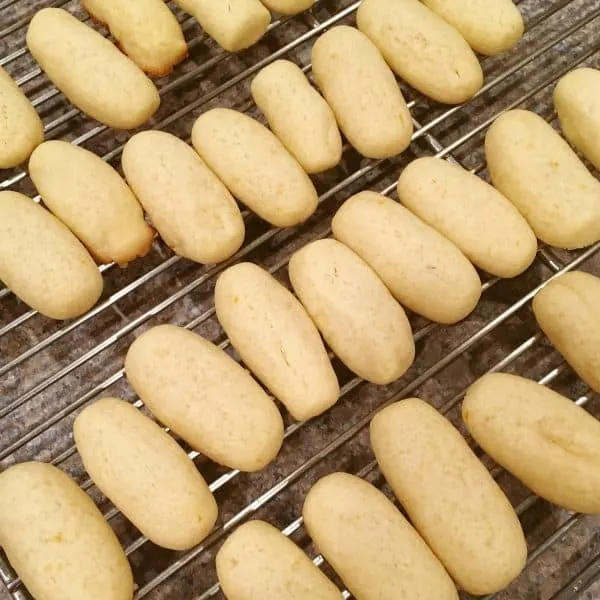 Place your chocolate chips in a microwave safe bowl and add 2 teaspoons of vegetable oil. Place the bowl in your microwave for 3 minutes at 50% power.
Check to see if the chocolate has started to melt. If it has, stir until all the chocolate is melted. If need be, return the microwave, and repeat for another minute.
Place your chopped pecans on a plate or wax paper. (I started out in a bowl and quickly changed to a plate!)
Dip the end of each log into the melted semi-sweet chocolate, Be sure to gently shake off any excess chocolate.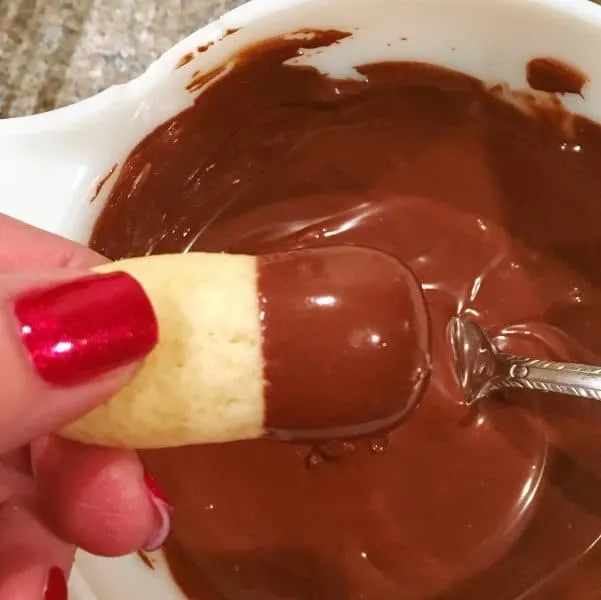 Then roll the chocolate-covered ends in the chopped pecans! Then insert a … YUM!!! Oops! Did some get on your fingers…shoot! Gotta lick that off! 😉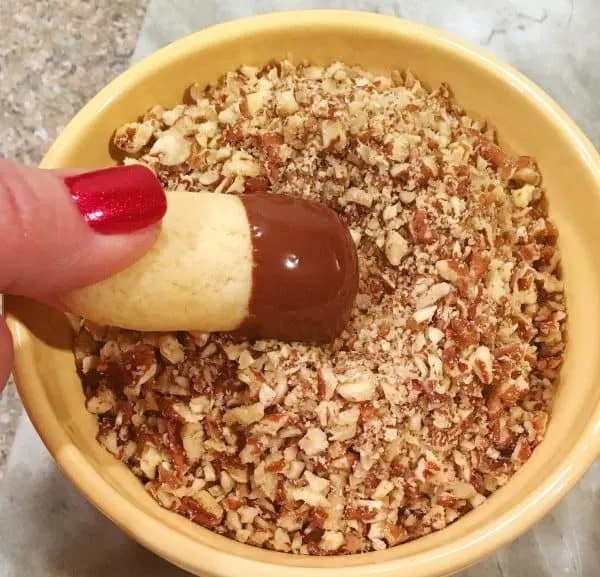 Place on waxed paper or back onto your clean silicone mats! Let's talk about Silicone baking mats for a second!
I may be in love with my silicone mats! Like seriously in LOVE with them! One of the BEST baking investments I've EVER made! If you're looking for a great Christmas gift to buy yourself look no further!
(This is that affiliate link, but this is a product I LOVE!)
Honestly I can't tell you enough how much I love mine. I found mine in the photo at Costco, BUT…I found another set I love at Amazon and they are a fantastic deal right now. This is the link…just click HERE and it will take you to the product. They work beautifully! Honestly you'll wonder how you lived without them!
Okay back to our regular scheduled program! Sorry for the commercial break there…I just want you to have the best products that make baking and cooking easier!
Let the dipped cookies stand until chocolate is set. I let mine set out overnight and it worked out perfectly! You can also refrigerate them for about 5 minutes to let the chocolate set if you are in a hurry.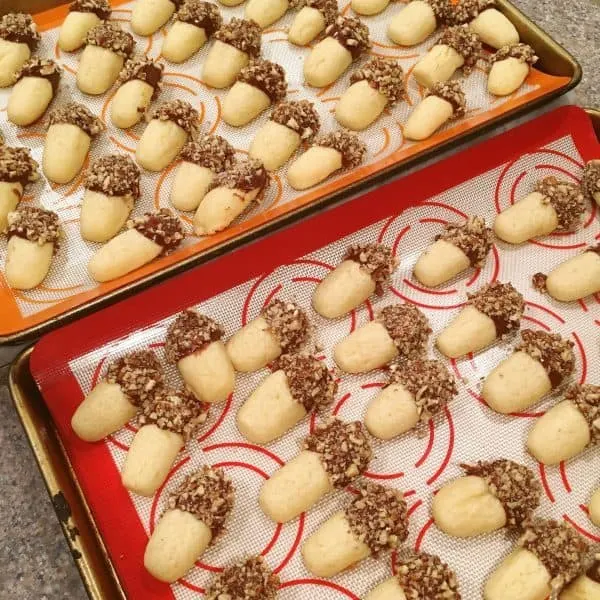 Before you store them in an air tight container be sure to sneak a few! I know last night "Mars" asked if he could test one! I said "Sure!"
A few minutes later he said he better taste test another one…then another…and another! He finally said "Okay…I had 8 just to be sure! Yep, they're good!" ( Me…smile, head shake, and eye roll! Then a lot of laughing! I love that man of mine!)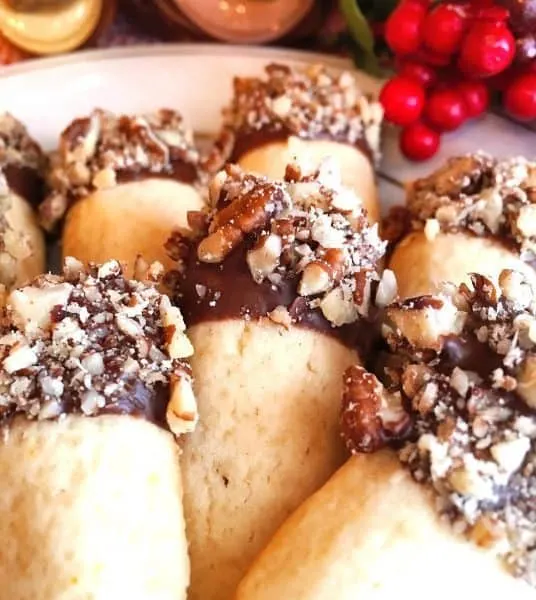 Who can blame him? What's not to love about a buttery orange shortbread cookie dipped in rich dark semi-sweet chocolate and rolled in chopped pecans!!! Oh these are delightful and a MUST HAVE on your Holiday Cookie baking list!
Hopefully this is the beginning of my cookie parade for you! I have so many I want to make and only 14 more days to get them all done! If things go well…there will be more.
However if you see those red velvet Oreo's slathered in vanilla icing with sprinkles on top you'll know things here at the Holiday Nest aren't going so well! 😉 lol! Happy Baking!
Other Favorite Holiday Cookie & Candy Recipes
Thanks for stopping by and I'll be back soon!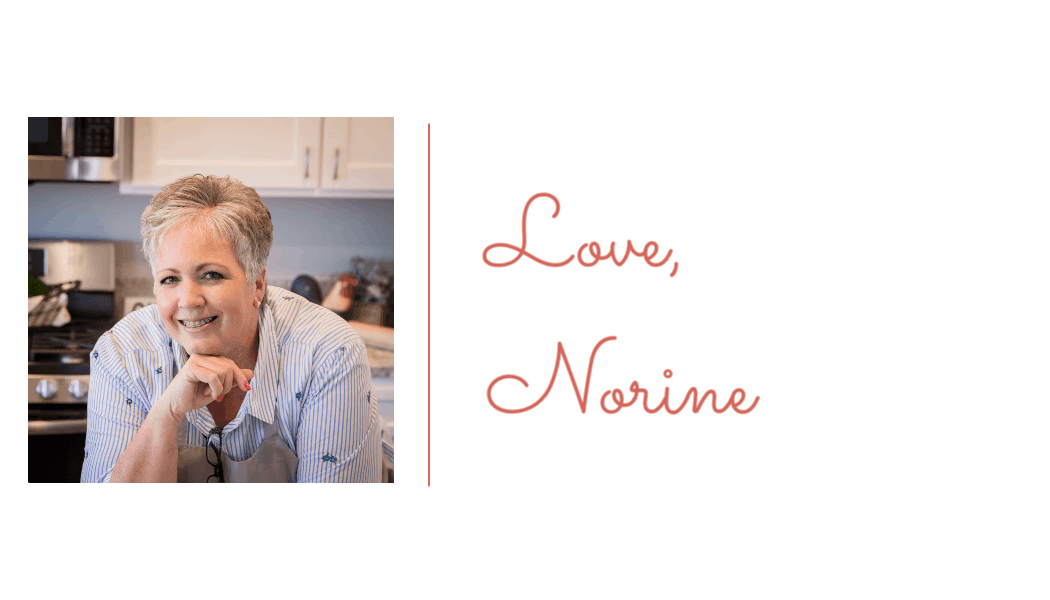 Recipe Adapted from "Favorite Brand Name" Gifts from the Christmas Kitchen
Yield: 36 cookies
Chocolate-Dipped Orange Logs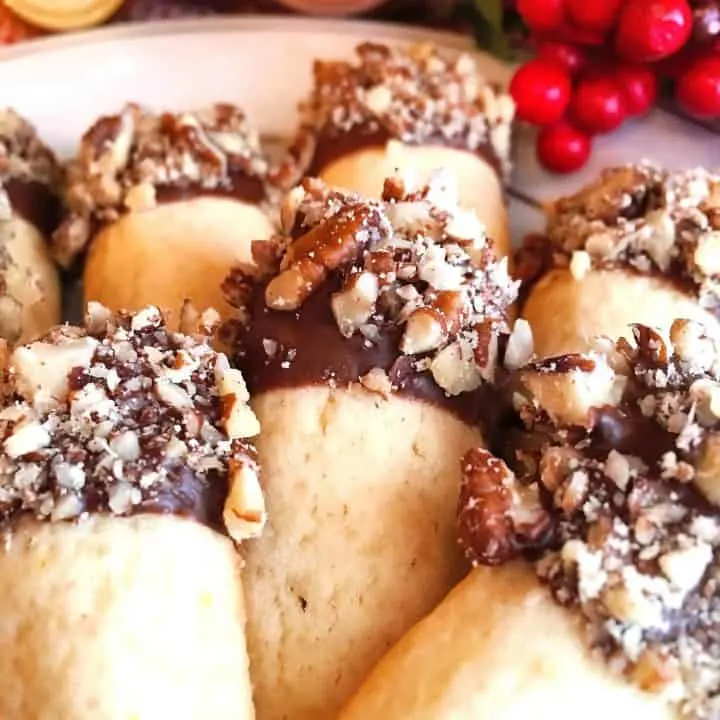 A delicious orange flavored shortbread log dipped in semi-sweet chocolate and rolled in chopped pecans! A beautiful and delicious chocolate orange cookie for your Holiday Parties!
Prep Time
2 hours
15 minutes
Total Time
2 hours
33 minutes
Ingredients
3 1/4 cups all-purpose flour
1/3 teaspoons salt
1 cup butter, softened
1 cup sugar
2 eggs
1 1/2 teaspoons grated orange peel
1 teaspoon vanilla
1 1/2 cups semisweet chocolate chips
2 teaspoons vegetable oil
1 1/2 cups pecan pieces, finely chopped
Instructions
Combine flour and salt in medium bowl. Beat butter in large bowl with electric mixer at medium speed until smooth. Gradually beat in sugar; increase speed to high and beat until light and fluffy. Beat in eggs, 1 at a time, blending well after each addition. Beat in orange peel (or cutie zest) and vanilla until blended. Gradually stir in flour mixture until blended. (Dough will be slightly crumbly)
Gather dough together and press gently to form a ball. Flatten into disk; wrap in plastic wrap and refrigerate 2 hours or until firm. (Dough can be prepared one day in advance and refrigerated overnight)
Preheat oven to 350° Shape dough into 1-inch balls. Roll balls on flat surface with fingertips to form 2-3 inch long logs about 1/2 inch thick. Place logs 1 inch apart on parchment lined or silicone mat lined, baking sheets.
Bake 16-18 minutes. (Check after 12) Cookies will feel soft and look white on top; they will become crisp when cool. Transfer to wire racks to cool completely.
Place chocolate chips and vegetable oil in microwave safe bowl. Set power for 50%. Set time for 3 minutes. After 3 minutes check chocolate to see if it is melting. If so stir until the chocolate is smooth. If it is not melted repeat process for 1 minute. Check again and stir until the chocolate is smooth and ready for dipping. Dip one end of each cookie in chocolate, shaking off excess. Roll chocolate-covered ends in pecans. Place on waxed paper or silicone mat lined cookie sheets and let stand until chocolate is set, or refrigerate about 5 minutes to set chocolate. Store in airtight container.
Makes about 36 cookies
Notes
Note Prep time includes time for dough to chill.
Recommended Products
As an Amazon Associate and member of other affiliate programs, I earn from qualifying purchases.
Nutrition Information:
Yield:
18
Serving Size:
2 cookies
Amount Per Serving:
Calories:

358
Total Fat:

22g
Saturated Fat:

10g
Trans Fat:

0g
Unsaturated Fat:

11g
Cholesterol:

48mg
Sodium:

130mg
Carbohydrates:

39g
Fiber:

2g
Sugar:

19g
Protein:

5g