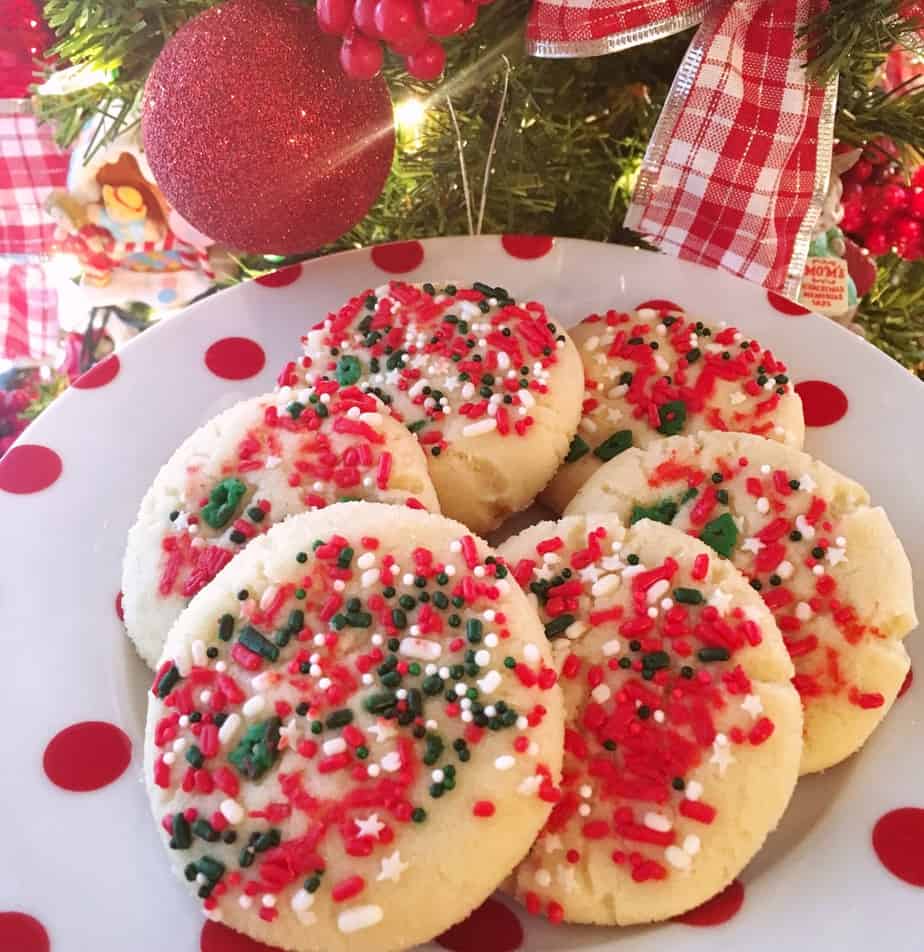 These Christmas Sprinkle Sugar Cookies are tender, crumbly, melt in your mouth sugar cookie with sprinkles, so reminiscent of a great shortbread.
*As an Amazon Associate I earn from qualifying purchases. This post may contain affiliate links, which means that I may make a commission from any purchases at no additional cost to you. Thank you for your support!
Some of the links below are affiliate links, meaning, at no additional cost to you, I will earn a commission if you click-through and make a purchase.
One of the perks of my job is all the truly Awesome bloggers I meet on a daily basis! Talented women who love to bake, cook, and create recipes. Recipes like these amazing Christmas Sprinkle Sugar Cookies!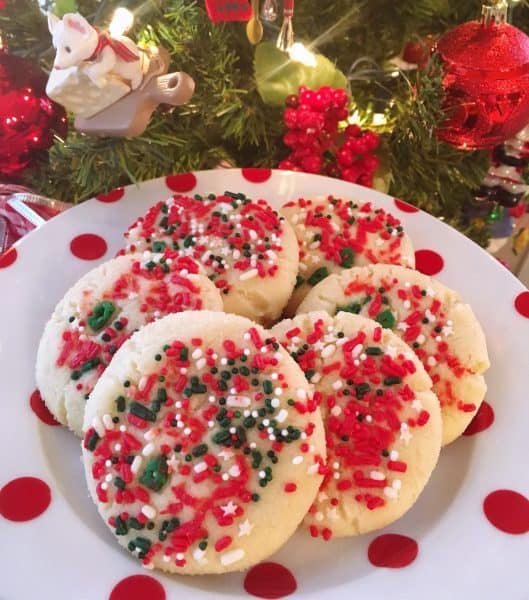 This recipe comes from my friend Emma of motheralwaystoldme.blogspot.com .
A few weeks ago Emma was sharing different "sugar cookie" recipes from her Grandma Jones. This recipe was the second of three, and the one that caught my eye. (Cause they were decked out with sugar sprinkle bling!)
They were everything I hoped they would be! Light, buttery, crispy, not overly sweet, and so tender they melt in your mouth. I asked Emma if I could share her recipe here at my Nest this Holiday Season? She was more than gracious and agreed.
They are the perfect cookie to kick off my First Annual… (I may do it again! Plus… saying "annual" sounds Sooooo important!)…"Virtual Cookie Exchange!". I've invited six of my blogging friends to join me this week to share their favorite Holiday Cookie recipe. (Hooray!)
Each day I'll share one of their recipes on my Facebook and Instagram stories. Next week I'll do a special "round-up" of all the recipes so you can make them this Holiday Season for your family and friends.
For now…
How To Make Christmas Sugar Cookies with Sprinkles!
Preheat oven to 350°.
In the bowl of your mixer add 1/2 cup of soften butter, 1 cup of sugar, and 1 cup of vegetable oil. (I know! I was a little skeptical of all that oil…but like any good fatty ingredient…it works! Really Well!)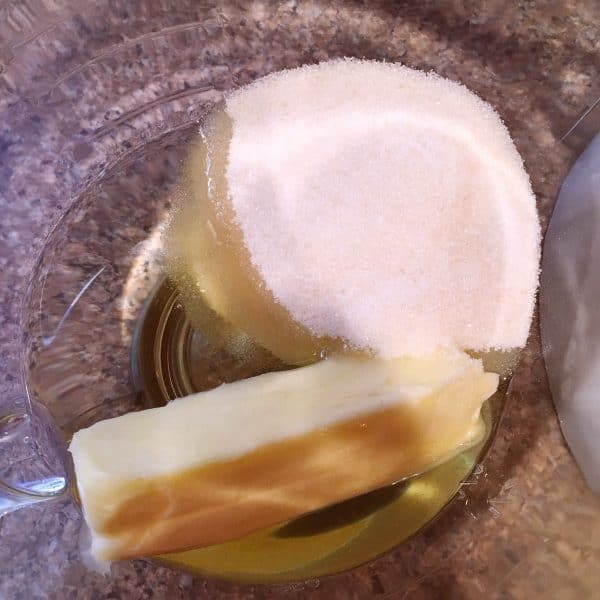 Beat until well combined. Add 1 beaten egg and 1 teaspoon vanilla.
In a separate bowl mix together 3 cups flour, 1 teaspoon baking powder and a pinch of salt. Whisk dry ingredients together. Set aside!
TIP: Recipe calls for flour to be sifted. However, mixing dry ingredients together with a whisk until well combined will create the same effect as sifting.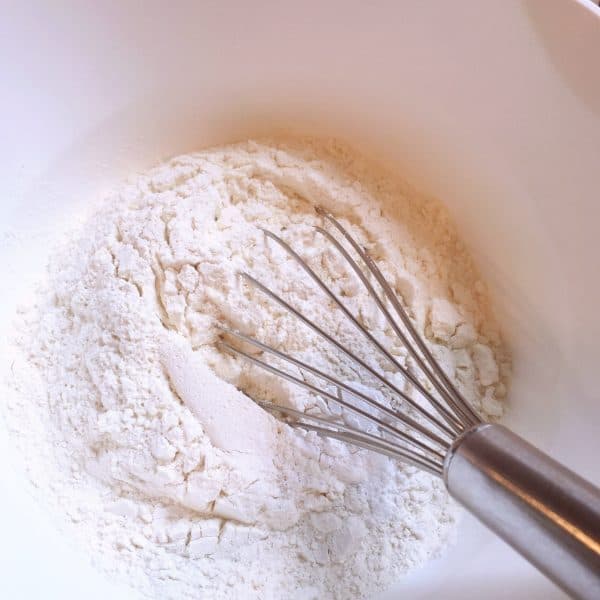 In a small cup, or bowl, add 1/2 teaspoon soda with 1/2 teaspoon hot water.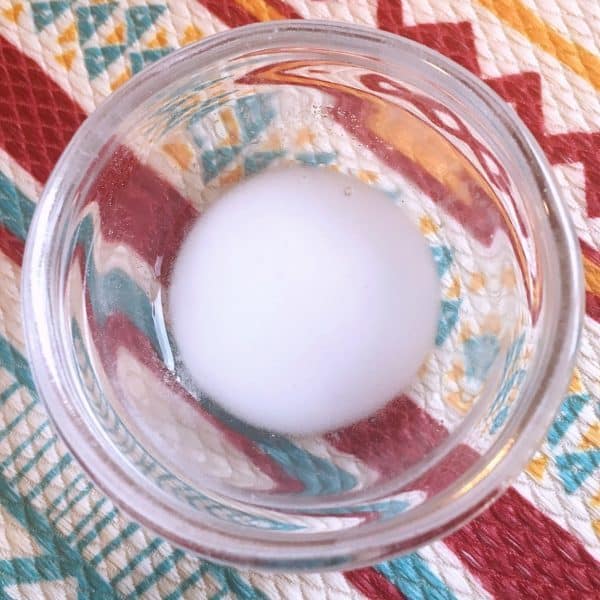 Add baking soda to wet ingredients. Mix well.
Now back to those dry ingredients!
Add dry ingredients to wet ingredients and blend until well combined and soft dough forms. A mixer makes this so much easier! (Plus when I mix things by hand…my arm wings get to flappin' so hard you'd think I was getting ready to take flight!)
If you know me, you know I love my Kitchen Aid Anniversary Mixer. It's swoon worthy! Amazon has some amazing deals on their Kitchen Aids this time of year! This is my number one kitchen item! (I may have hugged it when I opened the box! OKAY! I did! I hugged it!!!)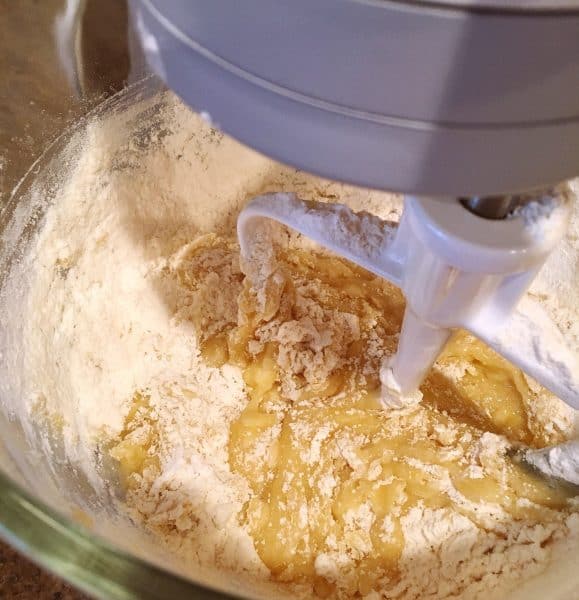 Form dough into a soft ball and place in a covered bowl. Chill for 30 minutes. This will help firm up the dough so it's easier to handle.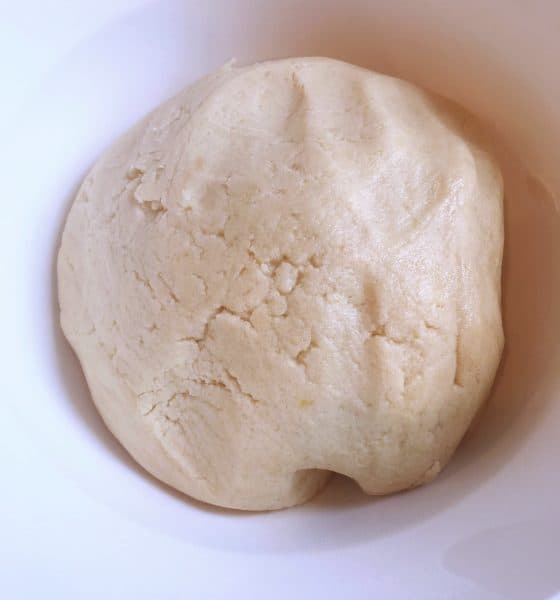 Using a cookie scoop, or a large teaspoon, place a ball of dough in the palm of your hand…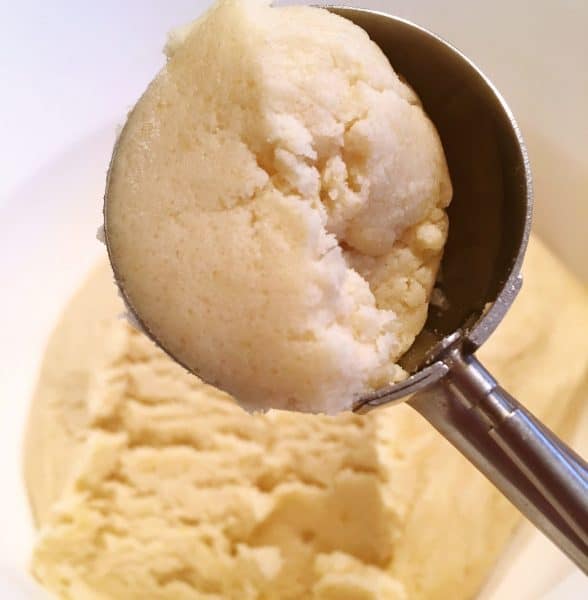 Roll into a 1 1/2 – 2 inch ball. (Note you'll be able to moisturize your hands at the same time! Cookies AND a beauty treatment! Just what you wanted for Christmas… I know!)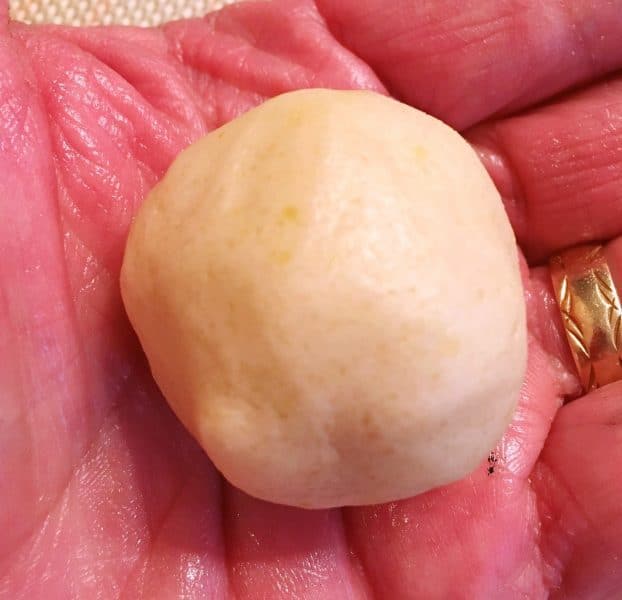 Dip one side of the cookie dough ball into a bowl with about a 1/2 cup granulated sugar.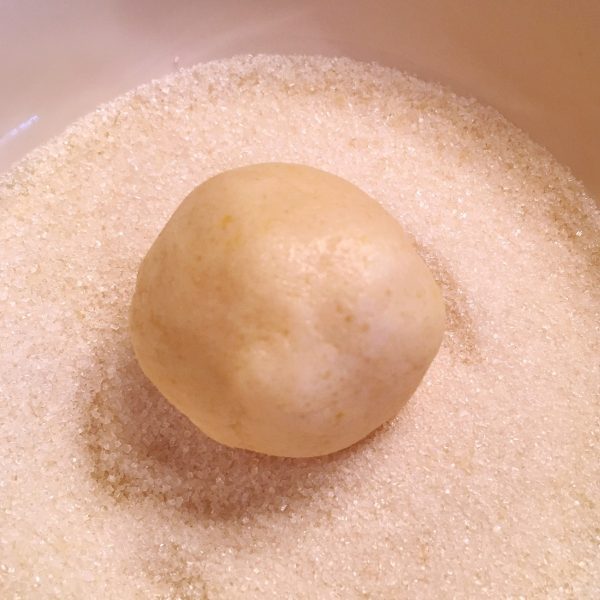 Roll opposite side of cookie dough ball into brightly colored Christmas Sprinkles. I combined three different varieties! ("News at eleven"… Mom goes "NUTS" with the Christmas sprinkles!)
Place cookie dough ball, sprinkle side up, on a silicone or parchment lined baking sheet.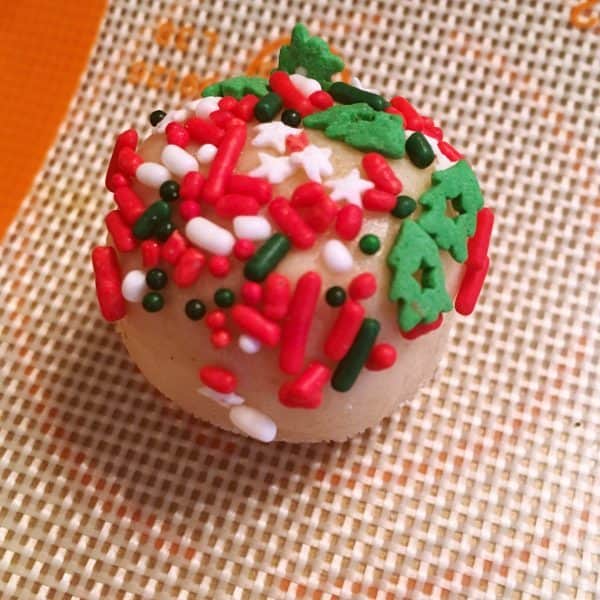 Once you have a dozen cookies on your lined baking sheet, place in preheated oven on center rack. Bake for 5 minutes.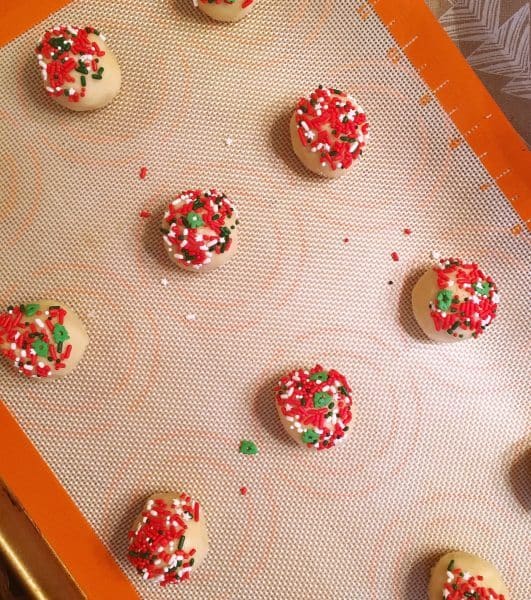 Half way through baking use a glass to gently press down cookies… OR…Keep reading…this is an important "OR"!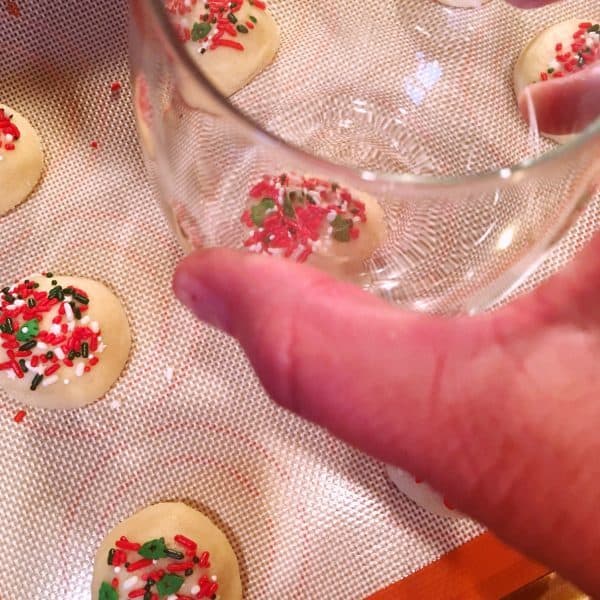 You can also gently press dough down before placing cookies in the oven. Either will work. I preferred using my hand. The sprinkles tend to melt and stick to the bottom of the glass. However, the glass does create a prettier cookie with nicer edges.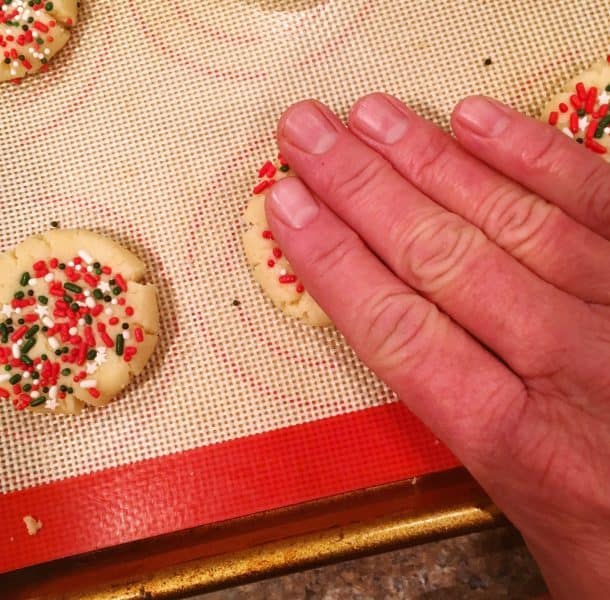 Bake for an additional 5-6 minutes until centers are set.
TIP: Switch cookie baking sheets on oven racks half way through baking. This will create a more even cooking time. I do this little trick with all…ALL my cookie baking!
Remove cookies from baking sheet and place on cooling rack. Then try to wait for them to cool enough that you can eat one…maybe two…or even three! (I'm not necessarily speaking from experience…or I am!)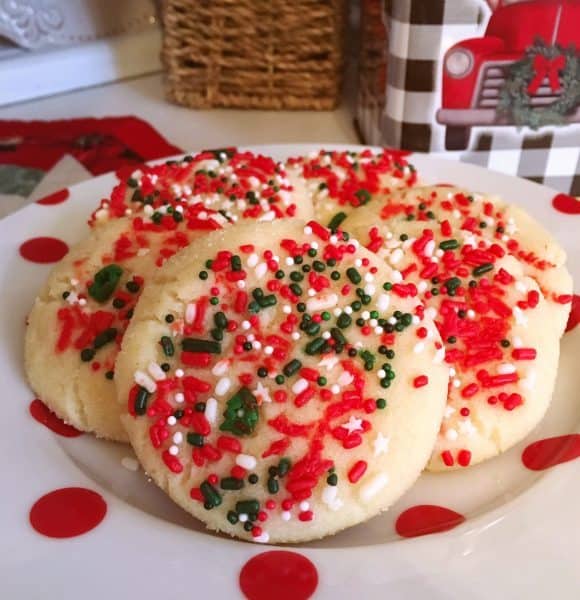 These cookies are SO good! Emma's Grandma Jones, was one heck of a sugar cookie expert! I changed a few of the procedural things…but other than that…this is her recipe! I can't take credit for it. What a wonderful gift she left for her family!
I do know this…Grandma Jones Christmas Sprinkle Sugar Cookies will ALWAYS, from hence forth, be part of this Nest's Holiday Cookie Traditions!
This is the perfect "dunkin' " Cookie! I'm not usually a huge sugar cookie fan and this recipe has changed my opinion of sugar cookies! I know one thing…they're sure to be Santa's favorite Christmas Sugar Cookie this year!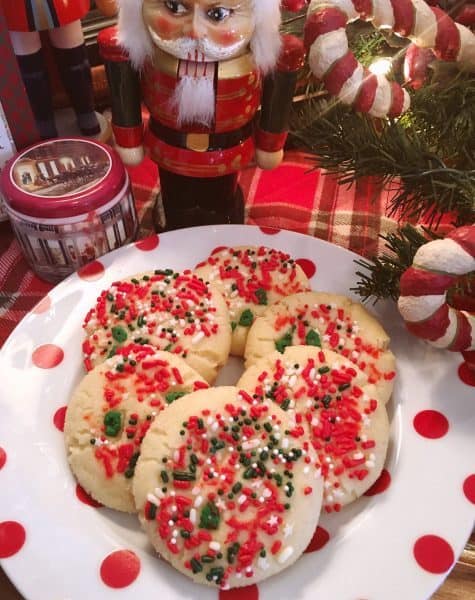 This cookie works great for every Holiday! All you have to do is change up the sprinkles! Like I did for these Halloween Sugar Cookies!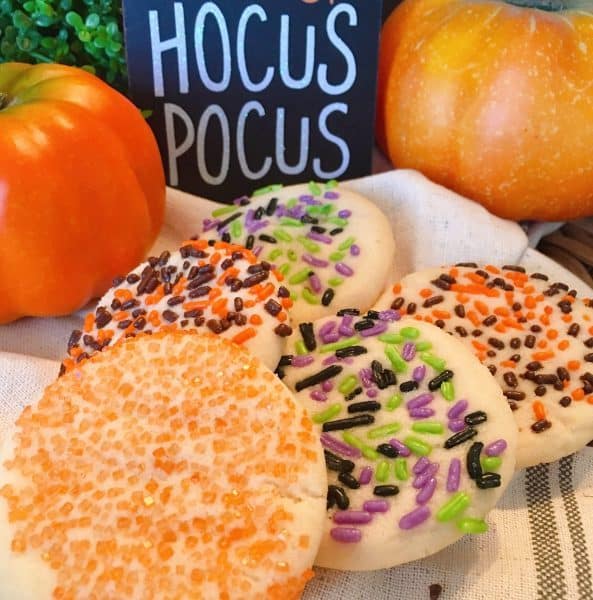 I hope you'll follow me this week over on Instagram and Facebook for all the delicious cookies my friends will be sharing that will be part of this weeks Virtual Cookie Exchange!
Bring your mug… or your Dr Pepper if you're like me, and tag along! We're going to have SO much fun!
And… the Holidays should always be fun!!!
Here's a Few of our other Favorite Holiday Cookies
PIN IT FOR LATER!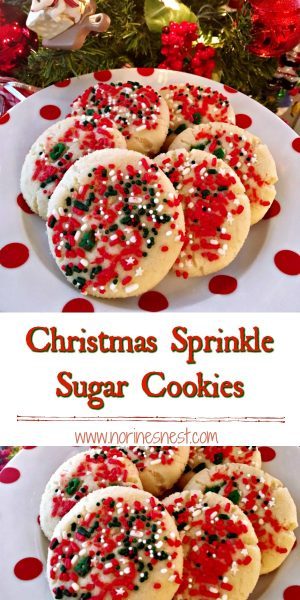 Happy Baking!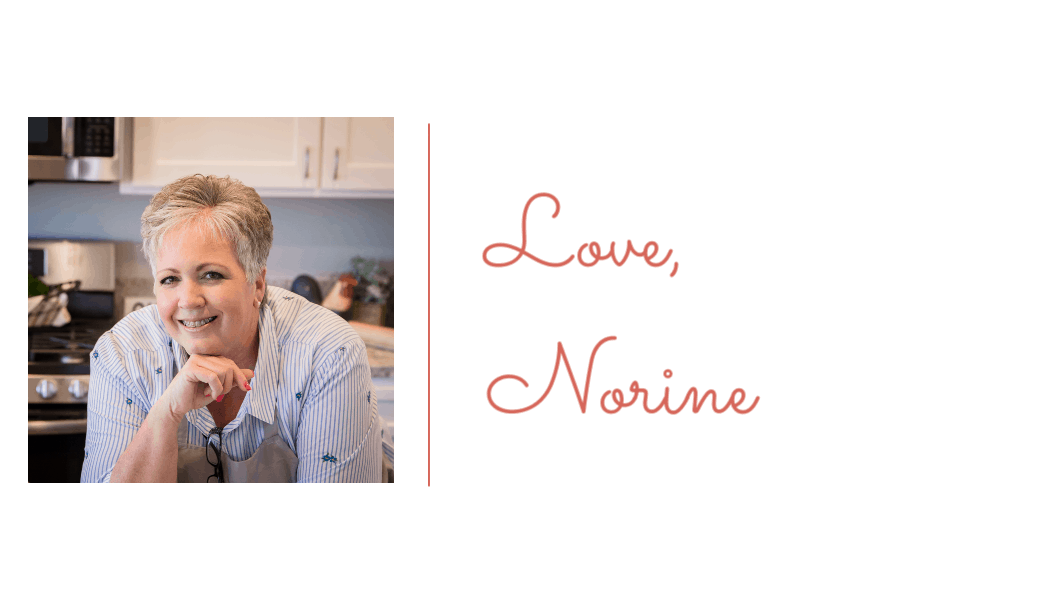 Yield: 3 dozen
Christmas Sprinkle Sugar Cookies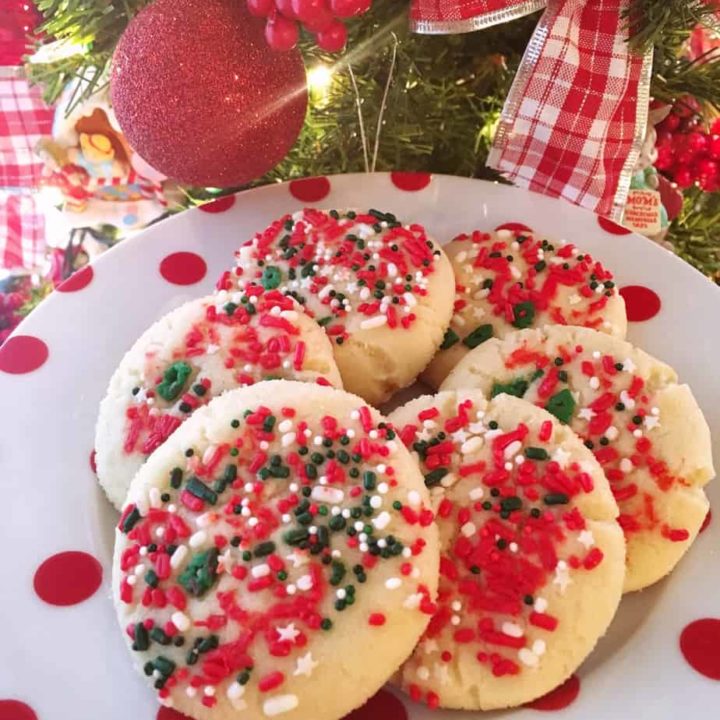 Light, crispy, buttery, slightly sweet sugar cookies that melt in your mouth! The perfect Sugar Cookie for your Holiday Cookie Exchange!
Ingredients
1 egg, beaten
1 cup vegetable oil
1/2 cup butter, softened
1 cup sugar
3 cups all-purpose flour
1/2 teaspoon baking soda
1/2 teaspoon hot water
1 teaspoon baking powder
1 teaspoon vanilla
pinch of salt
additional sugar and sprinkles for cookies
Instructions
Preheat oven to 350°
In bowl of mixer, add oil, butter, and sugar, mix well. Add beaten egg and 1 teaspoon vanilla. Mix until well blended.
In a small bowl or cup, combine together 1/2 teaspoon hot water with 1/2 teaspoon baking soda. Add to wet ingredients.
In a separate bowl, using a whisk, whisk together 3 cups of flour, 1 teaspoon baking powder, and pinch of salt. Add to wet ingredients. Mix well.
Form dough into ball. Place in covered bowl and chill for 30 minutes.
Remove dough from refrigerator and roll dough into 1 1/2 - 2 inch ball. Dip one side of ball in sugar and top side of ball in sprinkles.
Place balls on parchment lined cookie sheet about 3 inches apart. Press dough down gently with fingers to about 1/2 inch thick.
Place baking sheets on center racks. One up , one down. Half way through baking trade racks. Bake for another 5-6 minutes.
Place cookies on cooling rack. Store in air tight container.
Recommended Products
As an Amazon Associate and member of other affiliate programs, I earn from qualifying purchases.
Nutrition Information:
Yield:
18
Serving Size:
2 cookies
Amount Per Serving:
Calories:

286
Total Fat:

18g
Saturated Fat:

4g
Trans Fat:

1g
Unsaturated Fat:

13g
Cholesterol:

24mg
Sodium:

120mg
Carbohydrates:

29g
Fiber:

1g
Sugar:

12g
Protein:

3g