These are the type of Gingersnap Cookies that Grandma kept in her cookie jar! Crispy and Chewy these are the perfect Molasses Gingersnap Cookie. Drizzle them with some white chocolate and sprinkles for the Holidays!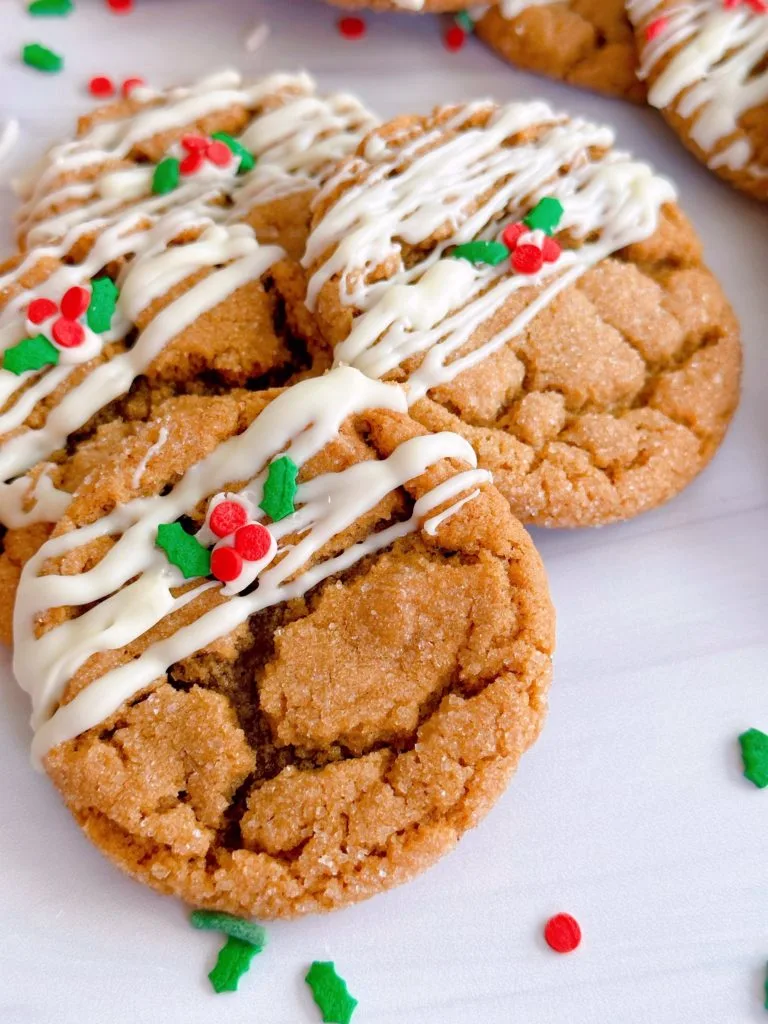 Baking and delivering cookies for the Holidays is a tradition many of us participate in this time of year! It's a way to let those we care about know just how much, by gifting them something that required time and effort.
For me gifts of food and cooking are how I say "I love you"!
I have been making these "Cookie Jar Gingersnaps" for years. They happen to be my Oldest Son's favorite cookie. Nothing better than a cookie that is crispy on the outside, has deep crevasses for sopping up your favorite dunking beverage, and is chewy on the inside!
Molasses is a "Love-Hate" thing. Understandable. I happen to L.O.V.E it. Today I discovered my one granddaughter LOVES "Gingerbread Cookies", as she called them. She also informed me she prefers when they are in the shape of a "people". (I'm working on it sweetie!)
There are multiple recipes out there for Gingersnaps dipped in chocolate. I went with a lighter version by drizzling white chocolate over my cookies. In my humble opinion, these are perfect with a drizzle, rather than a full "dunk" on one half.
What You'll Need To Make Crispy Festive Gingersnaps
¾ Cup Shortening – Shortening, rather than butter, helps cookies hold their shape during baking.
1 egg – room temperature
2 Cups All-purpose flour
1½ teaspoon ground ginger
1 teaspoon ground cinnamon
1 Cup Sugar
¼ Cup Molasses
2 teaspoon baking soda
4 Tablespoons Sugar-For Rolling cookies in before baking.
½ Cup White Baking Chips-For drizzle
1 Tablespoons Vegetable Oil-For chocolate drizzle
Festive Holiday Sprinkles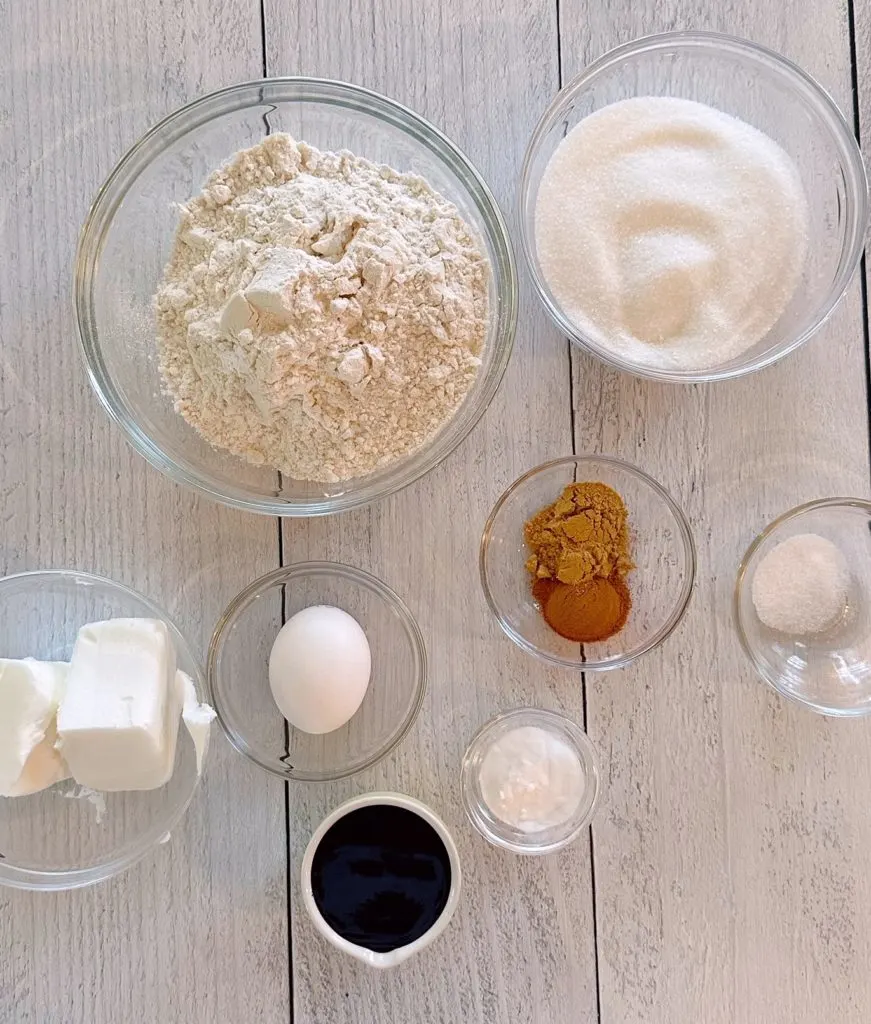 How To Make Old Fashioned Gingersnap Cookies
This is a wonderfully easy recipe with fantastic results!
In the bowl of your mixer, or in a large bowl, add ¾ Cup Shortening and 1 Cup of Sugar. Cream together.
Note: Do NOT substitute Butter for the Shortening in this recipe! Shortening in a cookie recipe helps the cookie hold its shape while also remaining chewy on the inside and crispy on the outside.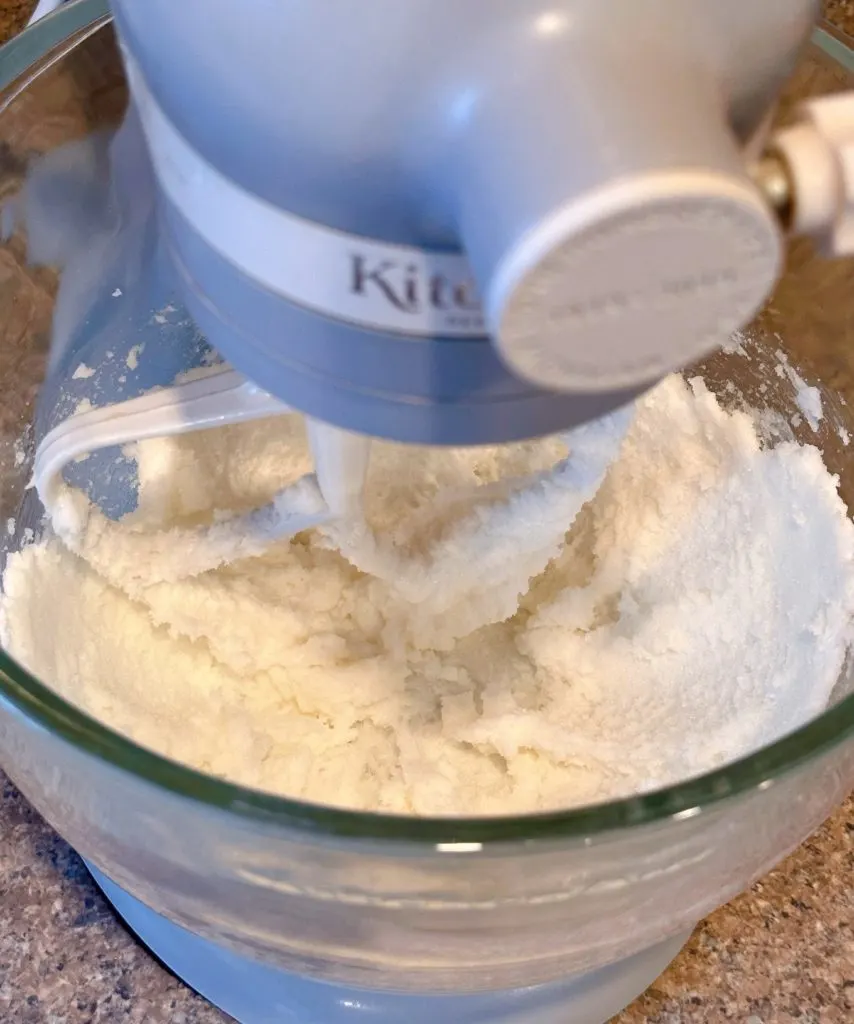 Beat in one large egg and ¼ Cup Molasses. Mix until creamy and well blended.
TIP: Spray your measuring cup with non-stick cooking spray before adding molasses for easy clean-up.
Please don't laugh at me…but I adore the smell of Molasses! Honestly I poured this into the measuring spoon and took a big sniff. Visions of Gingerbread began dancing in my head! (Which is better than what is usually running around in that empty space! Lol)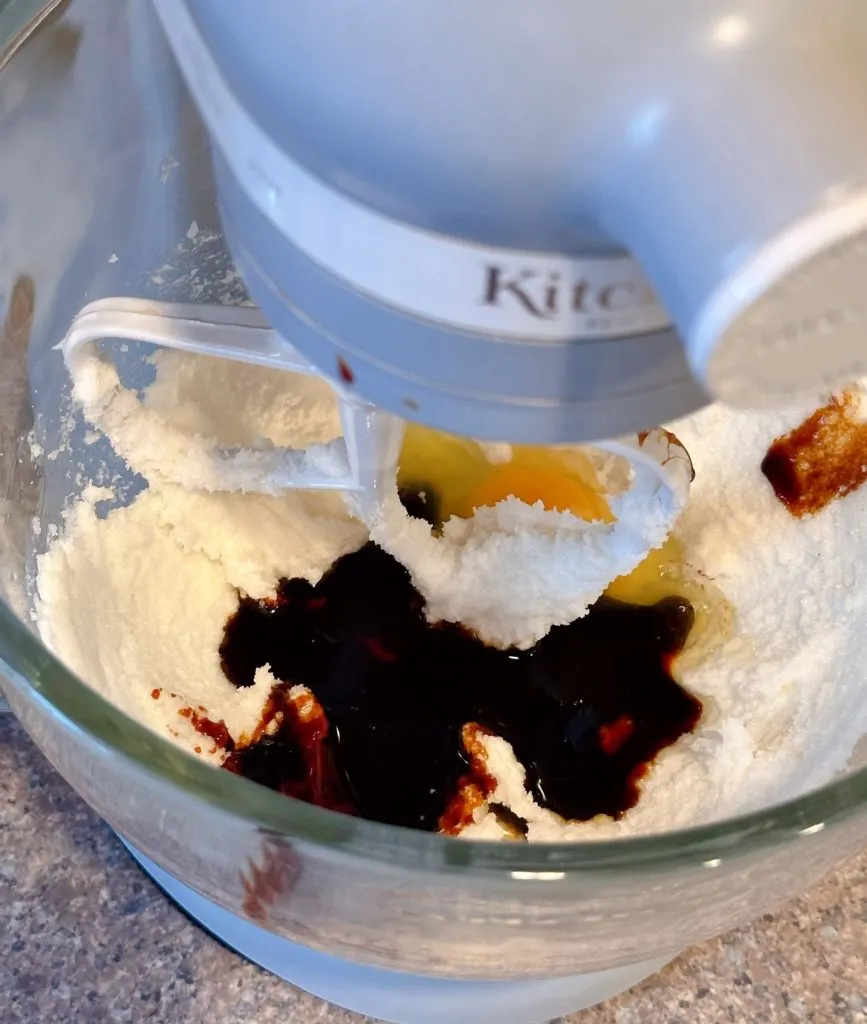 Back to our Gingerbread Cookies…
In a separate large bowl, combine 2 cups flour, 1½ teaspoon ground ginger, 1 teaspoon cinnamon, ½ teaspoon salt, and 2 teaspoons baking soda. Mix with a wire whisk to combine and break up any lumps in the flour.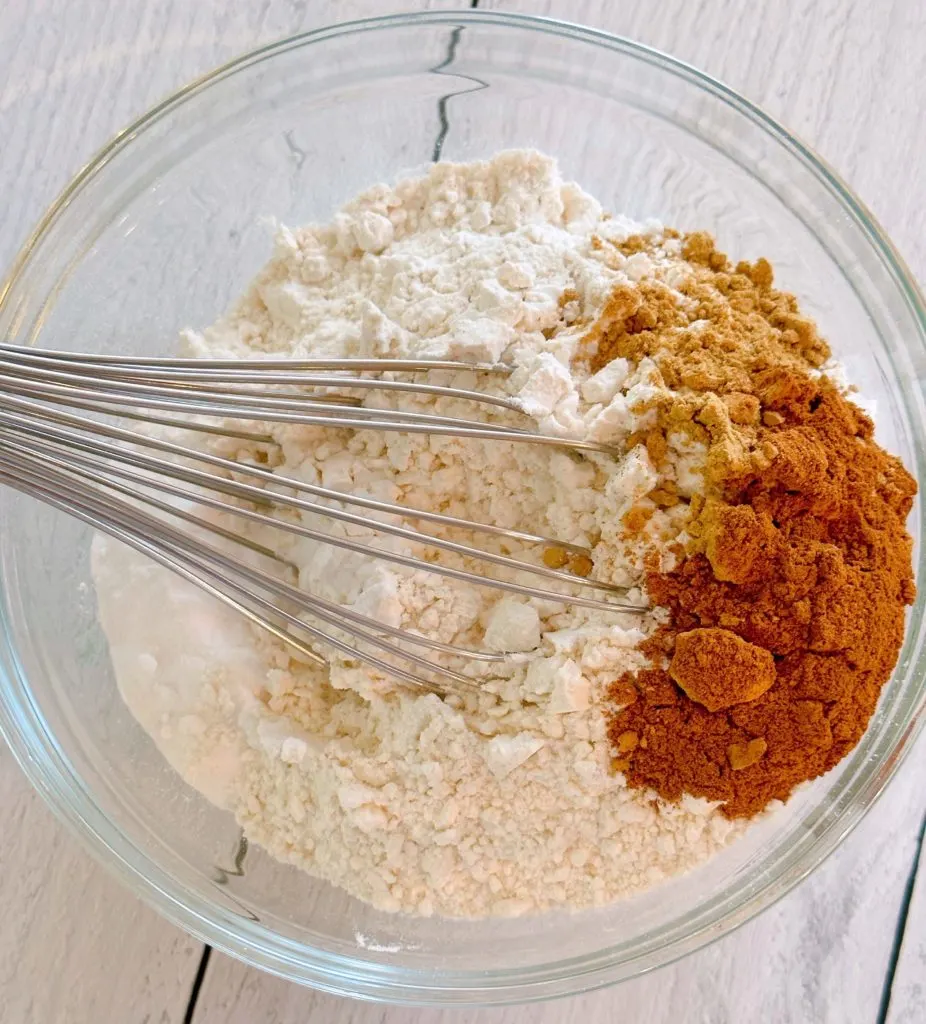 Gradually add mixed dry ingredients to the wet ingredients with your mixer on low speed! (You can turn your mixer to high and have a make believe snow party! Again not recommended…but I always say you do you!)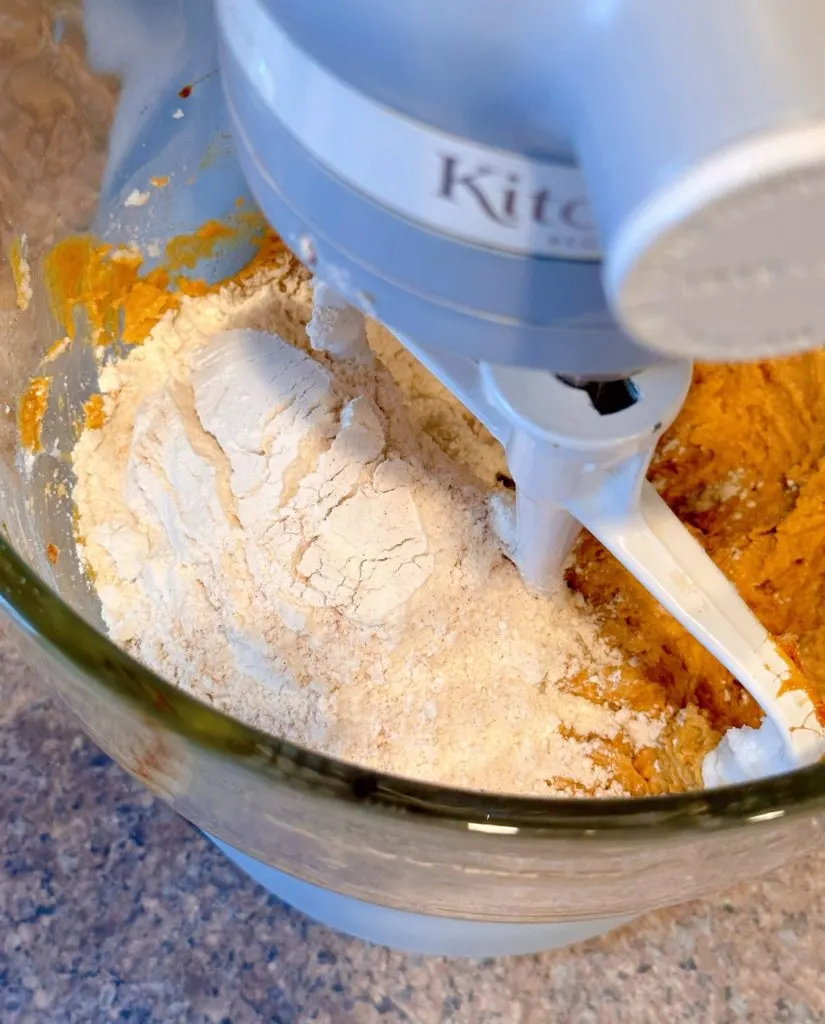 Mix until well combined, scrapping down the sides of the mixing bowl several times during mixing. I recommend turning OFF the beater when scrapping down the bowl.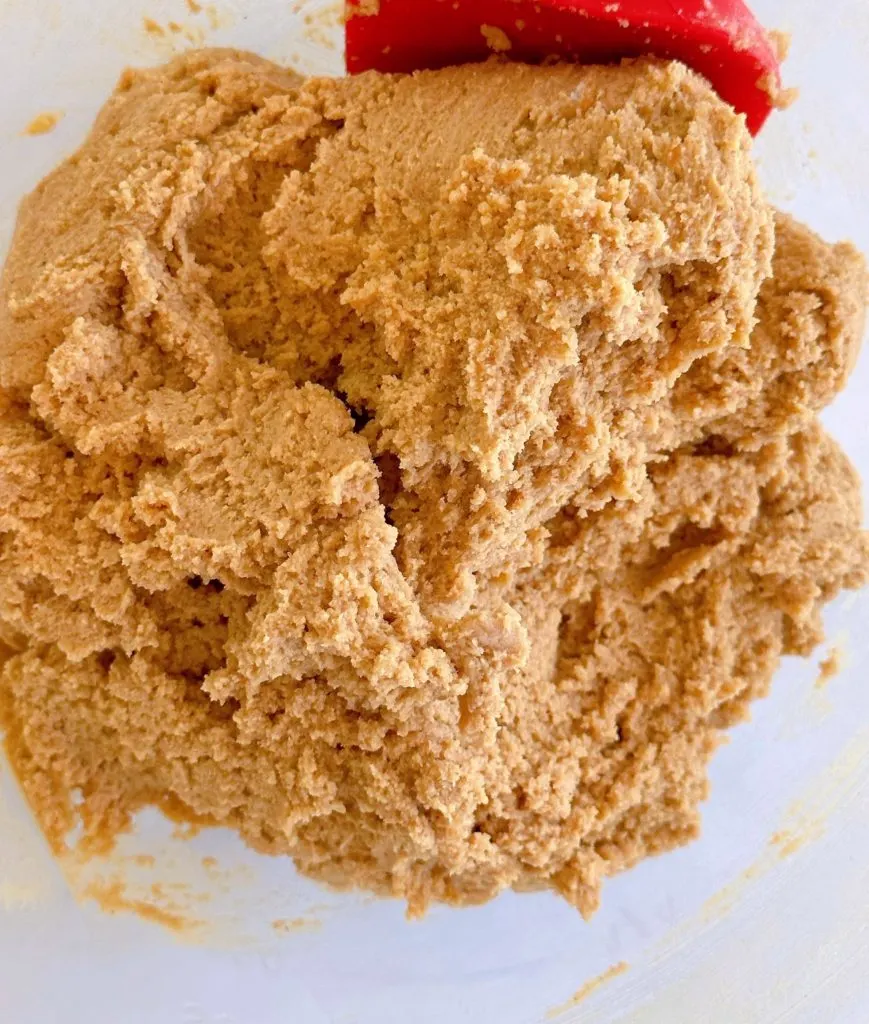 Forming Gingersnap Crinkle Cookies
Before we begin this section, let me just say…extensive testing was done to determine what method worked best…rolling or scooping!
I'm happy to report the results were EXACTLY the same! Do yourself a favor and use a cookie dough scoop if you have one!
I used a 1-inch cookie scoop and pressed the scoop up against the inside of the bowl and released the dough onto a parchment lined half baking sheet size pan. 12 cookies per sheet, spaced evenly apart in 3–4 rows.
TIP: It's extremely important that your cookie sheets are lined with parchment paper or silicone baking mat. If not I recommend you grease your cookie sheets.
Picking up each cookie dough ball, dunk the top of each cookie ball into a small bowl with 2 tablespoons of granulated sugar.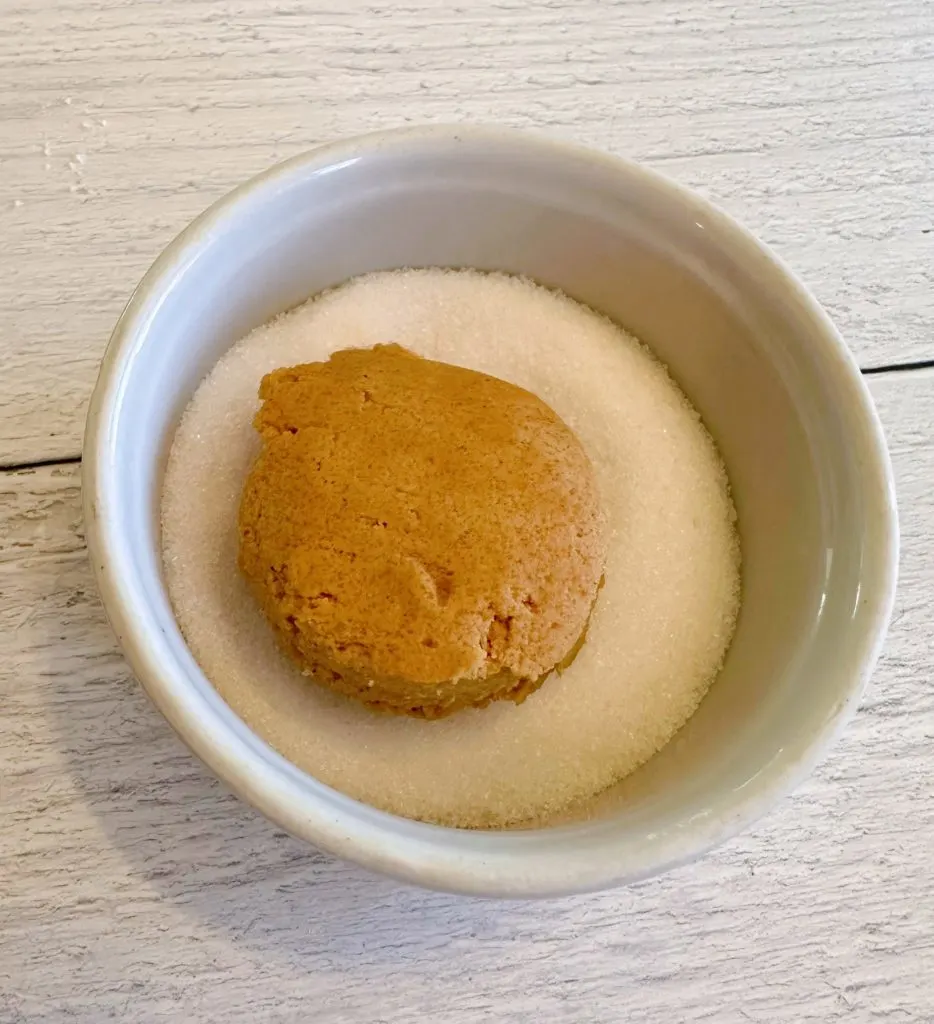 Place sugar-coated cookies back on the parchment lined cookie sheet.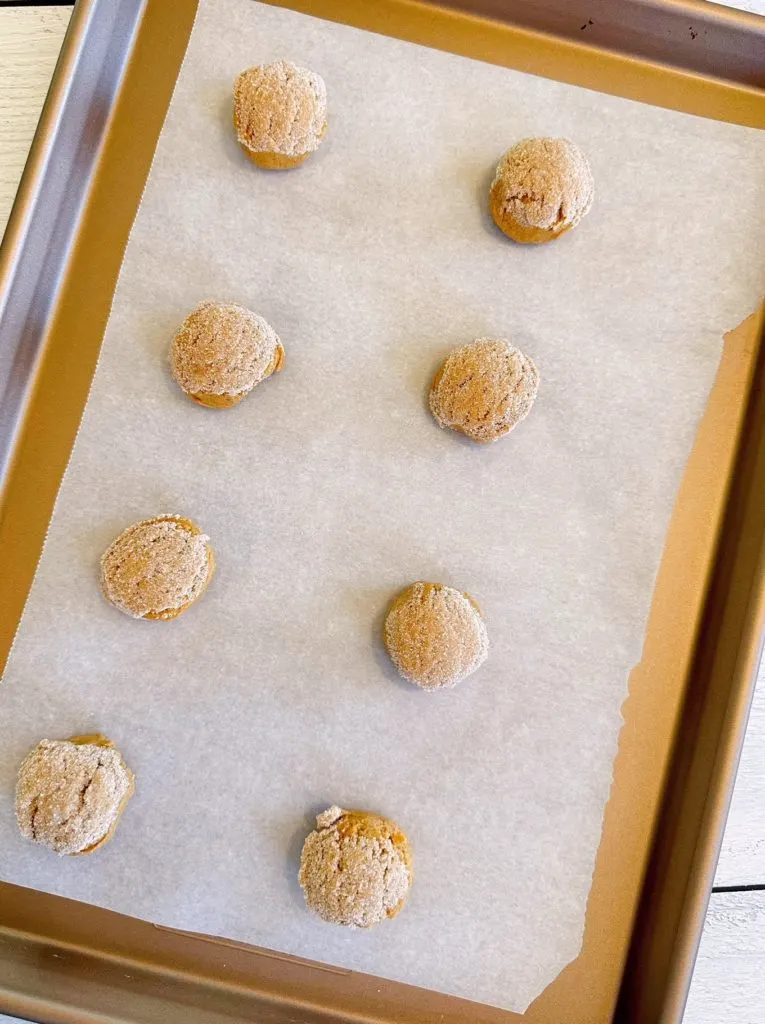 Baking Gingersnap Cookies
Bake in preheated 350 °F oven on the center rack for 12–14 minutes or until lightly brown and crinkly.
TIP: My BIGGEST cookie tip… Place your two oven racks as close to the center of the oven. One above the other. Halfway through baking…switch your cookie sheets! The one on the bottom rack moves the top rack and vice versa!
You will get a nice even bake every time! Even if I'm only doing one sheet of cookies, I switch racks!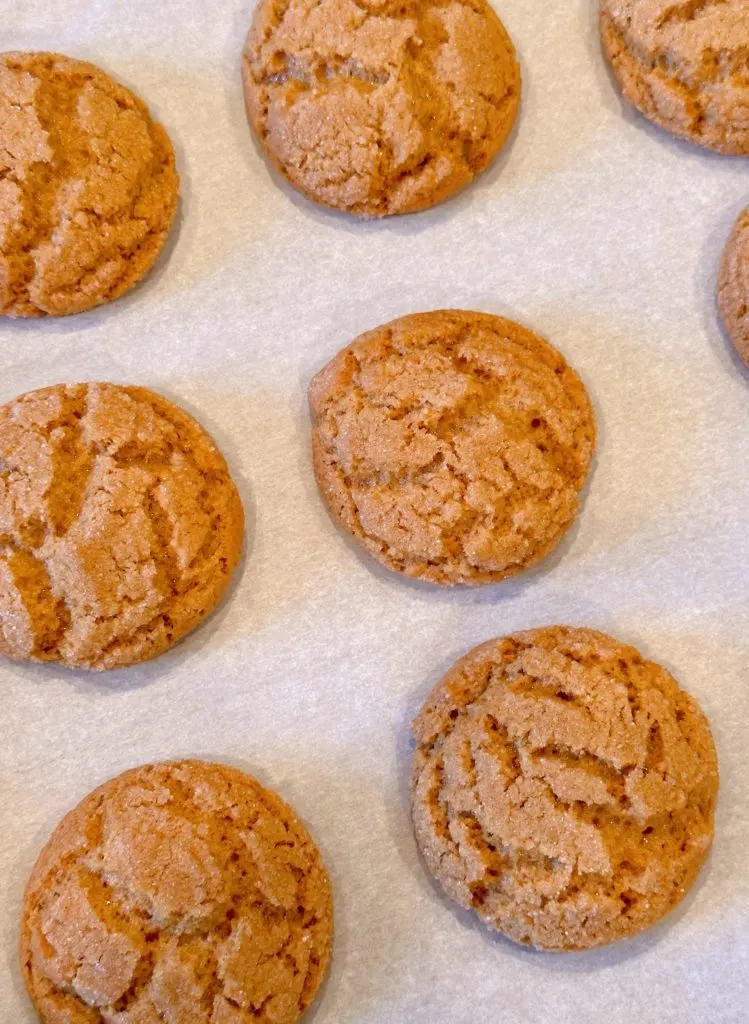 As the cookies cool they will flatten out a tad and the cracks will become even more prominent.
Remove cookies from baking sheet and place on cooling rack. Continue baking cookies until all the dough has been used. This recipe yields about 3–4 dozen depending on the size of your cookie balls.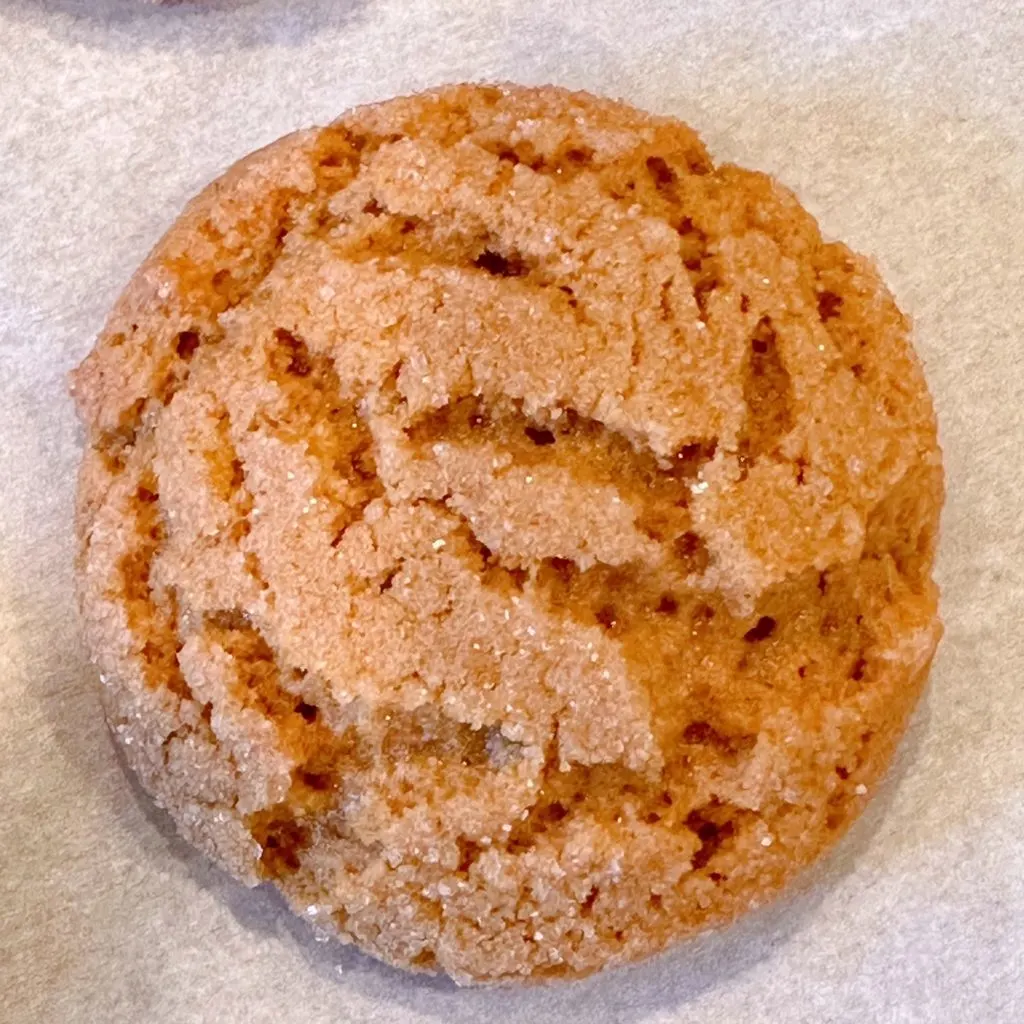 Adding White Chocolate Drizzle and Sprinkles
If it's the Holidays, and you want a more festive look, I recommend drizzling one side of each cookie with white chocolate and quickly sprinkling with your favorite sprinkles. (I mean quickly too! White chocolate sets very fast!)
To melt chocolate, place ½ cup white baking chips in a microwave safe bowl and add 1 Tablespoon vegetable oil. Place bowl in the center of your microwave. Set your power to 50% and bake for 35 seconds. You may need a few seconds more depending on your microwave.
Using a small silicone spatula mix white baking chips until smooth and creamy.
Place cookies you'd like to decorate on a sheet of parchment paper.
Place melted chocolate in a small Ziploc storage bag. Snip one bottom corner off the bag and quickly drizzle the chocolate back and forth.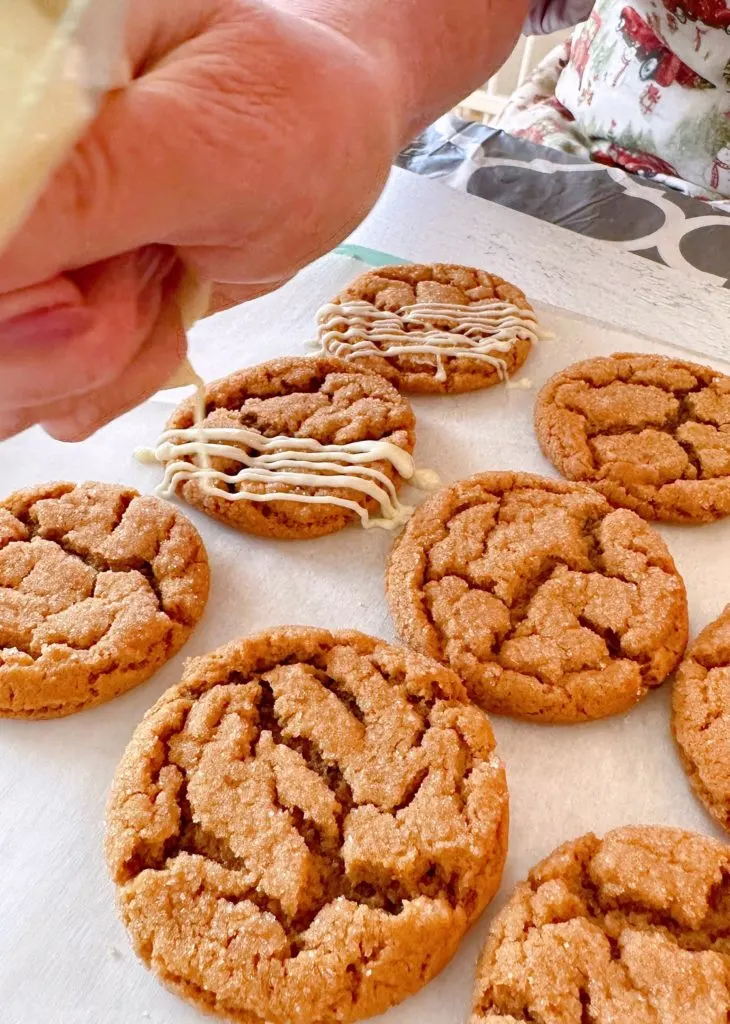 Once the chocolate has set, you can easily break off any overhang. These cookies can be stored in an airtight container for up to a week, or frozen for up to a month.
These cookies are AMAZING! I have to agree with my granddaughter, I love these Gingerbread cookies! I'm pretty sure Santa will too! Best part…you can whip up a batch quickly at the very last minute!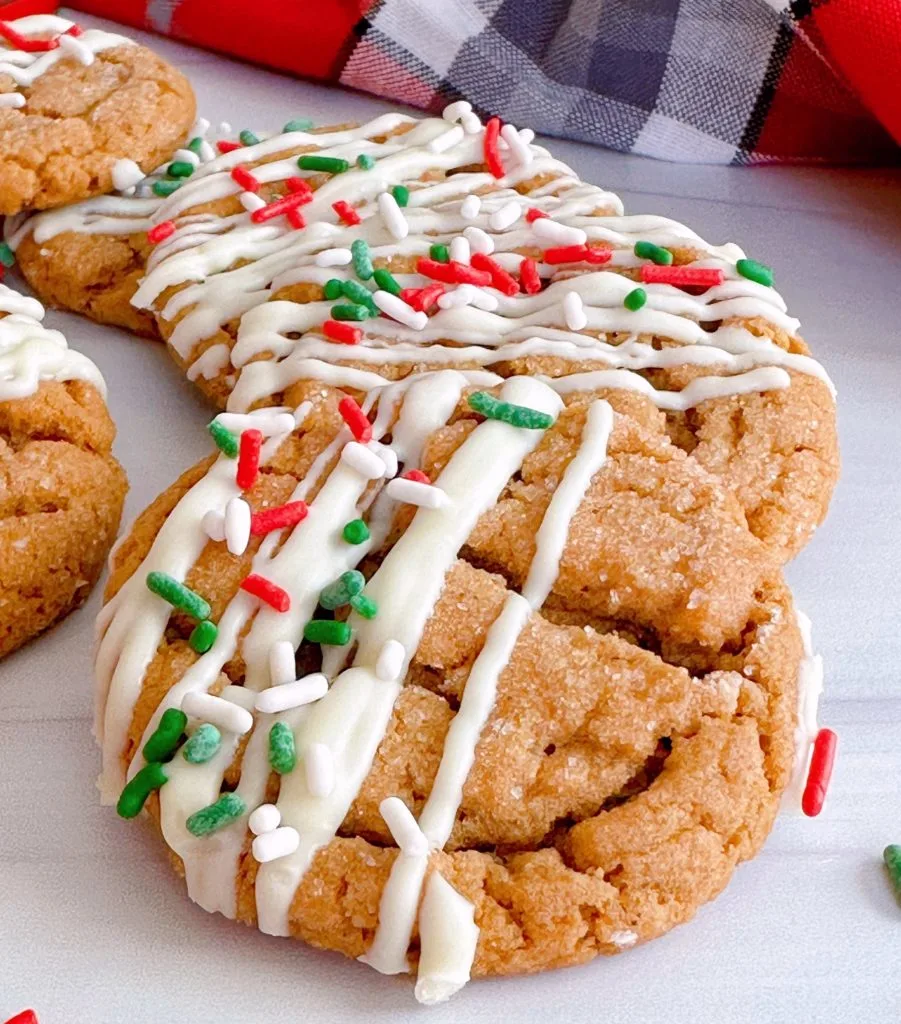 Question and Answers for Cookie Jar Gingersnaps
What's the difference between Gingersnaps and Gingerbread? The main difference is that Gingersnaps are baked a little longer to get their crispy snap!
Why didn't my Gingersnaps crackle on top? Because the oven temperature isn't set hot enough. The top needs to be set before the middle has fully risen. It could be you didn't measure your leavening properly. It needs to be strong enough to crack the top once it is activated.
Can I use butter in this recipe instead of shortening? I wouldn't! Shortening melts at a higher temperature than butter, it's useful for baking cookies that you want to have a nice uniform shape.
How long will these cookies last? They can be stored up to one week in an airtight container or up to one month in the freezer.
Other Favorite Holiday Cookie Recipes
Yield: 48 cookies
Gingersnap Molasses Cookies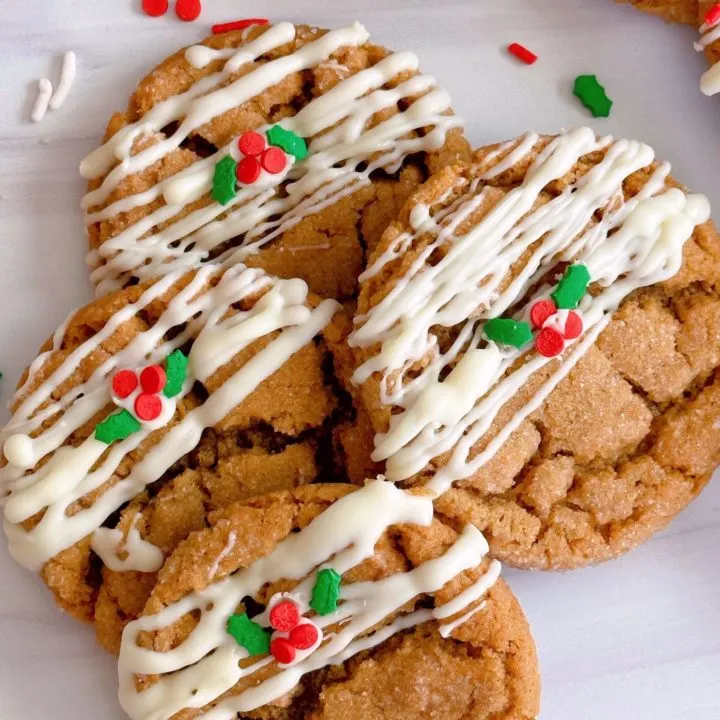 These are the type of Gingersnap Cookies that Grandma kept in her cookie jar! Crispy and Chewy these are the perfect Molasses Gingersnap Cookie. Drizzle them with some white chocolate and sprinkles for the Holidays!
Ingredients
¾ Cup Shortening
1 large egg
2 Cups All-purpose flour
1 Cup granulated sugar
¼ Cup molasses
2 teaspoons baking soda
1½ teaspoon ground ginger
1 teaspoon cinnamon
½ teaspoon salt
4 Tablespoons additional sugar for rolling the cookies
½ cup white chocolate baking chips
1 Tablespoons vegetable oil
Favorite Holiday Sprinkles
Instructions
Preheat oven to 350°F. Line two large baking sheets with parchment paper or silicone baking mats.
In the bowl of your mixer, or in a large mixing bowl, cream together shortening and sugar.
Add in egg and molasses. Mix on low speed until completely combined, scrapping down the side of the mixing bowl during mixing.
In a large bowl combine flour, baking soda, ginger, cinnamon, and salt.
Gradually add the dry ingredients into the creamed ingredients.
Using a one inch cookie scoop, scoop out one full scoop. Dip top into sugar. Place sugar side up on parchment lined baking sheet.
Bake at 350°F for 12-15 minutes, until light brown and crinkly, switching racks halfway through bake time for even baking.
Remove cookies to wire rack. If you desire to decorate with chocolate and sprinkles place cookies on a sheet of parchment paper and follow the directions below.
In a microwave safe bowl add white chips and vegetable oil. Select 50% power and microwave for 1.5 - 3 minutes, depending on your microwaves heat. Remove with hot pads, stir until chocolate is melted and smooth.
Place melted chocolate in a Ziploc sandwich bag. Snip the corner of one end of the bag. Drizzle chocolate back and forth over one half of the cookie. Sprinkle with your festive Holiday sprinkles. Allow to sit until completely set. Once set, remove any excess chocolate from around the edges of the cookies.
Store in airtight container.
Nutrition Information:
Yield:
24
Serving Size:
2
Amount Per Serving:
Calories:

187
Total Fat:

9g
Saturated Fat:

4g
Trans Fat:

0g
Unsaturated Fat:

5g
Cholesterol:

12mg
Sodium:

167mg
Carbohydrates:

25g
Fiber:

0g
Sugar:

16g
Protein:

2g