Slow cooked tender chunks of beef with Italian seasonings on a toasted hoagie bun with melted Provolone cheese, sautéed peppers, onions, and mushrooms join together to create these amazing Crock Pot Italian Beef Sandwiches.
Recipe Updated: 10-16-2019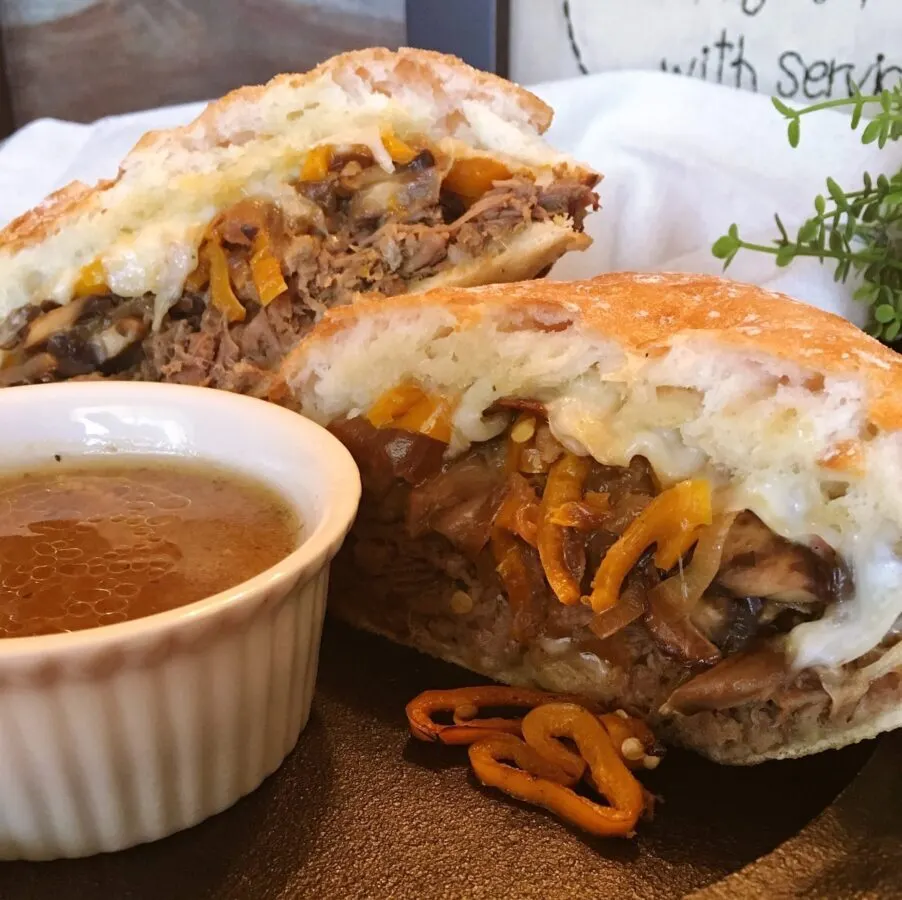 Let's get real for a minute! As in… REAL life!
I'm behind on EVERYTHING Christmas! Anybody else or am I sailing on this sinking ship all by myself?
Seriously!!! I have two batches of cookie dough in the refrigerator beckoning me to finish them up, so I can put them on the blog. (Yep, no beautiful peppermint bedazzled confections on this blog! Sigh…sorry!)
I have buckets of guilt walking past the tiny withering poinsettia plants as they gasp for a drink of water! (How pathetic is it that I can't even find time to water three little plants?!) There's wrapping strewn all over the house looking for the gifts they're supposed to be partnered with! (There'd actually have to BE gifts to be partnered with…but let's not open THAT can of worms! Yes! I still have some shopping to do!)
The homemade friend and neighbor gifts…(Sorry… I just fell off my chair laughing. I'm back now!) The Christmas cards with the perfect family photo…(Oh just stop it now! Now we really are talking fantasy land with dancing fairies and sugar plums!) The list goes on and on…
How on earth does Santa do it all? Elves! I need me some elves!
Speaking of the "Big Guy" do ya think he gets a little tired of sugary sweet cookies and milk at every stop? Wouldn't he rather have a big ol' Italian Sub Sandwich loaded with tender hot roast beef, melted provolone, sautéed onions, sweet peppers, and mushrooms all piled high on a toasty hoagie bun with an ice-cold Dr. Pepper? (Work with me people. Work with me!)
So please forgive me for my lack of beautiful stunning Christmas cookies, Craft Projects, and Gift Ideas… and have the Santa at your North Pole take a look at these pictures and see if he doesn't agree with me! Cookies or Crock Pot Italian Sub Sandwich?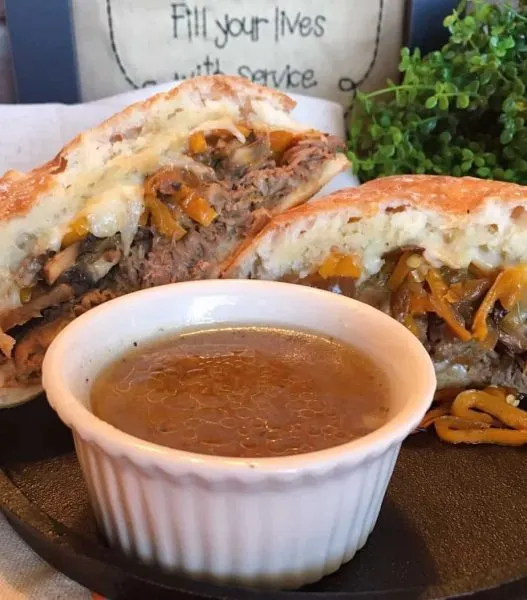 With everything you have going on you'll love this recipe too! I've been making it for years and without fail, it always receives accolades.
How To Make Slow Cooker Italian Beef Sub Sandwiches
In your handy-dandy crock pot place your cut up chuck roast, seasonings, beef broth and water.
Tip: I like to use the stew beef from Costco. It's already cut up into nice big chunks, and it's the same price as the whole roasts. Just a lot easier to work with. Half of that package, about 4-5 lbs, will make 6 – 8 sub sandwiches.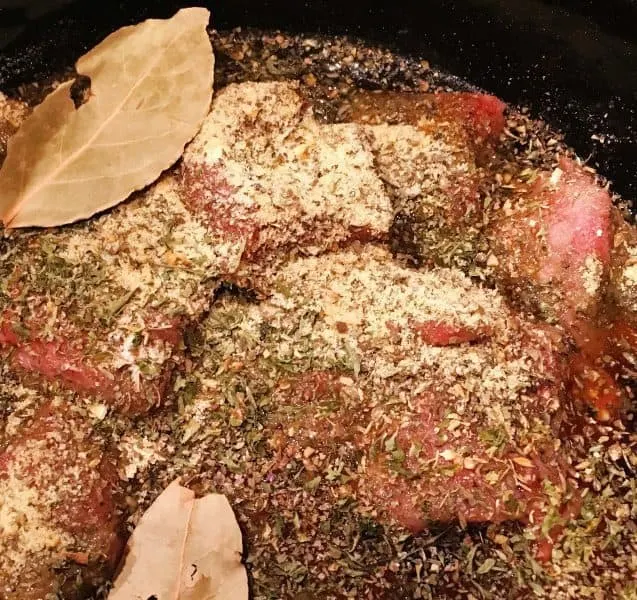 Cover, and cook on low for 8–10 hours, or on High for 4–5 hours. The house is going to smell heavenly with all those seasonings and beef!
You will barely have to shred the beef since you cut the meat into big chunks before cooking, but look at that amazing seasoned broth.
TIP: DO NOT GET RID OF THE JUICES! You will want this for dipping your sandwich in! Oh, Holy YUM! Best Au Jus EVER on the planet! (That's all I'm going to say about that!)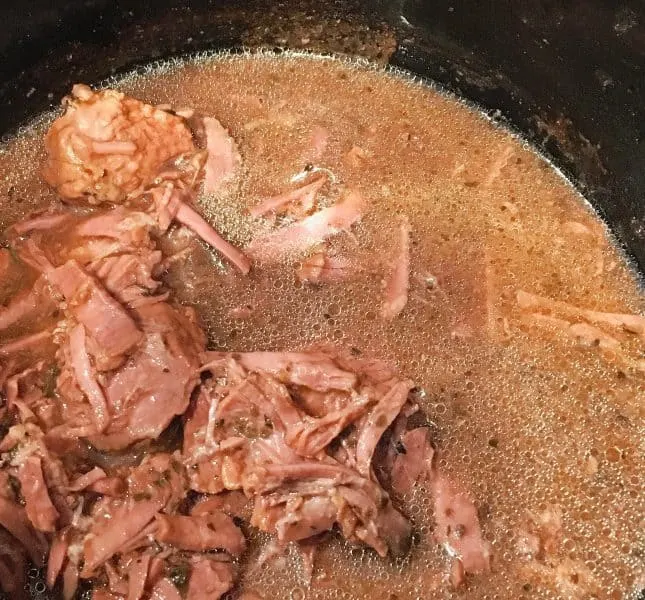 In a skillet, with a little olive oil, add your sliced onions, sweet peppers, and slice mushrooms… sautéed until everything is tender and beginning to caramelize.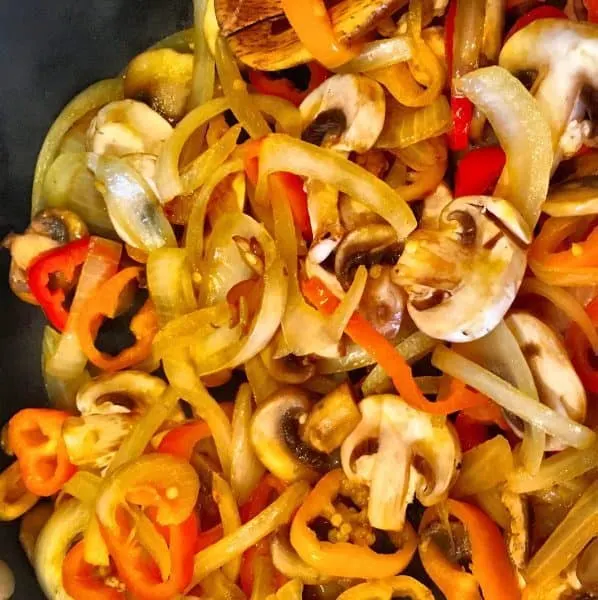 Slice six deli hoagie rolls in half, from end to end, do not cut through the back. (You don't want all the good stuff to fall out!)
Update: I used Ciabatta Rolls! The difference is AMAZING!
Brush the rolls, lightly, with olive oil and sprinkle with garlic salt. Place on a baking sheet and bake in a 350° oven until lightly toasted.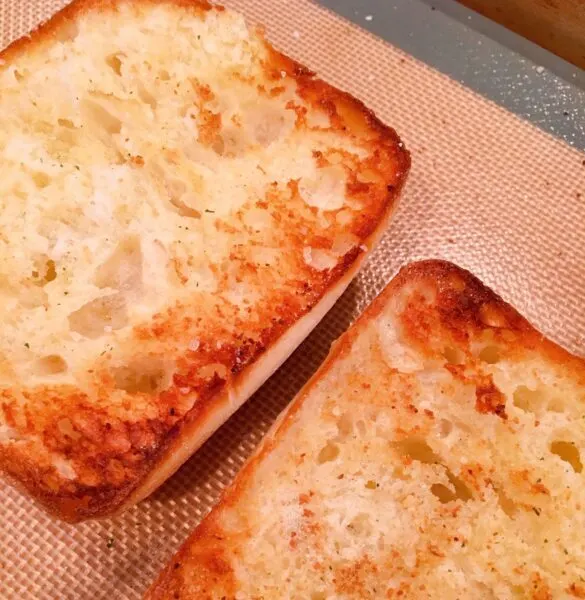 Once toasted, remove the hoagie rolls from the oven and place slices of provolone cheese on both halves. (My daughter was my hand model. Mainly cause she is always photo bombing my shots…this time she was actually helping. Yes, I love her wedding ring! Lol)
You can also use grated mozzarella cheese in place of the provolone. I like it even better, especially on the Ciabatta rolls! It kicks up the "cheese" factor big time!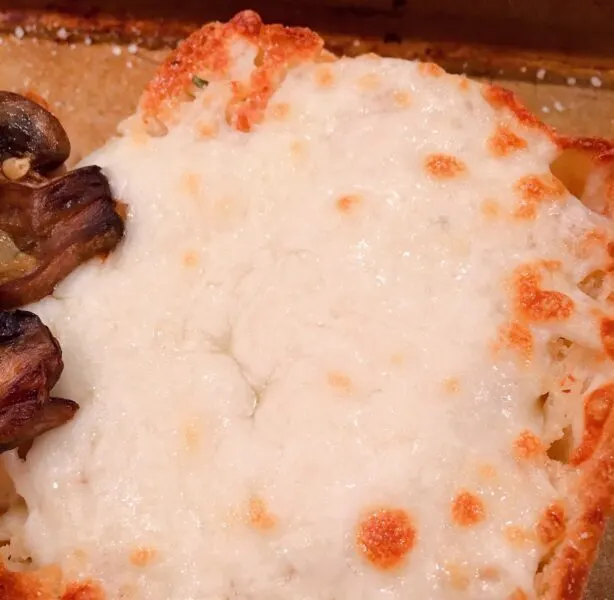 Pop the pan back into the oven until the cheese is melted and bubbly!
Using tongs, grab a hearty serving of the seasoned Italian Beef, allowing it to drain just a bit. Place the meat on top of the melted cheese hoagie roll. Top with sautéed onions, peppers, and mushrooms.
You'll notice some of ours have the sautéed veggies, and some don't! The picky eaters in the family don't like the veggies, however…in my humble opinion…they MAKE this sandwich! Truly kicks the flavors up a hundred-fold!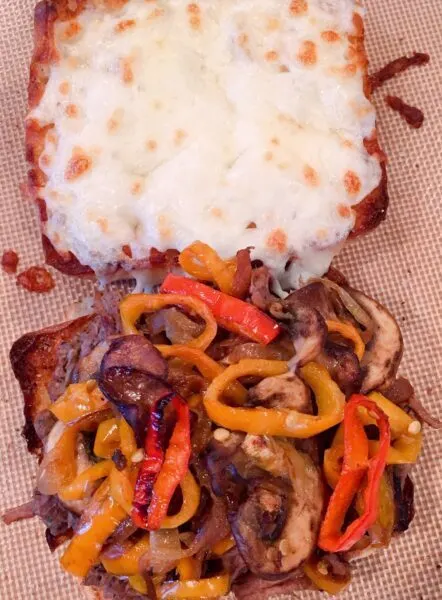 Serve the sandwiches hot with a side cup of Au Jus, with either chips or fries. I opted for seasoned fries, at this point…calories really don't count! Be sure you dip! Seriously this sandwich HAS to be dipped in that richly flavored beef broth! That toasted crunchy cheese bread will soak it all in and your mouth will think heaven has hit your taste buds!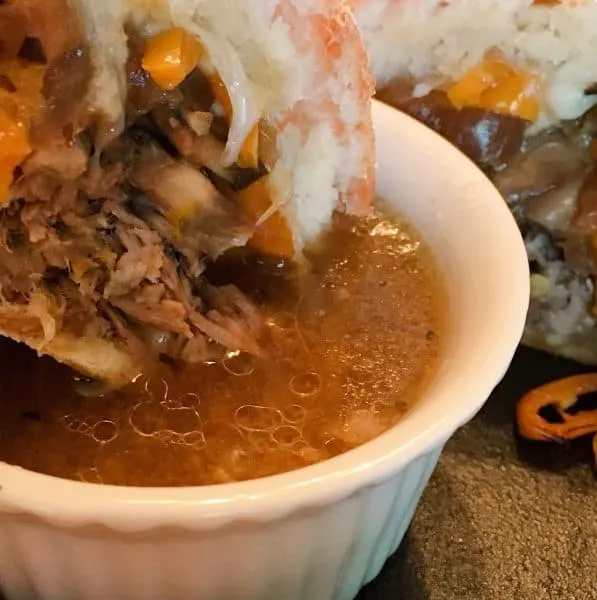 Look at all that delicious Italian flavored Beef! It truly is out of this world! I promise…make this recipe one time, and it will become a favorite! Hands down one of the BEST hot beef hoagie sandwiches you will ever have!
Perfect on a cold winter day! Even more perfect for this busy holiday time of year, when we are struggling to find ways to fit dinner into our overbooked schedules! If you are worried it will make too much…don't be. You can store the cooked beef and veggies in separate containers and reheat them to make more sandwiches.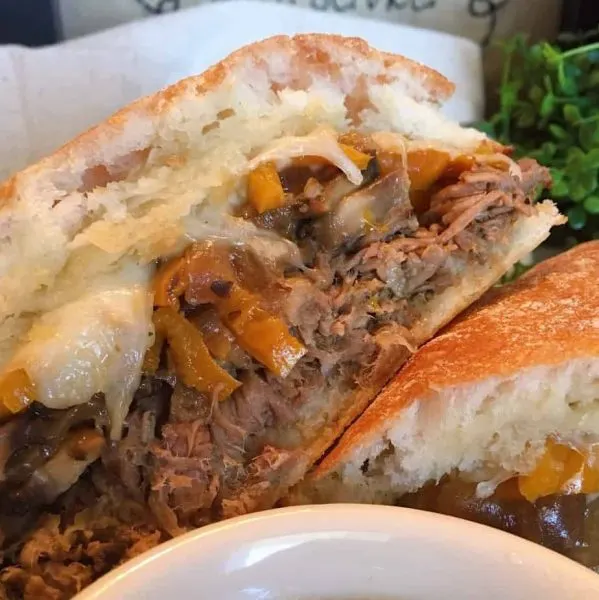 I hope the Santa at your "North Pole" loves this change of pace from cookies and milk. (wink-wink) Let me know how your elves likes this recipe! I'd love to hear back from you!
Have a GREAT day and don't let the Christmas load weigh you down! I think we all need to step back, take a deep breath, and remember what this time of year is really all about! 😉 I know I do!
Other Great Easy Meal Recipes for the Slow Cooker and Stove Top
Happy Nesting!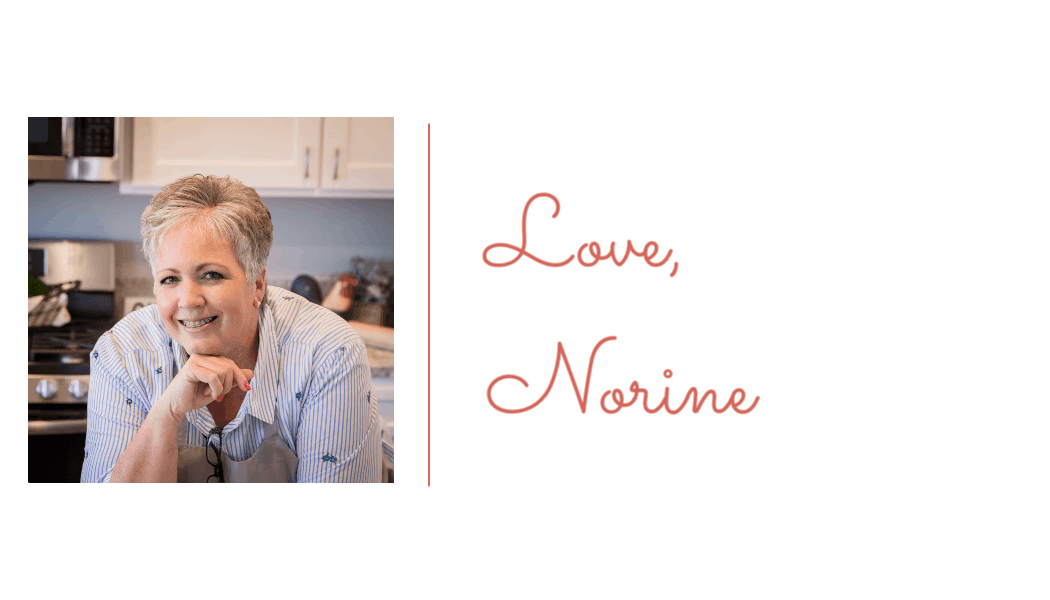 Yield: 6-8 servings
Crock Pot Italian Sub Sandwiches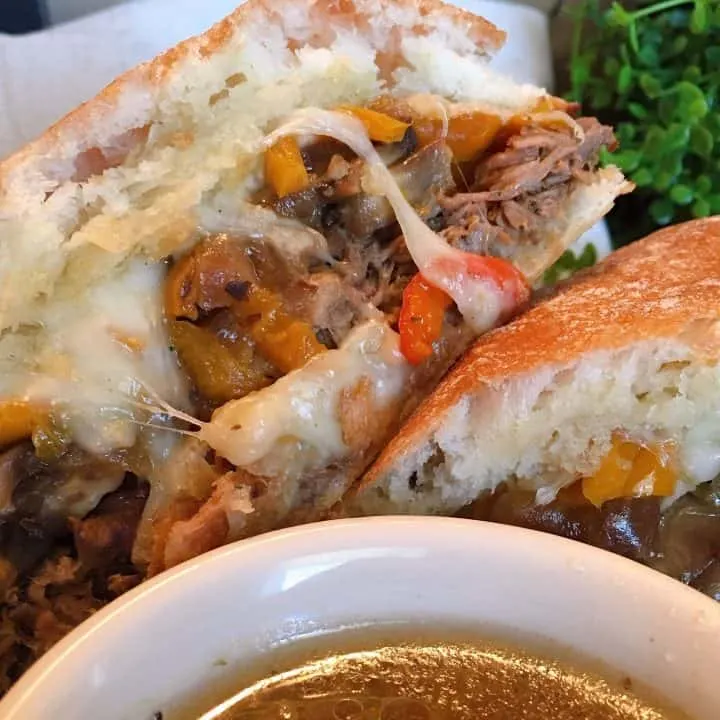 Chuck roast is slow cooked with Italian seasonings to create one of the BEST hot roast beef sandwiches ever made!
Total Time
10 hours
15 minutes
Ingredients
1 cup water
2 cups beef broth
1 teaspoon salt
1 teaspoon coarse ground black pepper
1 teaspoon oregano
1 teaspoon dried basil
1 teaspoon onion salt
1 teaspoon dried parsley
1 teaspoon garlic powder
1 bay leaf
1 Tablespoon dry Italian-style salad dressing mix
1 (5 pound) chuck roast cut into 2 inch cubes
1 medium onion sliced thin
4-5 small sweet peppers
2 cups sliced mushrooms
olive oil for cooking
6-8 hoagie rolls
6-8 slices of provolone cheese
Instructions
Place roast in slow cooker. Add water, beef broth, and seasonings.
Cover, and cook on low for 8-10 hours, or on High for 4-5 hours. When done remove bay leaf, and shred meat with a fork. Cover to keep warm.
In a large skillet with olive oil saute onion, mushrooms, and sweet peppers until tender.
Cut your hoagie rolls in half length wise, making sure not to cut through the back of the bun. Brush with olive oil and sprinkle with garlic salt. Place on a baking sheet. Bake in a 350 degree oven until lightly toasted.
Remove buns from oven. Add provolone cheese to both halves of the bun. Replace in oven and bake until cheese is melted and bubbly.
Remove hoagie rolls from the oven. Using tongs, grab a healthy serving of the Italian cooked beef allowing it to slightly drain.
Place beef on the bun, top with sauteed veggies and serve with beef broth for dipping.
Recommended Products
As an Amazon Associate and member of other affiliate programs, I earn from qualifying purchases.
Nutrition Information:
Yield:
8 servings
Serving Size:
1 sandwich
Amount Per Serving:
Calories:

272
Total Fat:

15g
Saturated Fat:

7g
Trans Fat:

0g
Unsaturated Fat:

7g
Cholesterol:

41mg
Sodium:

1277mg
Carbohydrates:

18g
Fiber:

3g
Sugar:

6g
Protein:

17g