Just 4 ingredients and your slow cooker create these amazing rich Slow Cooker Chocolate Peanut Clusters.
When I was kid my favorite candy bar was a "Mr. Goodbar". I loved the delicious combination of creamy rich chocolate and crunchy peanuts. It's still my favorite chocolate candy.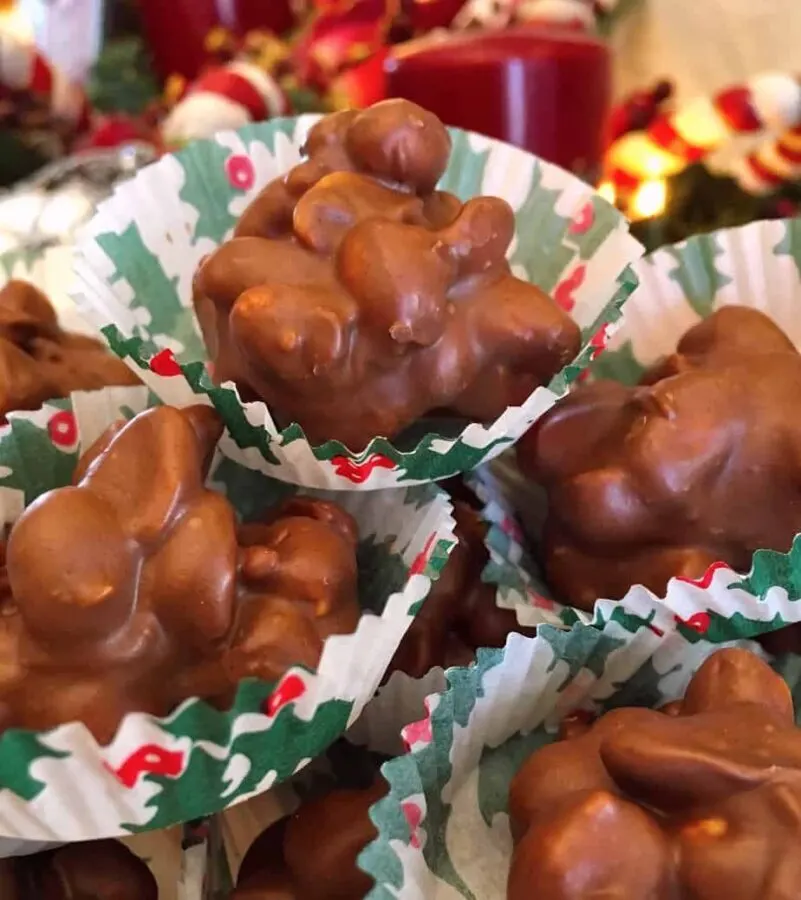 A few years ago I found Trisha Yearwood's recipe for Slow Cooker Candy. Genius… I couldn't wait to try it.
It was incredible and the peanut clusters were so Fantastic. How Fantastic? Well… the "Fam" blew through the first batch so fast, I had to make a second batch. (I. HAD. TO! This was a "need" my friends. Let's be perfectly clear here…chocolate IS a NEED! You can't imagine how many lives a small bite of chocolate has saved at this Nest!)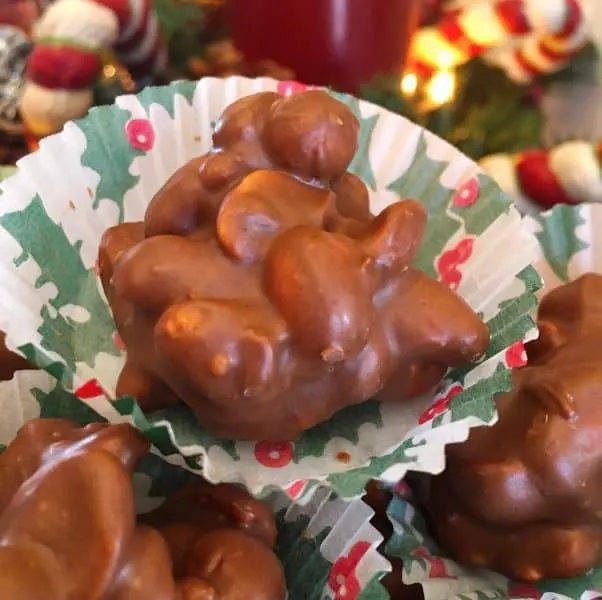 Well fast-forward to the following year… My old Crock Pot had died a slow painful death during the year…painful for me…slow for it… because…well…it was a "sloooow cooker"! (I had to go there…sorry!).
My New Crock Pot… Grrrrr!!! Yep burned the entire batch of peanut clusters…even on the "warm" setting. I thought maybe it was because it wasn't an original "Crock Pot" brand slow cooker? So bought a new "Crock Pot" brand. Same thing on low. Double "Grrrrrrrrr!"
I was done! Peanuts and chocolate are expensive! I wasn't about to blow any more money on burnt candy.
Then I decided this year I would give it one more try.
It worked!!! I had to make a few changes to the original recipe, but it works. So, I'm sharing the new "updated" Slow Cooker Candy Recipe for all of you who have one of those new slow cookers that don't know the meaning of "low". (Nothing more annoying than an overachieving Crock Pot! Lol)
How To Make Slow Cooker Peanut Clusters
In the bottom of your slow cooker place 2 lbs of dry roasted salted peanuts. Add one 4 oz. German Chocolate baking bar, broken into pieces.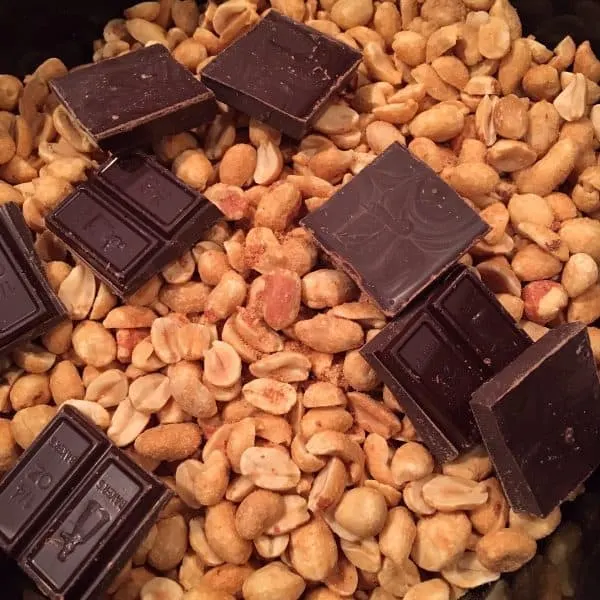 Next add a layer of Semi-Sweet Chocolate on top of the nuts. Top that with a one 24 oz. package of White Almond Bark. (I just used the Walmart brand. No need for fancy.)
Turn your crock pot on to the warm or low setting, depending on which you have.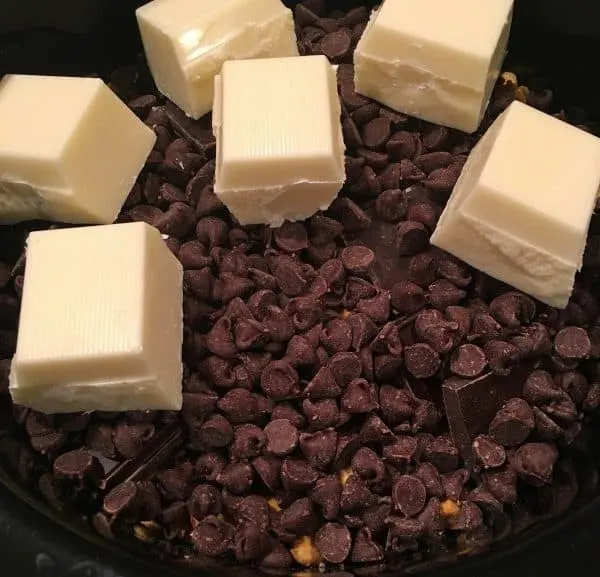 The original recipe calls for THREE HOURS of cook time. DO NOT DO THAT!!!!
Check the slow cooker after 20 minutes. If the almond bark is staring to melt, give it a good stir. Yep…I know that the original recipe tells you NOT to do that. I'm breaking the rules. Stir…stir…stir.
Cover and allow to cook for another 10 minutes. Check and stir. Do this until the chocolate has completely melted. About 35 – 45 minutes. It should be a nice and creamy texture with all the peanuts coated in that exceptional chocolaty goodness!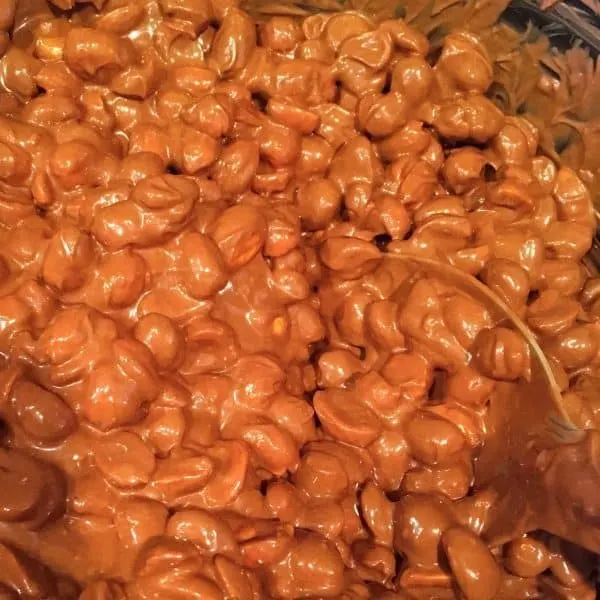 Why do I love this recipe?
One reason is the perfect ratio of chocolate to peanuts. (I may have failed Algebra…but I know my chocolate to anything equations! Bet your fanny I do!) When you go to drop the clusters onto the parchment paper… you don't end up with puddles of chocolate. Just beautiful nutty clusters. (Warren Buffet is going to let me take over See's candy for him…lol)
Use two teaspoons… one to scoop out the melted chocolate covered peanuts, and the other to push it off into your mouth onto a parchment paper lined table-top.
TIP: Cover a large area with Parchment Paper! This recipe makes a LOT of candy!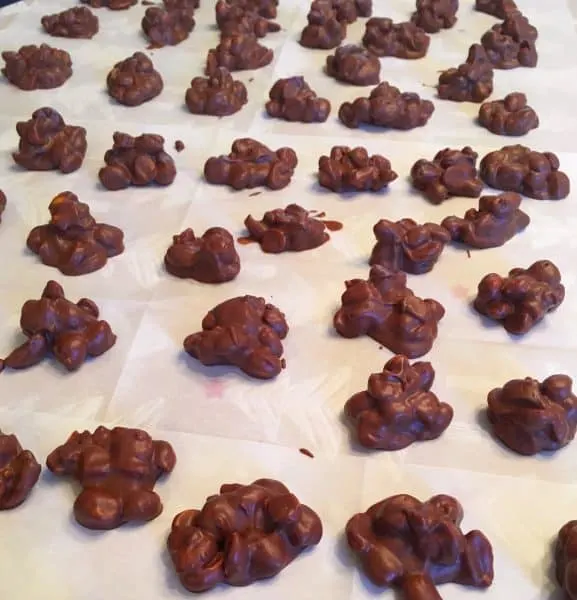 Allow to set up. Depending on the temperature of your home, it could take about 60–90 minutes. (Mine set up in .05 seconds cause it's colder than an updraft in an Alaskan outhouse at this Nest!)
I will admit… The Episode of "I love Lucy" in the candy factory was going through my head… and all I wanted to do was shove all these lovely candies into my mouth! I refrained…for a little while. (Hey! Someone has to be in charge of "quality control"!)
Look at these gems of "Yum" and joy! Seriously…PERFECT! The triple chocolate combination creates a creamy rich chocolate coating, and the nuts have the perfect amount of salt and crunch!
This recipe makes a 100 plus nut clusters! Plenty to give away to friends and family. (If you're the "giving" sort when it comes to chocolate!)
Other amazing Holiday Treat Recipes you might enjoy!
Stay tuned… I have more Yum heading to the blog this week! It's kind of a crazy week for me, but I still have lots of delicious holiday recipes heading your way.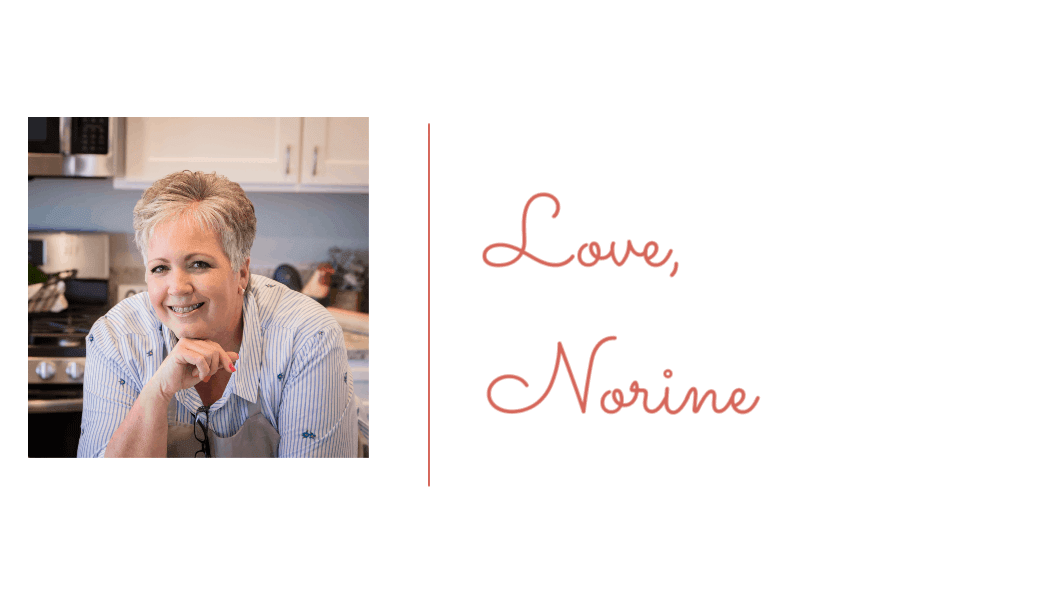 Yield: 100+ clusters
Crock Pot Peanut Clusters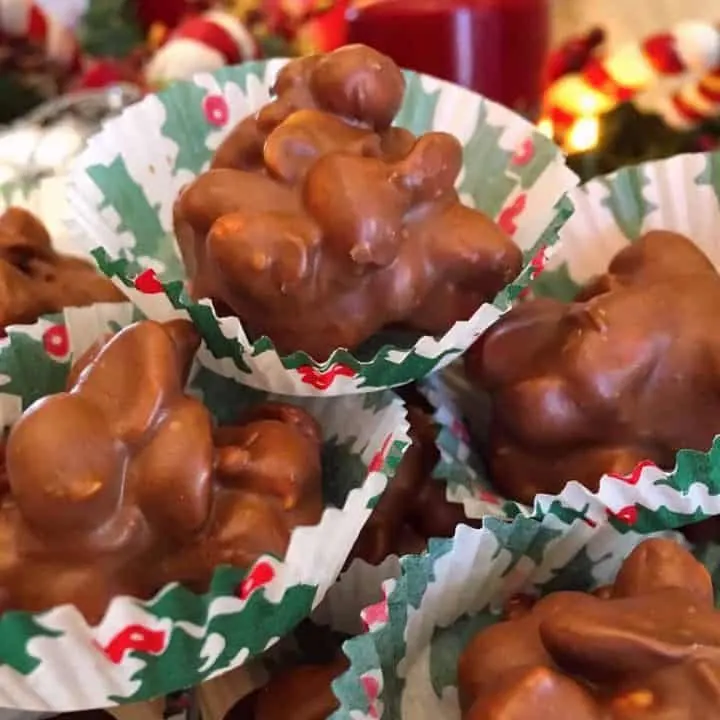 Just 4 ingredients and your slow cooker create these amazing rich chocolate peanut clusters.
Ingredients
2 lbs Dry Roasted Salted Peanuts
1 - 4oz. bar of German Chocolate Baking Bar, broken into pieces
1 3/4 cups of semi-sweet chocolate chips
1 - 24 oz. Almond Bark
Instructions
Place 2 lbs of Dry Roasted Salted Peanuts in the bottom of your slow cooker.
Layer on top peanuts, 4 oz. of broken German Chocolate Baking Bar and 1 3/4 cup of semi-sweet chocolate chips.
Break Almond Bark into large squares. Place on top of other chocolate.
Set Slow Cooker to "low" or "warm". Cover with lid.
Set timer for 20 minutes. Check Candy to see if Almond Bark edges are melting. If so give the candy a good stir. (If not replace the lid and check again in 10 minutes.)
Cover with lid and check in another 10 minutes. Stir again. Continue to check and stir until chocolate is completely melted and peanuts are covered. Should take 40-50 minutes.
Line a table with parchment or wax paper.
Using two teaspoons,take a heaping scoop and using the other spoon, push the chocolate cluster off the first spoon and onto the parchment paper.
Continue until all clusters have been made.
Allow to cool until set. Place in the candy wrapper cups. Store in an air tight container until ready to serve or give as gifts.
Recommended Products
As an Amazon Associate and member of other affiliate programs, I earn from qualifying purchases.
Nutrition Information:
Yield:
100
Serving Size:
2 clusters
Amount Per Serving:
Calories:

61
Total Fat:

5g
Saturated Fat:

1g
Trans Fat:

0g
Unsaturated Fat:

4g
Cholesterol:

0mg
Sodium:

35mg
Carbohydrates:

4g
Fiber:

1g
Sugar:

3g
Protein:

2g