Whose ready for summer?! I know I am! Which is one reason I was so excited to do this fairy beach lantern! Isn't it cute?! I love when I have a vision and it actually turns out! Whew! …
*As an Amazon Associate I earn from qualifying purchases. This post may contain affiliate links, which means that I may make a commission from any purchases at no additional cost to you. Thank you for your support!
A few weeks ago I found this darling lantern! I grabbed it up as fast as I could! Isn't it cool?! (Sorry, I'm a child of the 70's, you will have to deal with the word "cool", and the fact that you have just realized, ugh, how old I am!) When our daughter got married and moved out, I knew exactly what I wanted to do in her old room! I wanted a guest room with a beach cottage theme! A place that made my guests feel like they really were on a vacation! Granted there isn't a beach around for miles and miles but, if you shut the door, you're in pretend paradise! Pretend paradise is almost as good…Right? So, what could be more perfect than a small mini private beach in a lantern? What I love most about this fairy garden is that there are no live plants, no watering, and it's indoors to be enjoyed year round!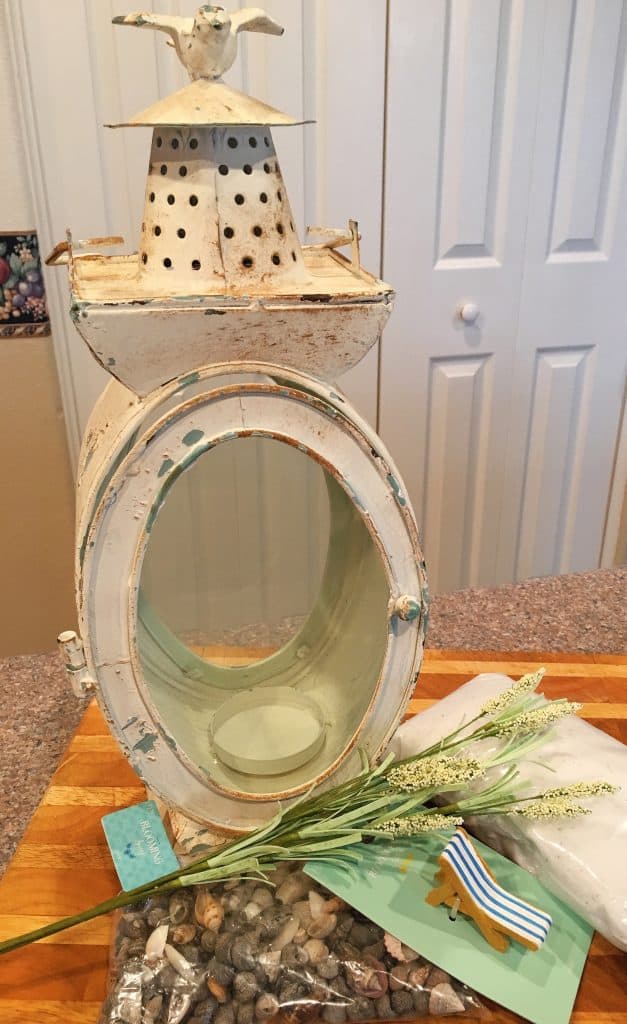 The supplies for this project are minimal and simple to find! I found most of my supplies at Jo-Ann's Fabrics & Crafts. Listed below are the items you will need but, please keep in mind that this is YOUR fairy garden and you can do whatever you want inside your lantern. Maybe you want a "tea garden" or a "backyard BBQ?" The themes are endless.
List of supplies:
1 Lantern with a door that opens
Tiny sea shells
1 Bag white sand
4-5 Smooth mini rocks
1 Mini chase lounge chair
1 Flower/greenery pick
Clear packing tape
Wire cutters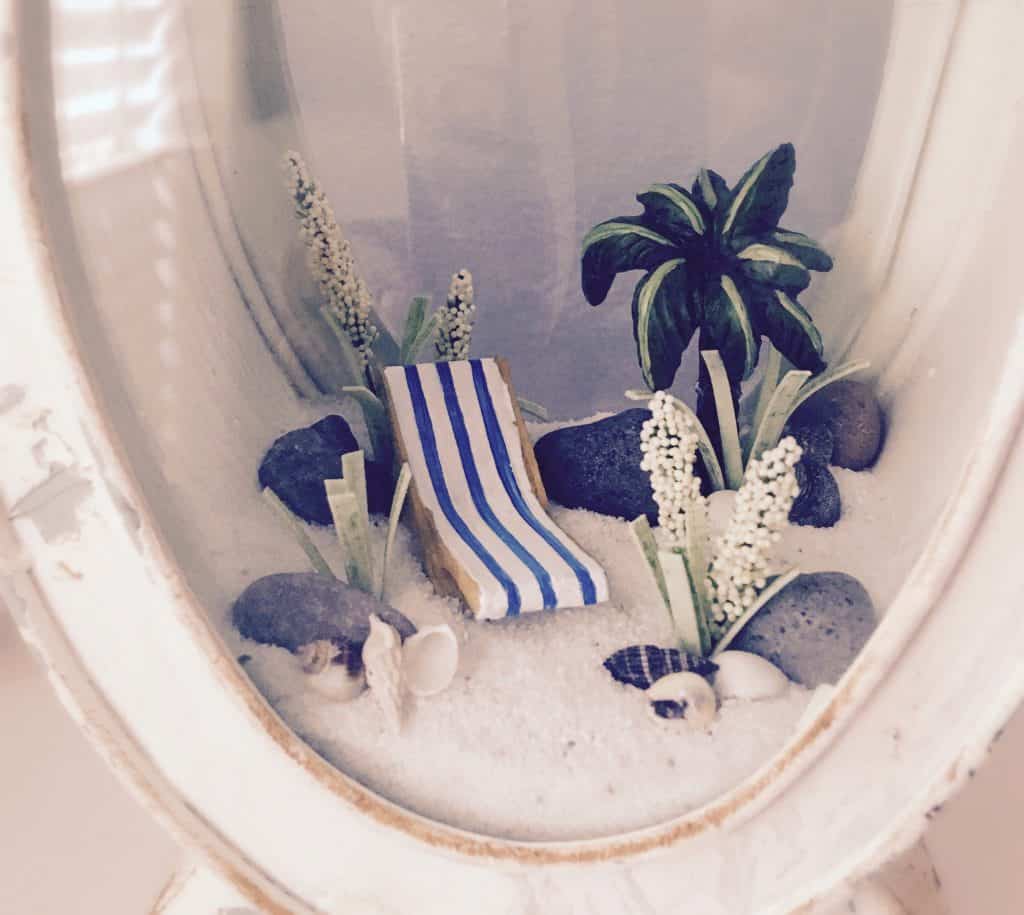 The first step is to clean the glass inside and out. Next take a piece of clear packing tape and on the inside of the lantern, with the door open, place the clear tape straight across the opening of the lantern. This will prevent your sand from spilling over the edge. You will need to go higher than the edge of the inside of the lantern. This is so you cover up the candle holder. Make sure it is sticking well around the oval edges of the opening. (Don't worry about the tape that is hanging over the outside edges. We'll take care of that later!) Now you have created a barrier to hold in the sand and it won't be seen. You can't see it in mine can you? (Fingers crossed!)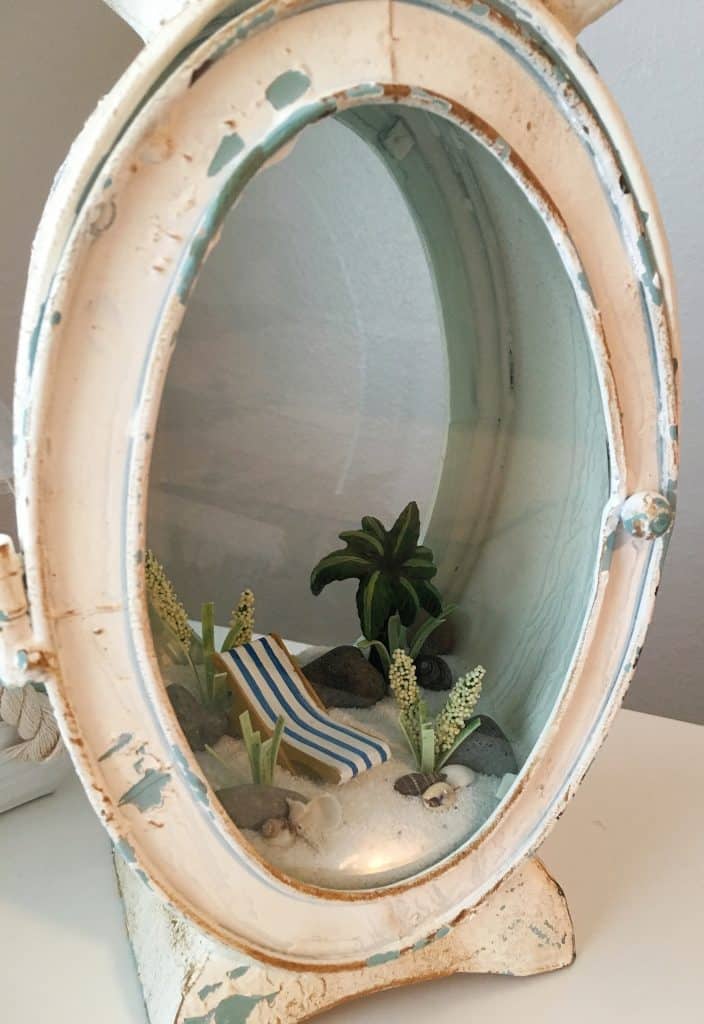 Place the sand on the bottom of the lantern. Make sure you cover up the candle holder, if there is one. Don't worry about smoothing the sand out. It's the beach! Next, using wire cutters, pull apart your greenery and cut the wires as short as you can. Push your plants into the sand. Next place your miniature fairy pieces, like the chase lounge. Time for more landscaping . (Isn't this fun!) Now, place the rocks and shells around your plants. Once you have everything the way you want it, stop and longingly gaze at your tropical paradise! Picture yourself sitting on the chase lounge, big floppy hat,sun glasses, the smell of coconut beach oil, with an exotic drink! Sigh!… Okay, now shut the door to the lantern. It's back to reality! With a sharp knife carefully trim off the excess tape. You're done!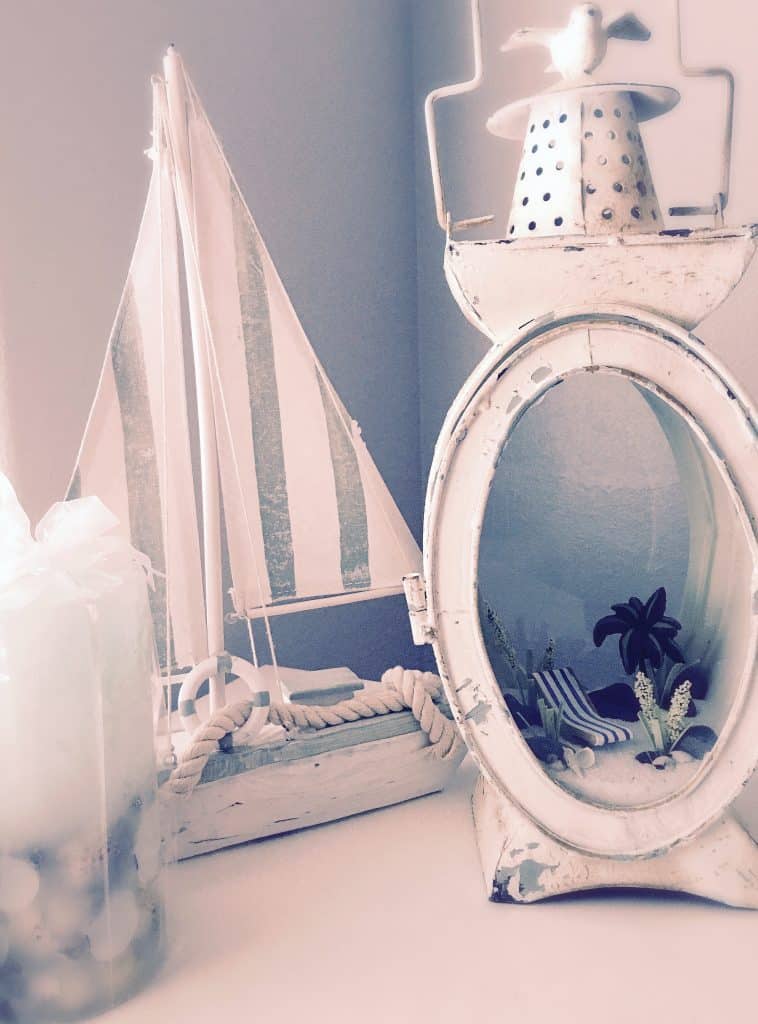 Now you have a beautiful tropical paradise to escape to whenever you want! If I was a young mother I'd grab that thing, hide in the bathroom, clutch it to my chest and chant "There's no place like paradise, there's no place like paradise!" I'm pretty sure it would have saved my sanity a time or two! I hope you'll make a lantern garden! If you do please take photos and post them in the comments. I would love to escape to your mini world!