Easy Slow Cooker Creamy Chicken and Wild Rice Soup is the perfect "Fall" soup! Loaded with the seasonings and flavors of Autumn!
I'm pretty particular about my soups! I'm not a huge lover of "broth" soups. I am however, a huge lover of cream soups and chowders! (This could be what led to me being a weight watcher "flunky"! Well…that and my love of desserts! I digress…sorry!)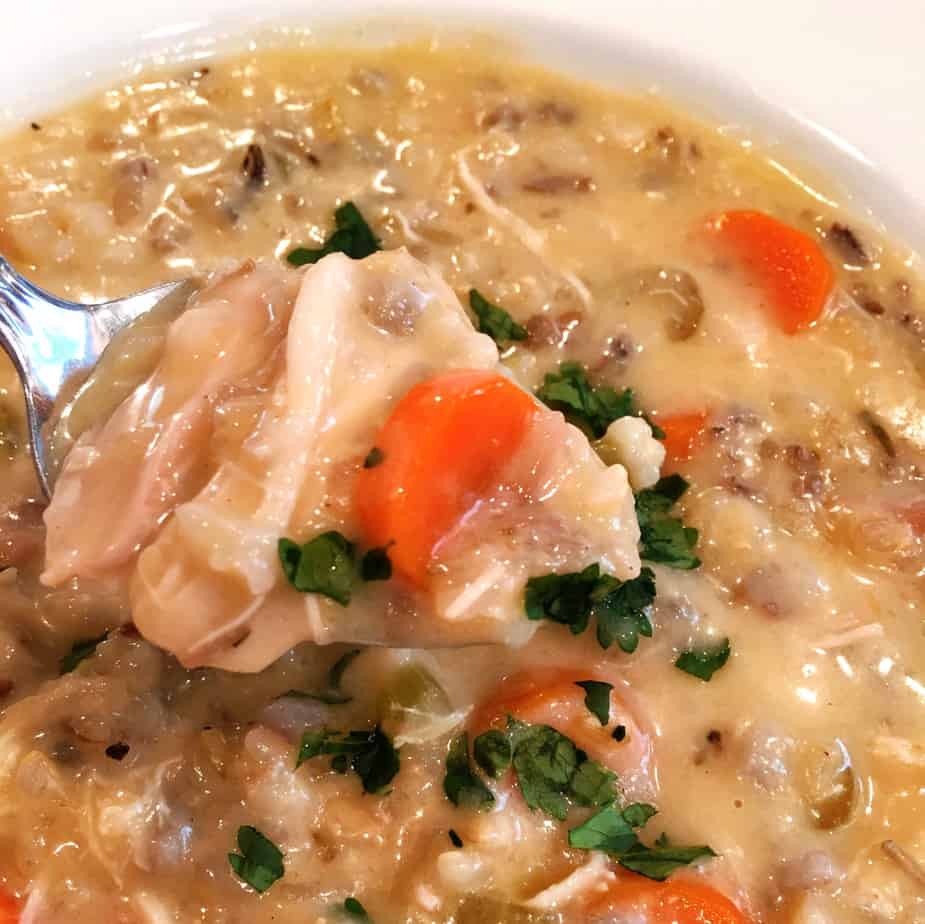 I truly love creamy rich soups that are full of warm and inviting comforting flavors. Chicken and Wild Rice is one such combination! I've seen a lot of pins lately for chicken and wild rice soup recipes.
They all look wonderful! The only problem, and it's a teeny-tiny little personal issue, is that almost all of them have a lot of steps! When it comes to soup…I'm a "dump it and leave it" kind of girl!
Since I'm "soup lazy" I decided to come up with my own Crock Pot version of Creamy Chicken and Wild Rice Soup! This soup is AMAZING!!! (If I do say so myself and… I kind of am!)
It's every magnificent adjective you can think of, and then some, to describe a bowl of soup! You are going to absolutely love how easy this soup goes together and how outstandingly good it is! Not to mention you could go mad with the smells that fill your house while it's cooking!
How To Make Creamy Chicken and Wild Rice Soup
First up is the wild rice … I love Lundberg wild rice blend. It's so nutty and full flavored. I used 3/4 cup of wild rice blend. Rinse and drain. Place the wild rice in your crock pot and turn the heat to low. (Isn't that beautiful wild rice? I'm seriously in love with this blend!)
TIP: Rinsing rice removes excess starch on the outside of the grains which allows for a fluffier rice that doesn't stick together!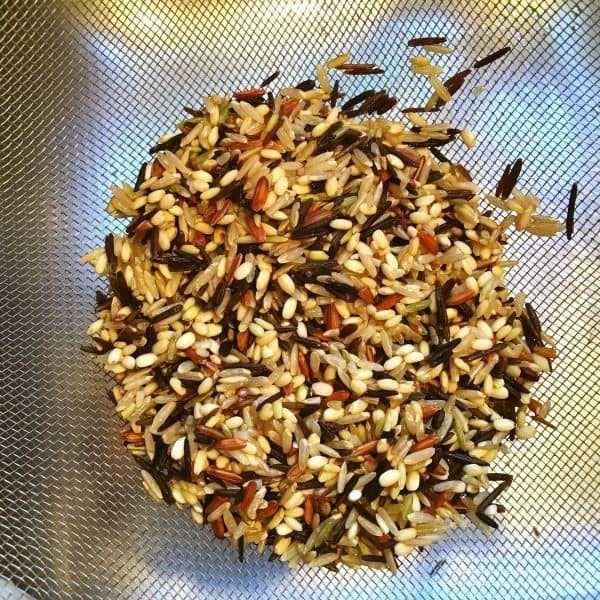 In the crock pot add 1- 14.5 oz. can chicken broth, add 2 cans cream of chicken soup, 3 cups of water, and 1/2 cup white cooking wine. (I'm secretly a lush…it was bound to come out sooner or later!) 2 large carrots, peeled and sliced. 3 stalks of celery, washed and sliced. 1/2 cup diced white onion OR 1/8 cup dried onions. (I used dried onion flakes cause… this is lazy soup!)
(If you are a professional chef making this please have someone who can give you C.P.R. standing near by…you're gonna need it! Cooking wine AND dried onion flakes… I know…OUCH! lol) Let's spice things up! 1/8 tsp dried ground sage, 1/8 tsp ground thyme, 1/4 tsp. rosemary, 1/4 tsp cracked black pepper.
Lastly, 2 cloves diced garlic! Stir it all together in the crock pot, cover, and cook on low for 4 hours. Stir occasionally. After 4 hours add in 2 cups of roasted white chicken breast. Allow to cook for another 2 hours.
Okay right about now you are saying "Hey! Stop the presses! This was supposed to be an easy recipe and now you are telling me you want me to add "roasted chicken"? Like that is easy to whip up!" (Okay…hold on to your crock pots! You know me better than that!)
Story time "Tip"… Last week I was in Wally World, because… I LIVE there part-time, and I noticed that they had their roasted rotisserie chickens on sell for $3.38 each! Whooooa Nellie! Well, I never pass up a deal on meat…especially when it's pre-cooked!
So, I bought three, brought them home, and took all the meat off those lovely little birds! This is what I used for my soup. (I also made chicken salad and a chicken casserole! Three meals with leftovers! Hooray Me!)
However, you can cook boneless skinless breasts, cut those up and use them, or you can even dice them up raw throw them in at the beginning of the cooking process. Which ever is easiest for you and what you have on hand.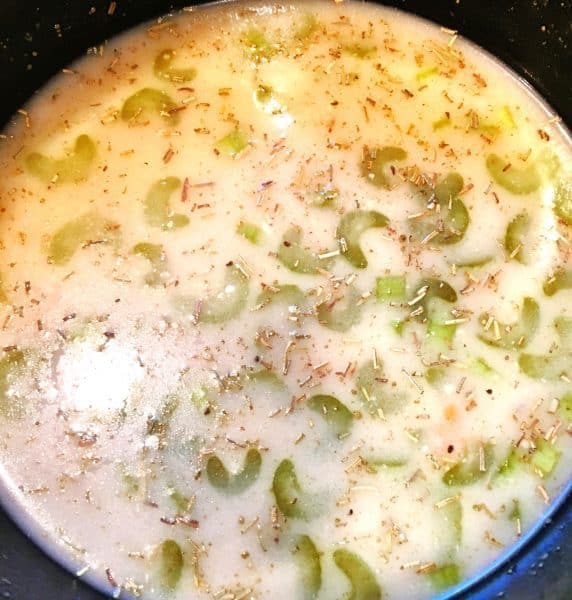 After your soup has cooked the additional 2 hours it's ready to serve! I added a little chopped parsley for color but, you don't have to. (I was honing in my food prep skills for food photographer of the year! lol)
This soup is rich, thick, and creamy! It's packed with flavors from the onions, celery, garlic, carrots and seasonings. The texture is wonderful with the hearty wild rice blend. The roasted chicken added a nice depth of flavor and was so moist. I didn't add any salt and it was perfect!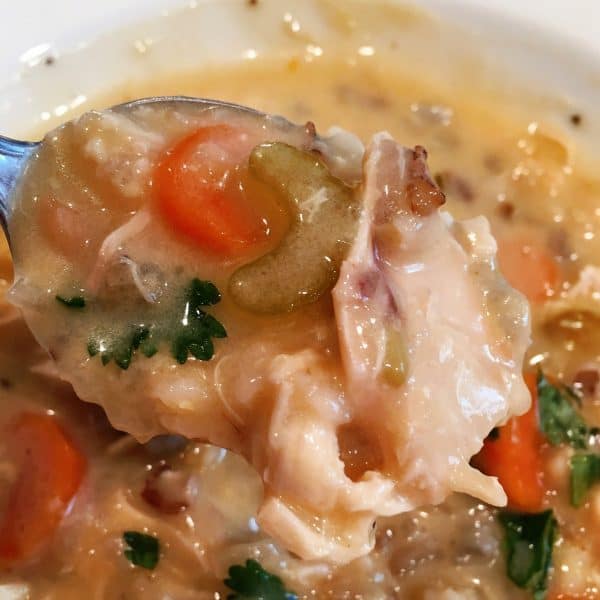 This is seriously my new "go-to" soup recipe for this Fall and Winter. Creamy Chicken and Wild Rice Soup!
I could eat it every day and I'm not normally an "everyday" kind of soup eating gal! Mars proclaimed it one of the best soups I have ever made!
It lives up to my requirement of "dump and go" soup, but it tastes like you spent hours over a hot stove preparing it! It's the perfect dinner for those crisp cold Autumn nights. I served this with a beautiful tossed green salad and some crusty French bread! Delicious and simple. Just how I like it! Especially after a day of canning!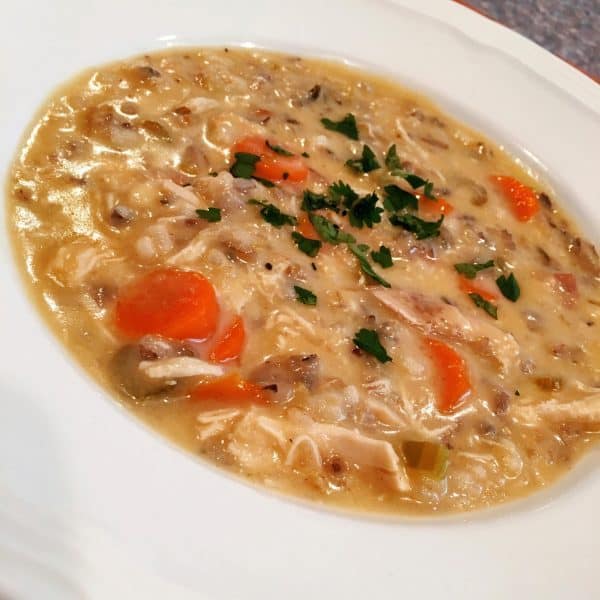 With all the wonderful college football games going on this weekend this would be the perfect meal! Let the crock pot do the cooking for y'all! Have a big heaping bowl full on me. Enjoy your weekend!
Here are some of my other Favorite Soup Recipes
I'm including the free printable recipe below! Thanks so much for stopping by my Nest! Please feel free to email me or comment below with any questions. I'll do my best to get back to you in a jiffy!
Happy Nesting!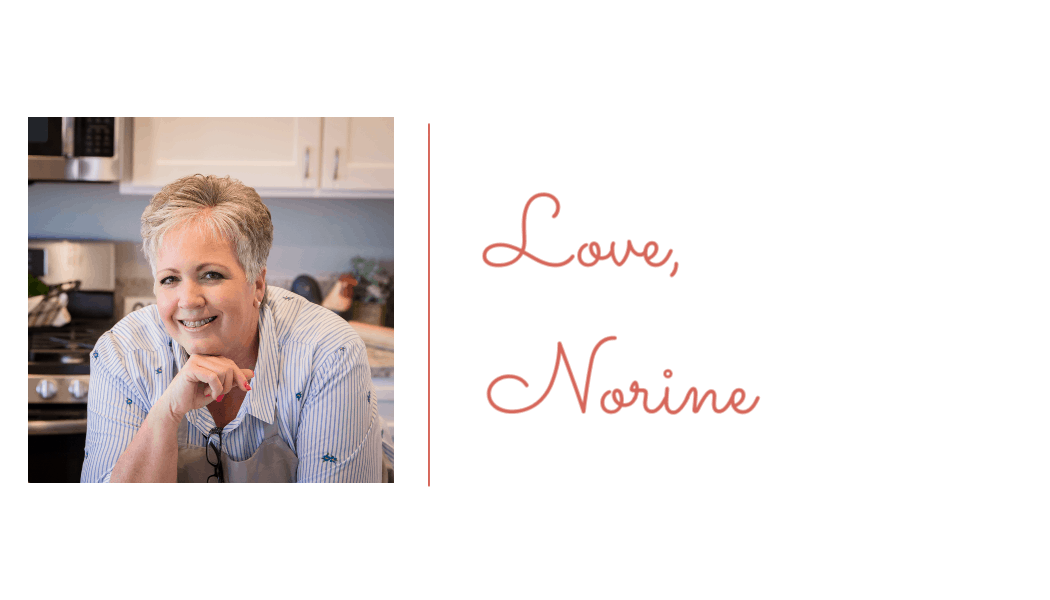 Yield: 6-8 servings
Creamy Chicken and Wild Rice Soup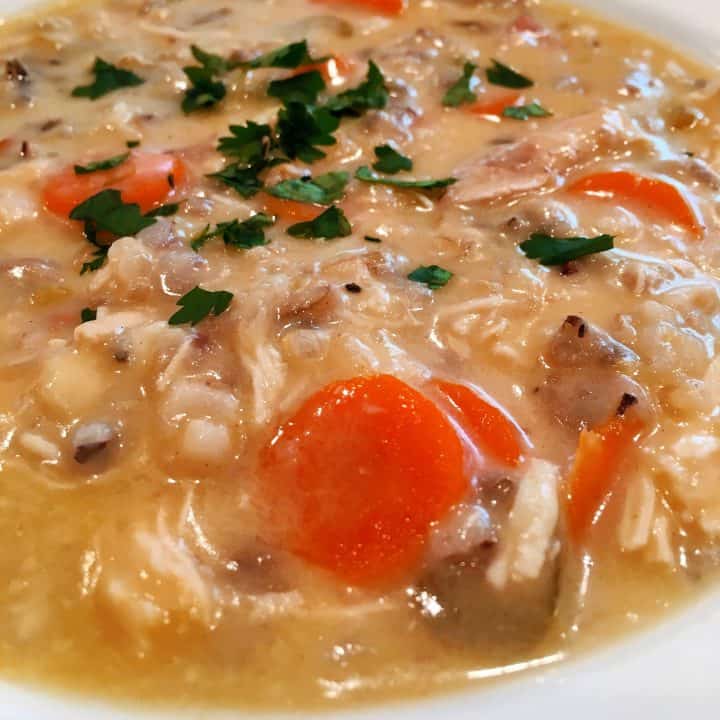 A delicious, easy, thick and hearty soup made with roasted chicken, wild rice, carrots, celery and rich flavorful creamy base! It's all made in the crock pot and perfect on a cold day!
Total Time
6 hours
10 minutes
Ingredients
1- 14.5 oz can chicken broth
3/4 cup wild rice blend
2 cans cream of chicken soup
3 cups water
1/2 cup white cooking wine
2 large carrots, peeled and sliced
3 stalks celery, washed and sliced
1/2 cup diced onion OR 1/8 cup dried onion flakes
1/8 tsp ground sage
1/8 tsp thyme
1/4 tsp ground rosemary
1/4 tsp cracked black pepper
2 cloves garlic, diced
2 cups shredded roasted chicken breast
Instructions
Rinse and drain your wild rice. Place all the ingredients with the exception of the chicken into your crock pot. Cook on low heat for 4 hours, stirring occasionally. Add in 2 cups of shredded chicken and cook for an additional 2 hours.
Serve with chopped parsley on top if desired.
Notes
You can use raw boneless skinless chicken breast instead of the roasted cooked chicken. If so, place raw chicken in at the beginning of the cook time and cook for the entire 6 hours.
Recommended Products
As an Amazon Associate and member of other affiliate programs, I earn from qualifying purchases.
Nutrition Information:
Yield:
8 servings
Serving Size:
1 1/2 cups
Amount Per Serving:
Calories:

180
Total Fat:

6g
Saturated Fat:

2g
Trans Fat:

0g
Unsaturated Fat:

3g
Cholesterol:

37mg
Sodium:

809mg
Carbohydrates:

14g
Fiber:

1g
Sugar:

2g
Protein:

14g