Fresh Homemade Salsa made with diced tomatoes, fresh chopped peppers, green onions, cilantro, and seasonings. They combine to create this fabulous mild salsa! It's so good you'll want to eat it with a spoon and skip the chips!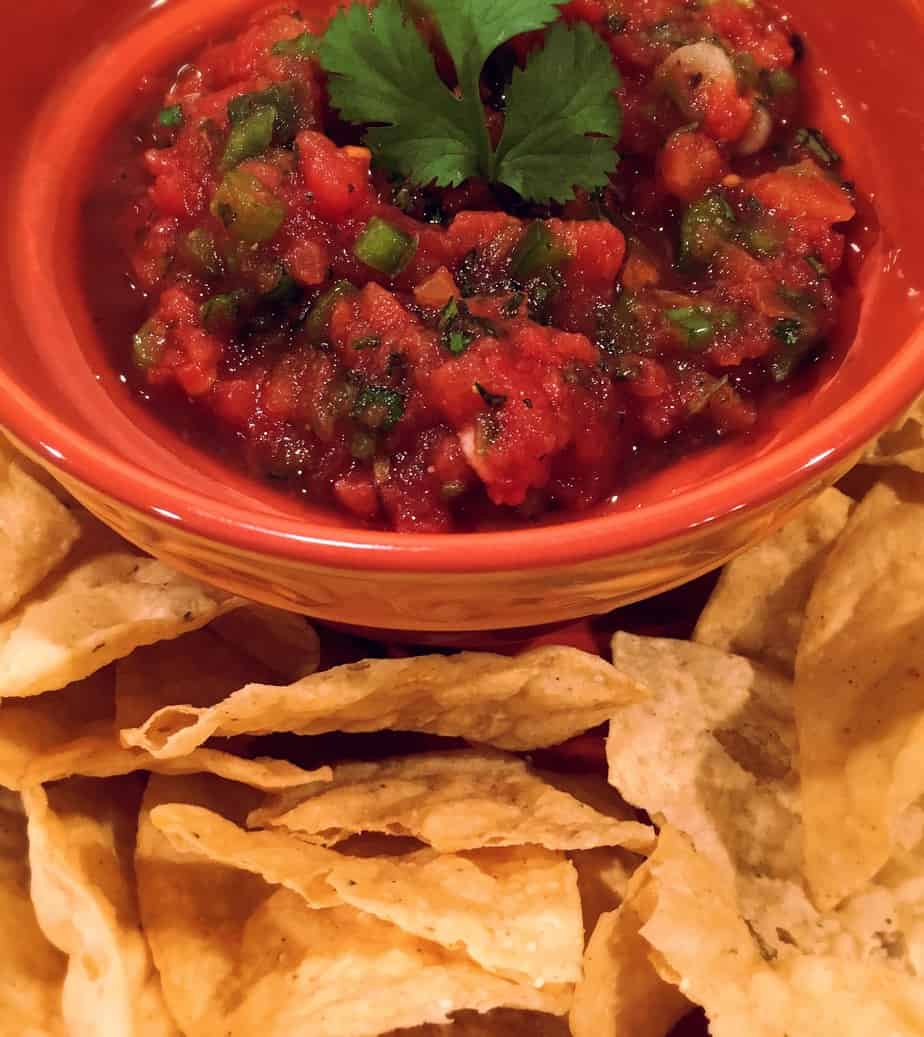 This is big folks! BIG! I'm going to share my "top secret" Fresh Salsa recipe! I learned to make this salsa from my "bestie", my Aunt Janie.
Well… I thought I did?! One day she was over visiting and I was whipping up a batch of "her" salsa, I told her I was making her recipe! She laughed and said "Oh, it's great salsa but, this isn't my recipe! I've never made my salsa like this!
" SAY WHAT?!! Shut the front door and color me purple! I turned to her and said, What are you talking about?! I've watched you make this salsa a hundred times and this is EXACTLY how you make it! She laughed again and said "Nor, this isn't how I make my salsa!"
Hmmm! Maybe she did share "her" recipe with me that day but, if she did I don't remember, and honestly as far as I'm concerned… this is HER salsa and I make it perfectly! Ha! Oh boy! I can hear her now giggling up above and shaking her head…
Fresh Salsa vs. Canned
So, let's discuss the differences between "fresh" salsa and "canned" salsa.
Fresh is made with, well… fresh ingredients and has a limited "shelf life." It has to be kept in the refrigerator. It's ingredients are crunchy because they haven't been cooked and processed.
Canned Salsa has been cooked and processed. It remains canned, and on your shelf, until you open it and use it. It's ingredients are soft, not crunchy.
Let me be clear, for the record, I love all types of salsa! However, if you want to know my favorite, it's Fresh! I love the crunch of the peppers and onions. I love the burst of fresh flavors! I love the smell of the cilantro, tomatoes and spices all blending together to create the perfect salsa. Yum! Trust me when I say, this is one delicious salsa recipe!
How To Make Fresh Salsa
Drain 2 cans petite cut tomatoes. Place in a food processor and blend for 15-20 seconds. Just enough so they are no longer in chunks. Place the processed tomatoes in a large bowl reserving 1/4 cup in the food processor.
Add 1/2 a slice canned jalapeno, with seeds removed, to the tomatoes left in the food processor. Blend until combined. Add to the tomatoes in the bowl.
Add one large, finely chopped green peppers. Slice 7 green onions and add to the tomatoes. 1/4 cup to 1/2 cup finely chopped fresh cilantro, 1/2 teaspoon coarse black pepper, 1 teaspoon garlic salt.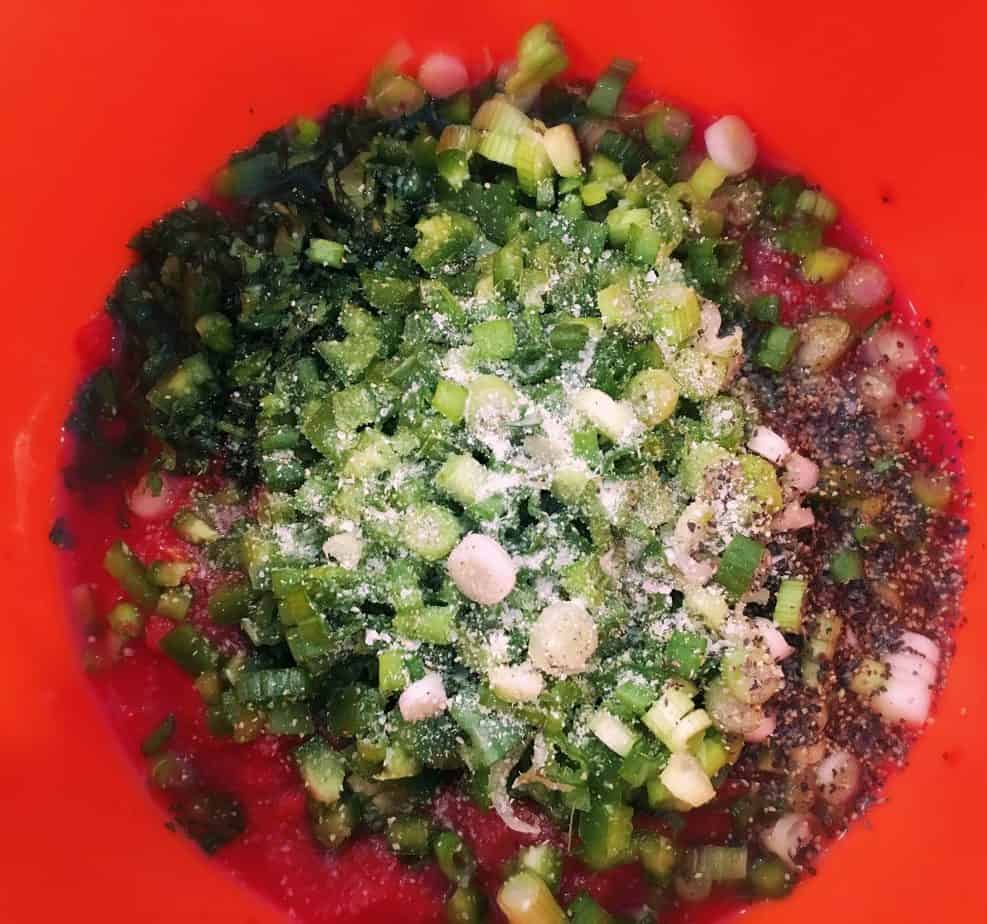 Stir to combine all the ingredients. Add 2 Tablespoons of the liquid from the canned jalapenos. Mix again.
Place fresh salsa in a storage container. I like to use a couple of large mason jars.
Store in refrigerator up to 1 week. Serve with Chips, mix in guacamole for a little extra kick of flavor. It's fantastic on Nachos, tacos, and so much more.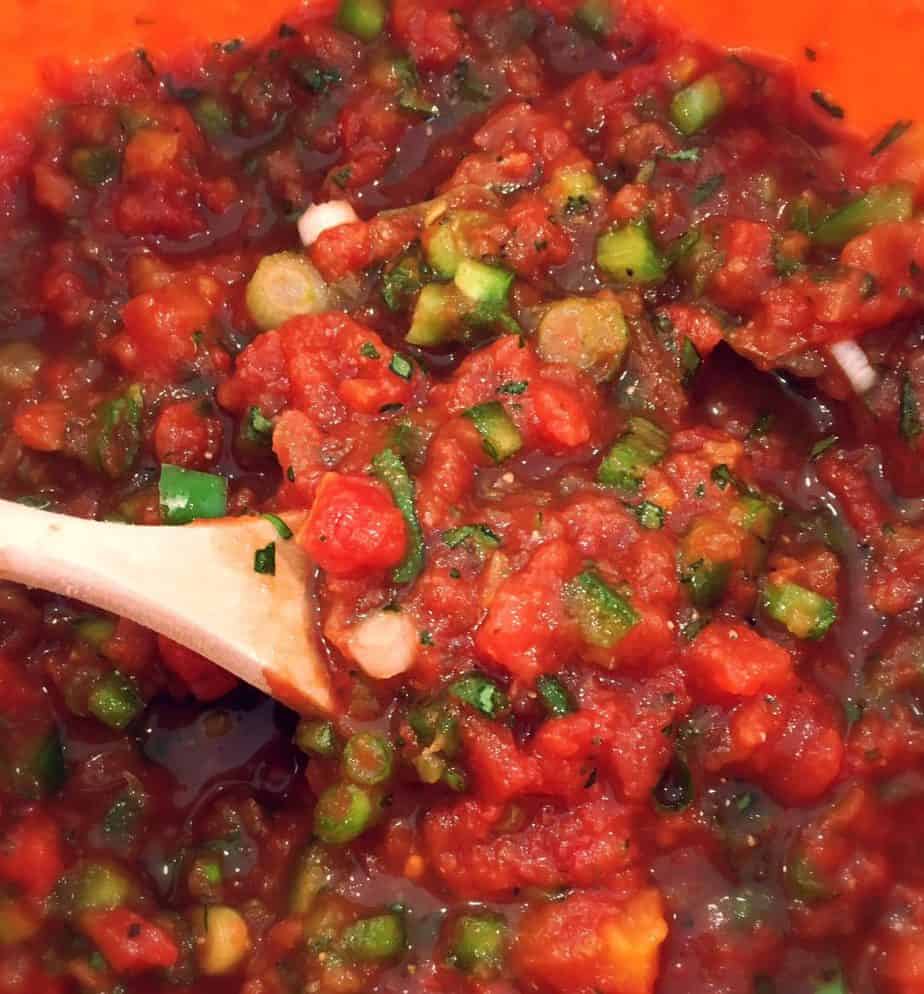 Doesn't that look AMAZING?!
The colors are so bright and beautiful! It's perfect!
TIP: One thing to keep in mind when making this recipe…you determine the amount of heat you want! I prefer to make mine a little mild so those who don't care for heat can enjoy it. But, if you're a "hottie" go for it!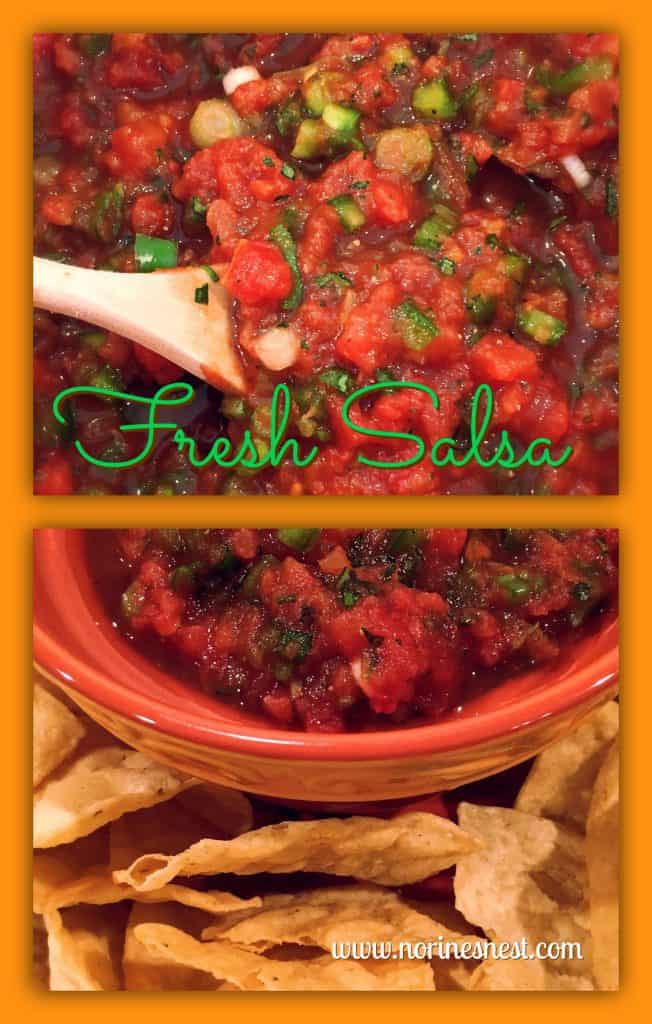 I really hope you'll give this recipe a try! I think once you've tried it you'll agree it's one of the freshest tastiest salsa's around! Thanks for the recipe Aunt Janie! Ha!
Happy Cinco del Mayo at your Nest! Enjoy!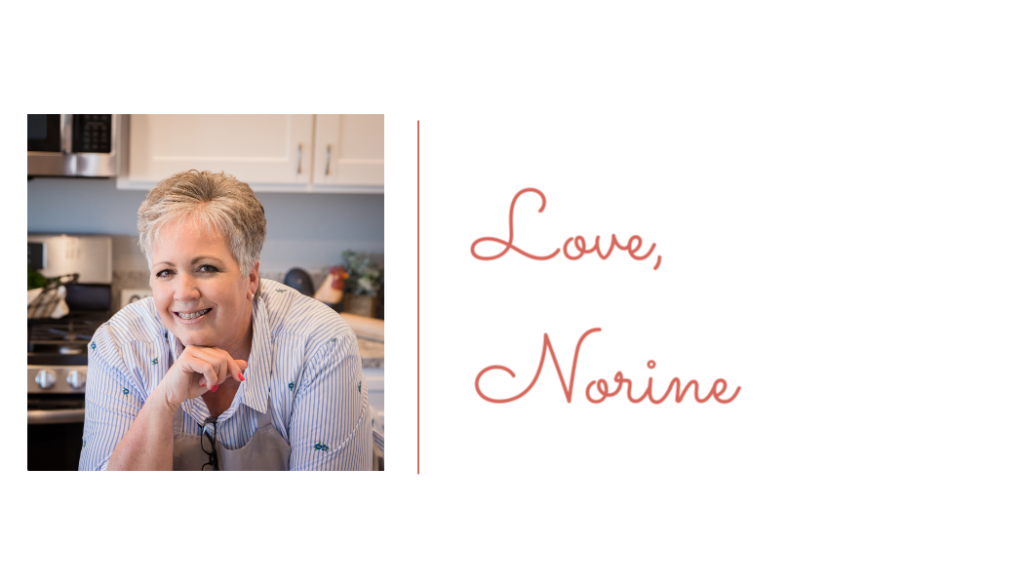 Yield: 4 cups fresh salsa
Aunt Janie's Fresh Homemade Salsa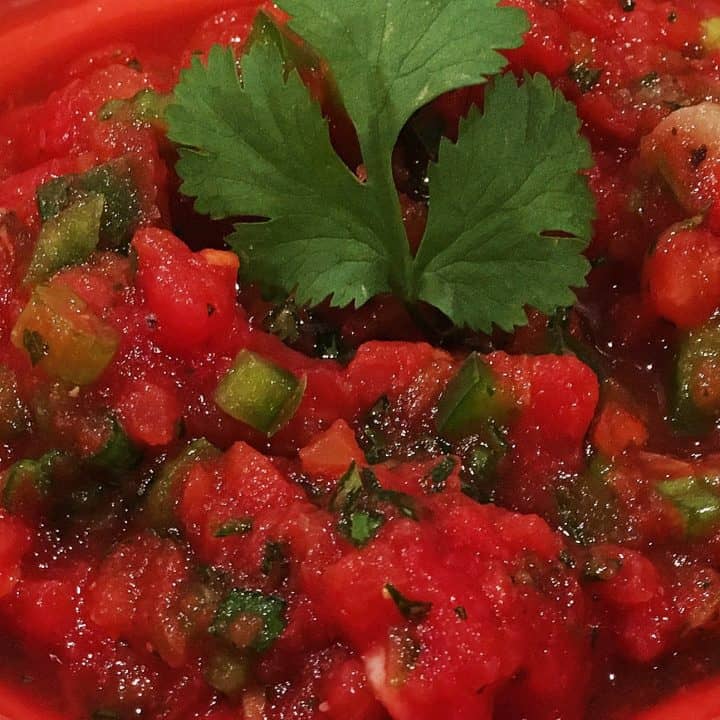 A wonderful fresh salsa recipe that can be tailored to your heat preferences. Enjoy!
Ingredients
2 - 14.5 oz cans petite cut tomatoes
1 large green bell pepper, finely cut up or chopped
7 green onions, sliced about half way up into the green stems
1/4 - 1/2 cup chopped fresh cilantro
1/2 tsp coarse black pepper
1 tsp garlic salt (I prefer Lawry's)
1 canned jalapeno, seeded for less heat. Leave the seeds in for heat.( I only use one pepper. For more heat use more peppers.You can use fresh jalapeno's but, I prefer canned for this recipe)
2 Tbsp of the juice from the marinated jalapeno's
Instructions
Drain canned tomatoes.
In a food processor or blender process the tomatoes for about 5 - 10 seconds per can. Just enough so they are no longer diced but, rather crushed. You want the tomatoes to still be chunky! Careful not to over process.
Place the processed tomatoes into a large bowl, leaving a tiny bit of the tomato in the processor.
Add the jalapeno's and process till the mixture is like soup! Add the jalapeno mixture to the tomatoes.
Next add in the diced green bell pepper, sliced green onions, and chopped cilantro.
Add in the coarse black pepper and garlic salt. Mix well. Add in the Tbsp of juice from the canned jalapeno's.
Mix again until well blended. Cover and let refrigerate for one hour. Serve with fresh corn chips or on top of any of your favorite Mexican dishes. Will hold for one week.
Recommended Products
As an Amazon Associate and member of other affiliate programs, I earn from qualifying purchases.
Nutrition Information:
Yield:
16
Serving Size:
1/4 cup
Amount Per Serving:
Calories:

16
Total Fat:

0g
Saturated Fat:

0g
Trans Fat:

0g
Unsaturated Fat:

0g
Cholesterol:

0mg
Sodium:

127mg
Carbohydrates:

4g
Fiber:

1g
Sugar:

2g
Protein:

1g
Norine's Nest in no way provides any warranty, express or implied, towards the content of recipes in this website. It is the reader's responsibility to determine the value and quality of any recipe or instructions provided for food preparation and to determine the nutritional value, if any, and safety of the preparation instructions.