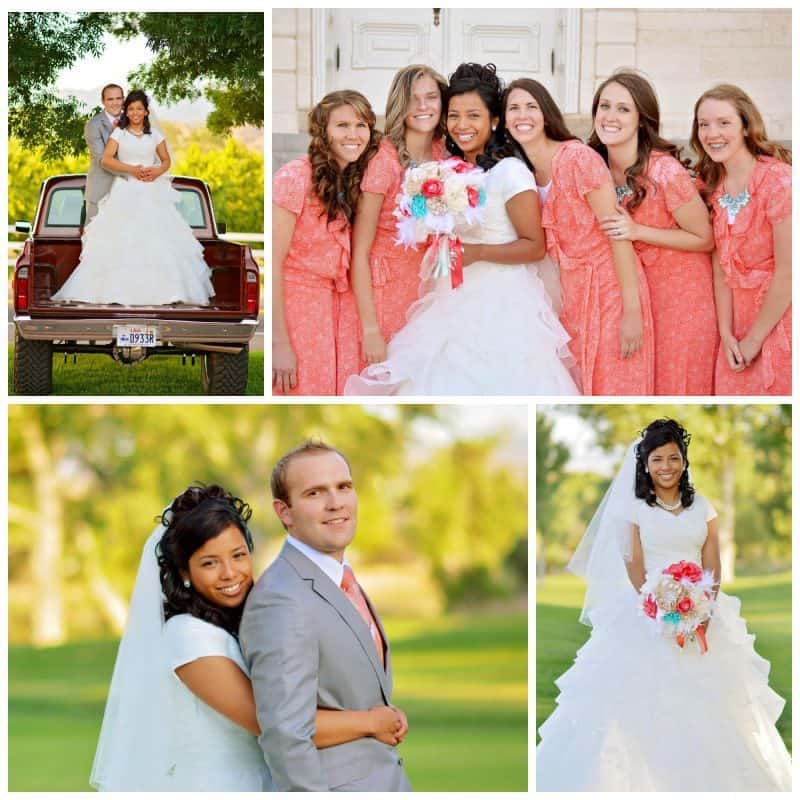 This past weekend we went to my nephew's wedding. It was wonderful and there is nothing like a June wedding! (I love weddings…big sappy romantic that I am!) It reminded me of one of my very favorite weddings…EVER! The day our only daughter, Taryn, got married. It will be two years ago this week that she married her sweetheart and Dustin joined our crazy little nest!
*As an Amazon Associate I earn from qualifying purchases. This post may contain affiliate links, which means that I may make a commission from any purchases at no additional cost to you. Thank you for your support!
Have you ever planned a wedding? It's an EVENT! How about two weddings six months apart? That was my life in 2012! Our oldest and our youngest both got married that year. Two weddings…six months apart! Whaaat! I know right?!!! My house looked like Martha Stewart and David Tutera had been let lose and lost their minds in a battle of wedding reception madness! It was in every room of my house! There was no escaping it…you were gonna get blasted no matter which direction you turned! (Mars was a real trooper!)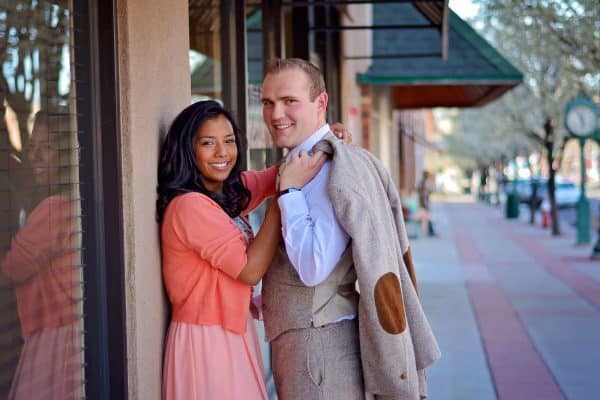 Taryn was a dream bride! She is the most down to earth girl you are ever gonna meet! It's one of the things I adore about her! Having been a former bridal planner I know there are "Godzilla brides",and I know that most brides have set idea's about what they want. It's perfectly natural. Most girls have dreamed about their wedding day their entire life. Taryn is not that girl. Taryn is a basketball-hunting-rodeo-fishing-boot wearing- truck loving country girl who loves bling, ruffles, and… the Bronco's! So, when I asked her what she wanted for her wedding colors she said "Blue and Orange!" (Peyton and the entire state of Colorado would be SO proud!) I moaned…inwardly! Outwardly I smiled and said "K"! So being the good control freak mother that I am, I went on-line and pulled up "similar" colors…Coral and Aqua blue! (Sorry Bronco's!) Thankfully she loved them!
The only problem I have when event planning is I'm about 6 months ahead of the next big popular fad! At the time trying to find anything in those two colors was beyond hard. So, when things get hard…I get spray paint crazy! Anything can be painted… It's a great problem solver!
Remember what I said when planning the baby shower? Find a theme…stick to the theme…let the theme be your guide! When planning a wedding for a couple please make this about them! What are their personalities? What are their passions? Are they fun loving? If so then PLEASE have a fun loving reception not a stiff formal one! Dustin and Taryn are FUN! I knew their reception needed to be "light, bright and fun!" They are both "country kids" at heart.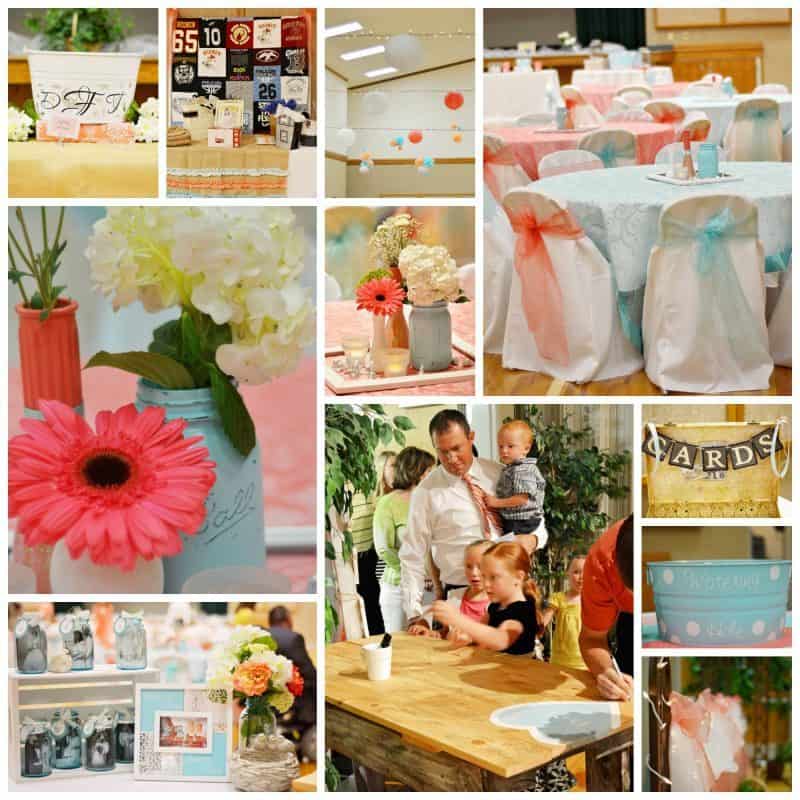 This is what we ended up with! I'll be honest…I loved every single aspect of this wedding! (There are too many to cover in one post but, I'll try to hit the highlights.) I had to really put my thinking cap on and scour Pinterest, but in the end, I humbly think it turned out perfect!
I want you to know that one of my biggest secrets when planning any event is to shop thrift stores, my home, and my friends homes! Taryn really wanted antique Mason Jars to be a huge part of her wedding. Great! I loved them too but, they're expensive and at the time they were impossible to find in the stores. I hit up grandma's (shop friends and family…remember?) and an antique store and found enough to do the "parent and grandparent wedding photo jars" in the bottom left corner picture! This is a fun idea for the guest book area. In each jar I placed a black and white wedding photo of the bride and grooms parents and grandparents, labeled them and put them inside a white wooden crate! FUN! For all the other mason jars I spray painted them and then "antiqued" them using sandpaper pads to "rough them up"!
The center pieces were empty wooden picture frames I spray painted white! I placed the frames in the center of the tables. Inside each frame I had three vases! A tall coral and glitter vase (bling…remember it's about the bride likes), a small white vase and the spray painted mason jar. I found all the "vases" at the thrift stores around town. The tall vases were just single flower florist vases that I painted coral.Once dried I sprayed the bottom half with spray glue and then sprinkled them with glitter. I also re-used the frosted pots I had used for my son's wedding reception. I added "rhinestone bling" for Taryn. I placed battery operated votive candles inside each frosted pot. It was perfect! I found all the linens on line. It was more cost effective than renting them. Taryn wanted to do half and half so that is what we did. Half the tables in Aqua and half in coral. Sashes in alternate colors. The centerpieces helped to tie it all together! I love the look!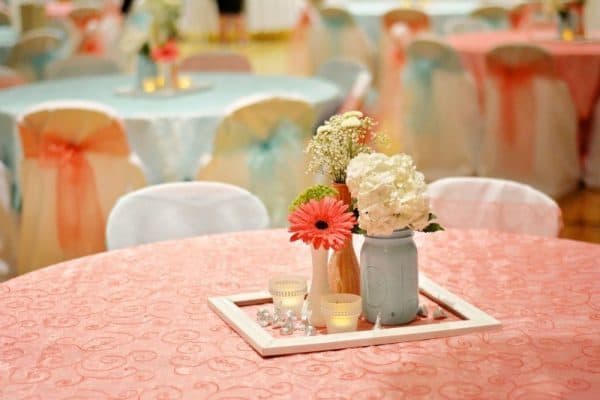 The guest "book" is by far my favorite thing from this wedding! The bride and groom didn't want a traditional guest book. I went round and round with all kinds of idea's and finally came up with the wooden… sign? (Never sure what to call it? lol) Mars bought a few pine boards and made a big wooden sign. I hand painted a big heart with their initials on one side and lightly sealed it with a clear sealer. Then the sign was laid down on top of another wooden table so that it looked like a table top and we placed sharpie markers in a cup on top so guest could sign it when they came in. Everyone loved signing that "table top". It now hangs in their home but, you could do anything with it. So many wonderful ways you could incorporate this reminder of your special day into your lives rather than placing a book in a drawer!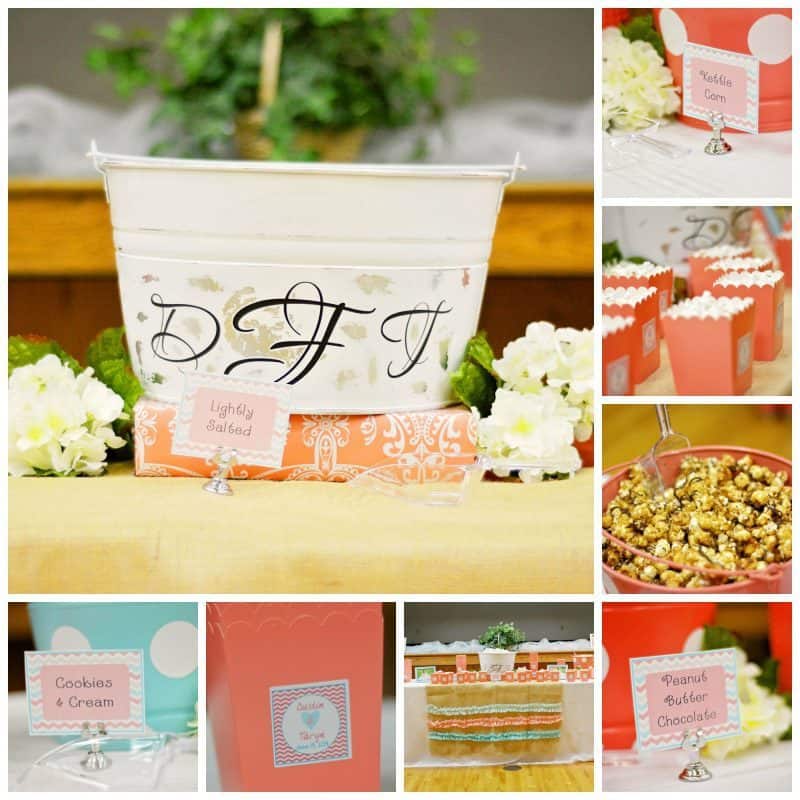 When it came to food we went with a popcorn bar! I found a lot of different recipes for different flavors of popcorn and tried several before we narrowed it down. I also found out that Costco carried several different types of bagged popcorn so to keep life simple…(I'm all about simple when it comes to events, especially weddings…they are stressful enough!) I purchased some of our flavors there. It came down to five…regular popcorn (which was in the big metal white tub pictured above) Cookies and cream, Peanut butter chocolate (should be outlawed it's so good!), Chicago mix, and Kettle Corn!
I made signs for each of the different flavors. I found plastic scoops at the dollar store! (Yep, I'm thrifty when it comes to party planning!) All the popcorn was placed in metal buckets, bought at the local ranch store, that I spray painted in their colors (remember I'm high on paint fumes by now…) then I had my friend do white polka dots for me, in vinyl, and I placed polka dots on all the coral and aqua buckets! I found cute coral colored popcorn boxes on Oriental Trading and personalized them with my print master program and printable stickers! The popcorn bar was a huge hit, super easy… and not nearly as messy as I had envisioned! Whew!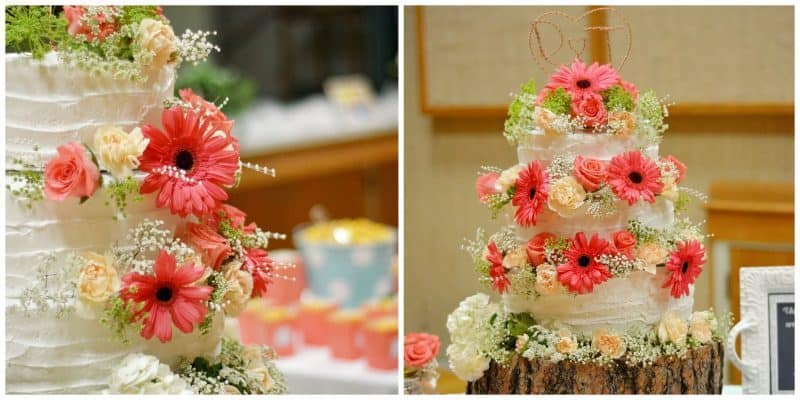 What's a wedding without cake? A cake-less wedding! YIKES! (Which is just wrong on so many levels! I'm sorry but, if I'm bringing a gift… I want my cake too! lol) One of the things I LOVE right now about weddings…the simplicity of wedding cakes! Seriously…it's so refreshing to see the old style simple wedding cakes come back into focus! I'm all about keeping it simple and arranging some fresh flowers on it for decor!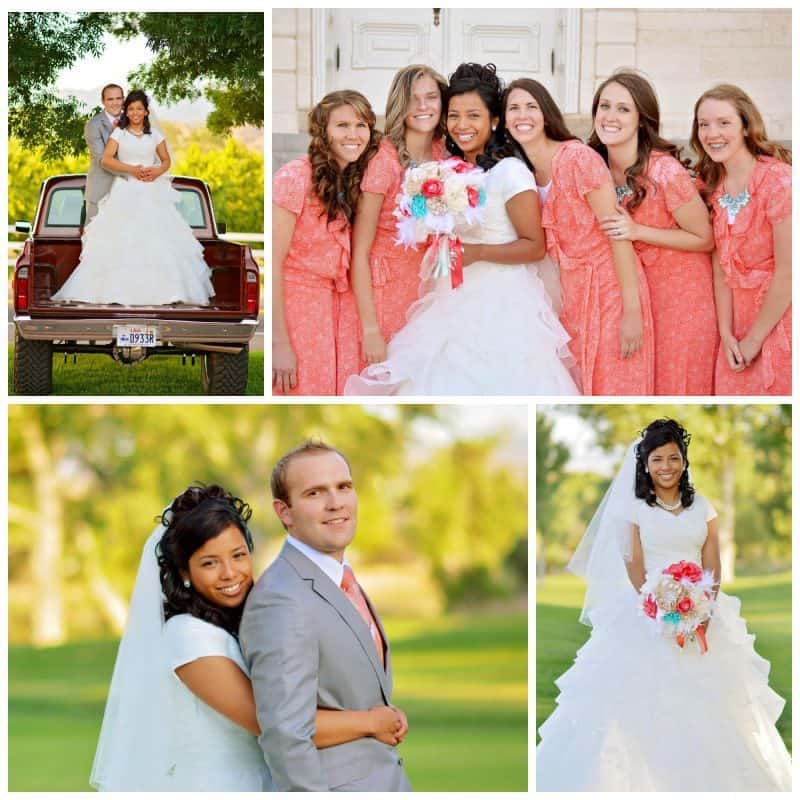 See…the perfect day! Don't let all those ruffles fool you…there were cowboy boots on under that dress!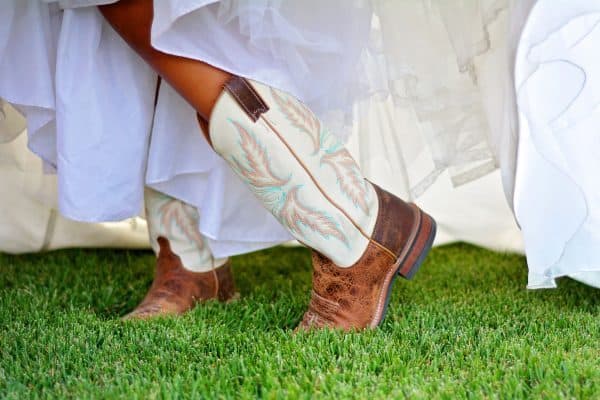 Dustin had three loves make that four…I'm pretty sure… at the time he got married…God, Taryn, his Truck, and wake boarding on the Lake! The truck was a project his Dad started with him when he was young. He was working on finishing it up when he met Taryn. Since it is such a huge part of Dustin's life we included it in the wedding photo's and even the engagement photos. I'm a firm believer that this day is just as much about the groom as it is about the bride! So always include the groom! (Did you hear that mother-of-the-bride?)
One of the aspects I loved about Taryn's wedding was her brides maids dresses! Since it was a summer wedding, and a day wedding, she went with short dresses that were fun and fresh! When shopping think outside the box! I looked on-line at Sears and found an amazing deal for these dresses which were shipped right to our house! Call me crazy but, it's a one day event not a lifetime of debt! Please do not buy into the hype that you have to spend your entire life's saving on this one day! You don't and you shouldn't!
Taryn's bouquet… We both decided that since they were doing bridal pictures before the actual wedding day…(gasp, shock, I know…groom saw her before hand in her gown…just call us rebels!)…we didn't want to buy flowers twice. I showed her this idea for a vintage satin flower bouquet and she loved it. (I'm not kidding when I say…easiest bride EVER to work with!) Explaining the tutorial on this is a post it's self but, it was fun to make. A gift from me to her! As a special touch I added the charm photo's of all her loves who couldn't be with her that day. Whether they had passed away or were in other parts of the world…they were with her!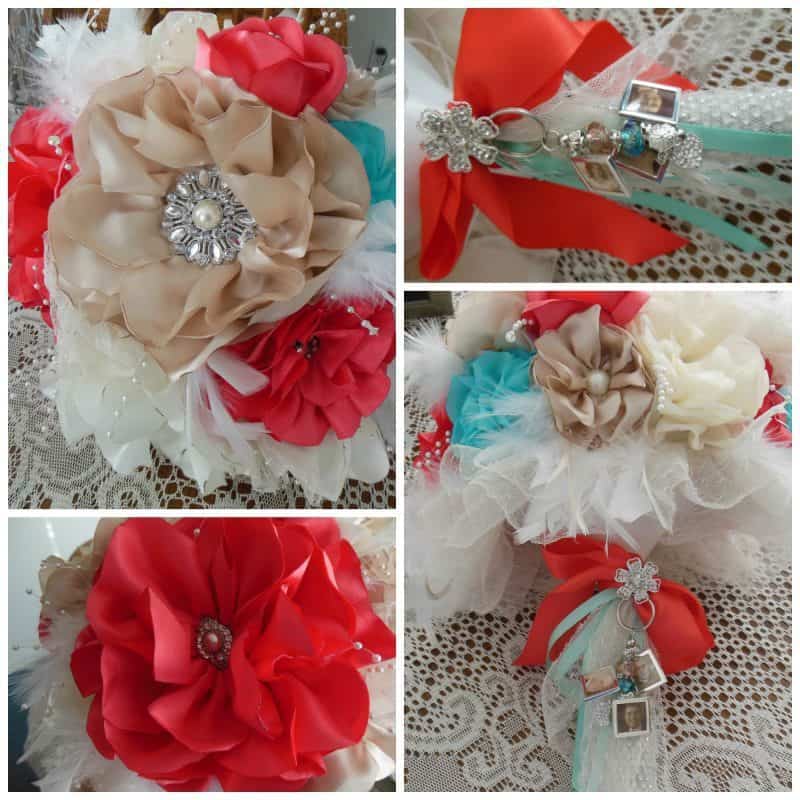 I loved my daughter's wedding day! I love when you have a vision and then the elements of that vision all come together to create one incredible amazing moment in time. That is what event and party planning is. It's creating a lasting memory! Whether it's a 1st birthday party, a graduation, a baby shower, backyard bar-b-que, or wedding we are creating unique wonderful memories. When this life is all said, done, and over with, the only thing we have are our memories. The beauty of memories is they hold within them the love relationships we create with family and friends. And that right there, is why I love hosting an event! Because… I hope and pray I'm creating a lasting memory for those I love!
If you have any other questions please contact me. I'd love to help you any way I can! (Two weddings in one year makes me an expert…lol) Remember if you like this post or you have a friend or relative planning a wedding please invite them to take a look at this post. Thanks for stopping by!